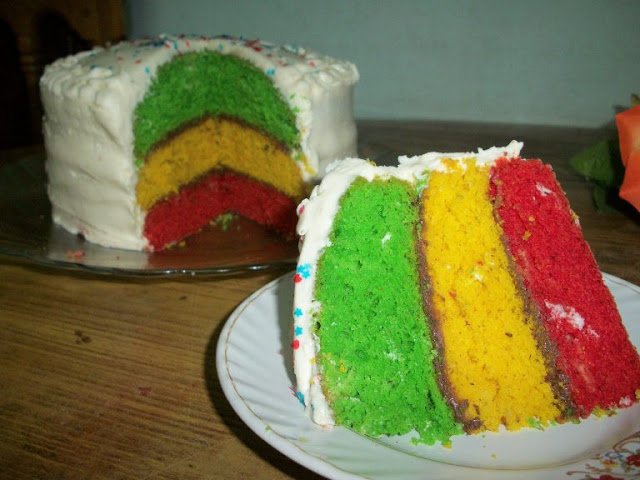 Yay Yay…Yummy Tummy reached 300th post so soon…Its like yesterday I started my blog..But already there are 300 recipes in my blog…I couldn't believe it…
I thank all of you for your support for making me do this…Without you all I couldn't have done this…So I dedicate this cake to you all my friends…
You can request any of your favorite recipe by leaving a comment or I have a tab on top for you friends , you can use that too..I will surely try to post that for you..
This is a beautiful cake I have ever made..Looking this cake makes me happy..I love the bright colours peaking out as you look at them..
Looking this cake makes my life colourful..I hope it does for you too…I have been waiting for so many weeks to post this recipe,because I made it few weeks back and reserved it for my 300th post..
So without any more delay off you go for the recipe…
Ingrediants:
Flour-360 gms gms/ 3 cups
Baking powder – 1 tblspn
Baking Soda – 1 tsp
Salt – 1/4 tsp
Sugar-300 gms/ 1 1/2 cups
Vanilla-2 tsp
Eggs-3
Vegetable Oil – 1 cup / 250 ml / 8 fluid ounces / 1/2 pint
Cinnamon-1 tsp (optional)
Milk- 1/4 cup ( Add if the batter is too thick)
Red food colouring-a pinch
Green food colouring-a pinch
Yellow food colouring-a pinch
Chocolate Spread-as needed
Method:
Preheat the oven to 180°C(360°F)..Take three round tin and butter it generously then dust it with flour and tip away the excess flour..Set this aside for a moment..
Mix flour,baking powder,baking soda,salt and set aside..
Beat egg with a blender till light and fluffy..Add in sugar and beat well..
Add in vanilla essence,oil and beat well till fluffy…
Add in cinnamon and mix well.
Sift in the flour mixture and fold well..Divide this into three portions..
Add three food colouring in this batter and mix well..Pour this in tin and bake for 20-25 mins or until the cake is done..
Let it cool down completely before icing..
Take one cake and spread some chocolate spread over this and place another cake over this..Again spread some chocolate spread over this and place the last cake over this..
Now completely cover the cake with your favorite icing and decorate the cake as per your wish..
Slice and admire the beauty…
Pictorial: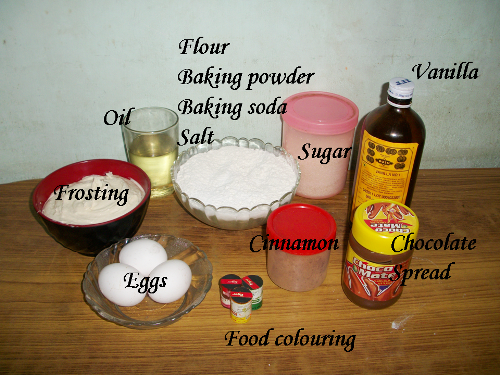 Take all your ingrediants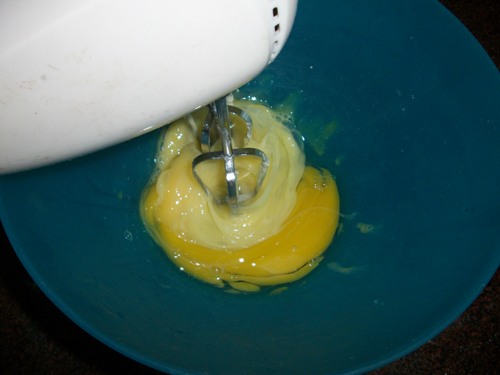 Beat eggs till fluffy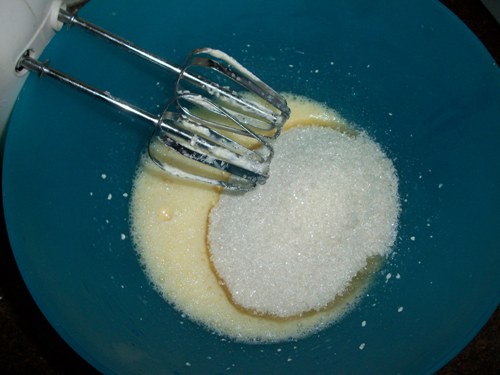 add in sugar and beat again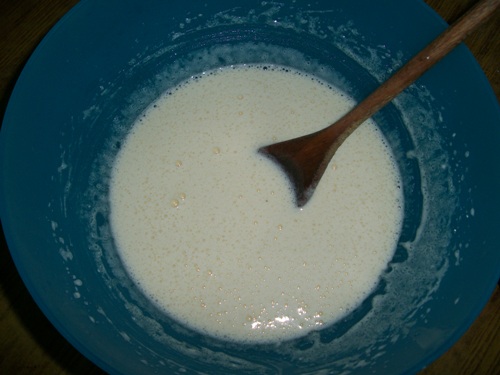 Till fluffy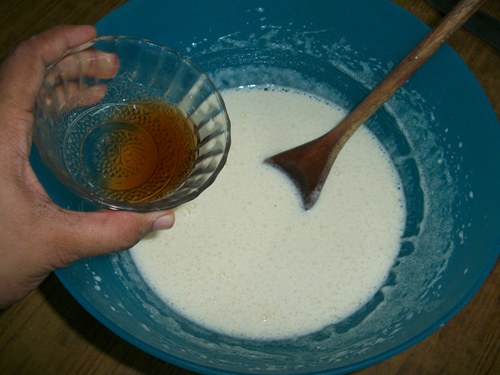 Add in vanilla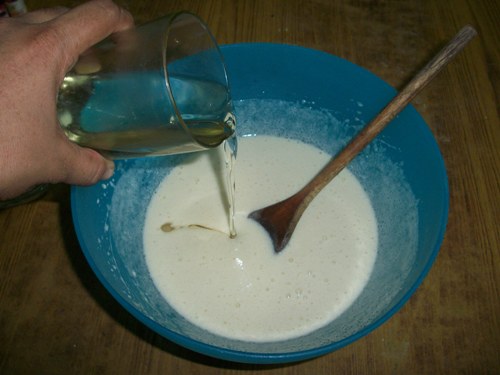 drizzle in oil and beat again
add a dash of cinnamon..I know it is more than a dash…But i love it..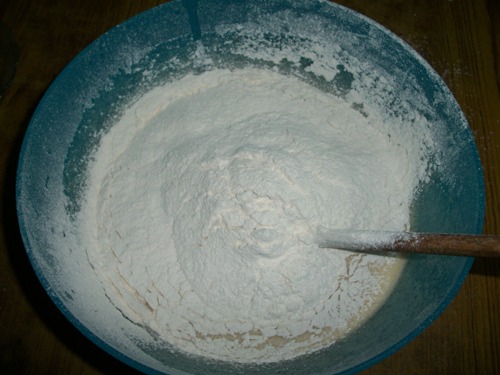 now sift in your flour mixture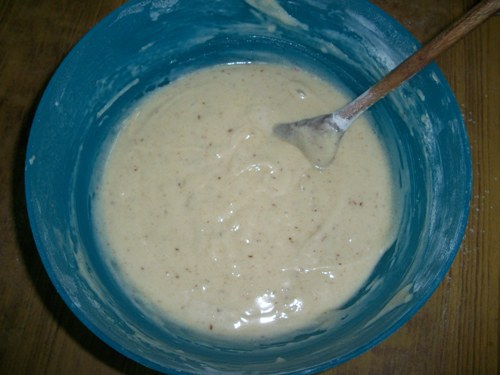 fold gently till combined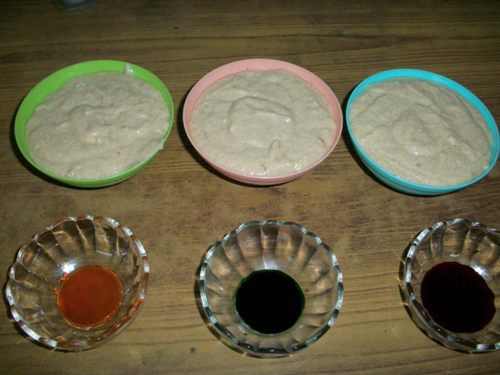 Divide into three parts…Take your food colourings ready…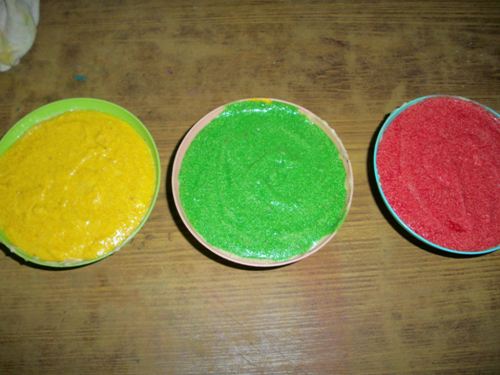 Mix it with the batter…Now its coming alive…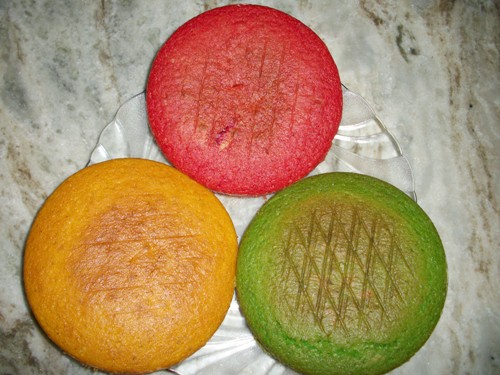 Cakes are beautifully baked…Wow..I am getting tensed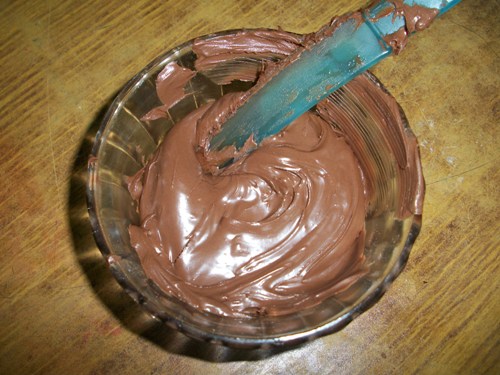 Take any of your favorite chocolate spread…Nutella taste great in this..(I am out of it..Poor me)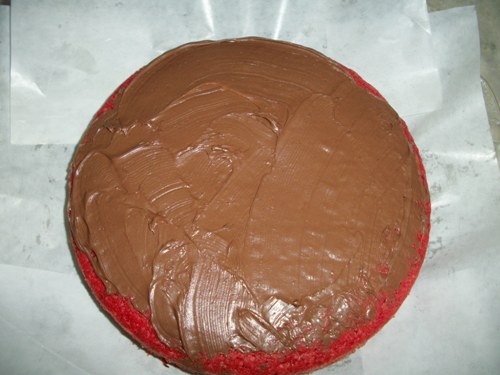 Take one cake and apply over the top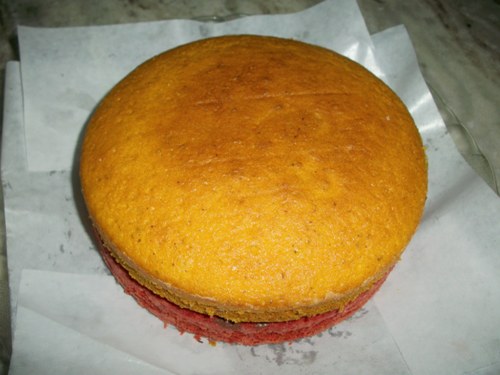 sandwich with the other one..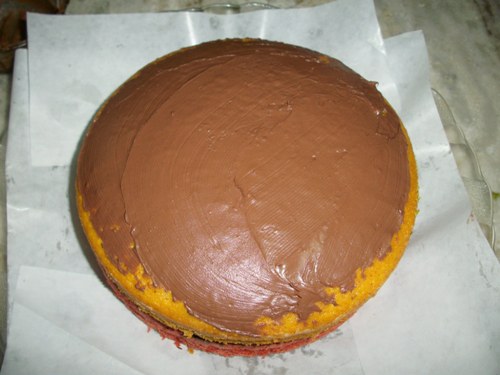 spread chocolate on top again…YUMMY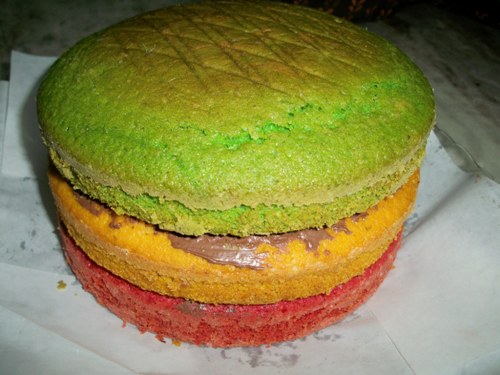 sandwich the third one…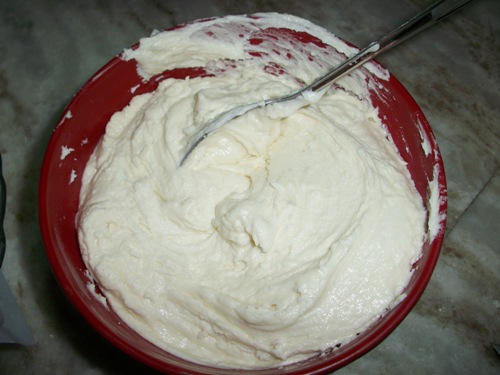 Take any of your favorite icing..I used Plain Ol' Vanilla Butter Cream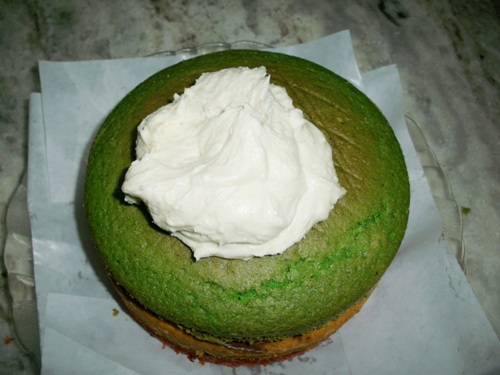 Add a huge dollop on top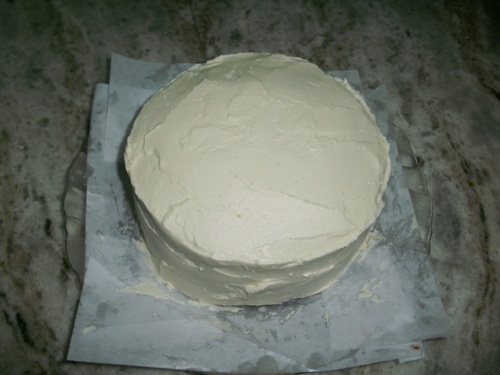 cover the entire cake…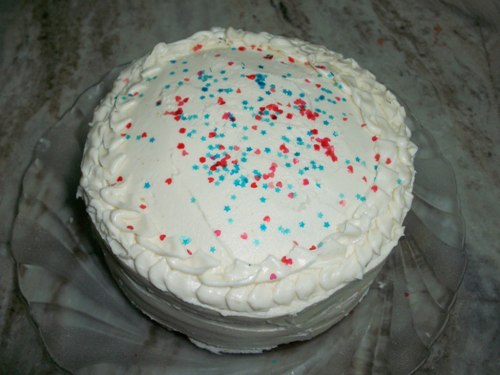 Decorate it as per your wish…I used some stars glitters..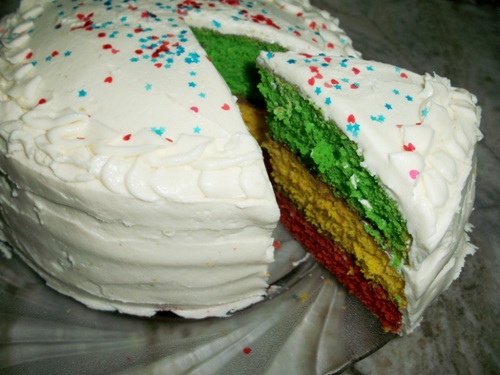 I couldn't do it… But i have to…Please slice it…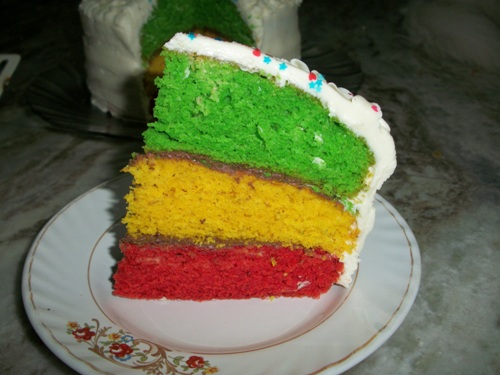 Does that look stunning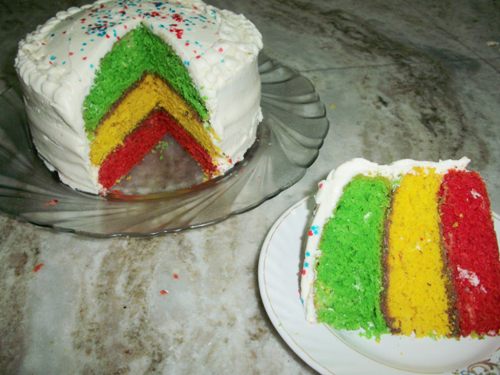 WOW…LOOK AT THAT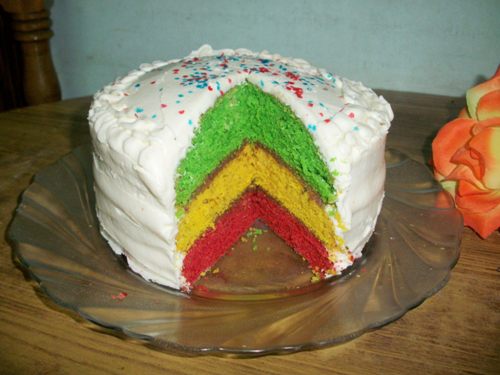 I > MY CAKE