5 Min Oreo Cake Recipe with step by step pictures. This recipe really made wonders in few minutes. Surprise your kids while they come back from the school with this simple cake recipe.
One of my viewer named Divya gave me this recipe and she send a picture of the cake which she baked. I should thank her because of her i got a chance to make this and enjoy..This cake is so easy to make, just a few ingredients and you have a delicious chocolaty desert in 5 mins..
You can check out my other Microwave Baking Recipes too.
About 5 Minute Oreo Cake Recipe
It is like making a cake batter from a cookies. But if you think deeply you will realize that you are actually making a instant 1 min cake batter because all cookies must be made with flour, sugar and somekind of raising agent and flavourings.So what you are doing is diluting the cookies with some milk and some more raising agent and baking it again.
The cookies is dark, fudgy, chocolaty and so delicate. Making this cake is like a breeze, the one hard thing is inverting the cake. If you lined it with parchment paper then it is easy. If not allow it to cool completely and then invert it. You can decorate it with any icing or just dust it with powdered sugar, or just have it as it is. SO YUM. If you have any doubt just leave a comment in this, i will answer it very shortly.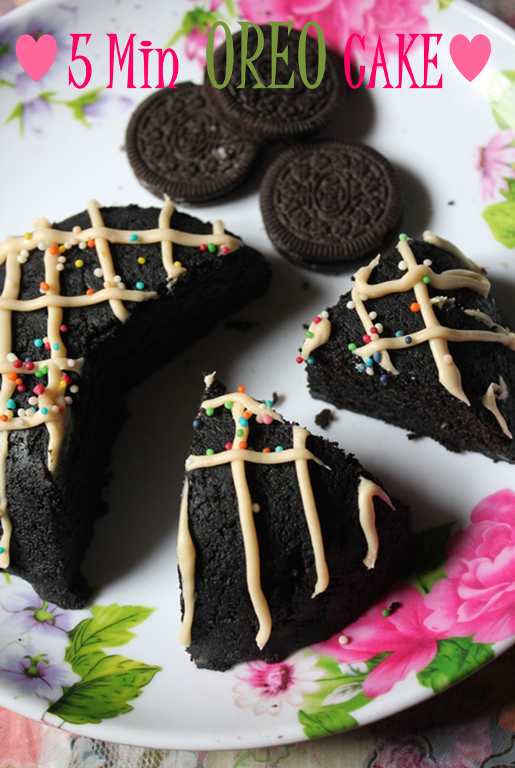 Pin
Ingredients for 5 Min Oreo Cake
Oreo Biscuits - 20
Milk - 1 cup / 240 ml
Baking Powder - ¾ tsp
Sugar - 3 tbsp
Oil - 1 tbsp for greasing pan, you can use parchment paper for getting the cake easily out of the pan.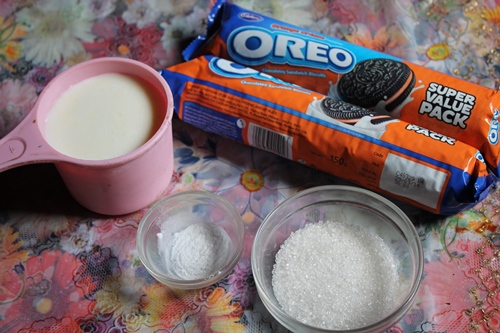 Take your 4 ingredients