Pav Buns with Step by Step pictures and video. These fluffy indian rolls are tasty and easy to make. 
Pav Buns are one of the main thing which you need as a side for  vada pav or pav bhajji. These fluffy and soft buns are so tasty with anything. You can have it on its own too. They are readily available in supermarkets , but they are quite expensive here..So I thought to make it on my own.
Eggless Indian Pav
I actually made vada pav, potato pav, onion pav using this and served it with green chutney and tamarind chutney. They are totally delicious…Will post recipes soon...You could probably stuff anything in this from chicken filling to vegetable filling and enjoy this soft buns.
I actually had one by just spreading some green chutney and tamarind chutney and sprinkled some garlic chutney  over it and took my first bite, wow it was so good.. Would recommend you to try it once…So without any delay off you go to the recipe.
Similar Recipes,
Real Dominos Cheese Burst Pizza
Whole Wheat Pav Buns Recipe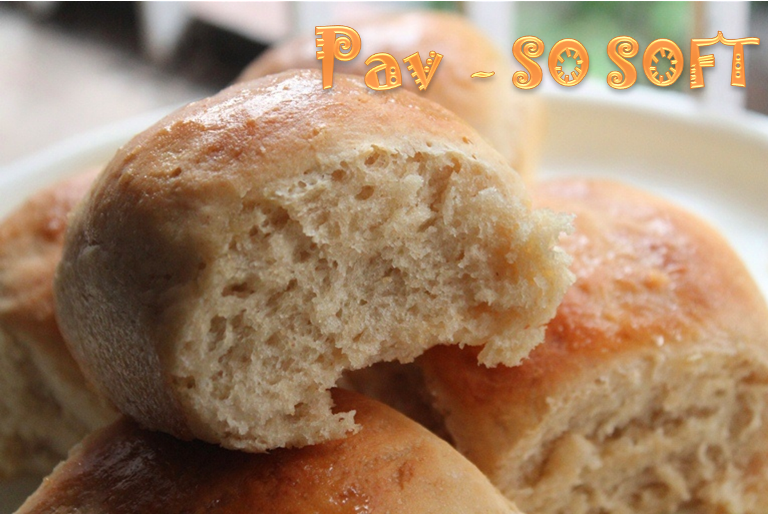 Pin
Eggless Whole Wheat Pav
Recipe Card
📖 Recipe
Pro Tips
1)Activating yeast till it is foamy is very important before you proceed with the dough. If your yeast is not foamy them please don't continue, the dough wont rise and it will give you a rock hard bun.  
2)The dough which you make before the first rise has to be sticky. This what gives your tender and soft buns.  
Common Questions about yeast:  
1)Why my yeast is not getting foamy and activated?    
There may be three reason for your yeast not activating.    
a)If you add too hot water to yeast, it will kill the yeast.     
b)If you add too cold water, then the yeast won't activate.    
c)Your yeast may be expired or out of date. Get a fresh packet.  
2)How to store yeast?    
Always store yeast in an airtight container in freezer.