Rava Wheat Dosa Recipe or Wheat Rava Dosa Recipe with step by Step Pictures. You can make this dosa and serve it with chutney of your choice. Super delicious and super easy to make.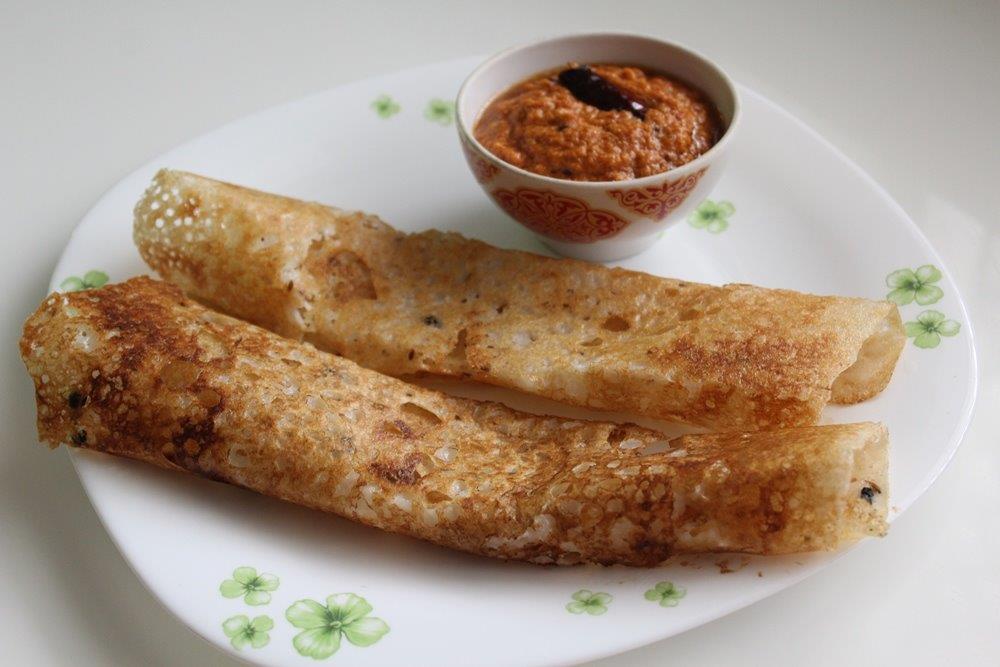 Pin
Wheat rava dosa which is super easy to make and taste absolutely delicious. This is a quick dosa recipe to make for breakfast. You can make this dosa and serve it with chutney of your choice. Super delicious and super easy to make.
Meanwhile if you are looking for more simple dosa recipes. Why not download our dosa pdf file. Check this link
About Wheat Rava Dosa Recipe
Wheat Rava dosa is a quick and popular dosa variant from South Indian cuisine. Crepes made with semolina (rava or cream of wheat), Wheat flour, all-purpose flour, and spices that are crispy, netted, and thin. Unlike the traditional Dosa Recipe, these are incredibly simple to make and require no grinding or fermentation.
I have made many dosa recipes in the past but this one is the crispiest of them all. It has a high content of sooji than wheat flour which makes this dosa super crispy. I served this with a spicy and little sweet onion chutney which will be shared soon. You will be needing only basic ingredients like sooji, rice flour, wheat flour for making this dosa.  I seasoned the dosa with pepper and cumin.
You could also add
onions
coriander leaves
grated carrots
ginger
curry leaves and chopped green chillies in this too.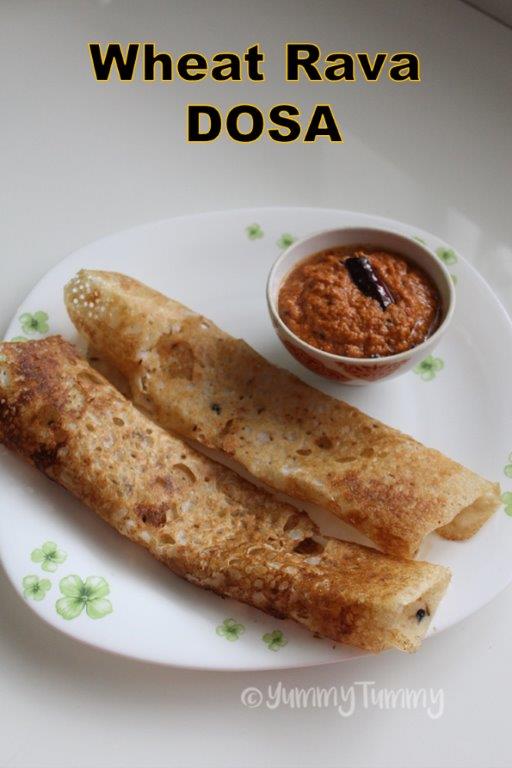 Pin
Ingredients for Wheat Rava Dosa Recipe
Sooji / Rava / Semolina 
Suji, also known as semolina, has been a staple in Indian cuisine for centuries. Semolina, which is made from coarsely ground whole wheat, is widely used in South Indian cuisine. This coarsely ground grain is used in a variety of sweet and savoury dishes.
Wheat Flour 
It has a lighter colour and a milder flavour, but it still provides all of the whole grain benefits because the bran, germ, and endosperm are all preserved. As a result, white whole wheat flour is an excellent ingredient for whole grain baking, including breads, pastries, and everything in between.
Cumin Seeds 
Cumin has a warm, earthy flavour and aroma that is slightly sweet and bitter. To achieve the best flavour, the whole seeds must be toasted.
Similar Recipes
Idli Recipes
Dosa Recipes
Chutney Recipes
Sambar Recipes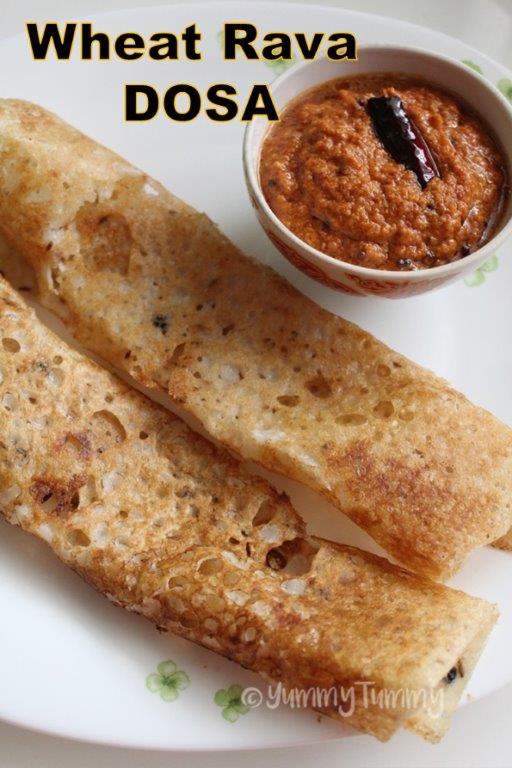 Pin
If you have any questions not covered in this post and if you need help, leave me a comment or mail me @[email protected] and I'll help as soon as I can.
Follow me on Instagram, Facebook, Pinterest ,Youtube and Twitter for more Yummy Tummy inspiration.
IF YOU MAKE THIS RECIPE OR ANYTHING FROM YUMMY TUMMY, MAKE SURE TO POST IT AND TAG ME SO I CAN SEE ALL OF YOUR CREATIONS!! #YUMMYTUMMYAARTHI AND @YUMMYTUMMYAARTHI ON INSTAGRAM!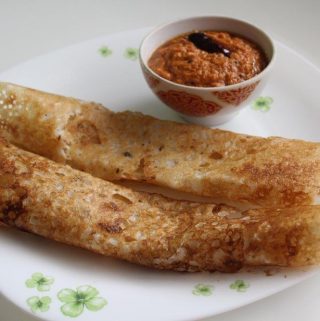 Wheat Rava Dosa Recipe | Godhumai Rava Dosa Recipe
Crispy Wheat Rava Dosa or Rava Wheat Dosa which is super crispy. This dosa is best served hot with coconut chutney or onion chutney.
Ingredients
Sooji / Rava / Semolina - 1 cup

Rice Flour - ¼ cup

Wheat Flour - ¼ cup

Salt to taste

Asafeotida / Kaya podi / Hing - ½ tsp

Pepper - 1 tsp

Cumin Seeds - 2 tsp

Water as needed

Gingelly Oil as needed
Instructions
Take sooji, rice flour, wheat flour in a bowl, add water and make it into a thick batter.

Set aside for 15 mins.

Now add more water, asafoetida, salt, pepper, cumin and mix well.

Make the batter very liquidy.

Now heat a tawa till nice and hot.

Pour batter from a height. It will form small holes in the batter.

Now drizzle with oil.

cook till golden brown.

Fold and serve.
Wheat Rava Dosa Recipe Step by Step Pictures
1)Take rava in a bowl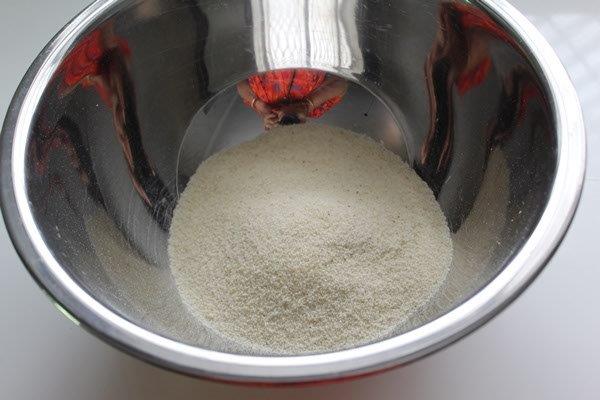 Pin
2)Add in rice flour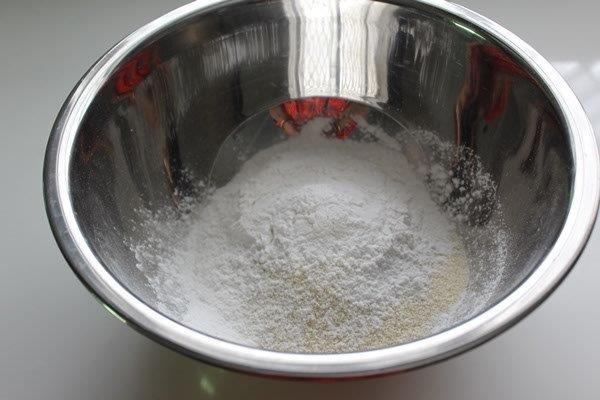 Pin
3)Add in wheat flour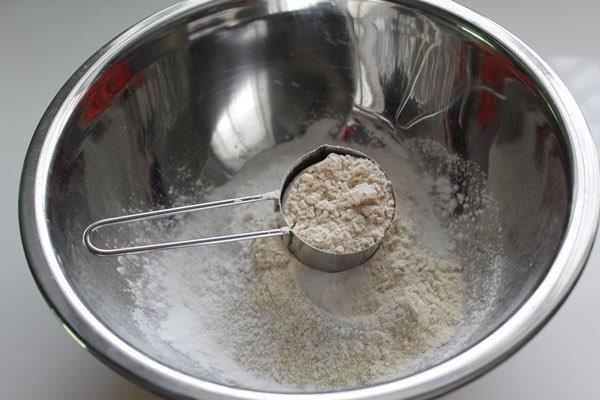 Pin
4)Add water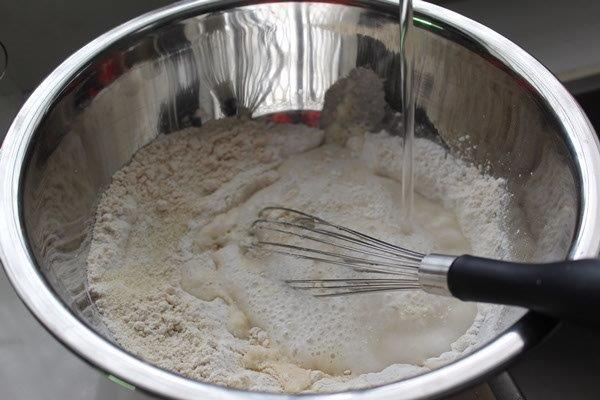 Pin
5)Make it into a thick batter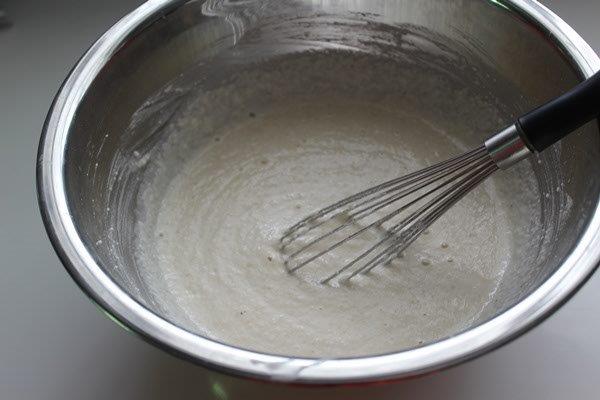 Pin
6)Set aside the batter for 15 mins for the sooji to soften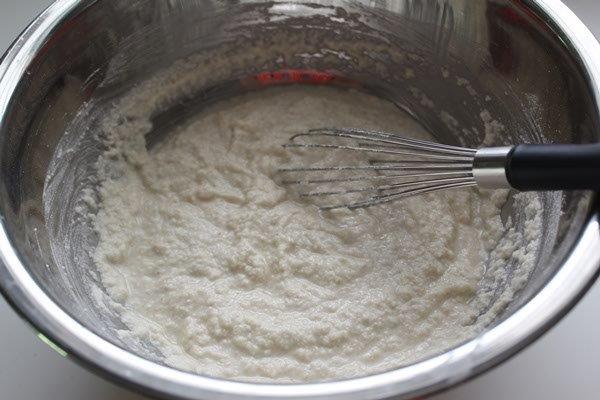 Pin
7)Now the batter has got nice and thick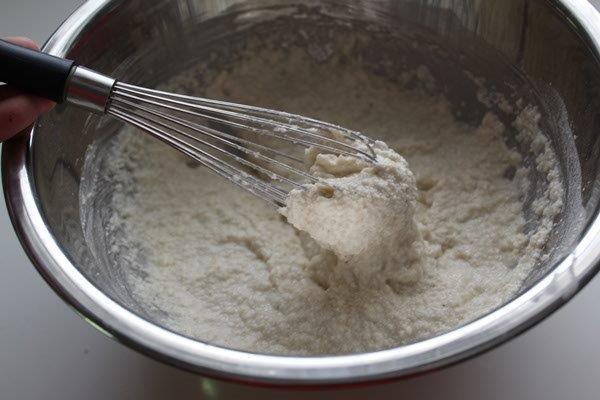 Pin
8)Add more water and mix well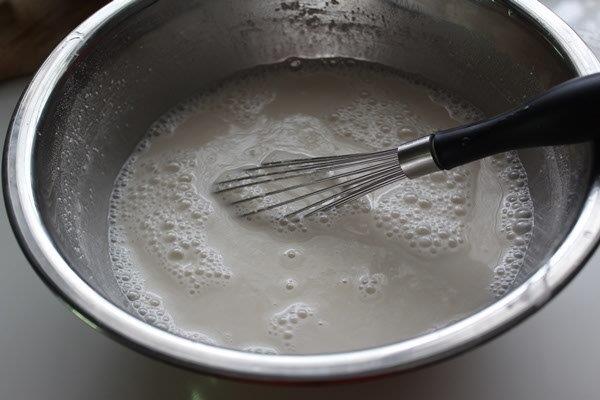 Pin
9)Add in salt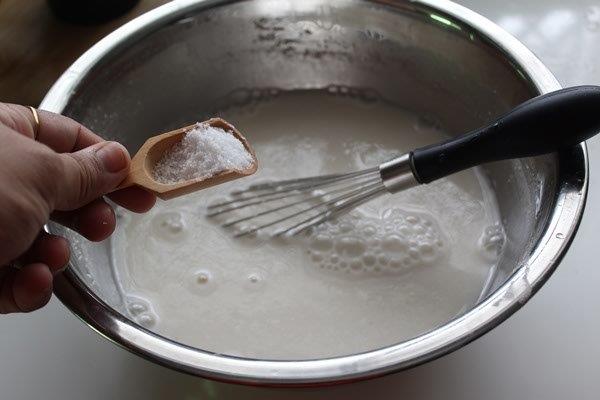 Pin
10)Add in asafoetida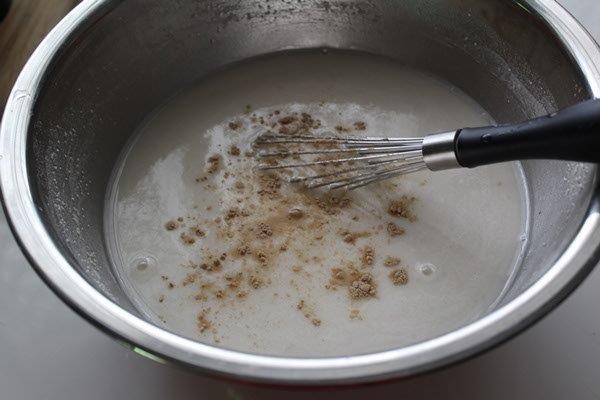 Pin
11)Add in cumin seeds and pepper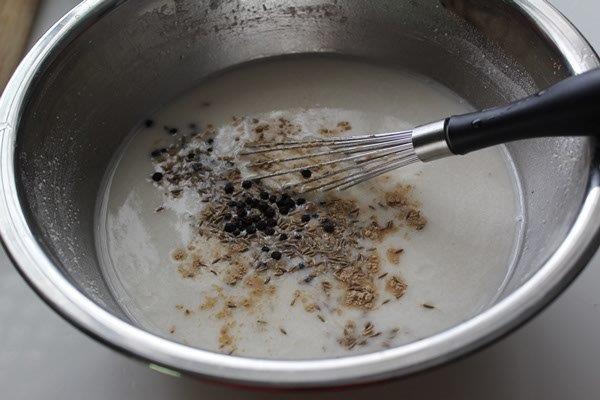 Pin
12)Mix well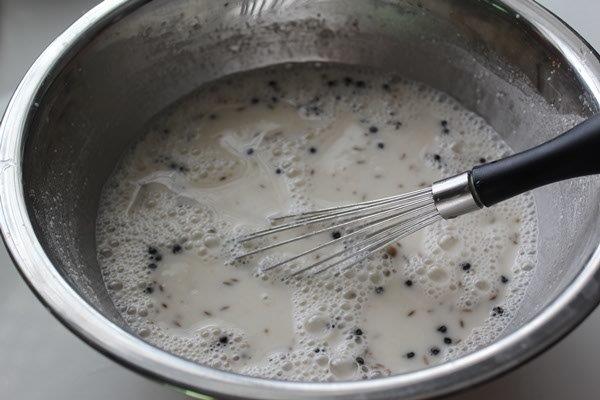 Pin
13)Take a ladleful of batter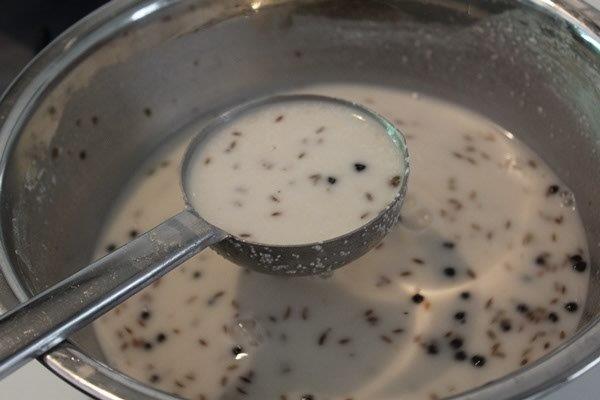 Pin
14)Pour the batter from a height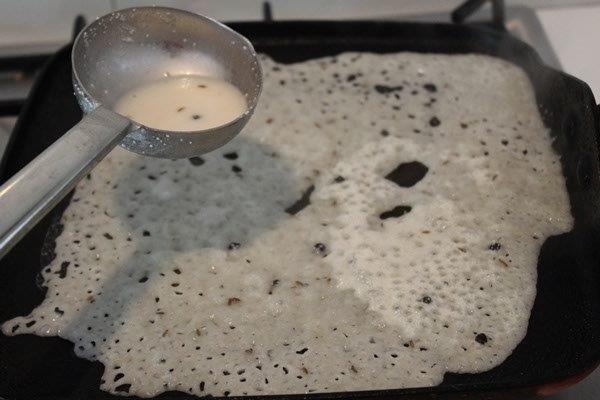 Pin
15)Drizzle with oil around the sides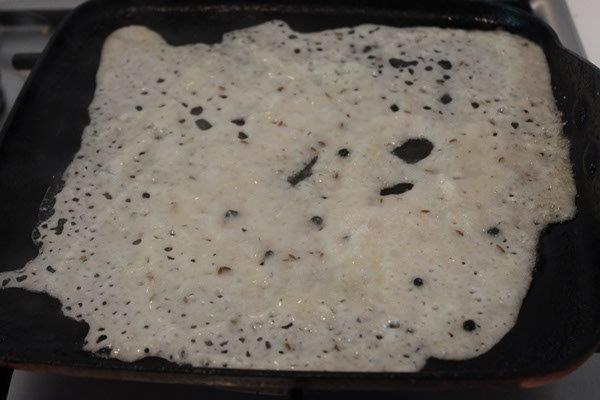 Pin
16)Cook till golden brown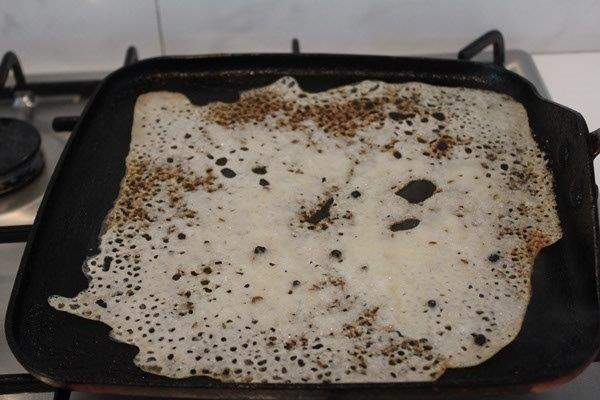 Pin
17)Serve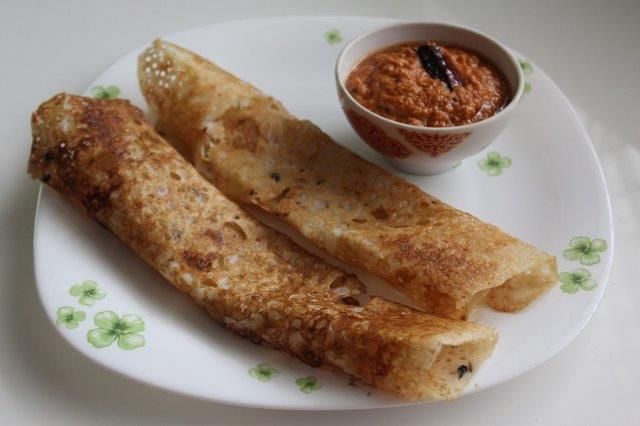 Pin
Frequently Asked Questions
Is wheat flour dosa good for health?
It is extremely healthy because it contains all of the benefits of wheat. These dosas are thick and fluffy. A little rice flour should be added for a thin and crisp dosa. These are quick and easy to make, and are high in nutrition for all age groups, from growing children to elderly people, as well as diabetics.
Who invented rava dosa?
Dosa originated in the town of Udupi in present-day Karnataka, according to historian P. Thankappan Nair. However, food historian K. T. Achaya claims that references in the Sangam literature indicate that dosa (as dosai) was already in use in the ancient Tamil country around the 1st century.