This was one of the most requested recipe in this blog after i posted Amla Murabba recipe. The reason I was stayed away from this is, it is quite a easy recipe and it just involves soaking the amla in honey and nothing more complicated than that. But yesterday when i went through my list of do things, this recipe stood a little high. And luckily i had few amla and a bottle of honey on hand, so immediately i gave it a shot.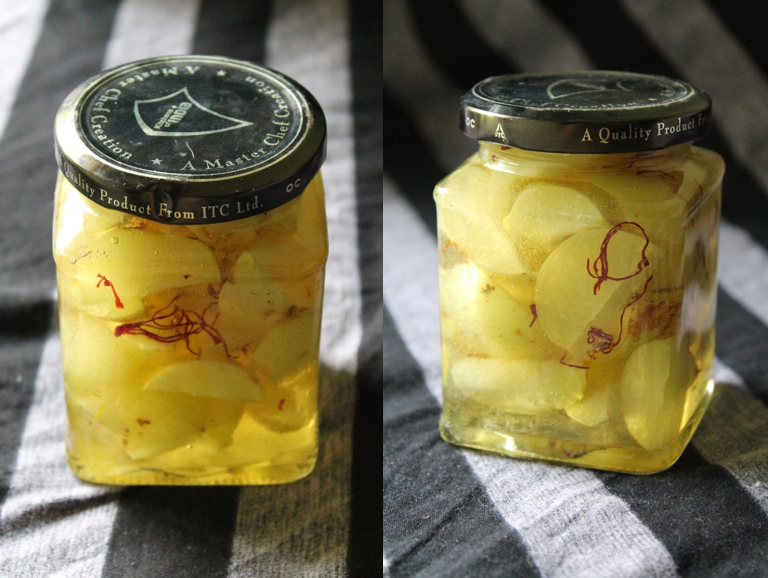 Pin
This is such a healthy recipe, you should definitely try it. Make a big batch of it and give to your kiddos and family daily. It will make such a huge difference.I had saffron on hand so i added few here, but it is entirely optional. And the honey which i added is not your store bought stuff, it is pure mountain honey which was given to my mother by her friend. So you wont find it too dark in colour. You can use regular honey in this recipe.
I hope you will give this a shot and let me know how it turned out.
Ingredients:
Gooseberry / Nelikai / Amla - 7 large ones
Saffron - a pinch
Honey - as needed


Method:
Wash and pat dry the gooseberries. Now cut them into small wedges and discard the seeds.
Take a clean and air tight jar, put few pieces of gooseberry in the bottom of the jar. Add some saffron strands on top and cover that with honey.
Now put few more pieces of gooseberry and add some more saffron strands, Cover the entire thing with honey, dont fill to much, since it will expand.
You can cover this with a cheese cloth and keep it under sunlight.
Clamp a lid and store it for 10 to 15 days so it gets soaked and for better taste.

Notes:
1)Always use a clean, dry jar and spoons while handling this.
2)After few hours the honey will become watery, This is the water from the gooseberry leaching out. Not to worry about it.
3)Leave it to soak atleast for 5 to 8 days before consuming so it gets time to soak and become soft.
4)You can add cardamom powder or any spices that you like.
5)Daily have a piece of gooseberry along with a spoonful of honey. 6)Once all the gooseberry gets over, you can add somemore cut up gooseberries in the same pot and pour some more honey and let the process get going.
Pictorial:



Soak amla in water for 30 mins.
Remove them from water and dry them
Dry them using a paper towel
Cut them into wedges, and deseed them
Lovely fresh mountain honey
gifted from my mom's friend
Add few amla pieces in the bottom
Sprinkle half of the saffron
Cover till top..Now you can cover this with cheesecloth
and keep it under sunlight for 2 days. if you want to store
this for a long time..(I RECOMMEND THIS)
Let it soak for 15 to 20 days