Beans Potato Avial Recipe with step by step pictures. Simple south indian curry made with beans, potatoes cooked with coconut cumin masala.
In our house probably we will have avial twice a week. Each time amma makes this with different vegetables. Some day she will make tomato avial or drumstick avial or yam avial and many more. Each time the flavours will be completely different and unique. 
About Bean Potato Avial Recipe
Avial is an Indian dish that originated in the Indian states of Kerala, Tamil Nadu, and Udupi. It's a thick stew of 13 vegetables and coconut from the Western Ghats, seasoned with coconut oil and curry leaves.
Today I am going to share my mums favorite avial using Beans and Potato. The vegetables are cooked in a spicy green coconut sauce. Totally delicious. I would advice you to make the tempering using coconut oil. Whenever you are making any dish that have some form of coconut in it. Try using coconut oil in that, because that enhances the flavour of the entire dish.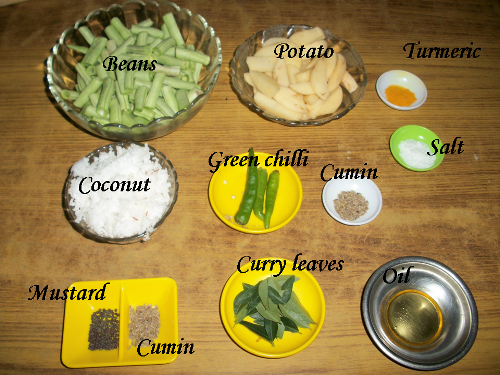 Pin
📖 Recipe
Frequently Asked Questions? FAQ?
Is avial made from vegetable scraps?
Avial or Aviyal is a vegetable dish of Kerala that uses green bananas, drumsticks, various soft beans, and fresh coconut gratings," writes Achaya in his book The Illustrated Foods of India. These are cooked in coconut milk before being tossed in aromatic coconut oil and spiced sour curd.
How did Avial originate?
Avial is also a seasonal vegetable mash cooked in a simple coconut gravy. According to legend, Avial was created by the great Pandava Bhima during their exile. During The Great Pandava's exile, Bhim disguised himself as a cook "Ballav" in the kitchen of The King of Virata.