Thank god my lil one didn't get scared for all those crackers..Even i got little scared by hearing those atom bombs, but she gave a very little reaction like opening her eyes ones and then going back to sleep. It is such a relief.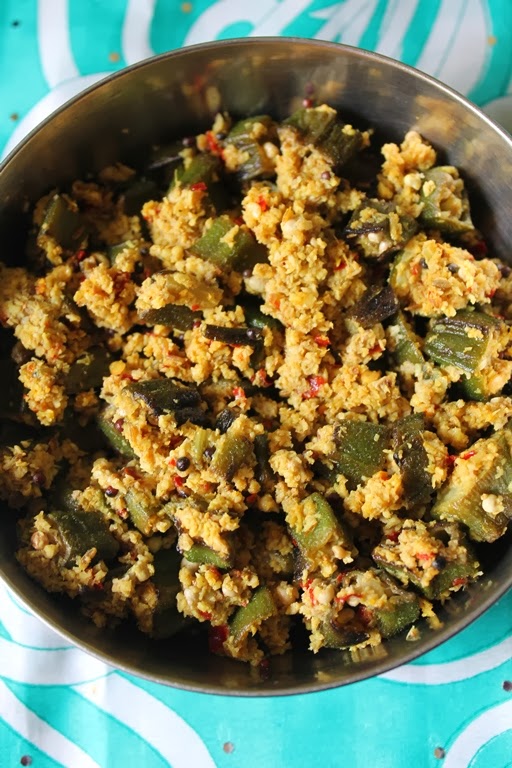 Pin
Now coming back to todays recipe, it is again my mom's avial recipe. She makes avial with all kinds of veggies and i should tell ya, it taste divine. I have quite a variety of avial in this blog like Drumstick Avial, Mixed Vegetable Avial, Raw Mango Avial, Beans Potato Avial, & Malabar Avial. If you are a non veg eater, i have avials for you too. Check out my Anchovies Avial & Egg Avial.So try this avial and let me know how it turns out.
Preparation Time: 10 mins
Cooking Time : 30 mins
Serves : 2


Ingredients:
Oil - 1 tblspn
Mustard Seeds / Kaduku - 1tsp
Vendakkai / Ladys Finger / Okra - 15
Tamarind Pulp - 1 tblspn
Water - ½ cup
Salt to taste


For Grinding:
Coconut - ¾ cup
Turmeric Powder / Manjal Podi - ½ tsp
Dry Red Chilli - 2
Cumin Seeds / Jeerakam - 1tsp


Method:
Grind the ingredients given for masala to a coarse paste without adding water.
Heat oil in a kadai. Add in mustard seeds and let them pop.
Now add in lady finger and saute for 5 mins. Season with salt and mix well.
Now add in tamarind pulp and some water. Bring everything to a good boil and cover the pan. Let it cook for 15 mins.
Now add in the masala and toss well. Stir this for couple of mins.
Serve with rice.
Pictorial:
Cut okra into small pieces
Take coconut, cumin and chilli in a mixer
Pour in some tamarind juice