Karuvadu Fry Recipe with step by step pictures. Crunchy Dry Sardine Fry recipe made with dried fish and spices.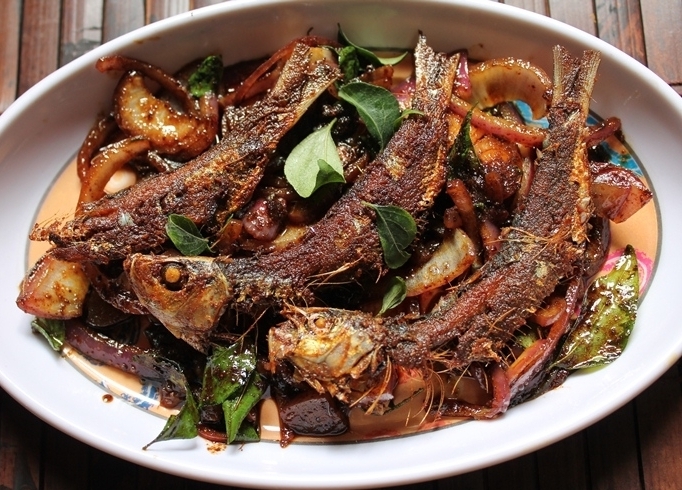 This is my first ever recipe with dried fish, that i have cooked. Recently discovered that hubby loves fish in any form, even if it is dried. Couple weeks back he bought these packet of dried fish for me to cook. I have never cooked with it before, so decided to fry it. 
Couple of things you should remember while dealing with dried fish is, you should clean it really really well and also you should be very careful while adding salt. Since the fish is salted already i went easy on the salt. As a last touch I saute some onions, curry leaves in the fried oil and squeeze some lemon juice in. Hubby loved it a lot.
About Karuvadu Fry (Dry Fish Fry)
Fresh fish deteriorates quickly unless it is preserved in some way. Drying is a food preservation method that works by removing water from the food, inhibiting the growth of microorganisms. To preserve food, open air drying with the sun and wind has been practised since ancient times. Water is typically removed through evaporation (air drying, sun drying, smoking, or wind drying), but in the case of
freeze-drying, the food is first frozen and then the water is removed through sublimation. Bacteria, yeasts, and moulds require water to grow, and drying effectively prevents them from surviving in food.
Ingredients for Dried Sardine Fry 
Dried fish :
Dried fish has a strong flavour and a strong odour, making it an acquired taste. While smaller fish such as prawn/shrimp and anchovy are sun dried, the process for fleshier fish such as king fish is different.
Turmeric Powder :
The turmeric root is quite bitter, but has an almost citrusy taste, compared to the powder. Turmeric also has something of a sweet taste, and it is quite earthy. When you use the powder, you're unlikely to notice the texture unless you use a substantial amount, but it is somewhat gritty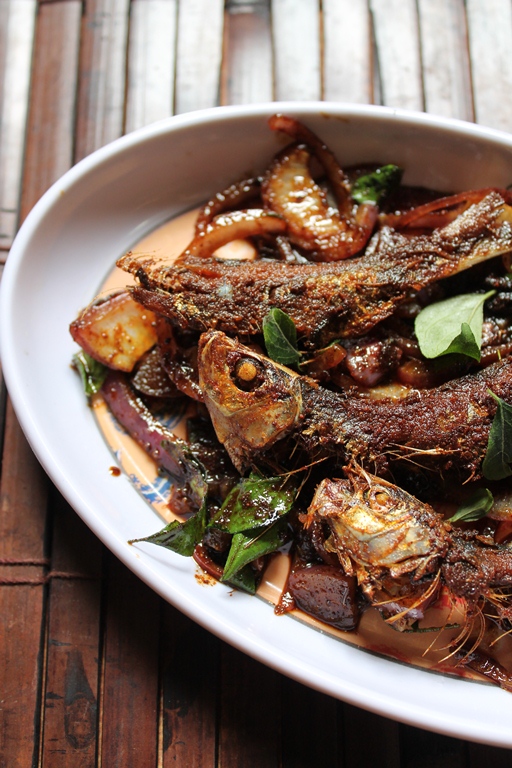 If you have any questions not covered in this post and if you need help, leave me a comment or mail me @[email protected] and I'll help as soon as I can.
Follow me on Instagram, Facebook,Pinterest ,Youtube and Twitter for more Yummy Tummy inspiration.
IF YOU MAKE THIS RECIPE OR ANYTHING FROM YUMMY TUMMY, MAKE SURE TO POST IT AND TAG ME SO I CAN SEE ALL OF YOUR CREATIONS!! #YUMMYTUMMYAARTHI AND @YUMMYTUMMYAARTHI ON INSTAGRAM!
📖 Recipe Card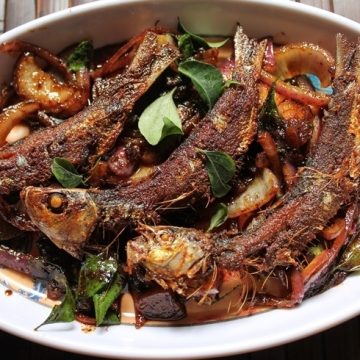 Karuvadu Fry Recipe
Karuvadu Fry Recipe with step by step pictures. Crunchy Dry Sardine Fry recipe made with dried fish and spices.
Print
Pin
Rate
Ingredients
Dried Fish

Any Fish - 12

Chilli powder - 1 tsp

Salt a pinch

Turmeric powder - 1 tsp

Lemon Juice - half a lemon + 1 tblspn

Onion - 1 sliced

Curry leaves - 1 spring

Oil for shallow frying
Instructions
Take the dry fish and soak them in water for 20 mins. Now clean them well to remove excess salt and dirt.

Mix that with chilli powder, turmeric powder, salt, lemon juice.

Heat oil and add in the fish. Fry it for 5 mins on either side till it is cooked and golden.

Now remove them to a plate. In the remaining oil, add in onions, curry leaves and saute for a min.

Squeeze in 1 tblspn of lemon juice and mix well.

Spoon this over the fried fish and serve with rice.
Join us on Facebook
Follow us on Facebook
Share by Email
Share on Facebook
Karuvadu Fry Recipe Step by Step Pictures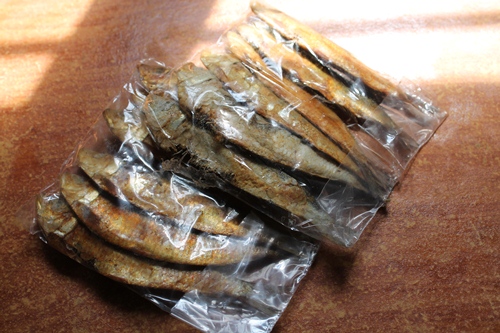 Take your dried fish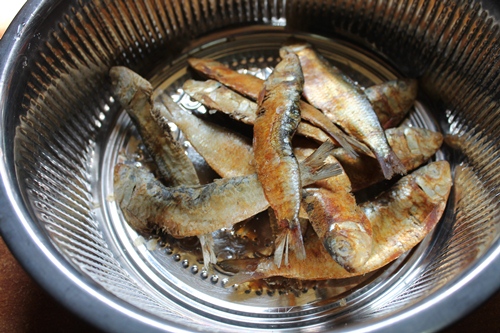 add them to a bowl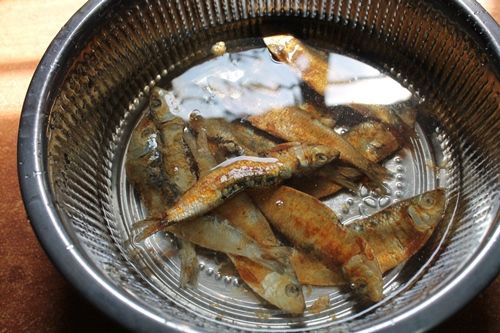 cover with water and let them soak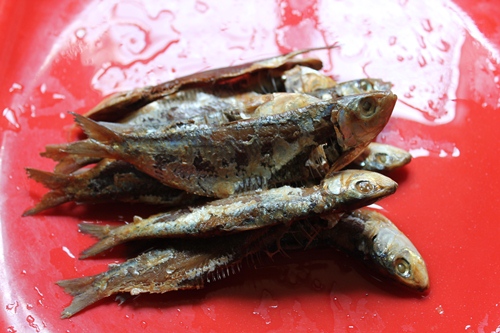 now wash and clean them well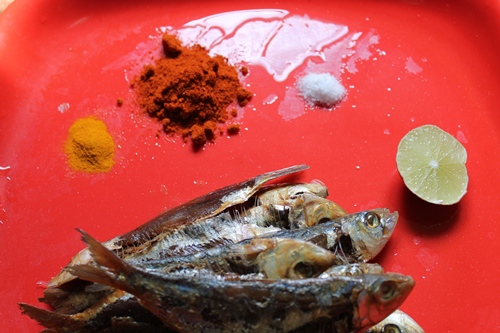 take all the remaining ingredients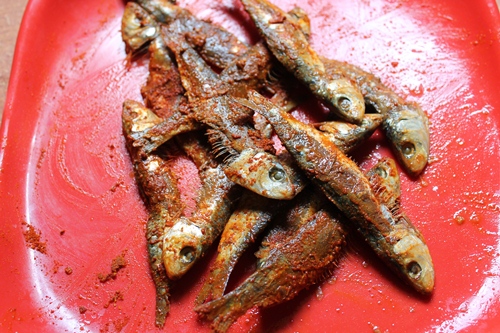 mix them well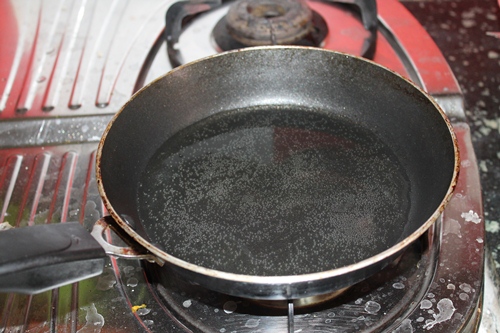 heat oil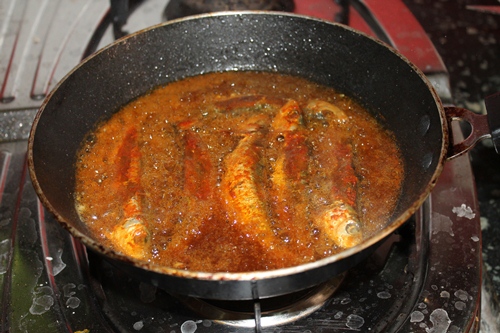 add the fish pieces in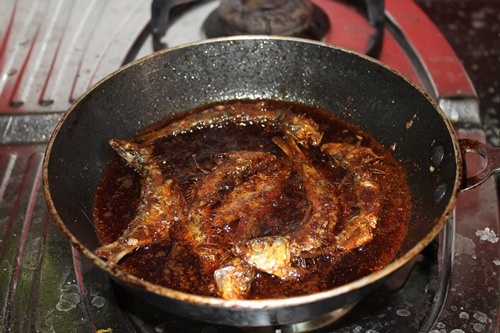 and fry till golden..remove them to a plate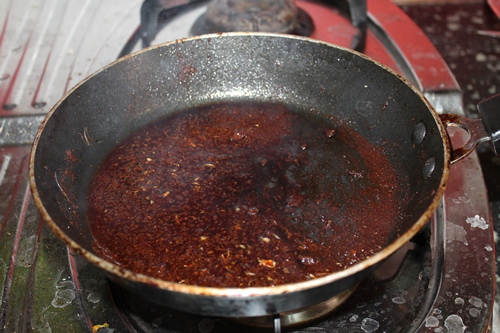 in the remaining oil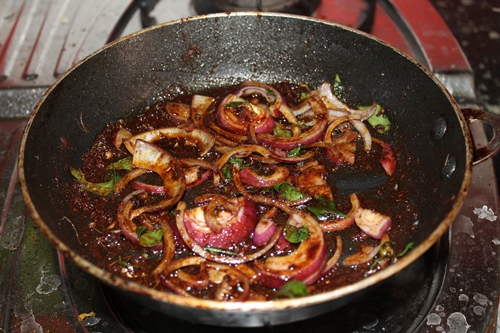 add in onions and curry leaves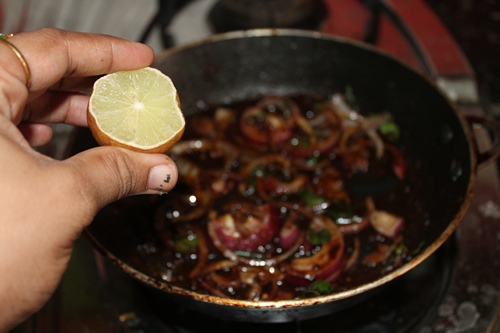 squeeze in some lemon juice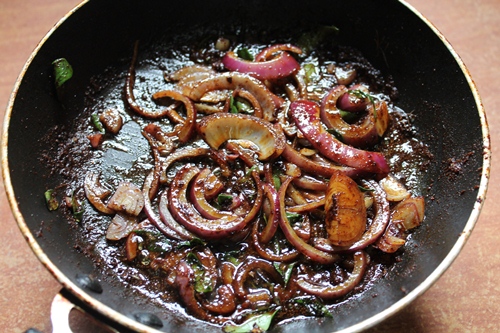 spoon this over the fish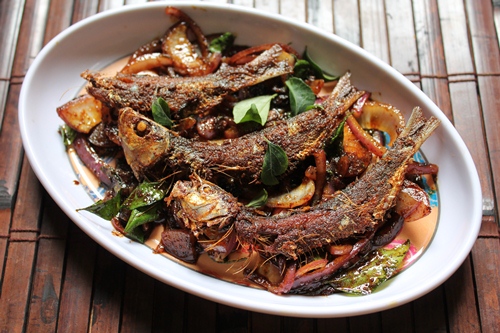 Enjoy..
Frequently Asked Questions
Are dried sardines good for you?

Because of their anti-inflammatory properties, omega-3 fatty acids aid in the prevention of heart disease. Sardines are a good source of them. Omega-3 fatty acids also lower blood pressure and lower the risk of blood clots. They may also help protect those who have had a previous heart attack.
What are dried sardines?

Niboshi in Western Japan, are Japanese dried infant sardines (sometimes incorrectly translated as anchovies). They are one of many varieties of small dried fish used throughout Asia in snacks and as seasoning for soup stocks and other foods.
Are sardines found in India?

In India, on an average 3.57 lakh tonnes of sardines are landed annually which contribute 12.2% to the totcO sardine production in the world.