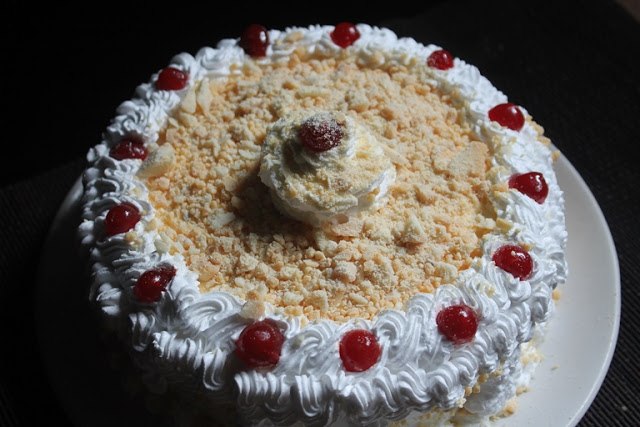 I have shared two version of black forest cake in my blog and i got so many request from many of my viewers to share white forest cake. Finally i made it and here i am sharing it right away.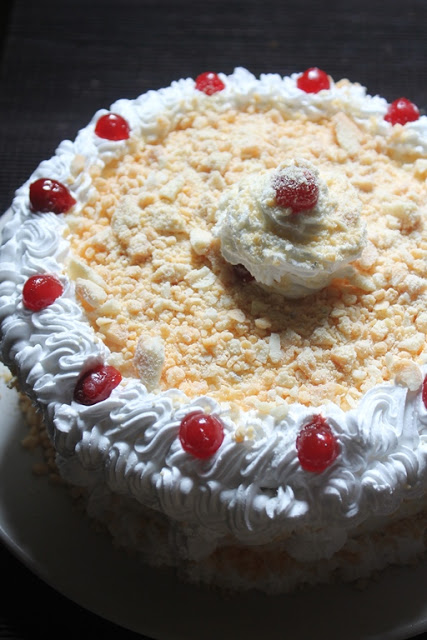 White forest is nothing but vanilla sponge cake soaked with sugar water and topped with white chocolate and cream. Delicious when served cold.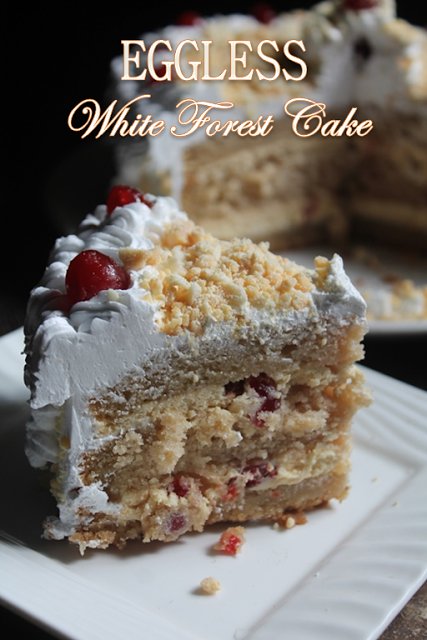 I made this entirely eggless, you can use any of my sponge cake recipe in this. I will soon share a sponge cake with eggs in them.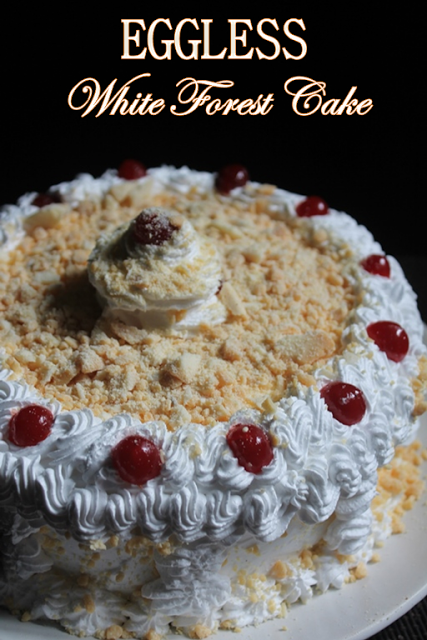 Hope you will give this a try and let me know how it turns out for you..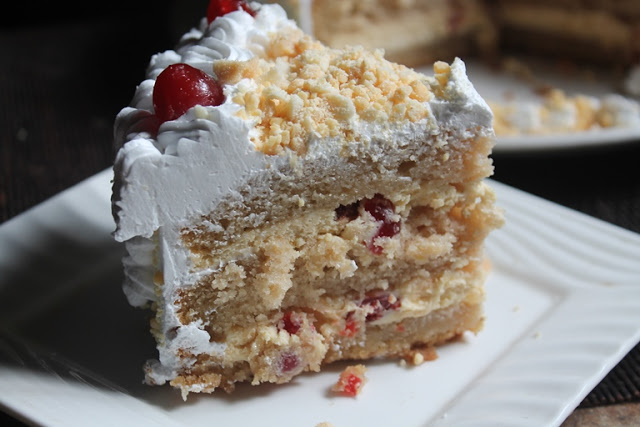 Preparation Time : 10 mins
Baking Time : 40 to 45 mins
Makes : 16 slices


Ingredients:
For Cake:
All Purpose Flour / Maida – 2 1/4 cup / 270 grams
Sugar – 1 cup / 200 grams
Baking Soda / Cooking Soda – 3/4 tsp
Baking Powder – 2 tsp
Yogurt / Curd – 11/2 cup / 360 ml
Oil – 3/4 cup / 180 ml
Vanilla Essence – 2 tsp
Milk around 1/2 cup
For Filling & Topping:
White Chocolate Chips – 1/2 cup
Whipping Cream – 2 cups
Icing Sugar – 2 tblspn
Vanilla Essence – 1 tsp
White Chocolate Shards for decoration
Cherries as needed
For Sugar Water:
Sugar – 1/4 cup
Water – 1 cup
Vanilla Essence – 1 tsp
(My 1 cup measures 240 ml)
Method:
Oil a square cake pan, dust it with flour and set aside. Preheat oven to 180 degree C.
In a large bowl, take curd, oil, sugar, vanilla and mix well. Keep mixing till the sugar is melted. Add in baking soda and baking powder and mix well.
Now add in the flour mix and fold gently.
If you find the batter to be too thick, add a splash of milk to thin it out.
Now transfer this mix to the pan and bake for 1 hour and 15 mins till a toothpick inserted comes out clean.
Now remove the tray from oven, let it cool a bit.
Invert to a cooling rack and let it cool completely, Now slice this in to three equal parts and set aside.
Whip cream with sugar and vanilla and whip till stiff peaks form.
Now take the white chocolate cream, take white chocolate in a bowl and melt it down in microwave or double boiler, now add in 2 to 3 scoops of whipped cream and fold gently. Set aside.
Now make sugar water by mixing sugar water and vanilla and mix well. Brush the cake all over the cake so it gets moisten.
Now place a cake slice on a plate, spread some white chocolate cream and top with cherries. Now place another cake and spread some more white chocolate cream and cherries. Now top the final cake and cover the entire cake with whipped cream.
Decorate the cake and top with white chocolate and cherries.
Chill the cake for 2 to 3 hours and serve.
Pictorial: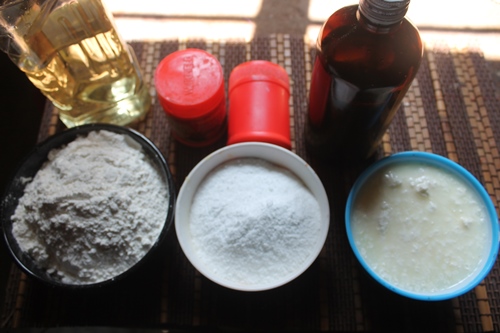 First lets make the cake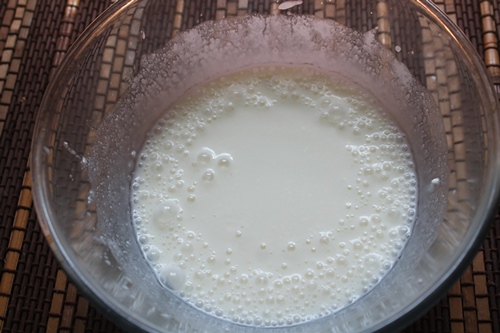 Take yogurt/curd in a bowl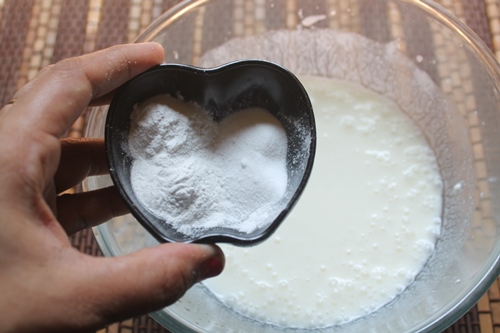 Add in baking soda and baking powder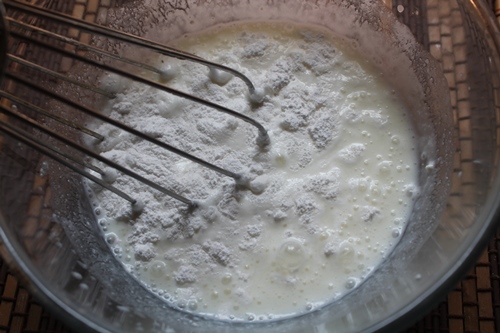 mix well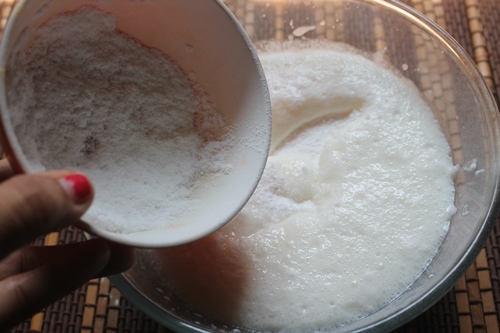 add in sugar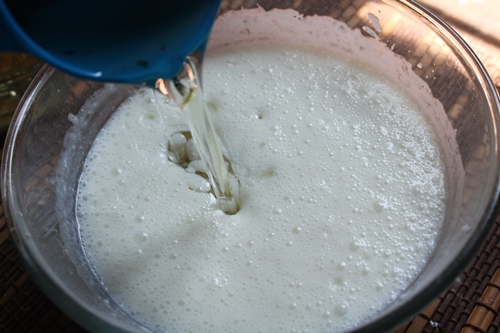 add in oil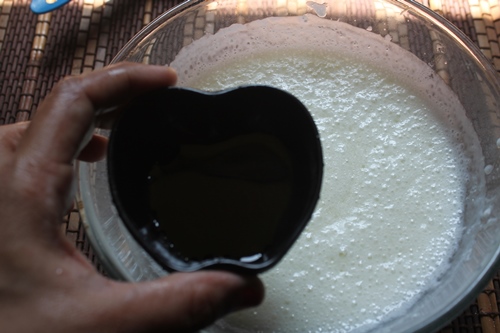 add in vanilla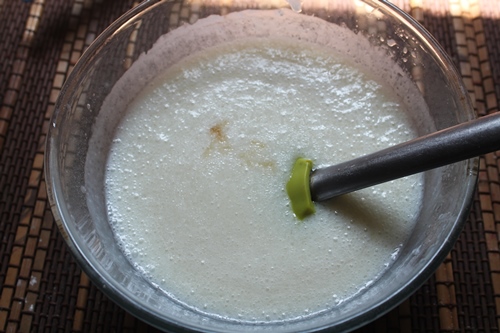 mix well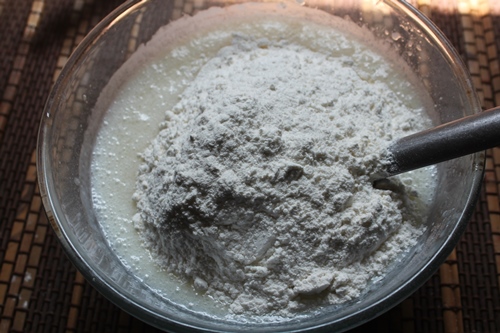 fold in flour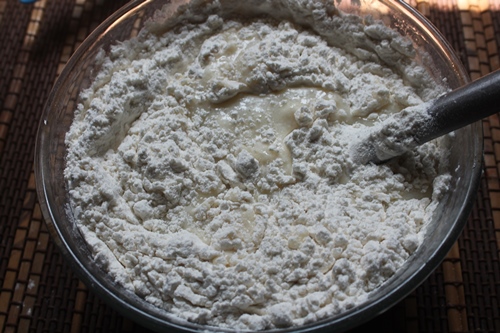 fold gently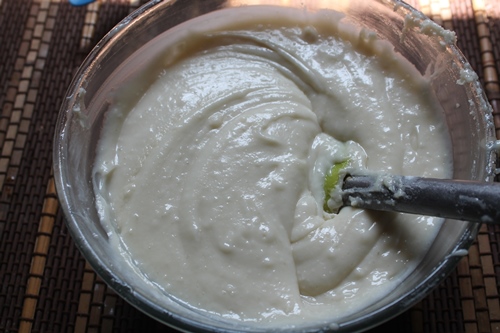 now it is well mixed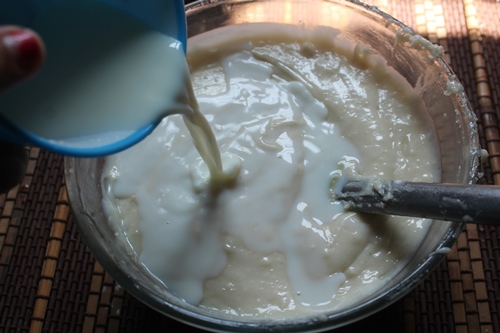 add in milk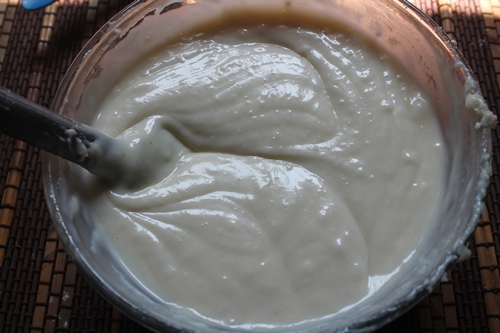 fold gently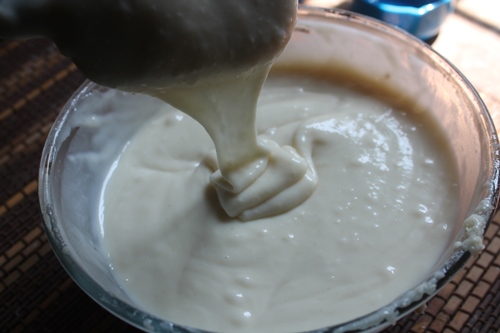 it should be in the right consistency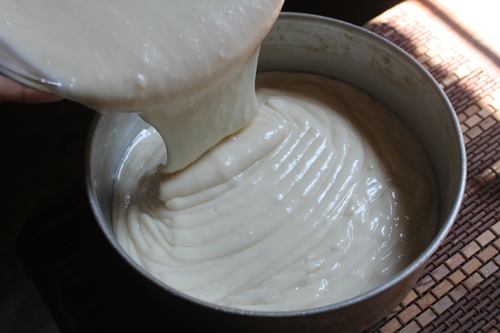 pour this in prepared cake pan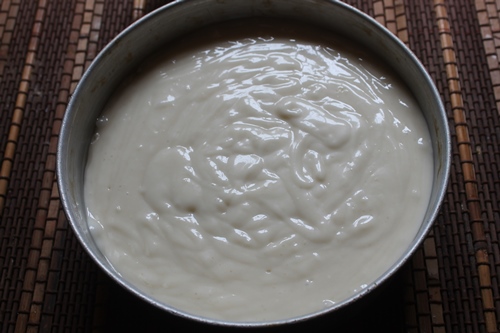 now time to bake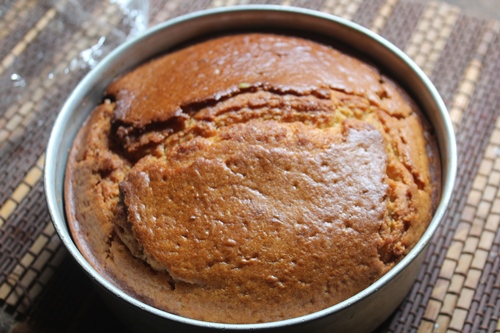 it is baked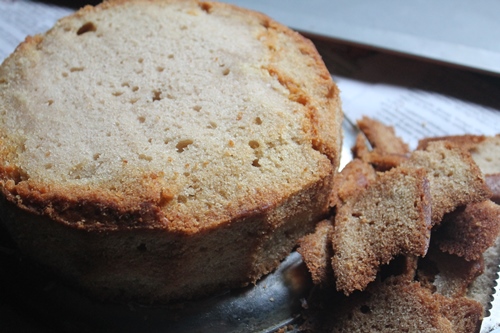 i put the cake in fridge overnight…sliced off the crust and sides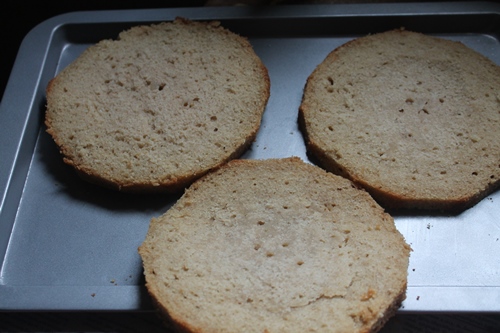 I sliced it in three parts..Set aside.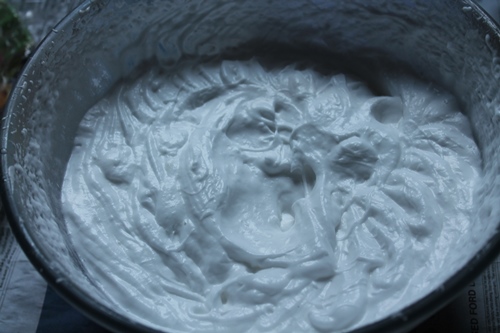 I whipped up some cream with some sugar and vanilla till stiff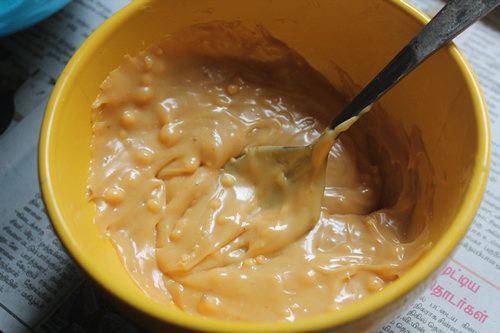 Now for the filling..i melted some white chocolate in a bowl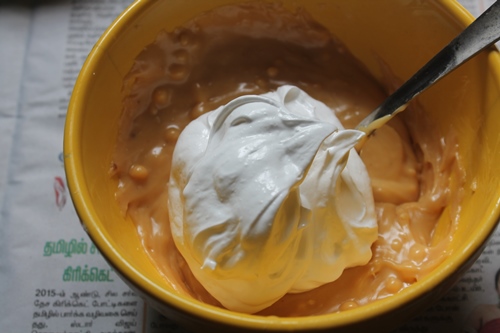 add in some dollops of whipped cream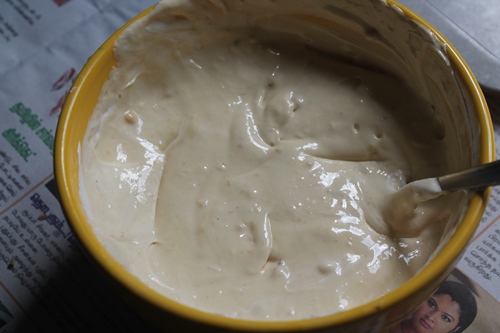 mix that well..This is for filling of the cakes..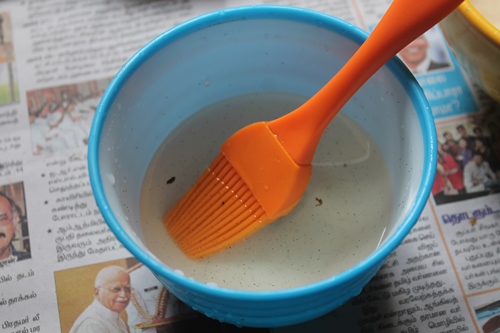 This is the sugar water which i made,mix sugar,
water and vanilla in a bowl and set aside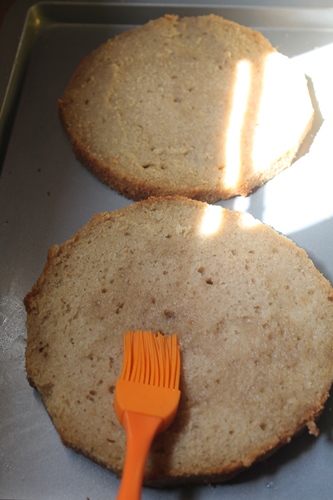 Brush the sugar water all over the cake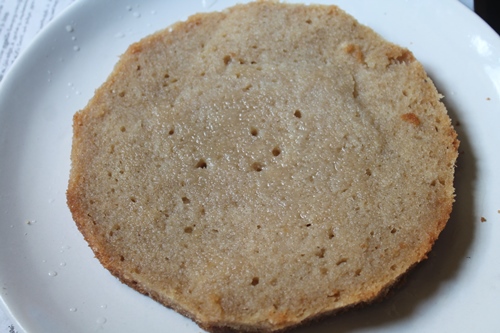 now place a slice of cake on a plate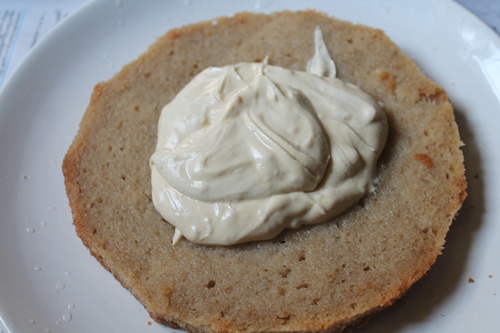 spoon half of the white chocolate cream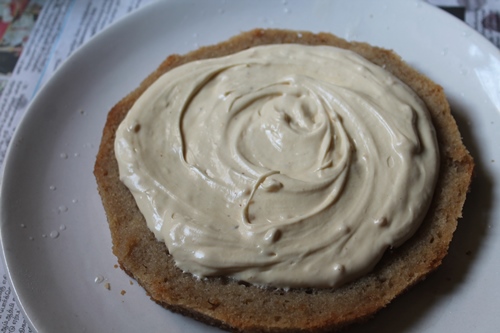 spread it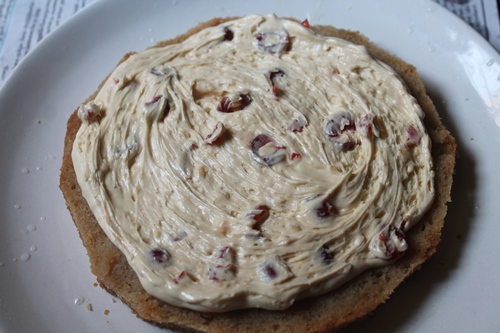 add in cherries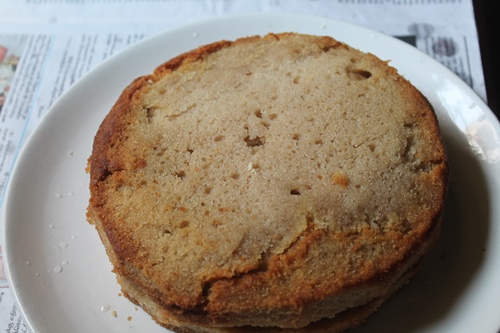 Place another cake slice on top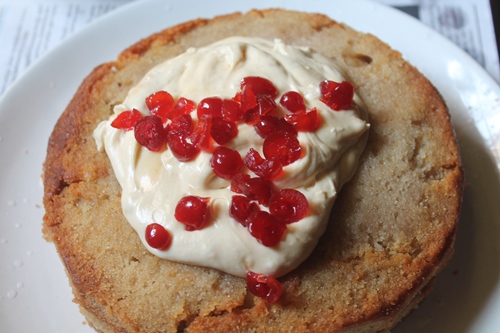 top with white chocolate cream and cherries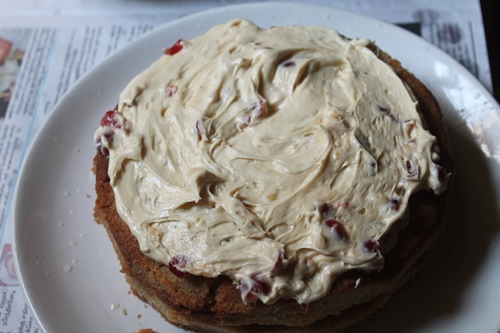 spread it out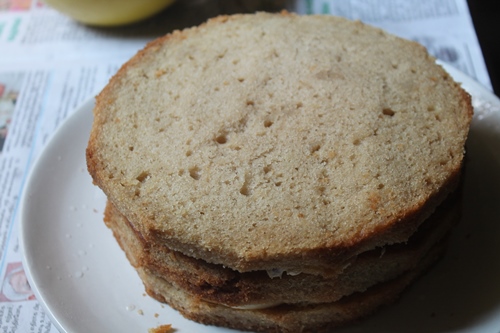 place the final layer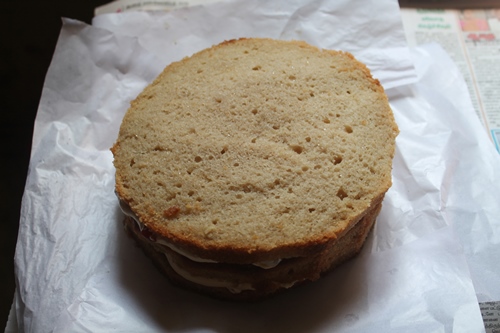 i placed strips of parchment paper all over the cake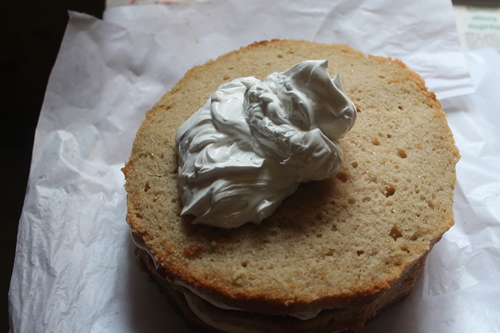 top with whipped cream.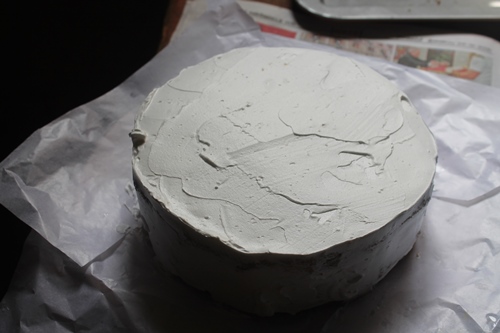 Spread it evenly..This is crumb coating..i chilled this
for 30 mins in fridge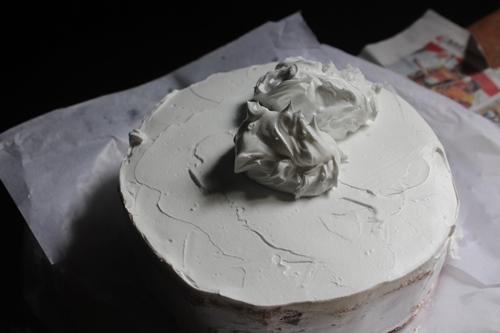 Now i dolloped some more cream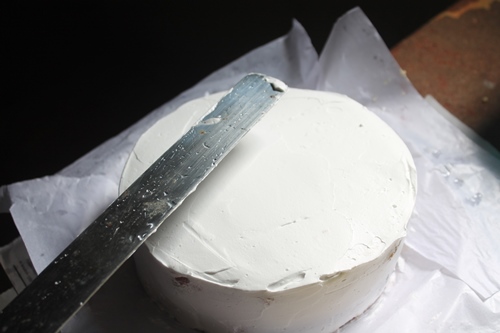 spread it evenly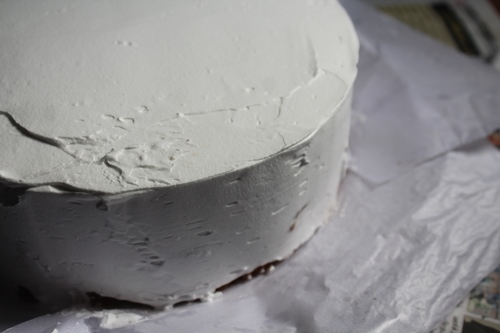 spread evenly on the sides as well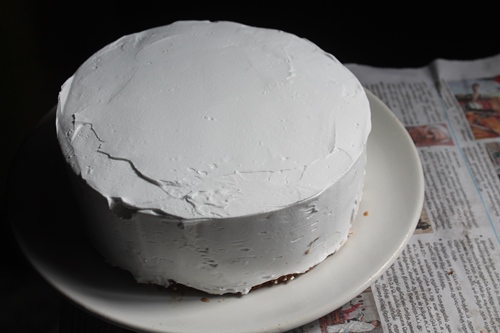 now remove the parchment paper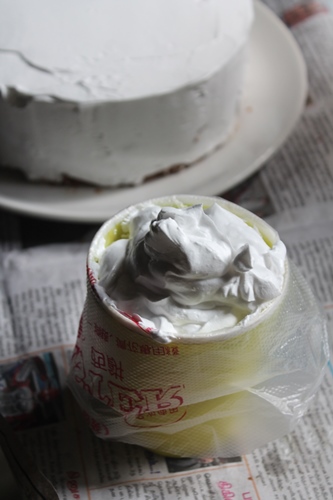 Dollop some cream in a piping bag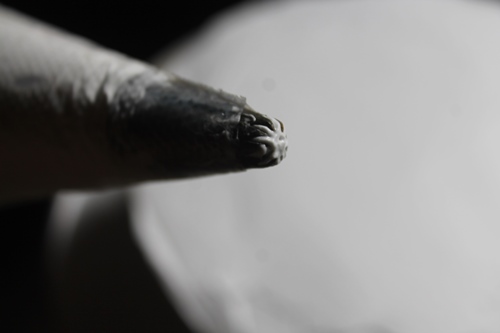 i used small star tip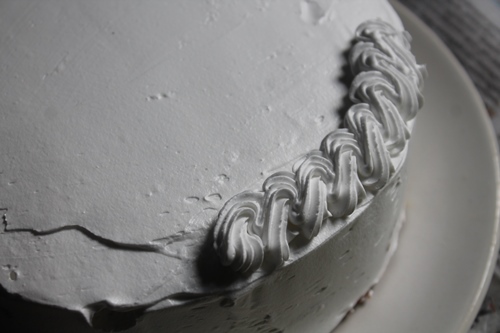 decorate as you wish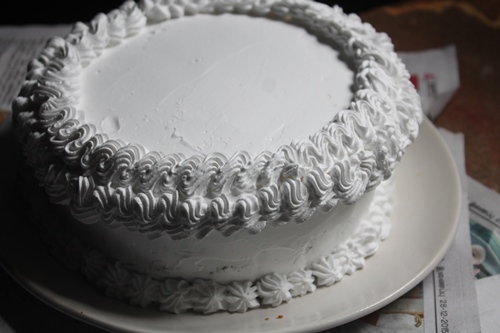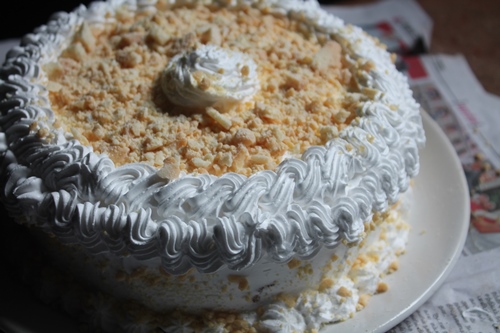 Top with lots of white chocolate shavings on the sides and top as well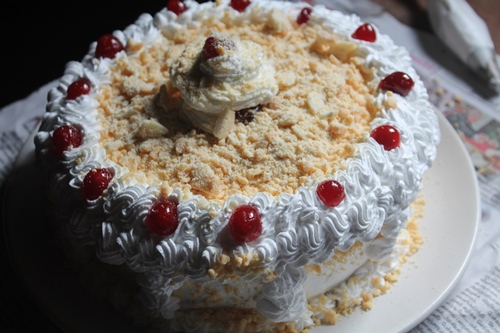 Decorate with cherries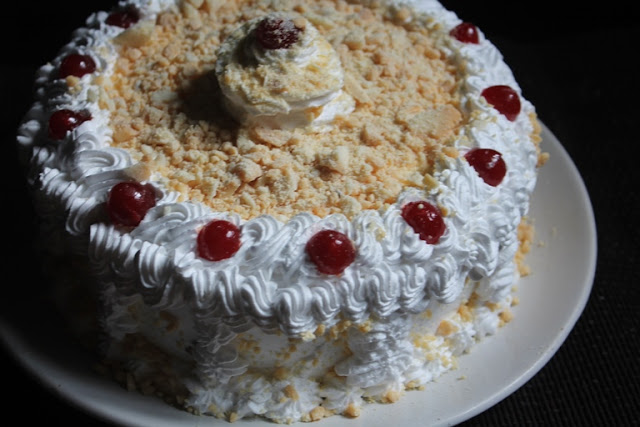 Chill for few hours before slicing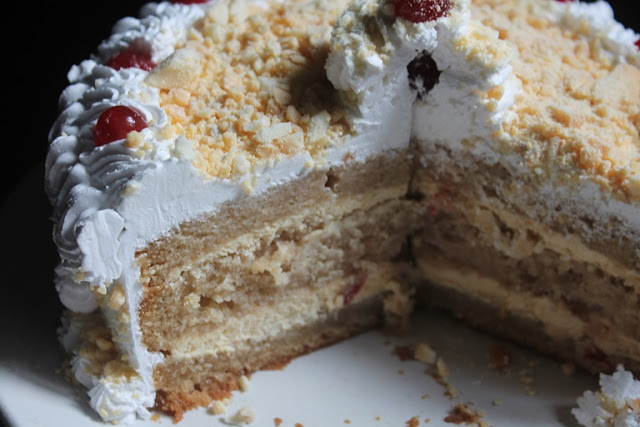 Enjoy