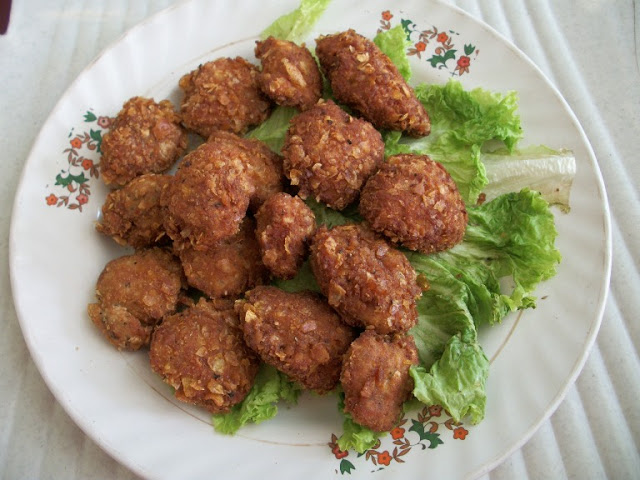 Today's recipe is going to be POPCORN..What POPCORN? Yes POPCORN..But it is POPCORN CHICKEN…KFC's most famous recipe, I am going to remodel it to my taste and construct it so that we can enjoy it in home daily..To be Frank I have never tasted it, but I browsed so much and checked out so many pictures and I can imagine how it will taste in real..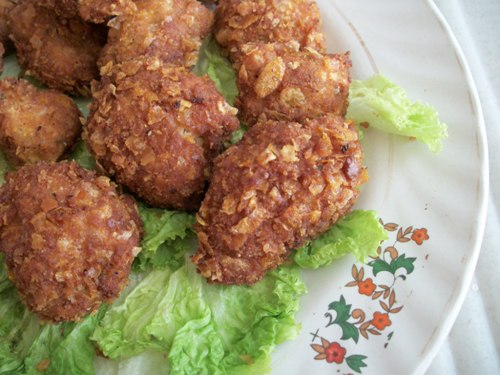 I thank one of my viewer named vinujasaran for asking this recipe to make…If not I must have not done it…It turned out so crispy and juicy and moist and fluffy and crunchy and so on…….I don't know how to explain the end result, it was soooooo good..I didn't except the result to be this good..And this is one of the best fried chicken I have ever tasted..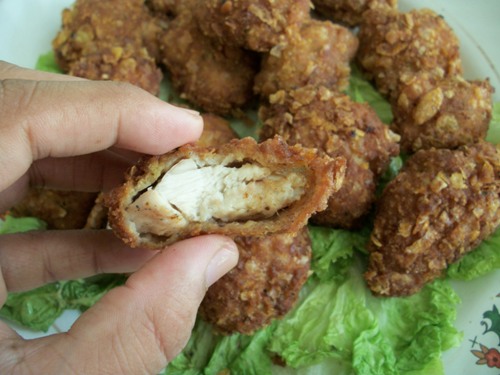 Actually I modified it to my taste and added so many extra special things in it..The original recipe called for garlic powder, onion powder, some extra seasoning mix..Man I don't have those stuffs on hand..So I made it with the available ingrediants..but the result was mind blowing..The crucial part in this recipe is frying, in kfc they pressure fry these chicken, I don't have those fancy dancy things, so what I did is I covered the pan in which they are frying with a tight fitting lid, this creates steam inside and fry the chicken which gives more or less the same result…Try to fry the chicken in medium heat so they don't get brown before the center is cooked…I hope you will love it for sure and see you all tomorrow…Now off you go to the recipe..
Ingredients:
For Marinating Chicken:
Boneless Chicken Breast – 2 chopped into bite size pieces
Onion – 1
Garlic – 4 cloves
Salt to taste
Pepper – to taste
For Seasoned Flour:
All Purpose Flour – 1 cup
Oregano – 2 tsp
Salt to taste
Pepper – to taste
For Egg Coating:
Egg – 1 beaten
Milk – 1 tblspn
For Crusty Coating:
BreadCrumbs – 1 cup
Plain Corn Flakes – 1 cup
Salt to taste
Pepper – to taste
Method:
Take onion and garlic in a blender and make into a fine paste. Marinate chicken pieces in the given ingrediant for marination along with the ground onion and garlic mixture and let it rest for 10 mins.
Now take a shallow plate and add the flour, oregano, salt and pepper and mix well. Set it aside.
Take egg and milk in a bowl and beat it slightly.Set this aside.
Take cornflakes in a plastic bag and bash it with rolling pin till they are crushed. In another bowl take the ingrediants given for the crusty coating along with crushed cornflakes and mix well. Set this aside.
Now time for some dipping and dunking. First take the marinating chicken and dredge them in the seasoned flour, then dip them in egg mixture, now coat them in the cornflakes mixture….Now comes the interesting part..dip them again in egg and coat again in cornflakes mixture. Place them in a plate and finish the entire batch like this.
Now time for frying. Take oil in a pan which has tight fitting lid…Heat them in medium heat. Drop the chicken pieces and cover it with the lid for 4 mins..Flip them over inbetween to ensure they are fried evenly.
Drain them in paper towel and serve with ketchup.
Pictorial: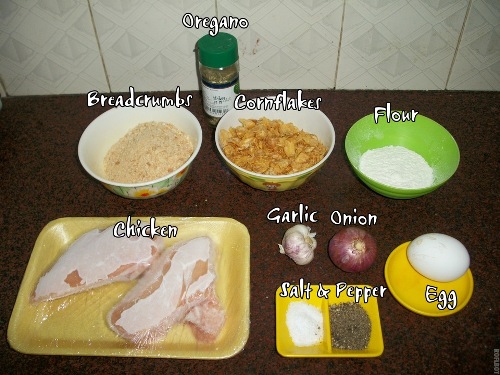 Take all your ingrediants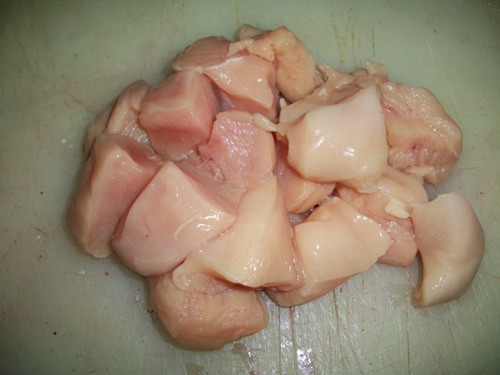 Chop your chicken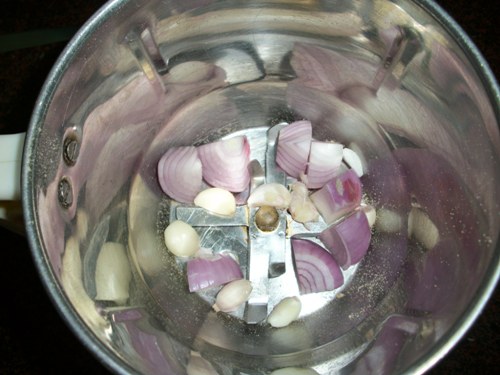 Take garlic and onion in blender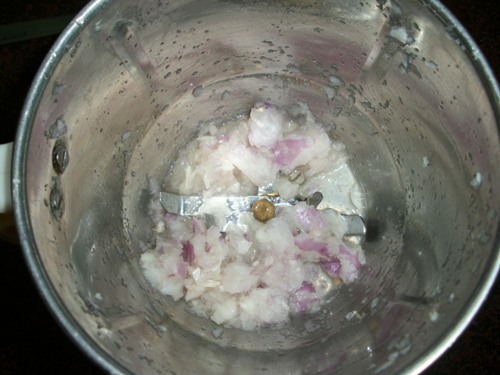 and make into a puree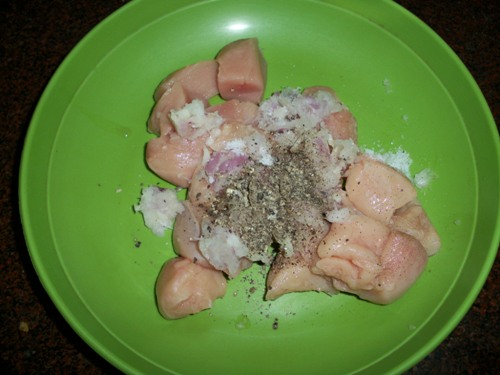 add it to the chicken along with salt and pepper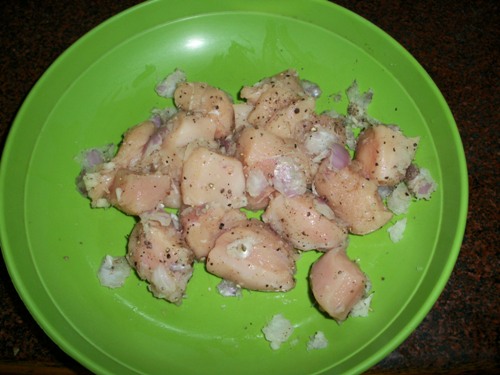 mix well and marinate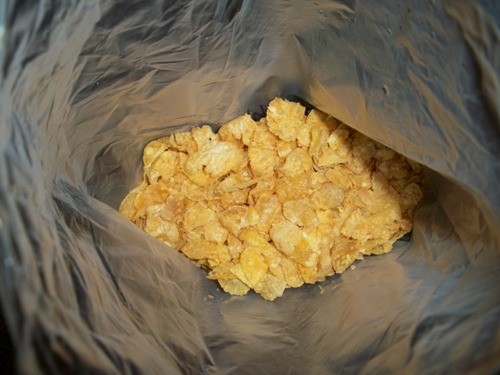 Now take cornflakes in a plastic cover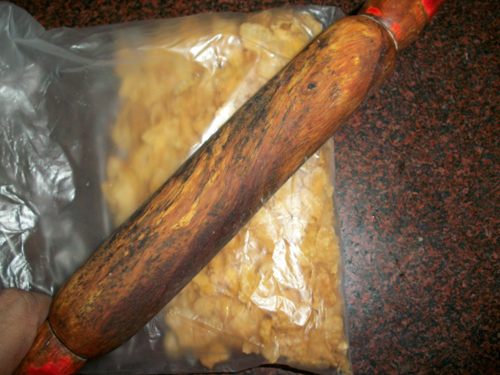 and bash them with rolling pin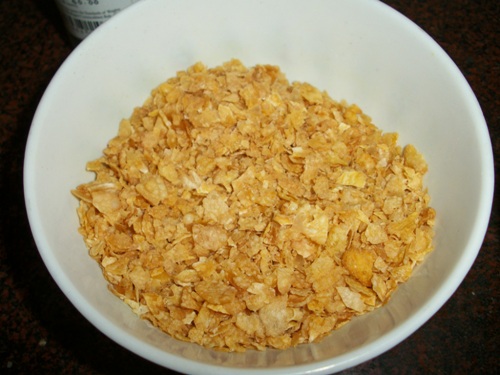 this make the cornflakes little smaller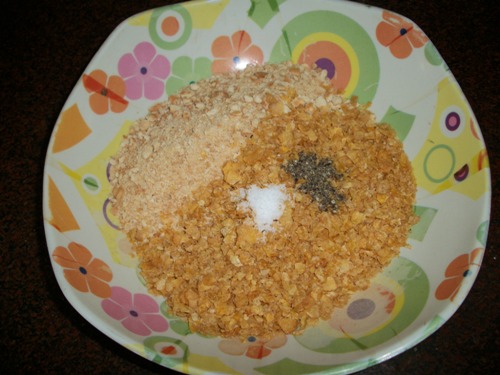 Take breadcrumbs, cornflakes, salt and pepper in a plate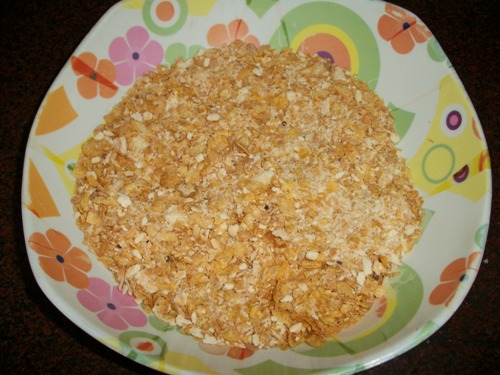 and mix well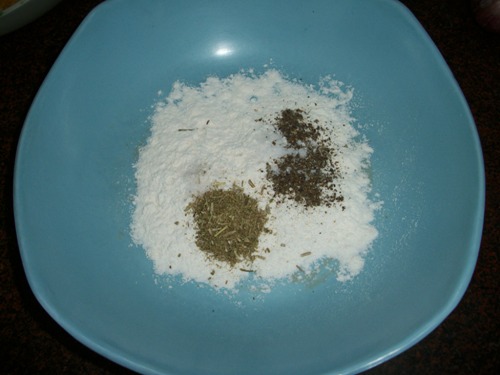 Now take flour, oregano, salt and pepper in a plate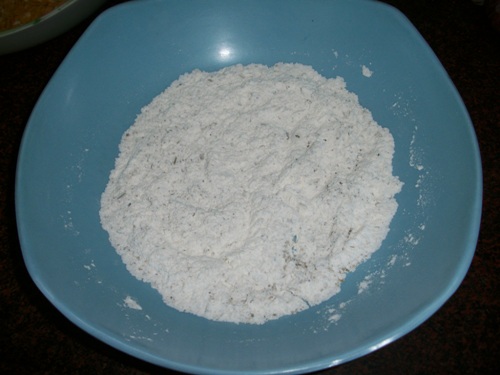 and mix well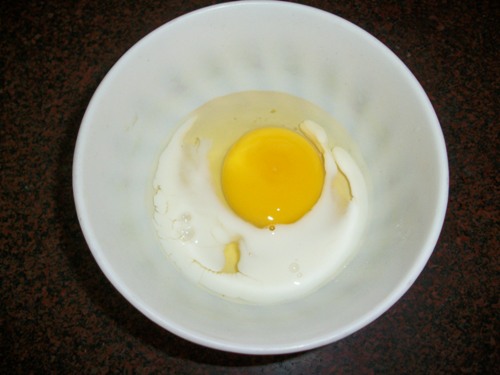 Take egg and milk in a bowl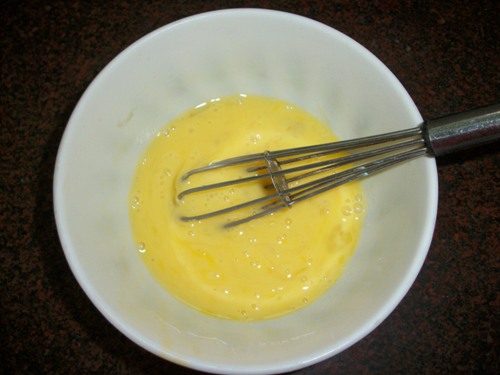 beat them till mixed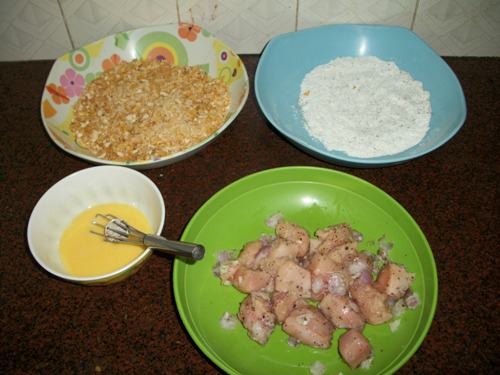 Take all the stuffs reade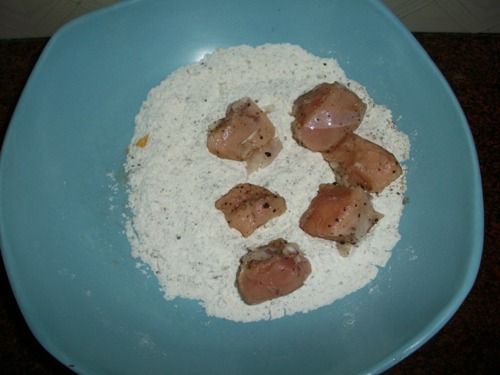 first dredge the chicken in flour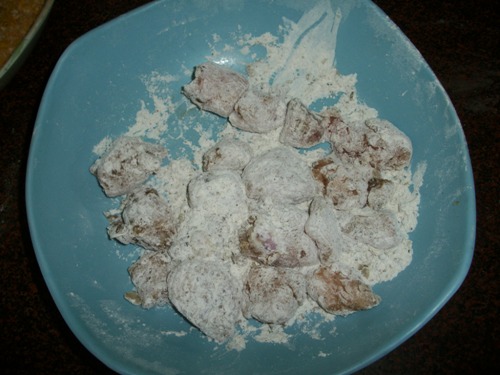 and toss well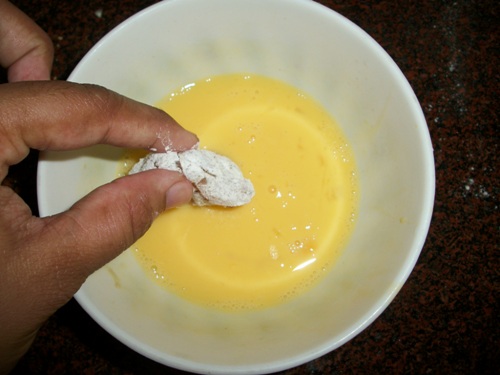 Dip them in egg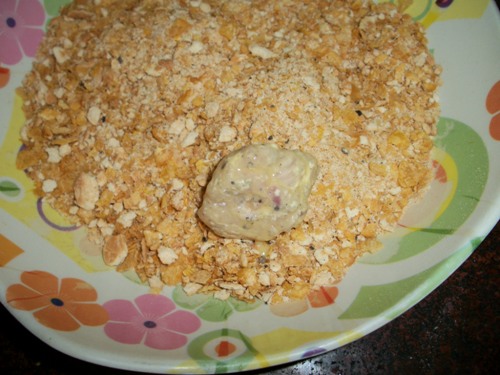 then in breadcrumbs mixture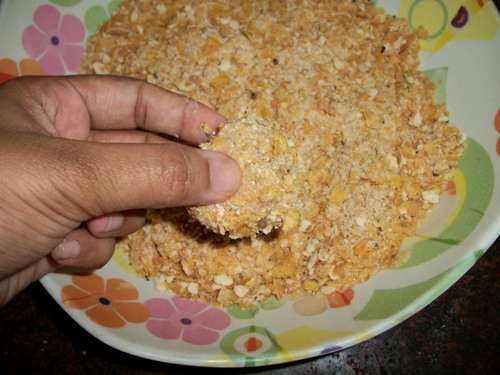 coat them well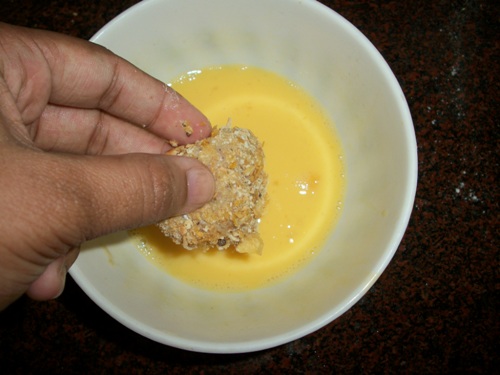 dip them again in egg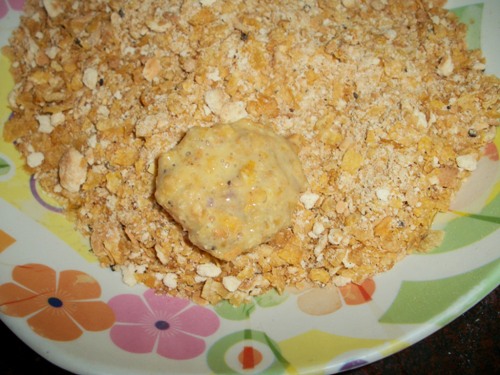 and again in breadcrumbs mixture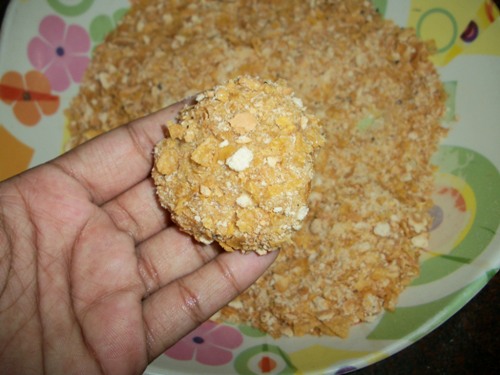 this makes them so well coated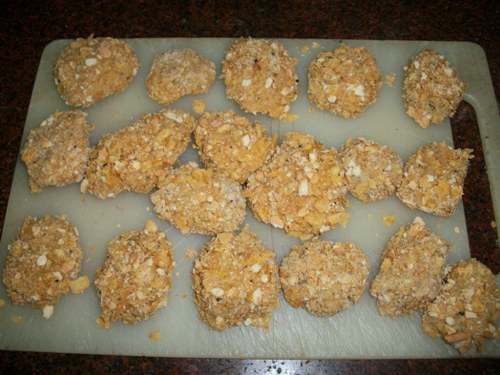 prepare everything like this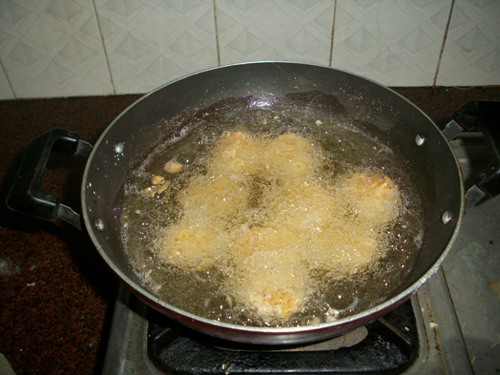 Drop them in oil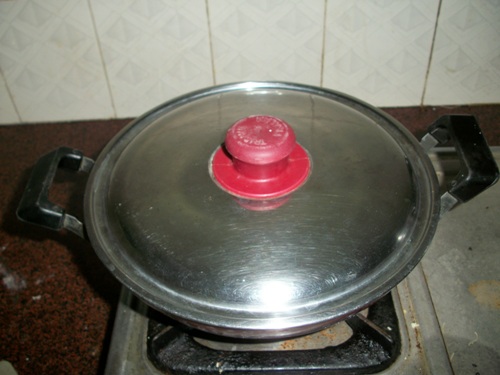 cover with a lid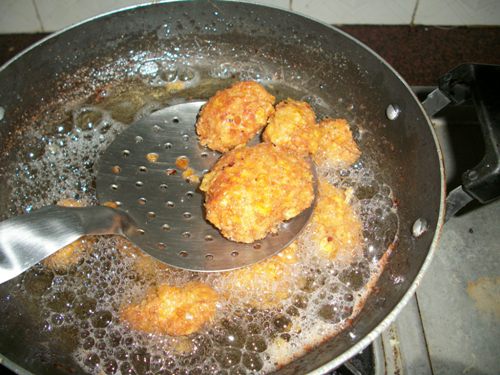 and fry till golden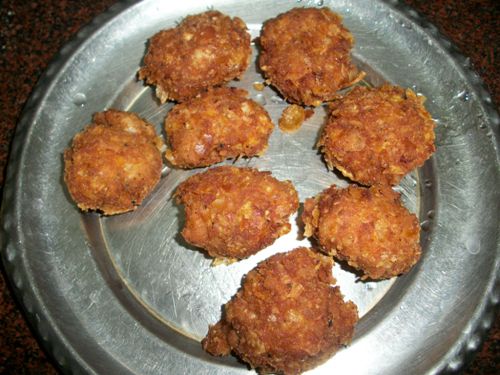 Drain and serve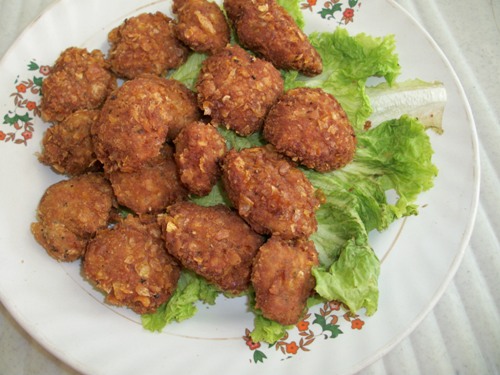 This stays so crispy..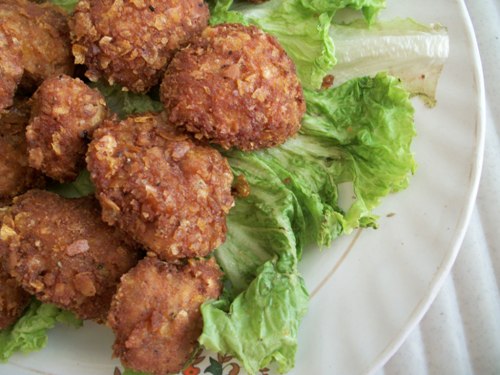 Have it piping hot..