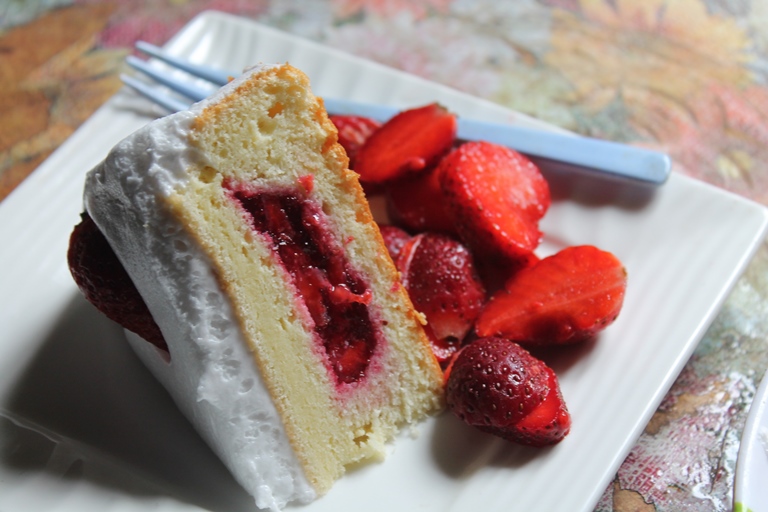 I have been waiting and longing to bake this cake as soon as i saw this in ree's blog.The actual recipe called for cream of tartar because ree used angels food cake for this. I couldn't find cream of tartar here and also the tube cake pan. Those things stopped me from doing it. But later i decided to use a different cake as base and make this one. Finally i found a perfect recipe for sponge cake and made this couple days back for christmas. It turned out so yummy..Loved it to the core..
Similar Recipes,
Similar Recipes,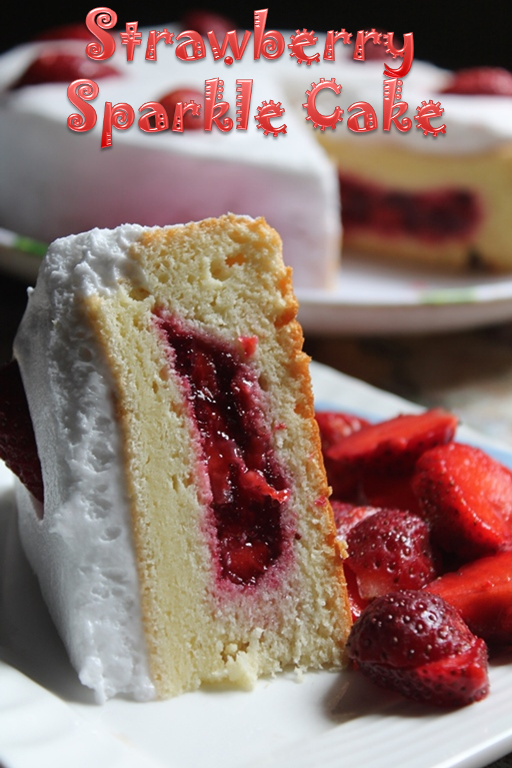 The actual cake was so light and fluffy and with the strawberries it turned out to be a hit and i am sure kids will love it for sure.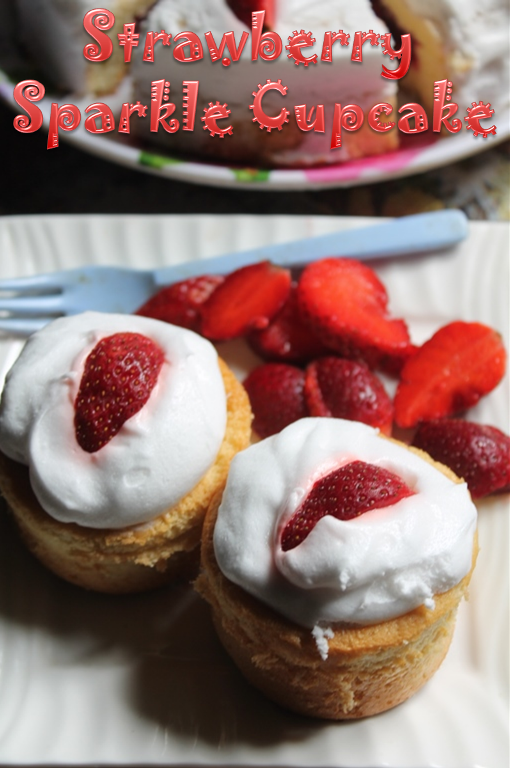 You can even bake this as cupcakes. I used my silicon cupcake cases to bake this and it turned out just super. I loved the cute cupcakes a lot than the actual cake.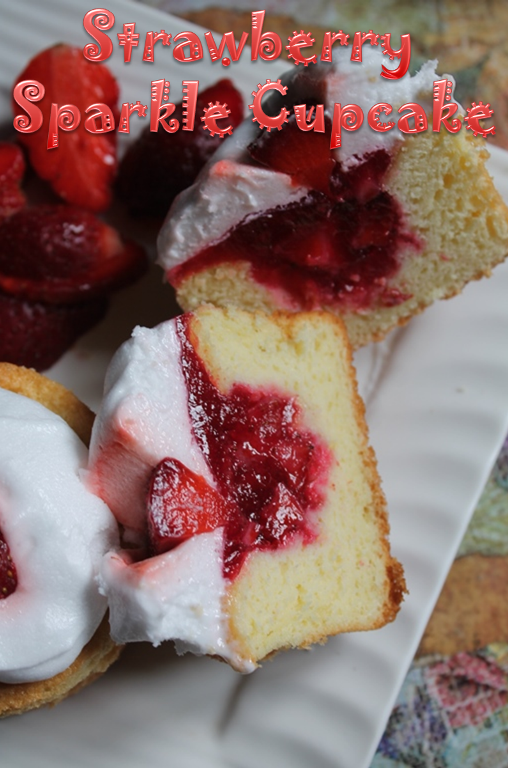 Hope you will give this a try and let me know how it turns out for you..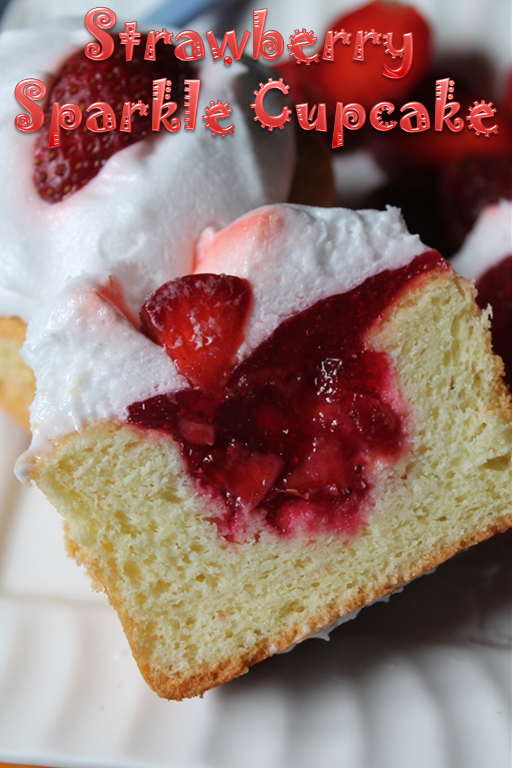 Preparation Time : 30 mins
Baking Time : 45 to 50 mins
Makes : one 15 cm round cake and 3 cupcakes
Ingredients:

For Sponge Cake:
All Purpose Flour / Maida – 3/4 cup / 90 grams
Cornflour / Cornstarch – 2 tblspn
Salt – 1/4 tsp
Eggs – 6
Sugar – 1/2 cup / 100 grams
Unsalted Butter – 1/4 Cup Melted / 50 grams
Vanilla Essence – 1 tblspn
Milk – 1/3 cup
For Strawberry Jelly:
Strawberries – 2 cup chopped finely
Sugar – 1/2 cup
Vanilla Essence – 1 tsp
Strawberry Mix – few drops
Gelatin or China Grass – 1 tsp
Water – 1/2 cup
For Toppings:
Whipped Cream as needed
Strawberries as needed
Method:
Preheat oven to 170 Degree C. Line a round baking tin with parchment paper and oil the sides and bottom well. Set aside.
Sieve together flour, cornflour, salt. Set aside.
Separate 5 eggs, by yolk in a bowl and whites in another bowl.
In a large bowl, add in 1 egg and 5 egg yolks, sugar and vanilla. Use a electric beater and beat till creamy.
Add in half flour mix in and fold gently. Now add in half of the milk and the remaining flour in. Now add all the milk in and the flour in fold gently.
Add in melted butter and fold well.
In a separate bowl, add in egg whites and use a electric beater to beat till thick and stiff.
Add in 1/3 of the egg whites in the batter and fold. Now add the remainig egg whites i and fold gently till it is well combined.
Pour this in to the prepared pan and bake for 10 mins, now decrease the temp to 150 degree C and bake for 30 to 35 mins.
Now remove the cake from oven and let it cool down.

While the cake is cooling,make the jelly. Take strawberries, sugar, vanilla in a bowl. Mix well.
Take gelatin and water in a sauce pan and soak for 5 mins. Heat till it is melted. Pour this hot mix over the strawberries and mix well. Put the bowl in the freezer for 10 mins till it sets lightly.
Now add few drops of strawberry mix and mix well.
Now take the cake from the tin and peel off the parchment paper. Cut the top third of the cake and set aside. Make hollow in the center of the other cake and spoon the jelly mix in. Cover with other cake.
Spread whipped cream frosting over the cake.
Decorate with strawberries.
Slice and serve.
Pictorial: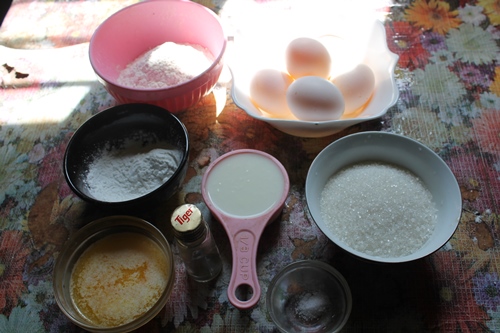 Take your ingredients for cake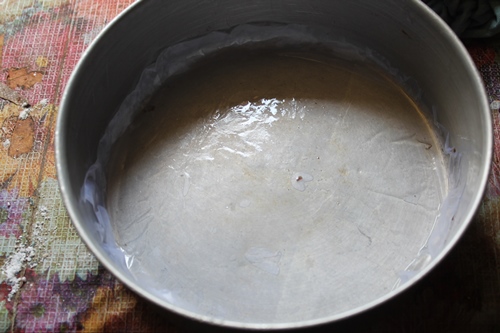 Line a baking pan with parchment paper and oil
the sides and bottom well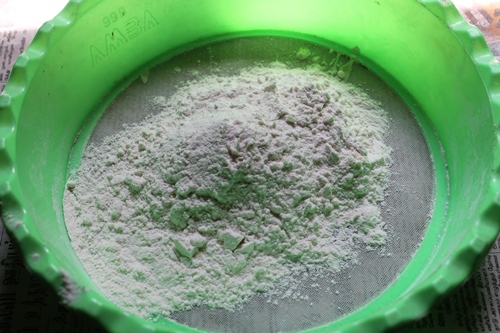 In a sifter add in flour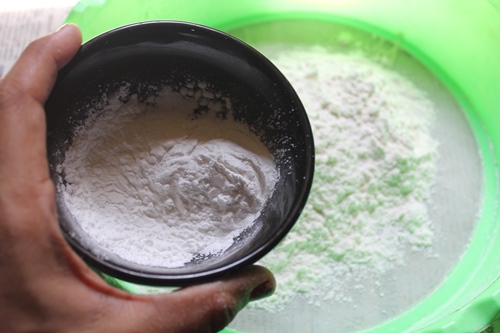 add in cornflour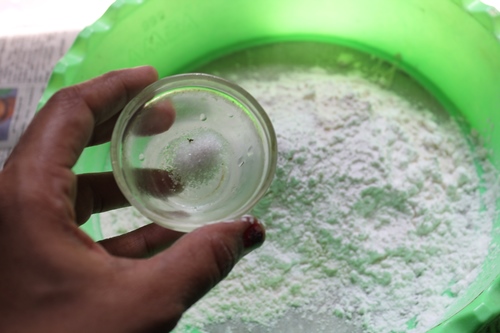 add some salt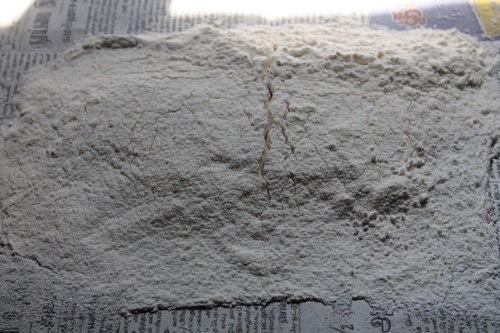 sieve it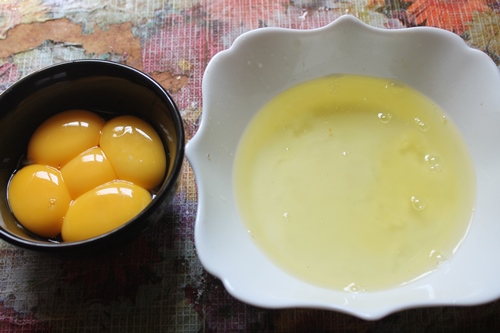 now separate 5 eggs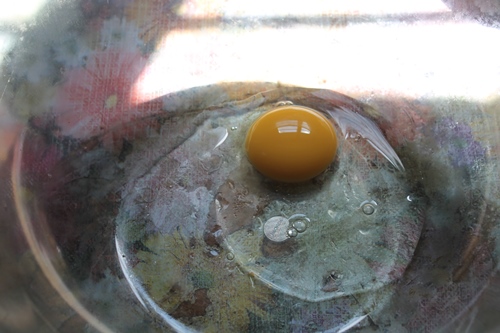 Crack open 1 egg in a bowl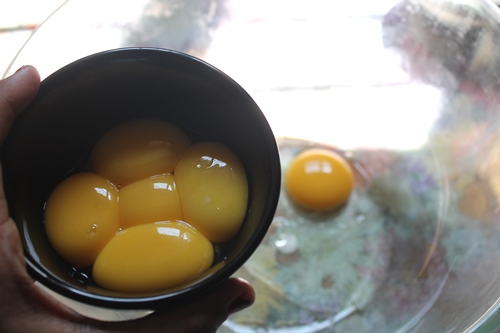 add in 5 egg yolks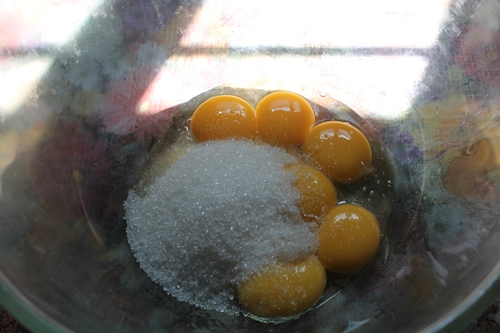 sugar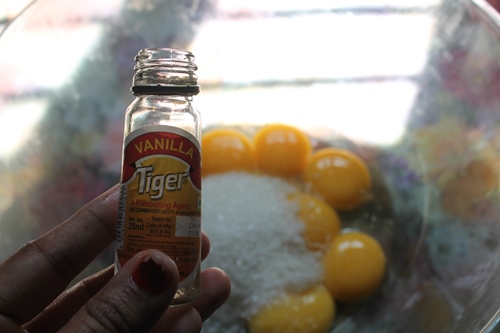 vanilla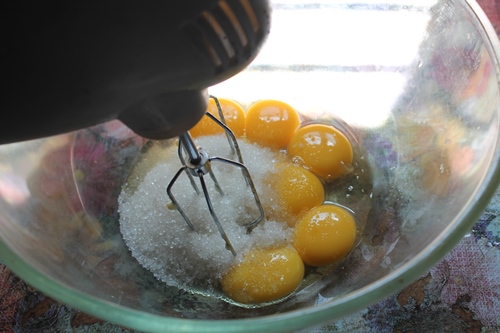 beat till creamy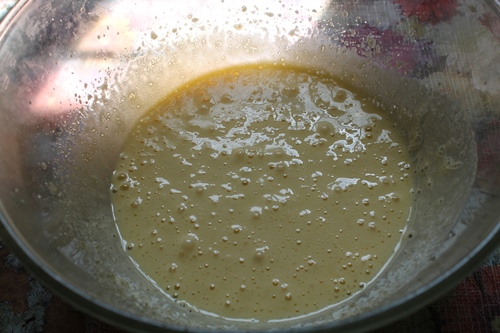 now it is all creamy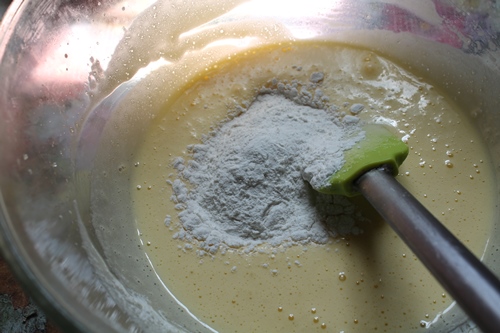 add in half flour mix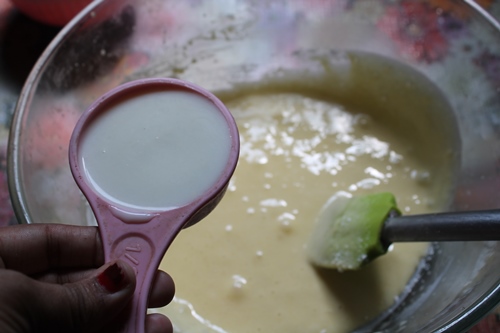 half milk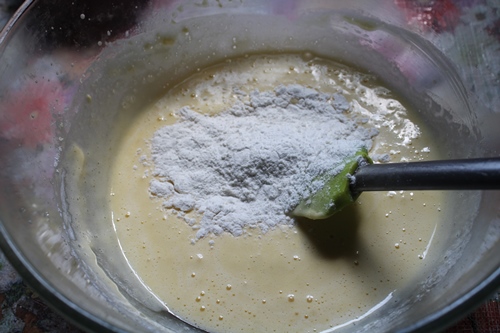 add another half flour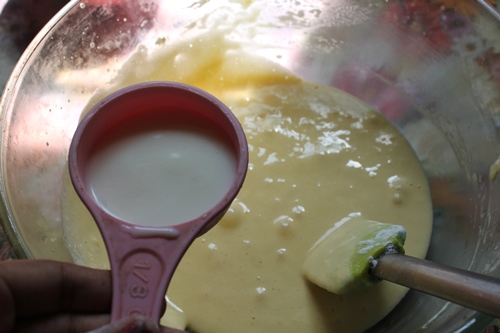 and the entire milk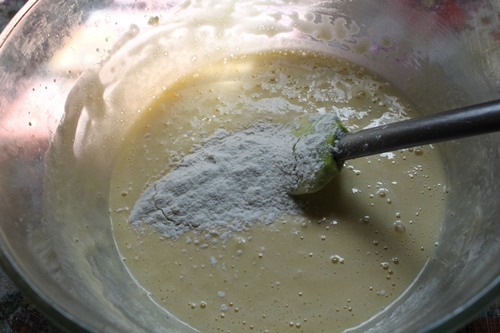 add the remaining flour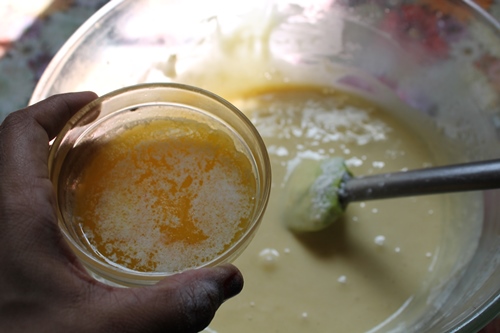 melted butter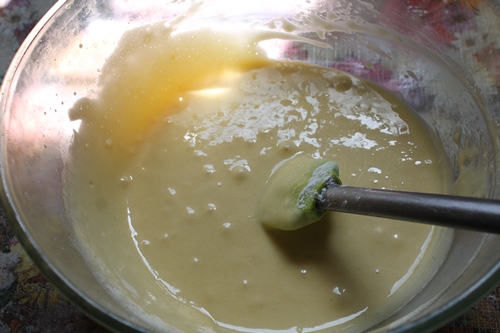 fold well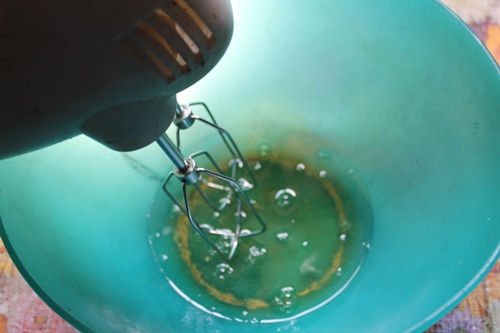 now take egg whites in a large bowl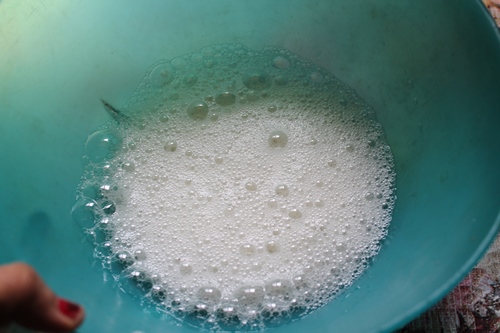 start beating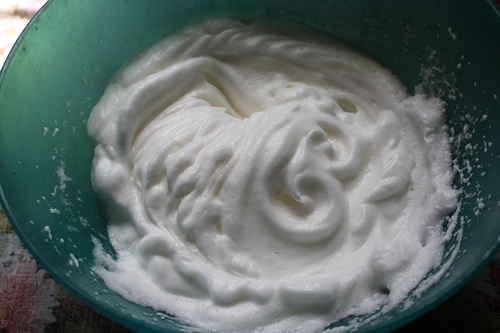 beat till it is fluffy and stiff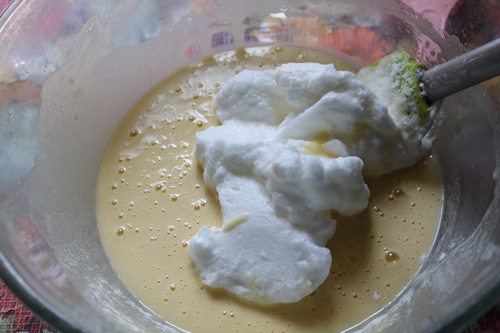 add 1/3rd of egg whites in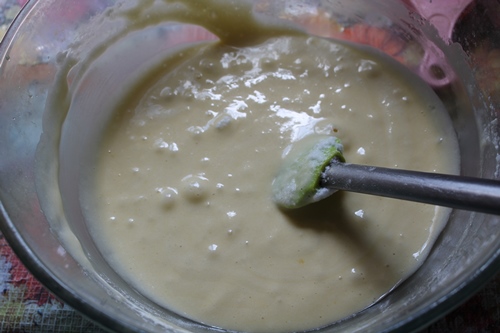 mix well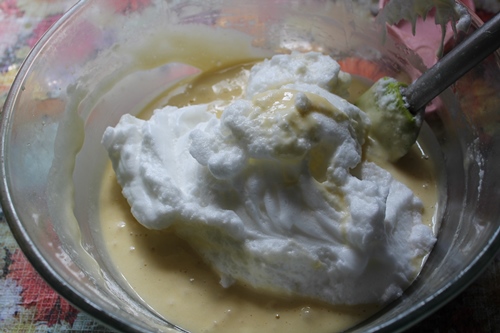 add remaining egg white in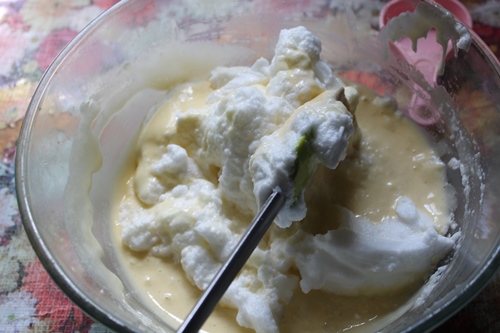 fold gently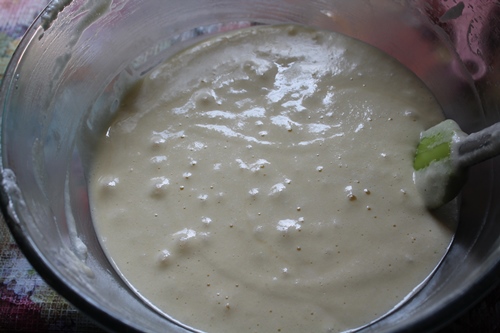 now it is well mixed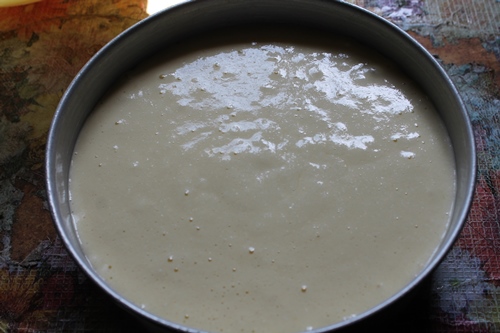 pour it inthe prepared pan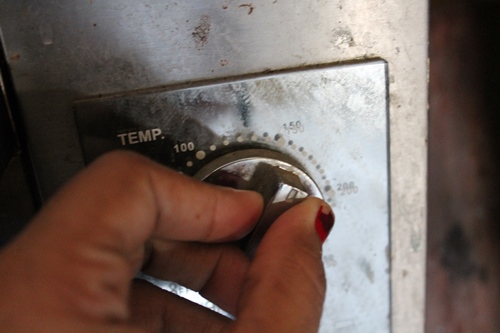 bake for 10 mins at 170 degree c, then reduce the
temp to 150 degree c and bake for 30 to 35 mins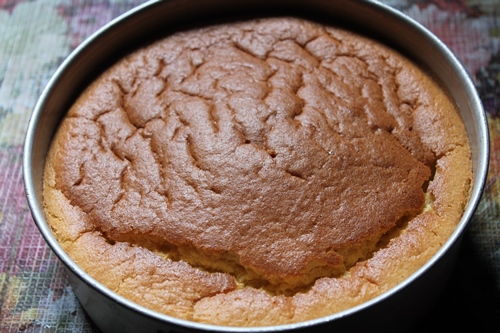 now it is baked..let this cool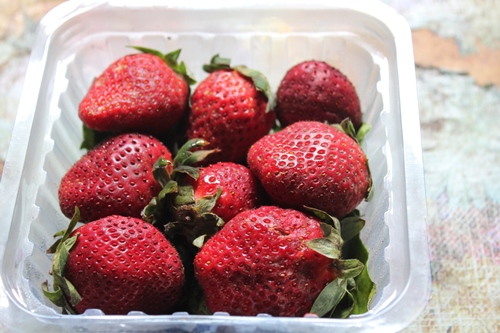 while the cake is cooling, make strawberry jelly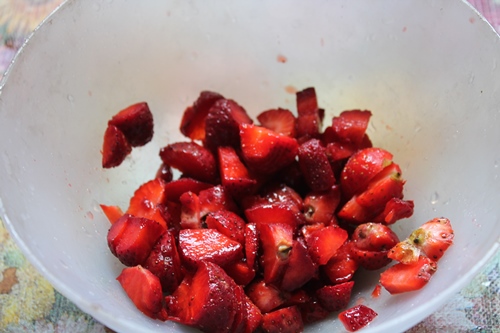 chop strawberries finely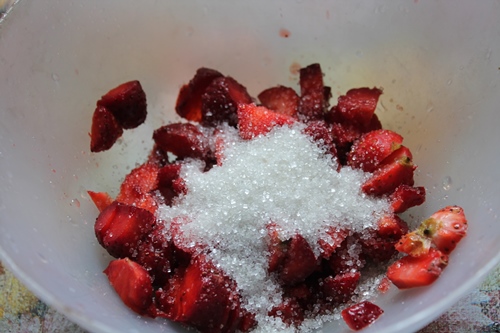 add sugar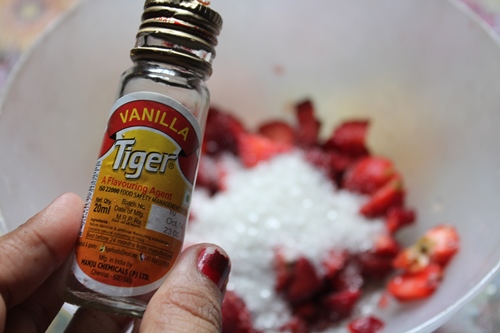 and vanilla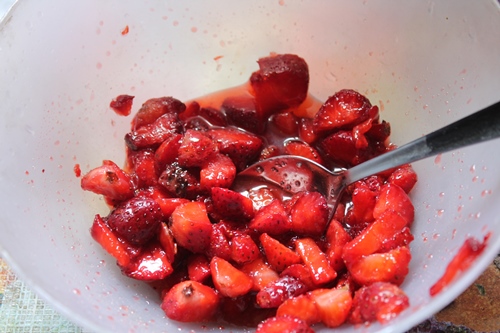 mix well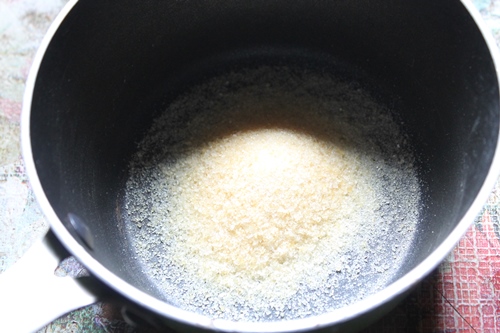 take gelatin in a sauce pan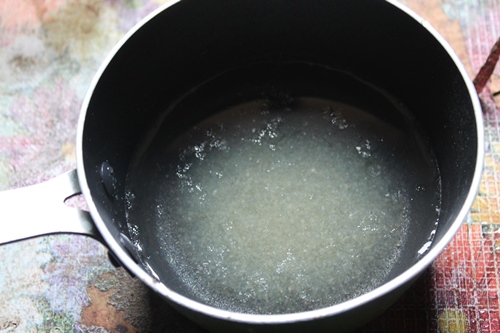 add water and soak it for 5 mins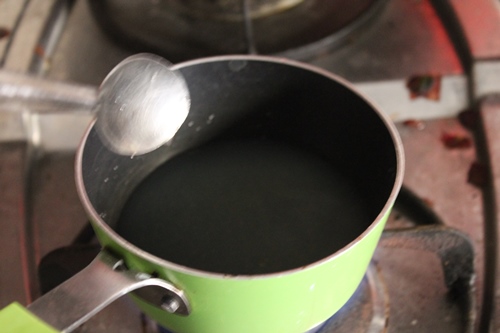 ow heat so it gets melted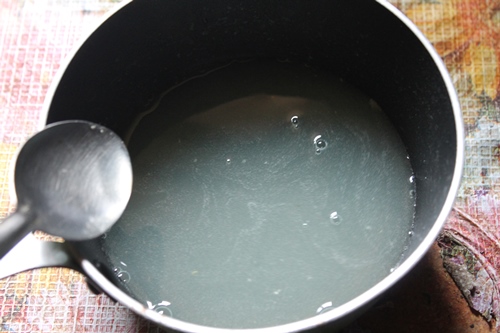 now the gelatin is melted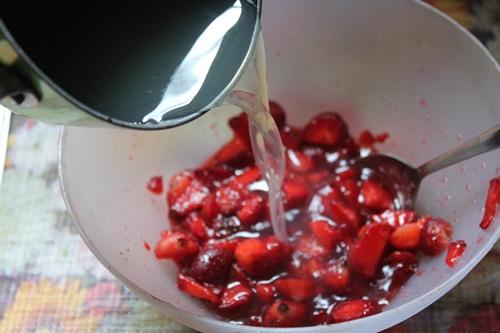 pour hot gelatin over strawberries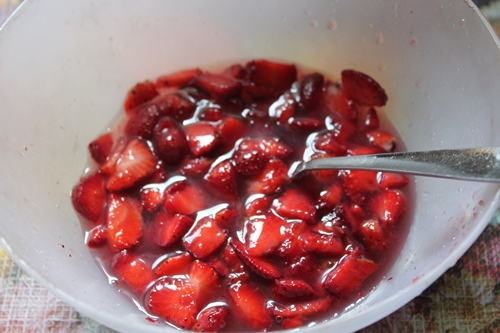 mix well..I then put the bowl in freezer for 10 mins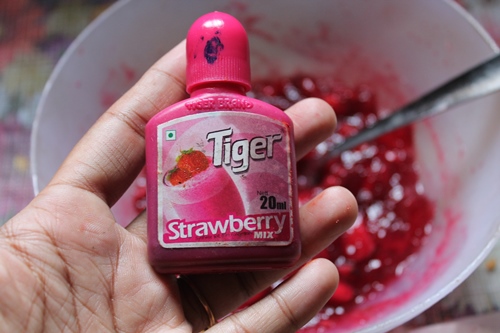 add few drops of strawberry mix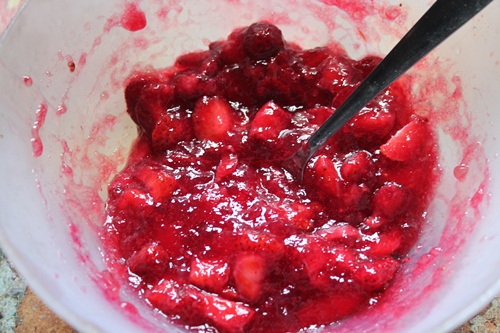 mix well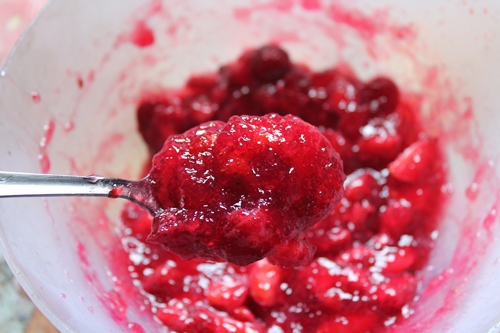 look how thick and jelly like it is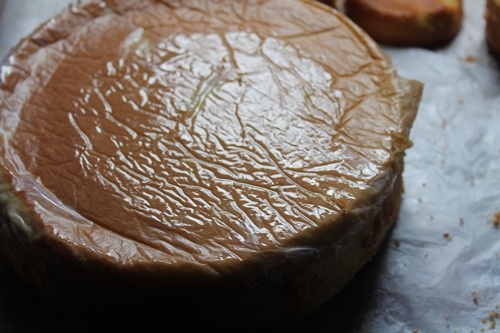 now invert the cake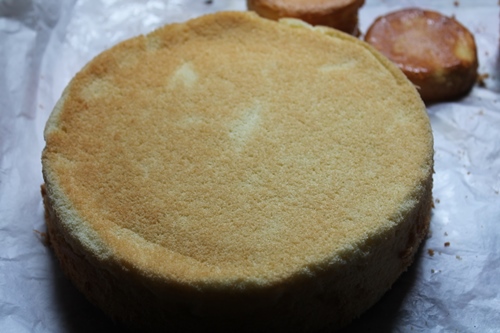 peel off the parchment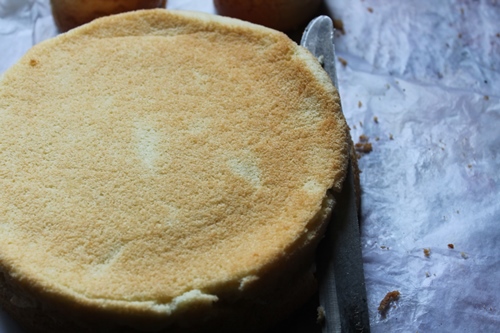 slice the top third portion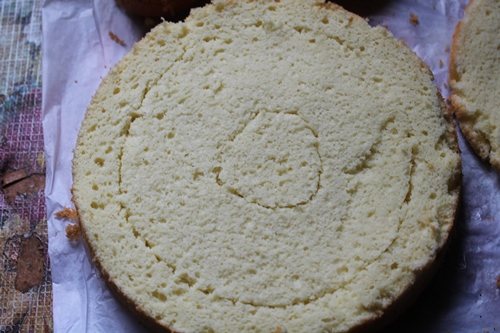 in the thick cake, cut like this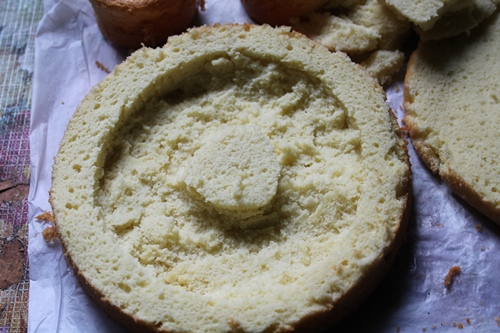 remove the cake carefully to form a hole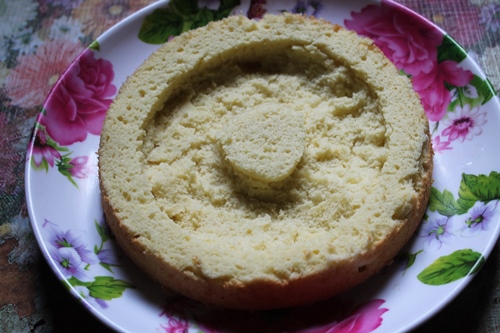 i trasferred it to a serving plate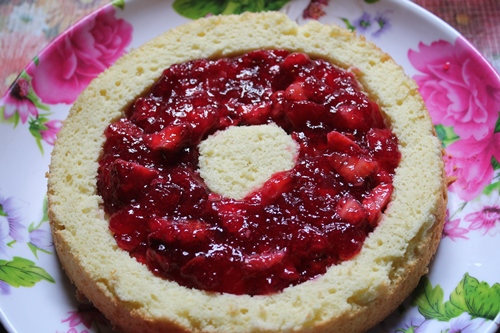 spoon the jelly in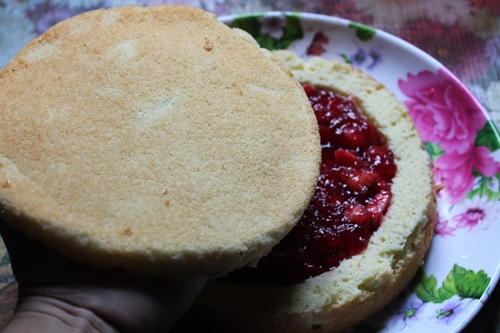 cover with the top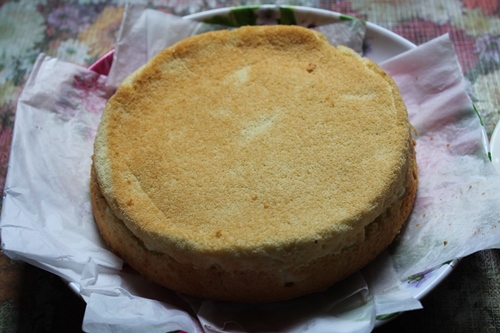 i kept some parchment sheets on the sides..because…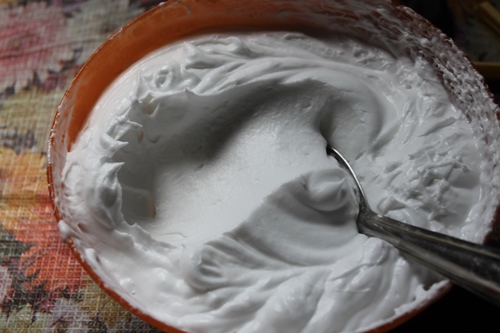 i am gonna cover the entire cake in whipped cream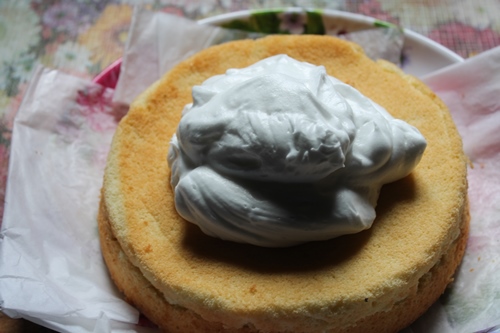 spoon cream over the cake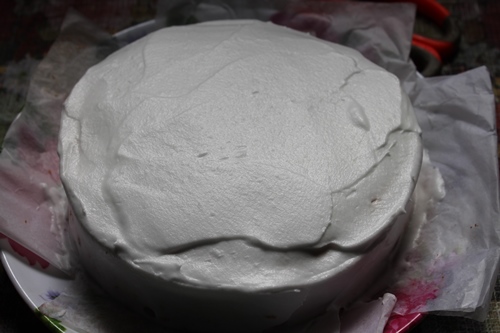 spread it out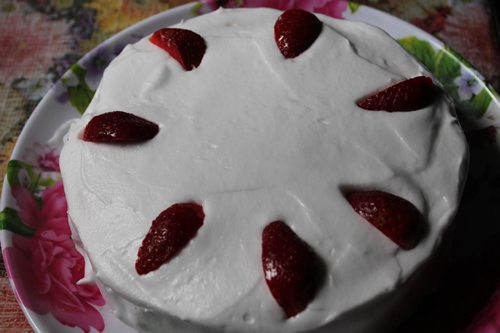 decorate as you like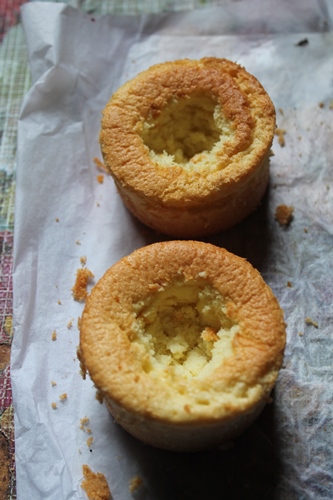 i had some batter leftover, so i baked it
my silicon cupcake cases..I scooped from the center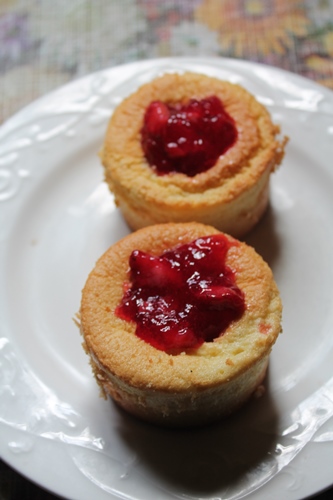 spooned some jelly in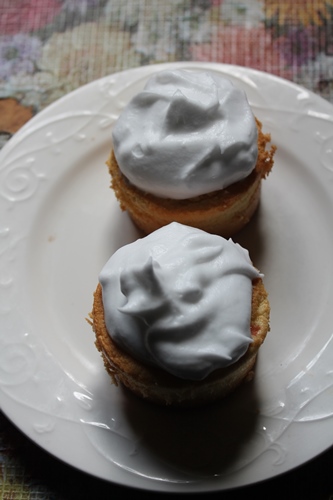 topped with whipped cream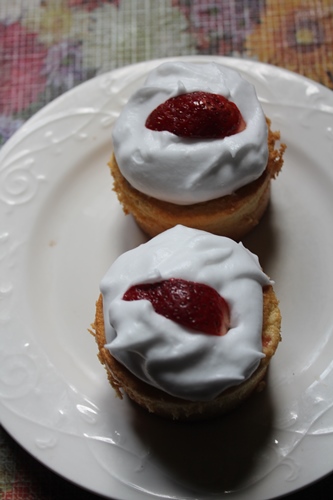 and some strawberries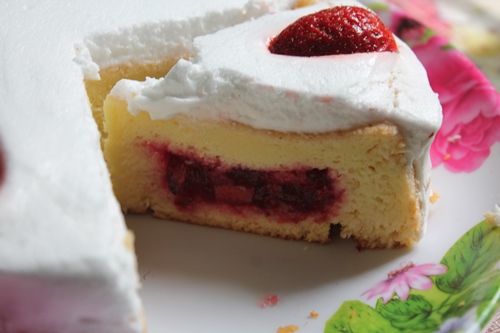 now slice and serve