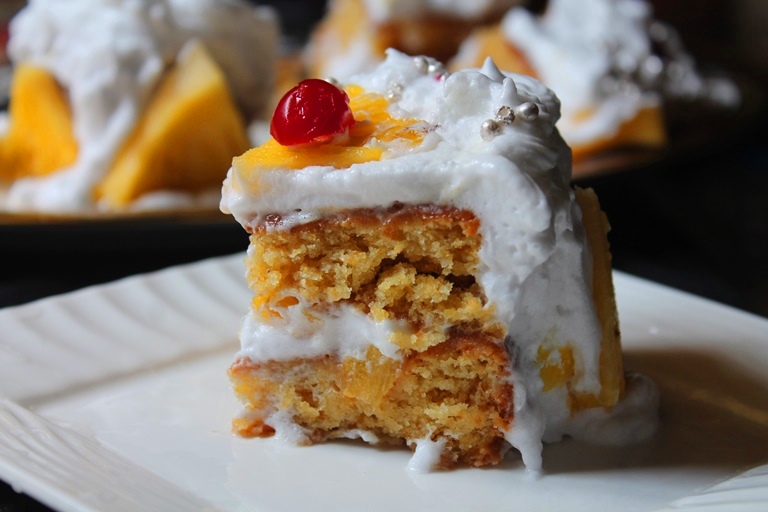 This is one cake which i had on my mind quite a while. I love fresh cream cakes a lot, they are so light and cooling. My all time favourite one is
black forest cake
. Love it all the time. I want to post few cake recipes for this christmas so i thought of sharing few special cakes instead of simple tea time cakes.
Similar Recipes,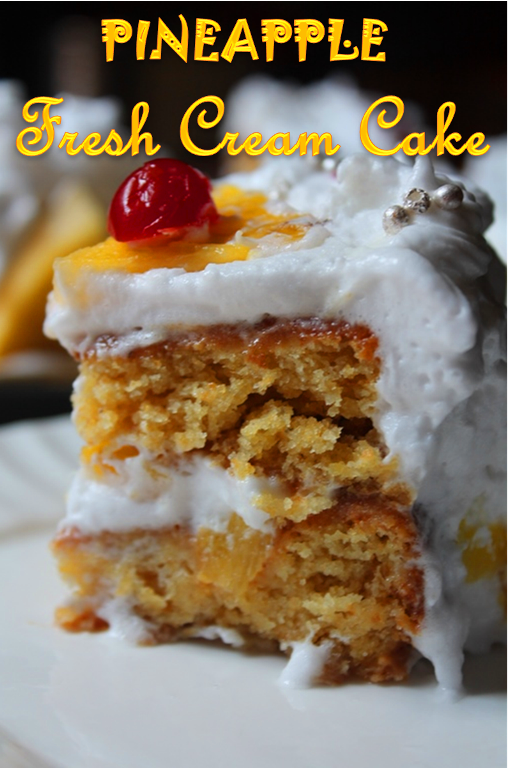 I made this eggless so everyone can enjoy, but will surely share a egg version soon. Keep checking my blog. And hope you will love this one and let me know how it turned out for you..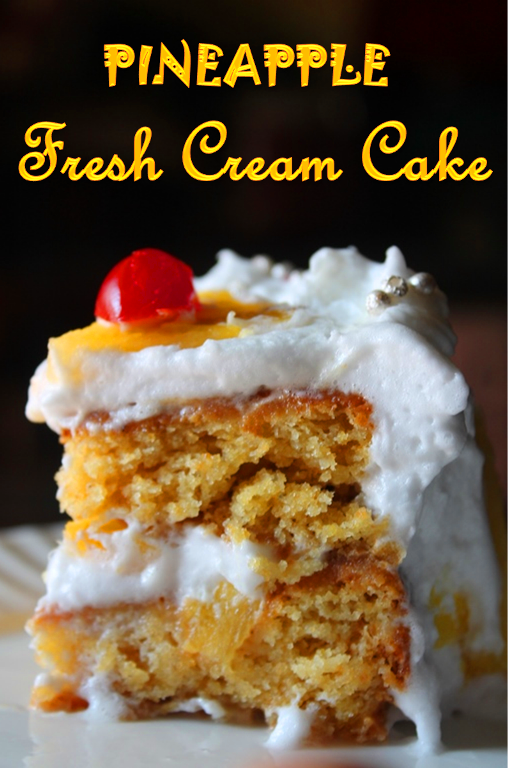 Preparation Time : 30 mins
Baking Time : 35 to 40 mins
Serves : 6 to 8
Ingredients:
All Purpose Flour / Maida – 1.5 cup / 180 grams
Sugar – 1/2 cup / 100 grams
Condensed Milk – 1/2 cup
Baking Powder – 3/4 tsp
Baking Soda – 1/2 tsp
Pineapple Essence – 1 tsp
Soft Unsalted Butter – 100 grams
Fresh Pineapple Puree – 1/3 cup
Salt – 1/4 tsp
For Syrup:
Sugar – 2 tblspn
Cold Water – 1/4 cup
Pineapple Essence – 1/2 tsp
For Topping:
Pineapples – finely chopped as needed
Pineapples Wedges as needed
Silver Balls as needed
Cherries as needed


(My one cup measures 240 ml)


Method:
Preheat oven to 180 Degree C.
Take a square cake pan or a round cake pan and prepare it by buttering the bottom and sides really well and dusting it with some flour. Set this aside. You can line it with parchment paper at the base and butter the bottom and sides.
Sift flour, baking powder, baking soda and salt together. Set aside.
Now take butter, sugar, pineapple essence in a bowl and beat till creamy.
Add in condensed milk and pineapple puree and mix well.
Add in the flour mix and fold gently.
Pour this in the prepared pan and spread evenly.
Bake this for 35 to 40 mins. Check from 30 mins. Remove the cake from oven and let this cool completely.
Now invert the cake on to a cooling rack and let this cool down completely.
Meanwhile prepare the syrup by mixing all ingredients.
Slice the cake in half or like i have shown, brush it with syrup, sandwich with cream and fill pineapple pieces in the center.Cover the entire cake with cream. Decorate the cake with cherries, pineapples and silver balls.
Chill the cake for 2 to 4 hours. Serve.
Notes:
1) I used a 20 cm square cake pan, so i cut it in half and sandwiched them. You can use round cake pan as well.
2)If you are using round cake pan, slice the cake in the middle half and then sandwich them. If you are too talented, you can slice the cake in three.
Pictorial: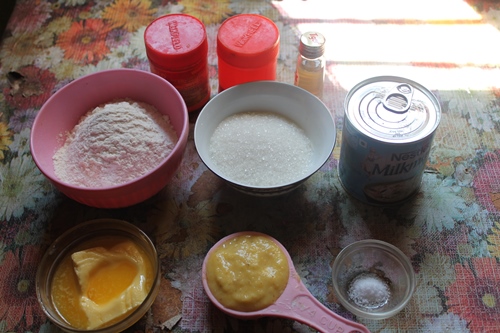 Take all your ingredients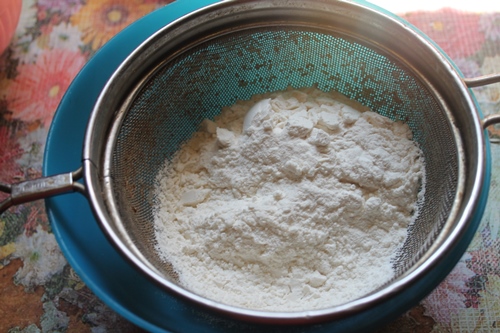 Take flour in a sifter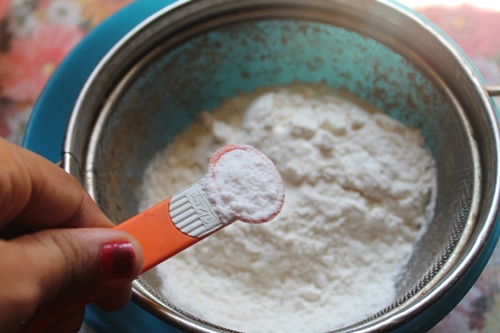 Add in baking soda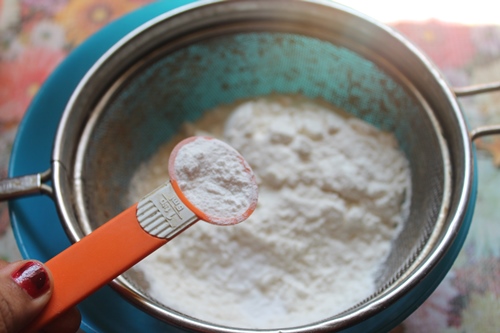 Add in baking powder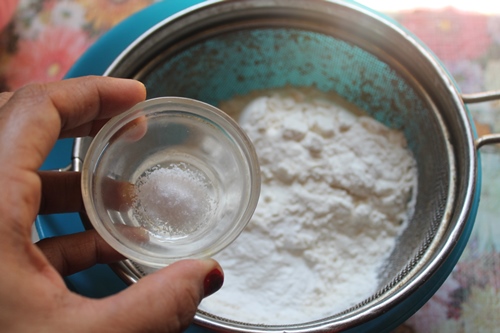 and some salt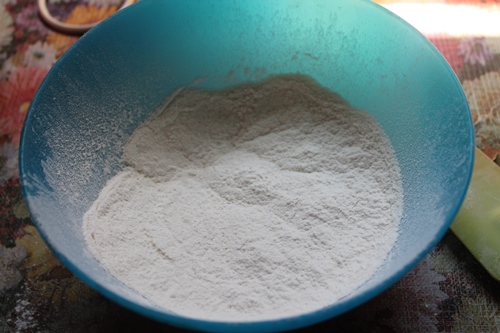 sift it together..Set aside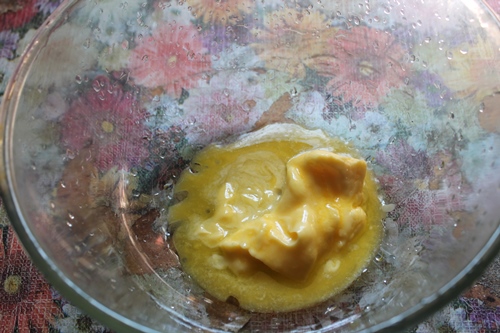 Take butter in a bowl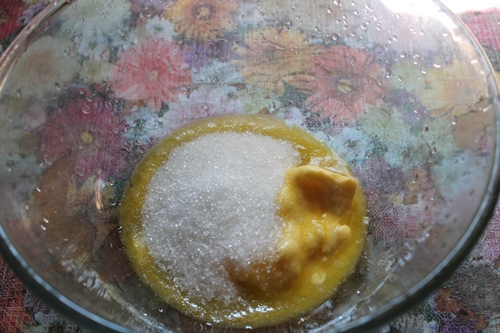 Add in sugar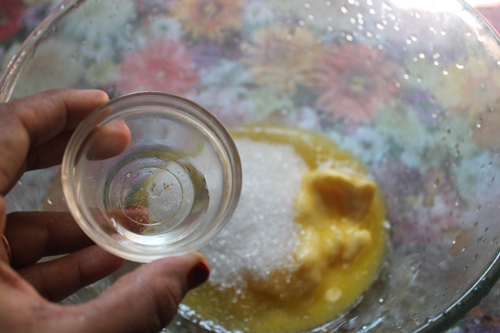 and some pineapple essence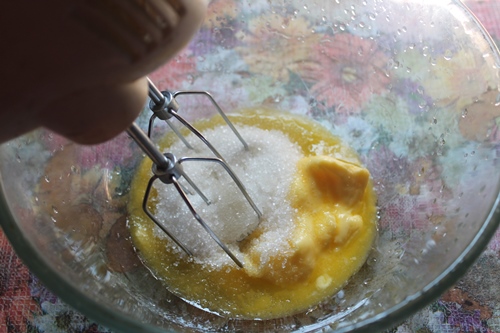 use a beater to cream this well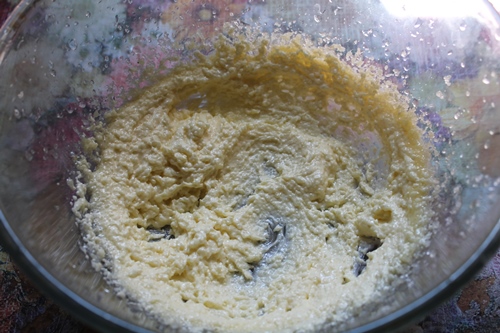 Once it is creamed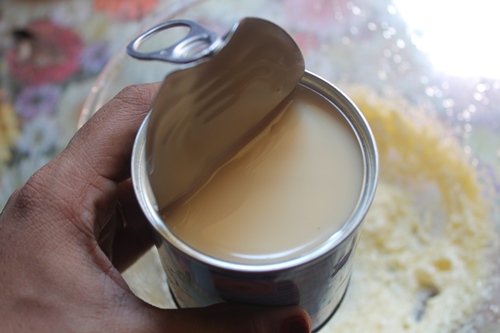 You need some condensed milk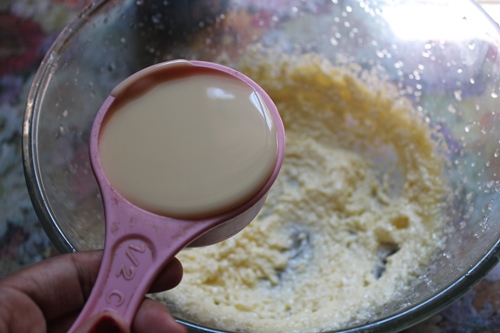 I measured 1/2 cup of condensed milk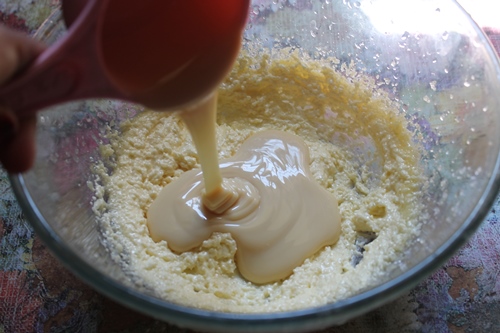 Pour it in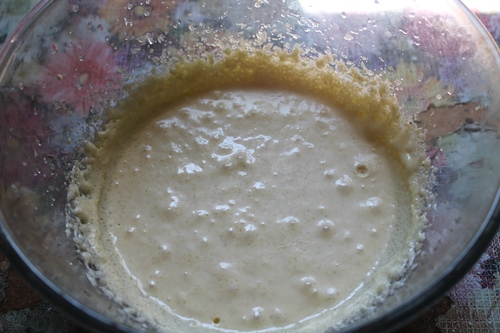 beat this again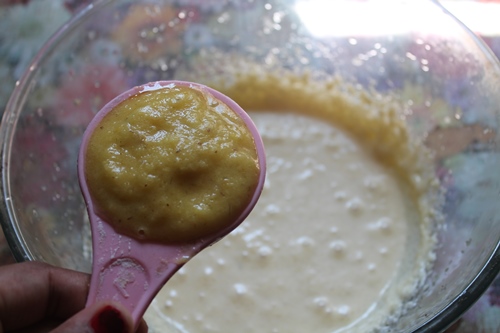 I wanted real pineapples in my cakes..
So i added some pineapple puree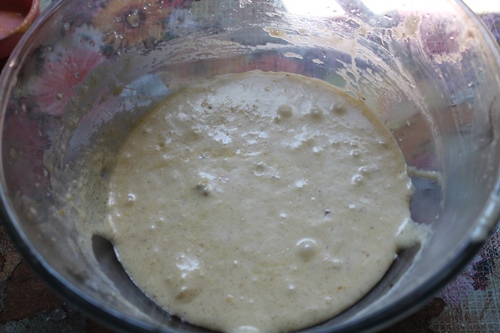 mix well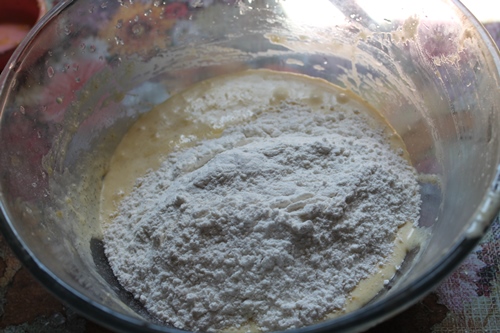 Add in flour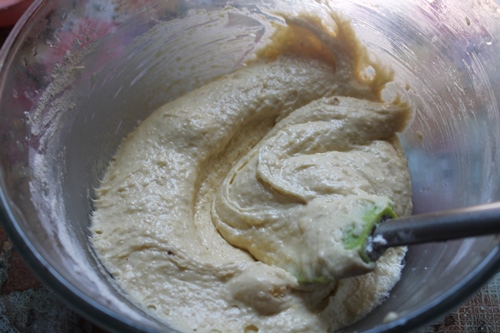 fold gently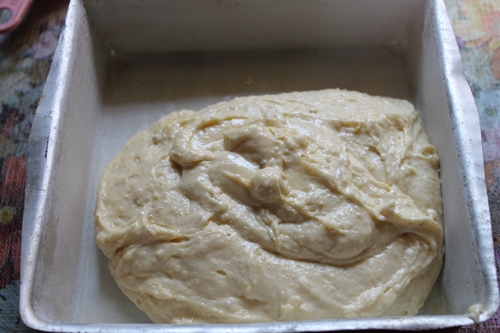 pour this in the prepared pan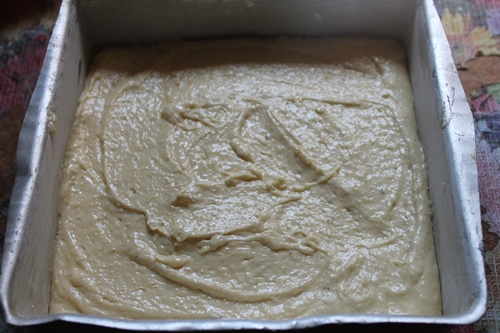 smooth it out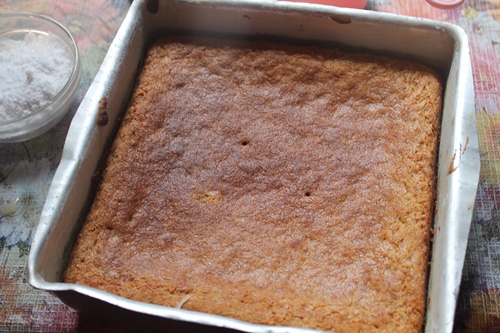 Now it is baked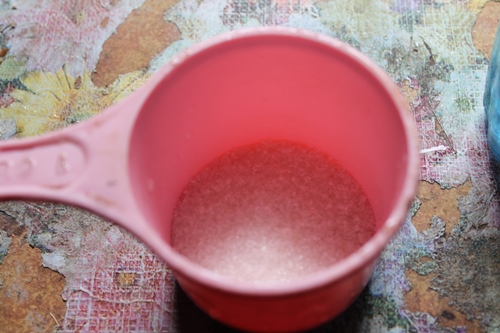 While the cake is cooling, prepare the syrup..
Take sugar in a cup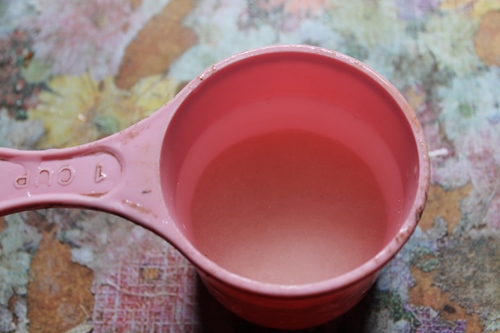 Add in cold water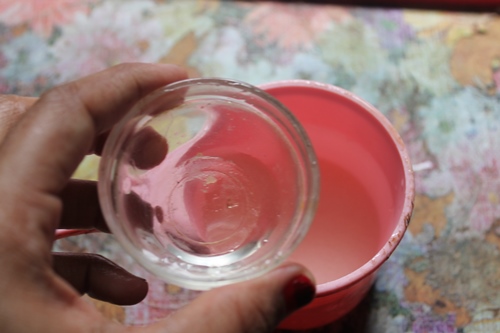 and a dash of pineapple essence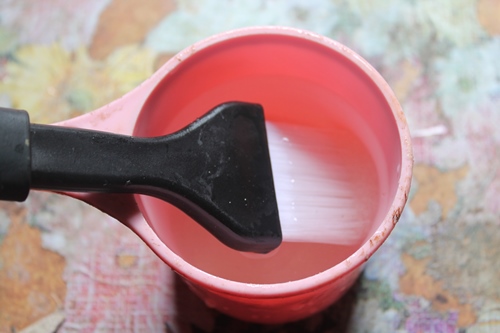 mix well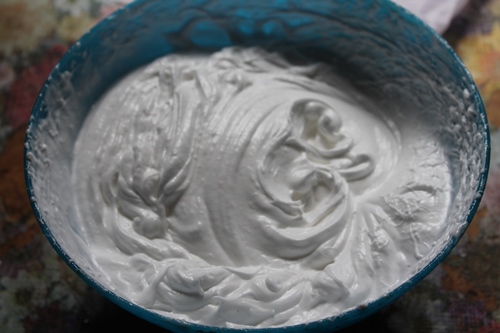 I whipped some fresh cream till it is stiff..
CHECK THIS POST TO KNOW HOW TO WHIP CREAM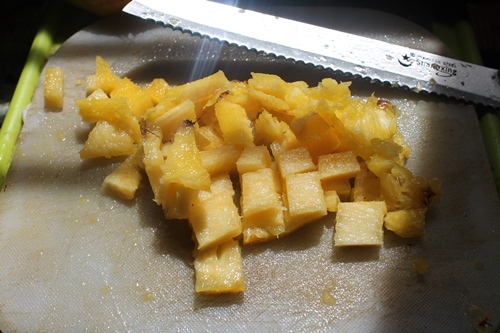 I chopped up some pineapples as well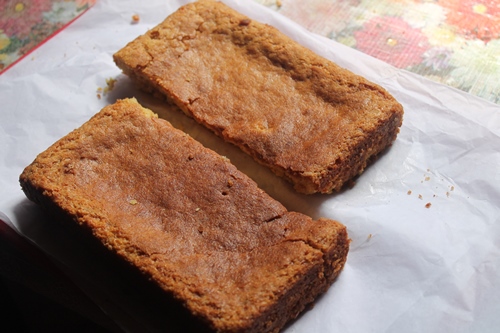 Now the cake is cooled.so i cut it in half like this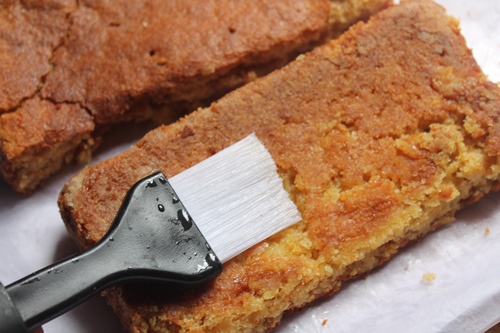 I brushed both the cake with some syrup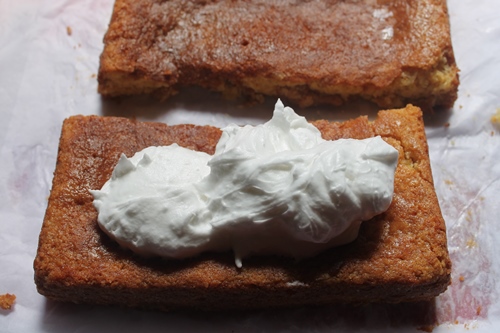 spoon some whipped cream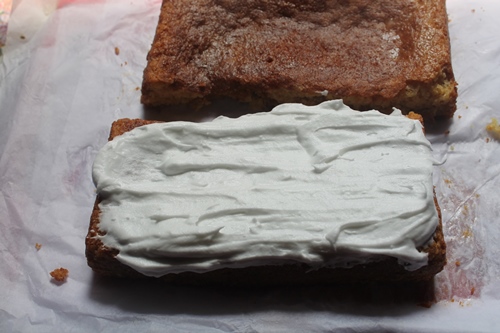 spread it evenly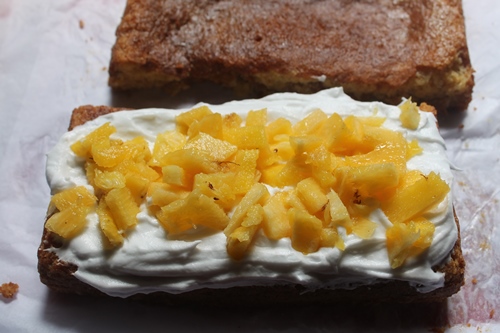 then add a layer of chopped pineapples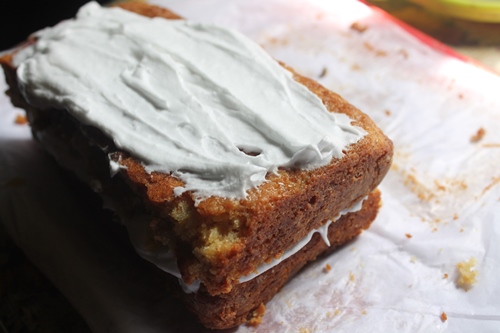 Place the next layer on top and spread some more cream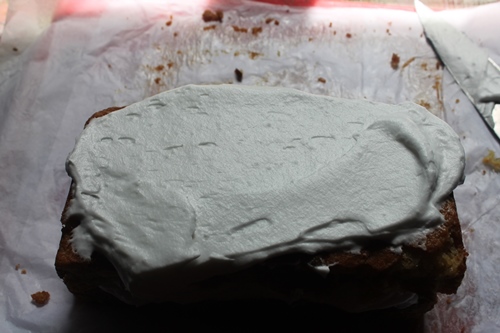 once the top is covered.start covering the sides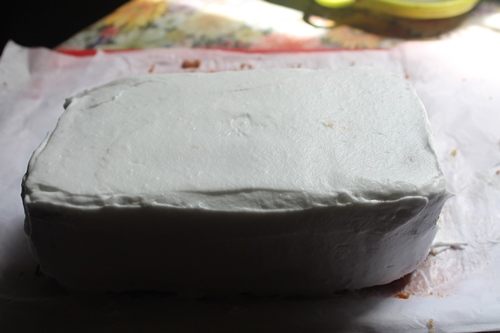 like this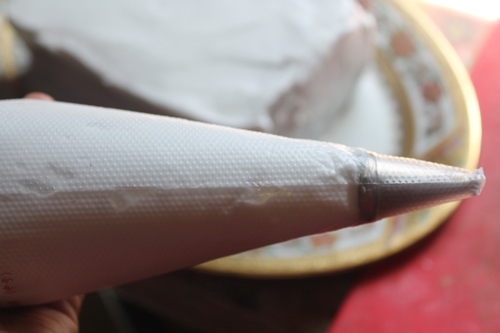 i filled a piping bag with the cream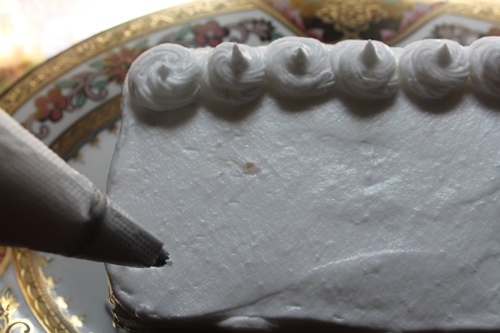 piped all over the cake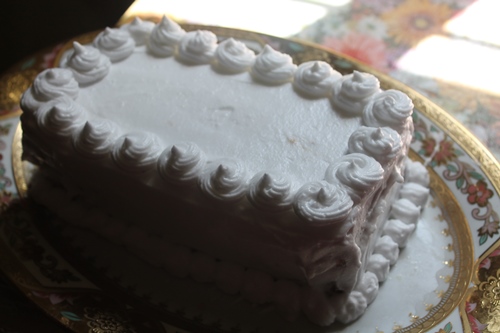 I piped on the bottom as well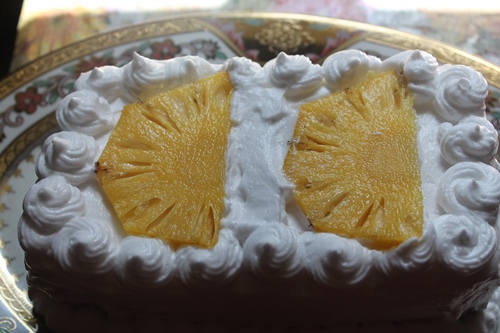 now decorate the cake with fresh pineapples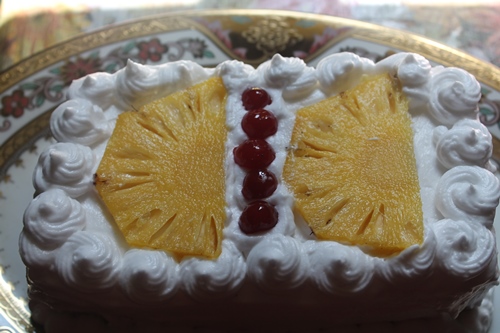 some cherries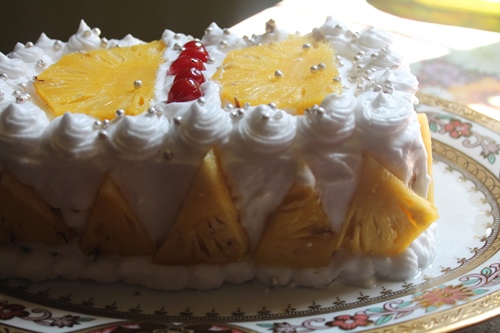 i placed pineapples on sides as well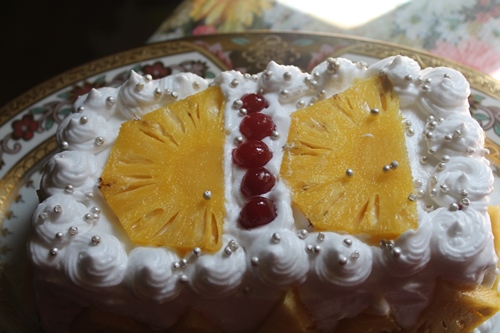 sprinkle some silver balls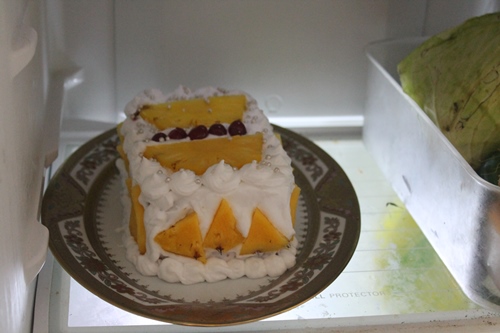 Now chill the cake for 2 to 4 hours before serving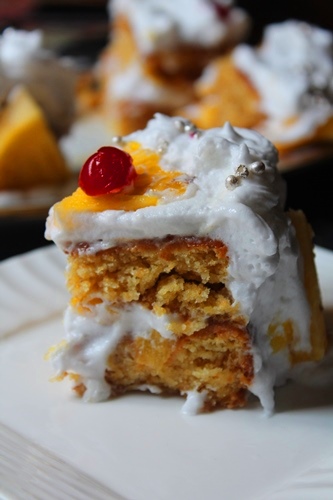 Enjoy
I am Aarthi, a happy homemaker, mom of two beautiful girls, married to my high school sweet heart. My goal is to teach people that cooking can be way more easier and joyful than they think. Yummy Tummy features recipes all over the world with step wise pictures which surely shows the ease of cooking.