Pin
Vegan Avocado Chocolate Muffins Recipe with step wise pictures.
Delicious avaocado chocolate muffin which is not only tasty but is so easy to make as well. This muffin is perfect for breakfast with a cup of coffee or milk.
I love baking muffins more than anything else. Not only because it is easy to make, but it makes a great thing to have as morning breakfast. I am not a big morning person, but i like to enjoy a warm muffin in the morning along with a cup of green tea or coffee.
Relevant Recipes,
Banana Cinnamon Muffins
Banana Cornflakes Muffins
Citrus Mango Muffins
Banana Chocolate Muffins
Eggless Banana Nuts Muffins
Eggless Banana Oats & Dates Muffins
Oats Bran Muffins
Pin
Hope you will give this a try and let me know how it turns out for you.
Pin
Now let me share a beautiful event which i attended few weeks back.
On Thursday, August 8th, I was invited by Walmart to an event called Rediscovering America, a celebration of farmers and accessibility to fresh, quality foods. It was an evening filled with mouthwatering dishes inspired by the locally grown and organic produce available at Walmart, and created by a James Beard awarded chef.
The program tasks 9 celebrated chefs from across the country to create a dish using Walmart's fresh assortment of produce, and put it on their menu for a limited time.
I was excited to experience the quality and variety of amazing produce that Walmart offers.
The event took place in the James Beard House.
The
Pin
The place was decorated beautifully with fresh flowers, veggies and fruits. It was photograph- worthy.
Pin
The veggies and fruits, which looked so fresh and juicy, were displayed in crates. Walmart is committed to offering a fresh, broad assortment of locally grown and organic produce to their customers. The high-quality produce can be purchased conveniently in Walmart stores, and providing locally grown produce not only helps to support thousands of local farms and farmers, but it also positively impacts the economy. @Walmart #RediscoveringAmerica #FreshFromWalmart
Pin
It was one of the most amazing events I attended. I even got to watch chef and his team in action in the James Beard House kitchen.
Pin
Pin
There were cocktails and wine to drink in the event.
Pin
The food was so delicious. I especially loved the cauliflower curry on sticky rice and spiced broccoli. I got a wonderful opportunity to chat with the VP of Walmart grocery marketing. He was such a dedicated person.
Chef JJ was the chef who cooked for us in the event. He has a restaurant called Field Trip in the city. He shared that the evening's menu highlighted fresh, local and organic produce and ingredients from Walmart. He was also kind enough to tell me what spices he used in his Brussels sprouts dish. He was busy, but he took his time to tell me. It was ginger, hot chili and coconut fat. He also said to me that if you simmer the coconut or coconut oil, the fat will be on top and that's what is used in the recipe.
Pin
It was a wonderful evening. We had a blast.
We were even given a bag of fresh produce and a bottle of wine to take home with us.
Pin
I used the amazing-looking avocado to create this wonderful muffin recipe.
And pro tip: you can get all the produce you need for this recipe at your local Walmart store.
Pin
📖 Recipe Card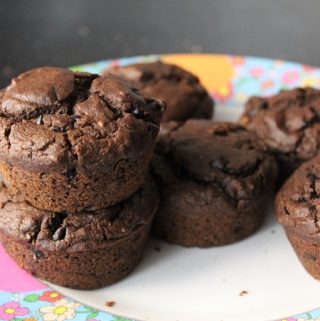 Vegan Avocado Chocolate Muffins Recipe| Rediscovering America Event
Delicious avocado chocolate muffin which is not only tasty but is so easy to make. This muffin is perfect for breakfast with a cup of coffee or milk.
Print
Pin
Rate
Ingredients
Wheat Flour - ¾ cup

90 grams

Cocoa Powder - ¼ cup

25 grams

Baking Soda / Cooking Soda - ¼ tsp

Baking Powder - ½ tsp

Salt a pinch

Avocado - ½

Maple Syrup / Agave or Honey - ½ cup

120 ml

Almond Milk - ⅓ cup

80 ml

Coconut Oil - ¼ cup

60 ml

Vanilla Extract - ½ tsp

Chocolate Chips - ½ cup
Instructions
Preheat oven to 180 degree C. Grease muffin mould with oil and set aside.

Take avocado flesh in a bowl and use a fork to mash it up. Add all wet ingredients and mix well.

Mix dry ingredients together.

Pour wet into the dry and fold gently.

Add in chocolate chips and mix well.

Scoop into muffin mould and bake for 20 to 25 mins.

Cool completely.

Remove and serve.
Join us on Facebook
Follow us on Facebook
Share by Email
Share on Facebook
Pictorial:
1)Take half an avocado in a bowl
Pin
2)Mash it roughly
Pin
3)Add agave, maple syrup or honey
Pin
4)Add coconut oil
Pin
5)Add almond milk
Pin
6)Add vanilla
Pin
7)mix well
Pin
8)Take wheat flour in a bowl
Pin
9)Add cocoa powder
Pin
10)Add baking soda
Pin
11)Add in baking powder
Pin
12)Add in salt
Pin
13)Mix well
Pin
https://www.yummytummyaarthi.com/2018/06/beetroot-muffins-recipe.html
14)Mix well
Pin
15)Add avocado mix
Pin
16)Mix well
Pin
17)Grease muffin mould
Pin
18)Spoon this mix into the pan
Pin
19)Bake till done
Pin
20)Serve
Pin