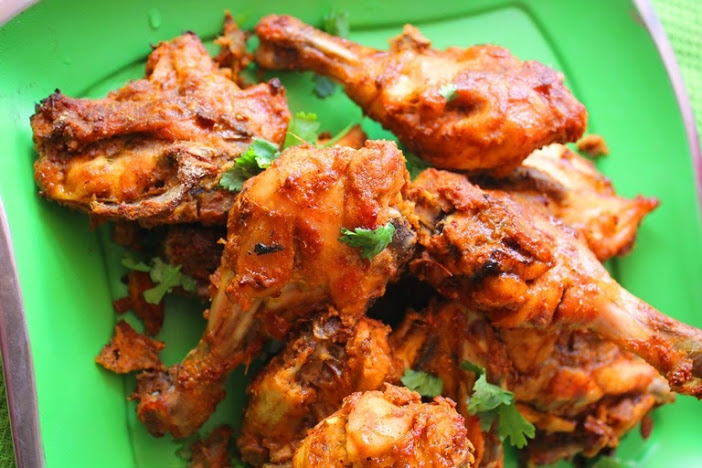 Tangdi kabab, it is new to me..I was not familiar with that untill a viewer requested it. Then i searched online and got an idea about the recipe. I love roasting chicken in oven, since it is less fatty when compared to fried ones and it turn out so juicy.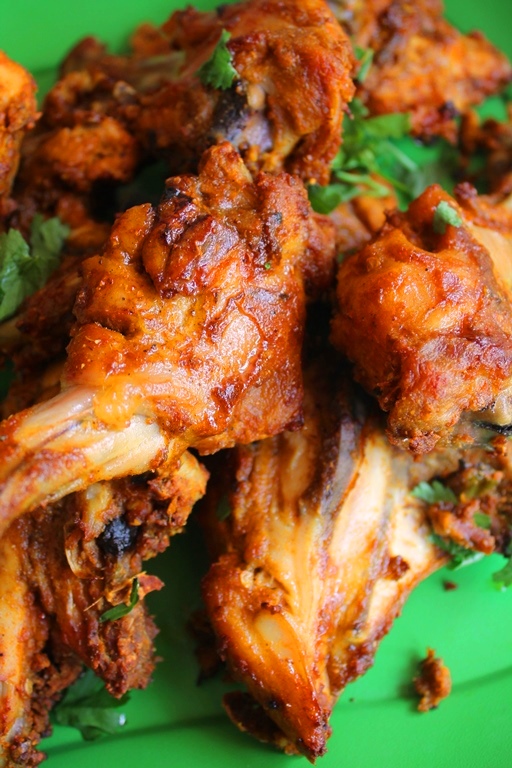 This recipe is so easy to make but so tasty to eat. I have made quite a few grilled recipes you can check them all
here
..This grilled chicken has a coating of toasted gram flour which makes it more tasty and flavourful. I made this last sunday and gave few pieces of this along with a box of
butter chicken
to my sister's college and they all loved it so much..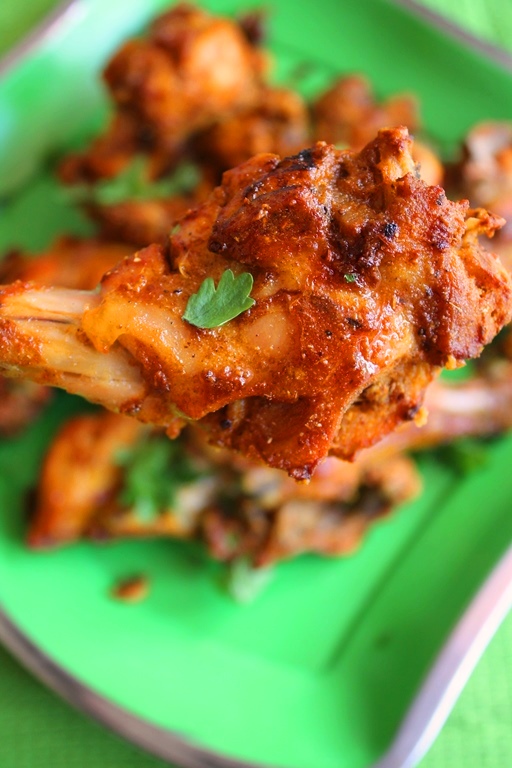 So hope you will try this out and let me know how it turned out for you..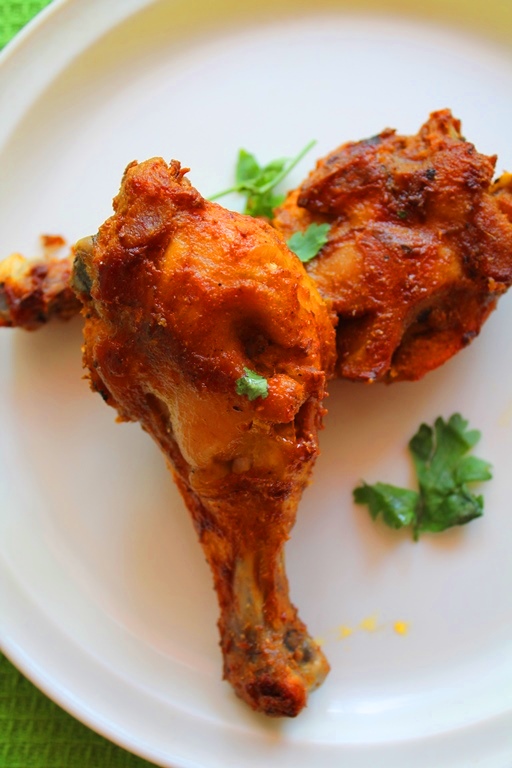 Preparation Time : 15 mins
Marinating Time : 2 hours
Cooking Time : 1 hour
Serves : 4 to 5
Ingredients:
Chicken – 1 kg chicken cut into eight pieces
Ginger Garlic Paste – 2 tblspn
Thick Curd / Hung Yogurt – 1 cup
Lemon Juice – 3 tblspn
Chilli Powder – 2 tblspn
Turmeric Powder – 2 tsp
Garam Masala Powder – 1 tblspn
Green Chilli – 2 chopped finely
Salt to taste
Chat Masala Powder – 1 tblspn
Gram Flour / Besan / Kadalai Mavu – 1/4 cup
Butter for basting


Method:
Start by toasting gram flour in a dry pan till it turns nutty and couple shades darker. Your house will be filled with the aroma. Switch the heat off and set aside till use..
First take your cleaned chicken and make deep slashes in them.
In a large mixing bowl. Take chicken, and add in all the ingredients given in the ingredients except gram flour and butter.Mix well. Cover and let it marinate it for 2 hours.
Now when the marinating time is done.Take the chicken out and add in toasted gram flour and mix well.
Preheat the oven to 250 Degree C.
Line a baking tray with foil. Brush the foil with oil. Arrange the chicken in the tray and put them in oven for 15 mins.Take them out and baste them with butter.
Reduce the oven temp to 150 degree C.Put them back into the oven for 15 mins.
Now flip over and bake it for 15 mins. Take it out and baste with some butter, bake again for 15 mins.
Now remove the tray from oven and sprinkle generous amount of chat masala over the hot chicken and serve immediately.
Pictorial: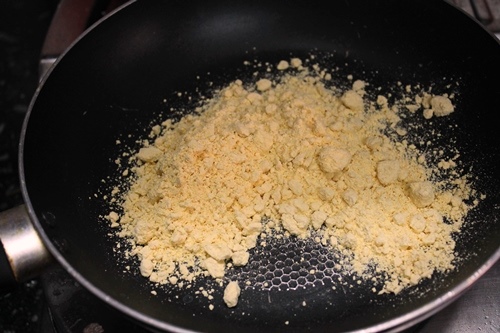 First step toast your gram flour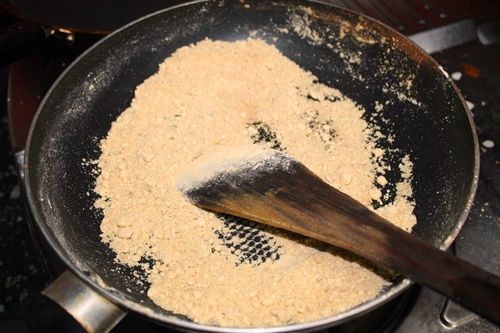 fry them till they turn couple shades darker and smells nutty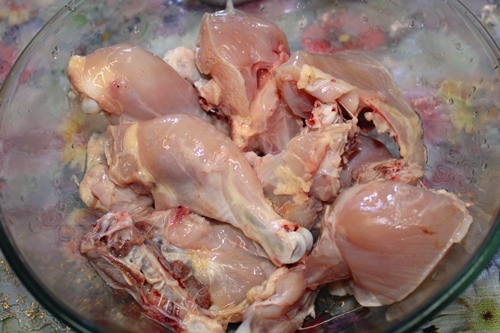 Take your cleaned chicken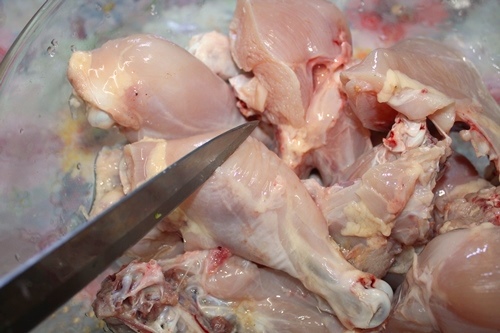 Slash on the thicker part using a knife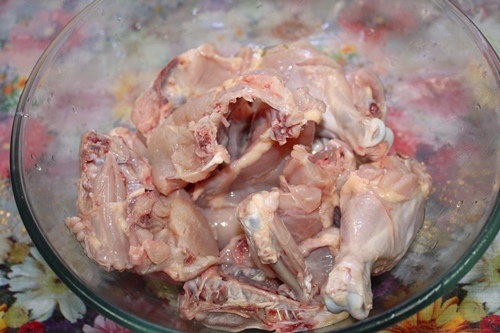 All done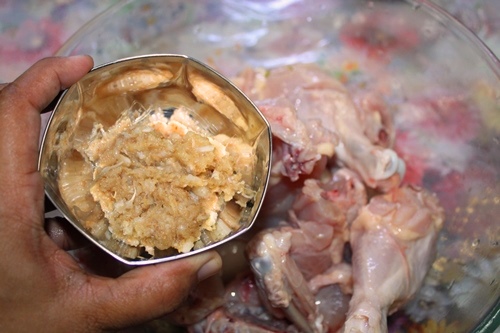 Add ginger garlic paste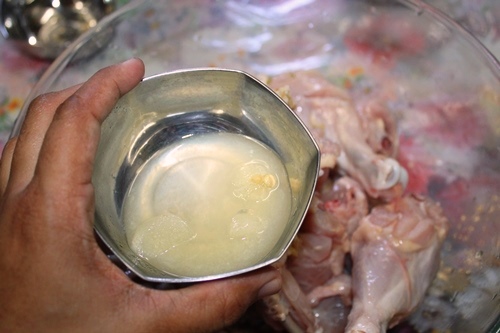 Add in lemon juice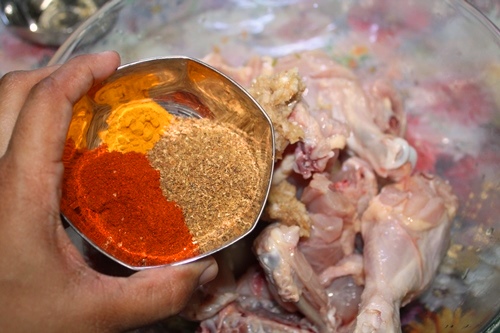 Add chilli, garam masala and turmeric powder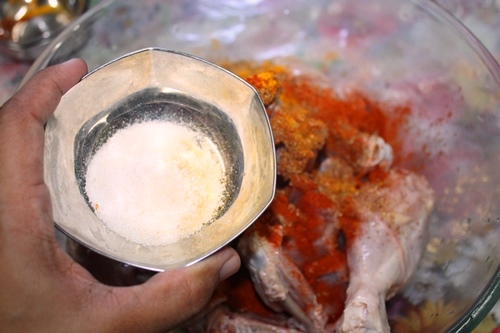 season the whole thing with some salt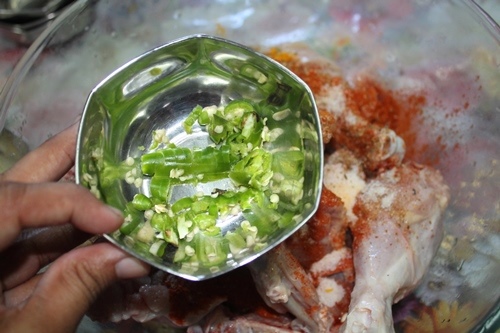 Add finely chopped chillies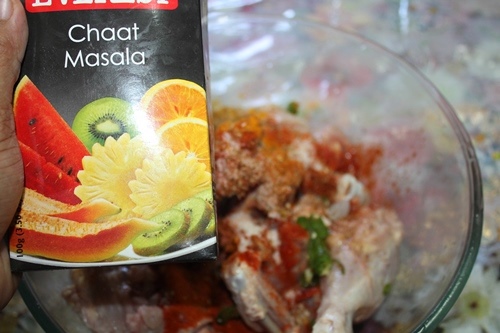 and some chat masala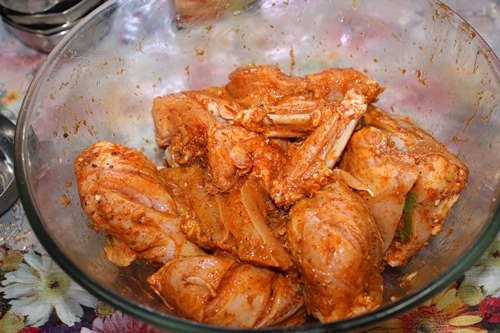 mix them well and marinate for 2 hours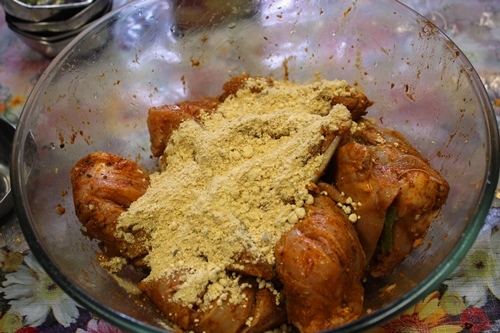 Before you bake, sprinkle in gram flour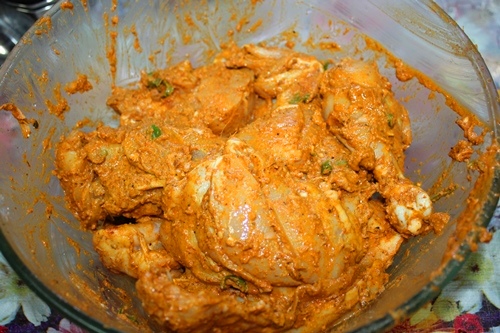 I added some curd in this too, forgot to take pictures..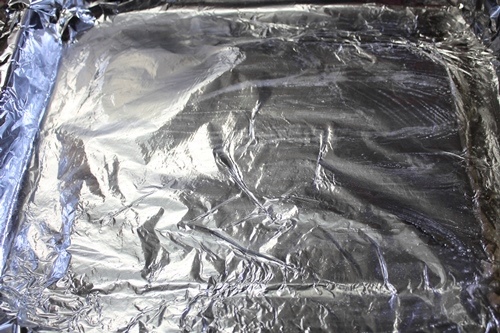 Oil a baking tray which is lined with foil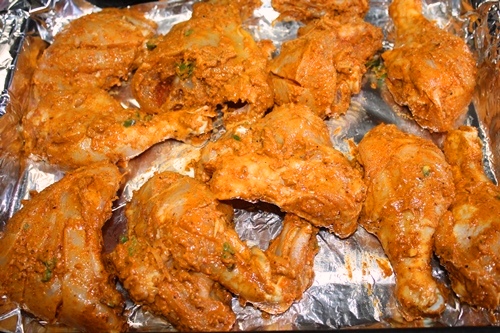 Arrange the chicken on the tray and bake for 15 mins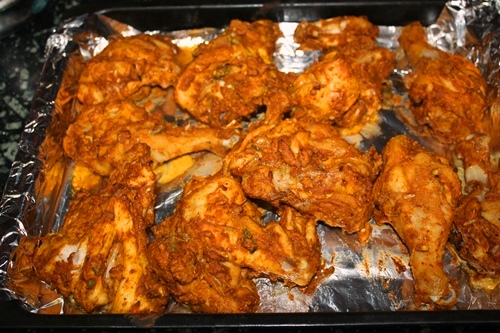 Remove the tray from oven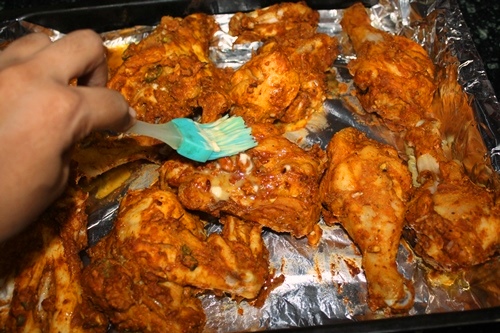 brush with some butter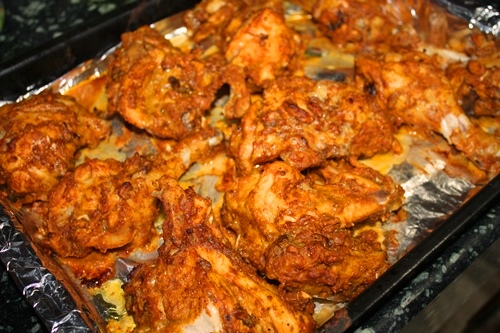 Bake again for 15 mins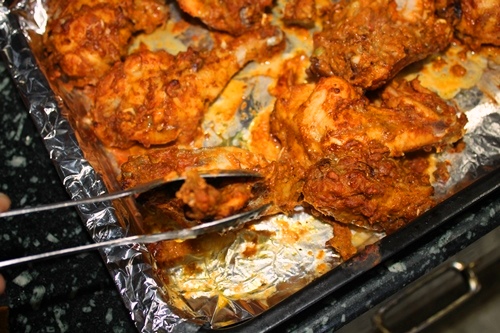 Flip over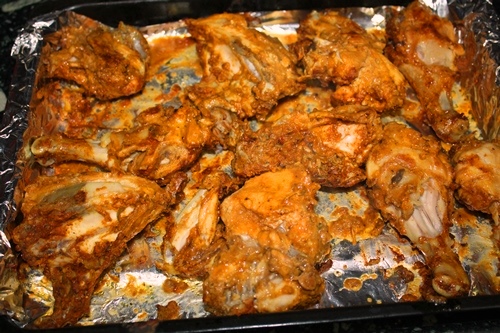 bake for 15 mins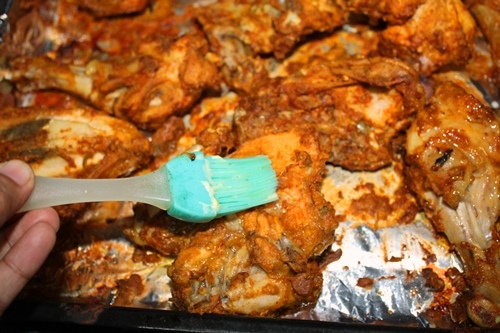 brush with butter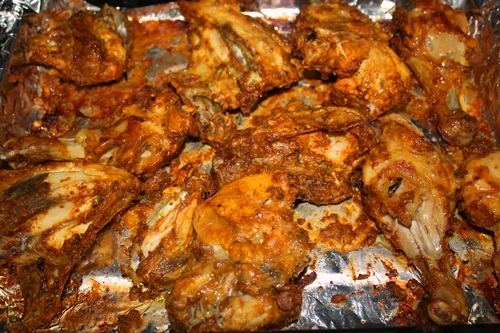 roast for 15 mins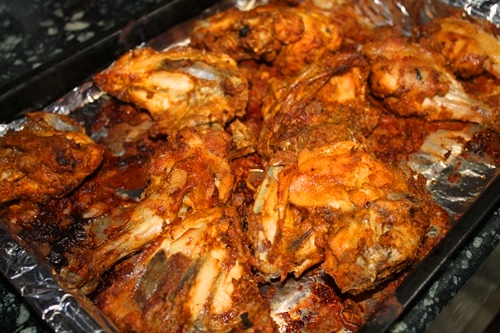 Now grill the whole thing for 5 mins..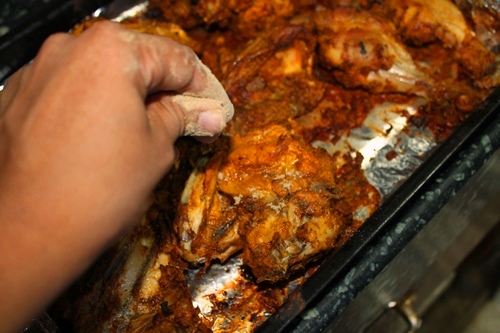 Finally sprinkle over some chat masala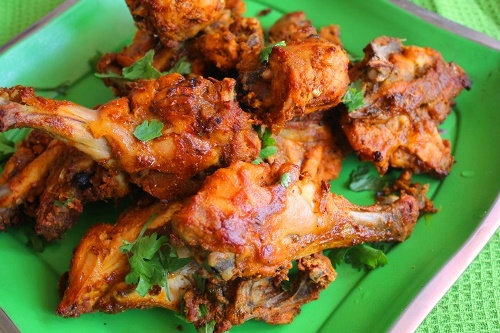 serve