Red Sauce Pasta Recipe - Macaroni with Tomato Sauce Recipe with Step wise pictures.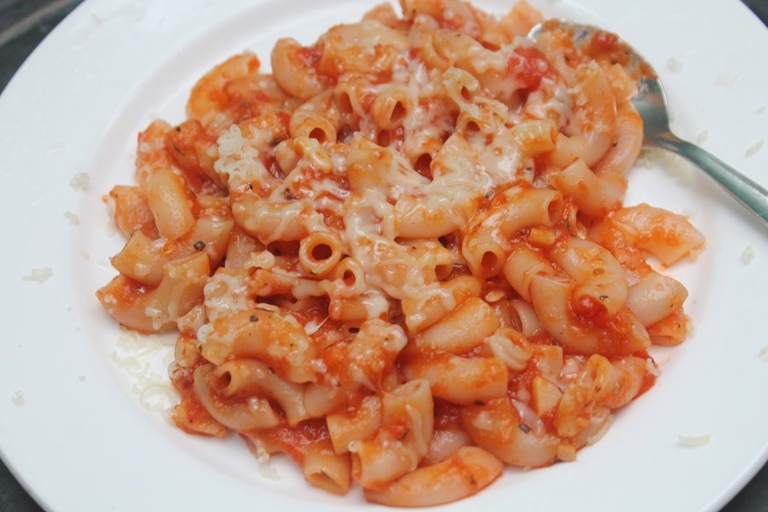 Pin
This is one dish which i made few days back and loved it so much. Delicious and simple pasta dish which turns out so saucy and very delicious. 
About Red Sauce Pasta Recipe
Red sauce pasta is a simple tomato based pasta sauce tossed over cooked pasta.
Macaroni is a type of dry pasta that is shaped like narrow tubes. Made from durum wheat, macaroni is typically cut in short lengths; curved macaroni is known as elbow macaroni. Some home machines can make macaroni shapes, but macaroni is typically made commercially by large-scale extrusion, as is most pasta.
This is a great dish to put in your kids lunch box because it keeps really well. Along with a fruit and a veggie, it makes a complete meal.Check out all the lunch box ideas, RIGHT HERE & HERE.
Similar Recipe,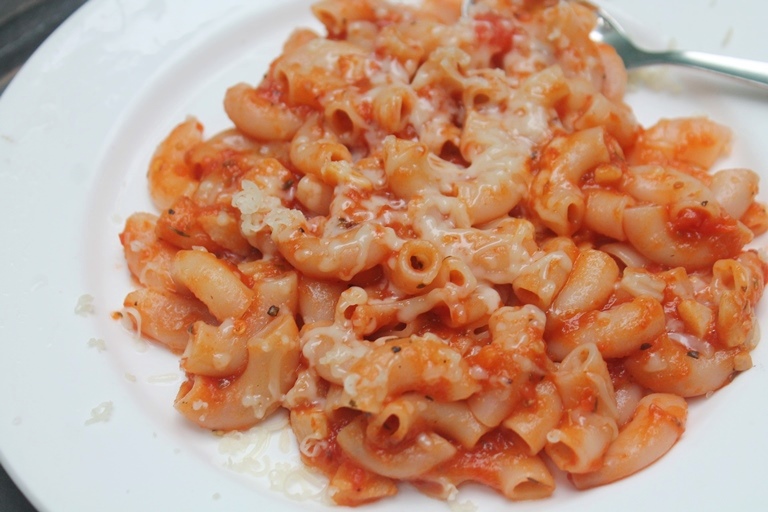 Pin
Ingredients for Red Sauce Pasta Recipe 
Macaroni Pasta 
Macaroni goes well with almost any sauce, baked recipes, soups, salads, or stir-fry dishes. Elbow macaroni is commonly used in macaroni and cheese dishes, but it is also a popular ingredient in pasta salads.
Tomatoes
Tomato flavour is frequently described as sweet, tart, tangy, or well- balanced. Tomato flavour is also known as classic tomato flavour or old-fashioned tomato flavour in some cases. Some tomatoes are described as having a mild or bland flavour.
If you have any questions not covered in this post and if you need help, leave me a comment or mail me @[email protected] and I'll help as soon as I can.
Follow me on Instagram, Facebook,Pinterest ,Youtube and Twitter for more Yummy Tummy inspiration.
IF YOU MAKE THIS RECIPE OR ANYTHING FROM YUMMY TUMMY, MAKE SURE TO POST IT AND TAG ME SO I CAN SEE ALL OF YOUR CREATIONS!! #YUMMYTUMMYAARTHI AND @YUMMYTUMMYAARTHI ON INSTAGRAM!
📖 Recipe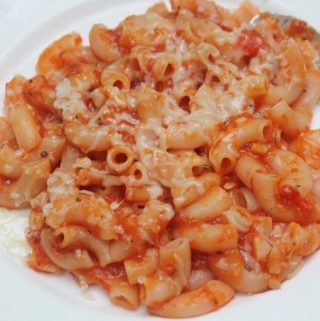 Red Sauce Pasta Recipe
Simple and delicious red tomato pasta which is so yummy and it turns out pretty close to restaurant ones. Super yummy and kids will love it for sure.
Ingredients
Macaroni Pasta - 2 cups

Butter - 3 tblsp

Garlic - 4 cloves chopped finely

Onion - 1 medium size chopped finely

Tomato - 5 pureed

Tomato Ketchup - 4 tblsp

All Purpose flour / Maida - 1 tblsp

Italian Seasoning - 2 tsp

Salt to taste

Sugar - 1 tsp

Chilli Powder or flakes - to taste

Mozzarella Cheese as needed
Instructions
Cook pasta in salted boiling water as per package directions. Drain and set aside,

Heat butter in a pan, add in garlic, onions and saute for a min.

Add in all purpose flour and mix well.

Add in italian seasoning and mix well.

Add in tomato puree, ketchup, salt, sugar and chilli powder and cook till it gets thickened.

Add in water and mix well.

Once the sauce is done, add pasta and mix well. Simmer for 1 to 2 mins.

Now take it in a plate, top with shredded cheese and serve.
Red Sauce Pasta Recipe Step by Step Pictures
1)Take tomatoes in a blender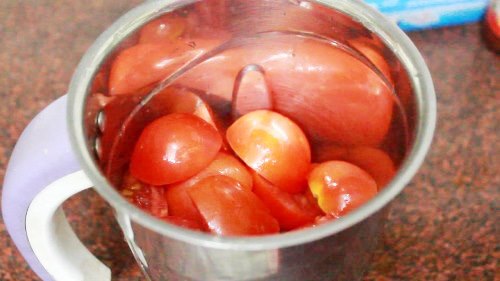 Pin
2)Puree till smooth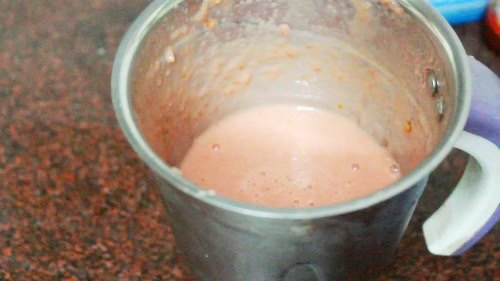 Pin
3)Bring water in a sauce pan to a boil.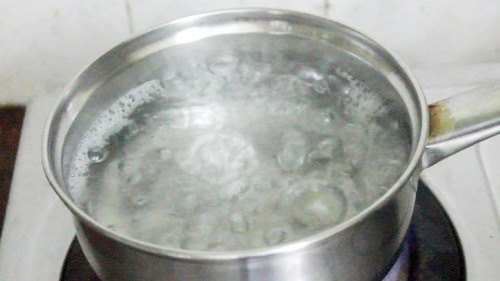 Pin
4)Add salt to taste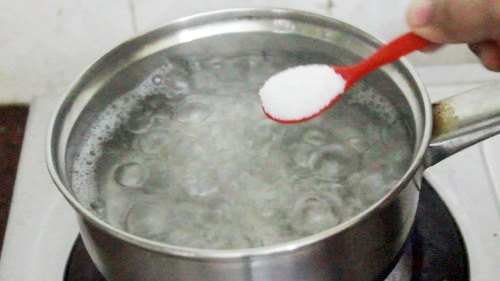 Pin
5)Add in some oil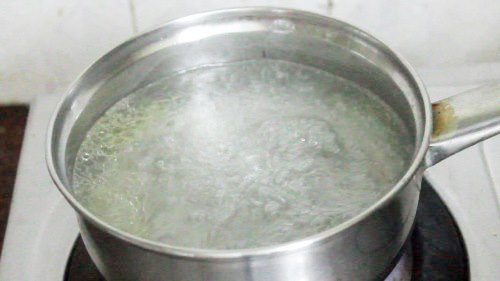 Pin
6)Add in pasta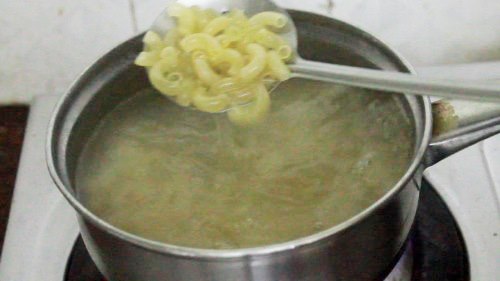 Pin
7)Cook till pasta is cooked. Drain and set aside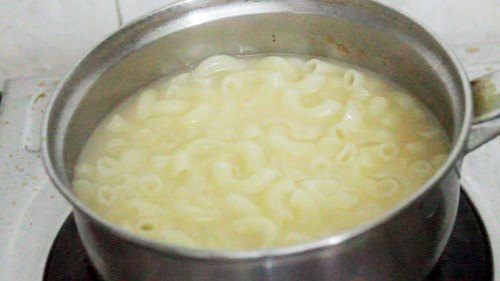 Pin
8)Heat butter in a pan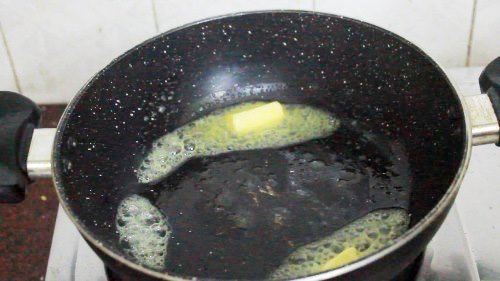 Pin
9)Add in onions and garlic. Saute for a min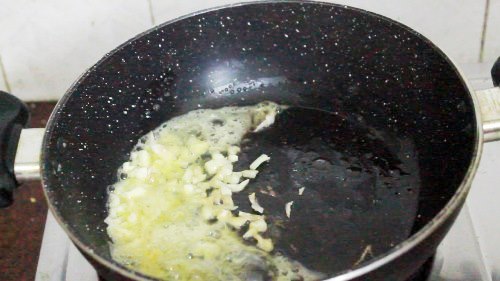 Pin
10)Add in all purpose flour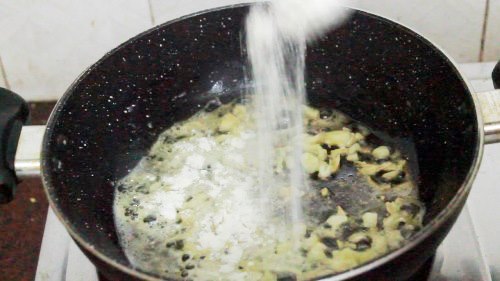 Pin
11)Saute for a min.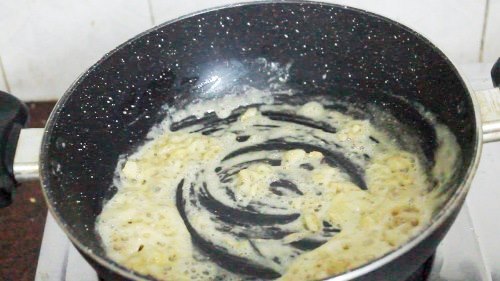 Pin
12)Add in italian seasoning.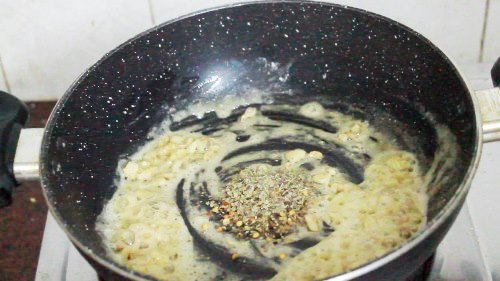 Pin
13)Mix well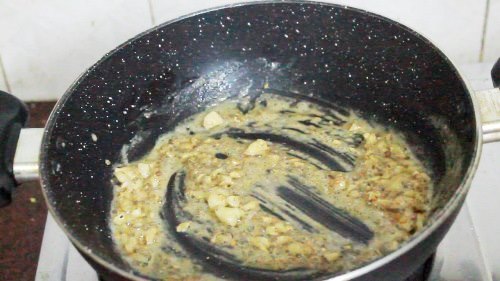 Pin
14)Add in tomato puree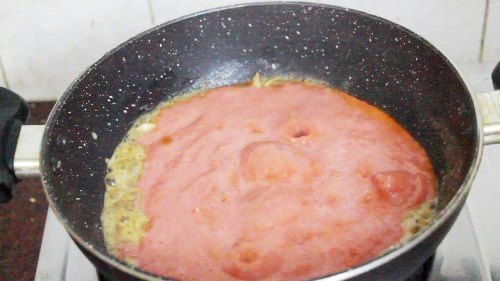 Pin
15) mix well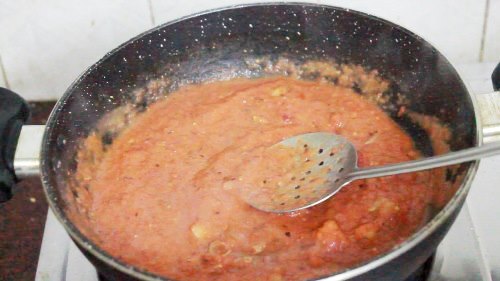 Pin
16)Add in water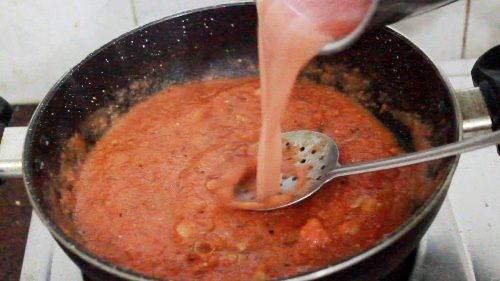 Pin
17)Bring it to a boil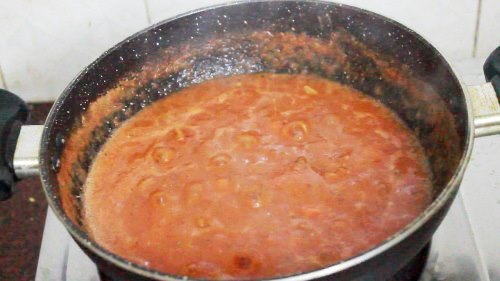 Pin
18)Add salt to taste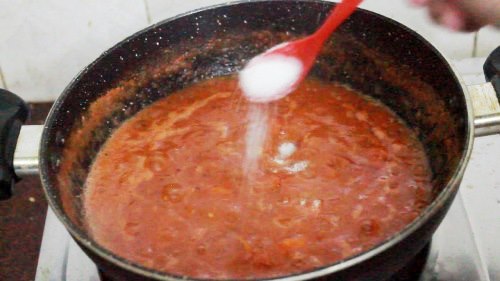 Pin
19)Add sugar to taste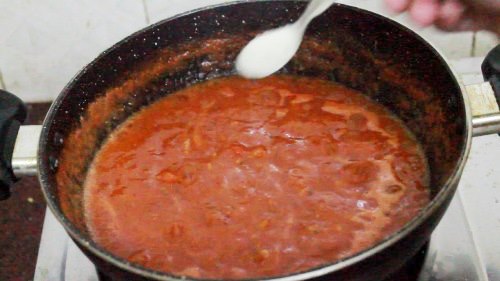 Pin
20)Add in ketchup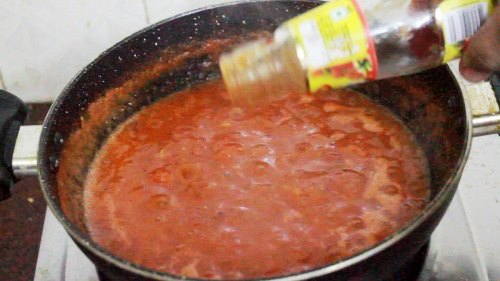 Pin
21)Add in chilli powder or chilli flakes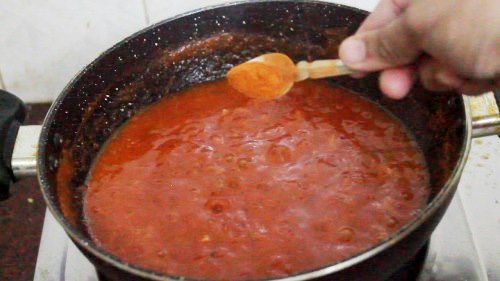 Pin
22)Mix well and let it simmer.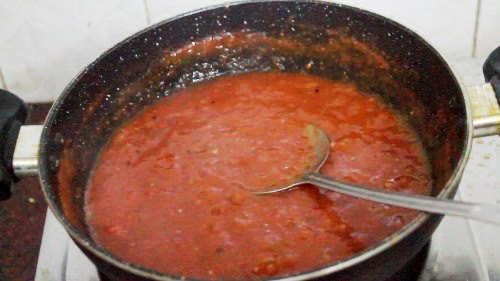 Pin
23)Sauce is done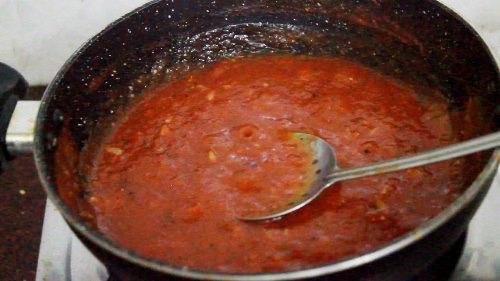 Pin
24)Add in cooked macaroni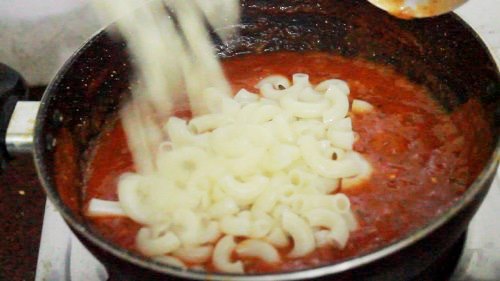 Pin
25)Mix well and cook the pasta in the sauce for 2 to 3 mins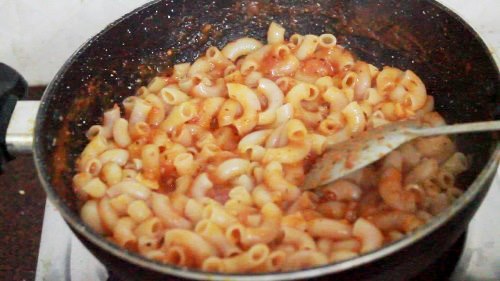 Pin
26)Spoon into a plate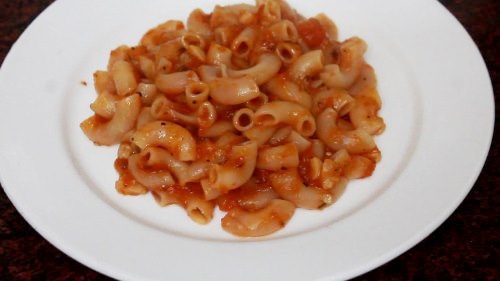 Pin
27)Top with cheese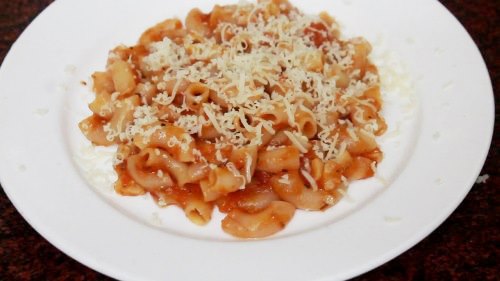 Pin
28)Serve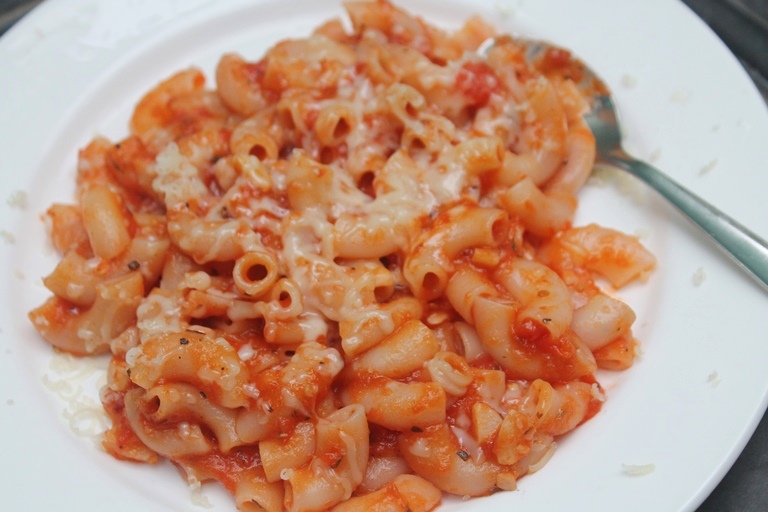 Pin
Frequently Asked Questions
What is red sauce pasta called?
Marinara sauce is a traditional tomato-based pasta sauce.
When was tomato sauce added to pasta?
The use of tomato sauce with pasta was first documented in the Italian cookbook L'Apicio moderno by Roman chef Francesco Leonardi in 1790.
Did Italians have tomato sauce?
Tomato sauce is mentioned for the first time in the Italian cookbook Lo Scalco alla Moderna (The Modern Steward), written in 1692 by Italian chef Antonio Latini. Meanwhile, a recipe for pasta with tomato sauce appears in chef Francesco Leonardi's 1790 cookbook, L'Apicio Moderno.