SOURCE: WIKI
Quinoa in Spanish, (/ˈkiːnoʊ.ə/, from Quechua kinwa or kinuwa)[2] is a species of the goosefoot genus (Chenopodium quinoa), a grain crop grown primarily for its edibleseeds. It is a pseudocereal, similar in some respects to buckwheat, rather than a true cereal, as it is not a member of the true grass family. As a chenopod, quinoa is closely related to species such as beetroots, spinach and tumbleweeds. As a member of the Amaranthaceae family, it is related to and resembles amaranth, which is also a pseudocereal. After harvest, the seeds must be processed to remove the coating containing the bitter-tasting saponins. The seeds are in general cooked the same way as rice and can be used in a wide range of dishes. The leaves are eaten as a leaf vegetable, much like amaranth, but commercial availability of quinoa greens is limited.
Similar Recipes,
How to cook Quinoa

It is the first time i ever attempted to cook quinoa. To my surprise it turned out to be delicious, i loved it. To my tastebuds it almost tasted like wheat rava. I made this fried rice and loved it.Planning to try few more recipes as well.
Hope you will give this a try and let me know how it turns out for you.
Preparation Time : 10 mins
Cooking Time : 15 mins
Serves: 2


Ingredients:
Cooked Quinoa – 2 cups (Check this post)
Oil – 2 tsp
Onion – 1 medium size chopped finely
Green Chilli – 1 or 2 chopped finely
Ginger Garlic Paste – 2 tsp
Carrots – 1 medium size chopped finely
Beans – 6 chopped
Capsicum – 1/2 chopped finely
Salt to taste
Method:
Heat oil in a pan, add onions and chillies. cook for couple of mins.
Add in ginger garlic paste and mix well.
Add veggies and cook till done.
Add salt and mix well.
Add in cooked quinoa and toss well, serve.
Pictorial: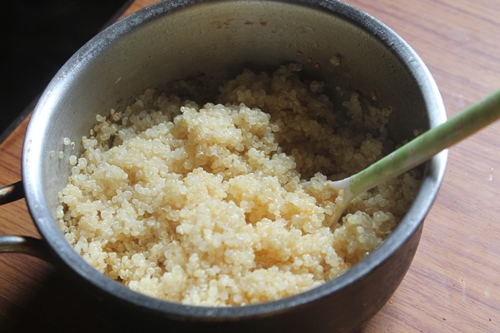 Cook quinoa, check this post for step by step method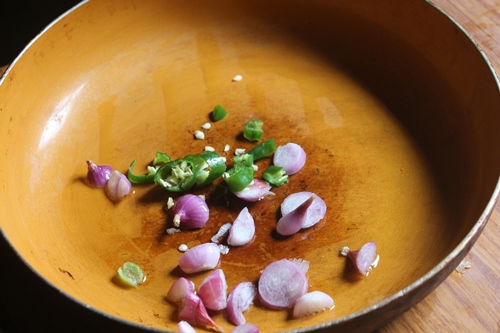 Heat little oil in a pan, add onions and chillies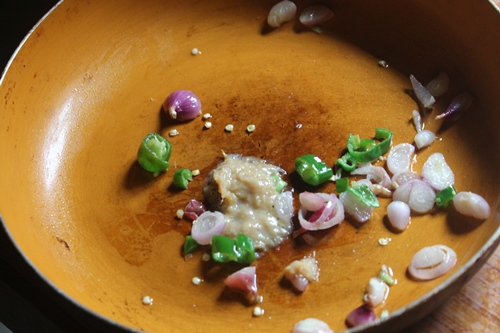 add ginger garlic paste and cook for a min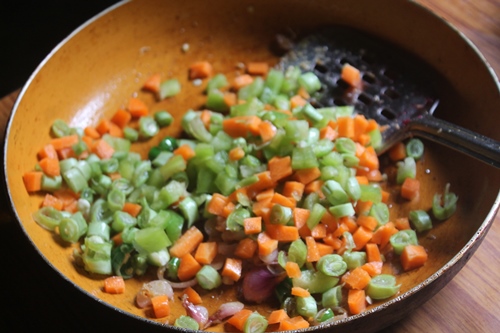 add veggies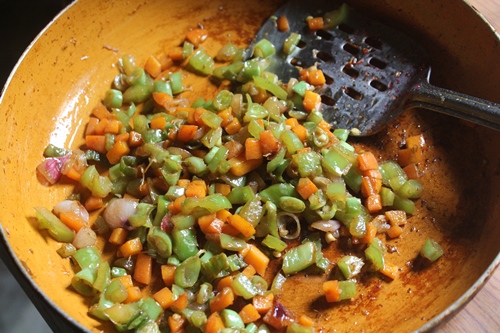 cook till done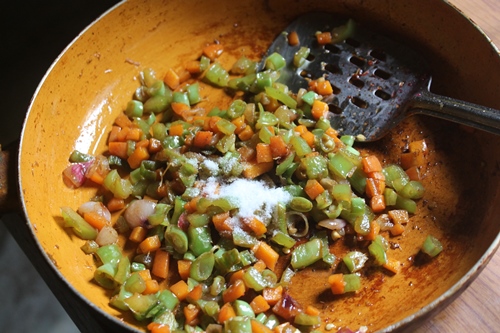 add salt and mix well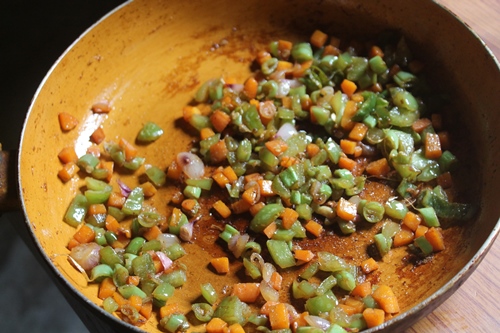 veggies done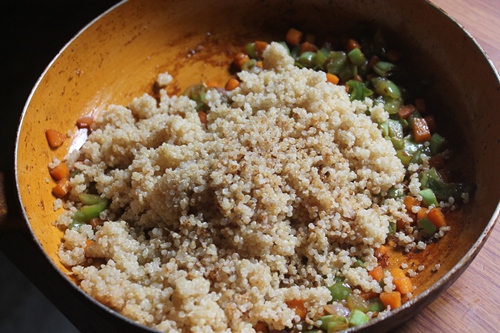 add cooked quinoa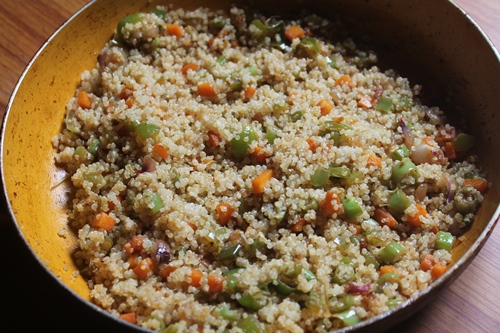 toss well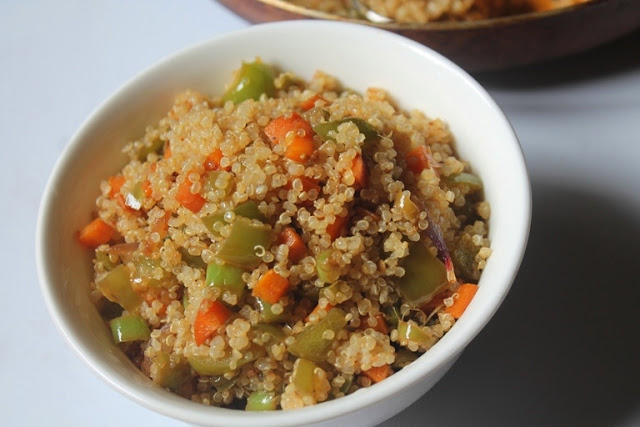 Serve