How to Cook Quinoa in few minutes. Healthy and nutritious quinoa is a better substitute for rice and keeps you full longer. It is a seed which you can cook in advance and store in fridge for few days.
Quinoa is an edible seed that has grown in popularity. Its high in fibre, protein, folate, and magnesium, among other nutrients. The plant has been cultivated for over 5000 years and is native to South Americas Andean region, specifically Bolivia, Ecuador, Chile, and Peru. Quinoa in Tamil is Seemai Thinai.
Quinoa was created by whom?
It was developed by the Incas in the mountains of Bolivia, Chile, and Peru. It has been at the forefront in these areas for the past 5,000 years. Quinoa is a staple for the Incas and is still a popular food source for their descendants, the Quechua and Aymara.
Is quinoa more nutritious than rice?
A cup of quinoa also contains twice as much protein and 5 grammes more fibre than the same amount of white rice. Quinoa is not only the healthier option due to its higher protein and fibre content, but it also fills you up faster, allowing for smaller portion sizes.
It is the first time i ever attempted to cook quinoa. To my surprise it turned out to be delicious, i loved it. To my tastebuds it almost tasted like wheat rava. I used this cooked quinoa to make fried rice and loved it. Planning to try few more recipes as well.
Ingredients for Quinoa Recipe :
Quinoa :
Quinoa is high in protein, has a sweet and nutty flavour, and has a distinct texture. It can also be used in place of starchier pasta and rice in a variety of dishes. A common issue when cooking quinoa is that it can produce a bitter aftertaste. There is, however, a simple solution to avoid the bitter taste.
Hope you will give this a try and let me know how it turns out for you.
If you have any questions not covered in this post and if you need help, leave me a comment or mail me @[email protected] and I'll help as soon as I can.
Follow me on Instagram, Facebook,Pinterest ,Youtube and Twitter for more Yummy Tummy inspiration.
IF YOU MAKE THIS RECIPE OR ANYTHING FROM YUMMY TUMMY, MAKE SURE TO POST IT AND TAG ME SO I CAN SEE ALL OF YOUR CREATIONS!! #YUMMYTUMMYAARTHI AND @YUMMYTUMMYAARTHI ON INSTAGRAM!
📖 Recipe Card
How to Cook Quinoa (Step by Step)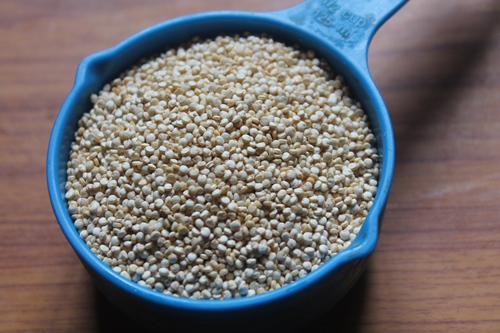 Measure your quinoa