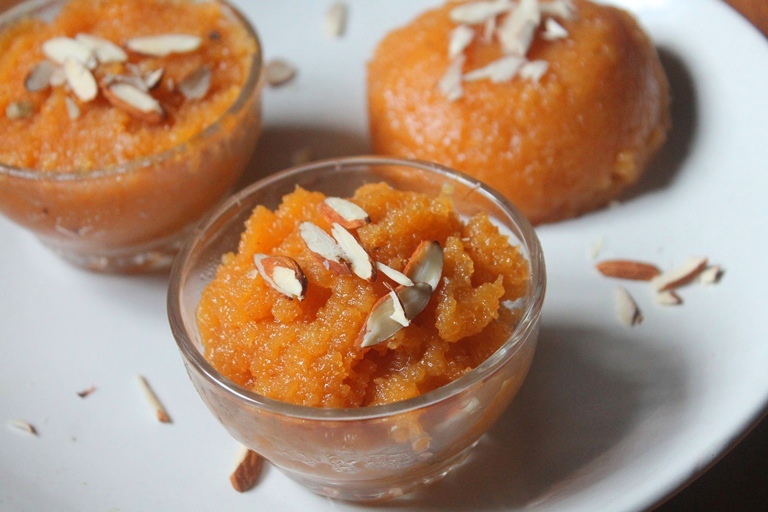 Chana Dal Halwa Recipe – Easy Chana Dal Ka Halwa with step wise pictures.
Delicious chana dal halwa made in less than 30 to 35 mins. The taste is heavenly and it is super healthy for you.
I love making this halwa, it is one of the basic halwa recipe which anyone can make. It is very straight forward.
This halwa gets its taste from the roasting part, so keep cooking the halwa in ghee till it gets nice and golden. Once it is golden brown add milk and water and continue cooking. The more ghee you add to the halwa the more taste it gets.
This chana dal halwa is great for any parties, since it is diwali season i am sure you will love it.
Similar Recipes,
Wheat Halwa
Custard Powder Halwa
Badam Halwa
Kasi Halwa
Cornflour Halwa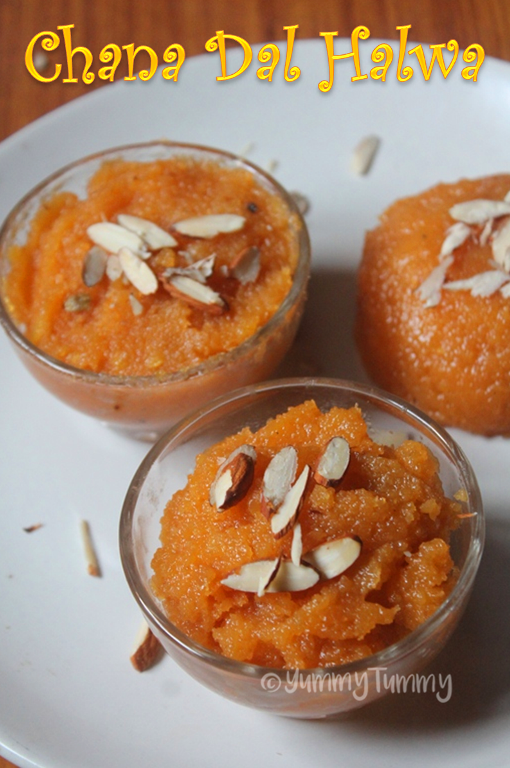 I have already shared moong dal halwa in this blog, this one is using chana dal and it is more tasty. The flavour of this chana dal halwa is so good you will be loving it for sure.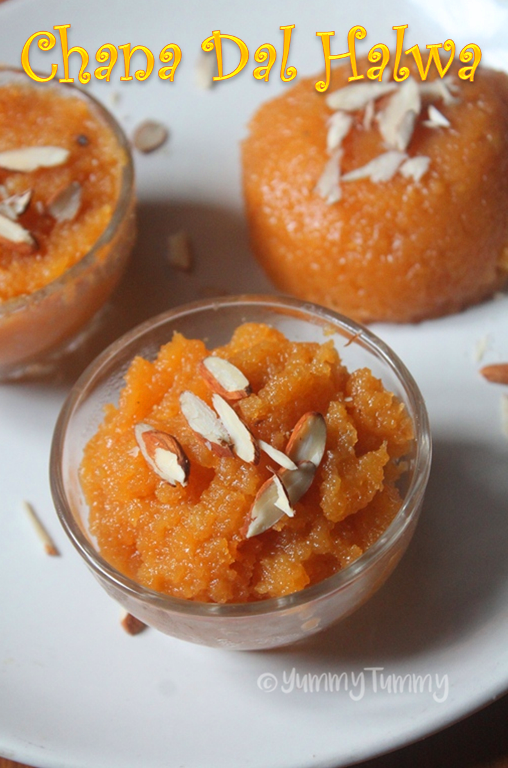 Hope you will give this a try and let me know how it turns out for you.
More Recipes,
Karachi Halwa
Carrot Halwa
Mango Halwa
Banana Halwa
Jackfruit Halwa
Beetroot Halwa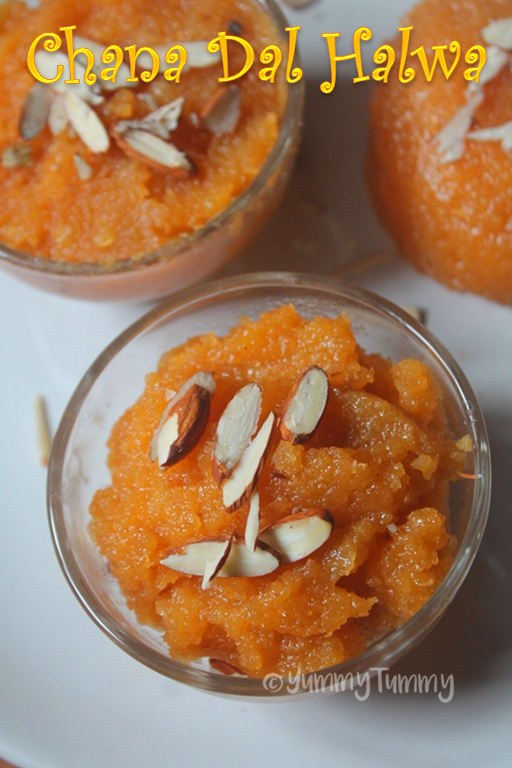 Chana Dal Halwa
Delicious chana dal halwa made in less than 30 to 35 mins. The taste is heavenly and it is super healthy for you.
Ingredients
Chana Dal / Kadalai Paruppu - ½ cup
Ghee - ¼ cup
Milk - 1 cup
Water - 1 cup
Sugar - ¾ cup to 1 cup
Cardamom Powder - ½ tsp
Saffron a pinch
Food Colouring a pinch
Nuts of your choice as needed
Instructions
Wash and soak chana dal for 4 to 5 hours. Drain it and add it to a blender. Puree till blended without adding water.
Heat ghee in a nonstick pan, add chana dal and keep mixing so no lumps are formed. Cook till it gets nice and golden, it will take 14 to 15 mins.
Add in water and milk and mix well. Cook till it thickens.
Add sugar and mix well. Cook till thickens and ghee leaves the sides of the pan.
Add in cardamom powder, saffron and food colour. Mix well.
Serve garnished with nuts.
 Pictorial:
1)Soak chana dal for 4 hours.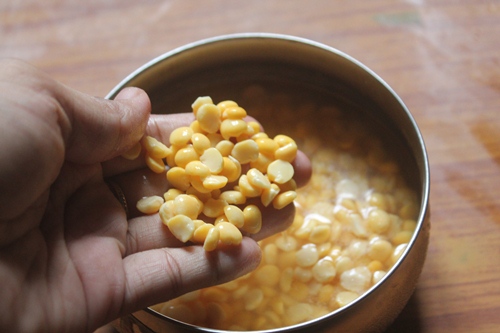 2)Drain it and take it in a blender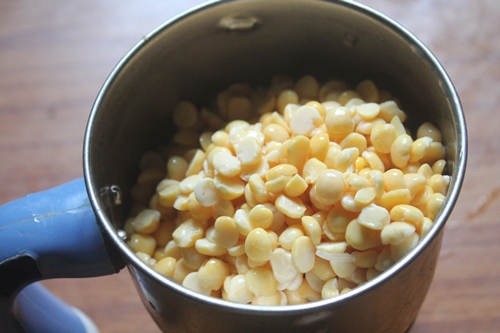 3)Puree into a paste without adding any water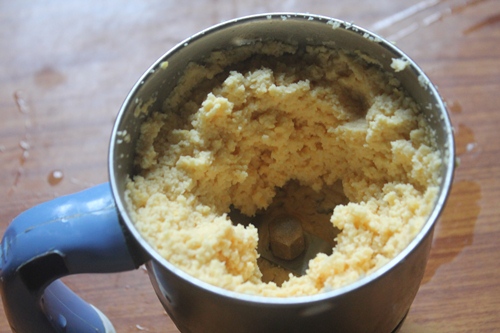 4)Heat ghee in a pan, i prefer using nonstick pan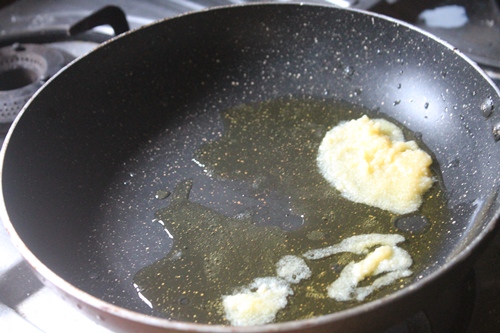 5)Once the ghee is all melted, add in the pureed chana dal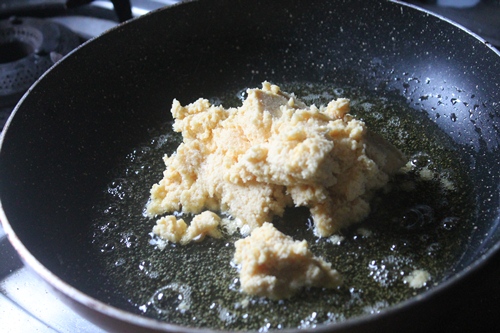 6)Mix well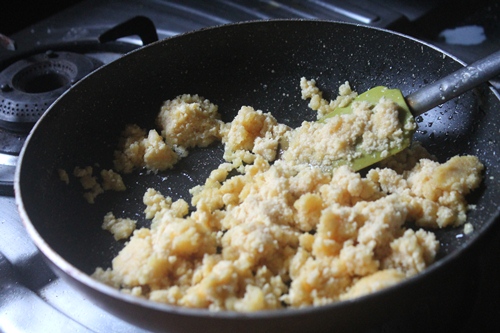 7)Keep stiring so no lumps are formed.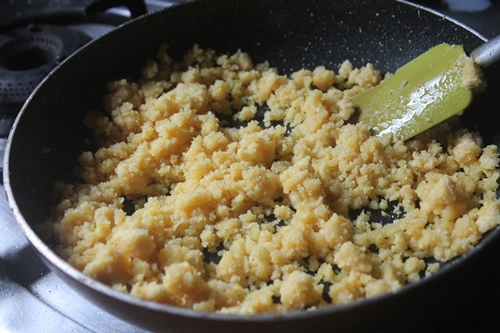 8)I keep on frying it till it resembles coarse crumbs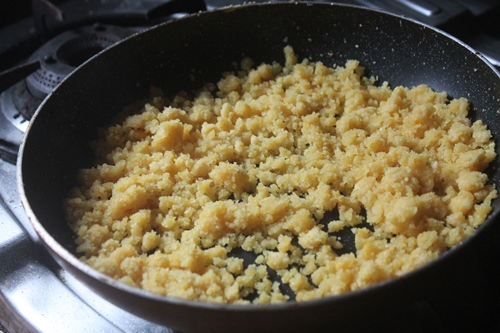 9)Now it is all toasted and golden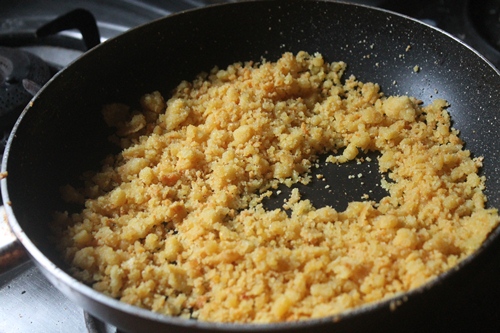 10)Add in milk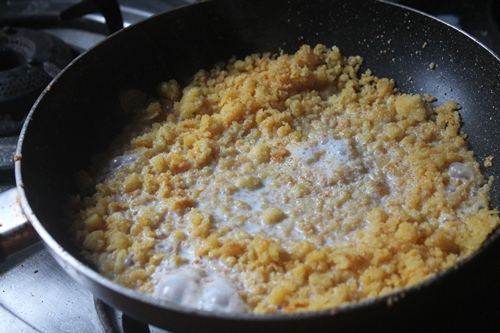 11)Add in water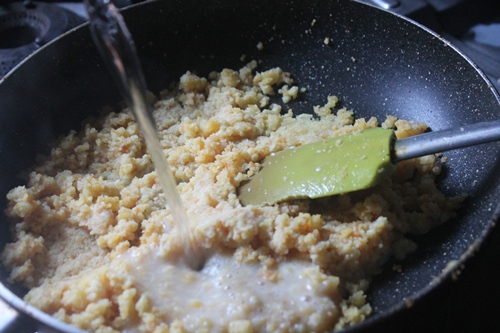 12)Mix well and cook on a low flame till dal is done.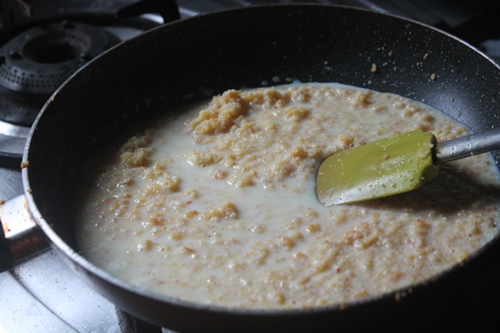 13)Now it is thick and it is cooked.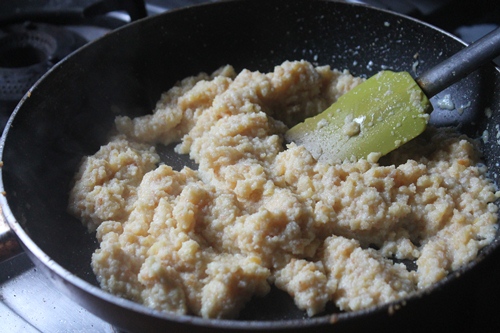 14)Now it is nice and thick.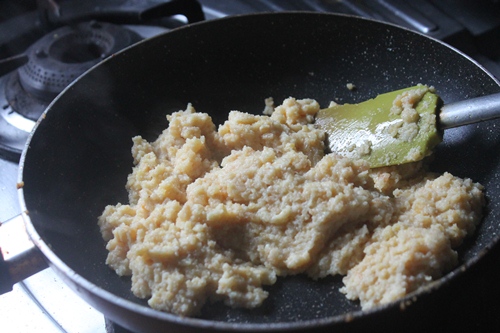 15)Add in sugar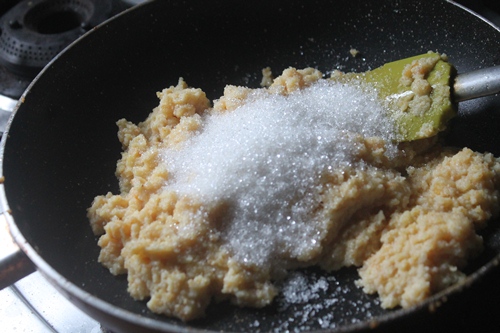 16)Mix well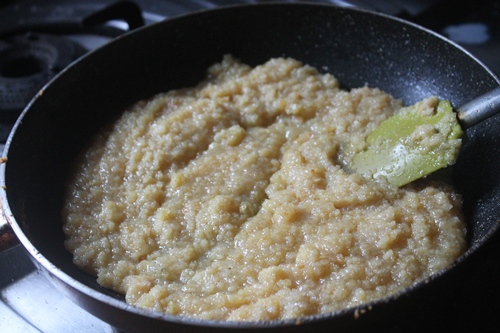 17)Add in some food colour or saffron soaked in some milk.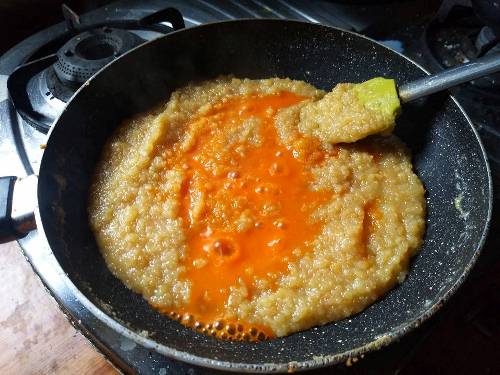 18)Mix well and cook till it thickens and ghee starts to leave the sides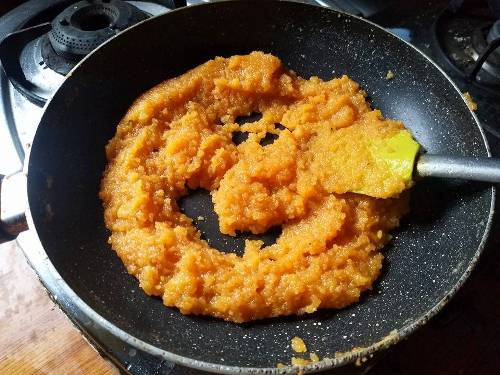 19)Add cardamom powder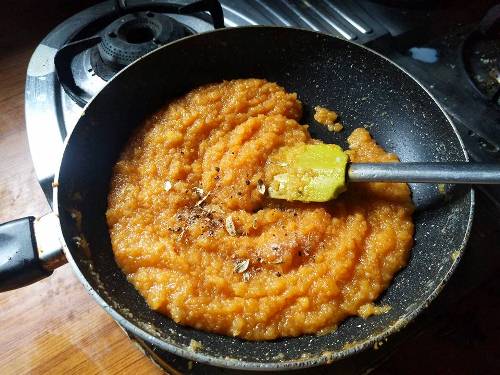 20)Mix well.done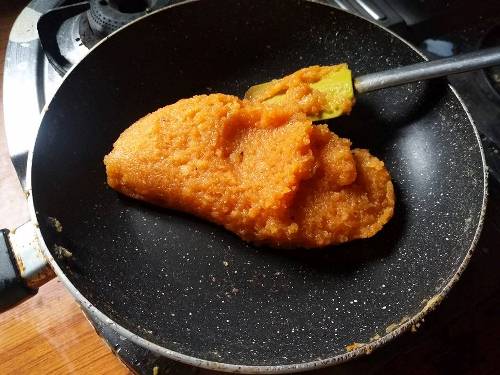 21)Serve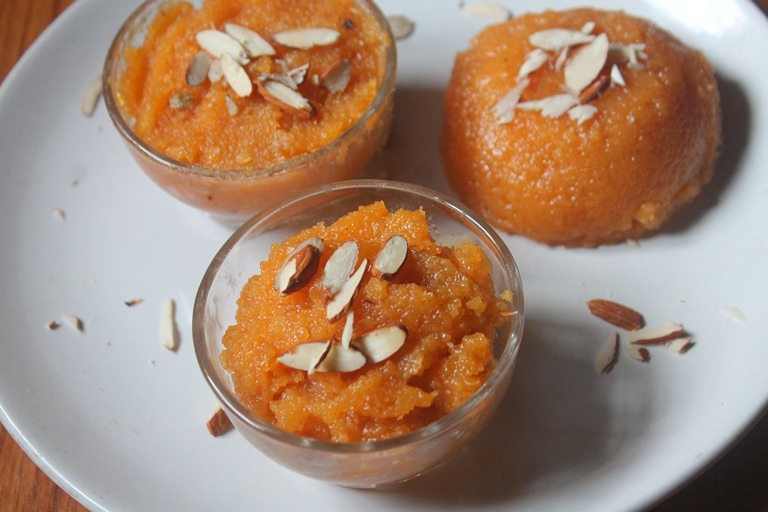 I am Aarthi, a happy homemaker, mom of two beautiful girls, married to my high school sweet heart. My goal is to teach people that cooking can be way more easier and joyful than they think. Yummy Tummy features recipes all over the world with step wise pictures which surely shows the ease of cooking.