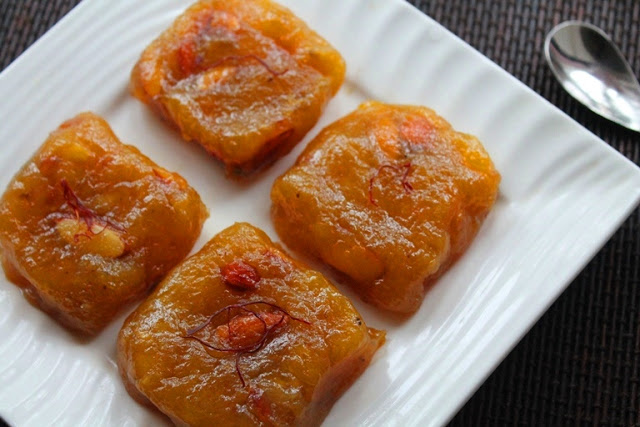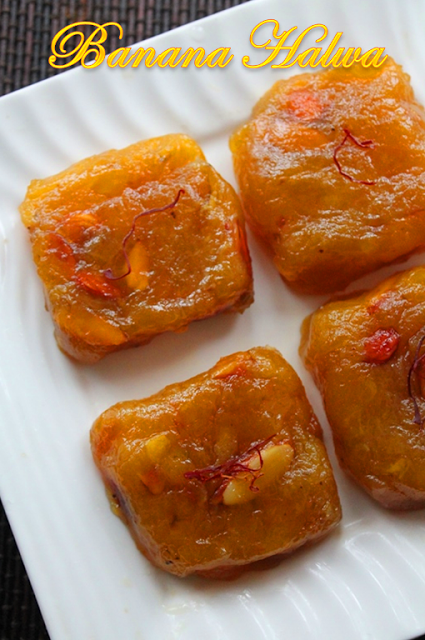 This halwa is made simply with mashed banana, sugar and few spices and ofcourse ghee. I used nendran pazham / ethan pazham for this recipe, i found that it taste best, but you could try with any banana.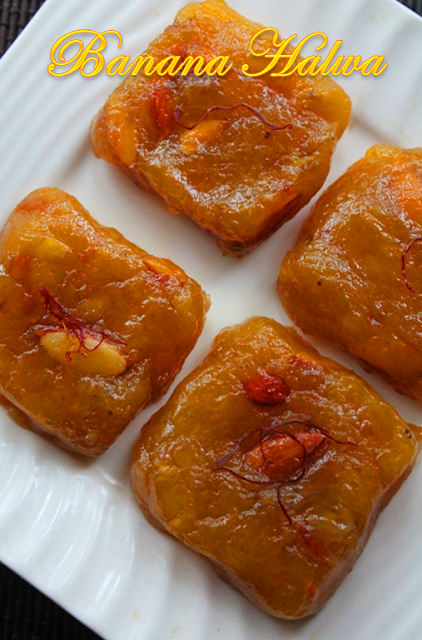 Hope you will give this a try and let me know how it turns out for you..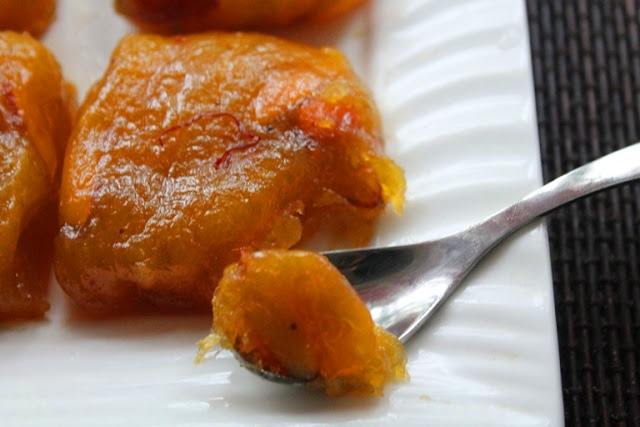 Preparation Time : 5 mins
Cooking Time : 15 to 20 mins
Makes : 4 big pieces


Ingredients:
Ripe Nendran Banana / Ethan Pazham – 1 large (around 1 cup mashed)
Sugar – 1/4 cup or to taste
Ghee – 2 tblspn
Almonds / Badam – 3 tblspn chopped ( use any nuts)
Cardamom powder / Yelakai Podi – 1/4 tsp
Method:
Peel and mash the ripe banana using a fork. Grease a plate with ghee and set aside.
Heat 1 tblspn of ghee in a nonstick pan, add in the nuts and fry till golden. Drain them and set aside.
In the same ghee add in the mashed banana and saute for a min.
Add in sugar and mix well.
Keep cooking till the mix gets thick. Now add in a tsp of ghee at a time and keep cooking.
At a point the halwa will get glossy.
Add in cardamom powder and fried nuts. Mix well.
Pour this into a greased plate and smoothen the top. Let this cool down.
Cut into pieces and enjoy.
Pictorial: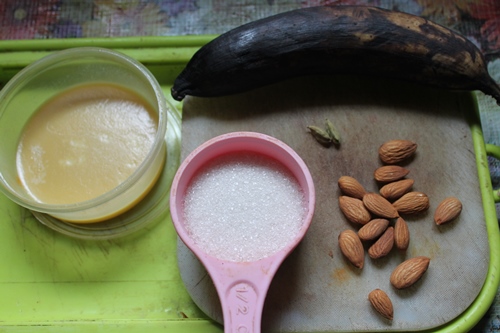 You just need a handful of ingredients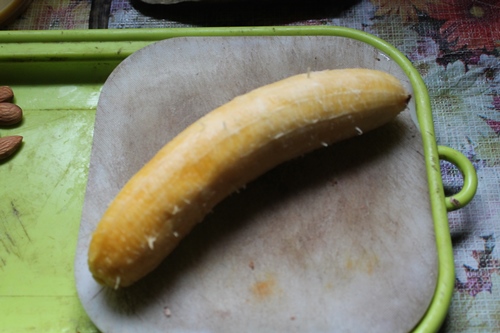 I peeled off 1 large ripe banana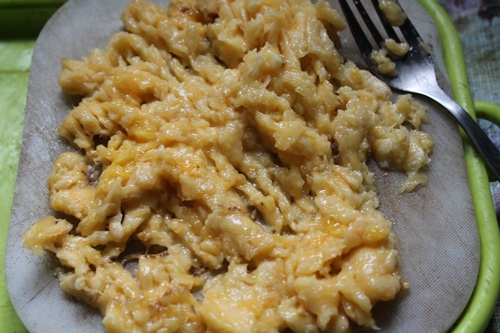 Mash it with a fork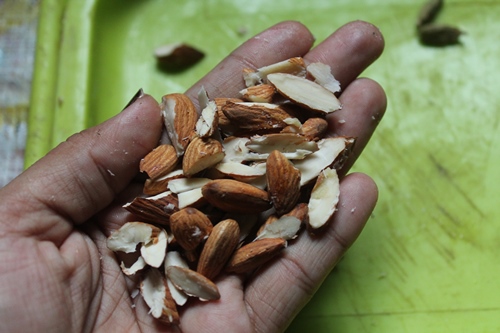 I chopped a handful of almonds as well..You can use any nuts you like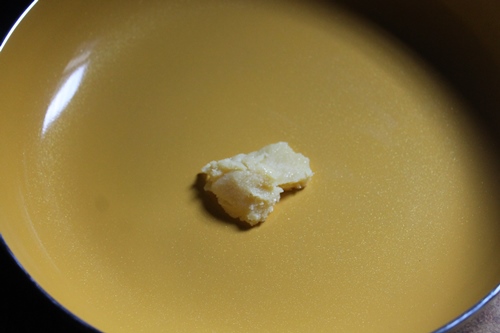 Melt some ghee in a pan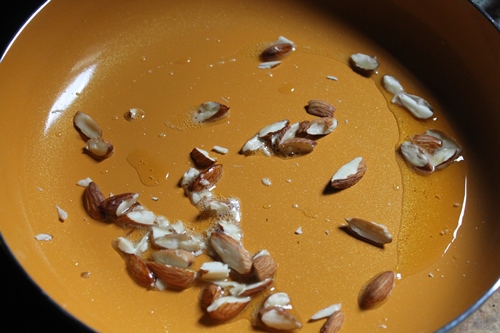 Add in the nuts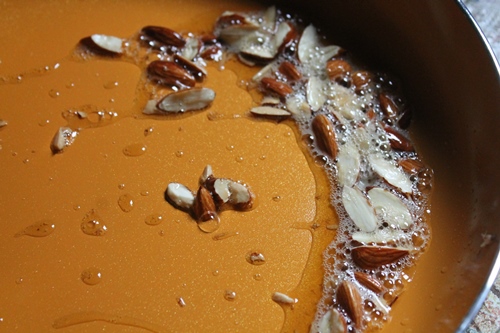 fry till golden, then remove it to a bowl and set aside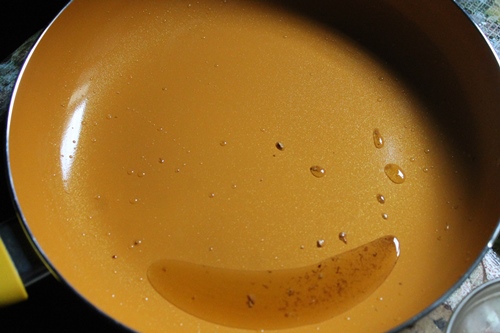 In the remaining ghee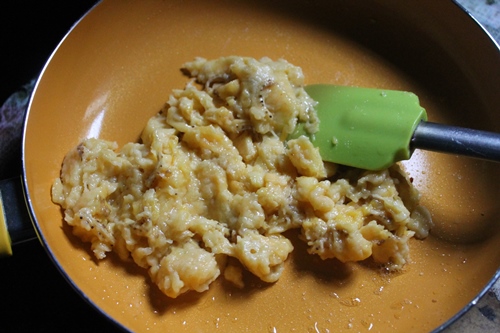 add in mashed banana
and some sugar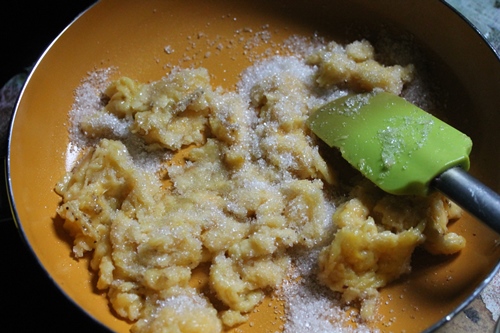 mix well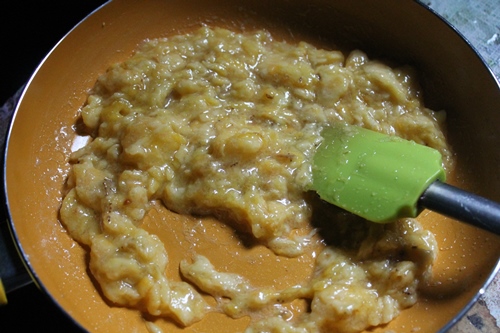 The sugar with melt down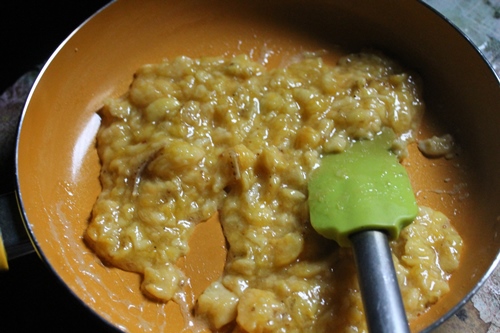 keep cooking, the mix with get thickened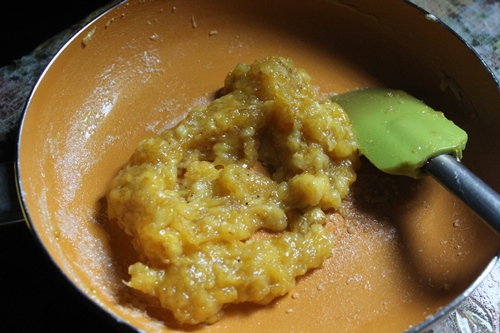 Now it has got really thick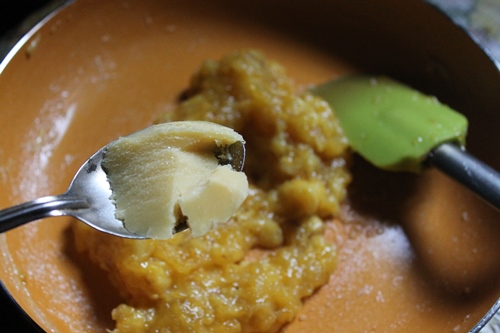 At this point add in a tsp of ghee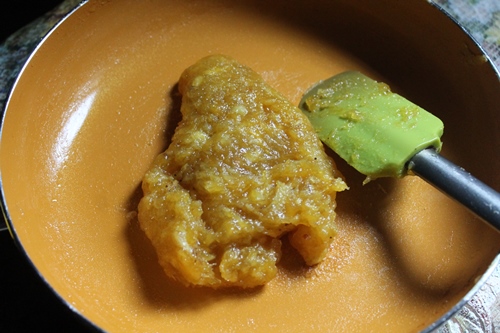 keep cooking till the ghee is absorbed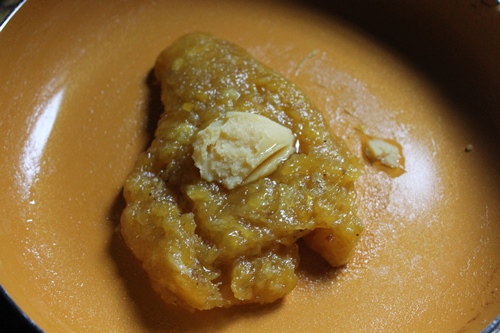 now add another tsp of ghee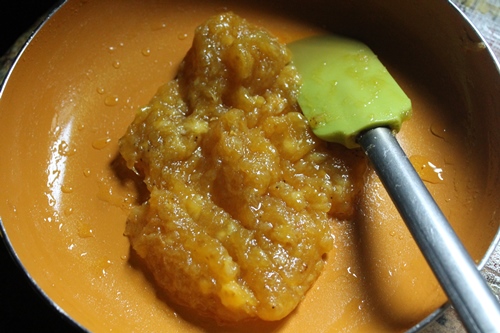 mix well, now you can see the halwa has turned little glossy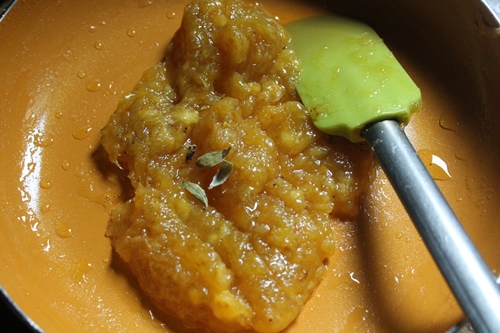 at this point add in cardamom powder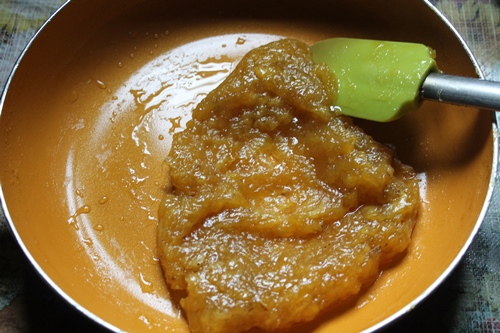 mix well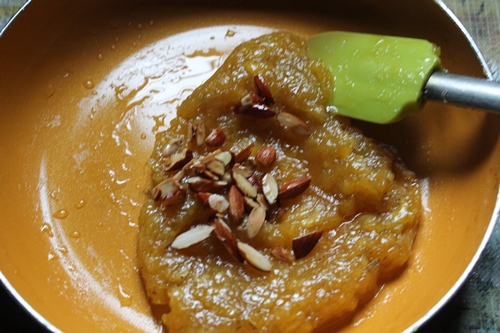 add in the fried almonds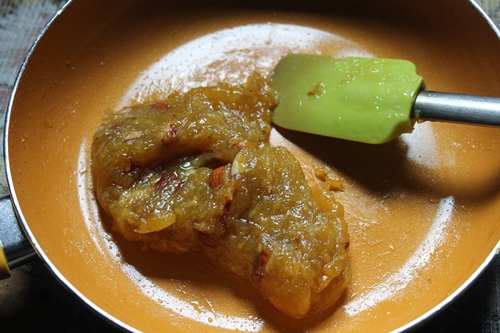 mix well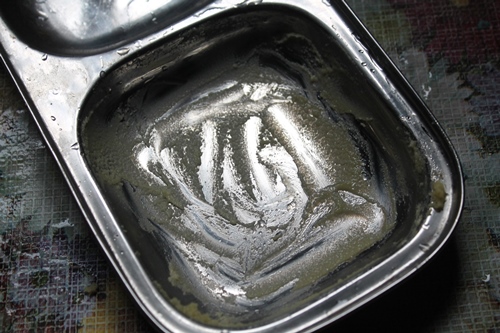 Grease a plate with some ghee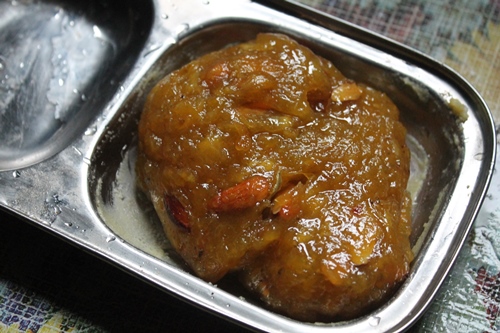 transfer the halwa in the plate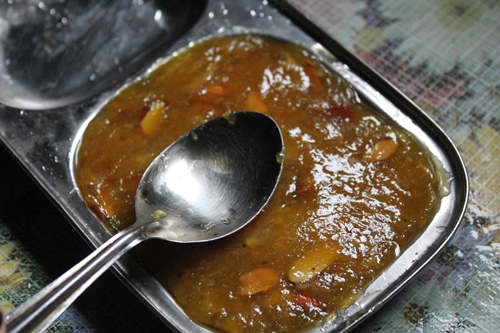 smooth the top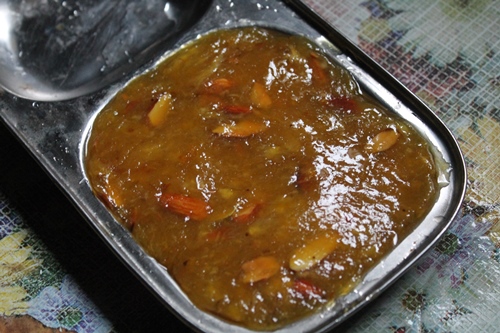 Now let the halwa cool down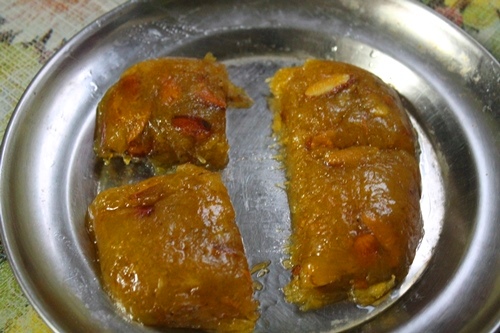 Now you can cut into pieces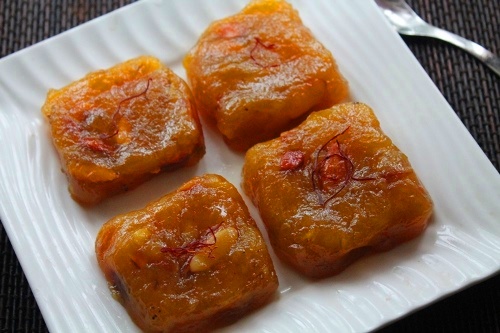 Enjoy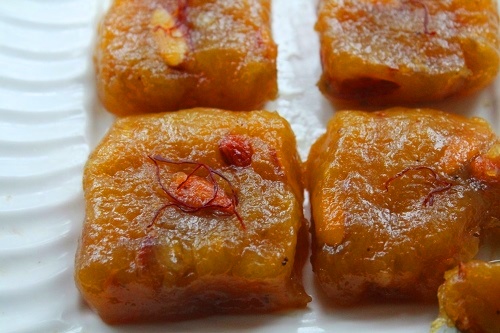 I am Aarthi, a happy homemaker, mom of two beautiful girls, married to my high school sweet heart. My goal is to teach people that cooking can be way more easier and joyful than they think. Yummy Tummy features recipes all over the world with step wise pictures which surely shows the ease of cooking.