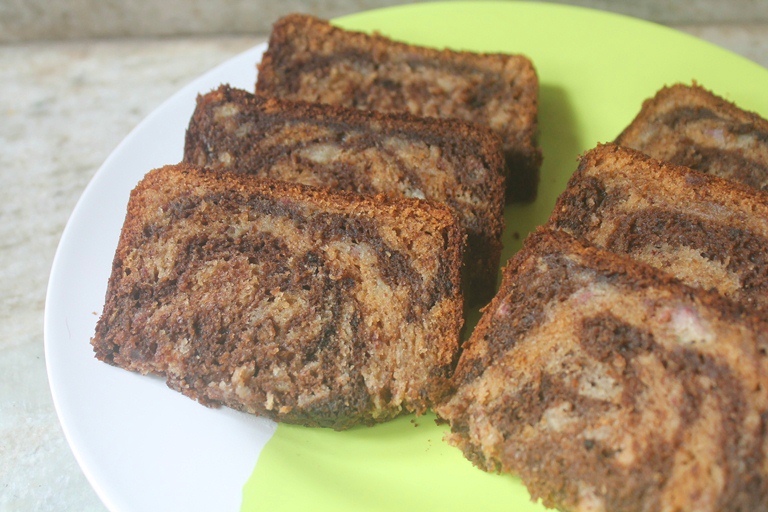 Chocolate Banana Swirl Cake Recipe with step wise pictures.
Chocolate Banana Swirl Cake Recipe. Super moist and chocolate rich marbled banana cake. This cake is not only easy to make but taste so delicious.
This is one of the best chocolate banana bread i ever baked. It turned out so moist and chocolaty. This is for all banana and chocolate lover, you can enjoy a piece of plain banana cake and chocolate banana cake as well. It is a marbled banana bread as well.
Similar Recipes,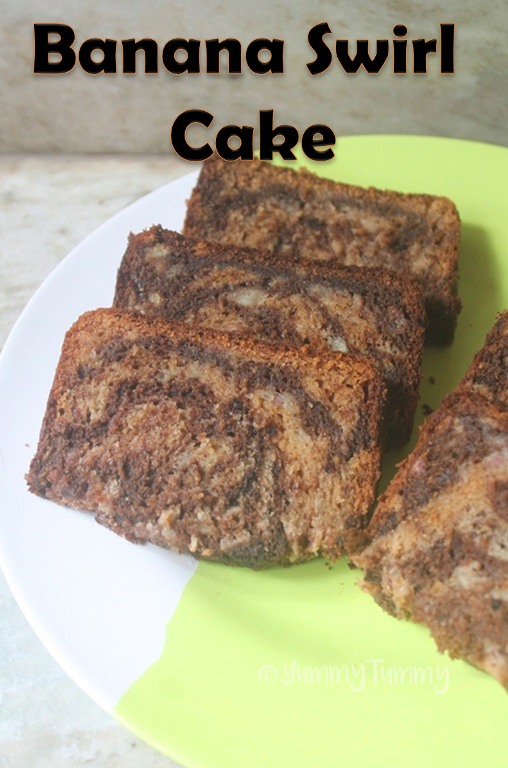 You can make this cake with complete wheat flour as well. And the addition of sugar depends on your taste. Try to use a really ripe bananas for the best banana flavour.
Rum Chocolate Cake
Chocolate Mousse Recipe
Checkerboard Cake
Eggless Orange Cake
Orange Pudding Cake
Orange Marmalade Cake
Lemon Drizzle Cake
Layered Banana Chocolate Cake Recipe – Marbled Chocolate Banana Bread Recipe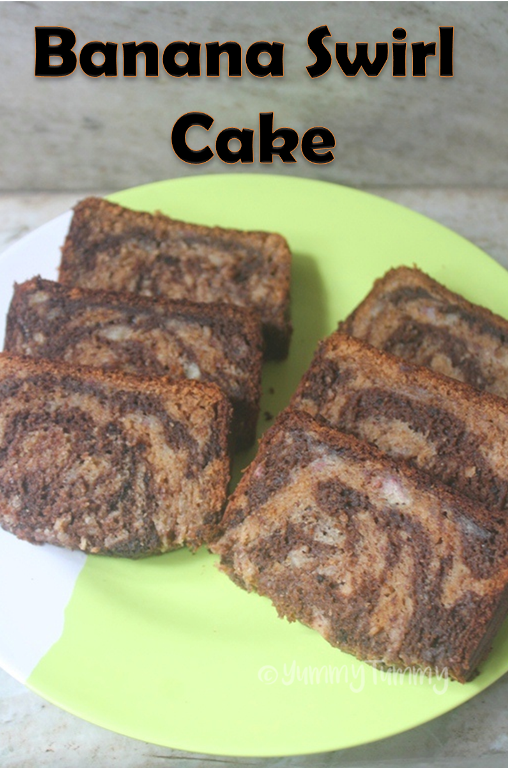 Hope you will give this a try and let me know how it turns out for you.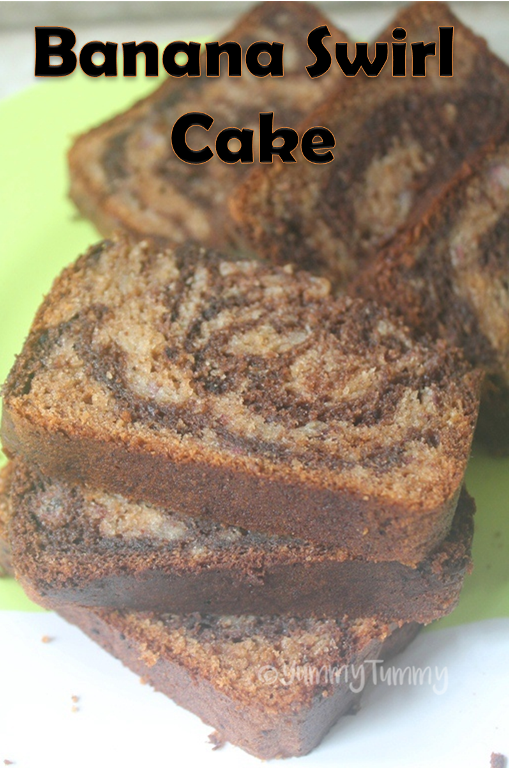 Super moist and chocolate rich marbled banana cake. This cake is not only easy to make but taste so delicious.
Ingredients
All Purpose Flour / Maida - 1¾ cup / 210 grams
Baking Soda / Cooking Soda - ¾ tsp
Sugar - 1 cup / 200 grams
Ripe Banana - 1 cup mashed
Oil - ½ cup /120 ml
Eggs - 2
Milk - ½ cup / 120 ml
Vanilla Essence - 1 tsp
Cocoa Powder - ⅓ cup
Warm Water - ⅓ cup
(MY 1 CUP MEASURED 240 ML)
Instructions
Preheat oven to 170 degree C. Line a loaf pan with parchment paper, grease with oil and set aside.
Take banana puree, sugar and vanilla and beat till mixed
Add in eggs and beat till creamy. Add oil, milk and beat again.
Add in flour, baking soda and fold gently. Once it is combined, set aside.
Take cocoa powder in a bowl, add water and mix to form a paste.
Add half of the batter into the cocoa mix and mix well.
Now take the loaf pan, Spoon the plain batter and chocolate batter alternately into the prepared loaf pan. Swirl the batters together with a knife (don't overdo it or the colors will get muddled -- up and back 4-5 times should suffice). No bake for 1 hour and 15 mins. Cover the top of the cake with a foil if the cake is getting too dark.
Insert a toothpick to check whether the cake is done, if it comes out clean then it is done.
Remove it from oven, cool it down for 15 mins.
Invert it on a cooling rack and let it cool completely.
Slice and serve.
Pictorial:
1)Take banana puree in a bowl.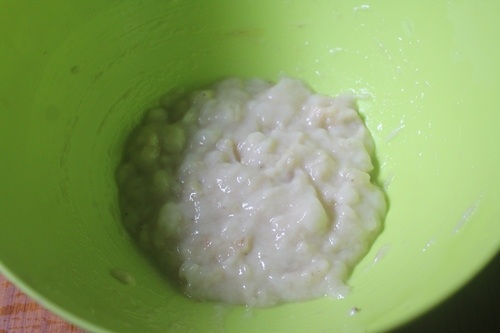 2)Add sugar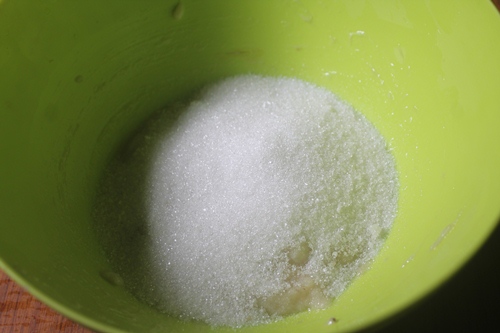 3)Add vanilla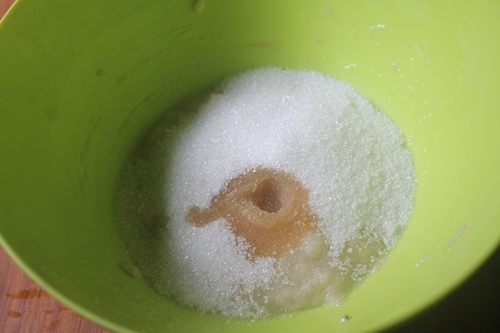 4)Add eggs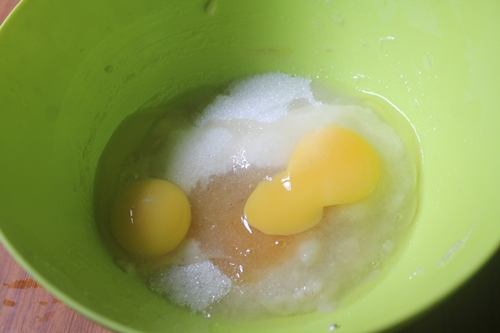 5)Whisk till combined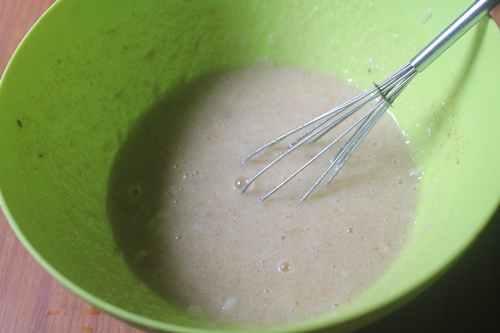 6)Add oil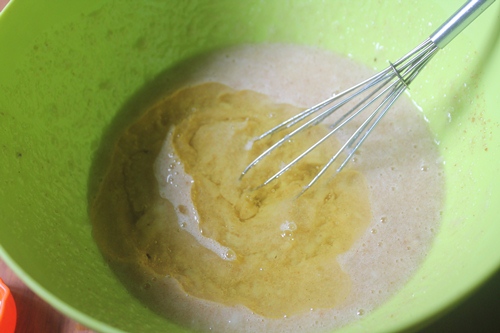 7)Add in milk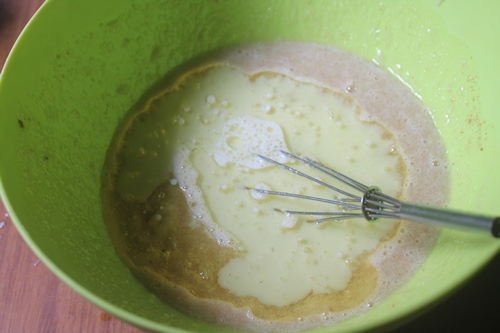 8)Whisk well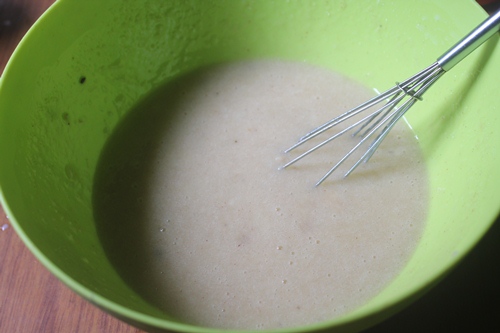 9)Add in flour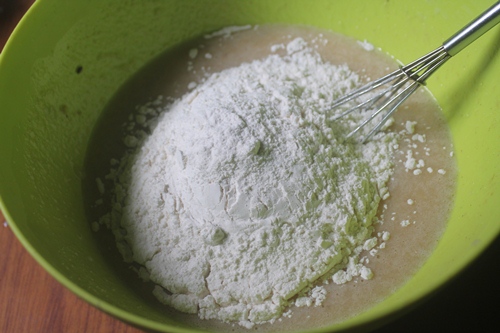 10)Add in baking soda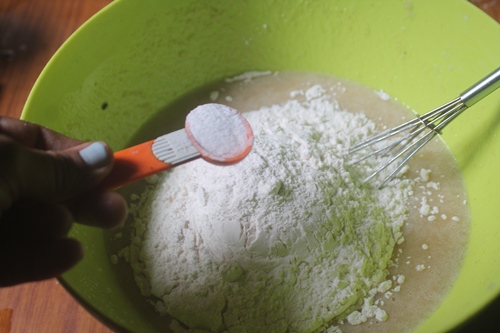 11)Mix well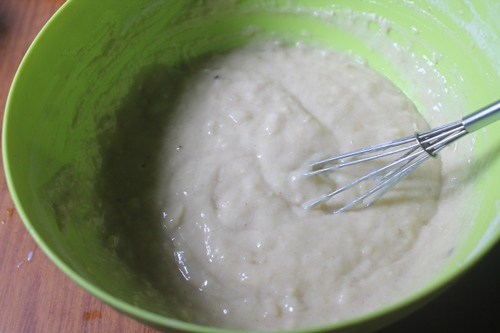 12)In another bowl take cocoa powder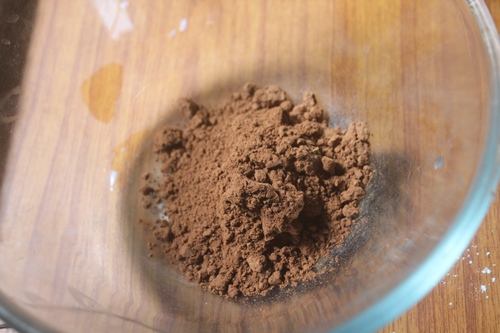 13)Add some warm water and whisk well.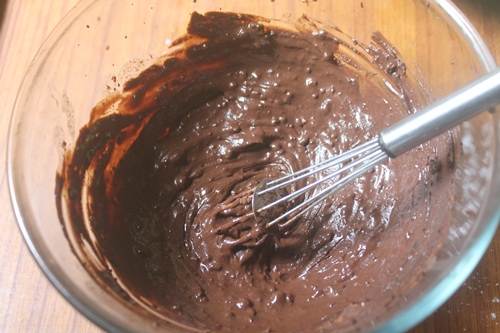 14)Add half of the banana batter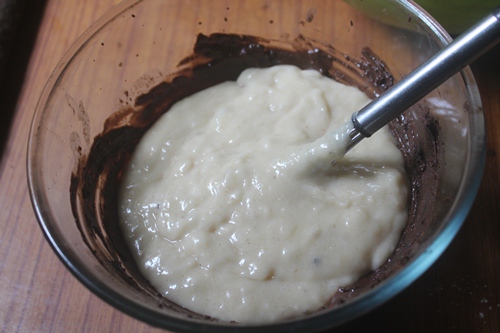 15)Mix well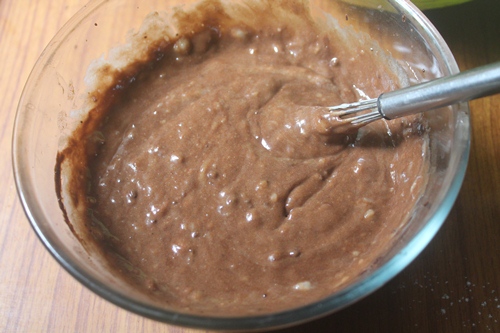 16)Line a loaf pan with parchment paper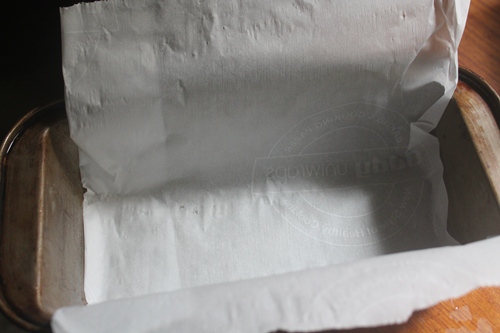 17)Alternate the batters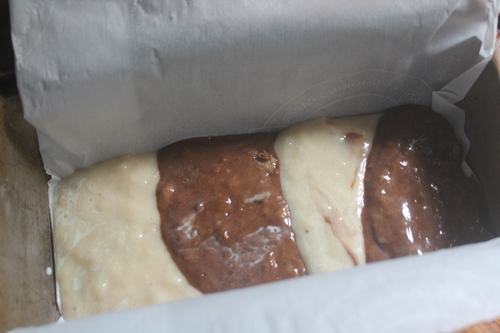 18)Once it is filled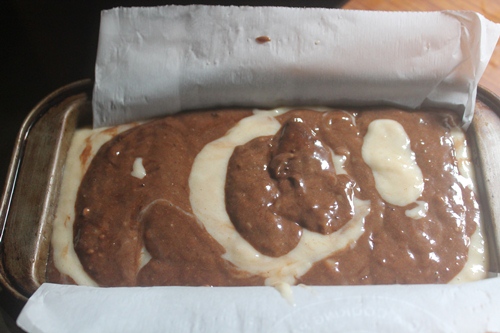 19)Take a knife and make swirl over the cake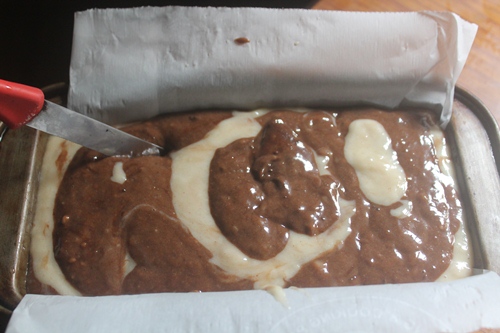 20)Now it is swirled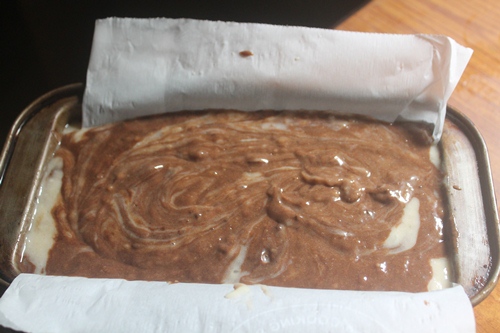 21)Bake and slice and serve.