Jamun raita or Naaval Pazham Raita with step by step pictures. Delicious raita made using jamun fruit. Dahi is mixed with black salt, cumin which is then combined with jamun fruit. This refreshing raita is best served on its own or as a side with any spicy pulao or roti.
Whenever you make any spicy dishes, the perfect cooling company for it will be raita..This raita i made with jamun and it is one of my favourite. This is great had on its own as well. Jamun is great for diabetic, it controls it. So this is great way to enjoy jamun fruit. 
About this Recipe
Raita is an Indian side dish made of dahi and raw or cooked vegetables, rarely fruit, or, in the case of boondi raita, fried droplets of batter made from besan. In Western cuisine, the closest approximation is a side dish or dip, or a cooked dish.
Any raita brightens up your meal and cools your palate. It has a lightly sour yoghurt flavour and some freshness from the veggies and herbs. As a result, it goes well with fiery or spicy gravies or curries.
I added some roasted cumin powder, chaat masala, black salt in the yogurt to give a different flavour and taste to this.
Why is raita served with biryani?
Yogurt contains probiotics, which are beneficial to our digestive system and aid in the elimination of constipation, bloating, and other symptoms. It balances the taste of the spice with its sourness and cooling effect when we eat spicy food like pulao or biryani.
About Jamun Fruit
Jamun is a highly nutritious summer fruit with numerous health benefits. The fruit is also known as Indian blackberry, Java plum, or black plum. Jamuns are classified into two varieties: those with white flesh and those with purple flesh.
Similar Recipes,
Beetroot Raita
Radish Raita
Cucumber Raita
Onion Tomato Raita
Cherry Tomato Raita
Spicy Mango Raita
Ingredients for Jamun Raita Recipe :
Jamun / Naaval Pazham - 20 deseeded and chopped
Plain Yogurt / Thick Curd - 2 cups
Black Salt - ¼ tsp
Roasted Cumin Powder - ½ tsp
Chaat Masala Powder - ½ tsp or to taste
Jamun / Naaval Pazham :
Jamun fruits have a flavour that is subtly sweet, tart, and sour, with an astringent aftertaste. The sweetness will vary depending on the fruit, and it is important to note that when consumed, the juice will stain the lips and mouth, sometimes for several hours.
Black Salt :
Black salt is high in antioxidants and has a low sodium content. It also contains essential minerals such as iron, calcium, and magnesium, which are necessary for a healthy body. Black salt stimulates bile production in the liver and aids in the management of heartburn and bloating.
If you have any questions not covered in this post and if you need help, leave me a comment or mail me @[email protected] and I'll help as soon as I can.
Follow me on Instagram, Facebook,Pinterest ,Youtube and Twitter for more Yummy Tummy inspiration.
IF YOU MAKE THIS RECIPE OR ANYTHING FROM YUMMY TUMMY, MAKE SURE TO POST IT AND TAG ME SO I CAN SEE ALL OF YOUR CREATIONS!! #YUMMYTUMMYAARTHI AND @YUMMYTUMMYAARTHI ON INSTAGRAM!
📖 Recipe
Jamun Raita Step by Step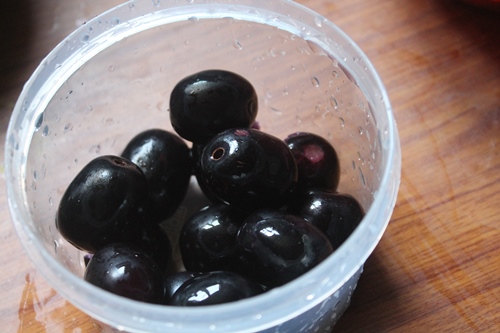 take your jamun fruit