Aloo tikki burger is a delicious burger made with fried potato patties stuffed inside burger bun.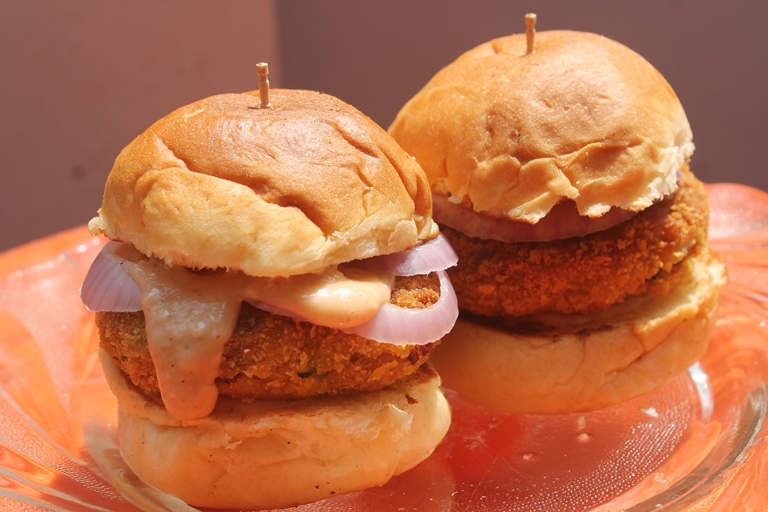 Pin
Burger, Pizza's are everyone's favorite. Specially kids go crazy for these junk foods. My little one loves chicken popcorn and demands it often. I too crave for burger often. Since these junk foods are not good for health, i try to stay away from it. Most of the time i make it at home for my little one.
Somedays i turn potatoes into popcorn chicken and try to cheat my little one.  There are days when she don't even finds it. Someday's i get on a mission and try to replicate those popular fast food recipes.
How Mcdonalds Mcaloo Tikki Burger Invented
McDonald's is a global fast food corporation that was formed in 1940 in San Bernardino, California, and incorporated in 1955 in Des Plaines, Illinois. In India, the Mc Aloo Tikki is a vegetarian burger available at McDonald's. The combination of a potato and peas patty coated in breadcrumbs with distinctive Indian spices, served with sweet tomato mayo, fresh onions, and tomatoes in a standard bun is still a favourite, not only among Indians, but also among foreigners who have experienced it
during their visit to India.
The patties are one-of-a-kind, made primarily of mashed potatoes and green peas. McDonalds; signature mcaloo tikki recipe includes a special sauce that is essentially a blend of tomato sauce and mayonnaise.
When McDonalds first came to India in 1996, the concept of adapting an international menu to local tastes and palates was foreign. That changed two years later, when this desi burger was introduced.
Some of the recipes which i made are these, KFC chicken, Dominos cheese burst pizza, garlic bread, Dominos garlic breadsticks, Dominos Pizza Burger, KFC popcorn chicken.
About Aloo Tikki Burger
Few days back i wanted to create mcdonald's mcaloo tikki burger which i am seeing all over internet. It is pretty easy to make and taste amazing. This burger was so good and it turned out super crispy. This recipe is a great recipe for your kids party and it can be put in your kids lunch box as well.
I loved this recipe because it is made at home and you exactly know what ingredients you are adding and the quality of the ingredients. All the ingredients are fresh and you know it is good for your kids. Making these kind of fast food recipes at home is best because you are not giving your kids preservatives instead whole foods.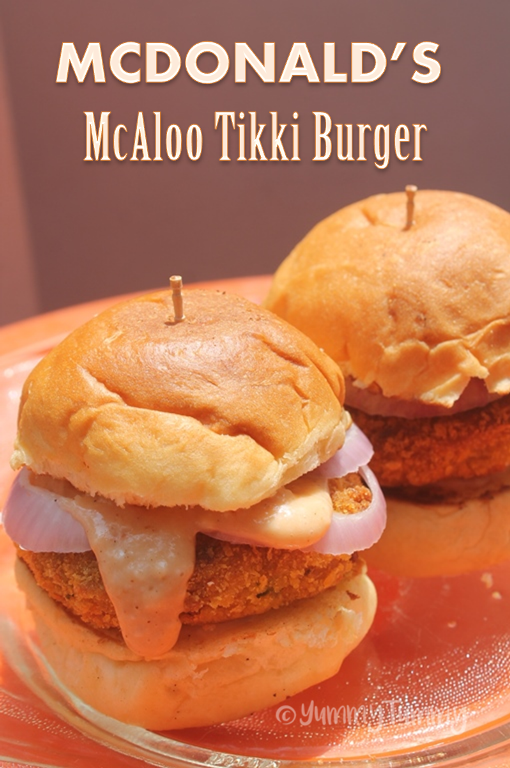 Pin
Ingredients for aloo tikki burger
Potatoes :
There are two reasons why aloo tikki can fall apart. Either the boiling potato has too much moisture or there isnt any binding agent. Here are a few pointers to get you started. To soak up any excess wetness, add more bread crumbs, which will also aid in rolling the Tikki.
Poha / Aval / Flattened Rice :
Poha is just parboiled rice that has been rolled, flattened, and dried to make flakes. The thickness of the flakes varies depending on the pressure employed during the flattening process. Rice flakes are small, light, and greyish white in colour. They are around 2mm long, flat, and light.
Dried Basil :
Dried Basil is exceptional when added to tomato sauces, cold pasta salads, grilled fish, salad dressings, and roasted chicken. This product is also commonly found in marinades, stews, soups, and pesto. No preparation is necessary, just add to dish/recipe as desired.
Dried Oregano :
Oregano, sometimes known as "pizza spice," has a strong fragrance and flavour. The flavour of dried oregano is often more intense than that of fresh oregano, and it will intensify in long, slow-cooking meals.
Breadcrumbs :
Breadcrumbs aren't actually a binding agent. They actually aid in the retention of moisture in the potato. They will absorb moisture during the cooking process and then release it back into the potato as it cools.
Looking for many more burger recipes, check this link.
Similar Recipes,
Chicken Nuggets
Aloo Tikki Burger
Patty Peas Burger
Potato Latkes Burger
Crusted Tofu Burger
Veggie Cheese Burger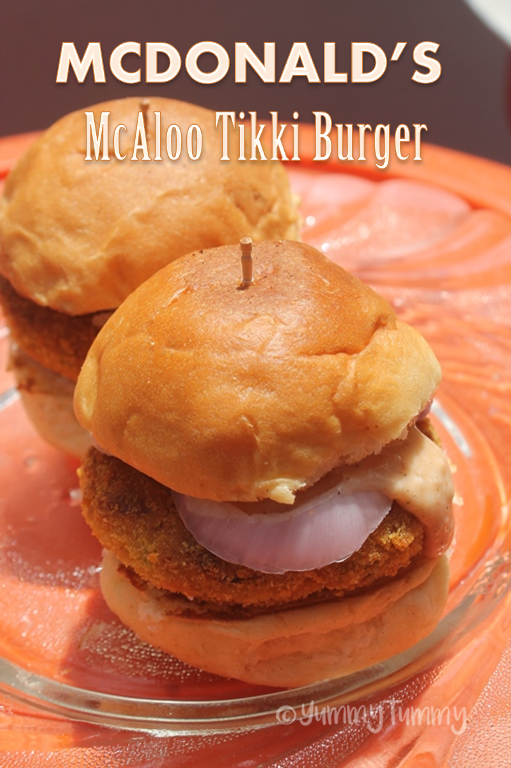 Pin
Hope you will give this a try and let me know how it turns out for you.
Aloo Tikki Burger with Step by step pictures
1)Take poha (flattened rice) in a bowl. Add some water and soak for 5 mins, drain and squeeze off the excess water.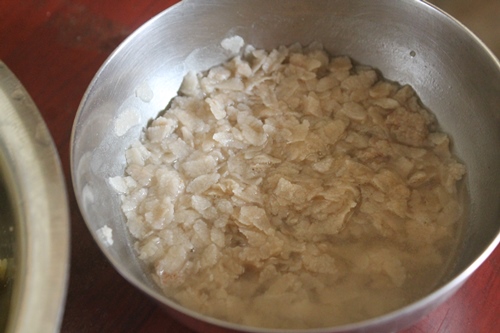 Pin
2)Take potatoes, boil it and peel the skin off.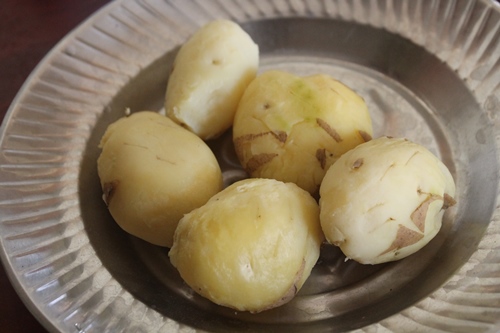 Pin
3)Mash the potatoes using a masher or fork.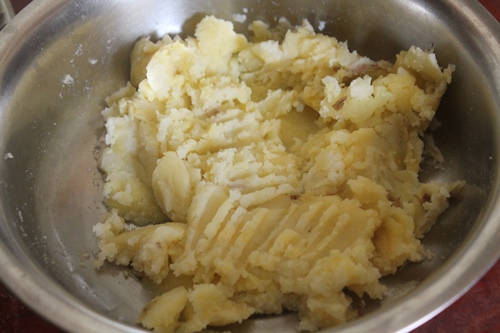 Pin
4)Add in the squeezed poha or flattened rice. This helps in binding the mixture and makes the patties firmer when frying.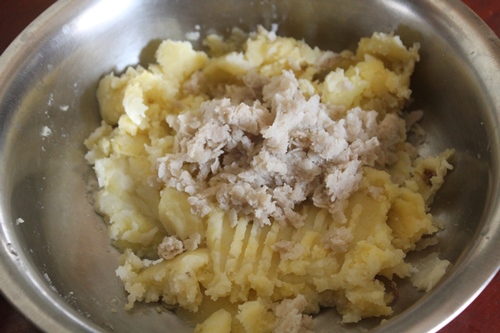 Pin
5)Add in all the spice powders. I added basil, oregano, cumin powder, chilli powder, pepper powder, coriander powder,turmeric powder.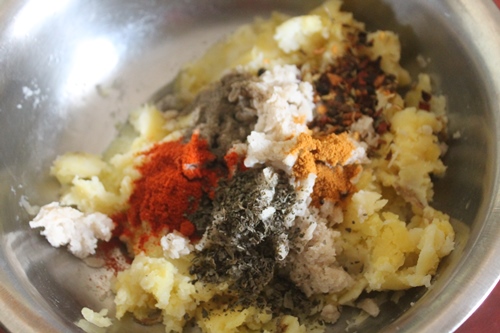 Pin
6)Add in garlic powder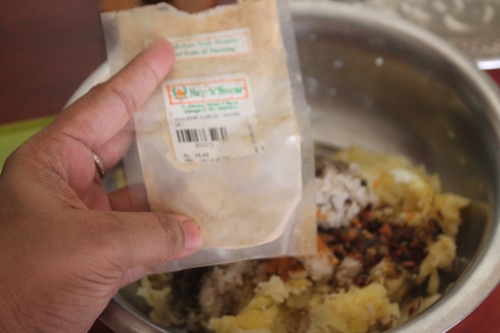 Pin
7)Add salt to taste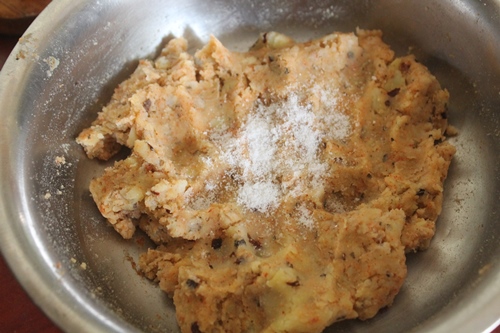 Pin
8)Add in peas. I used frozen peas which i thawed in microwave.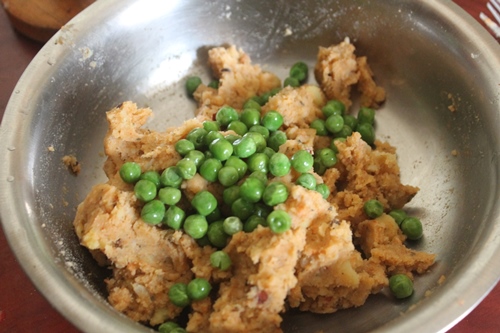 Pin
9)Now use a masher to mash the mixture really well.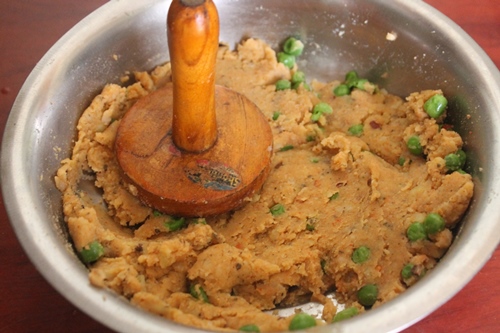 Pin
10)Make the mixture into a thick dough like. The mixture shouldn't be soft, if it is too soft add more poha and knead.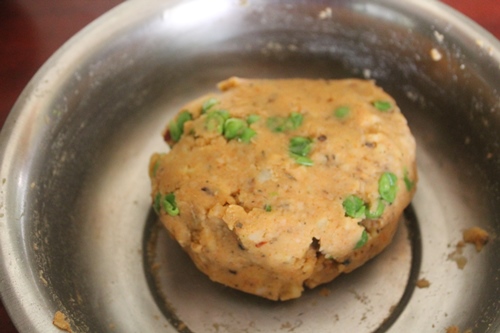 Pin
11)Shape the mixture into patties. Make the patties little thin.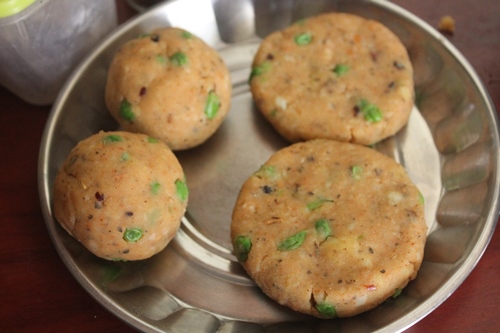 Pin
12)Put the patties in fridge for 30 mins to 1 hour.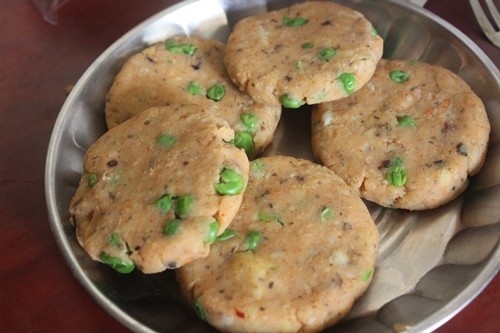 Pin
13)Now lets make the batter, take all purpose flour / maida in a bowl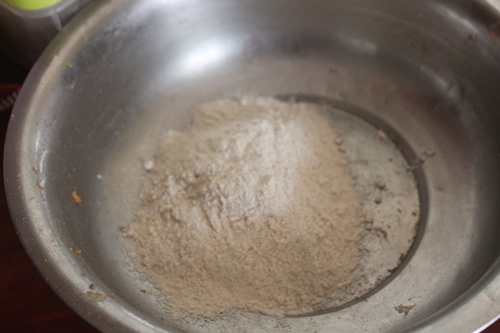 Pin
14)Add in gram flour (besan) and cornflour (cornstarch)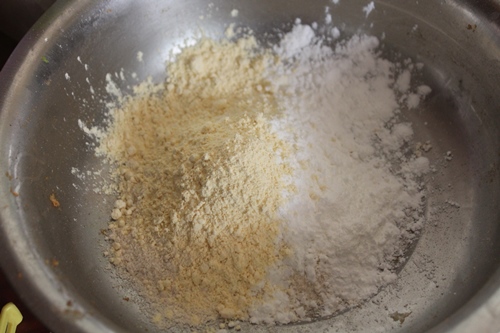 Pin
15)Add salt to taste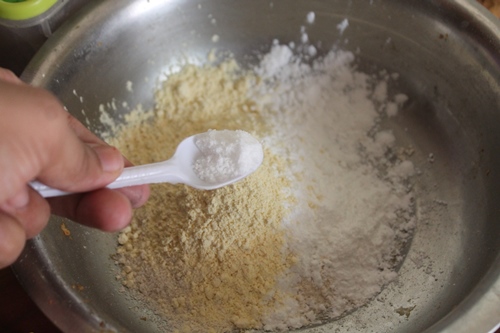 Pin
16)Add in oil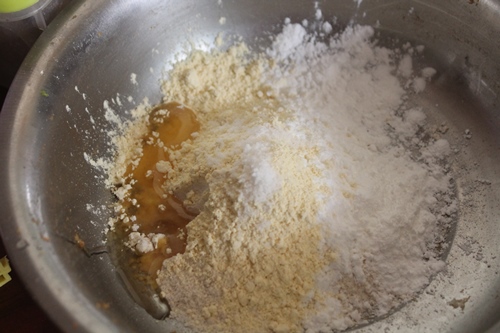 Pin
17)Rub the oil into the flour really well. This step is important since it will make the patties crisp.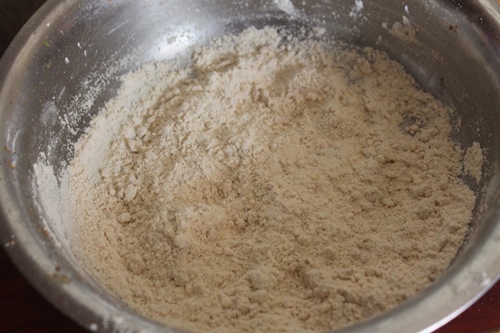 Pin
18)Now add water and make it into little thin batter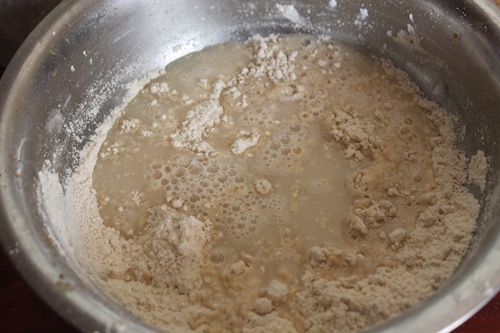 Pin
19)The batter should be smooth and little thin. Not too thick.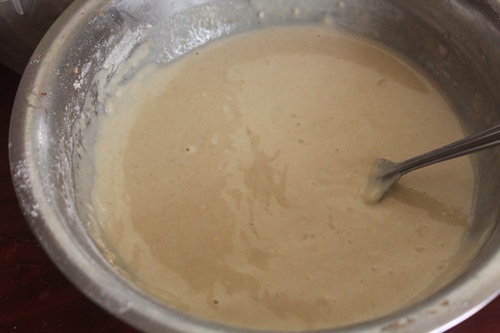 Pin
20)Take the patties and use a fork to coat the patties in the batter.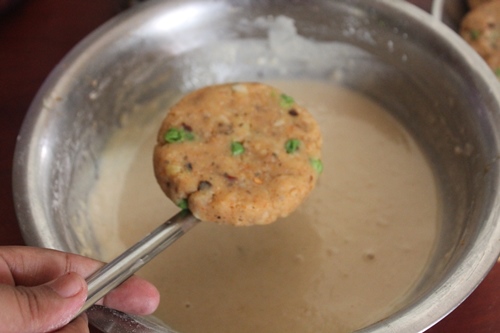 Pin
21)Coat it on both sides.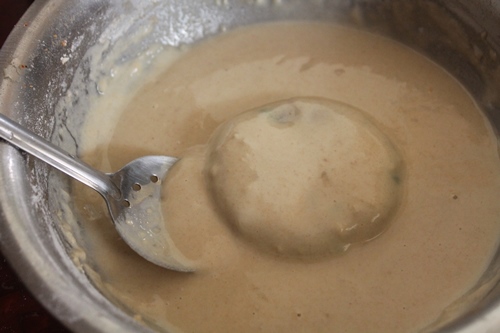 Pin
22)Remove it carefully.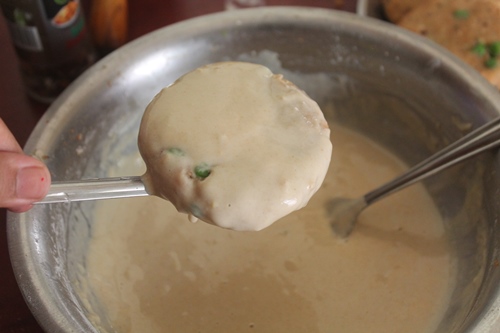 Pin
23)Take breadcrumbs in a bowl. I used japanese panko style breadcrumbs. You can take some fresh bread and process it in a blender till it becomes into crumbs.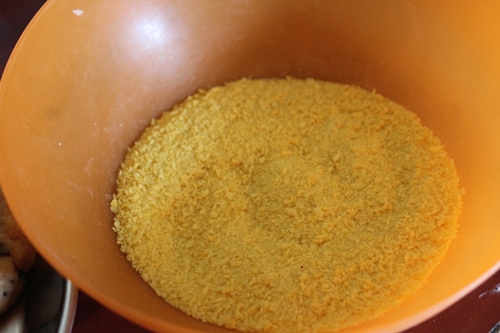 Pin
24)Coat the patties in the breadcrumbs. After coating the patties in the crumbs on both sides. Chill the patties for 30 mins before frying.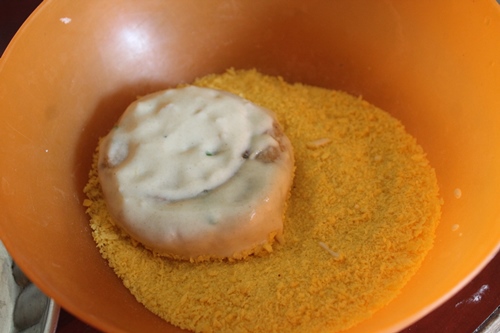 Pin
25)Heat oil for shallow frying. drop patties in and fry till golden on both sides.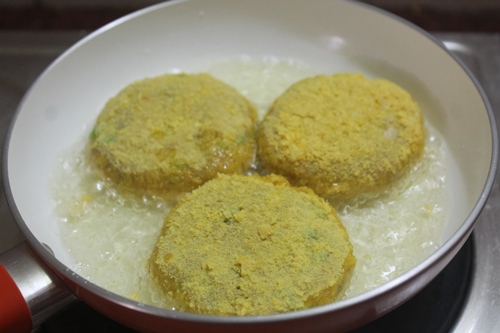 Pin
26)Cook on medium heat on one side.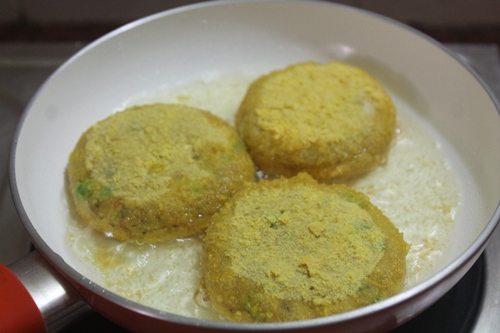 Pin
27)After that, flip it over and cook till golden on other side.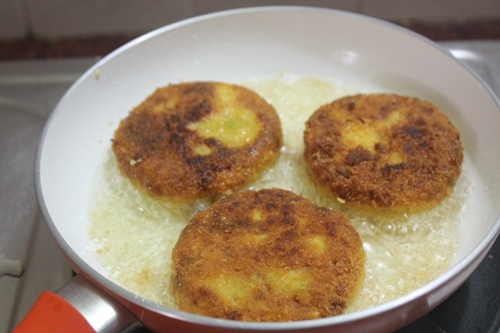 Pin
28)Now it is fried up, drain it on some paper towel.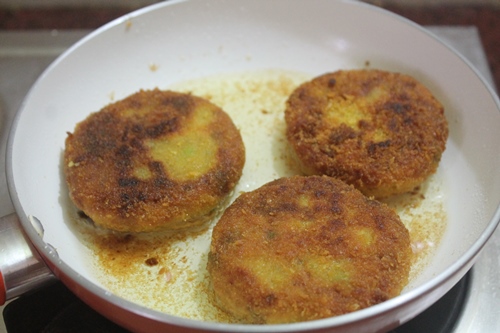 Pin
29)Now make sauce, take mayo in a bowl.
Pin
30)Add some ketchup.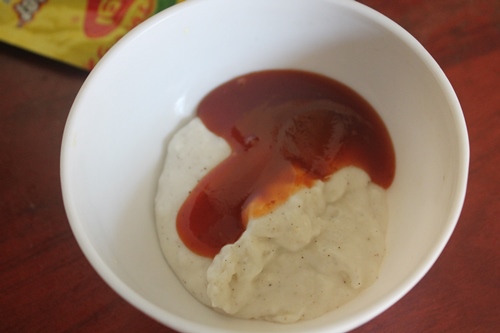 Pin
31) Now the sauce is done, set aside till needed.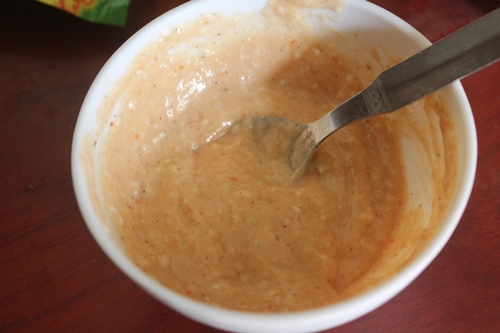 Pin
32)Take your burger buns, cut it open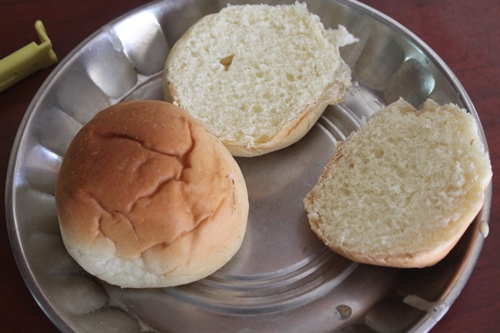 Pin
33)Toast it in a pan till golden. set this aside.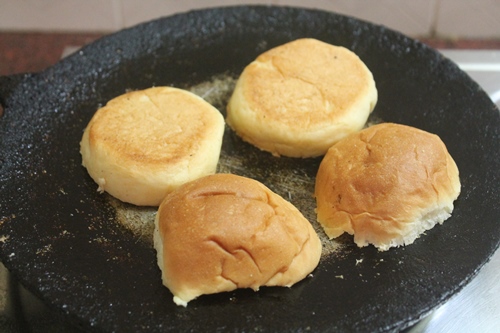 Pin
34)Take a burger bun.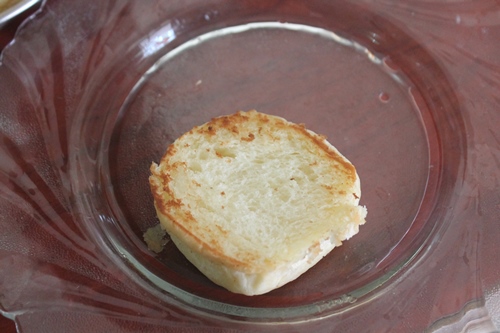 Pin
35)Apply some sauce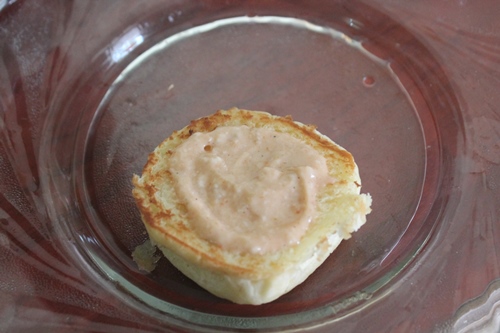 Pin
36)Place the patties. You can place some lettuce on top of the sauce as well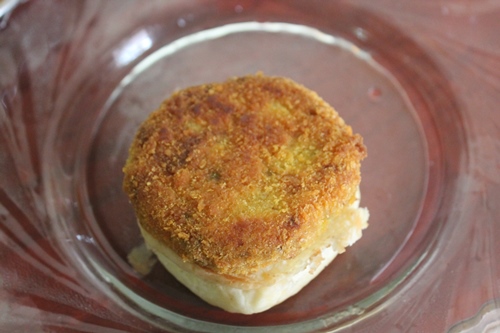 Pin
37)Place onion rings and cover with other half of the bun.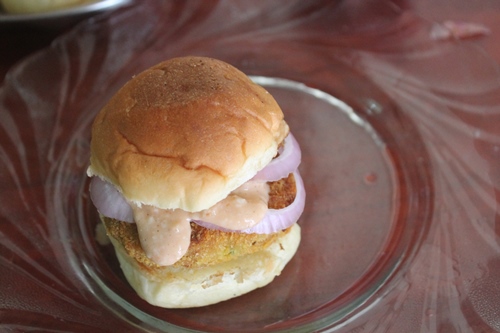 Pin
38)Serve hot.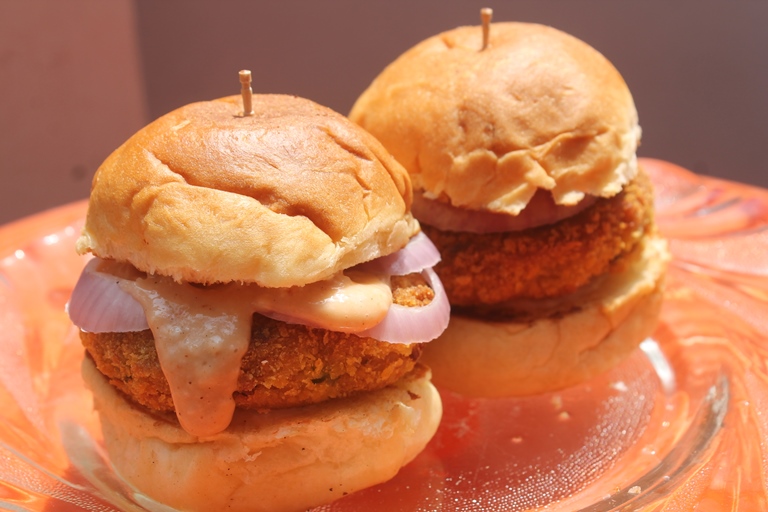 Pin
📖 Recipe Card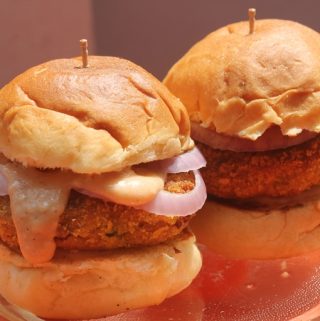 Aloo Tikki Burger Recipe | Aloo Tikki for Burger
Delicious Mcdonald's mcaloo tikki burger made at home easily and taste so much better without any preservatives.
Print
Pin
Rate
Ingredients
Potatoes - 4 large boiled

peeled and mashed

Poha / Aval / Flattened Rice - ¼ cup

Dried Basil - 1 tsp

Dried Oregano - 1 tsp

Cumin Powder - 1 tsp

Chilli Powder - 1 tsp

Black Pepper Powder - 1 tsp

Coriander Powder - 1 tsp

Turmeric Powder- ½ tsp

Garlic Powder - 1 tsp

Salt to taste

Frozen peas - ½ cup thawed

All Purpose Flour / Maida - ½ cup

Gram

Flour / Besan - 2 tblsp

Cornflour / Cornstarch - 2 tblsp

Salt to taste

Oil - 1 tblsp

for batter

Water as needed

Mayonnaise - ½ cup

Tomato Ketchup - 2 tblsp

Breadcrumbs - 1 cup or as needed

Oil for shallow frying

Burger Buns - 5 to 6

Onions thinly sliced
Instructions
Start by soaking poha in water for 5 mins, drain and squeeze it and set aside.

Take potatoes, poha, basil, oregano, cumin powder, chilli powder, pepper powder, coriander powder,turmeric powder, garlic powder, peas and salt in a bowl. Mash it really well. Take small portion, shape it into small portion. Flatten it till little thin. Place this in fridge for 30 mins.

Take flour, gram flour, cornflour, salt in a bowl. Add oil and rub into the flour. Add water slowly and make it into a little thin batter.

Take breadcrumbs in a bowl.

Coat the patties and dip it in the batter, coat with breadcrumbs and pop it in fridge for 30 mins.

Heat oil in a pan, place patties in and fry till golden on both sides.

Drain and set aside.

Mix mayo and ketchup together and set aside.

Take buns and slit it open, toast till golden on both sides.

Take bun, spread sauce, place patties on top, top with onion rings. Place another bun on top. Serve.
Notes
1)You can make patties and coat it with breadcrumbs. Place the patties in freezer for 2 hours till frozen. Then collect the patties in a container, arrange it between parchment paper and freeze upto 1 week.
Nutrition
Serving:
1
g
|
Calories:
423
kcal
|
Carbohydrates:
73.7
g
|
Protein:
9.6
g
|
Fat:
10.6
g
|
Saturated Fat:
1.6
g
|
Cholesterol:
5
mg
|
Sodium:
329
mg
|
Fiber:
9
g
|
Sugar:
7.4
g
Join us on Facebook
Follow us on Facebook
Share by Email
Share on Facebook