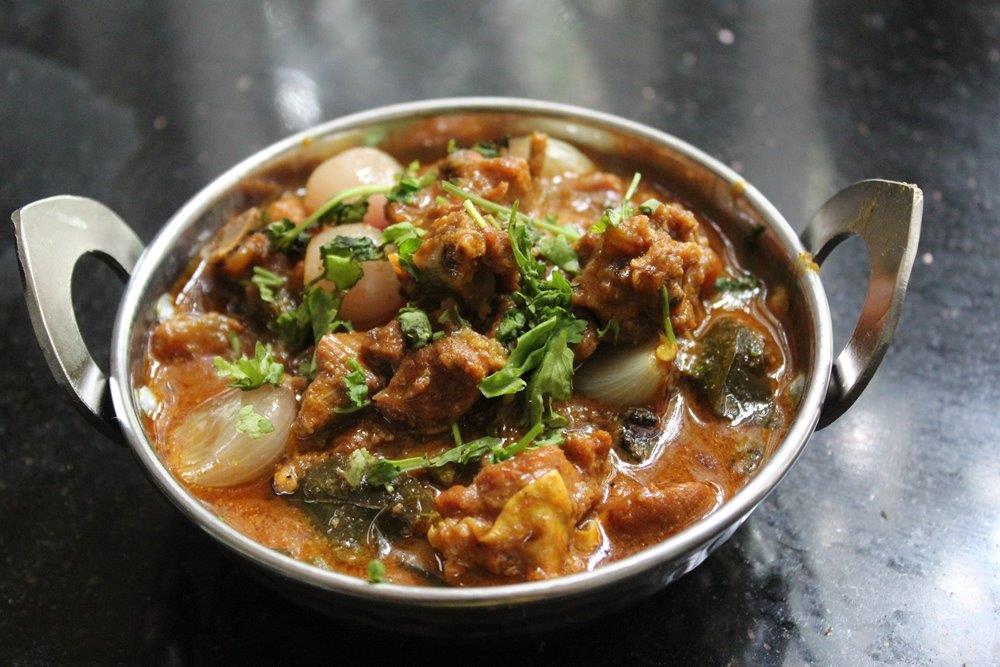 Pin
Mutton Coconut Milk Curry Recipe with Step by Step Pictures.
Spicy mutton curry with coconut milk is one of the easiest dish you could ever make. There are few techniques for getting tastiest mutton curry. Cook chicken till it is well brown and seared for best taste. This sears all the flavour inside the mutton itself and makes it so succulent and tasty.
Similar Recipes,
https://www.yummytummyaarthi.com/mutton-stew-recipe/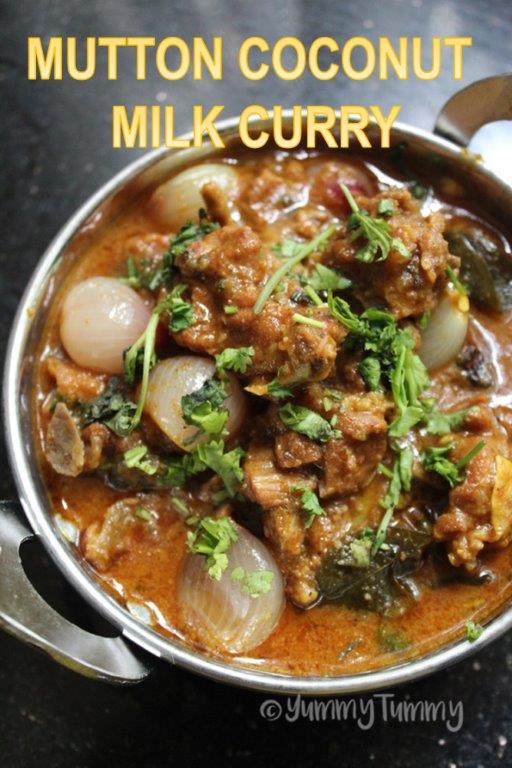 Pin
Hope you will give this a try and let me know how it turns out for you.
Pin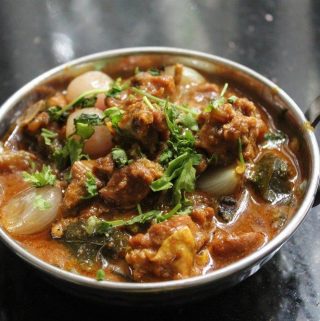 Mutton Coconut Milk Curry
Spicy mutton coconut milk curry has succulent pieces of mutton cooked in a spicy coconut milk gravy. This can be served with parota, chapati, idiyappam or dosa.
Ingredients
Mutton - 500 grams cubed

Coconut Oil - ¼ cup

Fennel Seeds / Saunf / Sombu - 2 tsp

Cinnamon / Pattai - 1 piece

Cardamom / Elakai - 4

Cloves

/ Krambu - 4

Bay Leaf - 1

Onion - 2 large chopped finely

Curry leaves a handful

Tomatoes - 2 large chopped

Ginger Garlic Paste - 3 tblsp

Chilli Powder - 1 tblps

Coriander Powder - 2 tblsp

Turmeric Powder - 1 tsp

Cumin Powder - 1 tsp

Garam masala powder - 1 tblsp

Shallots / Sambar Onion - 15 peeled

Tomato - 1 chopped

Green Chillies - 2 chopped

Salt to taste

Thick Coconut Milk - 1 cup

Black Pepper Powder - 1 tsp

Coriander Leaves - a handful chopped
Instructions
Heat oil in a pressure cooker.

Add in whole spices. Add onions and curry leaves and cook till onion is golden brown.

Add in ginger garlic paste and saute for 1 min.

Add in mutton and stir fry for 10 mins. Cook till the water dries.

Now add in spice powders and mix well.

Add in tomato and cook till mushy.

Add in water and pressure cook for 4 whistle. Once pressure is released.

Open the cooker and add in shallots, green chillies and tomato. Cook for 10 mins.

Add in coconut milk and simmer for 5 mins.

Add in pepper and coriander leaves and mix well.

Serve.
Notes
1)Saute the mutton in the oil till all the water evaporates. Cook till it is well seared and brown for maximum taste.
2)Adding whole small onions adds nice sweet taste to the curry.
Pictorial:
1)heat coconut oil in a pressure cooker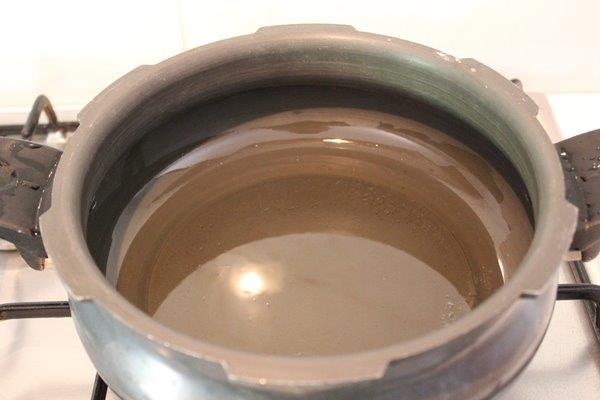 Pin
2)Add in whole spices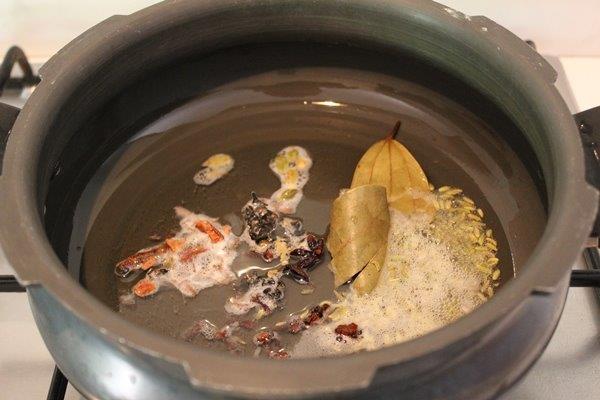 Pin
3)Add in chopped onions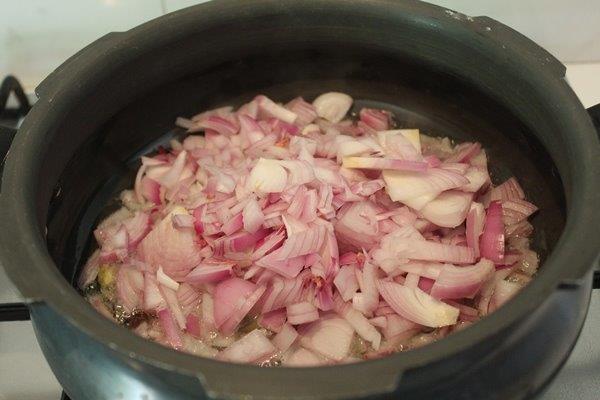 Pin
4)Cook till golden brown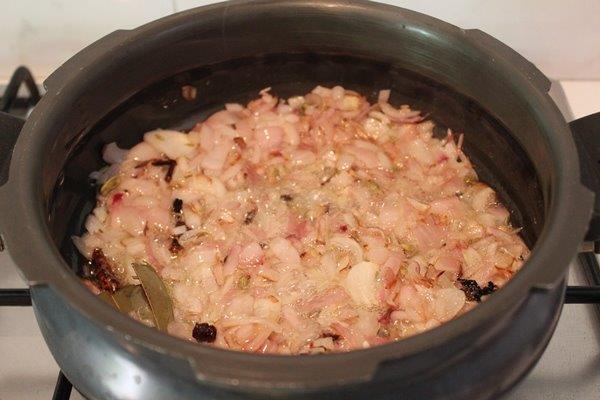 Pin
5)Add in curry leaves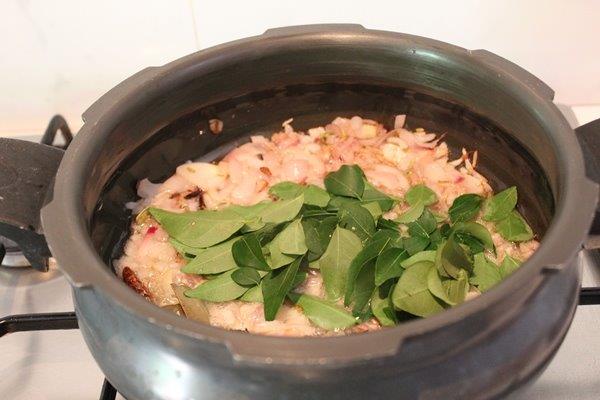 Pin
6)Add ginger garlic paste and cook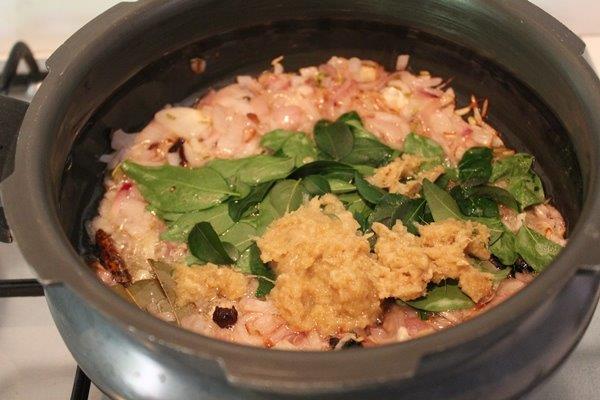 Pin
7)saute till onion is golden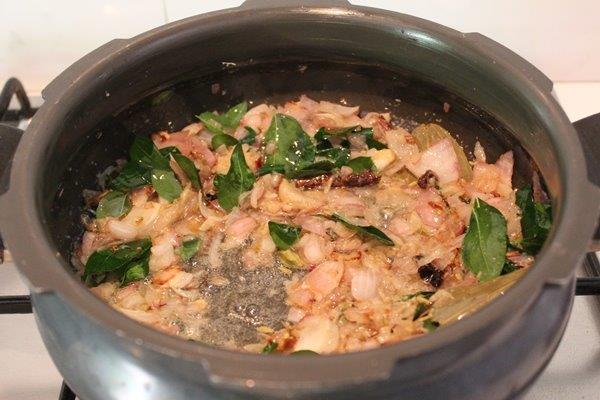 Pin
8)Add in mutton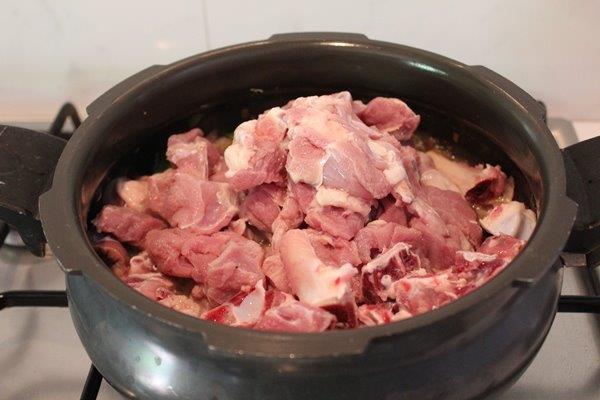 Pin
9)Saute till mutton is well seared. it will take around 10 mins.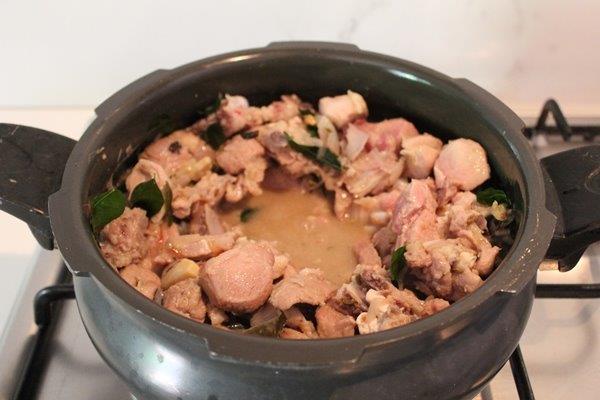 Pin
10)Cook till all water evaporates and mutton is well brown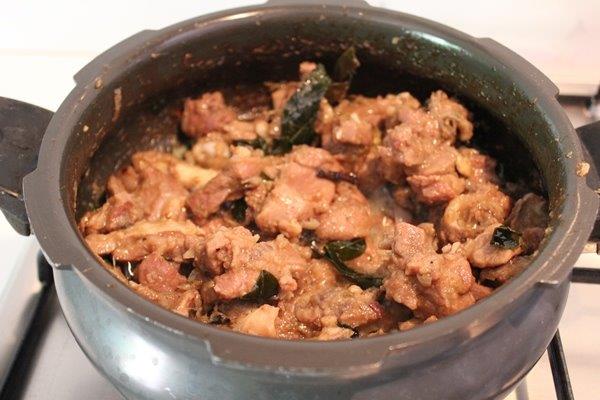 Pin
11)Add in tomatoes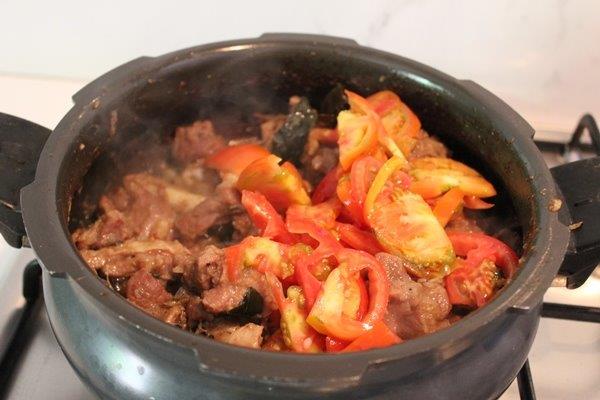 Pin
12)Add in spice powders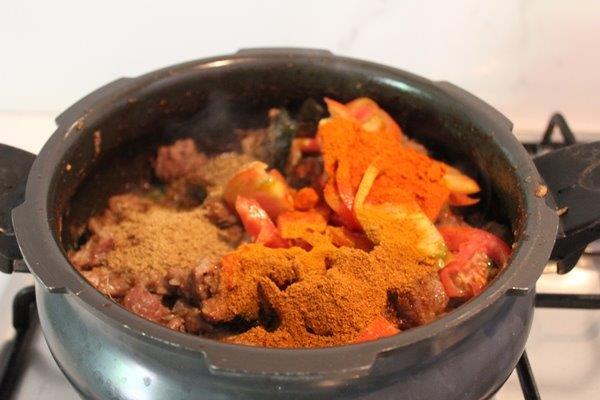 Pin
13)Saute well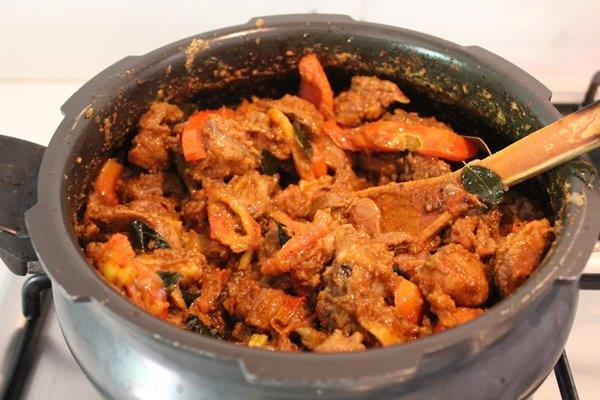 Pin
14)Add salt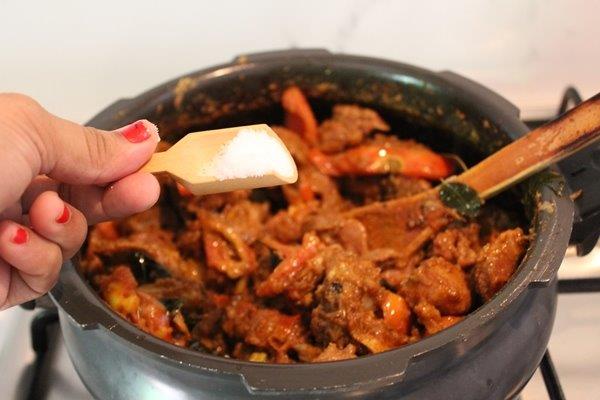 Pin
15)Mix well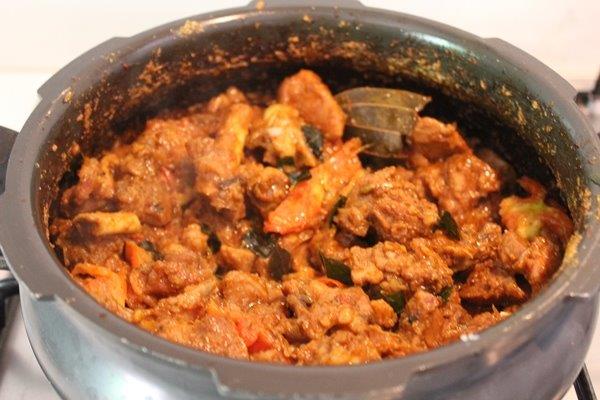 Pin
16)Add in water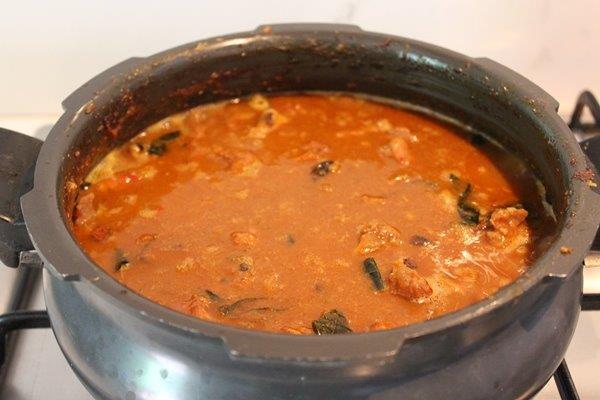 Pin
17)Pressure cook for 4 whistle.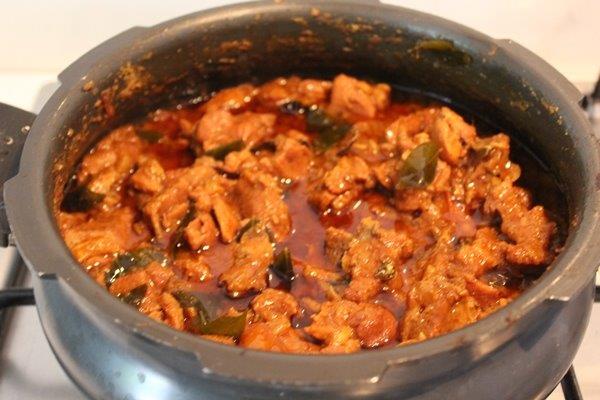 Pin
18)Add in shallots, tomatoes and green chillies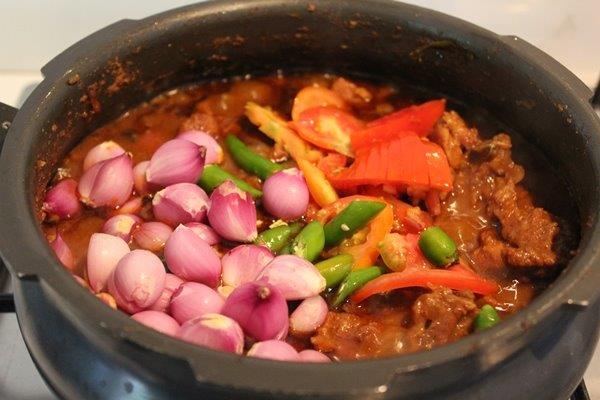 Pin
19)Mix well and cook for 10 more mins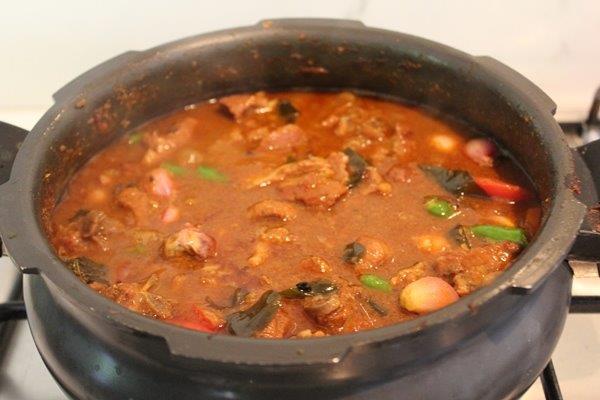 Pin
20)Now it is done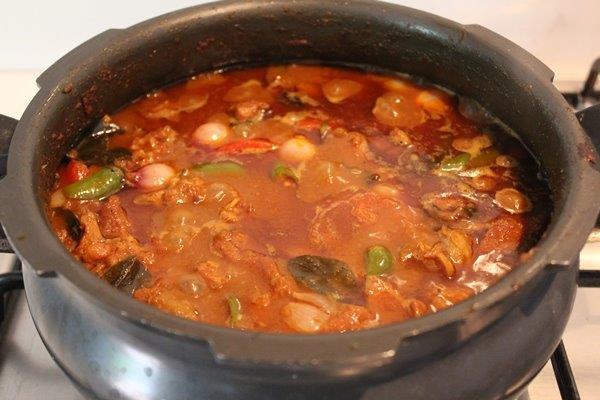 Pin
21)Add in coconut milk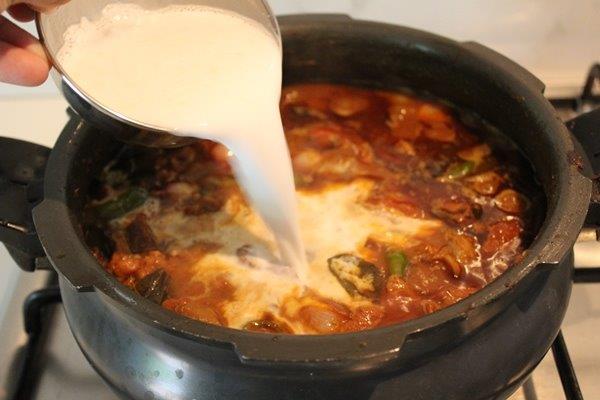 Pin
22)Mix well and simmer for 5 mins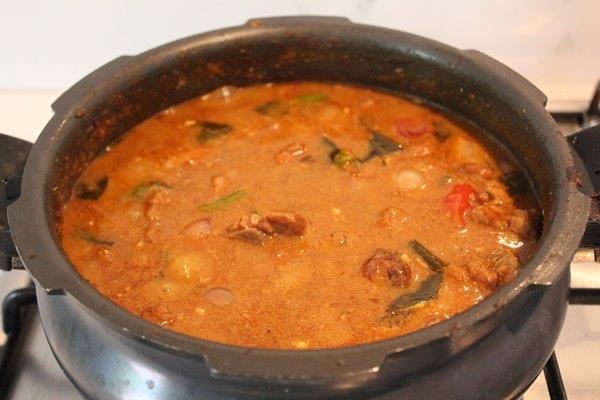 Pin
23)Add in freshly ground black pepper powder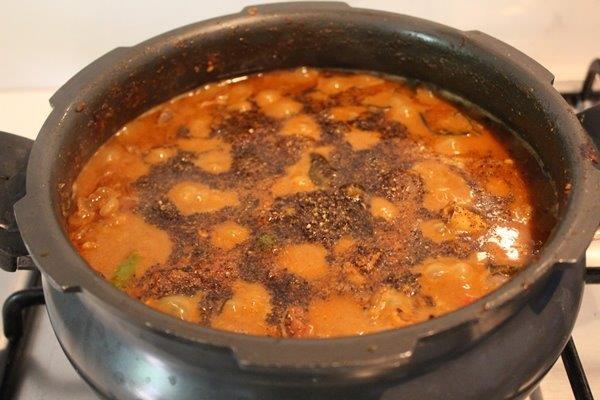 Pin
24)Add coriander leaves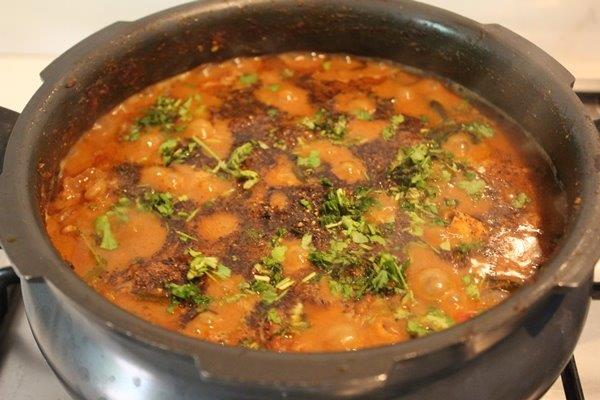 Pin
25)Serve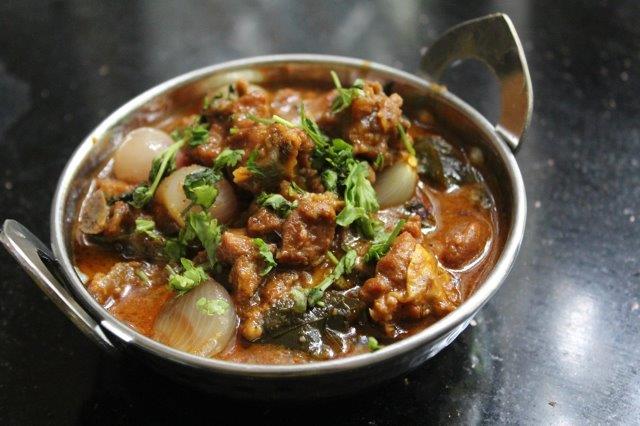 Pin