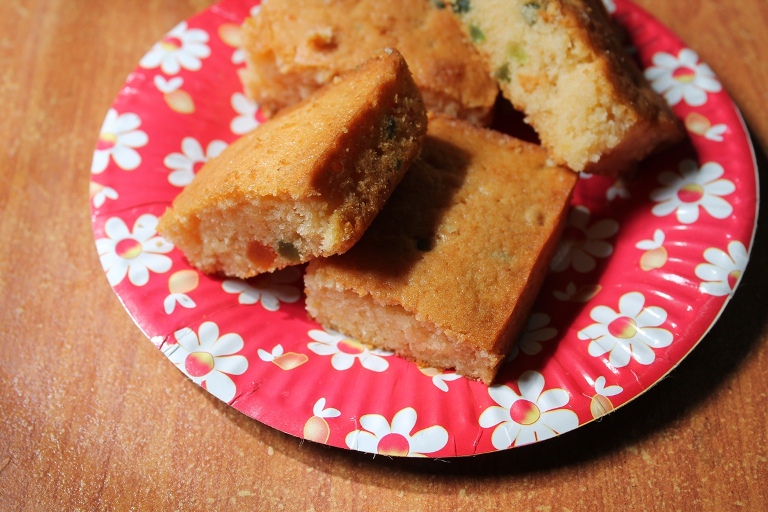 One fine day, i decided to bake a lovely orange marmalade cake which i found in
sanjeev kapoor's cookbook
. I ran into the store and bought a jar of orange marmalade and came home happily to bake this goodness. I made the batter patiently, took step by step picture of it..Poured the batter into the cake tin and blessed the tin and put that into the oven. Then i waited for a hard 45 mins, when i opened the oven door to check the cake, I smelled the best aroma of my life, the cake was beautifully baked and everything was coming together so well…
Then this horrible this happened to me. When i was about to the take the cake out of the oven, I dropped the entire cake on the floor, since the cake was hot and so soft the whole cake fell on to the floor and got broken into pieces(lucky my dog).
I was so worried and totally got out of mood. The whole day i was blabbering about this to everyone i see and posted that in my
facebook wall
, i got so many kind messages for that..But luckily(?) i got some left over batter because my cake pan was smaller than a 9 inch pan and i baked that in a small square cake pan. I got to taste that, i should tell you, it was the softest most flavourful cake i ever baked and tasted. I took a pic of that and wanted to post that here.
So in my step by step pictures, if you ever see a round cake turned into a square cake, don't get surprised.
Bake this and let me know how it turned out for you. If you can send me a pic..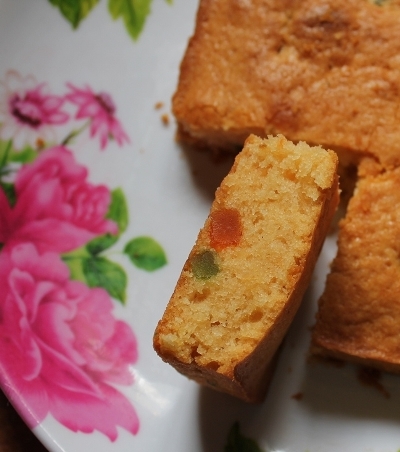 Sanjeev Kapoor's Home Baking Cookbook – I Recommend





Preparation Time : 15 mins
Baking Time : 35 to 45 mins
Makes on 9 inch round cake or one 750 gram cake
Source : Simple Home Baking
Ingredients:
All Purpose Flour / Maida – 21/2 cup / 300 grams
Sugar – 3/4 cup / 150 grams
Baking Powder – 2 1/2 tsp
Orange Marmalade – 1/2 cup / 165 grams
Butter – 150 grams soft and unsalted / 1/3 pound
Eggs – 3
Tutti frutti – 1/3 cup / 50 grams
Milk – 1/2 cup / 125 ml
Yogurt / Curd – 3 tblspn (Click here for recipe)
Method:
Preheat the oven to 150 Degree C / 300 Degree F. Grease a 9 inch round cake tin with butter and sprinkle it with flour on all sides and tap off the excess flour.
Take a bowl and add butter and sugar to it and cream it well till it is fluffy and light.
Now separate the egg yolk and egg white. Add the egg yolk to the creamed butter and sugar. Keep egg whites in a separate bowl.
Mix the egg yolk with the butter well.
Add the orange marmalade and tutti- fruity to this and mix well.
Now sift in the flour and baking powder in this. When you have sifted half of the flour in, add the milk in and mix well.
Now sift the remaining flour in. Add the yogurt in and mix well.
Mix everything well.
Now take the egg whites and beat it with a electric beater till it is frothy and foamed up.
Add the eggs whites in and fold gently.
Transfer this mixture to the prepared pan and bake it for 35 to 45 mins till the toothpick inserted comes out clean.
Remove the tin from the oven and let it cool down for 30 mins.
Remove the cake from the tin carefully.
Slice and serve.
Pictorial: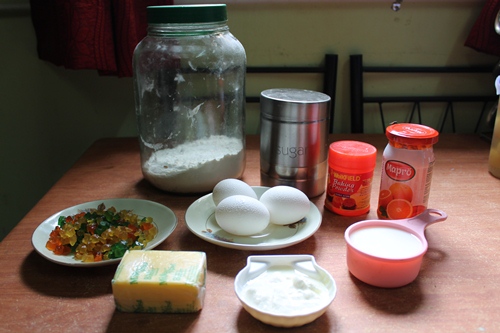 Take your ingredients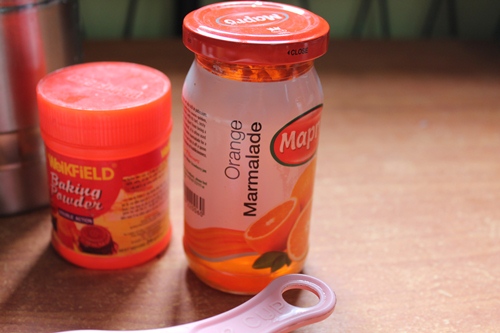 You need some good orange marmalade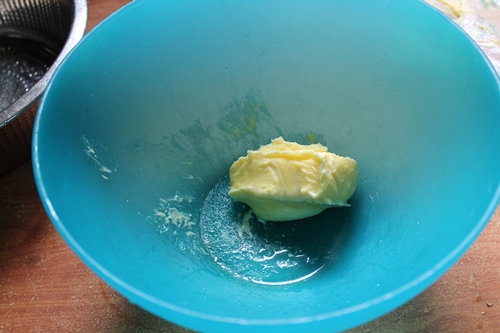 take butter in a bowl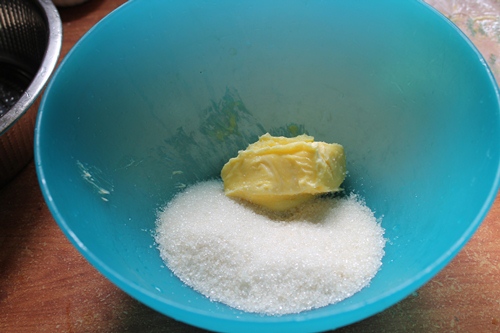 add sugar to it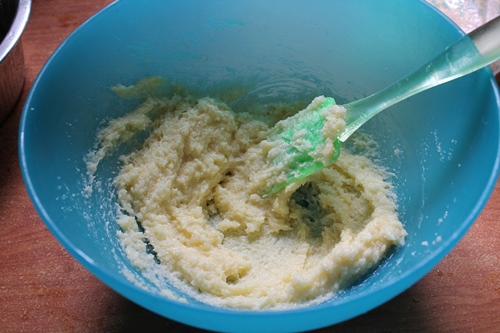 and cream together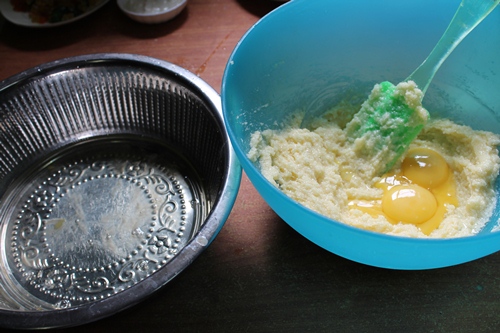 Separate eggs and egg whites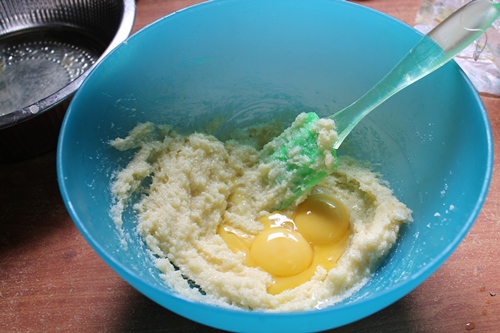 beat in the egg yolks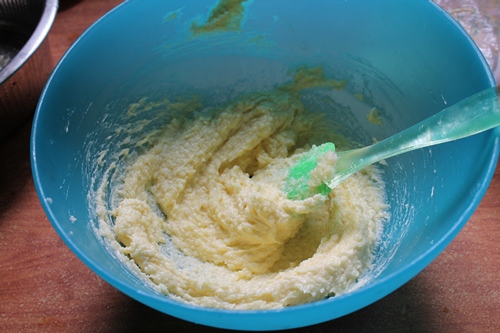 and mix well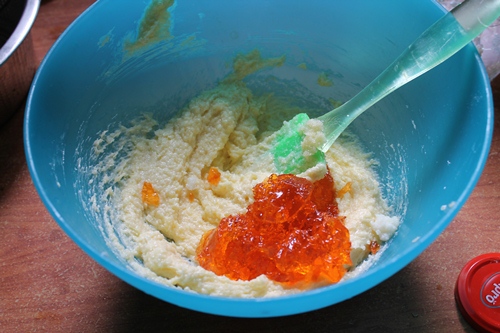 Add in the marmalade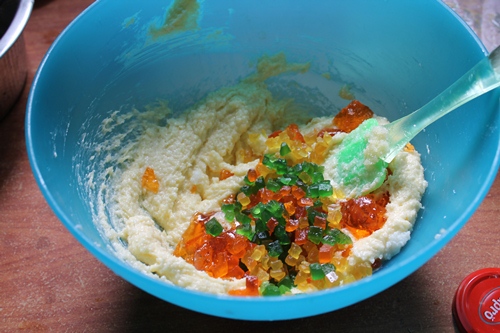 and some tutti fruity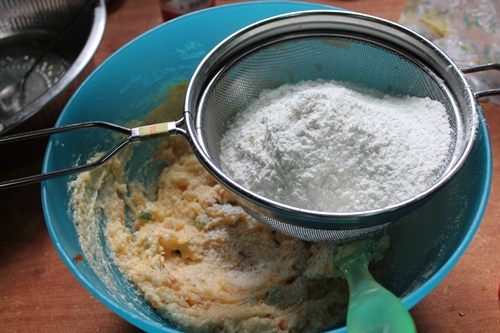 now take flour in a sifter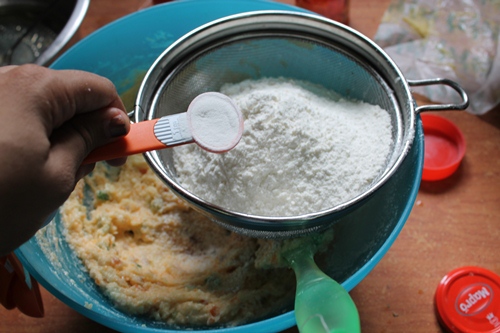 add in some baking powder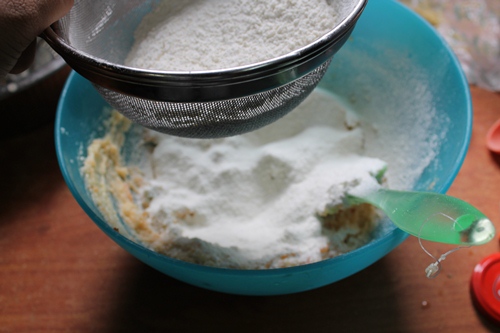 and sift half of the mixture in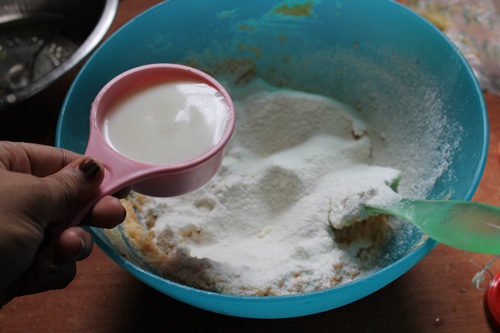 add milk to it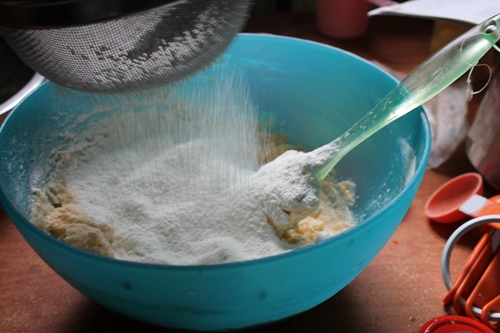 Now sift the remaining flour in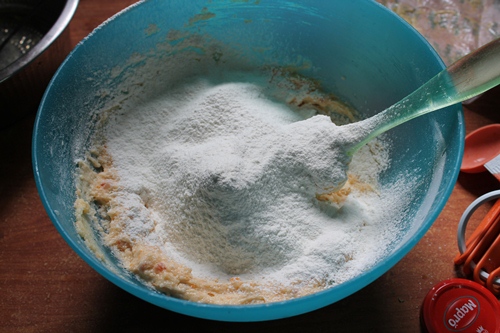 all sifted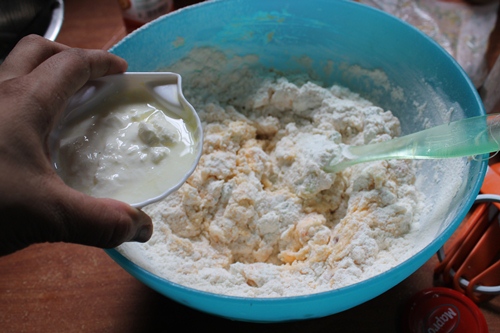 add curd in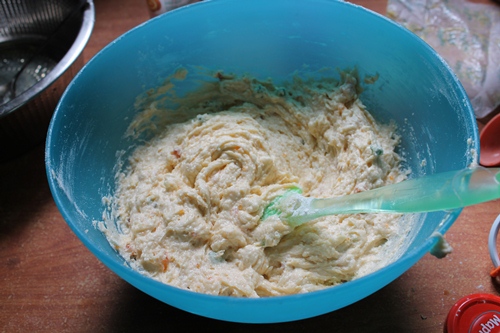 and mix well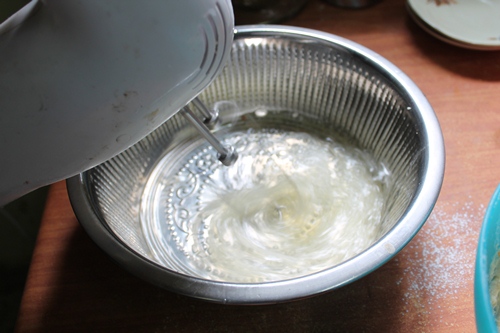 Now whip up your egg whites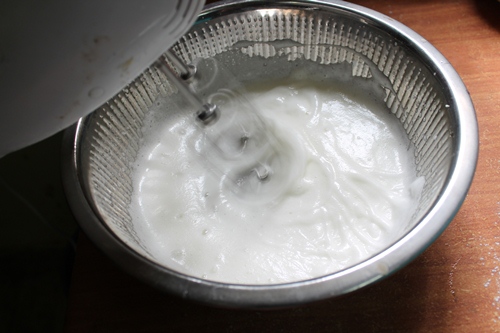 till it gets foamy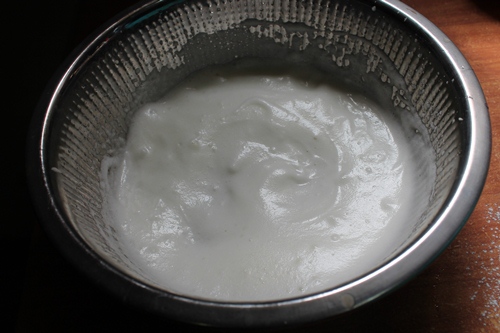 like this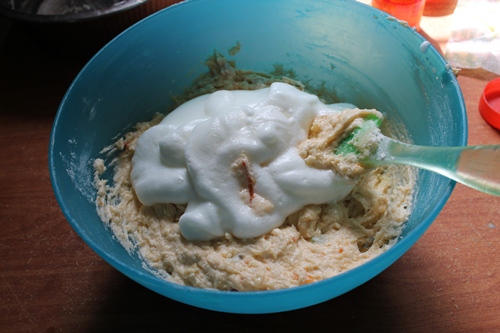 add it in the batter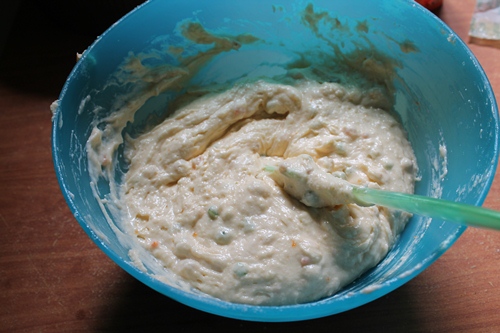 and fold gently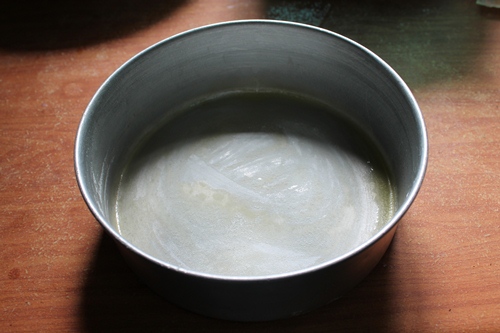 prepare a cake pan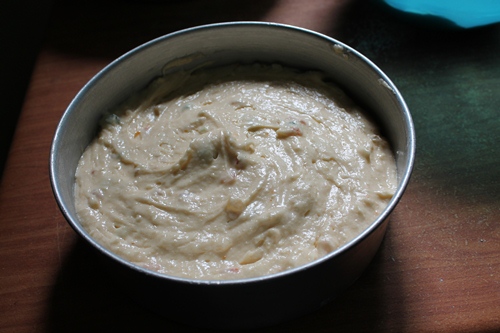 pour the batter in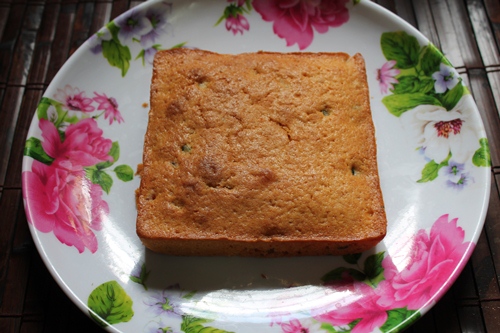 baked ( Read the introduction to see how a
round cake turned into a square one)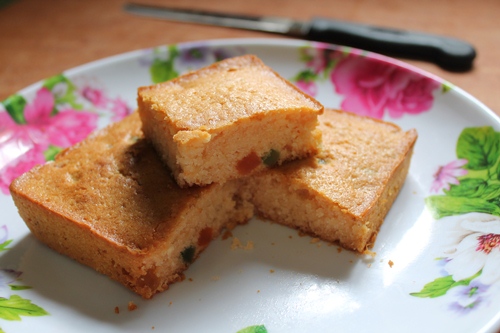 Slice and Serve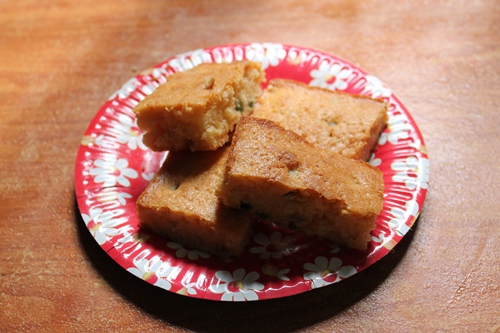 Enjoy..