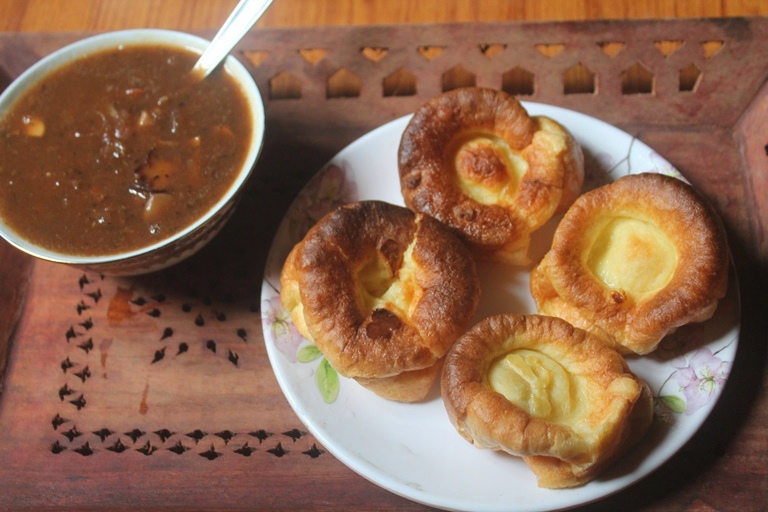 Pin
Easy Yorkshire Pudding Recipe with Onion Gravy Recipe with step wise pictures.
Jamie Oliver's Crispy and puffy yorkshire pudding taste so amazing with some maple syrup or some gravy. Perfect for your Thanksgiving table.
Source: Wiki
Yorkshire pudding is an English food made from batter consisting of eggs, flour, and milk or water. It is often served with beef and gravy and is part of the traditional Sunday roast.
When wheat flour began to come into common use for making cakes and puddings, cooks in the north of England devised a means of making use of the fat that dropped into the dripping pan to cook a batter pudding while the meat roasted. During 1737, a recipe for "a dripping pudding" (later named "The Yorkshire Pudding") was published in the book The Whole Duty of a Woman.
Recipes for Thanksgiving:
Pecan Pie
Cranberry Sauce
Turkey Gravy
Chicken and Leek PIe
Pear Cherry Crumble
Mango Crumble
Apple Pie
Pineapple Pie
Banoffee Pie
Apple Galette
Apple Crumble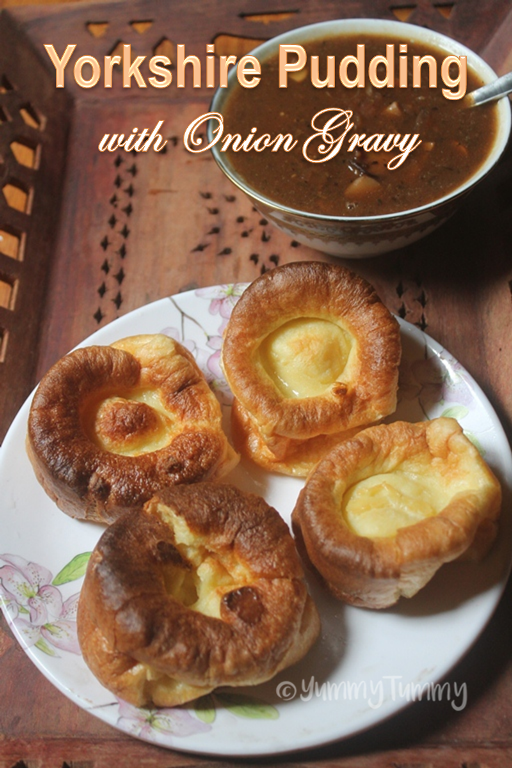 Pin
Yorkshire pudding is must try recipe, it is super easy to make as well. All you need is eggs, milk, flour and fat. There are few points you have to remember when making yorkshire pudding.
1)Make sure the oil is super hot when your pour the batter in.
2)Once the pudding is placed into the oven, dont open the oven door.
3)Place it in the middle rack when cooking, else it will rise so much and gets dark or burnt.
4)Use refined, sunflower or vegetable oil. Never use butter, olive oil.
5)You can store batter in fridge for a day. But take it out before 2 hours of making.
6)You can add any herbs, sausages in your pudding.
7)Place the muffin pan in a baking tray before putting the tray in oven.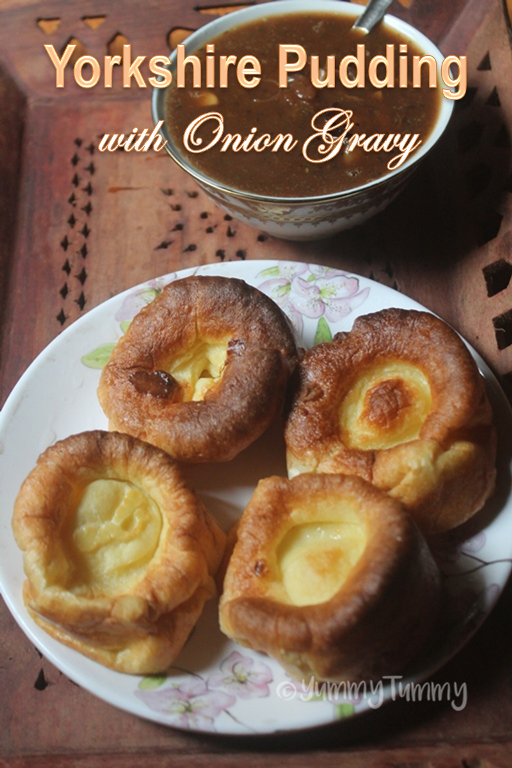 Pin
You can serve this pudding with honey, maple syrup or any gravies.
https://www.yummytummyaarthi.com/2016/11/creamed-corn-recipe-homestyle-creamed.html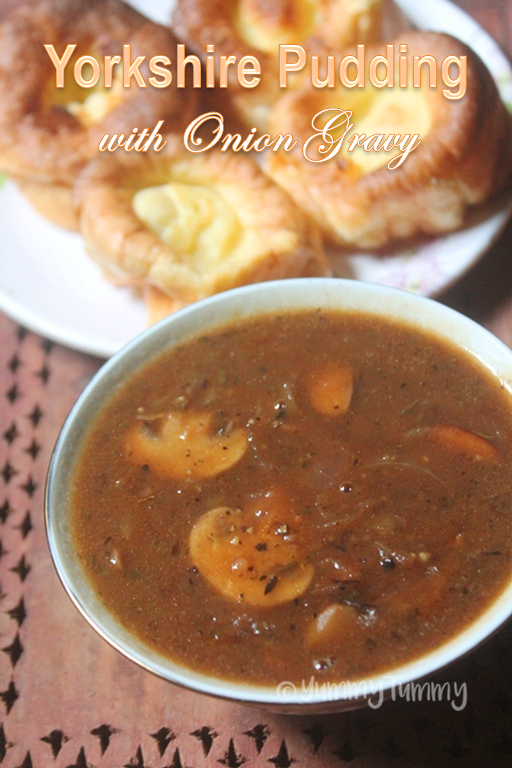 Pin
Hope you will give this a try and let me know how it turns out for you.
https://www.yummytummyaarthi.com/2016/11/softest-dinner-rolls-ever.html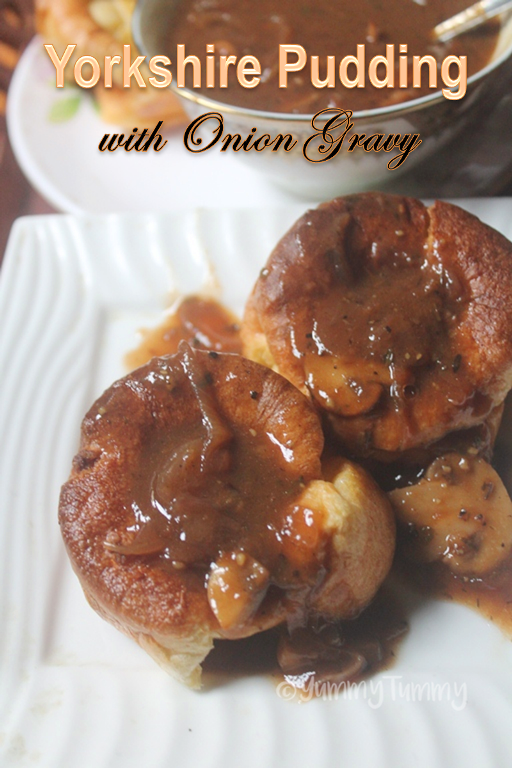 Pin
📖 Recipe Card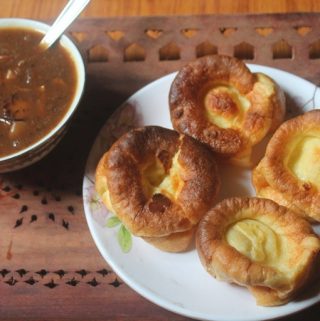 Yorkshire Pudding Recipe
Recipe Source:
Jamie Oliver
Jamie Oliver's Crispy and puffy yorkshire pudding taste so amazing with some maple syrup or honey or with some gravy.
Print
Pin
Rate
Ingredients
All Purpose Flour / Maida - 100 grams

Milk - 100 ml

Eggs - 2

Salt to taste

Oil - as needed
Instructions
Preheat oven to 190 degree C.

Take a muffin mould, pour oil into it so it comes around 1 cm height.

Place the muffin pan on a baking tray and place it in oven and heat for 15 mins till the oil is super hot.

Now make the batter. Take eggs and salt in a bowl and whisk well.

Add in milk and whisk.

Add in flour and mix to a smooth batter.

Take the muffin pan from oven, pour batter into the oil till it comes to the top.

Pop it in oven and cook for 25 to 30 mins till golden and puffy.

Remove it from oven and serve with onion gravy immediately.
Join us on Facebook
Follow us on Facebook
Share by Email
Share on Facebook
Onion Gravy Recipe
Author:
Prep time:
Cook time:
Total time:
Super easy and simple vegetarian gravy made using onions and mushrooms is packed with flavour. Super good.
Ingredients
Oil - 1 tblsp
Onion - 1 large sliced
Mushrooms - 5 sliced thinly
Butter - 2 tblsp
All Purpose Flour / Maida - 2 tblsp
Vegetable Stock or Chicken Stock - 1.5 cups
Soy Sauce - 1 tsp
Dried Thyme - ½ tsp
Dried Parsley - ½ tsp
Salt to taste
Pepper to taste
Vinegar - 1 tsp
Sugar - 1 tsp (optional)
Instructions
Heat oil in a pan, add onions and mushroom and cook till it gets translucent and carmalized.
Now set the onion mix aside, heat butter in the side, add flour and cook till flour gets golden brown.
Mix everything together.
Add in stock and mix well.
Add in dried thyme, parsley, salt and sugar. Add soy sauce and bring it to a boil.
Add in vinegar and mix well.
Cook till it thickens.
Serve with pudding.
Pictorial:
1)First lets make the gravy. Heat little oil in a pan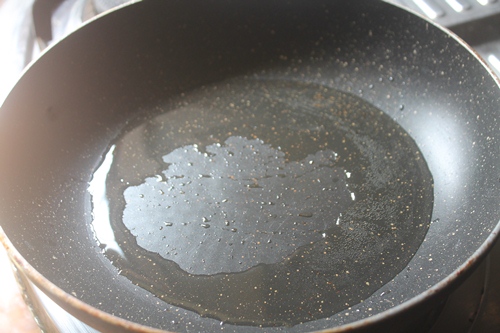 Pin
2)Add in onions and mushrooms.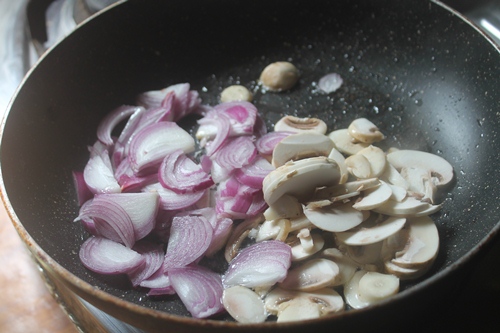 Pin
3)Saute them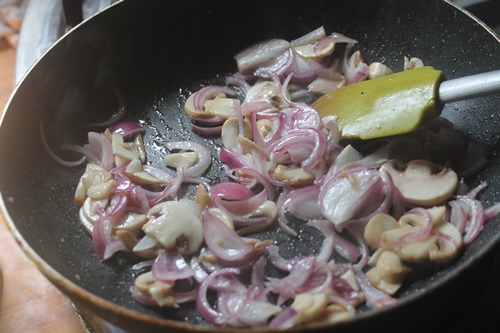 Pin
4)Cook this till onions gets caramelized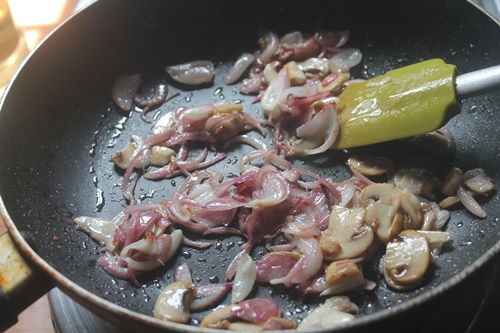 Pin
5)Set aside the onion mix. In the side, add some butter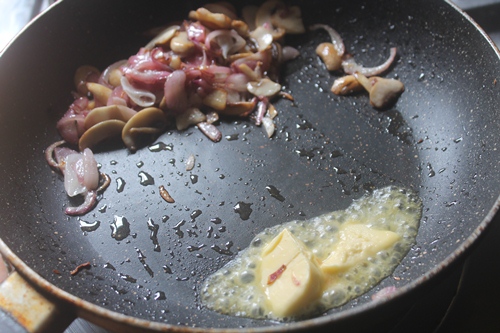 Pin
6)Add in flour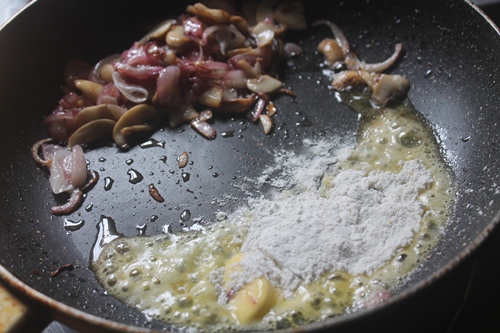 Pin
7)Cook till flour gets brown in colour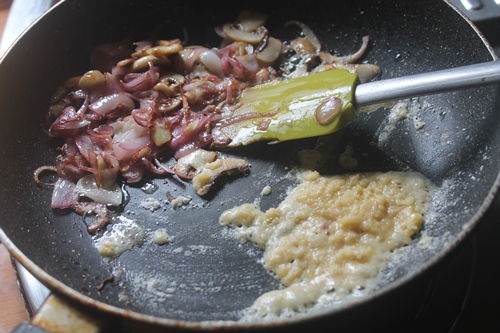 Pin
8)Just like this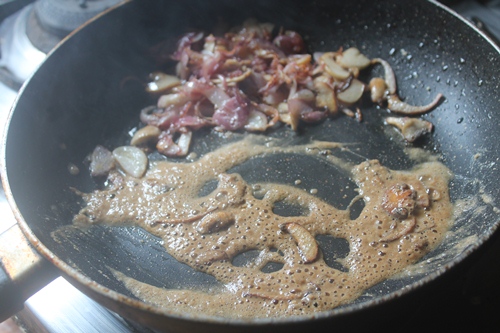 Pin
9)Mix well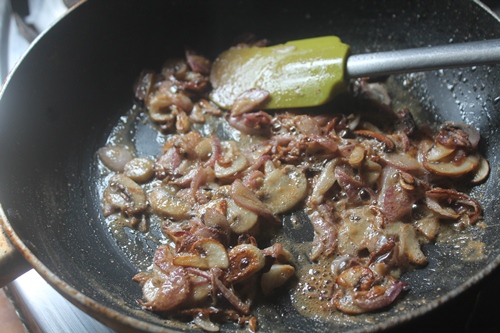 Pin
10)Add in vegetable stock, you can use chicken stock too.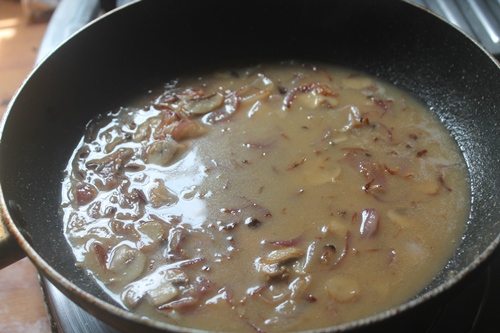 Pin
11)Add little dried thyme.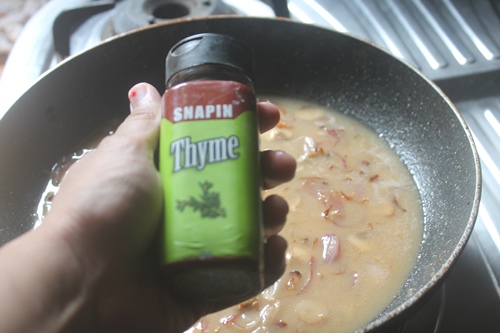 Pin
12)add some dried parsley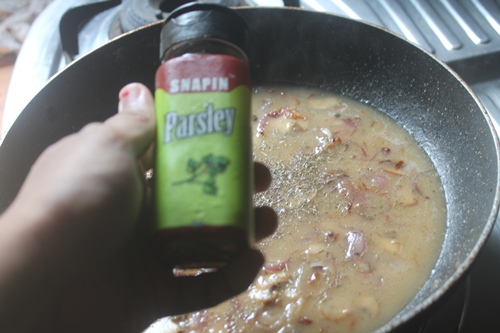 Pin
14)Add a dash of soy sauce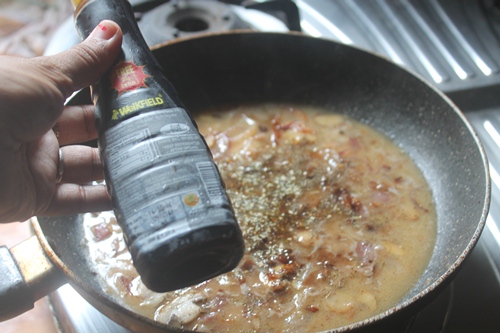 Pin
15)Season with some salt.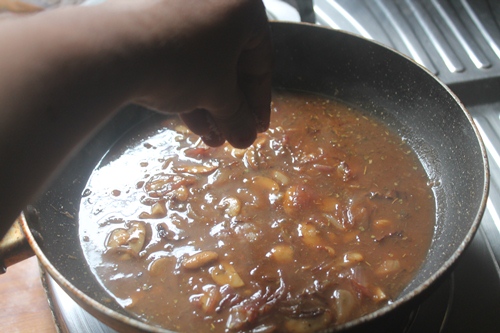 Pin
16)Add some pepper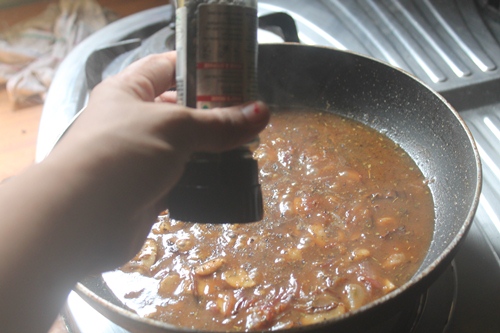 Pin
17)Add little vinegar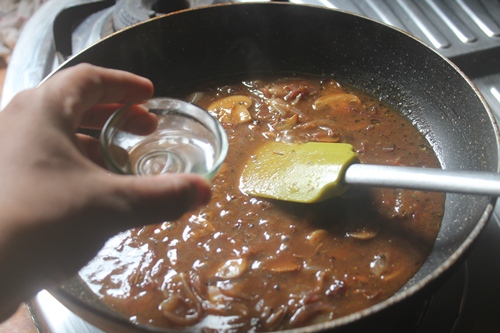 Pin
18)Cook till gravy thickens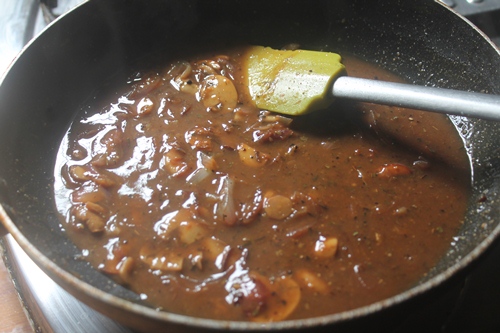 Pin
19)Now the gravy is done, set aside somewhere warm.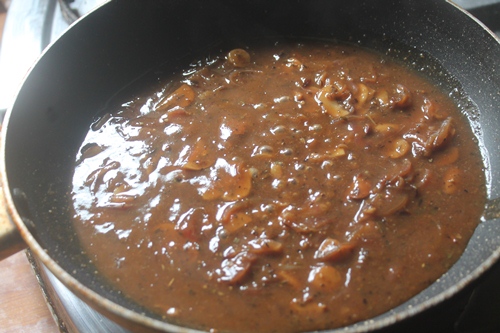 Pin
20)Take a muffin mould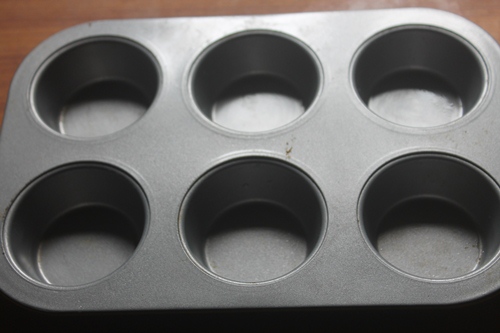 Pin
21)Fill with oil till it is 1 cm height.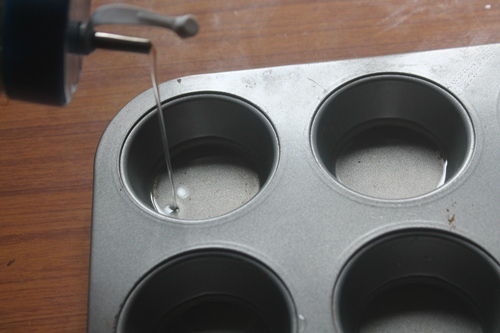 Pin
22)Pop this in a baking tray and put it in a 190 degree C preheated oven for 15 mins.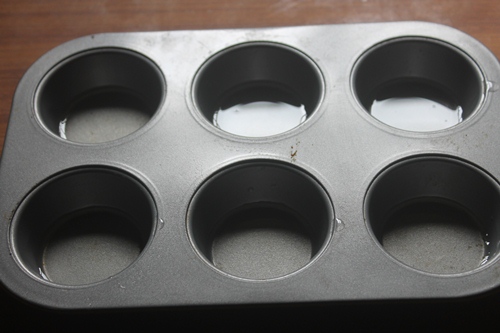 Pin
23)Now lets make the yorkshire batter. Crack eggs in a bowl.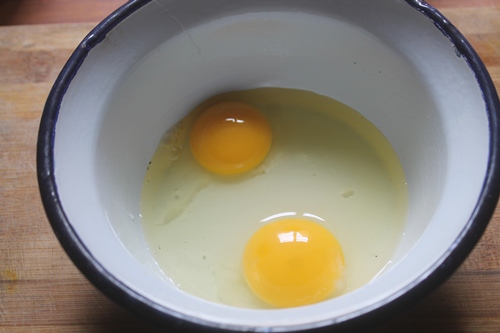 Pin
24)Whisk well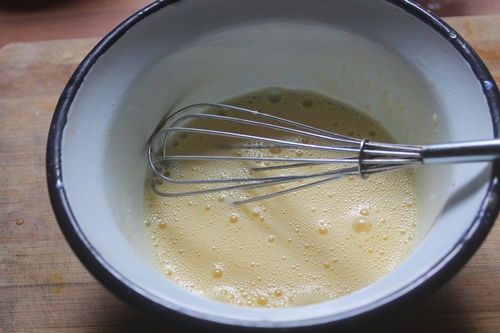 Pin
25)Add some salt and mix well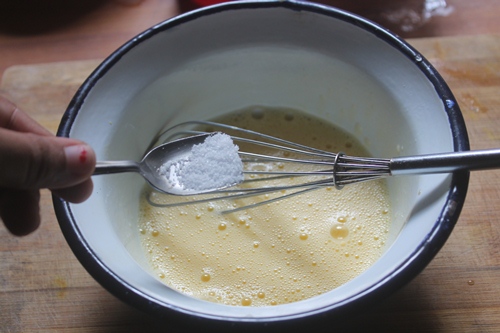 Pin
26)Add some milk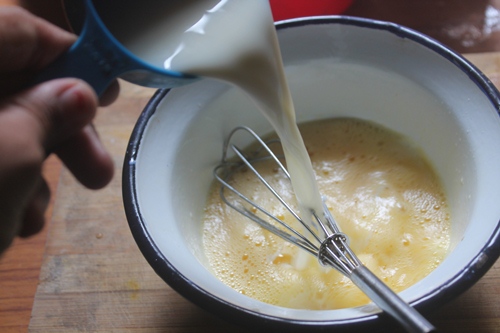 Pin
27)Whisk well.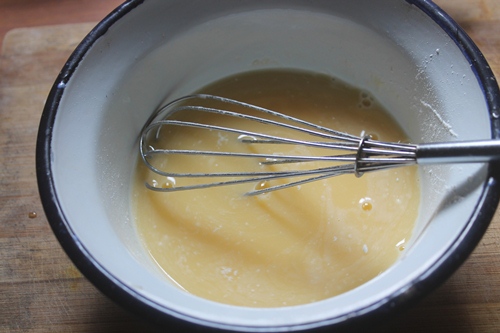 Pin
28)Add in flour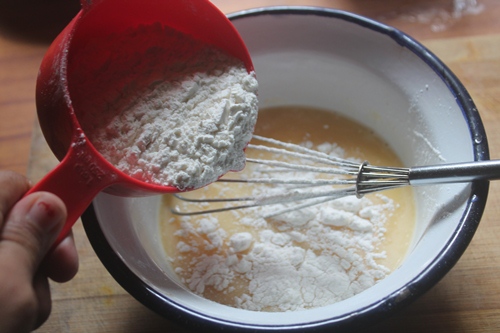 Pin
29)Mix till it is well combined.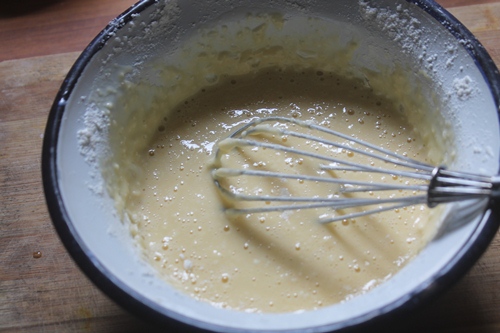 Pin
30)Now the batter is smooth.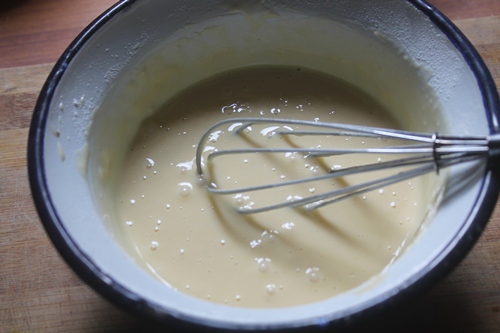 Pin
31)Batter is done.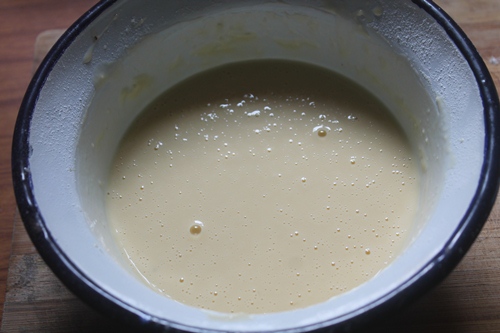 Pin
32)Take the muffin mould from the oven carefully. The oil will be very hot.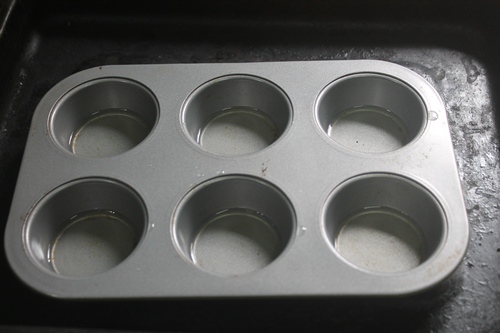 Pin
33)Pour batter in carefully since the oil will be super hot. Make sure your dont splash of batter on the sides of the mould. Now pop it back into the oven for 25 to 30 mins till it is crispy and puffy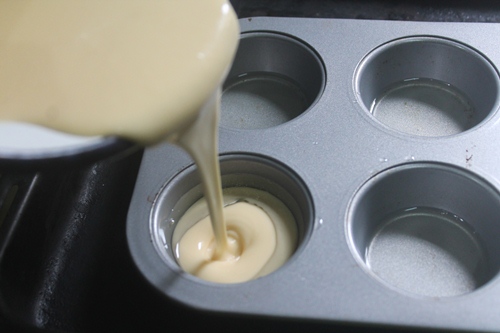 Pin
35)Just like this.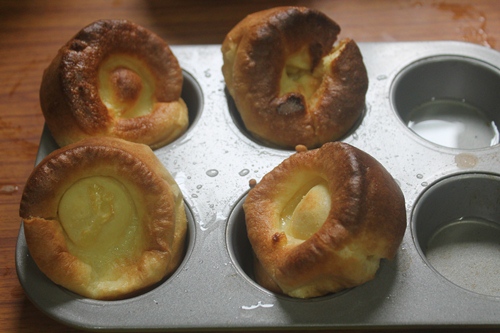 Pin
36)Serve this immediately with the gravy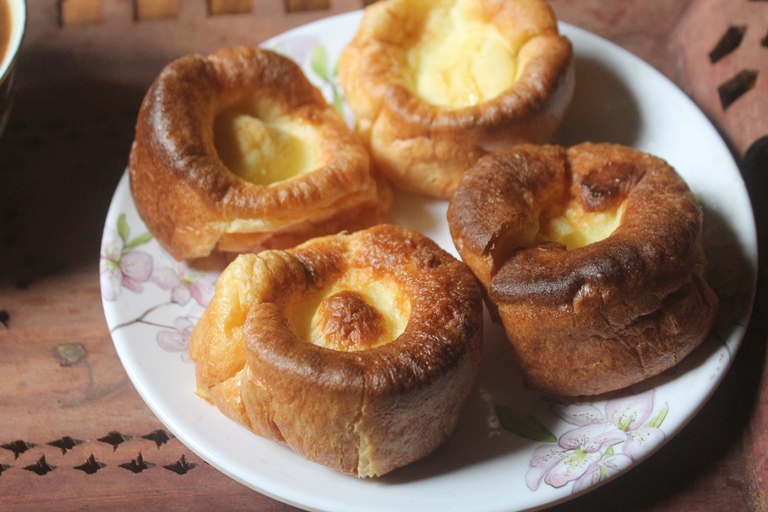 Pin
37)YUMMO!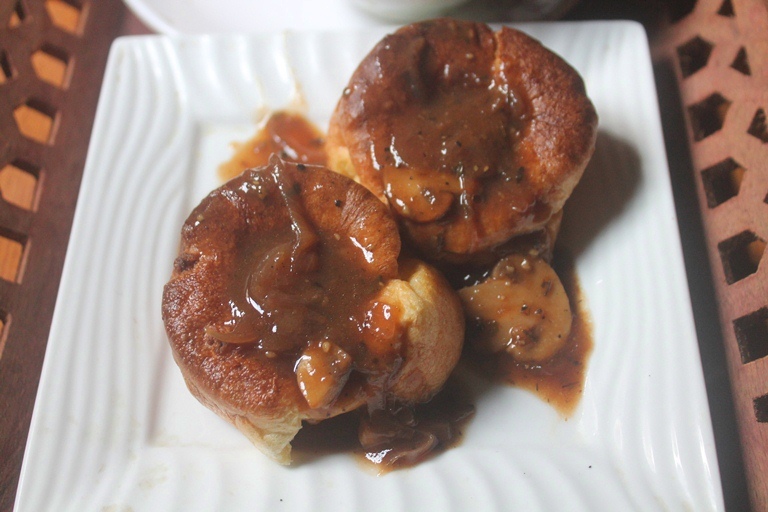 Pin