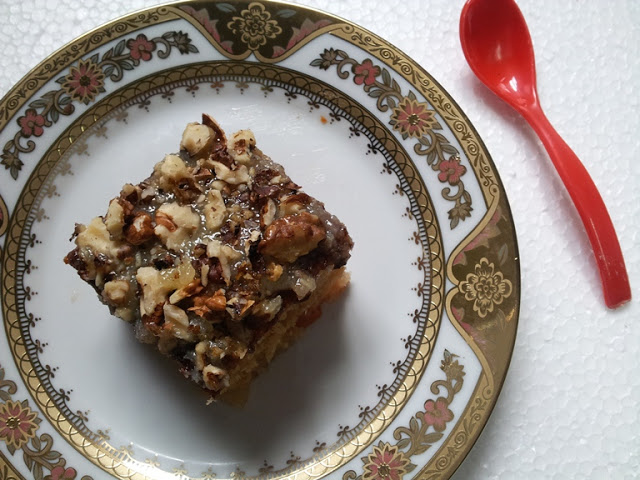 Yesterday evening I experienced the best surprise in my life…My hubby gave me a gift which I have dreamt of..Want to know the gift, wait till tomorrow..Now back to the recipe..I had some leftover fruit cocktail after my trifle recipe..I wanted to try a cake with that, I know it will taste great in a cake so decided to go for it. I made a simple cake and topped it with a buttery coconut sauce..Actually the cake doesn't have any fat in it so that icing is rich and buttery which really makes it.
Ingredients:
All Purpose Flour / Maida – 1 cup / 120 gms
Sugar – 3/4 cup / 150 gms
Baking powder – 1 tsp
Baking Soda – 1/2 tsp
Fruit Cocktail – 1 cup chopped finely / 150 gms
Fruit Cocktail syrup – 1/2 cup / 120 ml / 4 fluid ounces
Egg – 1
Vanilla – 1 tsp
For Coconut Butter Sauce:
Sugar – 1/2 cup / 100 gms
Milk – 1/2 cup / 120 ml / 4 fluid ounces
Butter – 5 tblspn
Desicated Coconut – 1/2 cup / 75 gms
Walnuts – 5 tblspn chopped
Method:
Preheat the oven to 170 Degree C / 340 Degree F.
Take flour , baking powder and baking soda in a bowl. Mix well and set aside.
Now take egg, sugar and vanilla in a mixer and beat till fluffy.
Add in the fruit cocktail juice and beat again.
Now add in the flour mixture and combine well.
Add the fruit cocktail pieces and fold well.
Pour this in a buttered dish and bake it for 45 mins.
Remove from the oven and keep aside.
Now make the icing. Take sugar and milk in a sauce pan and heat it up.
Add butter and mix well. Keep mixing till it gets thick and creamy.
Now add in the coconut and mix well.
Pour this icing over the cake, the cake will absorb the icing quickly.
sprinkle some walnuts over it.
Slice and serve.
Pictorial:
Take your stuffs
take flour in a bowl
add some baking powder
and baking soda
give it a stir and keep aside
Now lets make the batter…Take eggs, sugar and vanilla in a mixer..
and beat them till fluffy
add in Del Monte Fruit Cocktail Juice
and mix well
now add the flour mixture
and whip them
Add the fruit cocktail pieces
and mix well
Butter a dish generously
pour the batter in and bake it
lets make the sauce…Add sugar in a sauce pan
add milk to it
mix well to dissolve
add butter once this starts to boil
and mix well
keep whisking till it gets thick and creamy
add in coconut
now the sauce is done..
pour that over the cake
let it cover completely
sprinkle some chopped walnuts
and serve
I am Aarthi, a happy homemaker, mom of two beautiful girls, married to my high school sweet heart. My goal is to teach people that cooking can be way more easier and joyful than they think. Yummy Tummy features recipes all over the world with step wise pictures which surely shows the ease of cooking.