Sichuan Pepper Chicken Recipe with step by step pictures. Spicy and delicious chinese style pepper chicken which is amazing.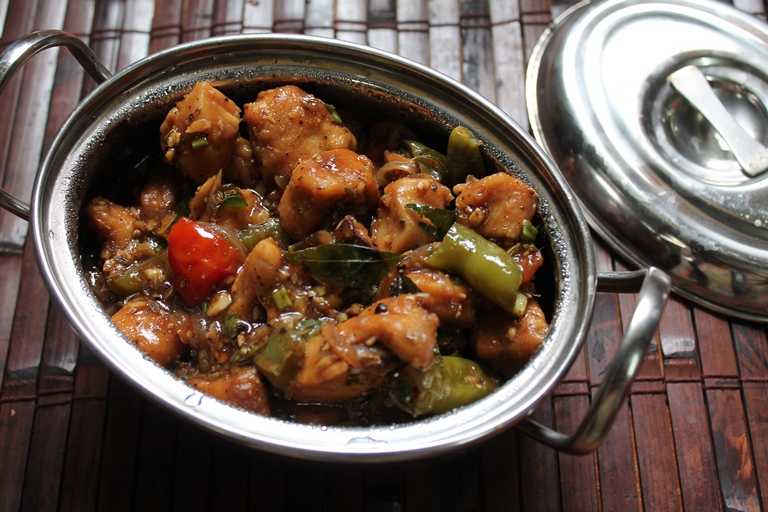 I make pepper chicken often but i don't know why i have never shared the recipe here. know i have not shared most of the common recipe which i make often at home too. I will soon filter through those recipes and post here. There are two ways which I make pepper chicken, chinese way and pure indian way. I will share the indian recipe of making it soon.
I made this a month back, i think for valentine's day and served it with chicken fried rice, curd rice and chilli potatoes. This recipe is so easy to make and also it is a kind of low fat version because we are not deep frying the chicken, usually we fry the marinated chicken and then add it to the sauce. But i think for this particular recipe this is good enough. Meanwhile check out the low fat soya manchurian recipe too.
This recipe is very simple, you can make it as you like.All the ingredients added here are to taste. But one thing, which i insist is to use freshly ground black pepper in this, the ground stuff which you get from the store is so fine in texture which doesn't suit for this. So try to use freshly ground pepper. But if you only have store bought pepper powder feel free to use that. It will still taste good (not great actually).
About this Recipe
Chinese Style Pepper Chicken / Sichuan pepper chicken, also known as chin jiew chicken, is a Teochew deep-fried chicken dish that is typically cooked with a leafy green known as pearl vegetable.
Outside of China, substitutes for this vegetable include basil, mint, spinach, and other leafy green vegetables. The dish is also known for its use of fish sauce and the dish namesake, Sichuan peppercorns.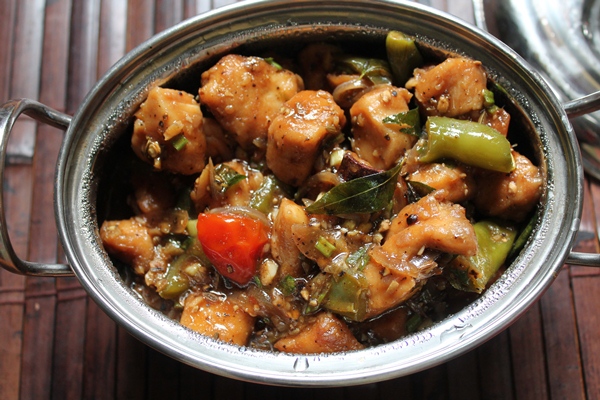 Ingredients for Sichuan Pepper Chicken Recipe
Cornflour:
When paired with all-purpose flour, cornstarch helps prevent gluten development, which makes the flour coating crispier, and absorb moisture (from the frying and the chicken), which also means a crispier coating.
Soy Sauce :
Soy sauce is a traditional Chinese condiment that is widely used in East Asia to add flavour to a variety of cooked foods as well as to aid digestion. This sauce is made from fermented soybean paste, roasted grain, brine, and the mould Aspergillus oryzae or Aspergillus sojae.
Capsicum :
Because of their higher sugar content, red capsicums are the sweetest and highest in vitamin C and beta carotene. Orange and yellow capsicums contain nearly as much sugar as red capsicums, whereas green capsicums have a low sugar content due to early picking, which gives them a slightly bitter taste.
📖 Recipe Card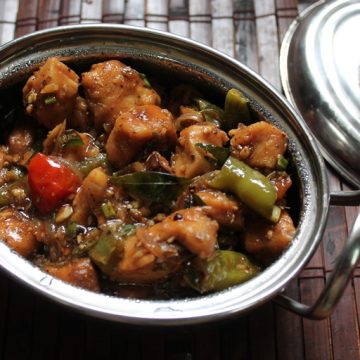 Sichuan Pepper Chicken Recipe | Chinese Pepper Chicken Recipe
Sichuan Pepper Chicken Recipe with step by step pictures. Spicy and delicious chinese style pepper chicken which is amazing.
Print
Pin
Rate
Ingredients
For Sauteing Chicken:

Oil - 5 tblspn

Chicken - 500 grams Boneless cut into pieces

Cornstarch / Cornflour - 5 tblspn

Soya Sauce - 1 tblspn

Salt to taste

Pepper- 1 tsp

For Gravy:

Fennel Seeds / Sombu / Saunf - 1 tsp

Cinnamon Stick / Pattai - 1 small stick

Ginger - 1 tblspn minced

Garlic - 1 tblspn minced

Curry leaves - 1 spring

Onion - 1 large sliced thinly

Green Chilli - 3 slit

Capsicum / Bell Pepper - 1 cubed

Salt to taste

Sugar - 1 tsp

Ajinomoto / MSG - 1 tsp

optional

Soya Sauce - 1 tblspn or to taste

Green Chilli Sauce - 1 tblspn or to taste

Vinegar - 2 tsp or to taste

Tomato - 1 large cubed

Cornstarch / Cornflour - 1 tblspn mixed with water

Pepper - 2 tblspn

freshly ground

Spring Onion - 4 tblspn for garnishing
Instructions
Take all the ingredients given for sauteing chicken except oil in a bowl. Mix well and let it marinate for 10 mins. Now heat oil in a kadai. Add in the chicken and fry in the oil for 15 mins till they are golden brown and cooked completely. Remove to a bowl.

Now in the remaining oil. Add in fennel and cinnamon stick and saute for a min.

Now Add in ginger, garlic, curry leaves and give a good mix.

Add in onions, green chillies and fry for a min.

Now add in capsicum, salt, sugar and mix well.

Add in soy sauce, green chilli sauce, vinegar and mix well.

Add in tomatoes and cook for a min.

Add in water and bring it to a boil.

Now add in cooked chicken pieces, cornstarch slurry, pepper and toss well. Simmer for 5 mins.

Increase the heat and let the gravy get thick. You can leave this if you want a gravy version. This step is optional.

Throw in spring onions and serve with rice.
Join us on Facebook
Follow us on Facebook
Share by Email
Share on Facebook
If you have any questions not covered in this post and if you need help, leave me a comment or mail me @[email protected] and I'll help as soon as I can.
Follow me on Instagram, Facebook,Pinterest ,Youtube and Twitter for more Yummy Tummy inspiration.
IF YOU MAKE THIS RECIPE OR ANYTHING FROM YUMMY TUMMY, MAKE SURE TO POST IT AND TAG ME SO I CAN SEE ALL OF YOUR CREATIONS!! #YUMMYTUMMYAARTHI AND @YUMMYTUMMYAARTHI ON INSTAGRAM!
Sichuan Pepper Chicken Recipe Step by Step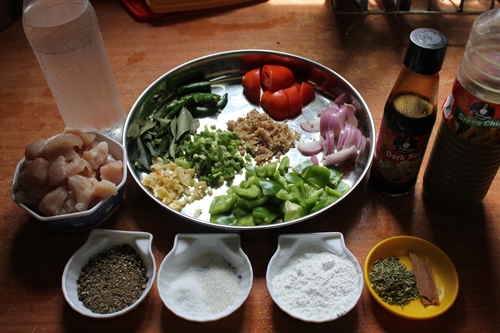 Take all your ingredients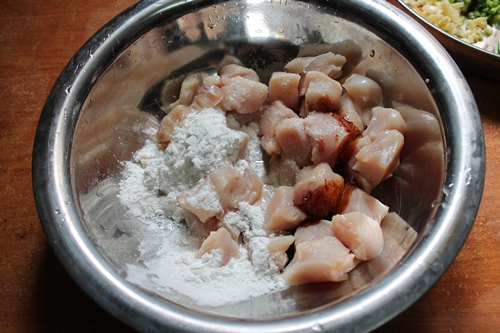 Take chicken, soya sauce, pepper, salt, cornstarch in a bowl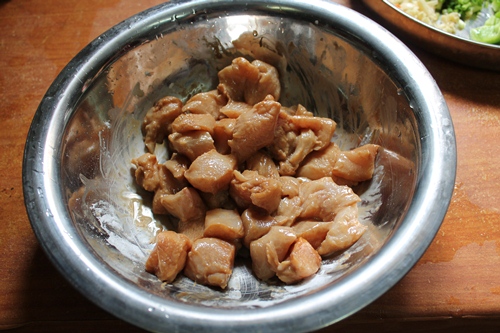 Mix well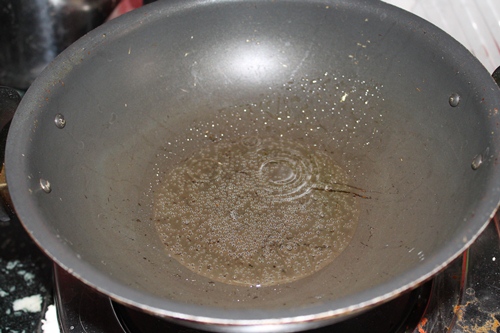 Heat oil in a kadai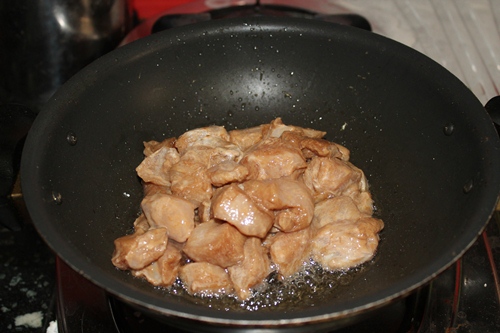 Add the chicken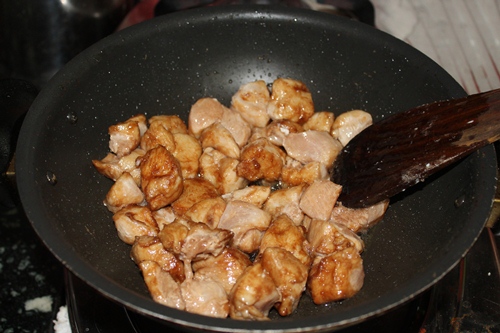 Cook the chicken by mixing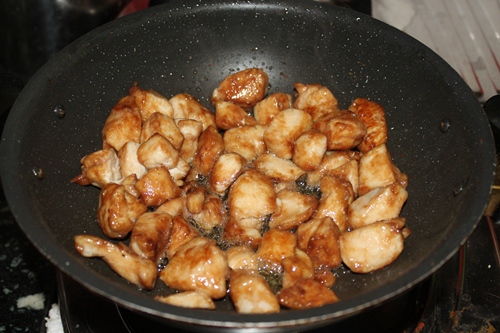 Cook till they turn golden brown
Remove to a bowl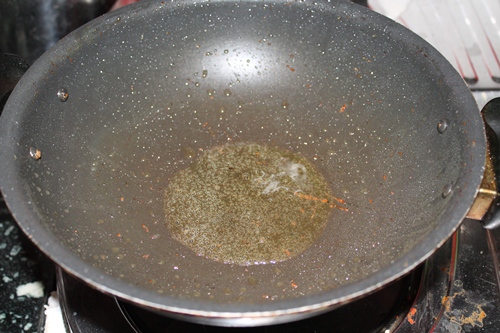 In the remaining oil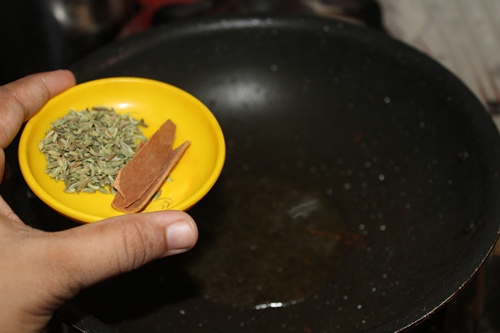 fennel and cinnamon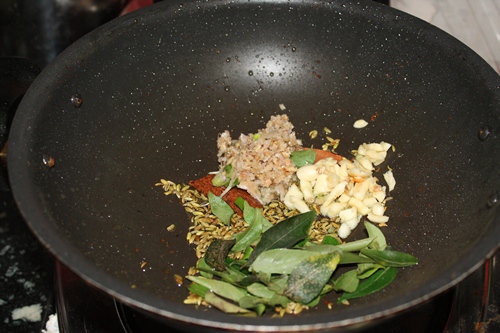 Add in ginger, garlic, curry leaves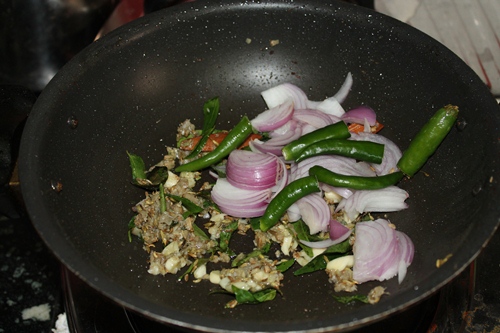 Add in onions and green chilli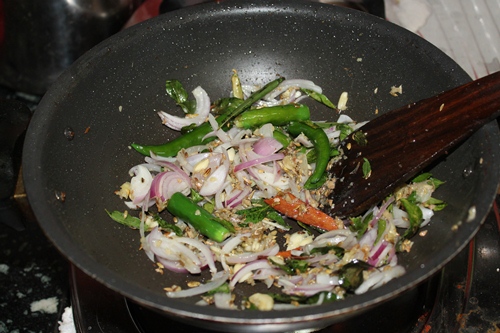 Mix well to cook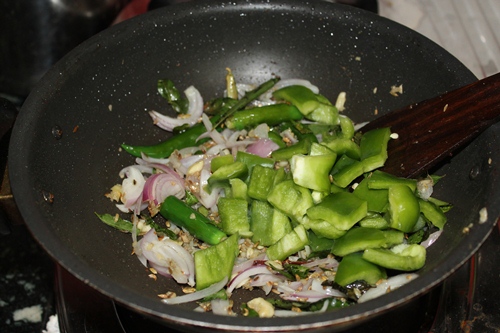 Add in capsicum and mix well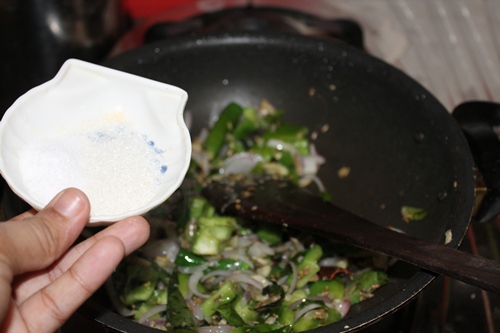 Add in salt and sugar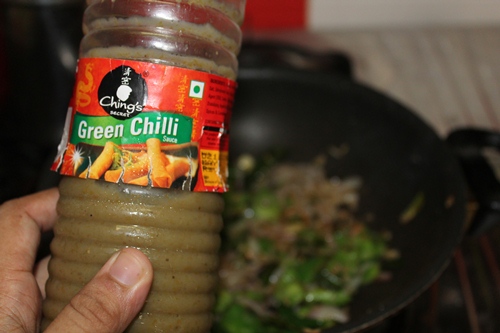 green chilli sauce
and some soy sauce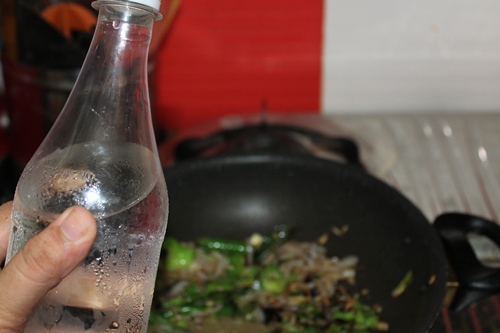 vinegar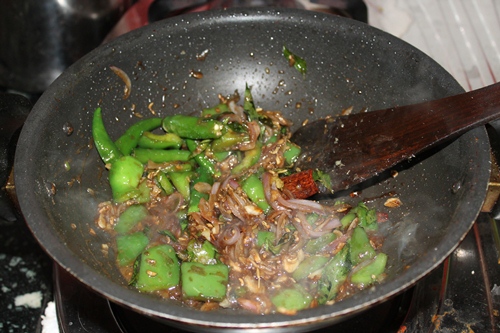 mix well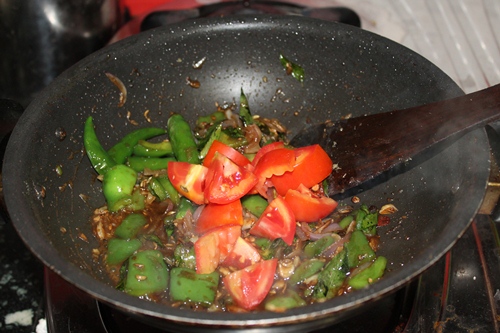 Add tomatoes in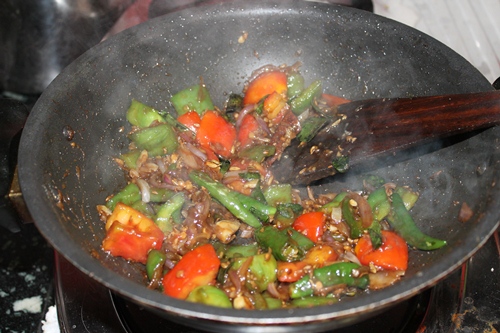 toss well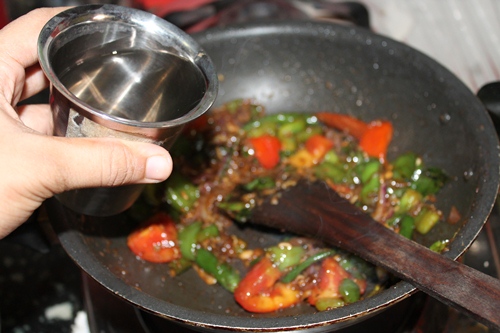 Pour some water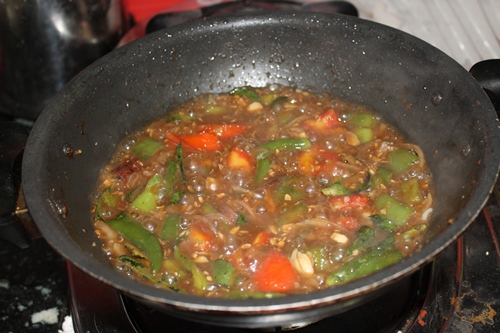 Bring it to a boil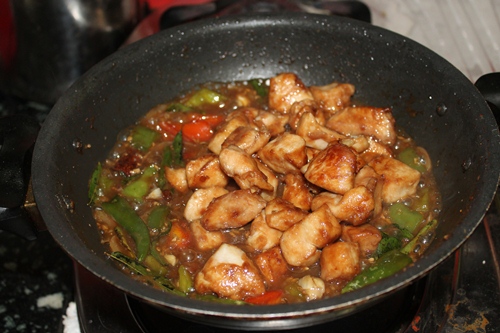 Add in chicken pieces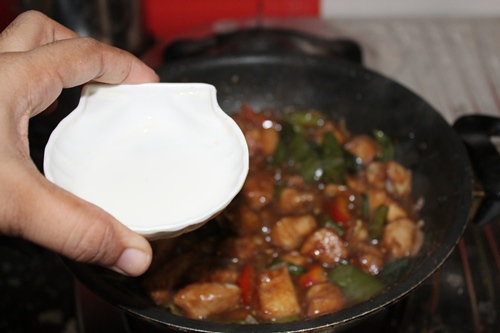 Add in cornstarch slurry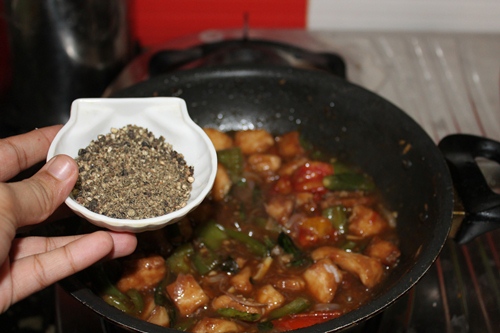 Some cracked pepper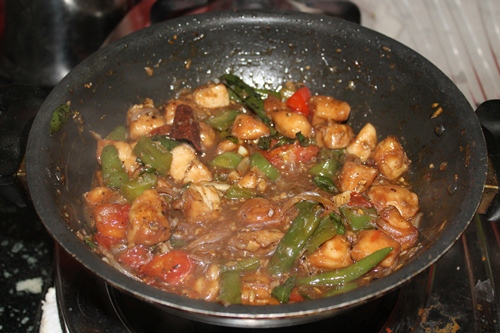 Mix well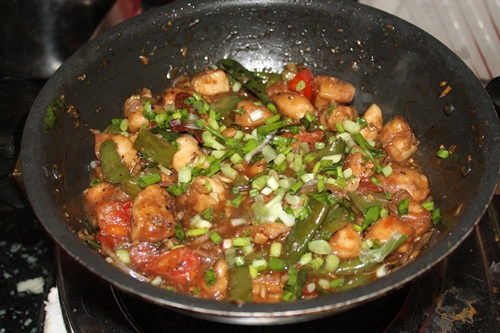 Garnish with spring onions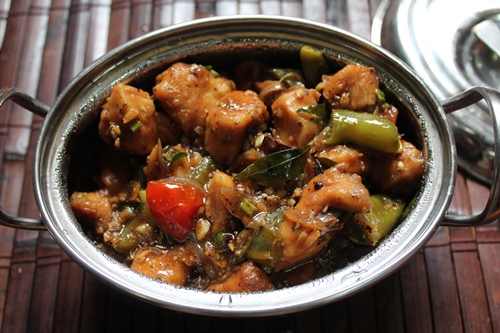 Serve