This intense, creamy, airy chocolate mousse is a treat for all chocoholics. Make & Enjoy this silky smooth chocolate mousse under 30 minutes with only 4 ingredients. This classic popular french dessert is made vegetarian with no eggs, tempering chocolates and folding techniques. Learn how to make this easy chocolate mousse recipe with step-by-step photos, instructions & video. Simple, Straight forward & Easy recipe any home cooks can try.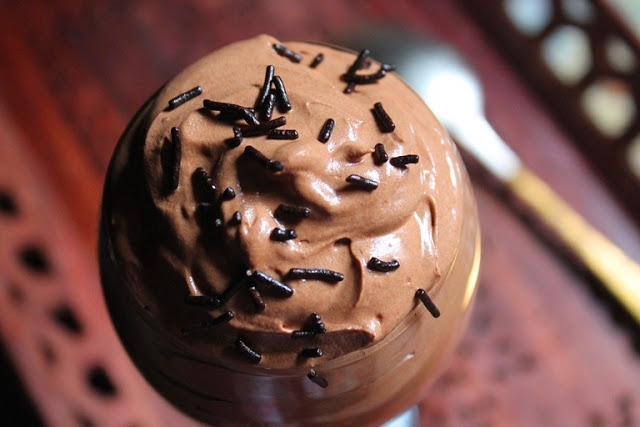 Eggless Chocolate Mousse Recipe
You can never go wrong with chocolate mousse. I made this to celebrate our third anniversary. Fast to make and super indulgent dessert using just chocolate and cream which is a hit recipe with my family. This recipe is completely vegetarian, if you are okay with adding eggs in your mousse, check my easy peasy blender chocolate mousse recipe.
About Eggless Chocolate Mousse
Making a proper French Chocolate mousse can be quite intimidating for many unless you plan on making the traditional french version of tempering eggs, blooming gelatin and gentle folding to knock off any air from the mousse. But this version is not any fussy, it is simple as 1-2-3. Melting chocolate, whipping cream & folding. Thats it!
Not only the ingredients are straight forward, the technique is very basic. It doesn't require any double boiler or candy thermometer. No fuss only deliciousness!
My decadent recipe for chocolate mousse needs just two ingredients. High quality chocolate & cream. The proportion matters to get silky, smooth and rich mouthfeel. I add a bit of instant coffee powder which doesn't make it taste like coffee but adds more intense chocolate flavour.
Video for Eggless Chocolate Mousse
Similar Recipes,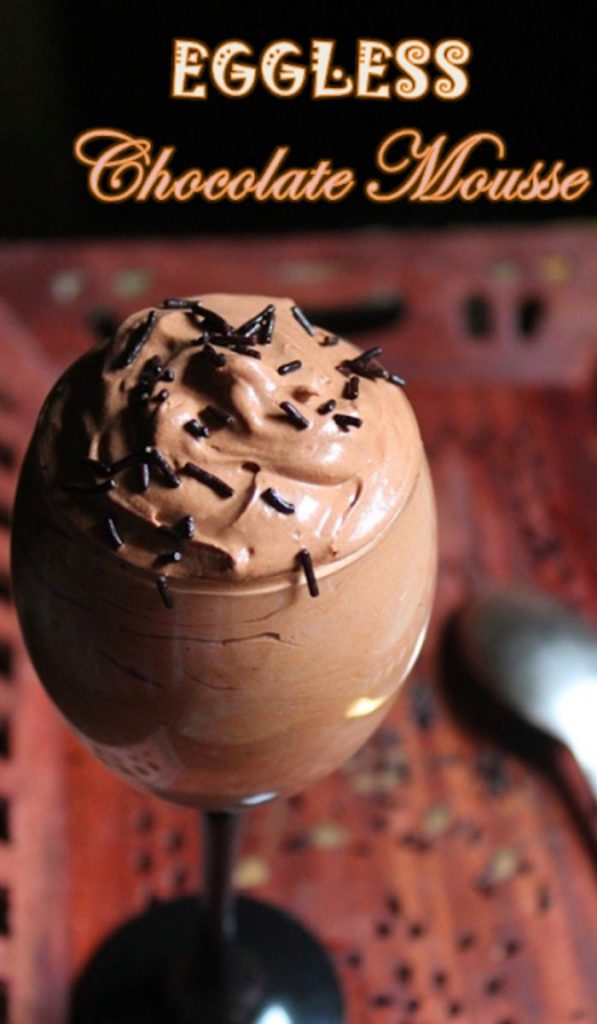 Why you will love this chocolate mousse?
This simple chocolate mousse recipe is completely vegetarian and needs no eggs, gelatin or thickener like cornstarch. I have shared two more variations of this blog post.
Healthy version - dates as sweetener, so if you are planning to avoid sugar, this is for you.
Vegan version - Natural, uses avocado & chocolate only.
Ingredients for Making Chocolate Mousse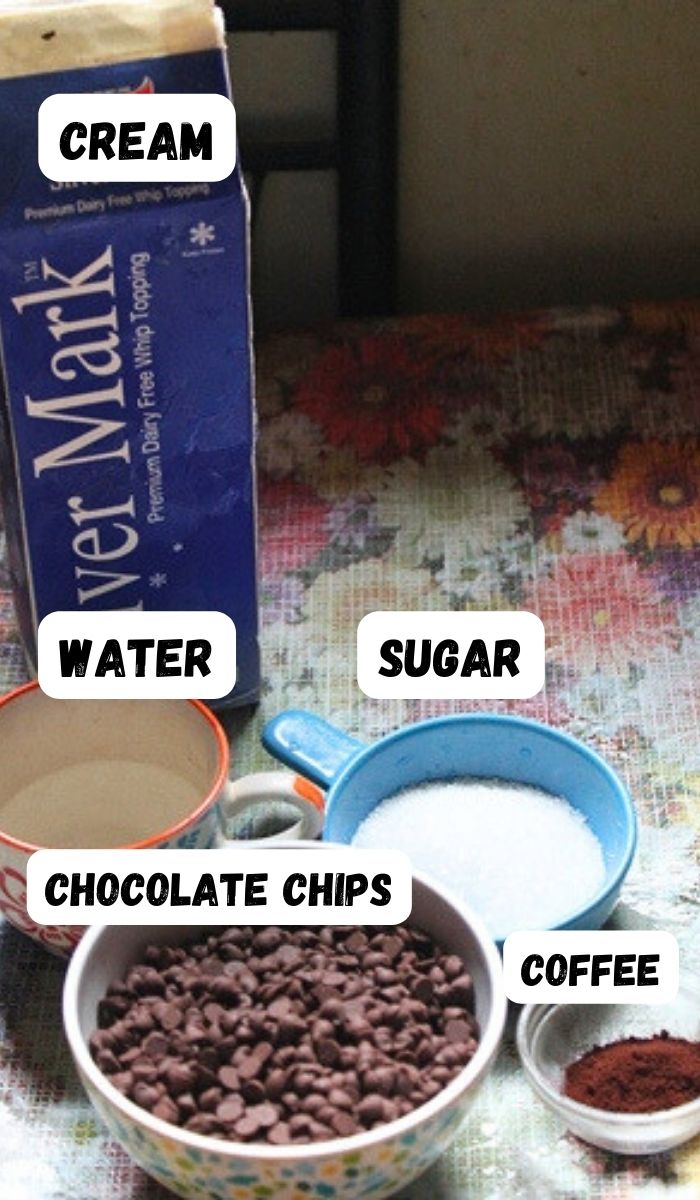 Chocolate
High quality chocolate gives the intense chocolate flavour to your mousse. You could either use good quality chocolate chips or bar chocolate. If you are using Couverture or compound chocolate bar chop it very finely so it melts faster. I prefer semi sweet chocolate chips or any chocolate over 60 to 70 percent cocoa solids.
Sugar
Regular white sugar gives the mousse its required sweetness. I prefer adding sugar to my chocolate mousse because you get intense chocolate note from adding only dark chocolate and not milk.
Cream
Use cold, high quality heavy whipping cream that can whip until thick. Whipped cream is what gives the mousse the signature light and airy texture.
Instant coffee powder
I add a bit of instant coffee powder which doesn't make it taste like coffee but adds more intense chocolate flavour.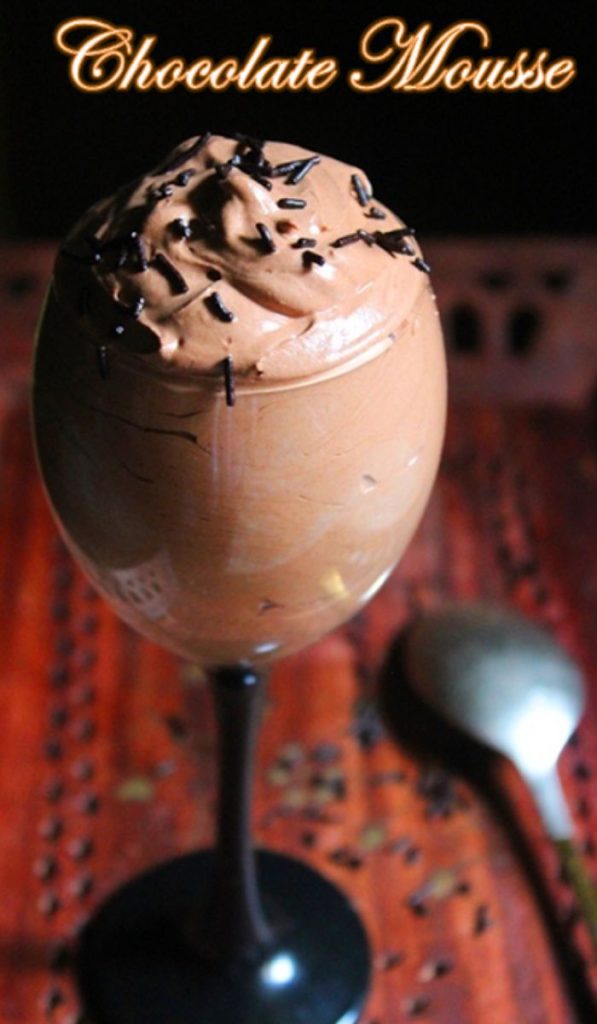 How to Make Eggless Chocolate Mousse
Melting Chocolate
Depending on the variation of the chocolate mousse recipe you make, melting chocolate is the important part. You can either melt it gently on lowest heat possible in a sauce pan or take the quick option of using a microwave.
Whipping Cream
Use cold whipping cream for getting the required texture. Using cold heavy cream makes the whipping job easy. Whip cream until it is thick and airy and holds its shape. Don't over whip the cream, else it may curdle or makes the mousse grainy.
Folding cream into the chocolate
Make sure your chocolate is completely cool before folding in the whipped cream. I like to add ⅓rd of the whipped cream into the cooled chocolate and give a good mix, this step lightens the chocolate which makes the final fold easy.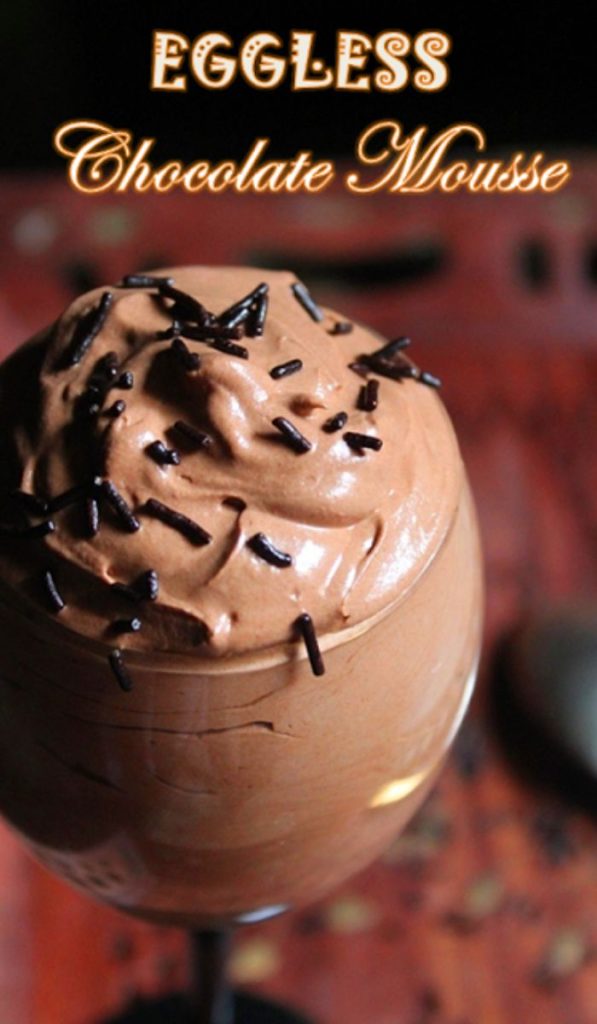 Success Tips for Perfect Chocolate Mousse
Quality is everything
Recipes that uses minimum number of ingredients needs quality. So make sure you use the best quality chocolate and cream that you can find for the best tasting creamy chocolate mousse. Invest your time and money to find the best quality chocolate. I recommend couverture dark or semi-sweet chocolate. Look for an ingredient label that boasts cocoa mass or cocoa solids as their first ingredients.
Caring for temperature
Never try this recipe if you are in a hurry. Because you have to take a note of the temperature of the ingredients before proceeding to the next step. The chocolate has to be melted and cooled completely before folding the cream. The cream has to be super cold before whipping. If you fold the whipped cream to hot chocolate mixture, then milk fat from cream would separate and curdle the mousse.
Patience for success
You definitely need to serve the chocolate mousse cold. Chilling the mousse in fridge for few hours will make the chocolate in the mousse set and creates the luscious mouthfeel we all love.
Eggless Chocolate Mousse (Stepwise Pictures)
1)Take water in a sauce pan.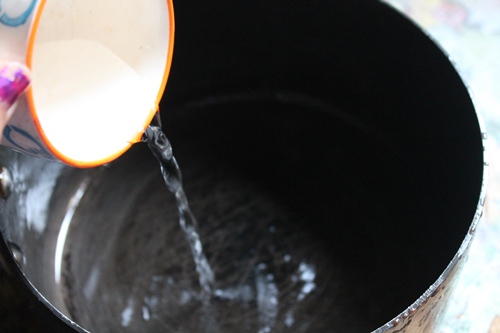 2)Add in sugar and place it on low to medium heat.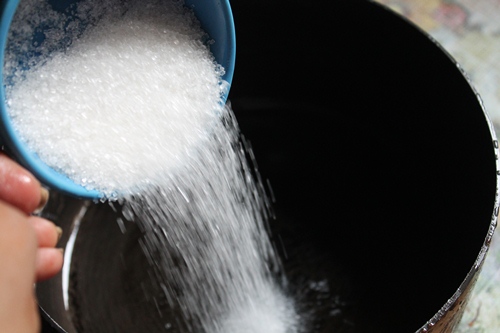 3)Add in instant coffee powder.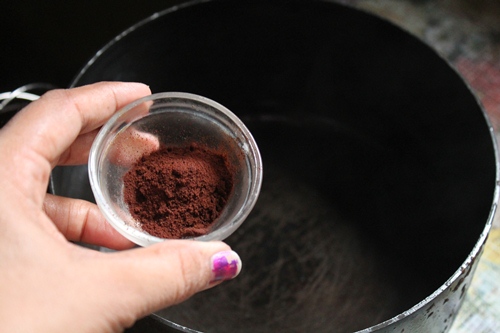 4)Mix well and bring everything to a boil. Once it boils, take it off the heat and set aside.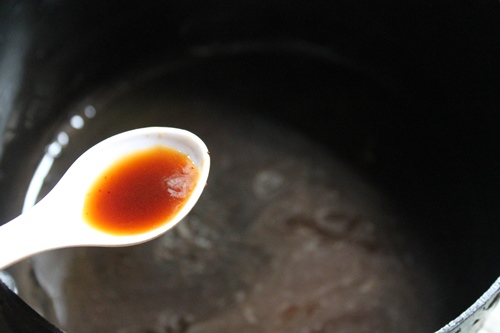 5)Add in chocolate chips to the hot water.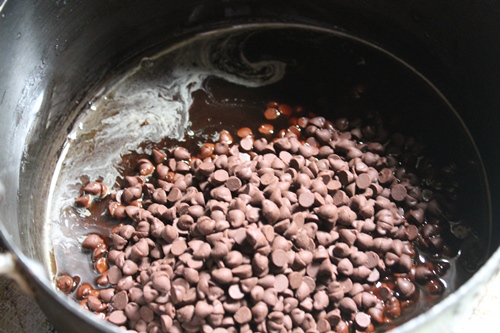 6)Use a whisk to gently mix the chocolate until it is completely melted.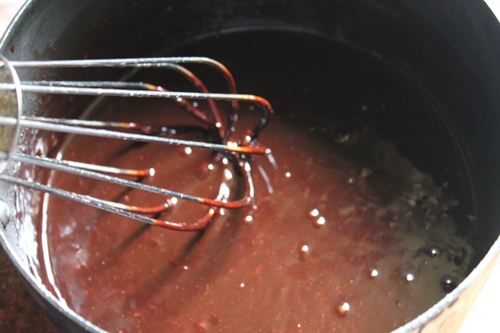 7)Pour this into a bowl and allow it to cool completely.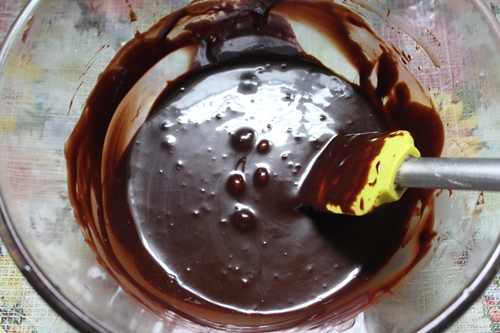 8)Whip cream till thick.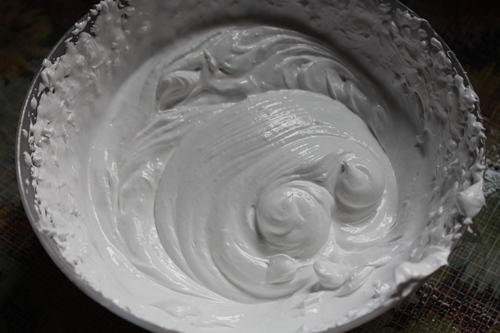 9)Add cream into the cooled chocolate and gently fold.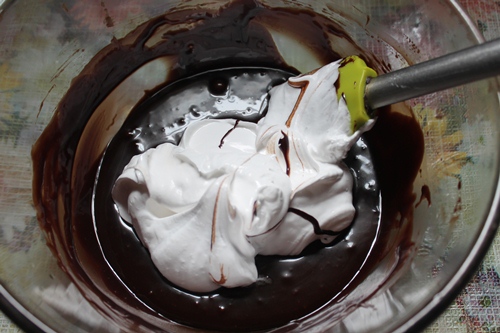 10)How easy is that, chocolate mousse done.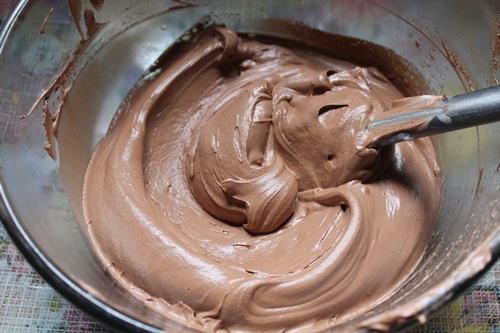 11)Spoon onto serving glasses and serve.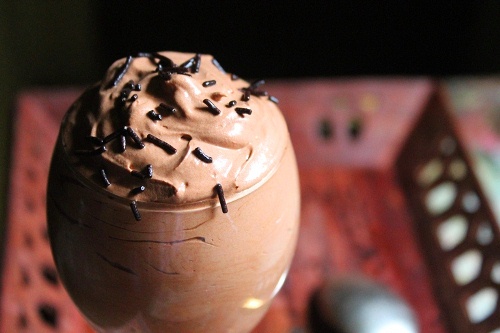 Eggless Chocolate Mousse Variations
Chocolate Mousse (with Dates)
Have you ever tried chocolate covered dates. The combination of chocolate and dates is just perfect. This mousse is inspired from that. This is how you make it.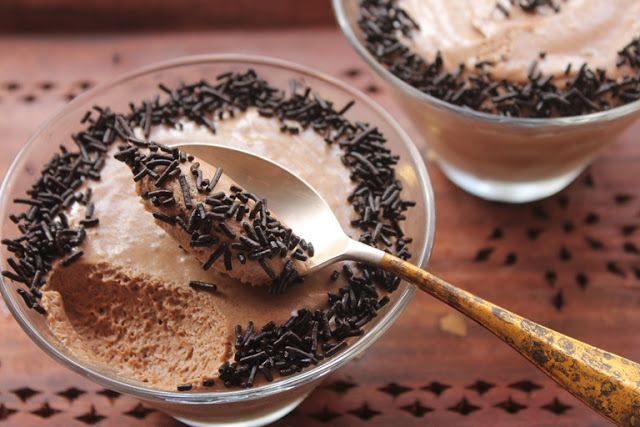 Take 1 cup dark chocolate in a microwave safe bowl and melt it gently till melted, you can melt it in microwave or double boiler.Set aside to cool. Whip 1 cup cream till soft peaks are formed. Set aside.
Take 10 dates and 1 tsp ghee in a pan and fry for a min. Take it in blender and add in milk. Puree them and set aside.
Now take chocolate in a bowl, add in dates mix and fold gently. Now fold in the cream and mix gently till combined.
Spoon this into glasses and chill for couple of hours. Serve cold.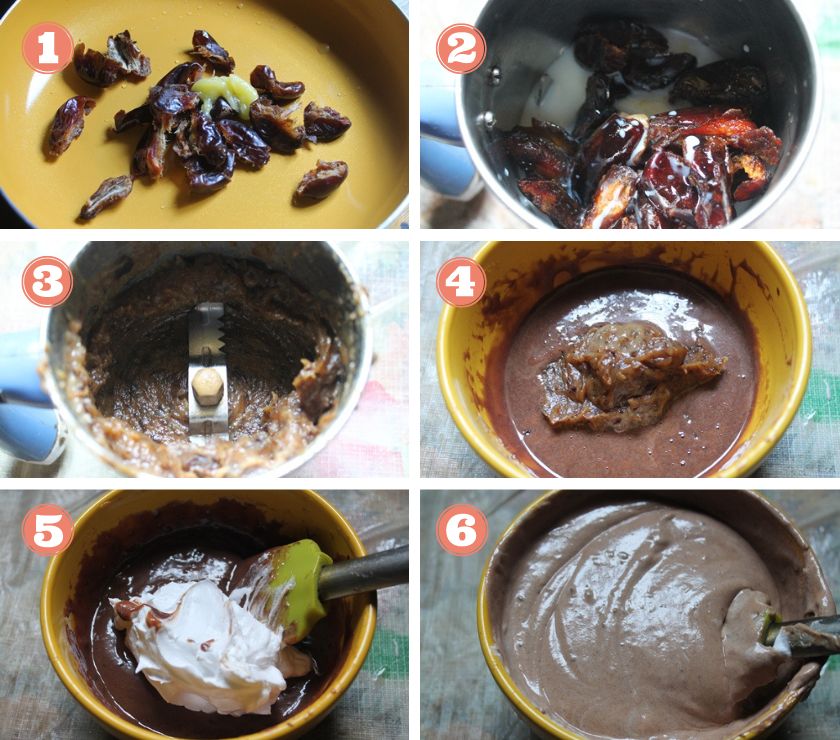 Vegan Chocolate Mousse Recipe
This is a guilt free mousse which is vegan since it has no cream or milk. I used semi sweet chocolate in this, you can use any chocolate. Adjust the sugar level accordingly. This is how you make it.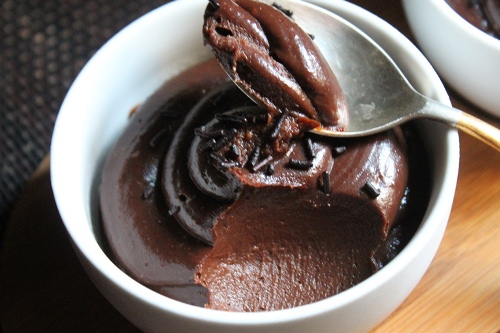 Take 1 cup semi chocolate chips in a dry clean bowl. Melt it in microwave or over a double boiler. now mix well, it will be smooth and shiny.
Scoop out the flesh from avocado. Take 1 avocado in a blender and add ¼ cup of sugar. Blend till smooth. Now pour in the melted chocolate, 1 tsp vanilla and puree again.
Spoon or pipe this into serving glasses and put it in fridge for couple of hours. Serve.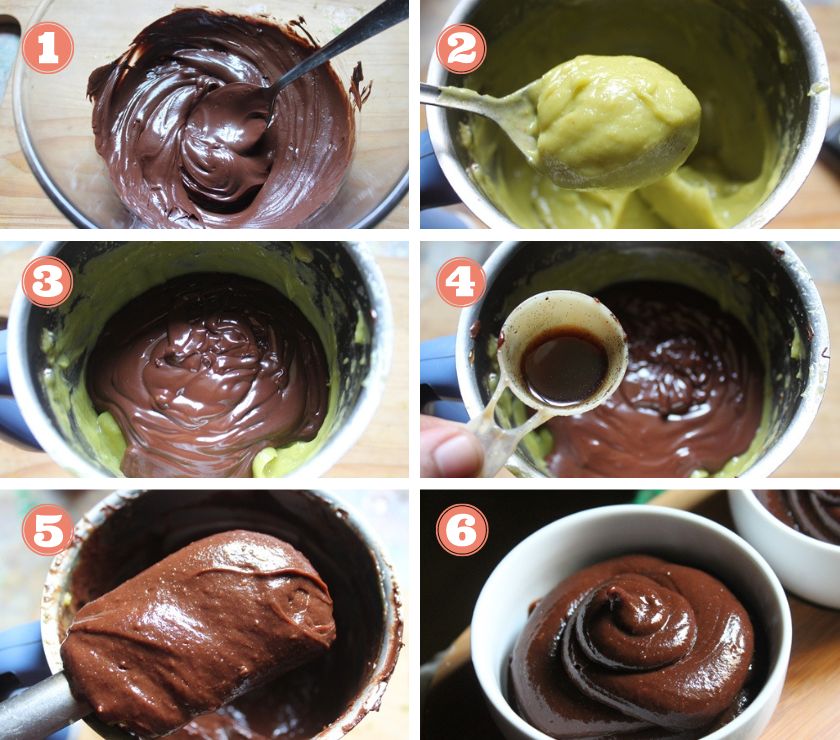 Frequently Asked Questions
What is the best chocolate for mousse?
Best quality chocolate and cream is essential for best tasting creamy chocolate mousse. Invest your time and money to find the best quality chocolate. I recommend couverture dark or semi-sweet chocolate. Look for an ingredient label that boasts cocoa mass or cocoa solids as their first ingredients.
Why is my chocolate mousse lumpy?
It might happen because the chocolate is siezed. Never melt your chocolate at high temperature. Always use low heat possible. Also allow the chocolate to cool before adding the cold whipped cream.
What can go wrong when making chocolate mousse?
This recipe for the best eggless chocolate mousse is super easy. You can never go wrong. But the one thing which you have to do is follow the recipe to the 'T' and you will never fail.
How do you fix seized chocolate mousse?
Siezed chocolate mousse cannot be resumed. but you can try chilling the mousse for few hours in fridge and use a whisk to mix till it gets light and fluffy again.
Why is my chocolate mousse not airy?
Eggless chocolate mousse gets its airyness from whipped cream. Not whipping cream enough will makes your mousse watery and thin.
What are the other flavour variations you can try in chocolate mousse?
Try adding some vanilla extract, almond extract, peppermint oil for flavour variations. You can also try my other mousse recipes like mango, strawberry, pineapple
📖 Recipe Card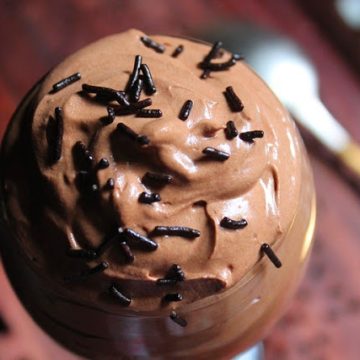 Eggless Chocolate Mousse Recipe
Dark Chocolate Mousse Recipe with step by step pictures. This is a creamy and silky chocolate mousse using dark chocolate that lends its flavor in the mousse.
Print
Pin
Rate
Ingredients
1½

cup

Dark or Semi Sweet Chocolate Chips

(300 grams)

2

tbsp

Sugar

4

tbsp

Water

½

tsp

Instant Coffee Powder

1

cup

Whipping Cream
Instructions
Take water, sugar and coffee powder in a sauce pan, heat till the sugar is melted and the water comes to a boil.

Add in chocolate chips and mix till chocolate is completely melted.

Now pour this mix into a bowl and cool it completely.

Take cream in a bowl and use an electric beater to whip till it gets thick and forms soft peaks.

Now fold this cream into the chocolate very gently.

Spoon this into serving glasses and chill in the fridge for 2 hours.

Serve cold.
Video
Nutrition
Serving:
1
servings
|
Calories:
617
kcal
|
Carbohydrates:
43
g
|
Protein:
6
g
|
Fat:
47
g
|
Saturated Fat:
29
g
|
Polyunsaturated Fat:
2
g
|
Monounsaturated Fat:
13
g
|
Trans Fat:
0.1
g
|
Cholesterol:
71
mg
|
Sodium:
24
mg
|
Potassium:
444
mg
|
Fiber:
5
g
|
Sugar:
33
g
|
Vitamin A:
908
IU
|
Vitamin C:
0.4
mg
|
Calcium:
82
mg
|
Iron:
4
mg
Join us on Facebook
Follow us on Facebook
Share by Email
Share on Facebook
If you have any questions not covered in this post and if you need help, leave me a comment or mail me @[email protected] and I'll help as soon as I can.
Follow me on Instagram, Facebook,Pinterest ,Youtube and Twitter for more Yummy Tummy inspiration.
IF YOU MAKE THIS RECIPE OR ANYTHING FROM YUMMY TUMMY, MAKE SURE TO POST IT AND TAG ME SO I CAN SEE ALL OF YOUR CREATIONS!! #YUMMYTUMMYAARTHI AND @YUMMYTUMMYAARTHI ON INSTAGRAM!