Do you love peanut chikki, i love it a lot. After lunch i feel like having something sweet, chikki was my saviour those days. This is not chikki, but a different form of that. Usually chikki is made of sugar and this is made from jaggery. I love both the version a lot.

The crusial thing is making the syrup. It has to be done right or else you wont beable to make balls from it. If the syrup is not perfect, then the balls will be chewy. So make sure you got the syrup done perfectly. So try this and let me know how it turns out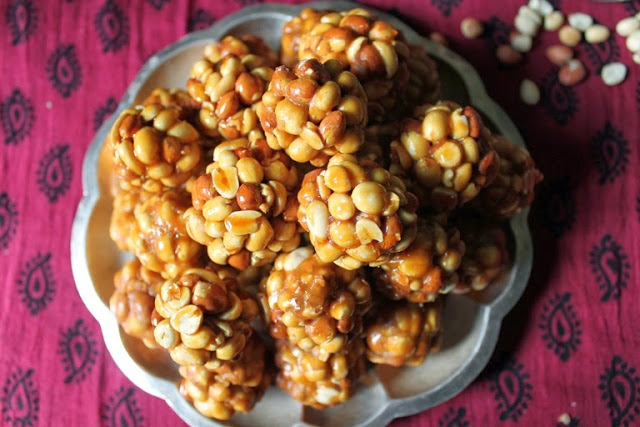 Pin
Preparation Time : 15 mins
Cooking Time : 30 mins
Makes : 20 to 25 balls


Ingredients:
Peanuts / Verkadalai - 2 cup
Jaggery / Sarkkarai / Vellam - 1 cup
Water - ½ cup
Oil or Ghee to grease hands (Some use Rice flour too)


Method:
Dry roast peanuts for 10 to 12 mins on low heat till it turns nutty. If you are using roasted peanuts, then roast it for 3 to 4 mins on a dry pan. Now remove them to a steel plate and let them cool.
Take jaggery in a thick bottom kadai. Pour over some water and mix it up. When it is melted, strain it through a sieve.
Now pour this water back into a kadai and boil it up. Let it boil on a medium flame for 10 mins or so till it gets thick and reaches hard ball stage.(Refer Notes)
At this point, turn off the stove and add peanuts, mix well.
Pour this into another bowl and allow it to cool a little.
Now grease your hand with ghee or oil. Take small portion of peanuts, form that into rounds. Arrange this in a plate.
Let it cool down. Store this in air tight container for a week.


Notes:
1)If you pour a spoonful of syrup in a plate of cold water, you will be able to grab that and form into a soft ball, This is soft ball stage, if you add peanuts at this point, then the ball will be chewy. If you reach soft ball stage watch the syrup carefully, because it will turn into hard ball very soon. After a min a or so, pour some syrup in a plate of water, now you will be able to take the syrup and form it into a hard ball. This is the perfect stage for this kadalai urundai.
2)Roasting peanuts is important. Even if it is roasted peanuts, you have to roast it for some minute to make it even more nuttier.
3)This ball will be little soft when you roll it. It will turn hard as it cools down.
4)Form balls when the mixture is still hot ot warm.
5) If the mixture cools down, then you will not be able to shape ladoos. At this point heat the mix on a low heat for few seconds. The heat will melt the jaggery a little. Now you will be able to form balls.
Pictorial:
Dry roast peanuts..I forgot to take pics,
so this is from another post
Pour the jaggery syrup in a kadai
look at the jaggery syrup trasformation
Pour some syrup in a plate of water
You could grab and make it into a hard ball
(read recipe method)
Add peanuts into the syrup
transfer that to another bowl
Technorati Tags:
kadalai urundai,
verkadalai urundai ,
karthigaideepamrecipes,
diwali recipes ,
festival recipes,
indian sweet recipes,
peanut balls,
kadalai mithai,
kadalai mittai ,
krishna jayanthy recipes
kids healthy recipe