Tamarind rice recipe with step by step pictures. Tangy and spicy puliyogare recipe which is one of the most popular recipe around the world. This recipe has two version of puliyogare. I have shared temple or kovil puliyodharai recipe in this. Make sure you check out the pulikachal recipe or tamarind rice mix recipe which is a fridge staple for making quick lunch.
Thinking of puliyogare reminds me about my friend eshu, I have mentioned about her in my lemon rice recipe post. She loves lemon rice, puliyogare a lot, she can eat it all day. So I dedicate this recipe to her. I know she will like this a lot. Now talking about puliyogare. It is my favorite too.
About Tamarind Rice
Amma makes it often for lunch and what she makes to accompany this is some lovely potato roast and papad. You can check here for the recipe of my favorite potato roast. I have given step by step recipe for puliyogare kulambu which you can store it fridge for a couple of weeks.
I think you can store more than that, but in our house it won't last that long. If you have pulikaichal in your fridge then making puliyogare is a breeze. This can be put in lunch box for kids they will surely love it.
Make sure you check my Andhra style pulihora recipe too.
Pulikachal Recipe 
Tamarind Rice mix or pulikachal recipe is a must have mixes in your fridge if you are a busy working mom. This comes in handy on those lazy days. It is not only easy to make but it is preservatives free and taste better than store bought ones.
Similar Recipes,
Indian Curry Rice Recipe
Homemade Red Pepper Powder
Bombay Sandwich Masala
Sambar Powder
Rasam Powder
Bachelor Sambar Powder
Biryani Masala Powder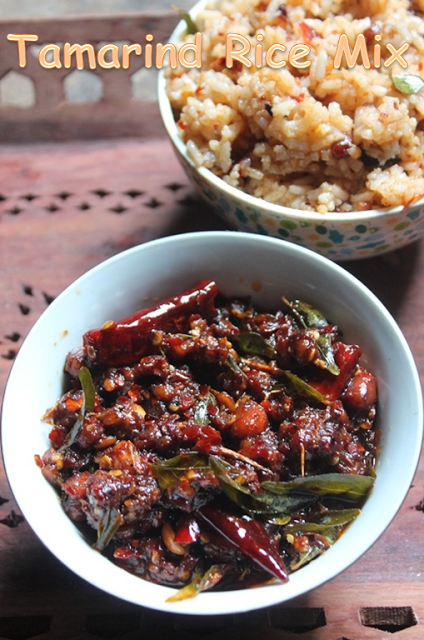 Pin
Ingredients for Puliyogare
Tamarind
Mustard Seeds / Kaduku 
Urad dal / Ulundu
Channa Dal / Kadalai Paruppu
Fenugreek Seeds
Peanuts / Verkadalai 
Oil (try to use Indian gingelly oil, Nala Ennai)
Dry Red Chilli 
Rice
Video for Tamarind Rice (Puliyogare Recipe)
How to Make Kovil Puliyodharai Recipe
Step 1:
Dissolve tamarind in 1 cup of water and squeeze of the pulp and set aside.
Step 2:
Make Pulikaichal. Heat ½ cup of oil. Add mustard, peanuts, channa dal, urad dal, fenugreek seeds and mix well. Fry this on a low heat for 2 mins. Add dry red chilli and mix well. Fry for a min. Pour in the tamarind water and mix well. Add salt and bring it to a boil. Boil it for 10 mins and then Simmer it till oil separates..It will take around 10 mins. Switch off the flame and cool it down.
Step 3: 
Now make the spice powder. Take 3 red chilli and ½ tsp fo fenugreek in a dry pan and roast it till you get nice aroma. Now cool it down and grind into a fine powder.
Step 4:
Mixing Tamarind Rice. Now make puliyogare. take rice and drizzle it with gingelly oil. Add as much puliyogare gravy you like and a tsp or two of spice powder and mix well. Serve hot or put in lunch box.
Puliyodharai Recipe step by step pictures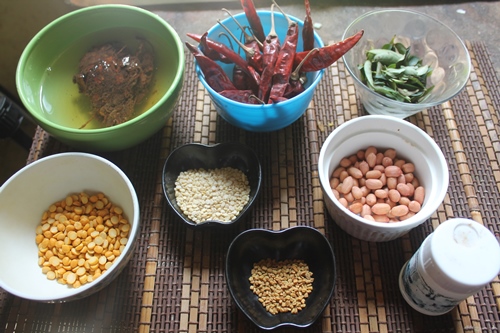 Take all your ingredients
Tips & Tricks
Adjust the spice level as per you taste.
If you are storing this in fridge, add the prepared spice powder in the gravy and mix well. You can store this in an air tight bottle in fridge.
Tamarind rice taste depends mostly on fenugreek and chillies. So make sure you don't skip the roasting of the spices.
Peanuts add nice crunch to the dish so add generous amount in tamarind rice.
Tamarind rice stays good for many hours. it is one of the best travel friendly recipe.
If you have any questions not covered in this post and if you need help, leave me a comment or mail me @[email protected] and I'll help as soon as I can.
Follow me on Instagram, Facebook,Pinterest ,Youtube and Twitter for more Yummy Tummy inspiration.
IF YOU MAKE THIS RECIPE OR ANYTHING FROM YUMMY TUMMY, MAKE SURE TO POST IT AND TAG ME SO I CAN SEE ALL OF YOUR CREATIONS!! #YUMMYTUMMYAARTHI AND @YUMMYTUMMYAARTHI ON INSTAGRAM!