How to Make S'Mores Indoor with Step by Step Pictures. Learn How to Make S'Mores on Stove Top. Delicious dessert made using graham crackers, marshmallows and chocolate.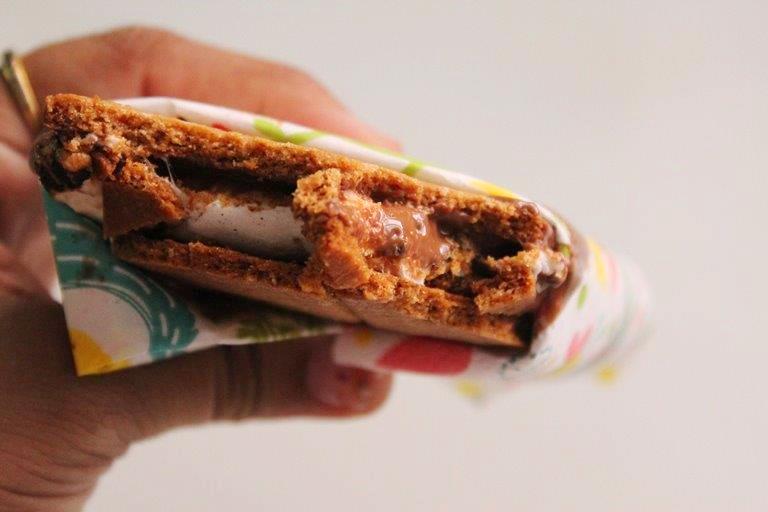 Pin
S'Mores is usually made out door when people gather for a camp fire or a get together like a barbeque party. But this recipe is made indoor on regular stove top.
About S'Mores Recipes
A s'more is a popular campfire treat in the United States and Canada that consists of one or more toasted marshmallows and a layer of chocolate sandwiched between two graham cracker pieces.
Homemade Graham Crackers Recipe.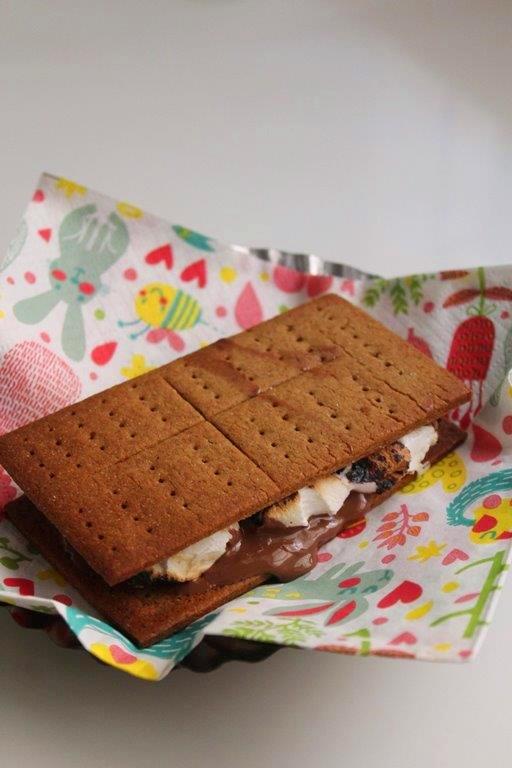 Pin
Hope you will give this a try and let me know how it turns out for you.
Ingredients for S'Mores 
Graham Crackers 
A graham cracker is a sweet-flavored cracker made with graham flour that originated in the United States in the mid-nineteenth century, with commercialization beginning around 1880. It is consumed as a snack, usually flavoured with honey or cinnamon, and is used as an ingredient in some foods.
Marshmallow 
Marshmallow is a type of confectionery made from sugar, water, and gelatin that has been whipped to a solid-but-soft consistency. It is typically moulded into shapes and coated with corn starch before being used as a filling in baking.
Similar Recipes,
Marshmallow Mug Cake
Cornflakes Marshmallow Wreath
Chocolate Mousse with Marshmallows
Sticky Marshmallow Cornflakes Bars
Rocky Road Crunchy Bars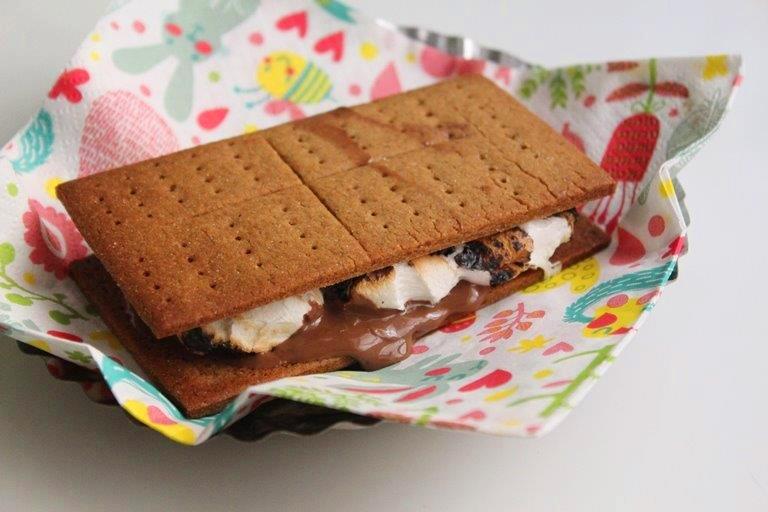 Pin
If you have any questions not covered in this post and if you need help, leave me a comment or mail me @[email protected] and I'll help as soon as I can.
Follow me on Instagram, Facebook,Pinterest ,Youtube and Twitter for more Yummy Tummy inspiration.
IF YOU MAKE THIS RECIPE OR ANYTHING FROM YUMMY TUMMY, MAKE SURE TO POST IT AND TAG ME SO I CAN SEE ALL OF YOUR CREATIONS!! #YUMMYTUMMYAARTHI AND @YUMMYTUMMYAARTHI ON INSTAGRAM!
📖 Recipe Card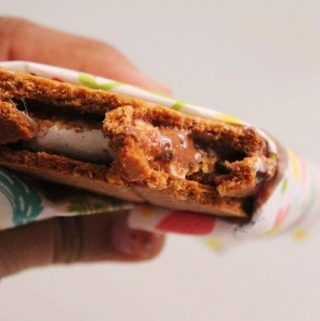 S'mores Recipe | How to Make S'Mores Easy Method
How to Make S'Mores Indoor with Step by Step Pictures. Learn How to Make S'Mores on Stove Top. Delicious dessert made using graham crackers, marshmallows and chocolate.
Print
Pin
Rate
Instructions
Take graham crackers and place chocolate bar on them. You can pop them in microwave to melt for 10 seconds. This step is optional.

Skewer marshmallow in open flame till it is charred.

Now place this on other side of graham cracker and remove the skewer.

Sandwich them together.

Serve.
Nutrition
Serving:
1
servings
|
Calories:
336
kcal
|
Carbohydrates:
50
g
|
Protein:
4
g
|
Fat:
14
g
|
Saturated Fat:
7
g
|
Polyunsaturated Fat:
0.5
g
|
Monounsaturated Fat:
4
g
|
Trans Fat:
0.01
g
|
Cholesterol:
1
mg
|
Sodium:
206
mg
|
Potassium:
231
mg
|
Fiber:
4
g
|
Sugar:
25
g
|
Vitamin A:
10
IU
|
Calcium:
41
mg
|
Iron:
4
mg
Join us on Facebook
Follow us on Facebook
Share by Email
Share on Facebook
S'mores Recipe Step by step pictures
1)Take all ingredients for s'mores.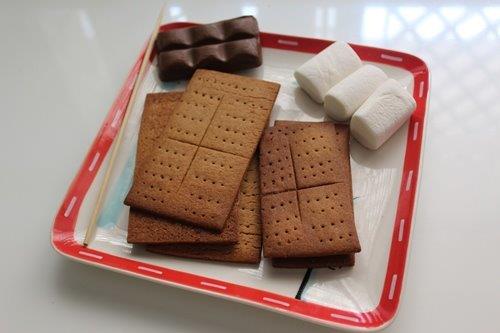 Pin
2)I used big size marshmallows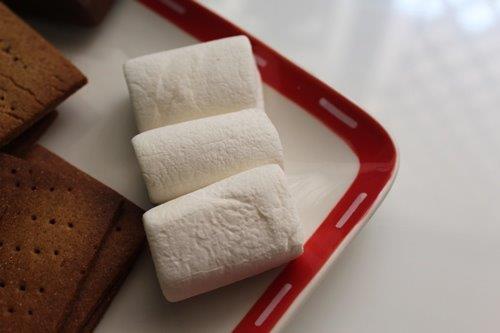 Pin
3)I used my homemade graham crackers.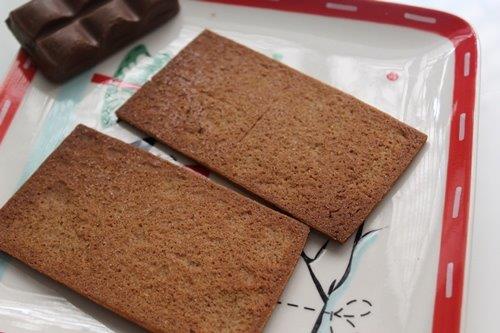 Pin
4)Place chocolate bar on oneside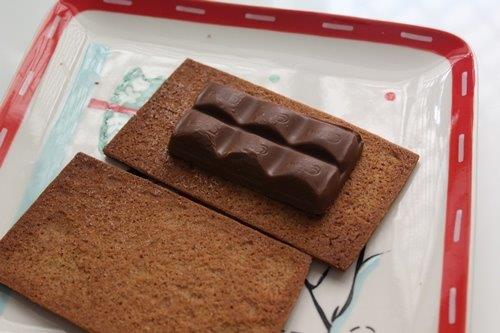 Pin
4)I like to pop them in microwave for 10 seconds. This step is optional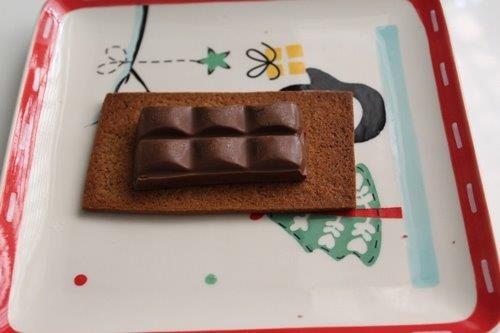 Pin
5)don't let it melt too much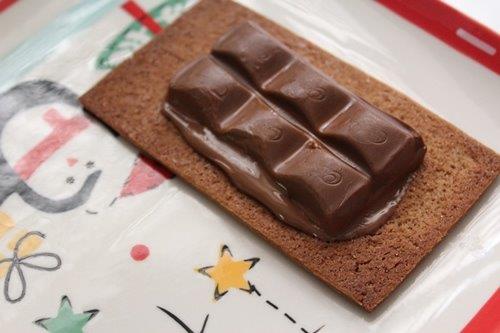 Pin
6)Take skewers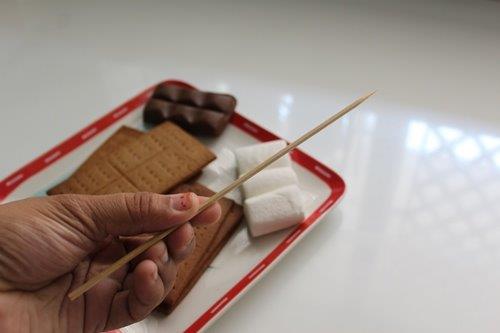 Pin
7)Take marshmallows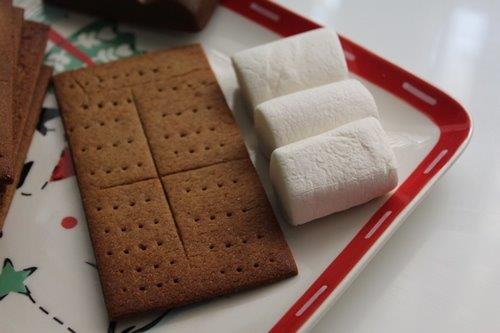 Pin
8)Skewer them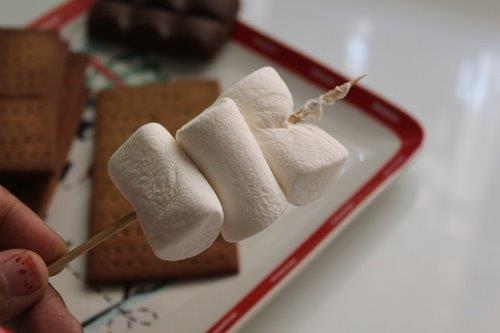 Pin
9)Toast them in open flame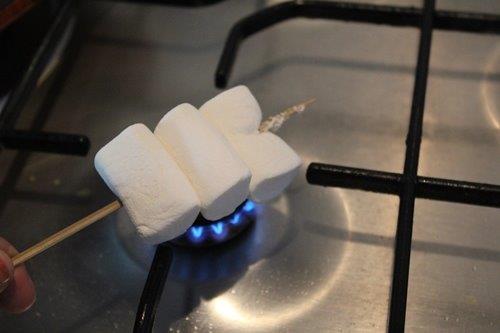 Pin
10)Cook them for few mins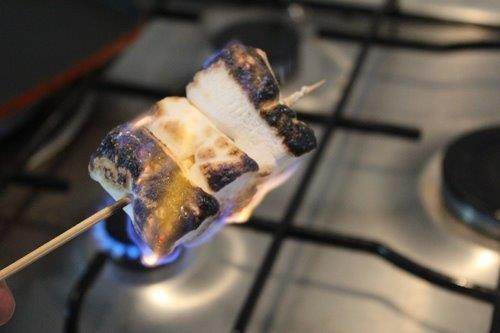 Pin
11)Remove them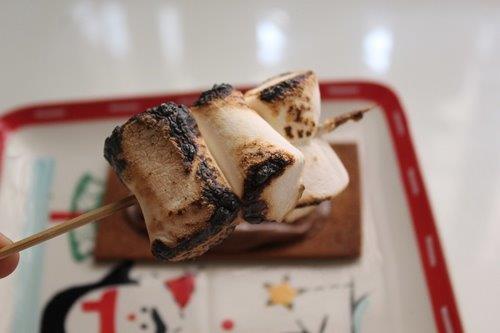 Pin
12)Place them on graham crackers other side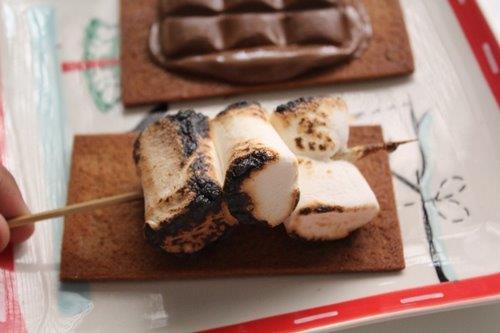 Pin
13)Remove the skewers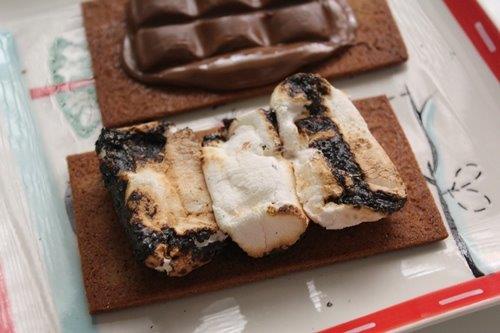 Pin
14)cover it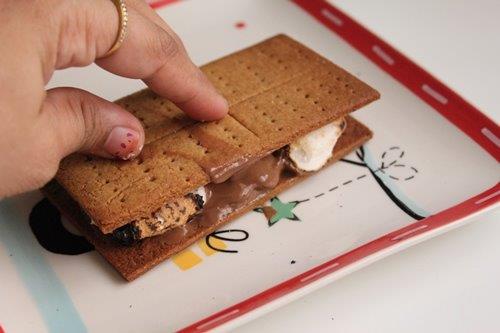 Pin
15)Cover and serve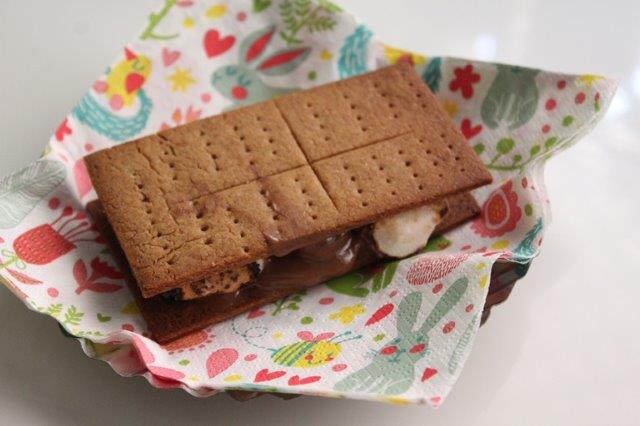 Pin
Frequently Asked Questions
Are s'mores and marshmallows the same thing?
Although many different types of s'mores have evolved over time, the basic s'more is a sandwich of roasted marshmallows and chocolate between graham crackers. S'mores are typically made over a campfire. Marshmallows are roasted over an open flame until they become gooey.
Who invented the Smore?
Nobody knows who invented the s'more. The first published recipe for "some mores" was in a 1927 publication called Tramping and Trailing with the Girl Scouts, and it is credited to Loretta Scott Crew, who made them for Girl Scouts by the campfire.