White Chocolate Cocoa Cookies Recipe with step by step pictures.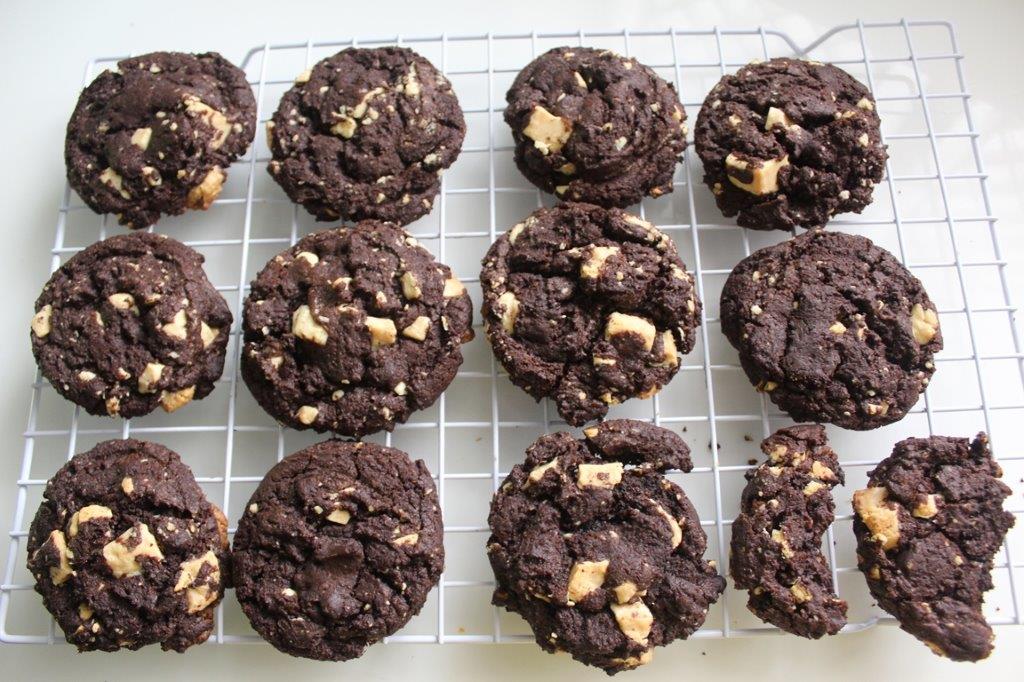 Delicious Cocoa white chocolate cookies turned out super yummy and tasted amazing. This cookies was so soft and chewy and turned out to be a perfect treat.
You can chill the batter in fridge before baking so the cookies dont spread a lot. But i used it right away and also baked the cookies in the bottom rack of the oven which made the cookies spread.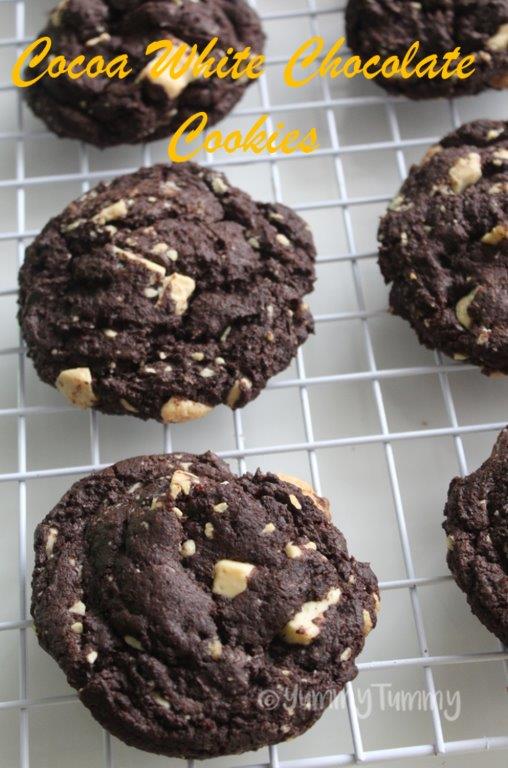 Over these many years of baking, i can give you few points for you to get the perfect cookie recipe.
1)Dont skip any ingredients always use the proper measure.
2)Use all ingredients in room temperature.
3)Dont over mix the batter
4)Use best quality chocolate which melts beautifully.
5)Dont over bake the cookies, the cookies will look soft when they are taken from the oven, but as they cool they will harden.
6)bake in the bottom rack so cookies spread.
Here is the collection of chocolate chip cookies recipes for you.
3)Cadburys chocolate chip cookies
4)Whole wheat choco chip cookies
5)Eggless Chewy choco chip cookies
7)Low Fat Chocolate chip cookies
8)Double chocolate chips cookies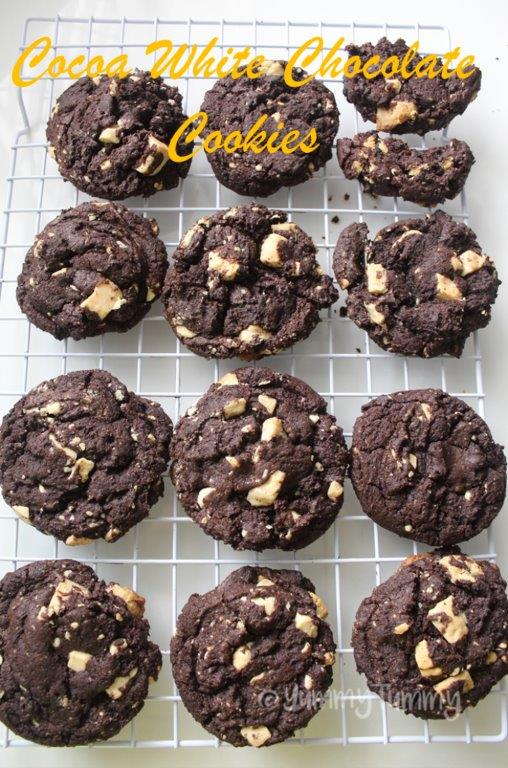 Hope you will give this a try and let me know how it turns out for you.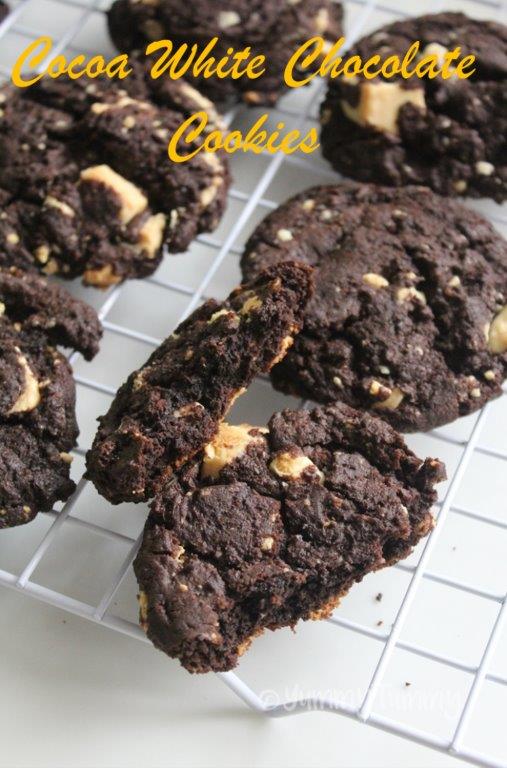 White Chocolate Cocoa Cookies Recipe
Recipe Source :
Prettysimplesweet.com
White Chocolate Cocoa Cookies is a chewy chocolate cookies which taste so delicious.
Ingredients
All Purpose Flour / Maida - 1 cup (120 grams)
Cocoa Powder - ½ cup (50 grams)
Baking Soda / Cooking Soda - ½ tsp
Salt - ¼ tsp
Unsalted Butter - ½ cup / 100 grams
Brown Sugar - ½ cup (100 grams)
Sugar - ½ cup (100 grams)
Egg - 1
Vanilla Extract - 1 tsp
White Chocolate - 1 cup chopped into bite sizes
)MY 1 CUP MEASURES 240 ML)
Instructions
Preheat oven to 350 degree F / 180 degree C.
Take butter, sugar and brown sugar and vanilla. Beat till creamy.
Add in egg mix well.
Add in baking soda, salt and mix well.
Add in cocoa, flour and mix well.
Add in white chocolate chunks and mix well.
Scoop using icecream scoop and place it in a baking sheet.
Place it in the bottom shelf of oven.
Bake for 12 to 14 mins.
Remove and cool completely.
Serve.
Pictorial:
1)Take butter in a bowl.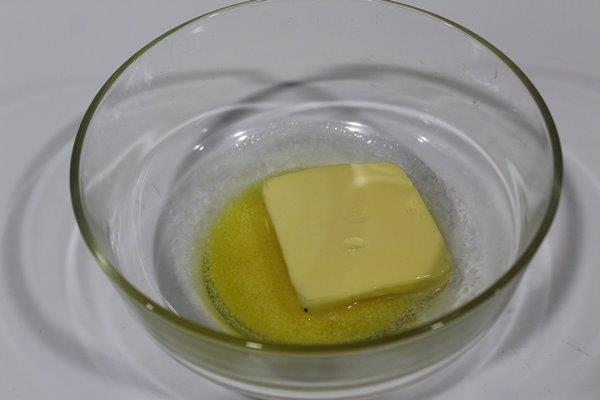 2)Take brown sugar and sugar in a bowl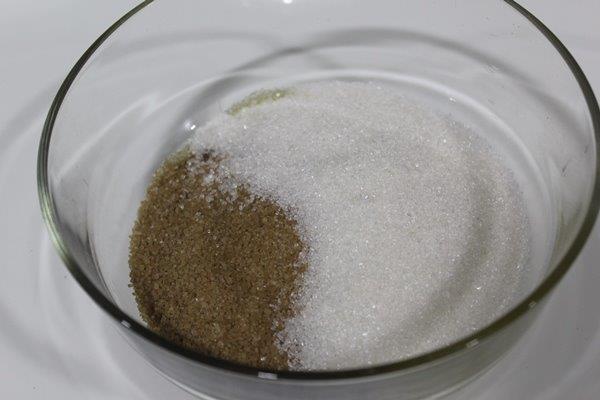 3)Add in vanilla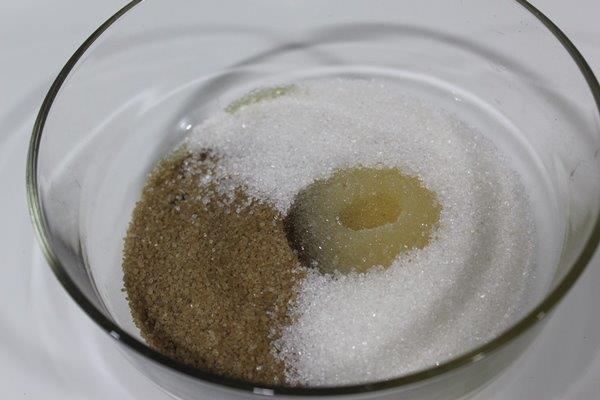 4)Mix well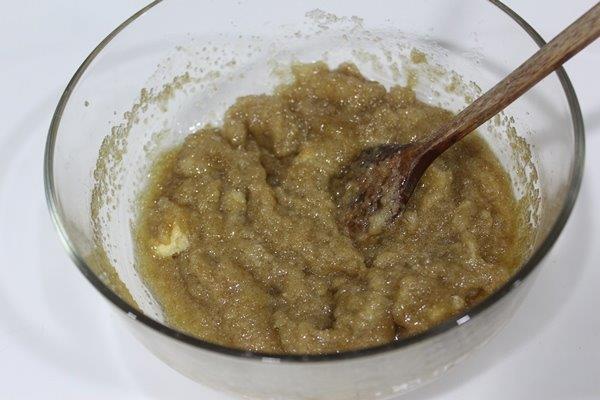 5)Add in egg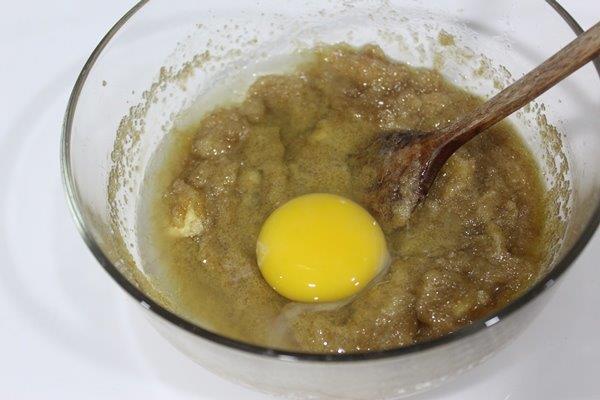 6)Mix well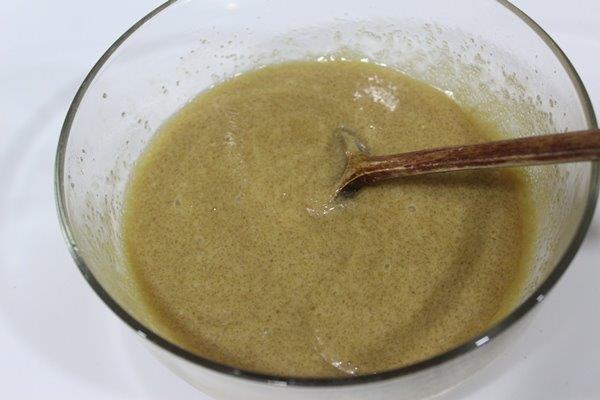 7)Add in BAKING SODA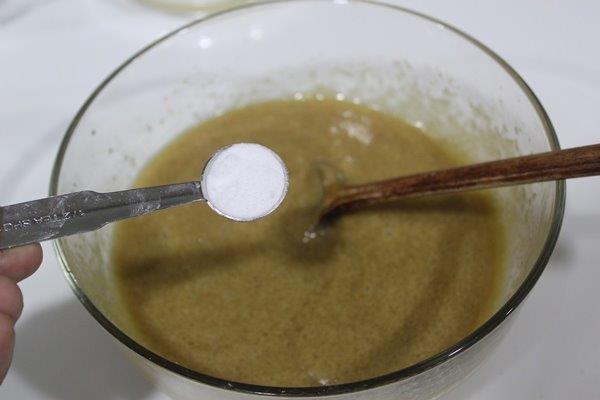 8)Add in salt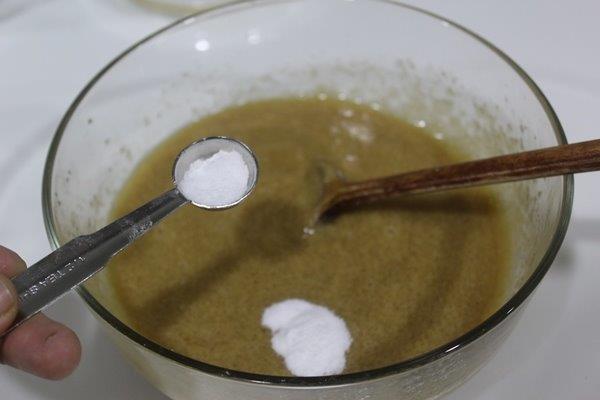 9)Add in cocoa powder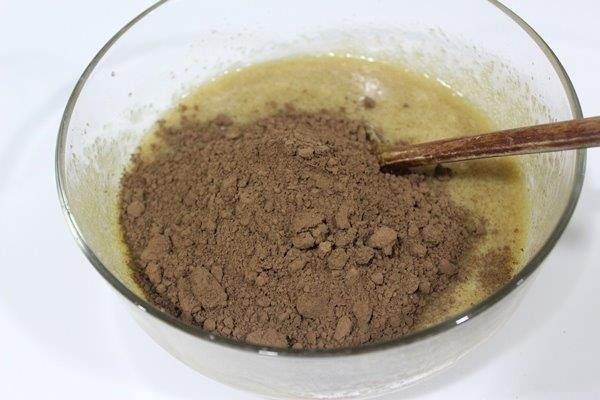 10)Add in flour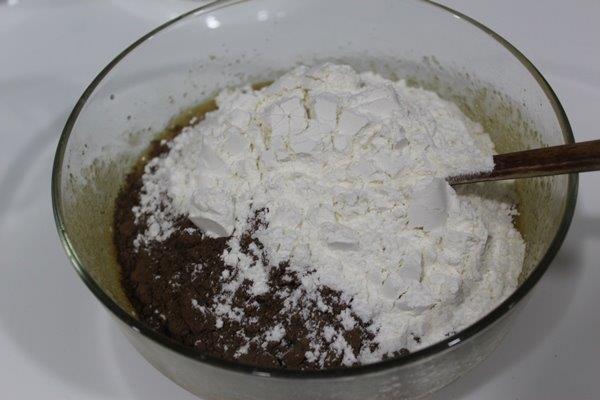 11)mix well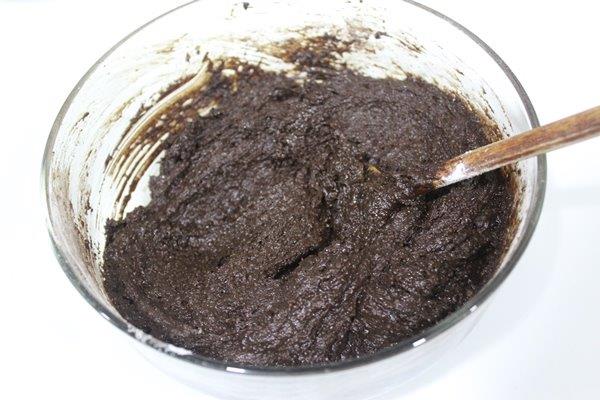 12)Add in chocolate chunks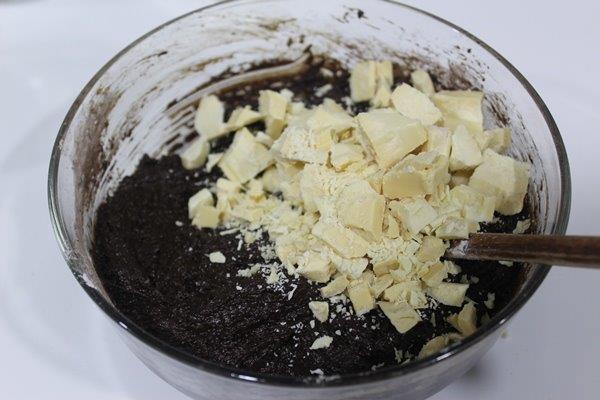 13)Scoop batter in sheet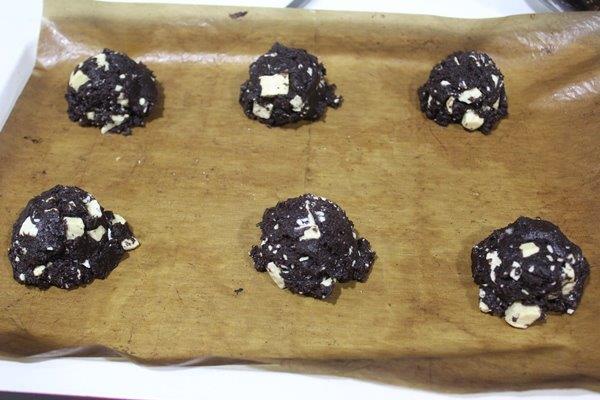 14)Bake in the bottom rack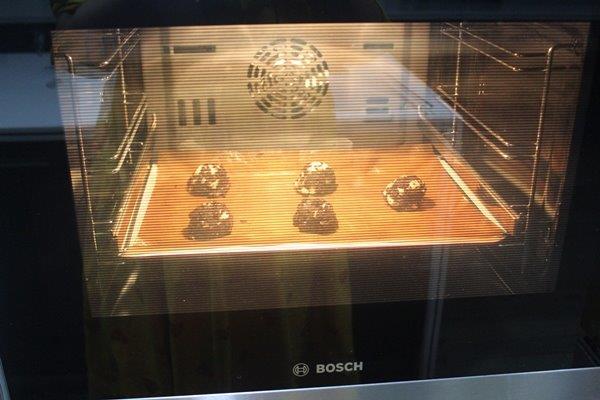 15)Bake till done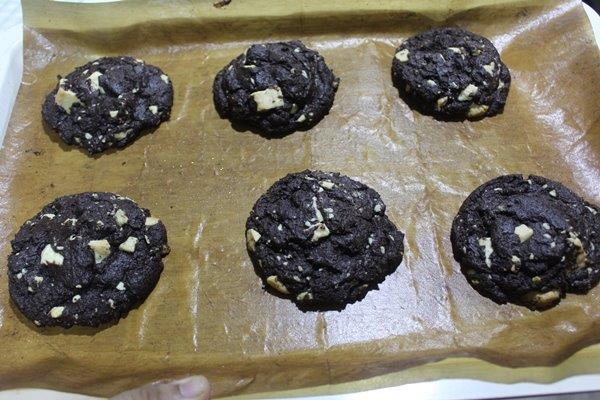 16)Serve