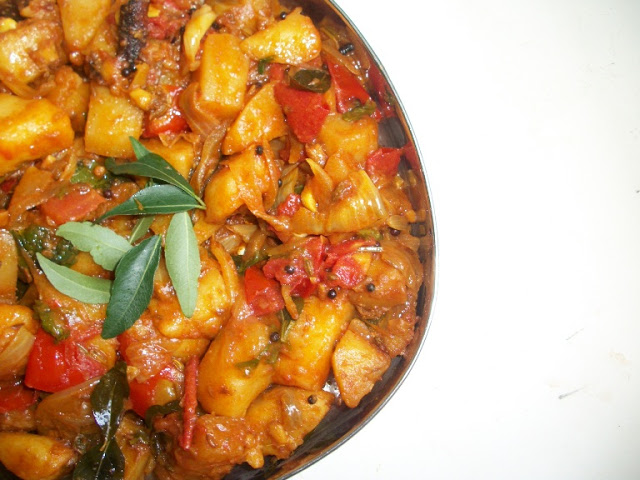 I am a potato girl…I could not live without potatoes..I want it on my plate atleast twice a week…
Mostly it will some kind of poriyal which is just sauted potatoes with some indian spices…
Amma makes potato poriyal by just cooking potatoes in chilli powder and salt.She will cook it till the potatoes is little crispy..The trick is she starts making poriyal with a little oil..At the end of the dish she will add couple of good tblspn of oil and increase the heat to a high..This makes the potato nice and crispy….This is the common way for us to eat potato..
Todays dish is a special way to eat this dazzling universal potato…It can be called as spiced up potatoes…The spice level will be little high..Thats what takes this dish to the next level..
So here you go for the recipe..
Ingrediants:
Potato-3 large cubed and parboiled
Onion-1 sliced
Tomato-2 chopped
Cumin seeds / Jeerakam-1 tsp
Mustard seeds / Kaduku-1 tsp
Fennel seeds / Sombu / Perujeerakam-2 tsp
Cinnamon / Pattao-1 inch piece
Ginger-1 tblspn chopped finely
Garlic- 1 tblspn chopped finely
Green chilli-1 chopped finely
Chilli powder -1 tsp
Coriander powder / Malli podi-1 tblspn
Turmeric powder / Manjal podi-1 tsp
Curry leaves-1 spring
Coriander leaves / Cilantro-for garnishing
Salt to taste
Oil-3 tblspn
Method:
Heat some water in a saucepan and cook the cubed potatoes till half cooked..drain and set aside.
Heat oil in a kadai and crackle some fennel seeds and cinnamon..
Add in cumin seeds and mustard seeds…Add in ginger,garlic and green chilli and mix well..
Add in turmeric,chilli and coriander powder..Cook this for 30 sec..
Add in onions and cook for 3 mins..Add in cooked potatoes and mix well..So that each potato is coated with the masala..
Add in salt and a ½ cup of water..Cover and cook on a low flame for 10 mins..
Add in tomatoes and mix well…Cook this for 5 mins..
Add in curry leaves and cilantro…Toss well to coat..
Serve hot with rice and any curry..
Pictorial: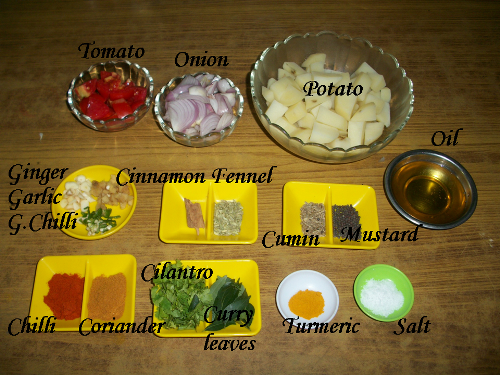 Take all your ingrediants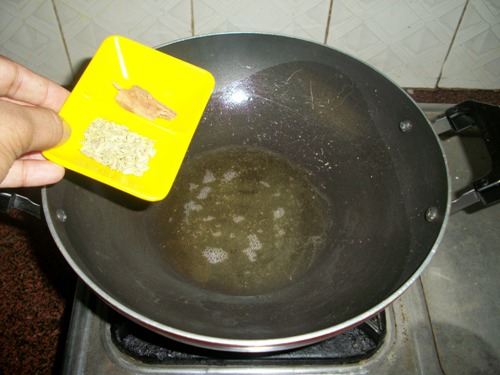 Crackle cinnamon and fennel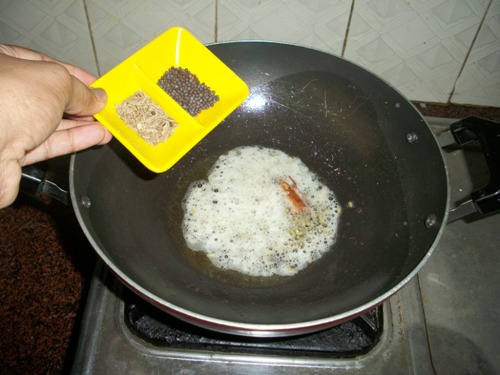 add in mustard and cumin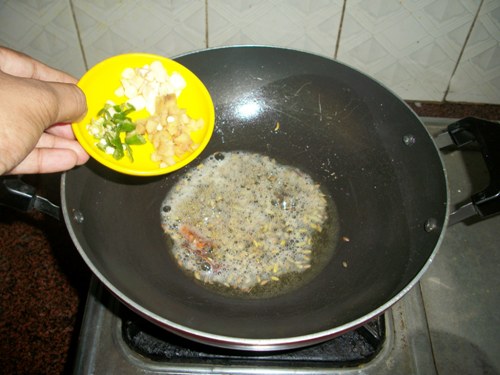 in goes ginger,garlic and chillies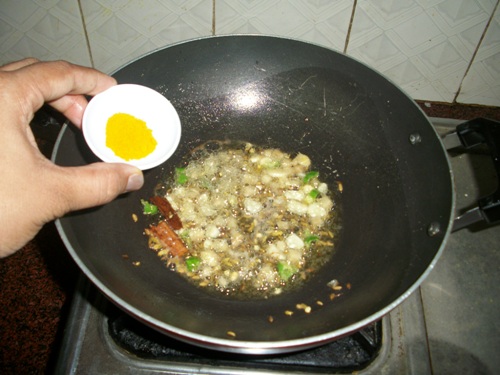 now goes the spice powders…First turmeric powder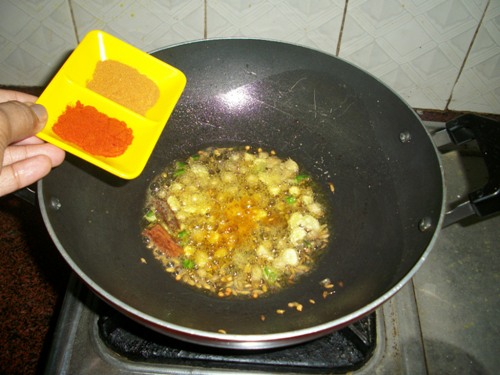 now chilli and coriander powder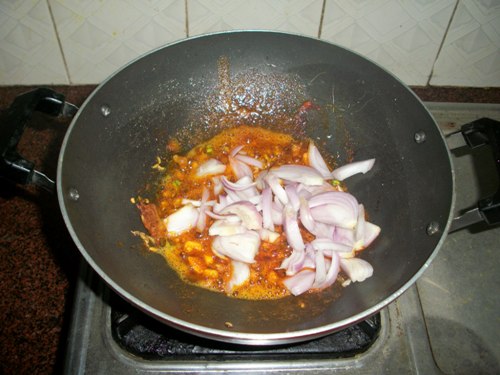 add in onions..Cook for few mins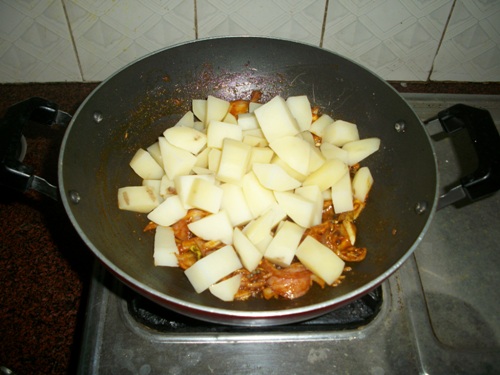 In goes half cooked potatoes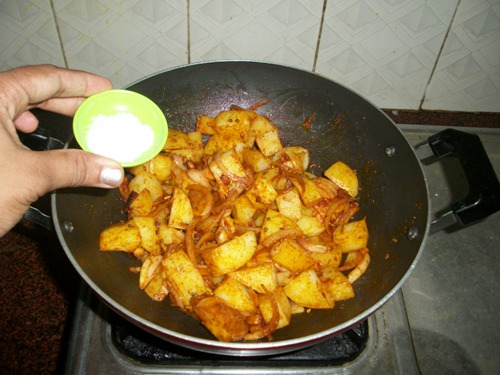 sprinkle in salt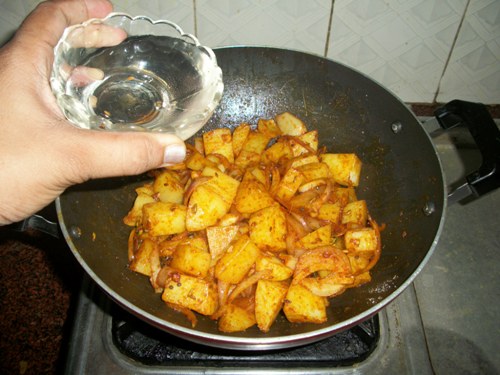 and a splash of water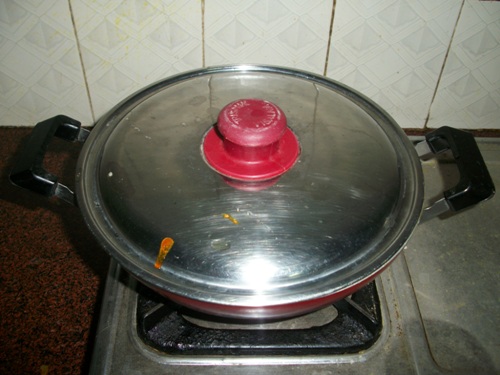 cover and cook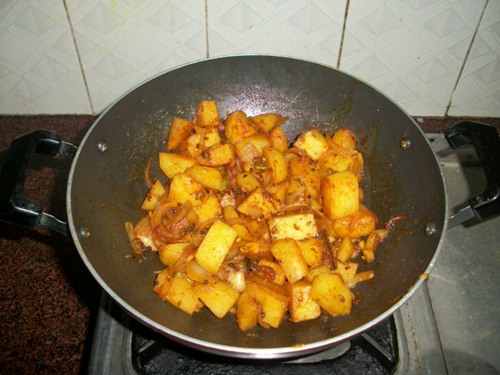 till the potatoes are done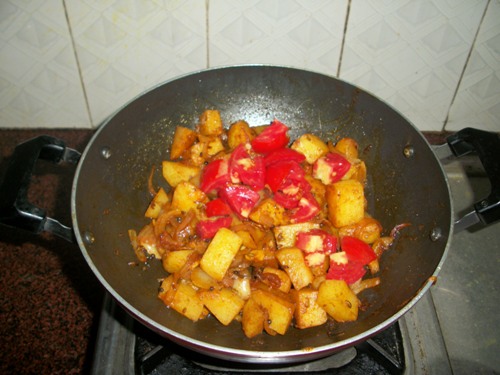 now add in tomatoes and mix well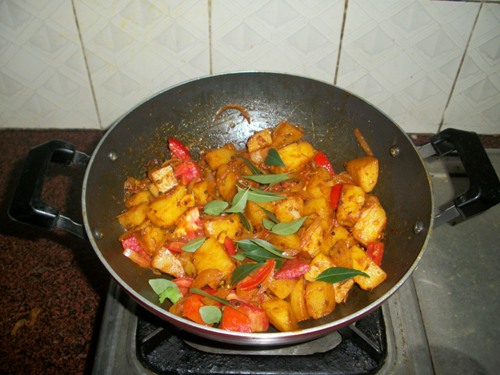 Throw in some curry leaves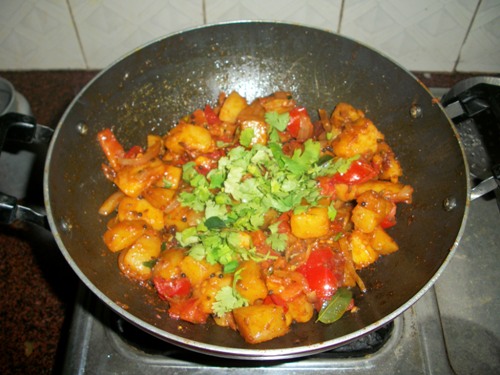 and cilantro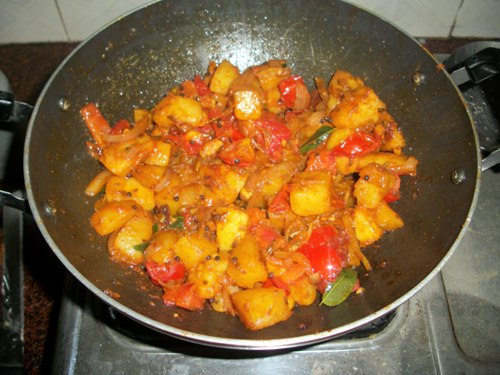 mix well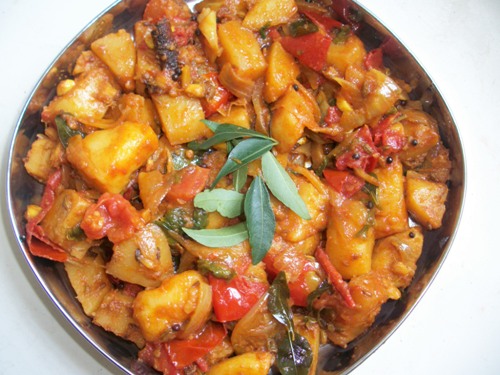 Enjoy with rice…
I am Aarthi, a happy homemaker, mom of two beautiful girls, married to my high school sweet heart. My goal is to teach people that cooking can be way more easier and joyful than they think. Yummy Tummy features recipes all over the world with step wise pictures which surely shows the ease of cooking.