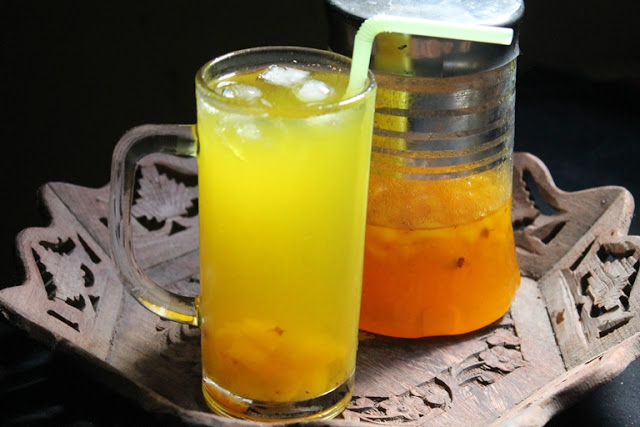 Squash it just concentrated fruit juices. They are readily available in shops, you just need to add some water to have it..During my shopping, i come across lots of squash bottle but i have never picked one. It is because they are so simple to make at home, so why do you want to get it from stores..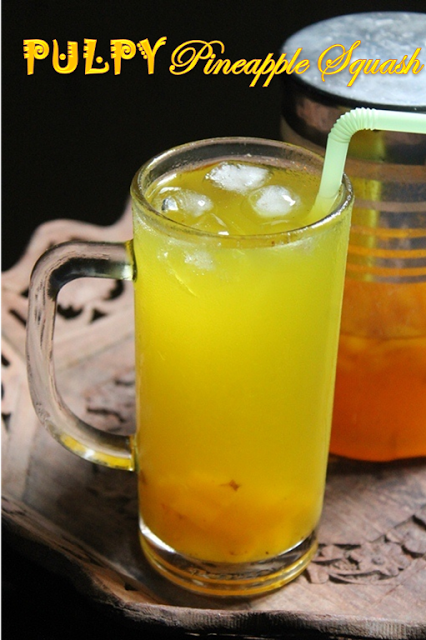 Normally i make lemonsquash, pineapple squash at home often, but i dont add citric acid in them because i make a small batch of them. But this time i wanted to make it
with citric acid because i just wanted a version of that in my blog. I made a batch of
mint squash
too and it was spot on..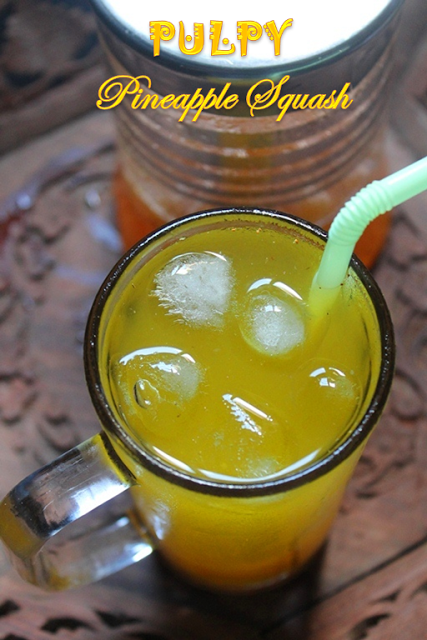 Hope you will give this a try and let me know how it turns out for you..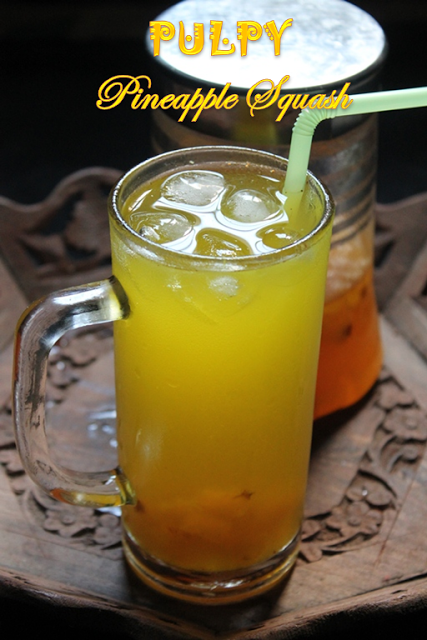 Preparation Time : 10 mins
Cooking Time : 25 to 30 mins
Makes : 1 liter of squash


Ingredients:
Pineapples – 4 cup pureed and strained
Pineapple – 1 cup chopped into small piece
Sugar – 3 cup
Citric Acid – 1/2 tsp (use lemon juice)
Water – as needed
Pineapple Essence (Optional) few drops
Method:
Take pineapple puree, sugar, pineapple chunks in a sauce pan and boil it for 15 mins till it gets thick.
Now add in pineapple essence and citric acid mix.
Cool it and store it in a bottle.

When serving, pour little syrup in a cup and top with icecold water and icecubes. Enjoy.

HERE IS A QUICK VIDEO:





Pictorial: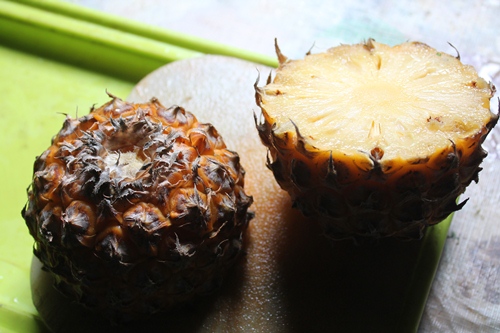 Cut a pineapple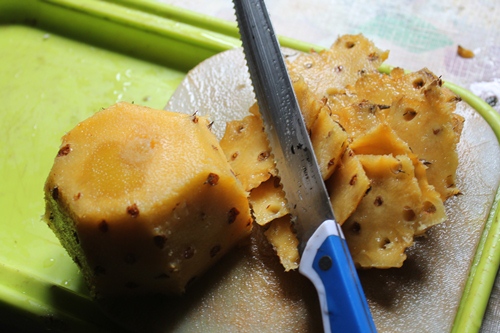 slice off the skin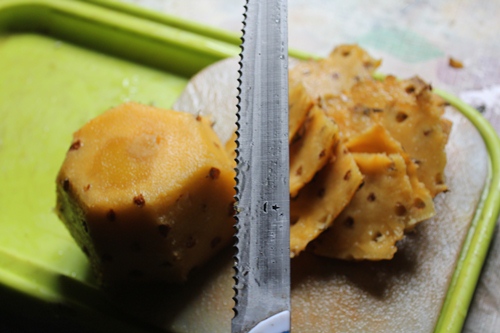 I use a serrated knife for doing that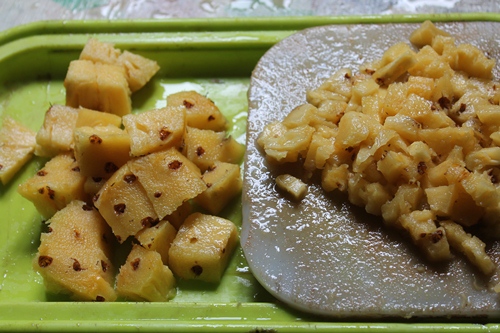 i chopped 1/4 of the pineapple into small pieces and
others into big chunks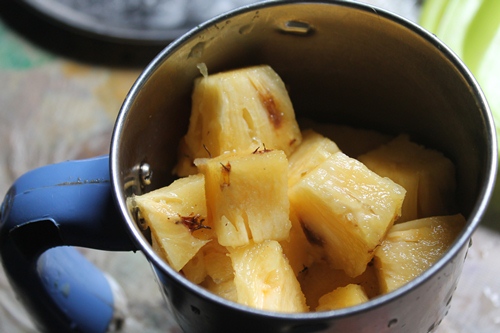 take chopped pineapples in a blender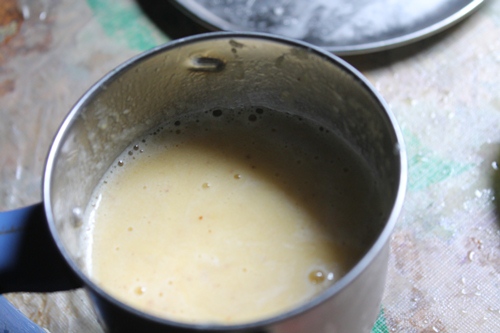 puree till smooth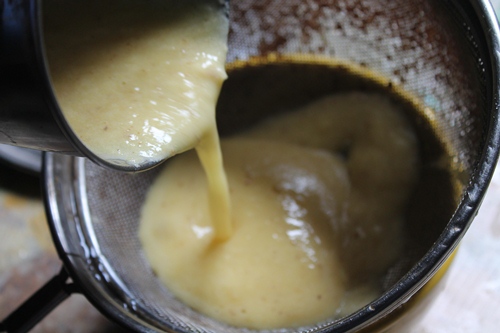 strain the juice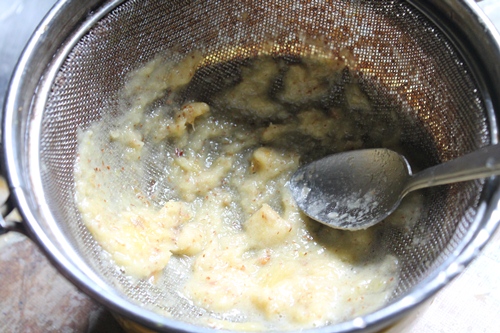 press to remove as much juice as possible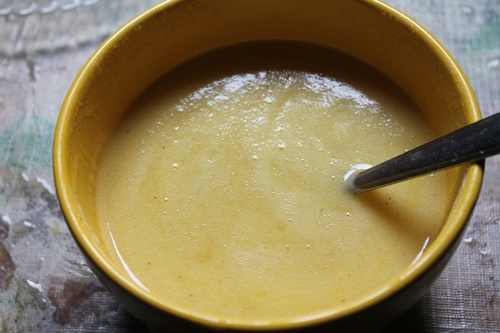 Now the juice is done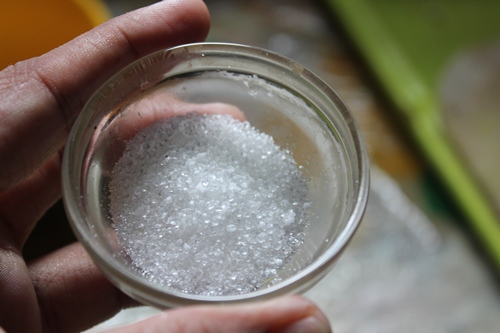 take citric acid in a small bowl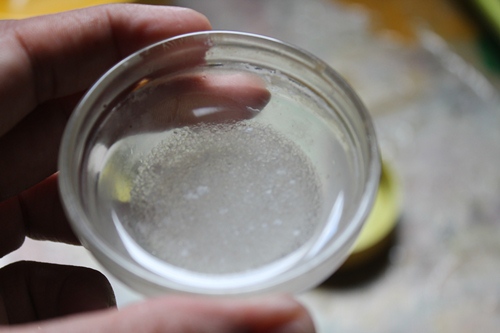 Add in little water to melt it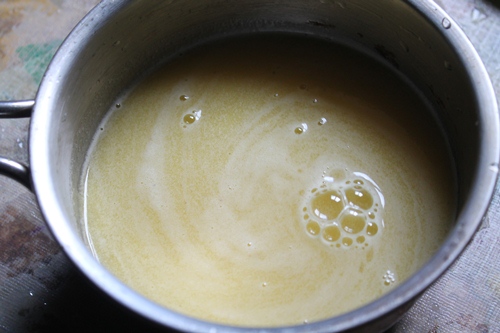 take the juice in a sauce pan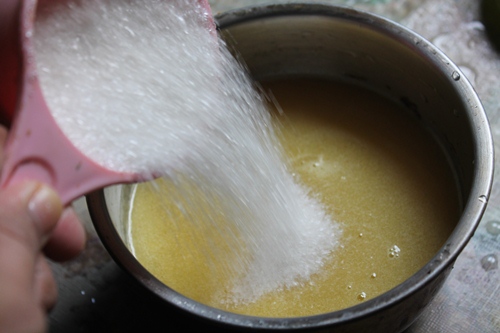 add in sugar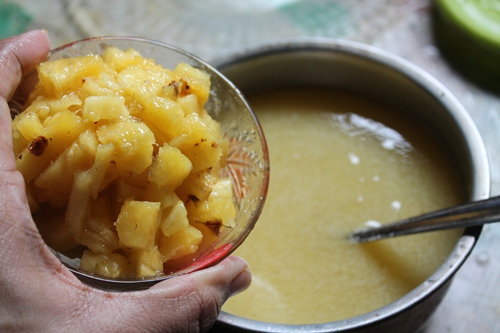 add in pineapple chunks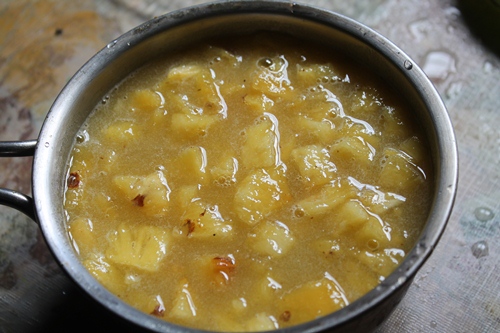 add it in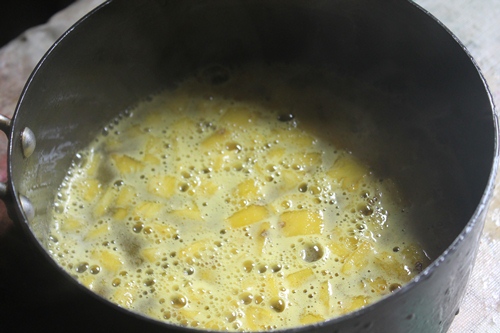 boil it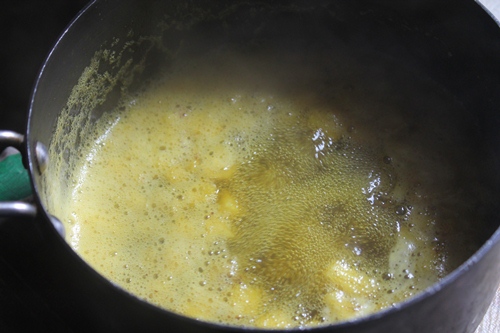 simmer for few mins till it gets thick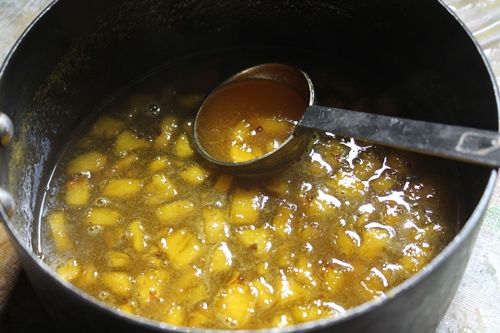 Now it is done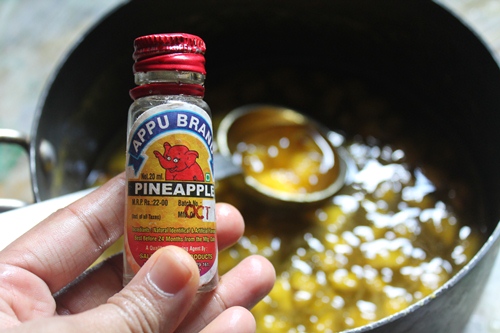 add in pineapple essence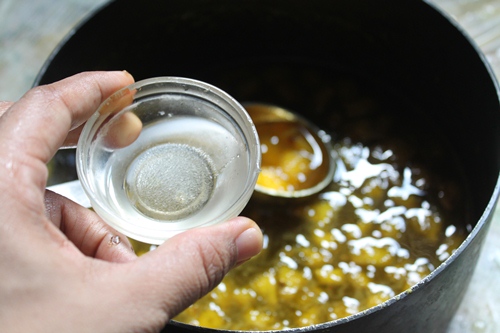 add in the citric acid mix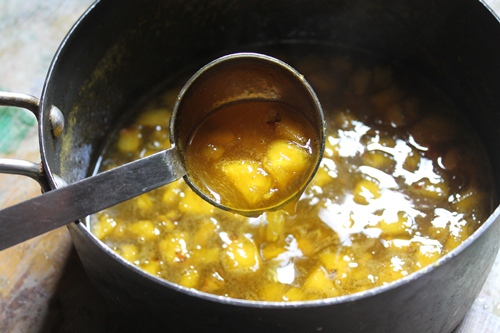 Mix well..look how thick and syrupy it looks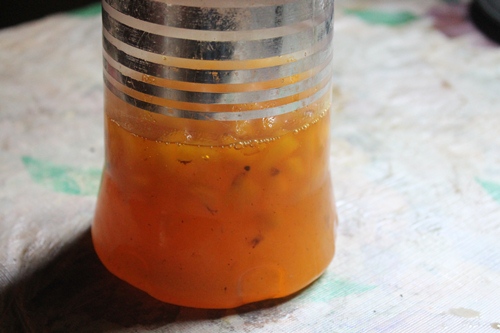 Cool it and store it in a bottle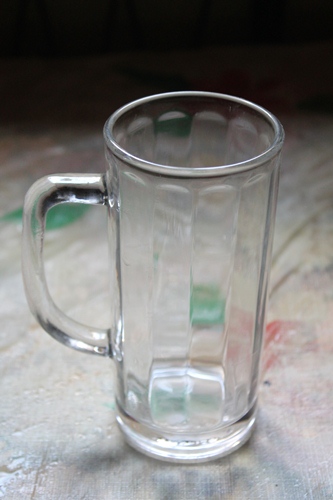 for serving..take a tall glass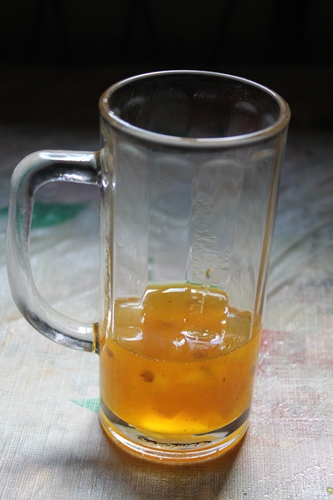 fill little syrup over it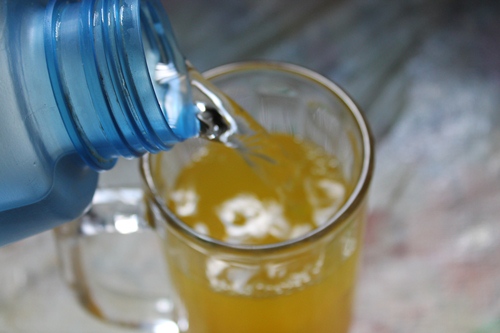 cover with cold water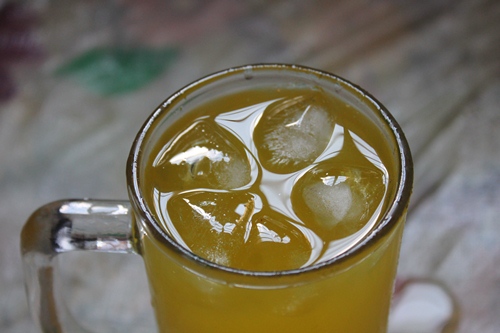 drop some icecubes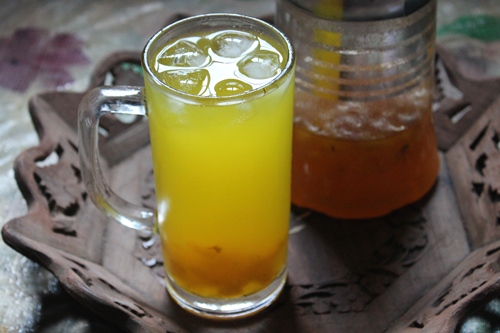 Serve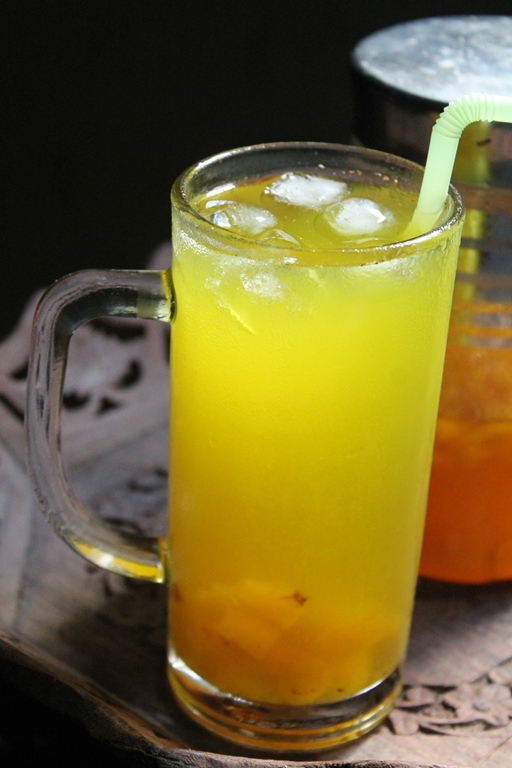 I am Aarthi, a happy homemaker, mom of two beautiful girls, married to my high school sweet heart. My goal is to teach people that cooking can be way more easier and joyful than they think. Yummy Tummy features recipes all over the world with step wise pictures which surely shows the ease of cooking.