For Eggless Barbie Cake, Refer this recipe and double the recipe.
I still can't believe that maha is 2 already. Its been fantastic being her mom and being with her the whole time. I love to see her growing up, but sometimes it feels really hard to see her growing up..I know every mom has that feeling. For her first birthday i made a 6 layer rainbow cake. I was thinking what to make for her second birthday, finally i decided to make her favourite doll cake which is barbie. I just love the way how she says barbie which her toddler speech!
Similar Recipes,
6 Layer Rainbow Cake
Eggless Chocolate Cake
Devils Cake
Triple Chocolate Cake
Chocolate Chip Pound Cake
Rum Chocolate Cake
Chocolate Mousse Recipe
Checkerboard Cake

I really enjoyed hosting the party and maha enjoyed the cake as well. I somehow managed to take pictures of the cake, so here i am sharing it..Hope you will love it..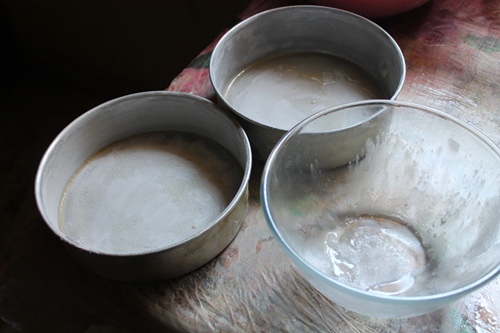 You need two cake pans and one oven safe glass bowl..
Make sure all the circumference of the pans are same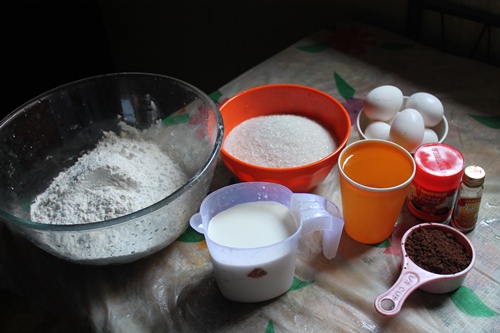 First lets make the cake..You dont need cocoa powder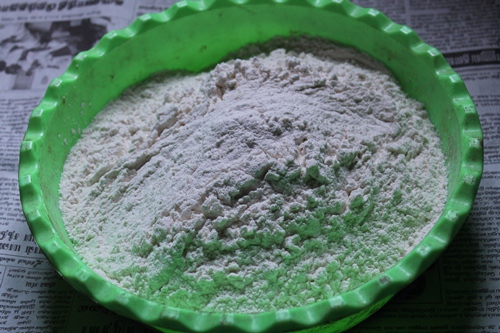 Take flour in a sifter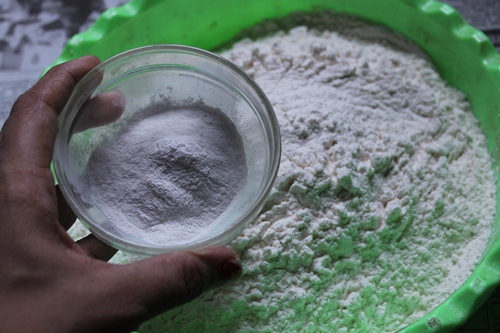 add in baking powder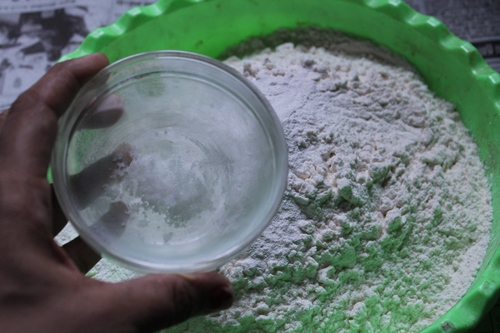 add in some salt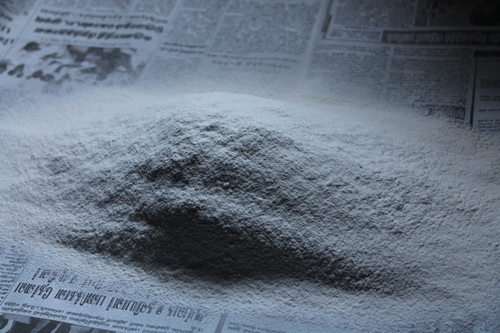 sieve and set aside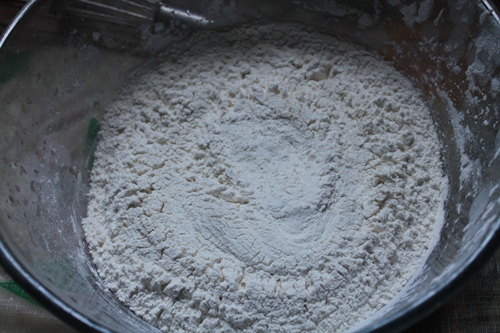 take it in a bowl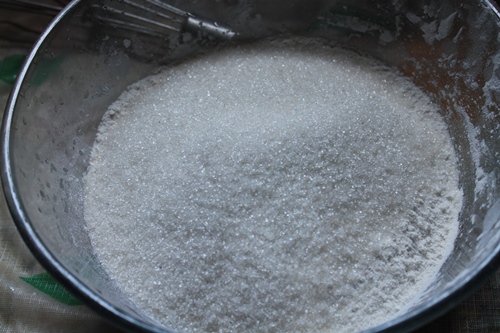 add in sugar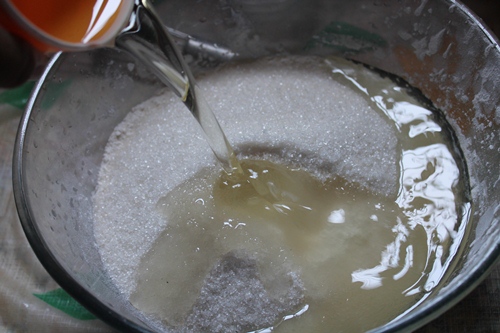 add in oil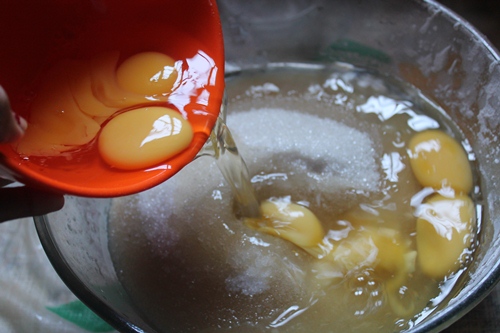 add in eggs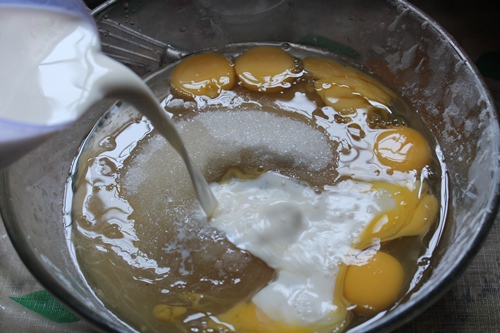 add in milk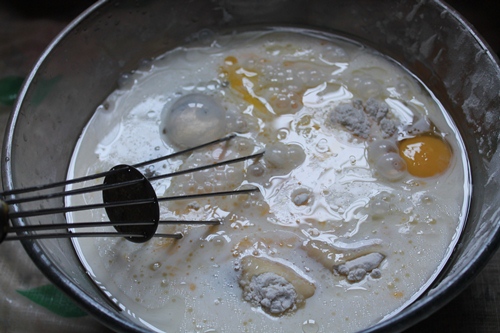 mix well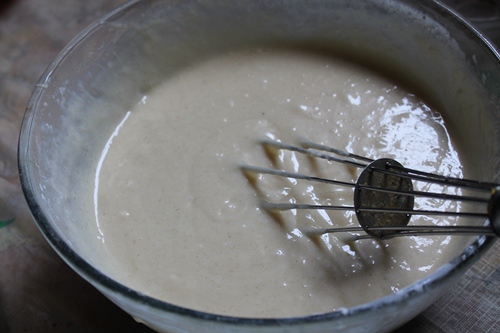 now the batter is done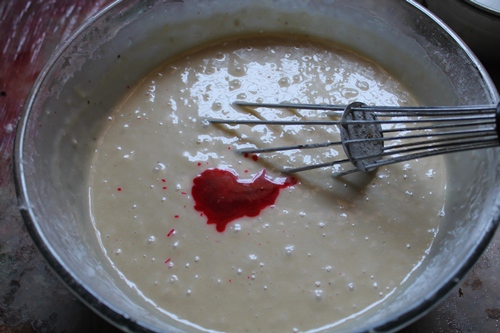 I added some pink food colouring and strawberry essence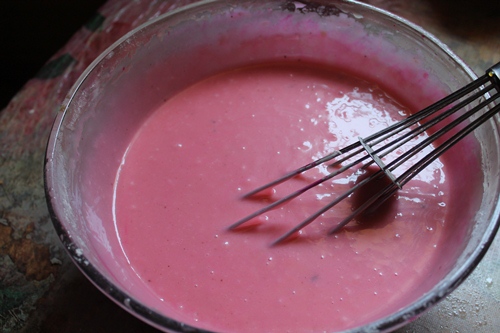 give a good mix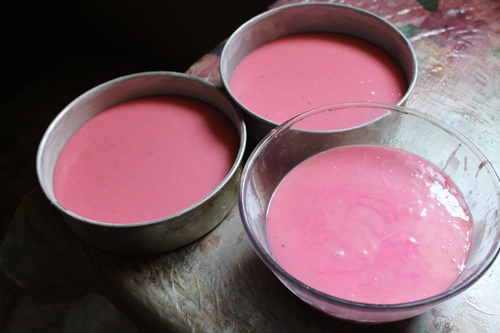 Fill the bowls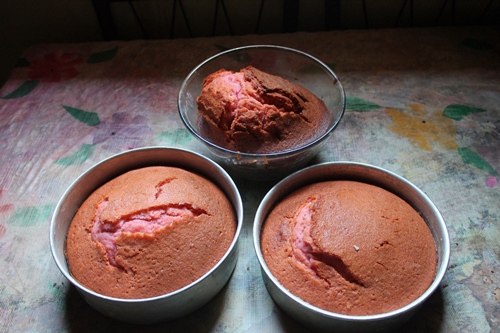 Bake them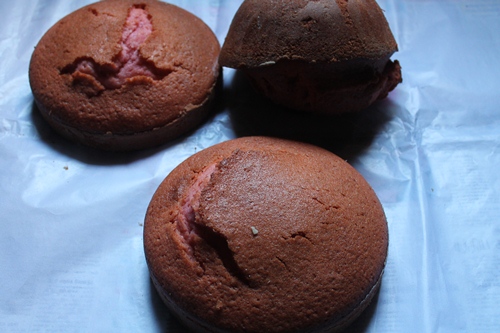 Let them cool completely. you can freeze the cake for 30 mins for easy handling..but i found this cake to be easy to work with..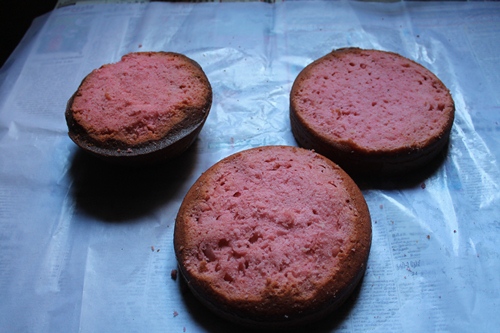 slice the top off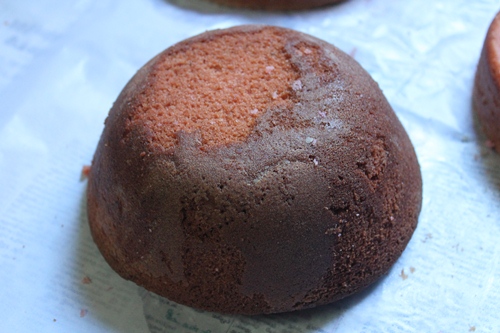 take the domed cake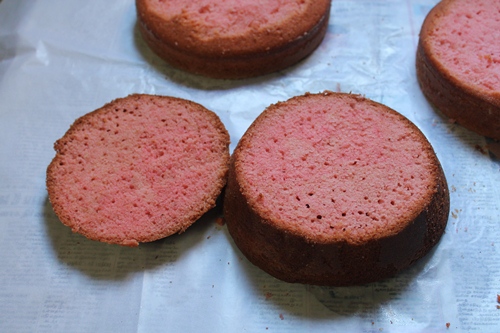 slice it in half..At this point use a knife to cut a small portion
from the middle to insert barbie. I forgot to do that, you will see what i did in the coming pictures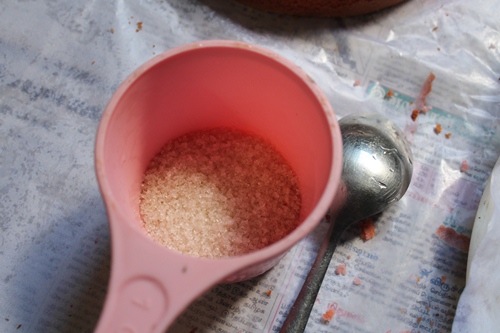 Now lets make a sugar water.. Take sugar in a bowl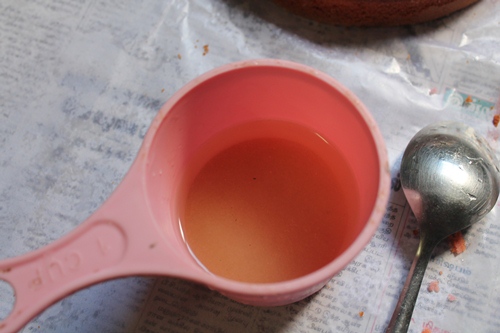 add in water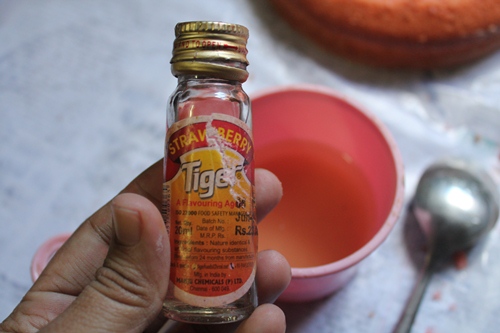 add in strawberry essence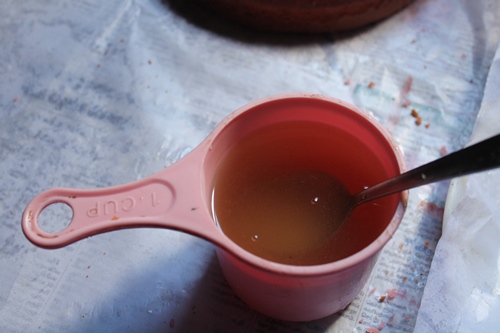 mix well and set aside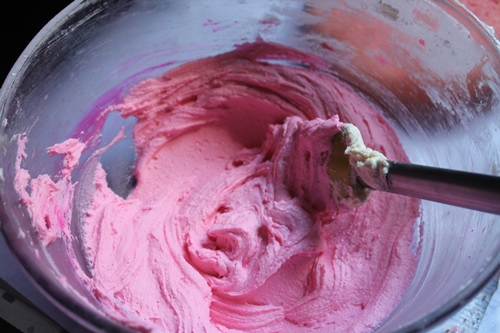 I made a batch of butter cream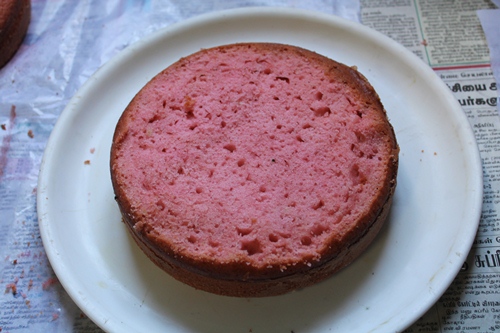 Place a cake in the bottom of a plate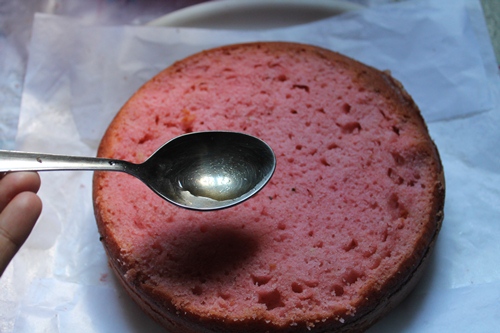 place strips of parchment surrounding the cake..
spoon the sugar water all over it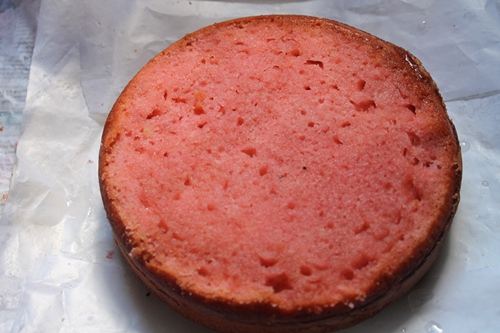 now the cake is soaked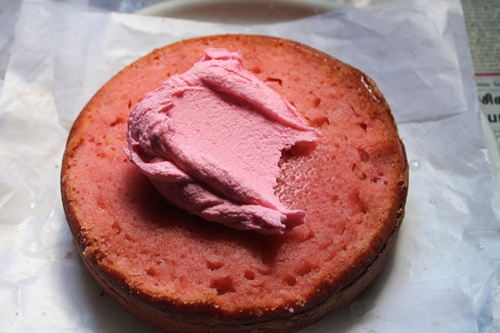 spoon some butter cream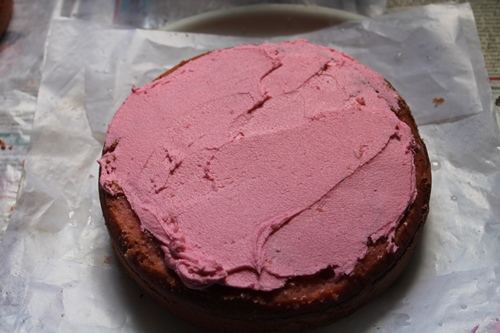 spread evenly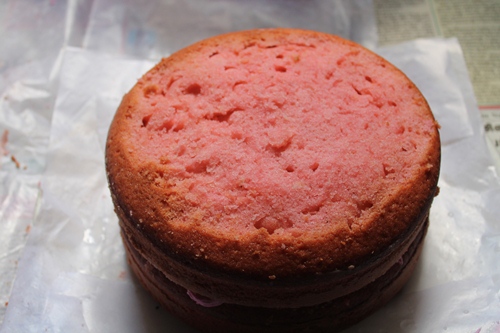 Place another cake on top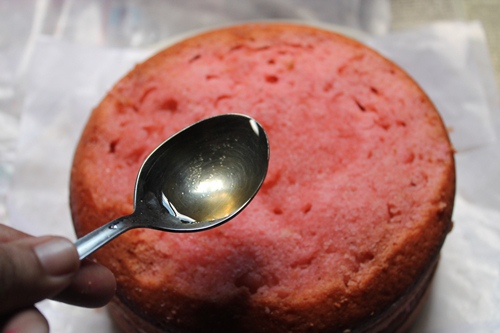 spoon some more sugar water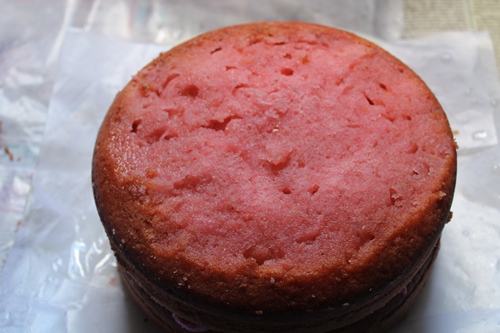 now it is well moistened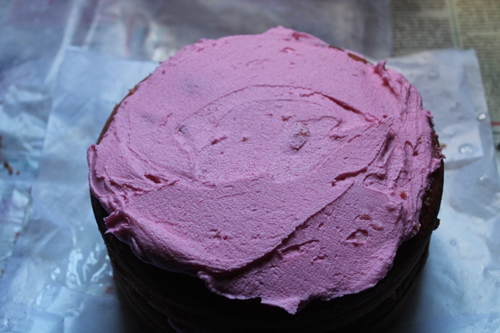 spread some more buttercream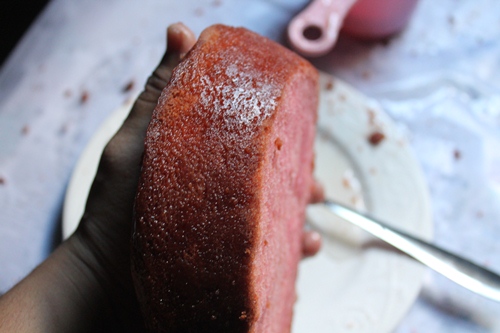 now i took the bottom half of the domed cake, brushed sugar water on the sides of the cake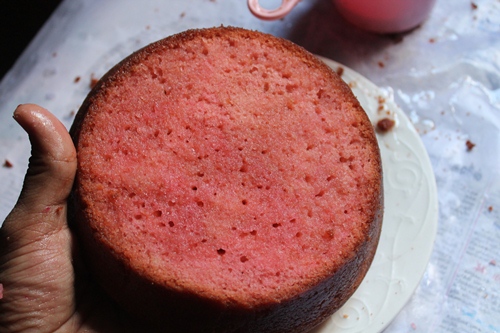 i brushed the top with some more sugar water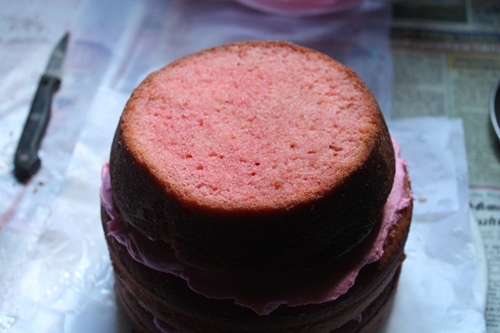 place it on top of the cake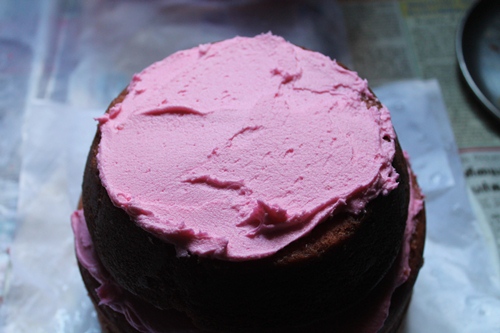 spread some butter cream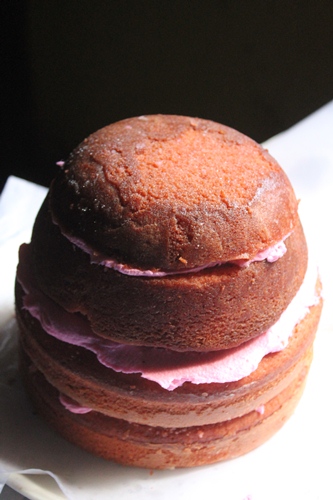 now the cake is stacked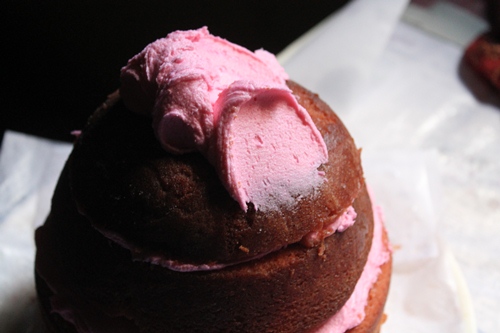 spoon the buttercream on top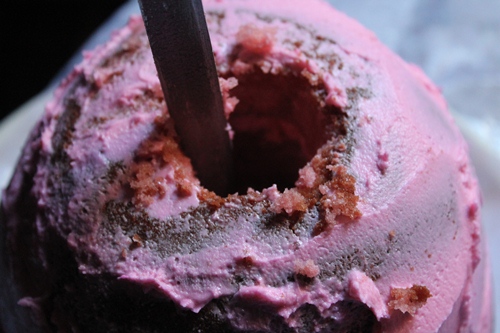 now i realised that i forgot to remove the center part
for inserting barbie..So i took a knife and sliced
the middle part throughout the cake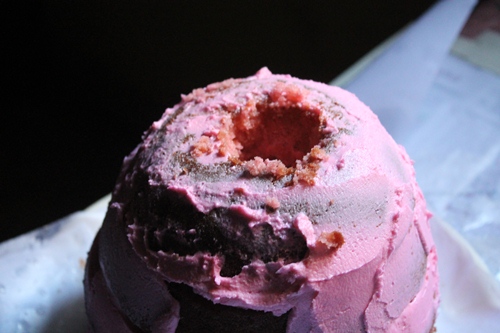 like this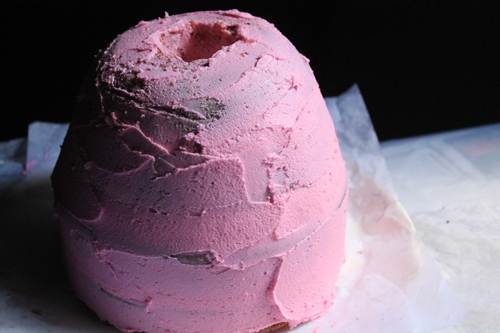 i spread butter cream all over the cake to create a crumb coat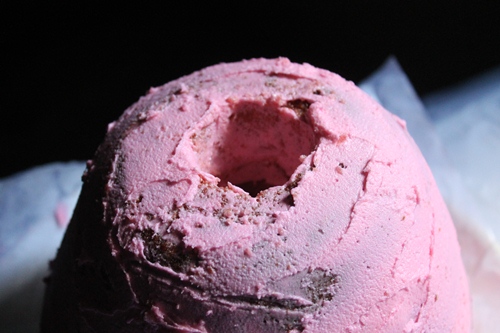 just like this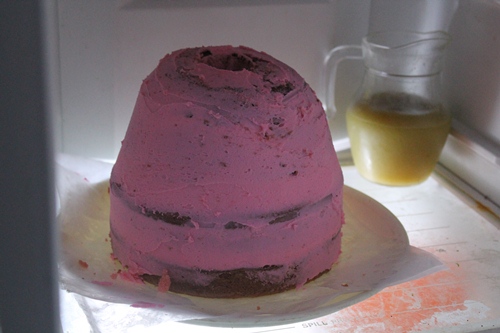 Now the cake is crumbcoated, chill the cake for 2 hour or so..
this firms up the buttercream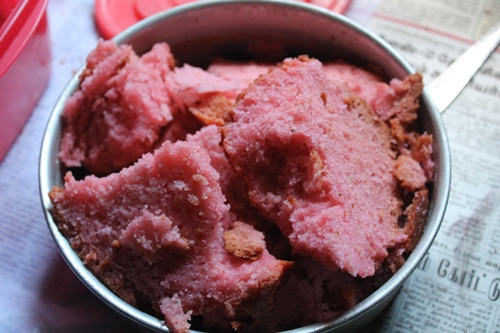 I put the crumbs in a container and stored in fridge, you can use this to make cake pops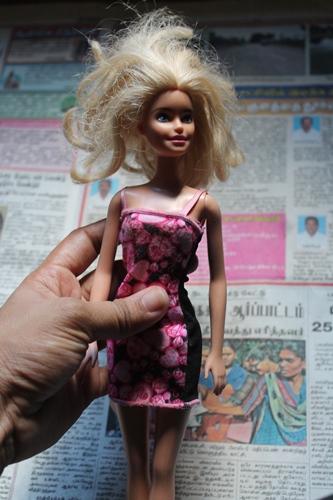 now lets take the barbie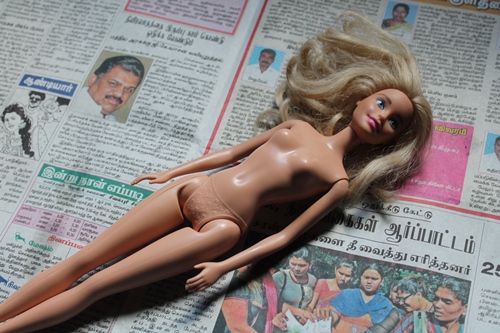 undress her…i know it sounds awkward! but this is for to give her a new princess gown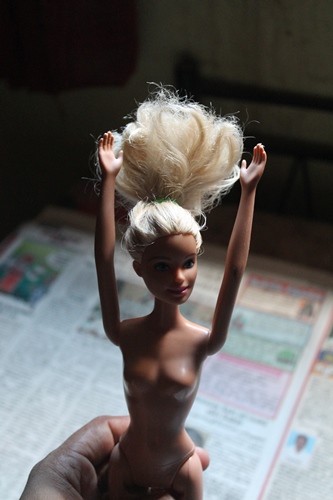 Tie her hair up and put her arms up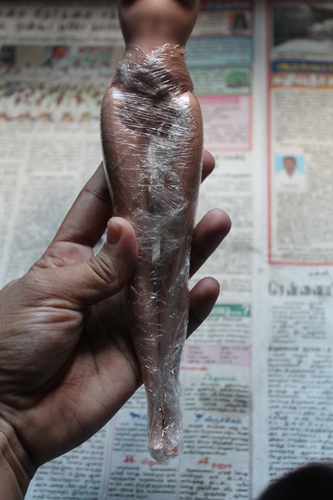 cover her body from her hips with plastic wrap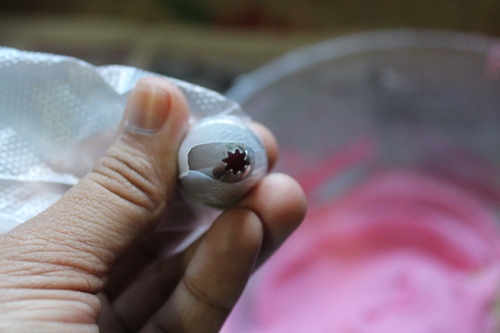 i took a piping bag and fitted it with a small star nozzle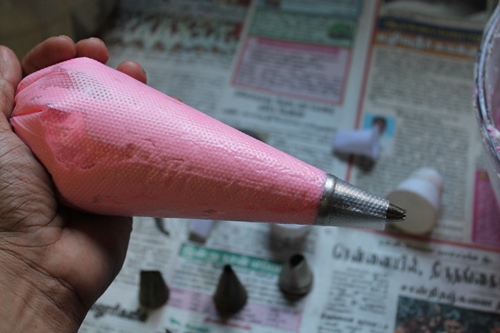 filled it with pink buttercream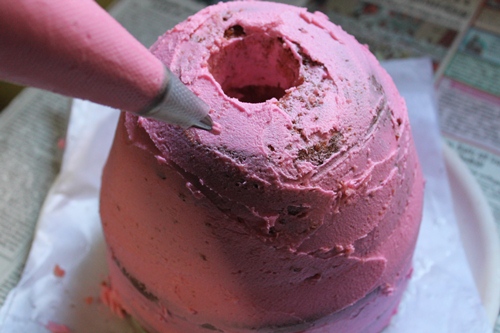 pipe it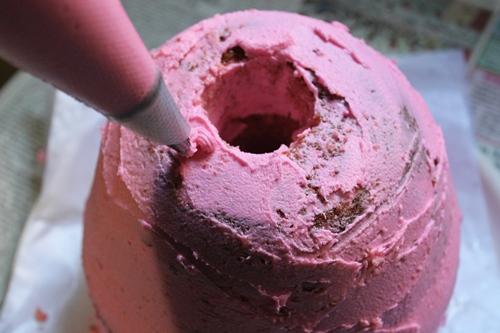 make small rose like pipings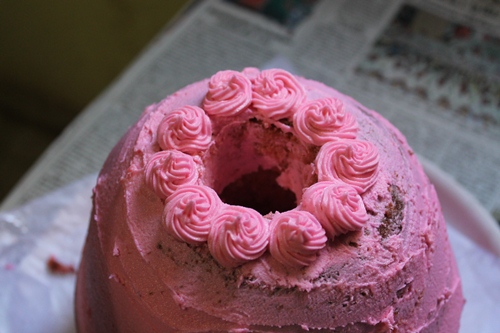 like this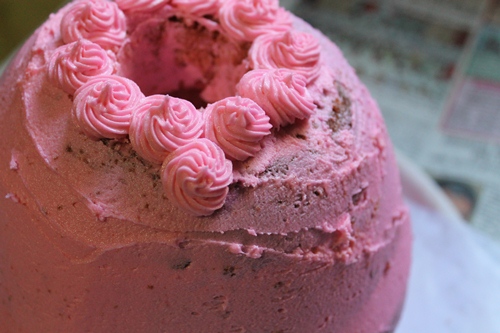 keep going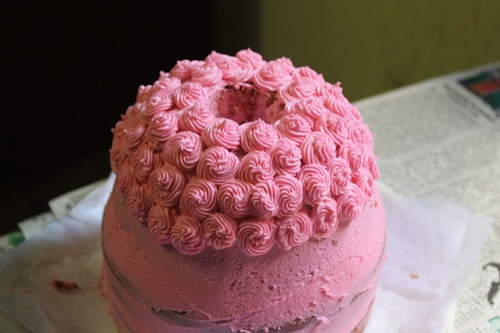 now half way is done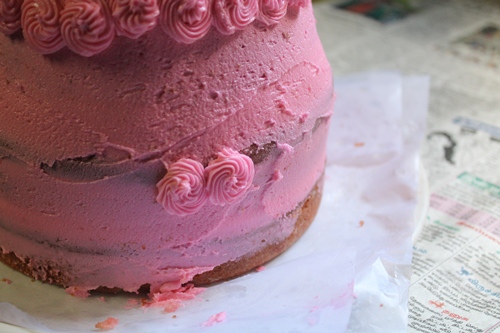 i piped roses in the bottom half way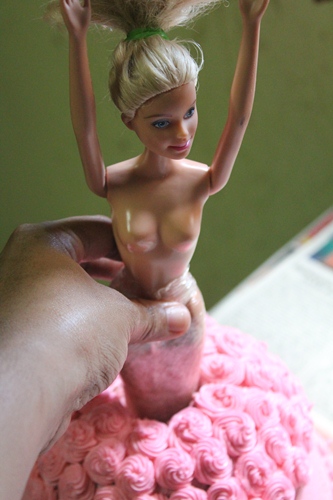 now i inserted the barbie in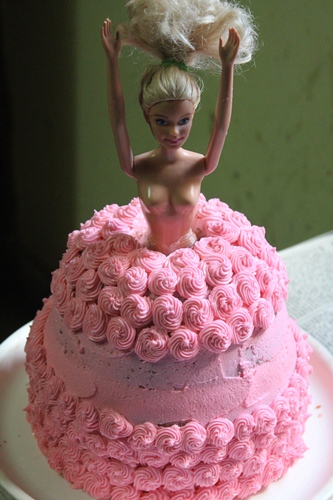 fits perfectly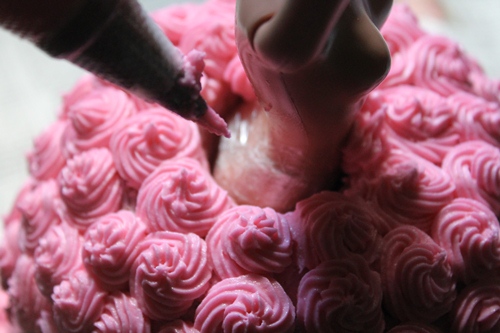 now pipe more round her hips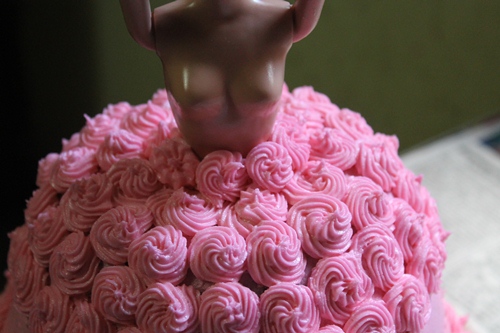 like this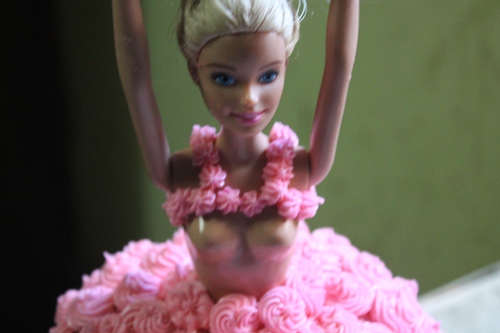 now make small piping for her tops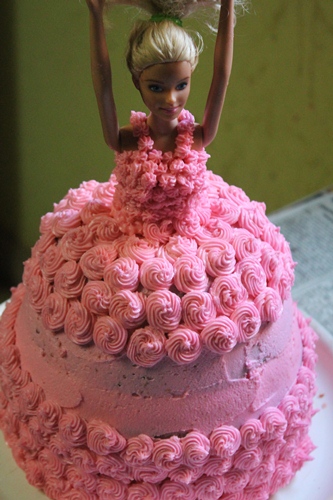 like this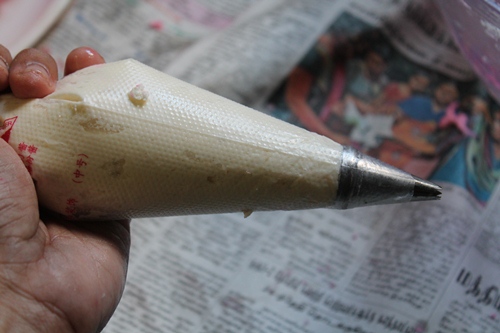 i reserved some white buttercream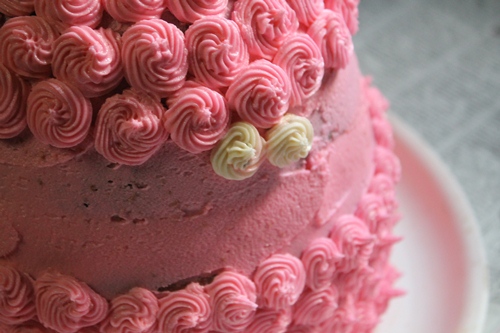 pipe in the middle portion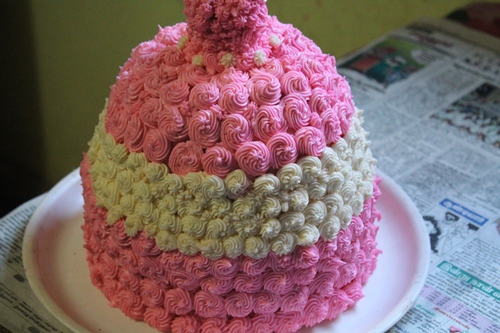 like this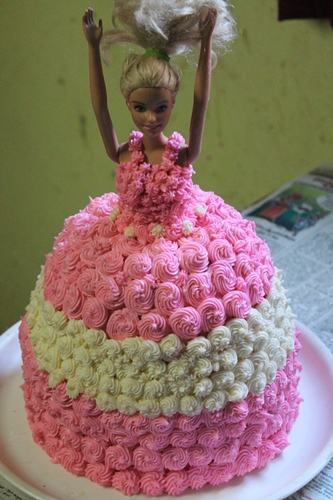 now it is pretty much completely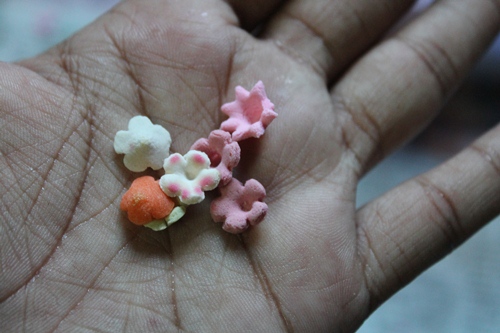 now the barbie is going to get her adornments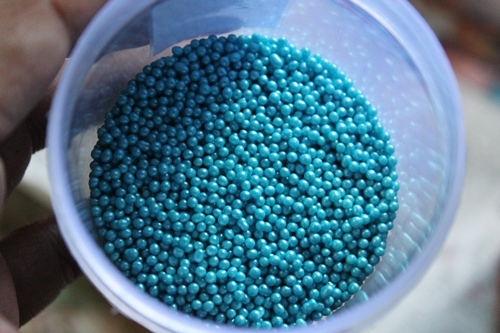 Take some blue sprinkles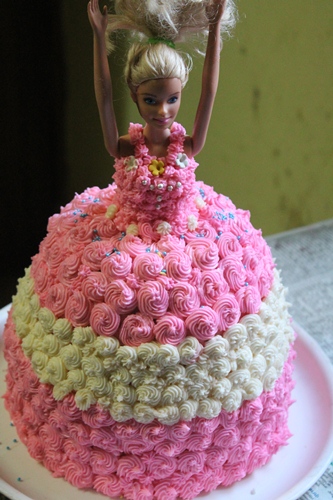 sprinkle all over it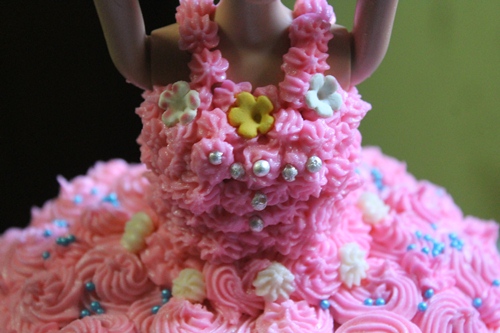 decorate her as you wish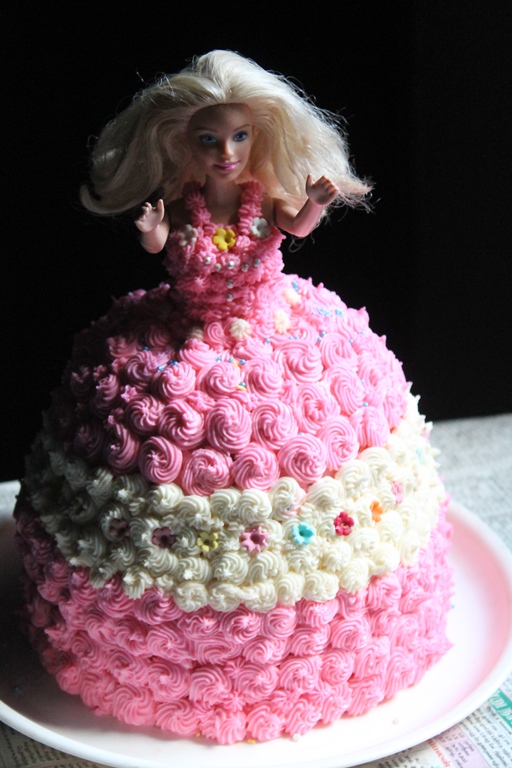 All done..now unwrap her hair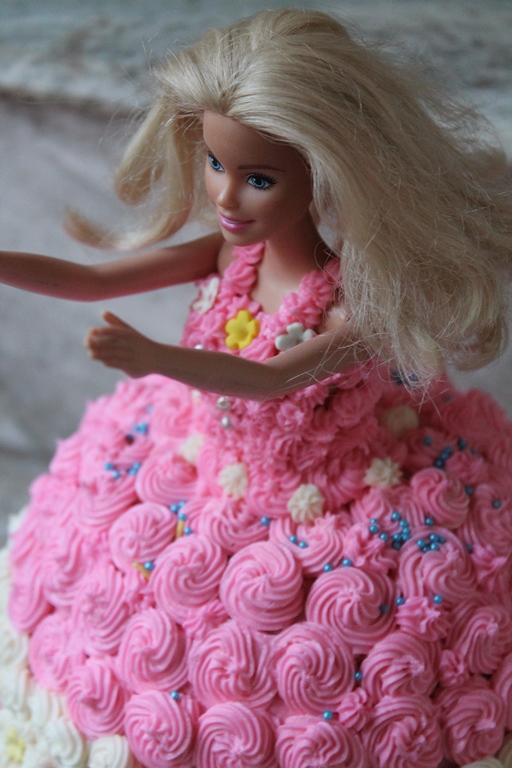 Look at the stunning creation which u have made..