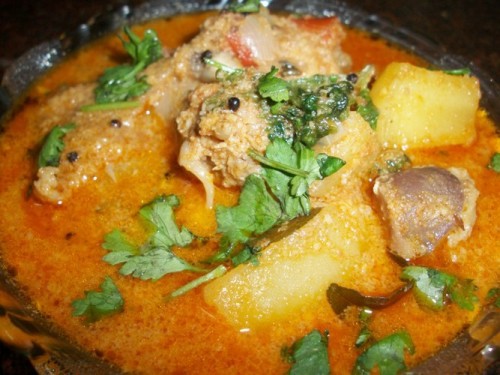 Aloo Chicken Curry
This curry is a basic chicken dish with potatoes in it.I love potatoes so much,and these simple potatoes becomes super delicious when they get cooked in yummy chicken curry..This is a typical south indian dish that goes perfectly well with rice.I added coconut paste to make this dish creamy,But if you are cooking this for parties you could add some soaked cashews to the coconut and grind it together,this will make this dish more rich.This dish is so tasty because you don't add any additional water to this,the chicken and the potatoes are cooked in there own juices…I know most of you will make some chicken dish on Sundays and now you know what you should make this Sunday..(he he).So try this and let me know what you think…
Chicken-1/2 kg
Onion-2 sliced
Tomato-3 chopped
Potato-2 chopped
Red chilli powder-2 tsp
Coriander powder(malli podi)-2 tblspn
Garam masala powder-2 tsp
Cumin powder(jeera podi)-1 tsp
Ginger garlic paste-2 tblpsn
Coconut paste-2 cup
Mustard seeds(kaduuku)-1 tsp
Cumin seeds(jeerakam)-1 tsp
Curry leaves-a spring
Coriander leaves for garnishing
Oil-2 tblspn
Salt to taste
Lemon juice-1 tblspn
Method:
In kadai add oil and crackle some mustard seeds and cumin seeds.Add in onions and sauté till golden.
Add in the spice powders and mix for 1 min.Add in tomatoes and cook till the tomatoes turns mushy.
Add in curry leaves,potatoes,chicken and mix well.Cook on high heat till the chicken gets seared on all sides.
Cover it and cook for 15 min.Add in the coconut paste and mix well.Cook for further 15 min or until oil separates.
Add in lemon juice and coriander leaves.Serve hot.
Serving suggestion:
This goes extremely well with paratha..Want to know how to make flaky paratha…check
this
…
Pictorial: