Barbeque Nation Cajun Spiced Potatoes with Step by Step Pictures. If you have ever gone to barbeque nation then you must have tasted cajun spiced potatoes. It is their signature recipe and taste absolutely delicious.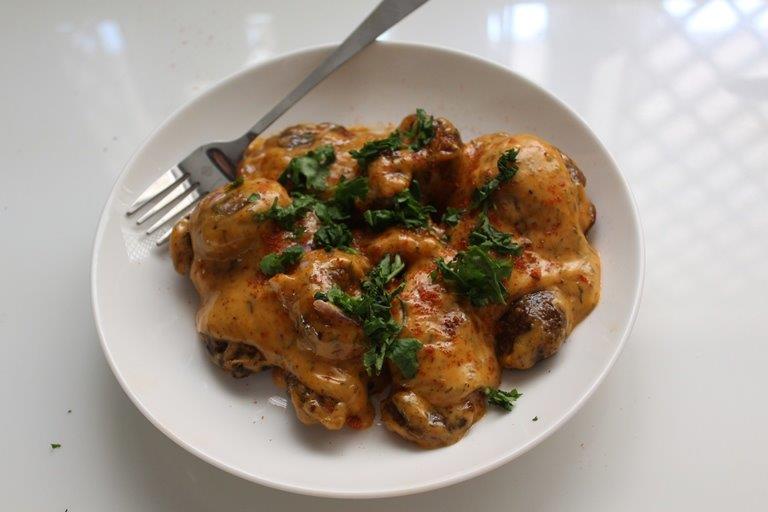 Pin
I wanted to make it at home for a very long time and finally made it few days back and guess what it was super hit. It was easy to make as well.
About Cajun Potatoes Recipe
Cajun spiced potatoes are baby potatoes that have been crisp-fried and then topped with a spicily creamy mayonnaise dressing. Cajun cuisine is a cooking style developed by Cajun–Acadians who were deported from Acadia to Louisiana in the 18th century and incorporated West African, French, and Spanish cooking techniques into their original cuisine.
An authentic Cajun meal is typically a three-pot affair, with one pot dedicated to the main dish, one to steamed rice, specially made sausages, or some seafood dish, and
the third to whatever vegetables are plentiful or available. Crawfish, shrimp, and andouille sausage are all common ingredients in a variety of dishes.
You will love my crispy vegetable recipe too.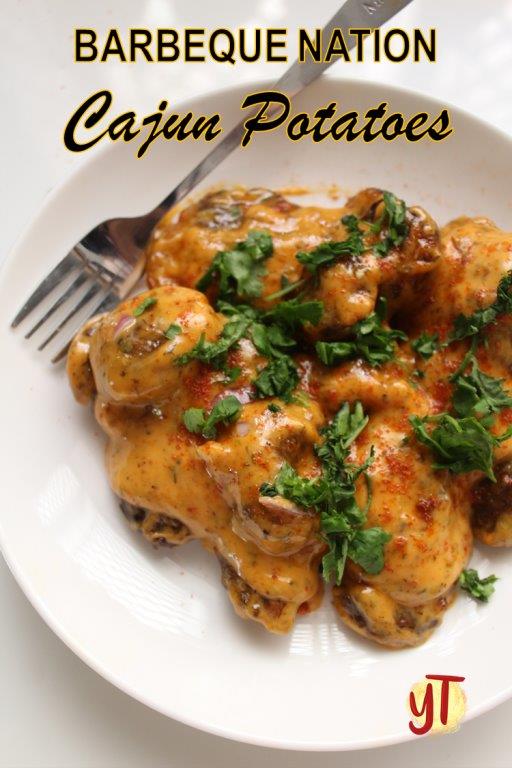 Pin
Hope you will give this a try and let me know how it turns out for you.
Ingredients for Barbeque Nation Cajun Spiced Potato
Baby Potatoes:
Baby potatoes are potatoes that have been removed from the ground before they have fully grown. potatoes have a sweeter flavour as a result of this. It has a pale brown thin outer skin and a creamy off white interior.
Cornflour:
When paired with all-purpose flour, Cornflour helps prevent gluten development, which makes the flour coating crispier, and absorb moisture which also means a crispier coating.
Black Pepper Powder :
Black pepper is one of the worlds most popular spices and may have numerous health benefits. Piperine, the active ingredient in black pepper, may fight free radicals and improve digestion and nutrient absorption.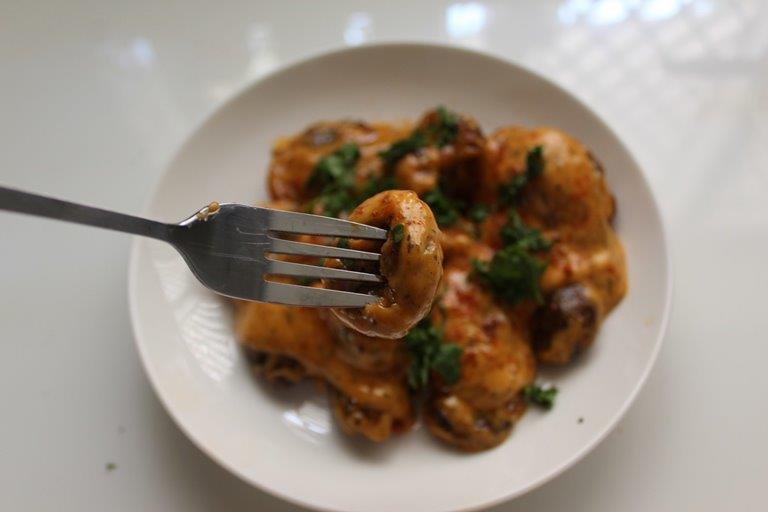 Pin
If you have any questions not covered in this post and if you need help, leave me a comment or mail me @[email protected] and I'll help as soon as I can.
Follow me on Instagram, Facebook, Pinterest ,Youtube and Twitter for more Yummy Tummy inspiration.
IF YOU MAKE THIS RECIPE OR ANYTHING FROM YUMMY TUMMY, MAKE SURE TO POST IT AND TAG ME SO I CAN SEE ALL OF YOUR CREATIONS!! #YUMMYTUMMYAARTHI AND @YUMMYTUMMYAARTHI ON INSTAGRAM!
📖 Recipe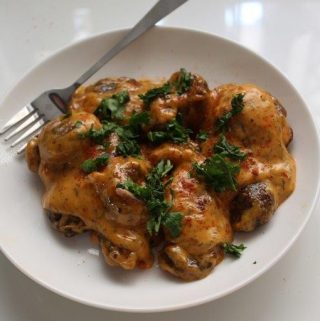 Barbeque Nation Cajun Potatoes
Cajun potatoes inspired from barbeque nation taste so delicious. The potatoes are crispy and the sauce is just perfect.
Ingredients
Baby Potatoes - 20

Cornflour - ¼ cup

Water - as needed

Onion - 3 tblsp chopped

Coriander leaves as needed
FOR SAUCE:
Mayonnaise - ½ cup

Paprika - 1 tblsp

Oregano - 1 tsp

Parsley - 1 tsp

Garlic Powder - 2 tsp

Onion Powder - 2 tsp

Black Pepper Powder - ½ tsp

Dried Thyme - ½ tsp
Instructions
Boil baby potatoes in a pressure cooker for 2 whistle. Drain and Set aside to cool.

Smash each potato little.

Coat potatoes in cornflour mix and drop in oil. Fry till golden.

Drain and set aside.

Now after 2 mins, drop the potatoes back in oil and fry till super crispy. Drain and set aside.

Mix all the ingredients for sauce in a bowl.

Pour it over potatoes and toss well.

Spoon this in a plate, top with more sauce, onion and coriander leaves.

Serve.
Video
Notes
1)Double frying potatoes makes it more crispy.
2)Adjust the sauce as per your taste.

Cajun Potatoes Recipe Step by Step pictures
1)Boil some baby potatoes and cool it.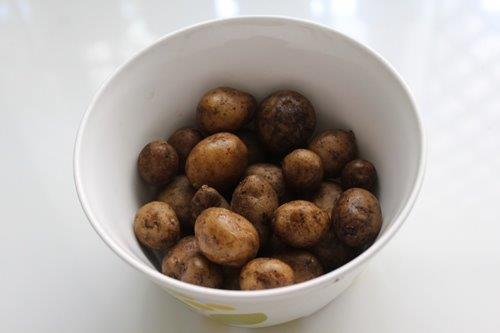 Pin
2)Take the potatoes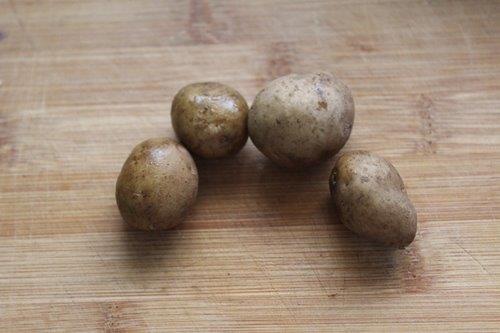 Pin
3)Smash it lightly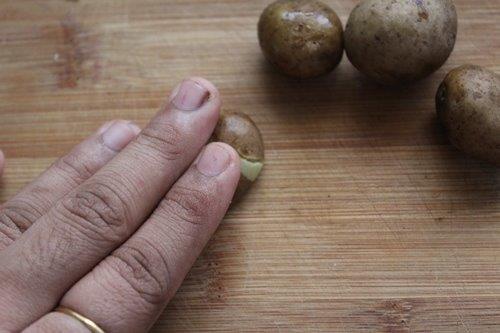 Pin
4)Like this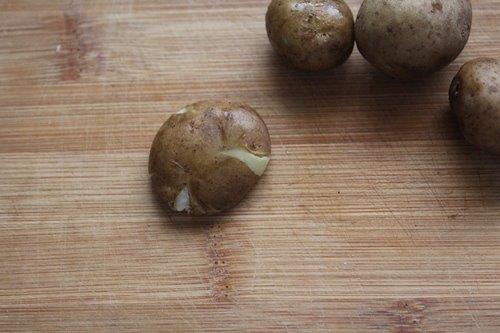 Pin
5)Take cornflour in a bowl and add little water and make a slurry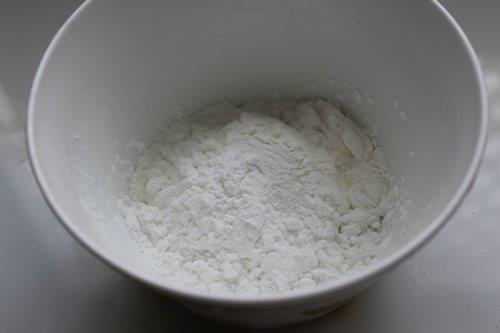 Pin
6)Coat potatoes in the mix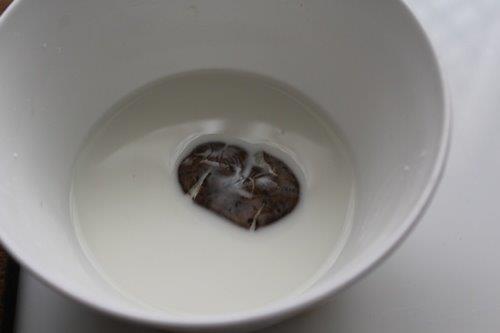 Pin
7)Drop in hot oil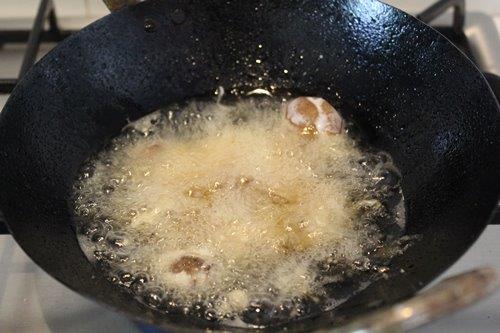 Pin
8)Fry till crispy. Drain and set aside for 2 mins.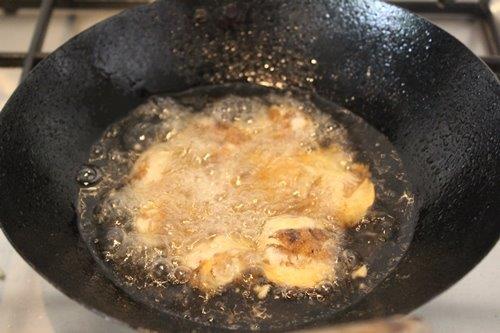 Pin
9)Drop again in hot oil and fry till crispy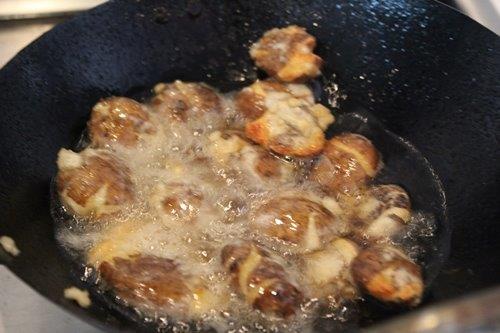 Pin
10)Drain it in a bowl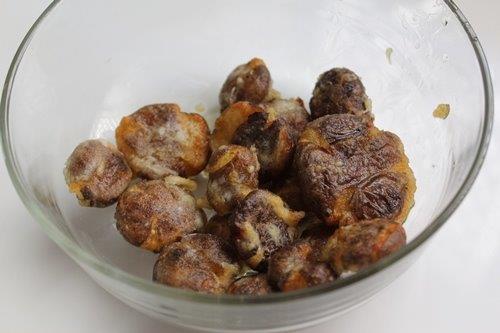 Pin
11)Now make the sauce. Take mayonnaise in a bowl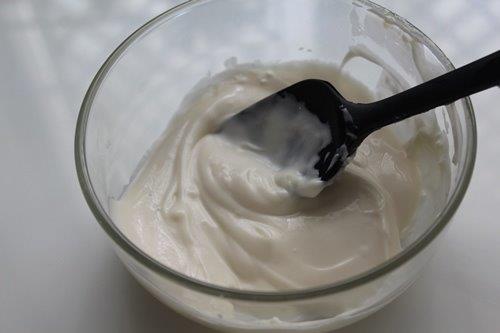 Pin
12)Add in oregano, parsley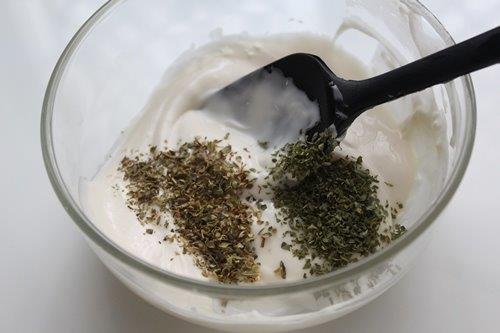 Pin
13)Add in thyme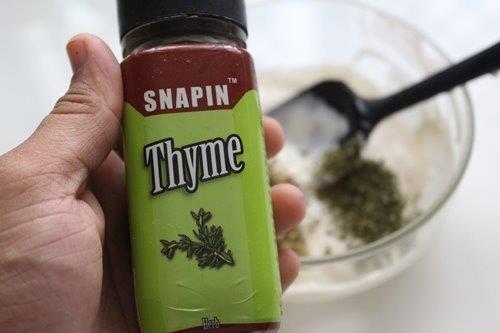 Pin
14)Add in garlic powder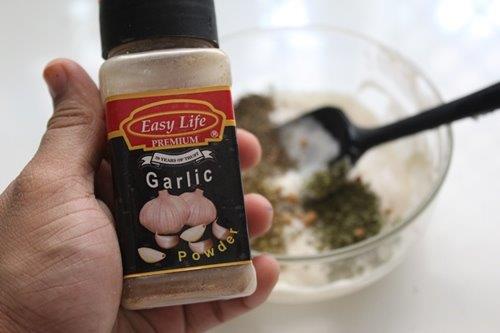 Pin
15)Add in onion powder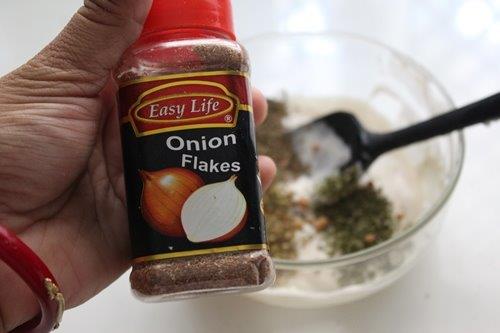 Pin
16)Add paprika powder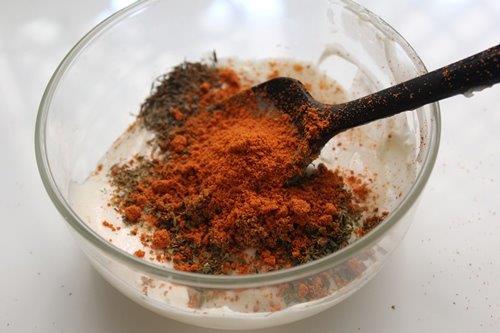 Pin
17)Add in black pepper powder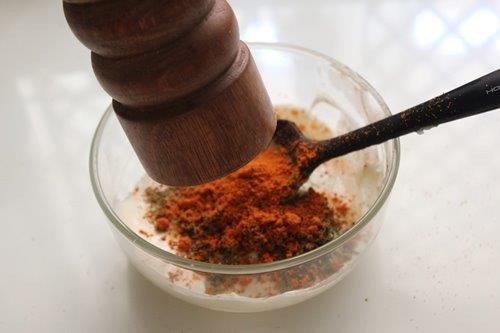 Pin
18)Mix well. Add little milk if the sauce is too thick.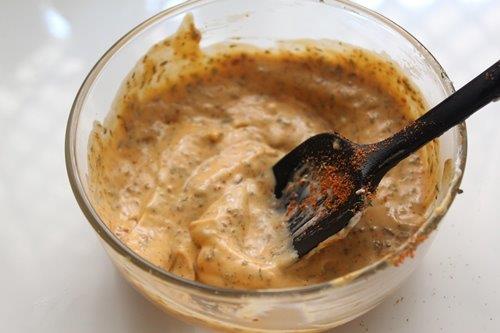 Pin
19)Pour sauce over potatoes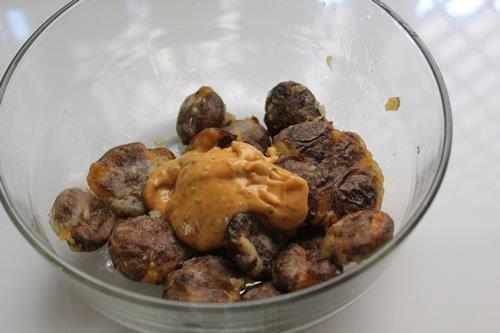 Pin
20)Toss well, add onions and mix well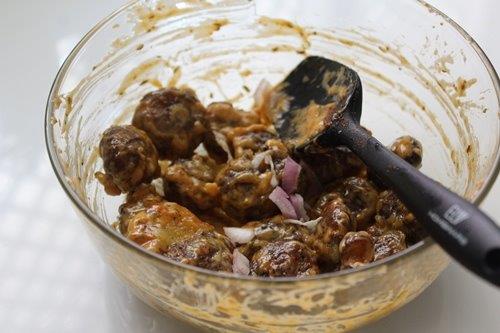 Pin
21)Spoon potatoes in a plate, spoon sauce over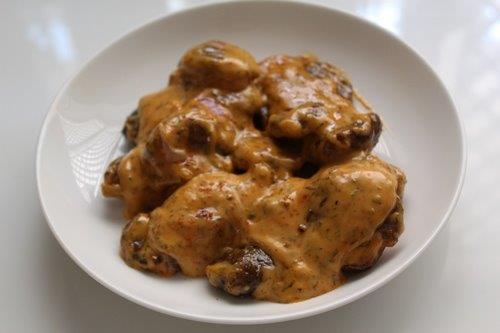 Pin
22)Top with paprika and coriander leaves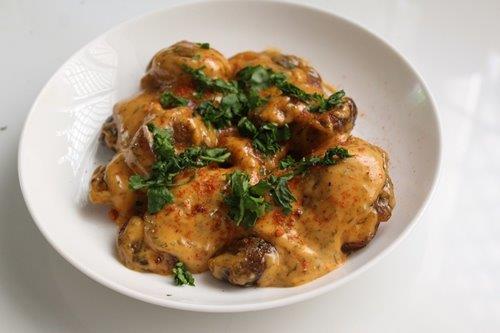 Pin
23)Serve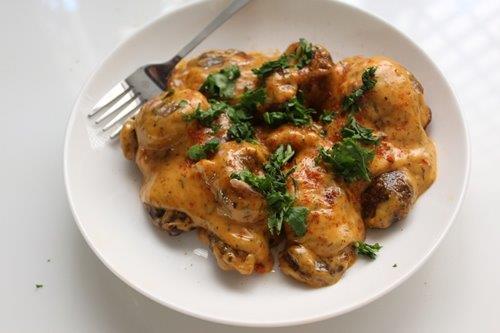 Pin
Tips & Tricks
Double frying the potatoes for maximum crispness.
Use baby potatoes with skins on.
Don't over boil the potatoes.
Taste and adjust the seasoning of the sauce. Add little sugar to balance it.