Cheesecake Brownies Recipe with step by step pictures. Addictive & Decadent brownies with cheesecake topping.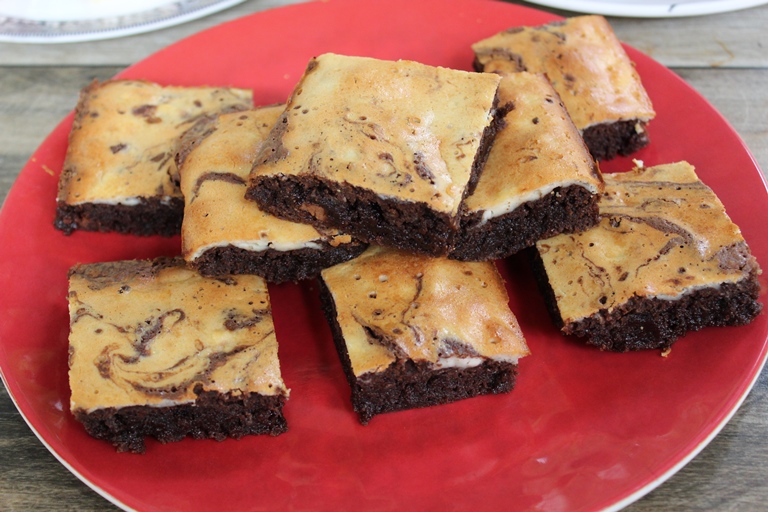 Pin
This delicious brownies recipe made using cream cheese which taste amazing either hot or warm. You can serve it as it is or with a scoop of ice cream.
About Cheesecake Brownies Recipe
A brownie is a chocolate-filled baked good. Brownies come in a variety of shapes and sizes, and their density determines whether they are fudgy or cakey. Brownies often have a glossy skin on their upper crust, but not always. Nuts, frosting, cream cheese, chocolate chips, and other ingredients may also be included. A blond brownie or blondie is a variation made with brown sugar and vanilla instead of chocolate in the batter. The brownie was invented in the United States at the end of the nineteenth century and became popular there in the first half of the twentieth century. Fudgy, moist, decadent, and dangerously addictive cheesecake brownies.
Super moist and decadent brownies which is perfect to make during any time of the year. So rich and so chocolaty, you can never stop with just one piece.
Brownies are seriously my addiction. I keep on exploring new recipes for brownies. I get hit by brownie craving often and i try new recipes for it. Most of the recipes will be a success and i will share it here.
Similar Recipes,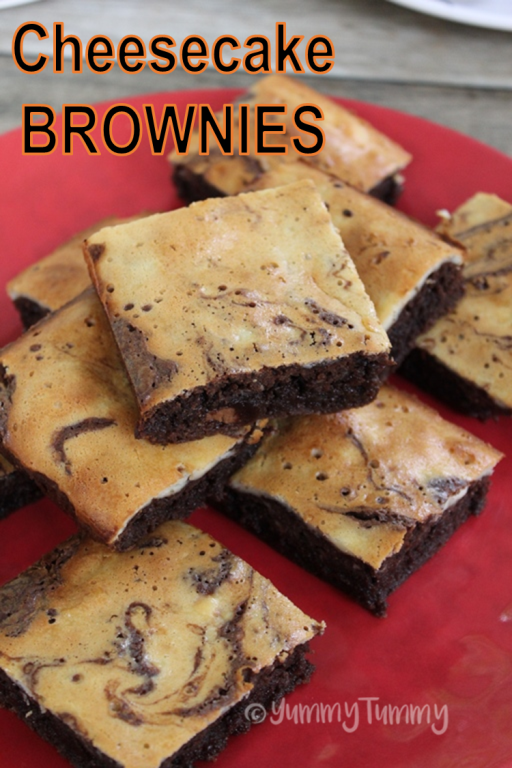 Pin
Ingredients for Cheesecake Brownies Recipe 
All Purpose Flour / Maida 
Maida requires more oil or butter when baking or cooking because it is lighter and rises faster, which is why bakers prefer maida to atta. All-purpose flour can be used for a variety of tasks, including baking, cooking, coating meats and vegetables, and thickening sauces and gravies. To manufacture all-purpose flour, a blend of
hard wheat (which has more gluten) and soft wheat is crushed together.
Unsalted Butter  
Unsalted butter allows you to completely control the flavour of your recipe. This is especially important in baked goods that rely heavily on the pure, sweet cream flavour of butter (butter cookies or pound cakes). When it comes to cooking, unsalted butter allows the true, natural flavour of your foods to shine through.
Chocolate Chips 
Semi-sweet chocolate chips are typically made from sugar, chocolate, cocoa butter, milkfat, and soy lecithin, which acts as an emulsifier. They're also known as semi-sweet morsels.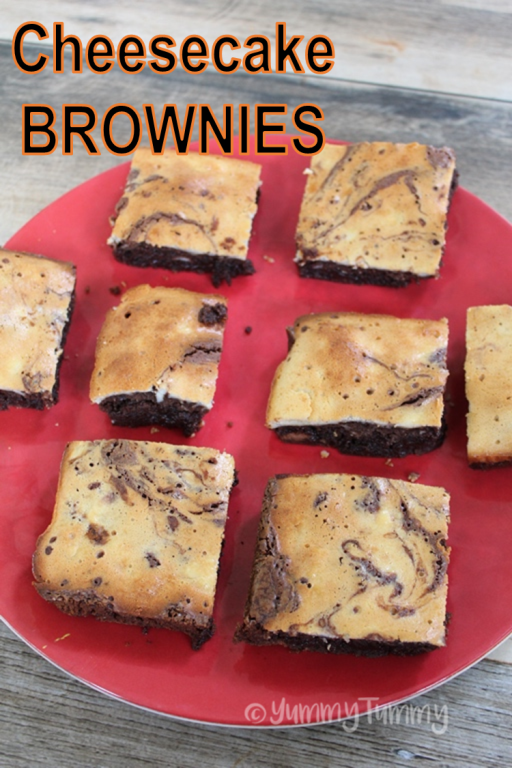 Pin
If you have any questions not covered in this post and if you need help, leave me a comment or mail me @[email protected] and I'll help as soon as I can.
Follow me on Instagram, Facebook, Pinterest ,Youtube and Twitter for more Yummy Tummy inspiration.
IF YOU MAKE THIS RECIPE OR ANYTHING FROM YUMMY TUMMY, MAKE SURE TO POST IT AND TAG ME SO I CAN SEE ALL OF YOUR CREATIONS!! #YUMMYTUMMYAARTHI AND @YUMMYTUMMYAARTHI ON INSTAGRAM!
📖 Recipe Card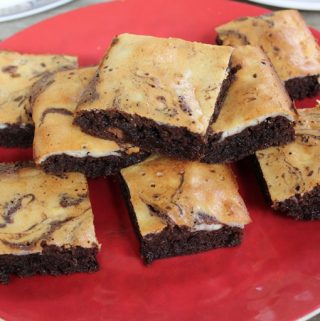 Cheesecake Brownies Recipe
This delicious brownies recipe made using cream cheese which taste amazing either hot or warm. You can serve it as it is or with a scoop of icecream
Print
Pin
Rate
Servings:
6
to 8 servings
Ingredients
FOR BROWNIES:
Unsalted Butter - ½ cup melted

110 grams

Sugar - 1 cup

200 grams

Vanilla Extract - 1 tsp

Eggs - 2

Chocolate Chips - ½ cup melted

All Purpose Flour / Maida - ¾ cup

90 grams

Cocoa Powder - ¼ cup

25 grams

Salt - ½ tsp
FOR CHEESECAKE LAYER:
Cream Cheese - 100 grams

Sugar - 3 tblsp

Egg - 1

Vanilla Extract - ½ tsp
Instructions
Preheat oven to 180 degree C. Line a 9x9 inch square cake pan with parchment paper. Set aside.

Take melted butter, sugar, vanilla, egg in a bowl and mix well.

Add in flour, cocoa, salt and mix well.

Add in melted chocolate and fold gently.

Spoon this into the pan and set aside.

Mix all ingredients given for cheesecake layer.

Pour this over the brownie batter and use a knife to swirl it.

Pop it into the oven and bake for 30 to 35 mins.

Remove and cool completely.

Slice into bars and serve.
Join us on Facebook
Follow us on Facebook
Share by Email
Share on Facebook
Cheesecake Brownies Recipe Step by Step Pictures
1)Take melted butter in a bowl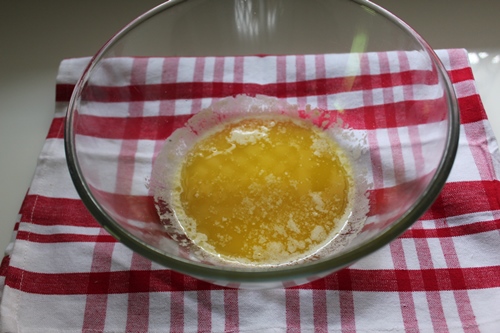 Pin
2)Add in sugar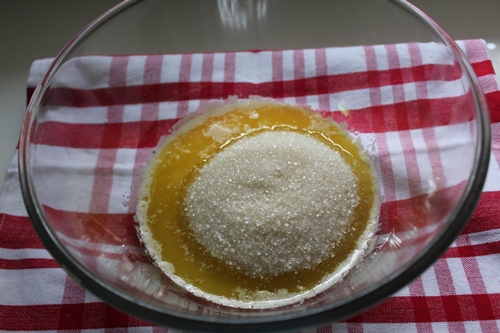 Pin
3)Add in vanilla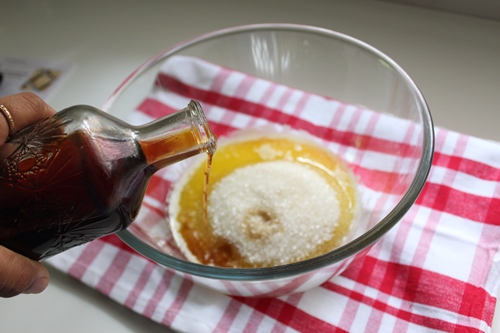 Pin
4)Add in eggs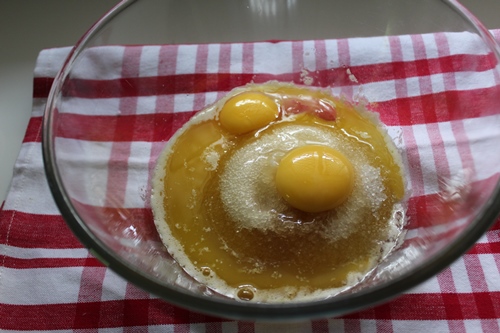 Pin
5)Mix well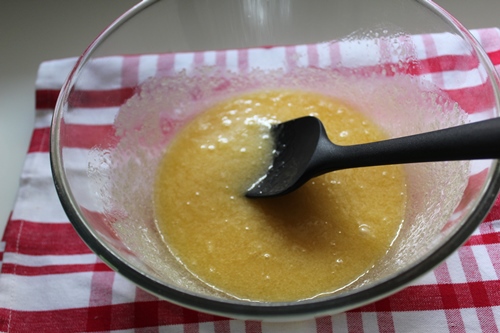 Pin
6)Add in flour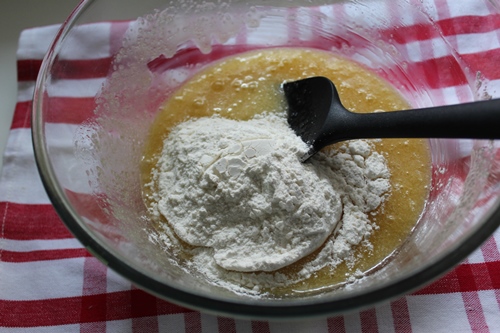 Pin
6)Add in cocoa powder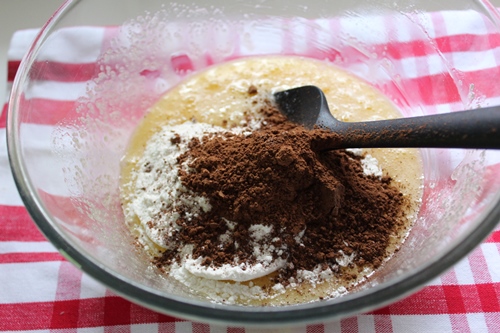 Pin
7)Add salt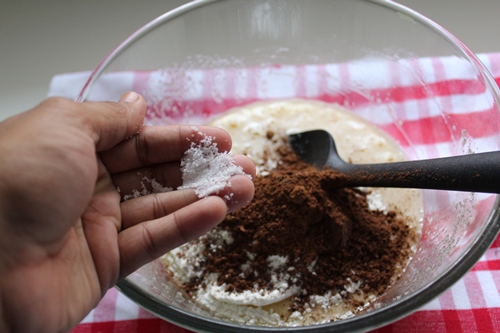 Pin
8)Mix well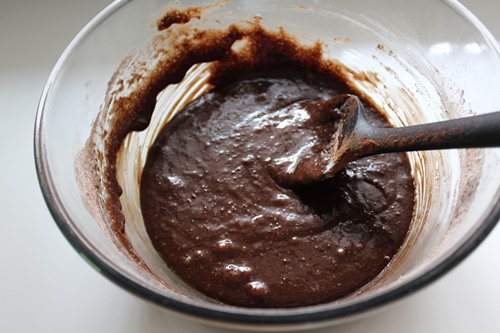 Pin
9)Melt some chocolate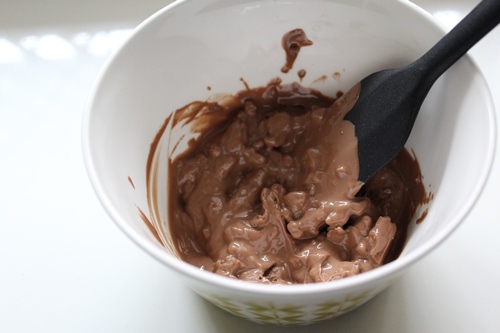 Pin
10)Add melted chocolate into the batter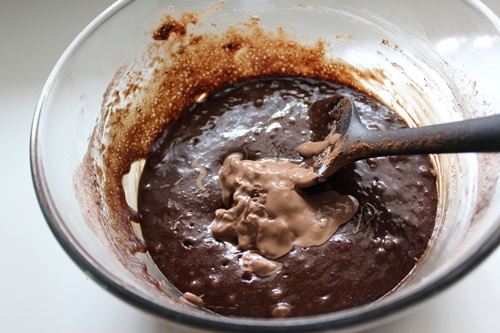 Pin
11)Fold gently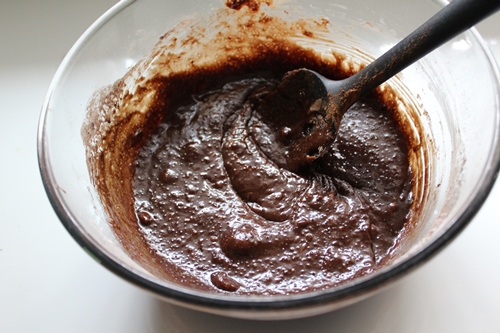 Pin
12)Line a baking pan with parchment paper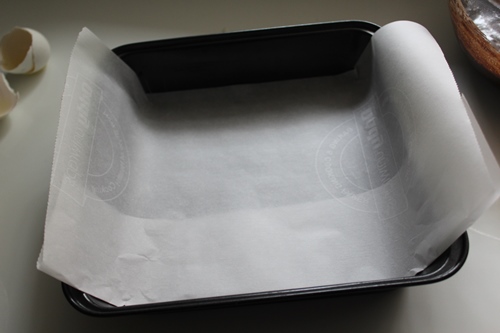 Pin
13)Pour batter in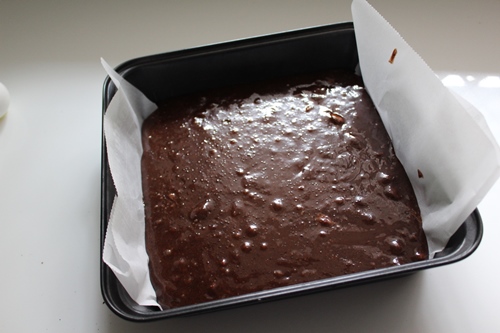 Pin
14)Now make cheesecake layer. Take cream cheese in a bowl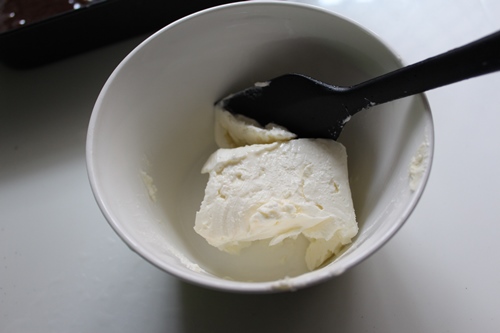 Pin
15)Add in powdered sugar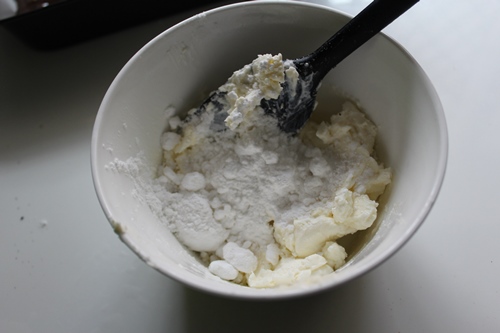 Pin
16)Add in vanilla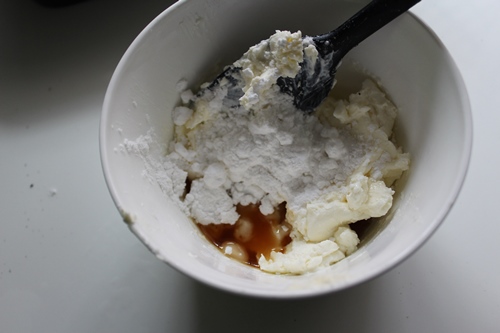 Pin
17)Mix well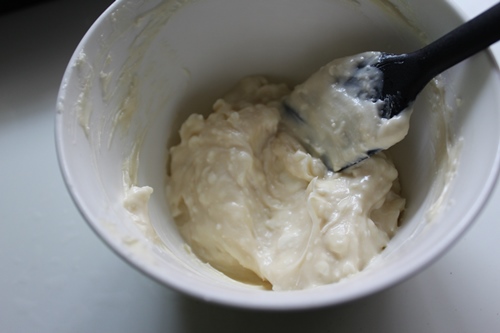 Pin
18)Add egg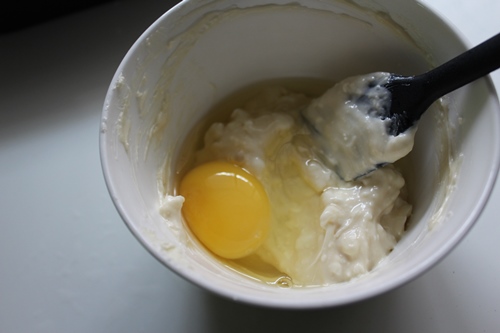 Pin
19)Mix well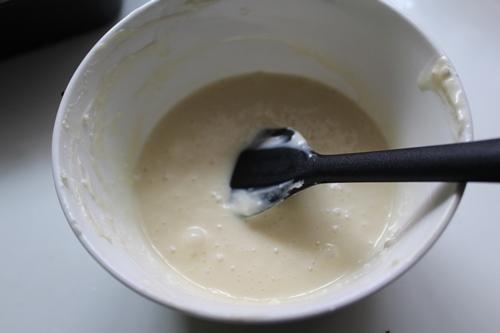 Pin
20)Pour cheesecake mix over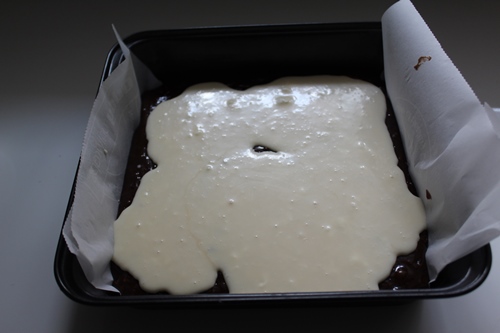 Pin
21)Use a spatula to swirl it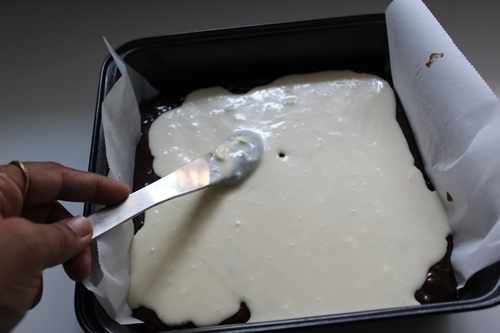 Pin
22)Time to bake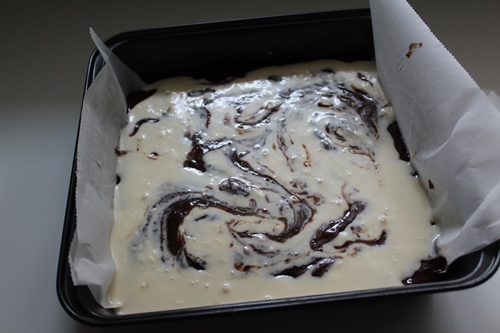 Pin
23)Bake till done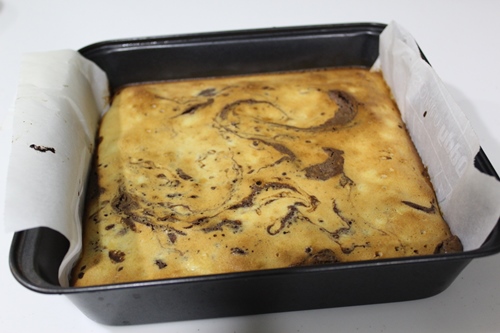 Pin
24)Cool it completely and slice them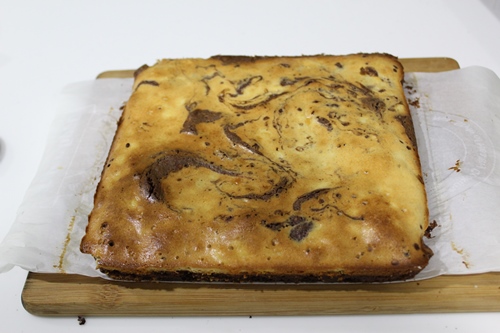 Pin
25)Serve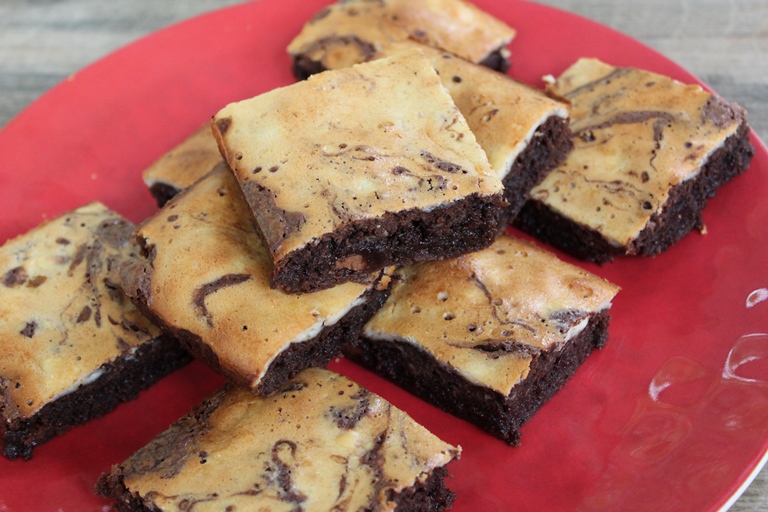 Pin
26)Enjoy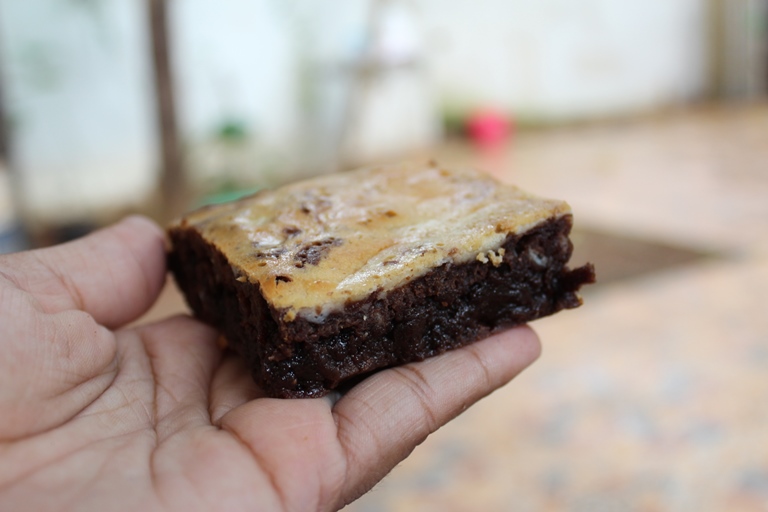 Pin
Frequently Asked Questions
What makes brownies cakey vs fudgy?
Fudgy brownies have a higher fat-to-flour ratio than cakey ones. So, in this case, butter and chocolate, add more fat. A cakey batch contains more flour and is leavened with baking powder. The amount of sugar and eggs is the same whether you want it fudgy or cakey.
What is cream cheese brownie day?
National Cream Cheese Brownie Day, observed on February 10, highlights an irresistible dessert bar. Combining chocolate and cream cheese has long been a bakery favourite. It produces spectacular results when added to a brownie recipe.