Chicken 65 biryani recipe with step by step pictures. Flavourful biryani dotted with crispy chicken 65 which taste so delicious.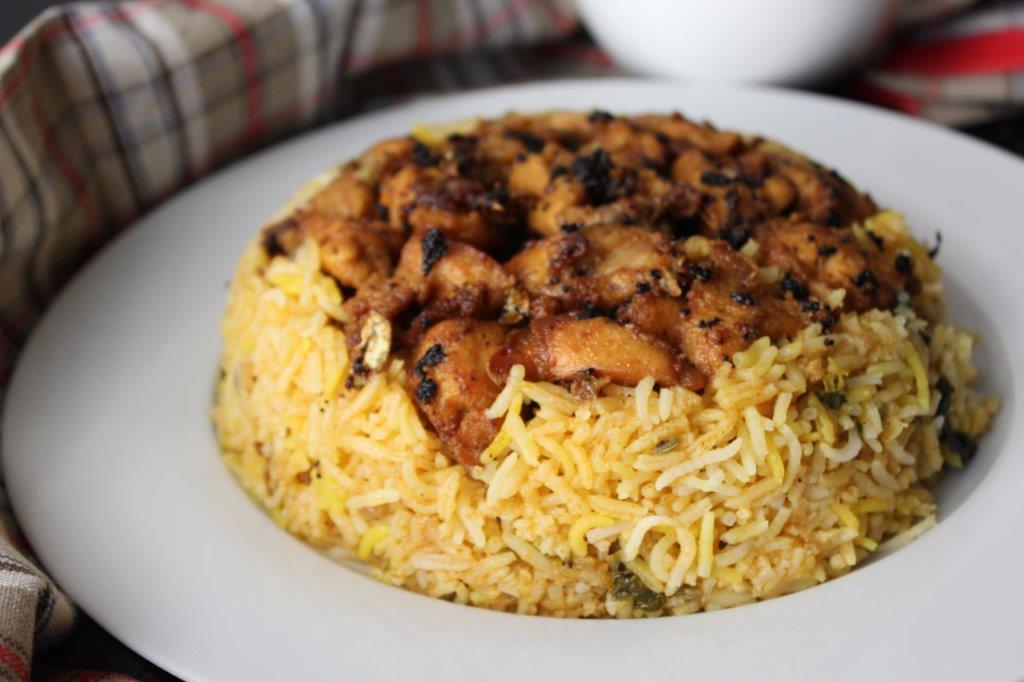 Pin
Spicy Chicken 65 biryani was on my to do list for quite sometime. Finally i made it few weeks back and it was super hit. I couldn't resist it so i wanted to share it on my blog.
About Chicken 65 Biryani Recipe
Making chicken 65 biryani can be little different from the other biryani because since we are frying the chicken separately instead of cooking it with the rice. The rice may not have the same flavour. So i created this recipe. I added half the chicken in the rice and other half i fried and used as garnish. The rice was so flavourful because of the chicken which we added.
Biryani is a mixed rice dish popular among Indian subcontinent Muslims. It is made with Indian spices, rice, and usually some type of meat or, in some cases, no meat, as well as eggs and potatoes. Chicken 65 is a spicy, deep-fried chicken dish served as an entrée or quick snack at Hotel Buhari in Chennai, India. The dish flavour can
be attributed to red chilies, but the exact ingredients for the recipe can vary.
Similar Recipe,
Hyderabadi Mutton Dum Biryani
Mughlai Chicken Dum Biryani
Chicken Kofta Dum Biryani
Fish Dum Biryani
Vegetable Dum Biryani
Mughlai Vegetable Dum Biryani
Mushroom Dum Biryani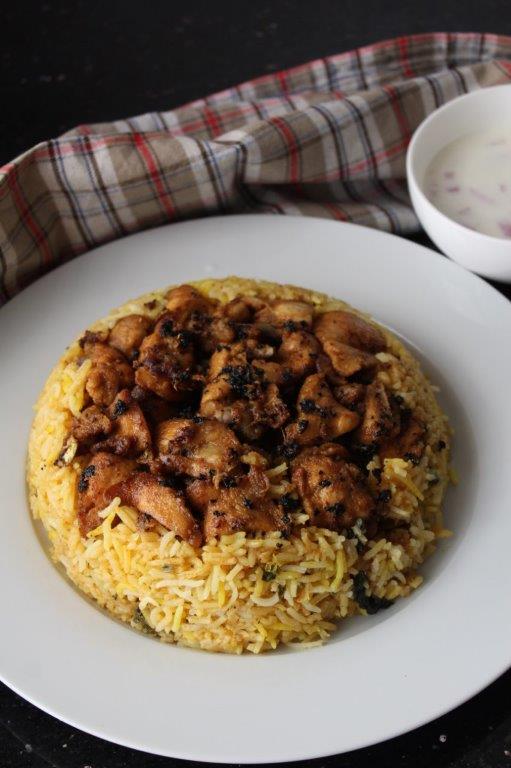 Pin
Ingredients for Chicken 65 Biryani Recipe 
Basmati Rice 
Basmati rice is a long, slender-grained aromatic rice that has traditionally been grown in India, Nepal, and Pakistan. White basmati rice contains more calories and carbohydrates than regular white rice. It also contains slightly more protein, but the difference is insignificant. Furthermore, both types of grains are highly processed
and, due to their low fibre content, may cause blood sugar spikes.
Chicken 
Biryani-cut chicken is a sumptuous blend of large chunky pieces from half a chicken. It comes with one leg and one bone-in meaty breast, as well as a mix of white and dark meat, soft and tougher meat, all packaged together for the perfect biryani.
Garam Masala Powder
The whole spices in the Garam Masala blend have already been toasted before being ground. As a result, it is not necessary to cook it. If the garam masala is added too soon, it will become overcooked and lose its flavour. Garam masala aromatics require only a small amount of heat to release their aroma and flavours.
📖 Recipe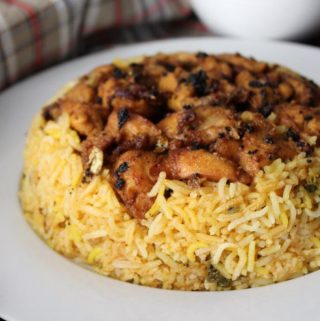 Chicken 65 Biryani | Chicken 65 Biryani Recipe
Chicken 65 Biryani is one of the special biryani you could ever make for any parties. This biryani is super delicious and is super easy to make as well
Print
Pin
Rate
Servings:
6
to 8 servings
Ingredients
Basmati rice - 500 grams

Coconut oil - ¼ cup

Ghee - ¼ cup

Onion - ½ kg

Ginger garlic paste -1 tblspn

Chilli powder - 2 tsp

Green chillies - 4

Garam masala powder - 2 tsp

Turmeric powder - 1 tsp

Water - ½ cup

Salt to taste

Coriander leaves - 1 cup chopped finely

Mint leaves - 1 cup chopped finely

Milk - 3 tblspn

Curd ¼ cup

Saffron a pinch

Yellow food colour as needed
For Marinating:
Chicken - 1 kg cut into small piece

Chilli Powder - 1 tblspn

Coriander Powder - 1 tblspn

Cumin Powder - 2 tsp

Turmeric Powder - 1 tsp

Ginger Garlic Paste - 2 tblspn

Curd / Yogurt - ½ cup

Salt to taste

Garam Masala Powder - 2 tsp

Oil for deep frying
Instructions
Mix all ingredients for marination. Set aside.

Soak rice for 30 mins.

Heat lots of water in a pot for cooking rice. Add in salt. Add rice and cook for 6 to 8 mins till rice is half cooked. Drain and set aside.

Heat oil and ghee in a pot. Add in onions and cook till golden.

Add in ginger garlic paste and saute them for 2 mins.

Add chillies, spice powders, curd and mix well. Add salt and mix well.

Now add in half of the marinated chicken and mix well. Add in water and coriander leaves and mint leaves.

Layer rice on top.

Add in coriander and mint leaves.

Add in saffron soaked in milk along with some food colour.

Top with ghee and cover it.

Place it on lowest heat possible and cook for 30 to 35 mins.

Remove and fluff up the rice.

Fry the remaining chicken pieces in hot oil.

In a bowl, place fried chicken 65 pieces, then top with rice. Invert the bowl into a plate and serve.

Serve,
Video
Join us on Facebook
Follow us on Facebook
Share by Email
Share on Facebook
Chicken 65 Biryani Recipe Step by Step Pictures
1)Take chicken in a bowl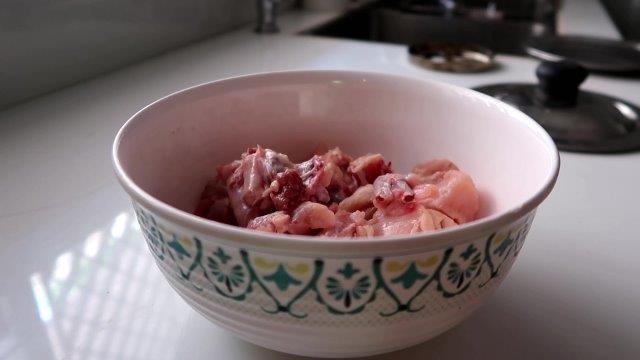 Pin
2)Add in yogurt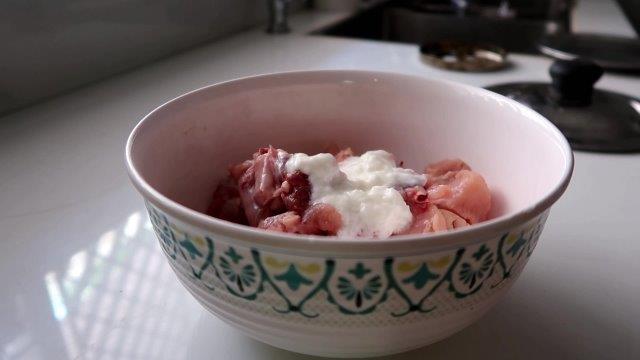 Pin
3)Add in ginger garlic paste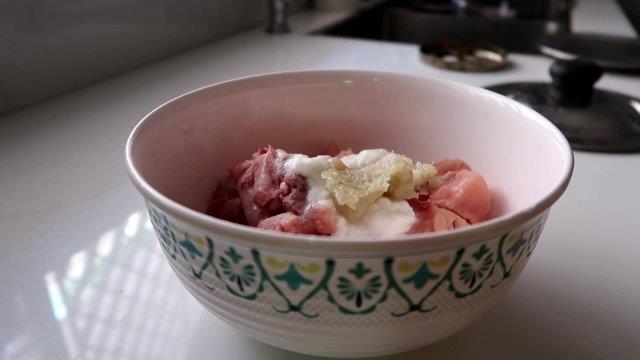 Pin
4)Add in garam masala powder, salt and lemon juice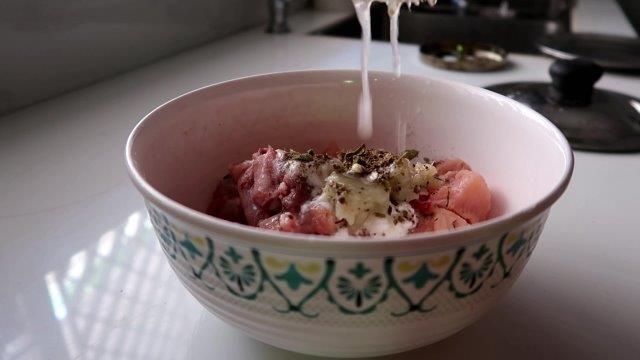 Pin
5)Add in chilli powder, coriander pdr, turmeric powder, cumin powder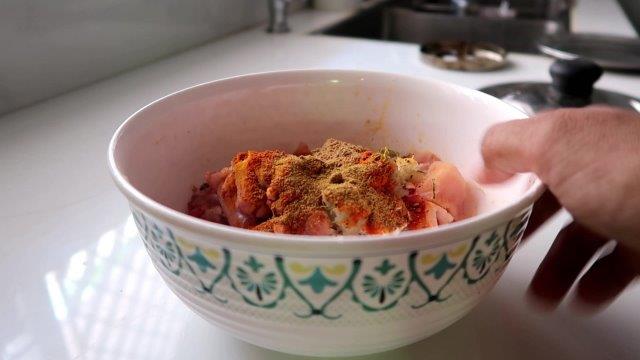 Pin
6)Mix well and set aside to marinate.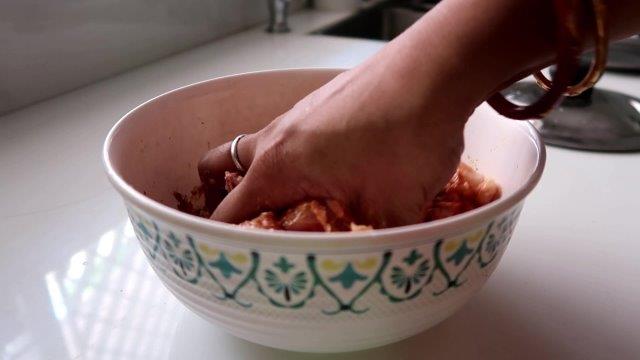 Pin
7)Heat oil and ghee in a pot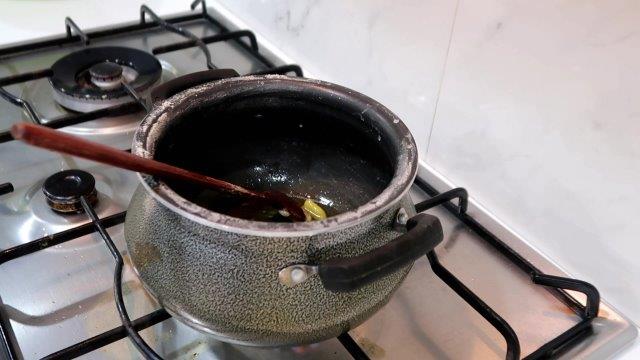 Pin
8)Add in onions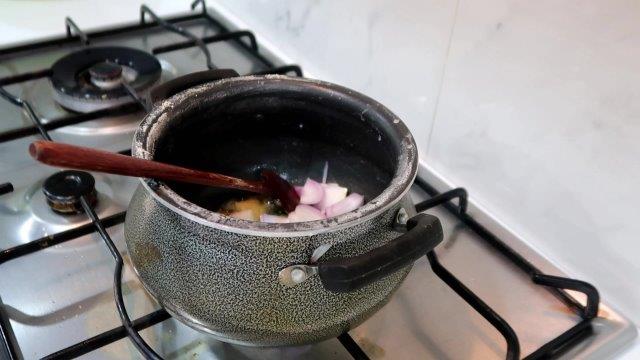 Pin
9)Cook till light golden. Add in ginger garlic paste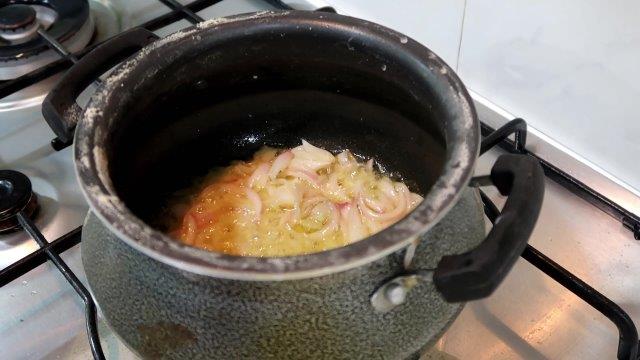 Pin
10)Add in spice powders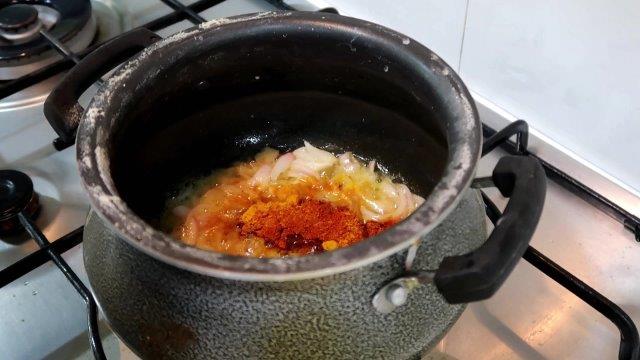 Pin
11)Add in garam masala powder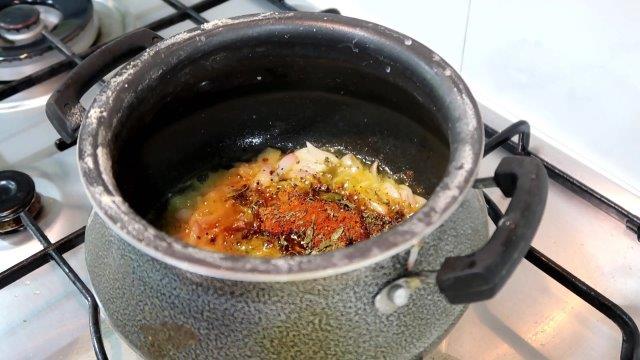 Pin
12)Mix well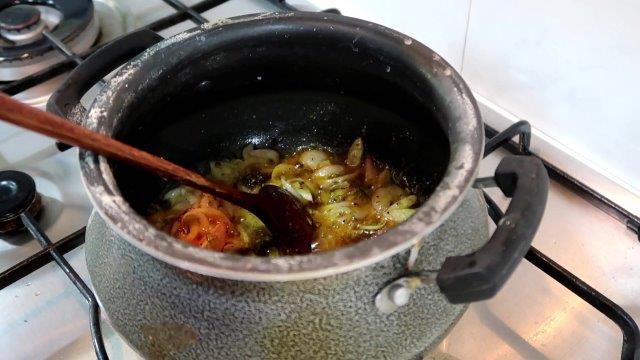 Pin
13) Add in yogurt /curd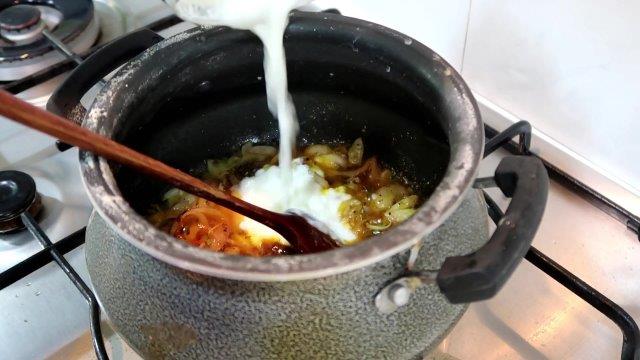 Pin
14)Add salt to taste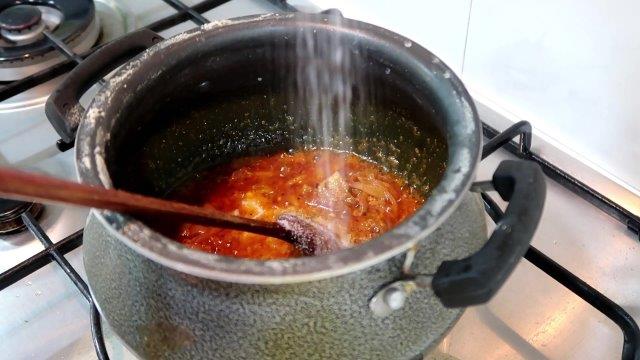 Pin
15)Mix well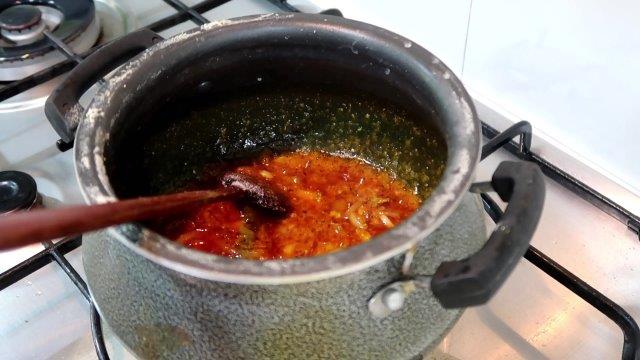 Pin
16)Add in half of the chicken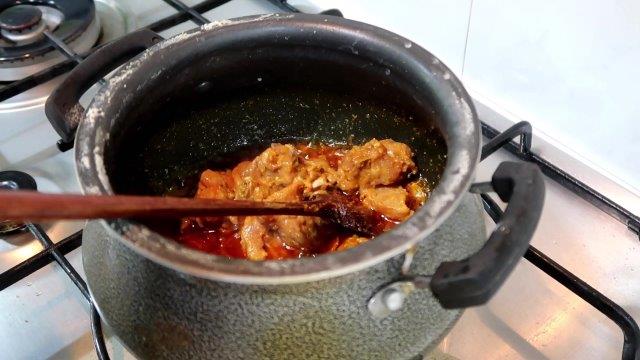 Pin
17)Mix well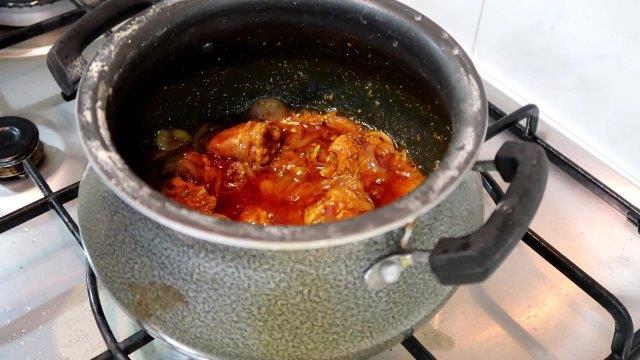 Pin
18)Add little water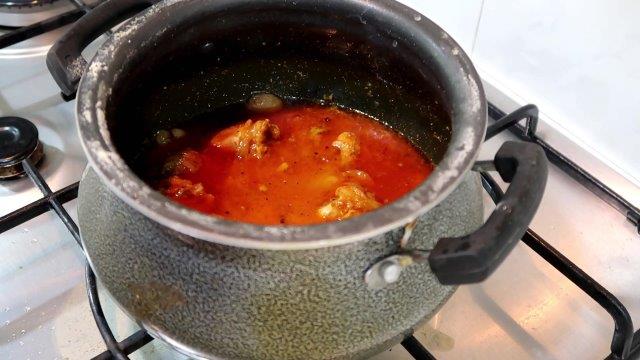 Pin
19)Add coriander and mint leaves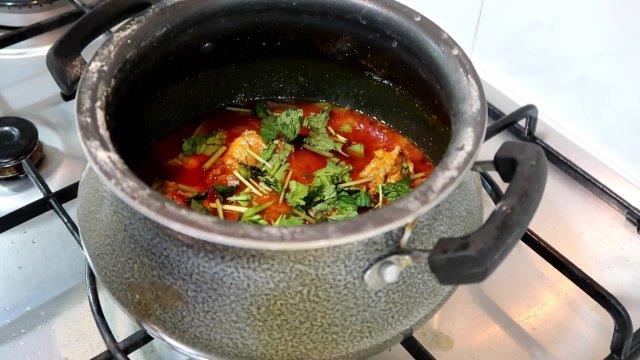 Pin
20)Add in rice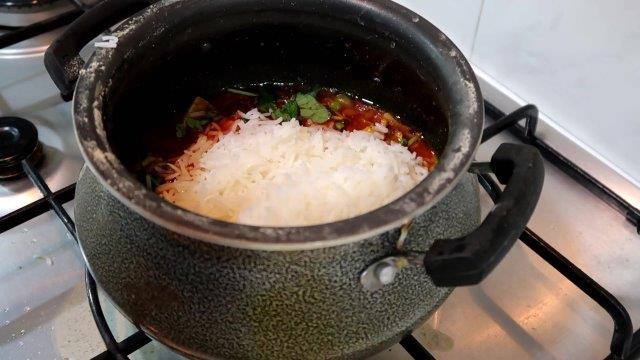 Pin
21)Pour over saffron milk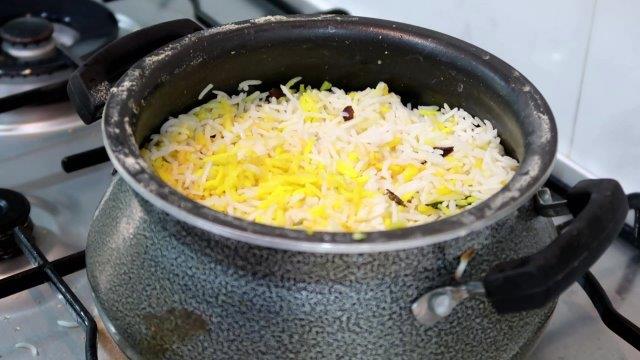 Pin
22)Top with more coriander and mint leaves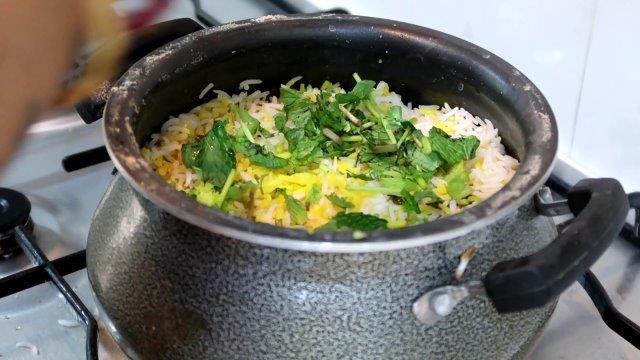 Pin
23)Top with ghee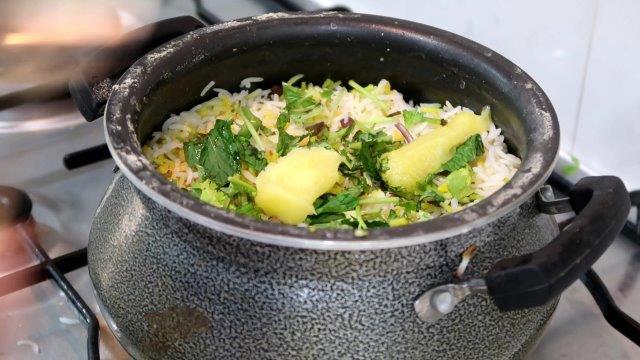 Pin
24)Cover and cook for 35 to 40 mins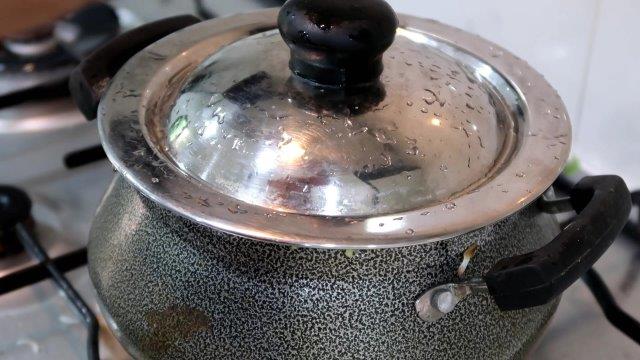 Pin
25)Fluff up the rice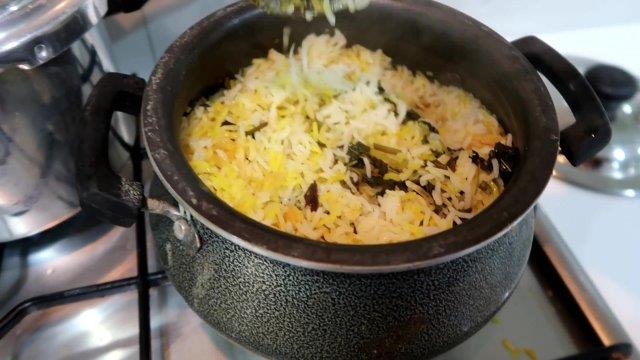 Pin
26)Fry the remaining chicken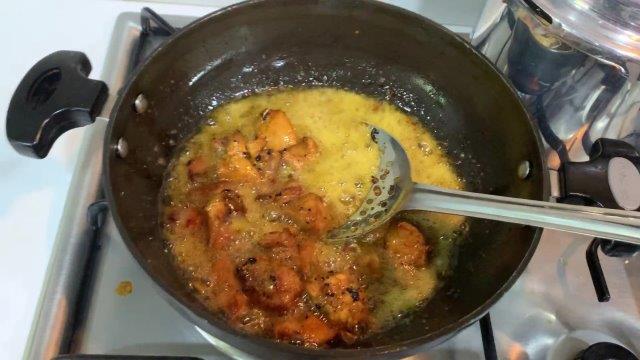 Pin
27)Spoon the rice over the chicken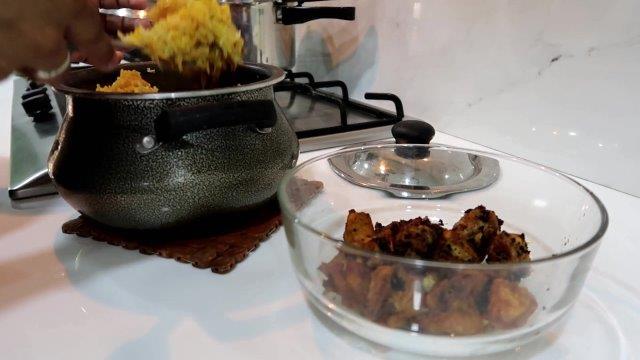 Pin
28)Top with rice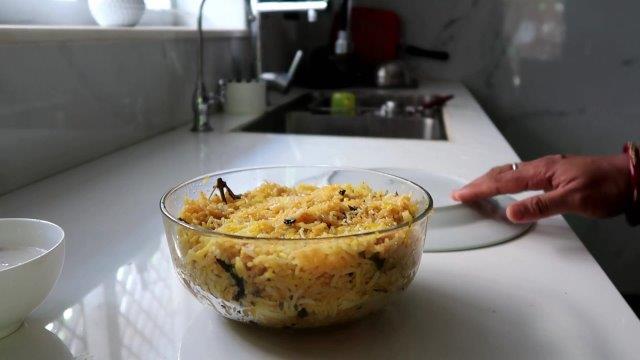 Pin
29)Invert it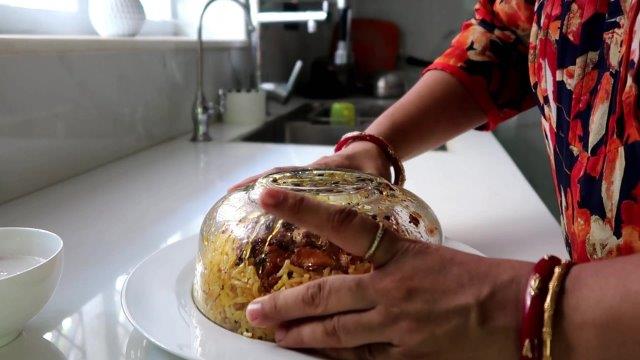 Pin
30)Enjoy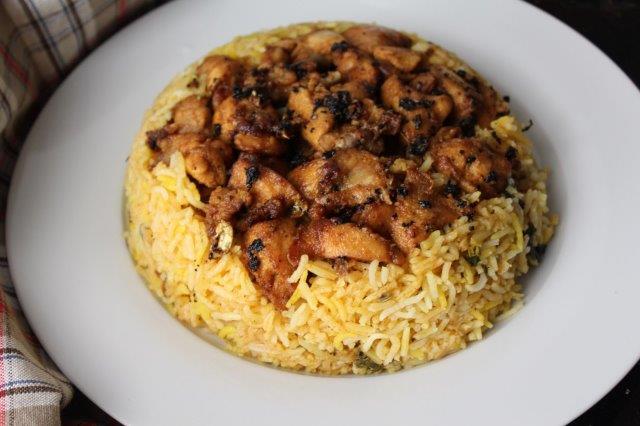 Pin
Frequently Asked Questions
What does chicken 65 taste like?
Chicken 65 is a spicy, deep-fried Indian chicken dish that can be served as an appetiser or main course. The flavour is primarily derived from red chilis and curry leaves. It can be eaten as a snack and shared with friends. It can also be eaten as a main course with roti or naan.
What is the difference between Chicken Biryani and chicken 65 biryani?
The chicken 65 biryani recipe is similar to a standard one, so you don't need to go out of your way to prepare it. Instead of cooking chicken with rice, marinated and fried chicken pieces are layered with rice and biryani masala to cook 'dum' style.
If you have any questions not covered in this post and if you need help, leave me a comment or mail me @[email protected] and I'll help as soon as I can.
Follow me on Instagram, Facebook,Pinterest ,Youtube and Twitter for more Yummy Tummy inspiration.
IF YOU MAKE THIS RECIPE OR ANYTHING FROM YUMMY TUMMY, MAKE SURE TO POST IT AND TAG ME SO I CAN SEE ALL OF YOUR CREATIONS!! #YUMMYTUMMYAARTHI AND @YUMMYTUMMYAARTHI ON INSTAGRAM!