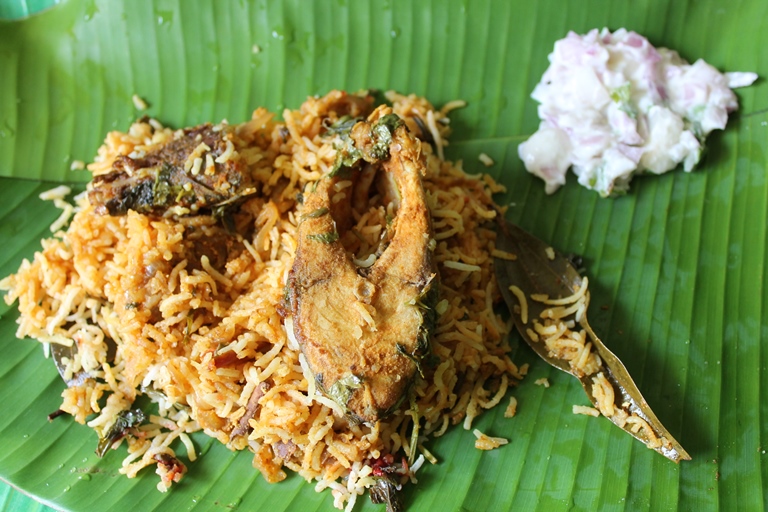 Briyani, Briyani and Briyani..Who hates it..No one right..It is truly a delicacy of india. You can make it with anything you like starting from vegetables to fish. There is one thing in common in these types of briyani, which is the process of making it. The original briyani calls for few steps and the main among that is the "DUM" part.
But now we have found a easy and cheat way of making briyani's in a pressure cooker. I too have lots of briyani which is made in pressure cooker. Check those recipes here.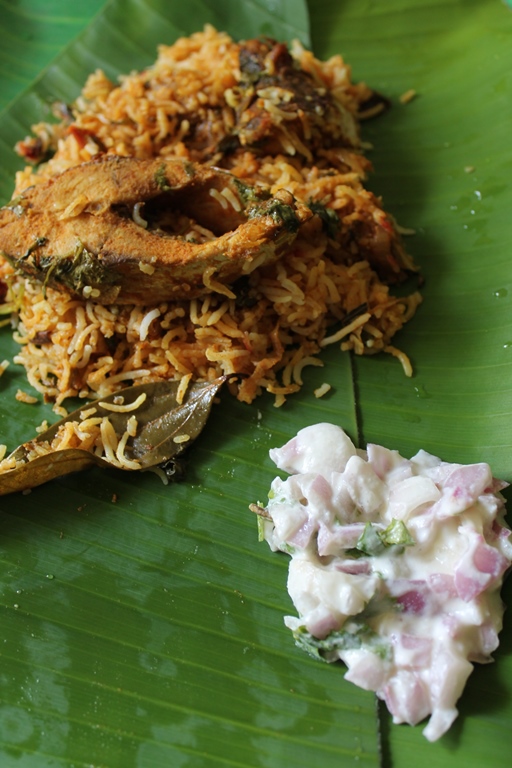 But the unique flavour, look and aroma comes to a briyani when it is cooked in a dum style. I have a Traditional Mutton Briyani, Chicken Kofta briyani, Vegetable Briyani which is made in dum style. Making a perfect briyani doesn't need any masterclass or something like that, just use the good quality basmati rice, so you will get the perfect grains and aroma of a briyani. Then the cooking of the rice, it shouldn't be over cooked and the next step will be the masala for the briyani.
I hope you will love this fish briyani as much as i did. Have this with any raita of your choice, you can choose from my list of raita too..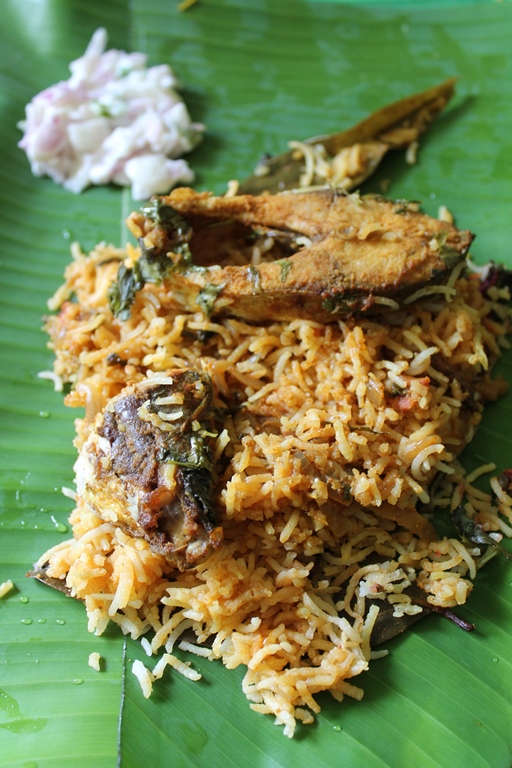 Preparation Time : 30 mins
Cooking Time: 1 hour
Serves – 3 to 4

Ingredients:
For Cooking Rice:
Basmati Rice – 2 cups ( Click here to know how to cook rice)
Water – lots of it
Cardamom / Yelakai – 4
Cloves / Krambu – 4
Cinnamon / Pattai – 1 small stick
Cumin Seeds / Jeera – 1 tsp
Bay Leaf – 2
Salt – 3 tsp
For Fried Fish:
Fish Pieces – 1/2 kg ( Use firm white fleshed fish )
Salt to taste
Chilli powder – 1 tsp
Coriander powder / Malli podi – 1 tsp
Turmeric powder / Manjal podi – 1 tsp
Cumin powder / Jeera podi – 1 tsp
Lemon Juice – to taste
Oil – 1/4 cup


For Briyani:
Pandan Leaves / Briyani leaf – 1
Onion – 2 large thinly sliced
Green Chilli – 3 slit
Ginger Garlic Paste – 2 tblspn
Chilli powder – 1 tsp
Coriander powder / Malli podi – 1 tblspn
Turmeric powder / Manjal podi – 1 tsp
Cumin powder / Jeera podi – 1 tsp
Garam Masala Powder – 2 tsp
Tomato – 1 large chopped
Curd – 1 cup
Mint Leaves – 1/2 cup finely chopped
Coriander leaves – 1/2 cup finely chopped
Salt to taste
For Saffron Milk:
Saffron – a pinch
Warm Milk – 1/4 cup


Method:
Wash and Soak rice for 30 mins. Now boil lots of water with all the ingredients given for cooking rice. Add the soaked rice in the water and cook it for 8 to 10 mins till the grains are 90 percentage cooked. Drain it in a colander and set aside.
Mix saffron with warm milk and set aside to steep.
Marinate the fish in the ingredients given for 30 mins. Heat oil in a heavy bottom pan(this is the pan where you are going to make briyani). Add the fish pieces in this oil and cook them for 5 mins on each side. Remove them to a plate.

In the remaining oil, add in pandan leaves and fry them for few mins. Add in sliced onions, green chilli and saute for 5 mins or so.
Once the onion is cooked, add in ginger garlic paste and saute them for a min.
Now add in all the spice powders and mix them for 30 sec.
Add in tomatoes and a splash of water. Cook this for 5 mins till the tomatoes is mashed completely.
Add in salt, mint leaves, coriander leaves and curd. Mix well.Cook this for 5 mins till the masala is completely cooked.
Now spoon the cooked rice on top and add some more coriander and mint leaves. Drizzle over some saffron milk and place the fish pieces on top of the rice.
Cover this whole thing and place over a heavy bottom iron tawa and put the tawa on low heat. Let this whole thing be on dum for 15 to 20 mins. Open the lid and mix everything up.
Serve this briyani with raita.


Pictorial: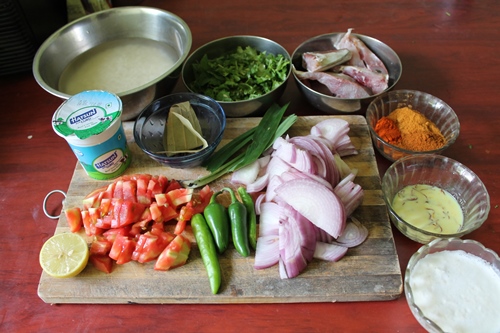 Take all your ingredients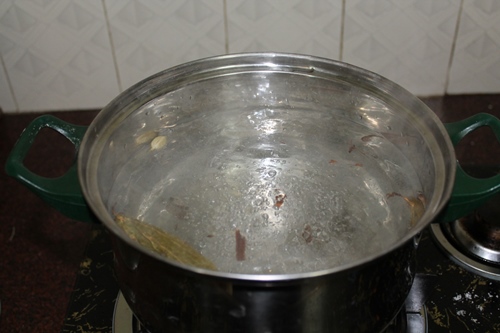 Boil lots of water with whole spices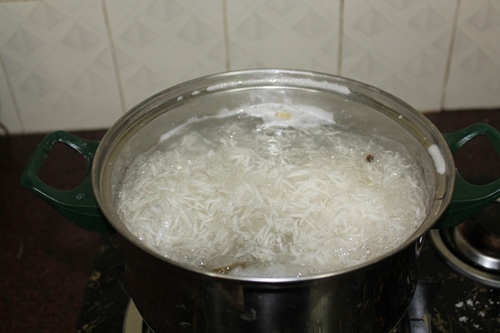 Add rice to it and cook
Once it is cooked, drain them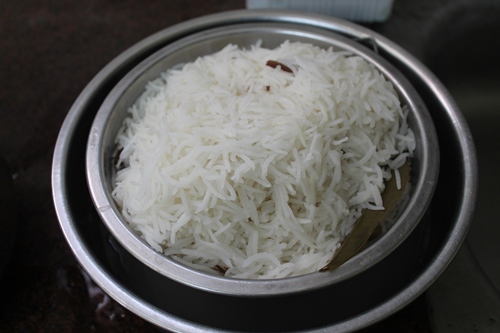 Set this aside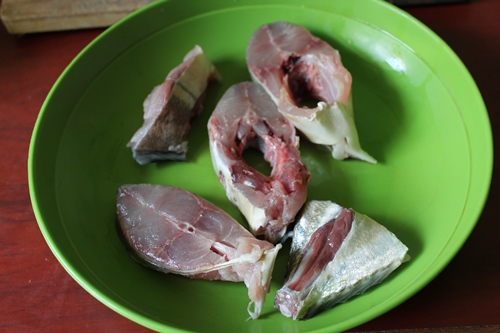 Take your fish pieces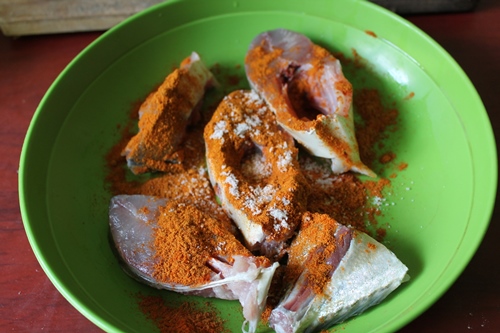 Sprinkle in salt and spice powders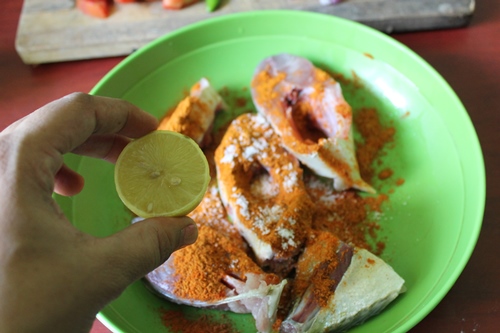 Give a squeeze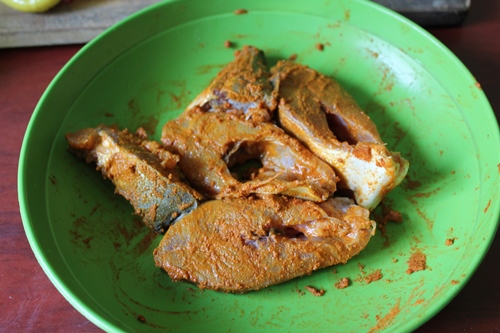 Now everything is marinated well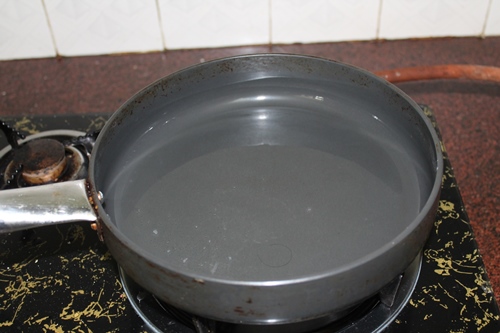 Heat oil in a heavy bottom pan,
you are gonna make briyani in this pan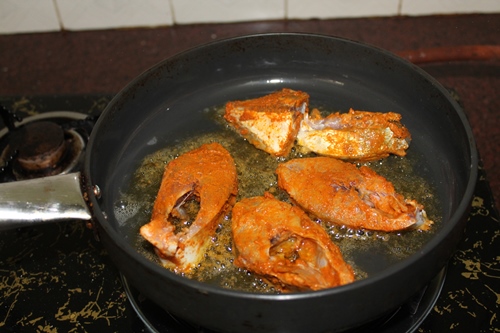 Drop the fish pieces in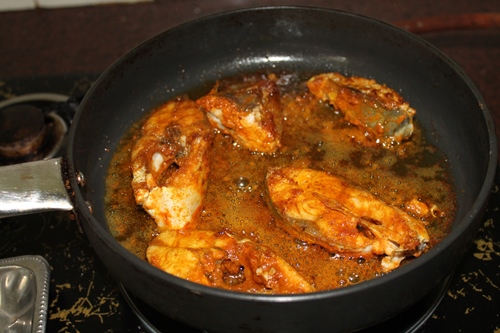 Flip over and sear them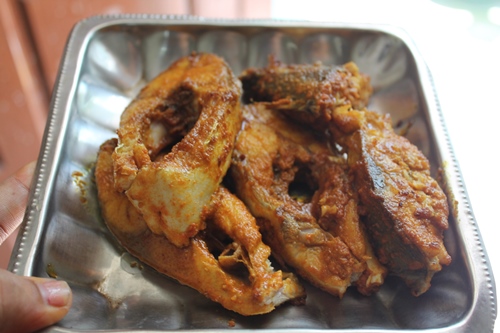 Remove them to a plate once they are cooked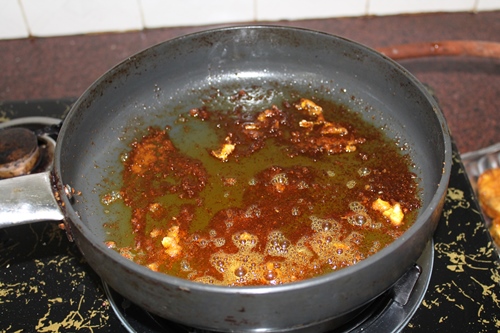 In the remaining flavourful oil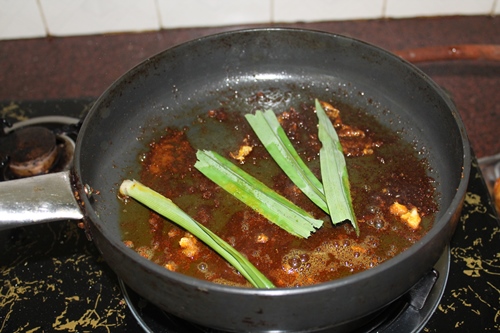 Add in pandan leaves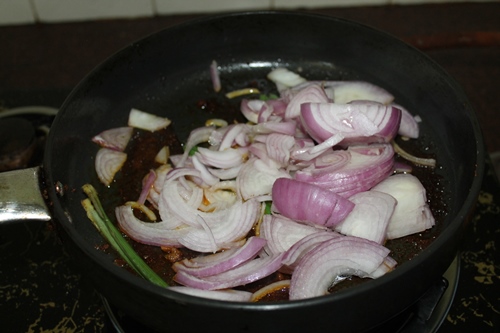 Sliced onions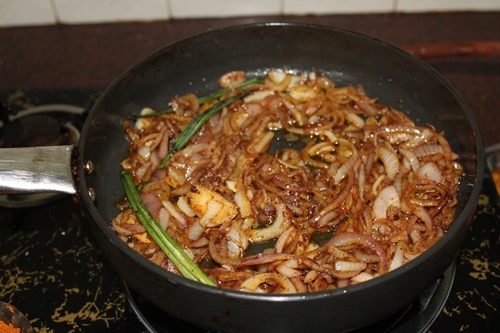 Saute them well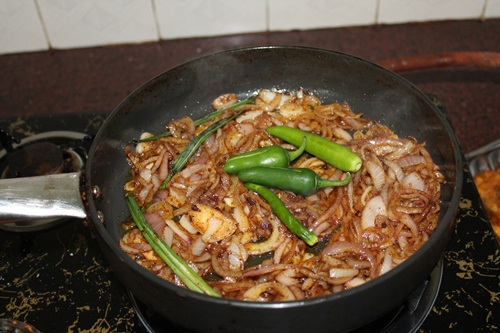 Add in green chillies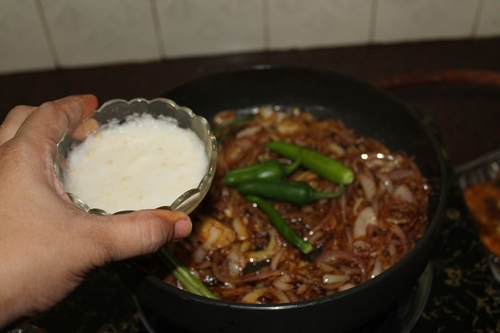 add in ginger garlic paste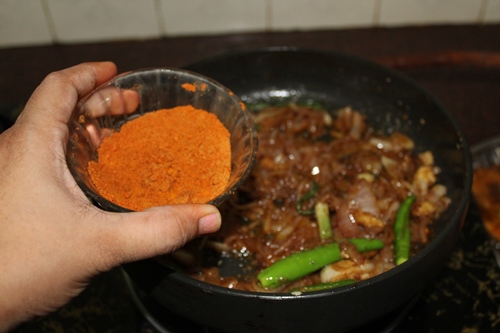 And the spice powders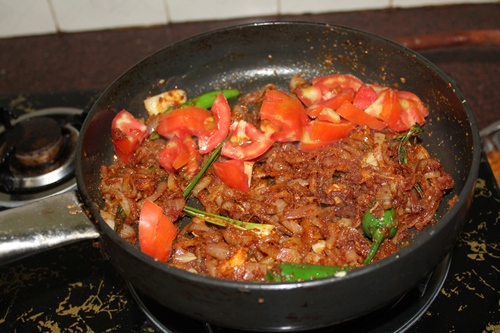 Now add in tomatoes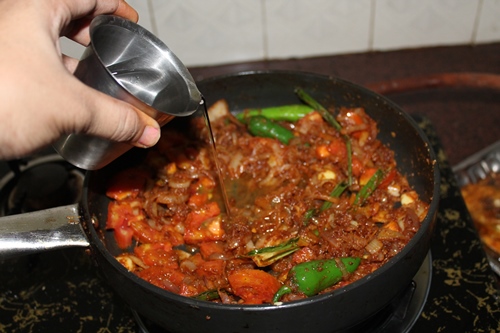 Pour in some water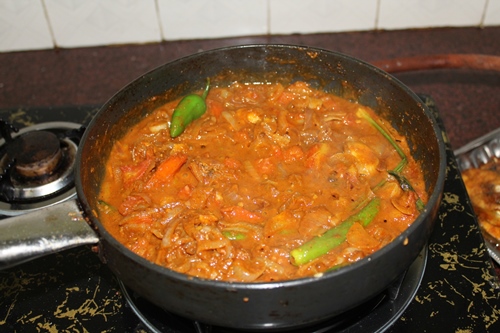 Cook them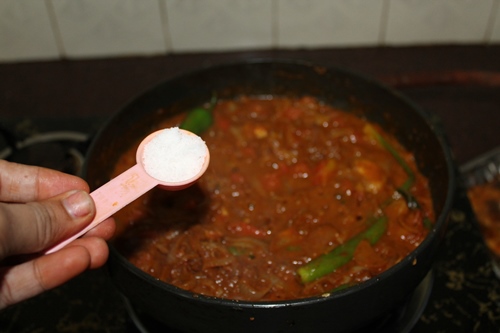 Sprinkle some salt over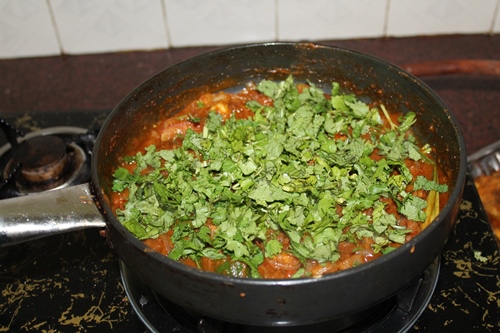 Add a bunch of mint and coriander leaves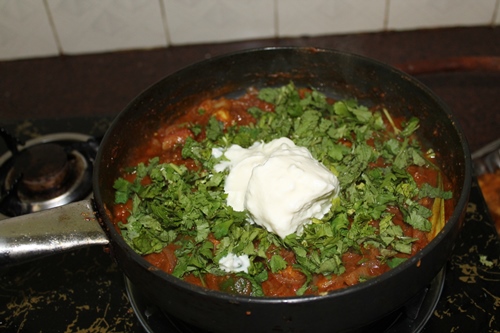 Add in curd too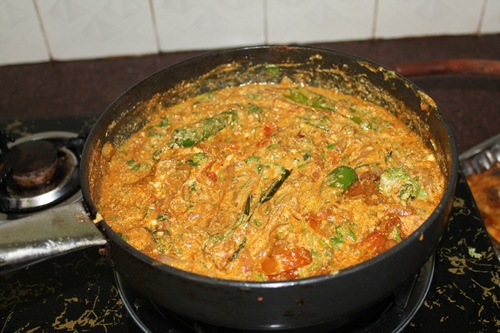 Mix these well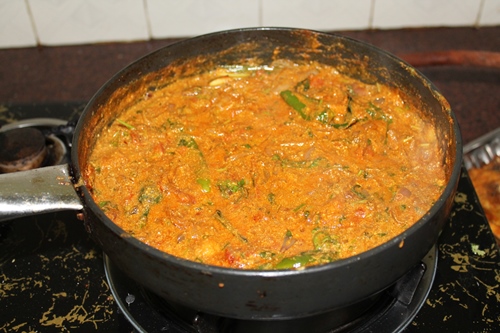 Let them cook till everything is combined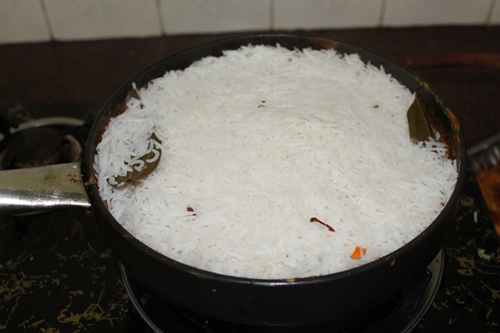 Spread the rice evenly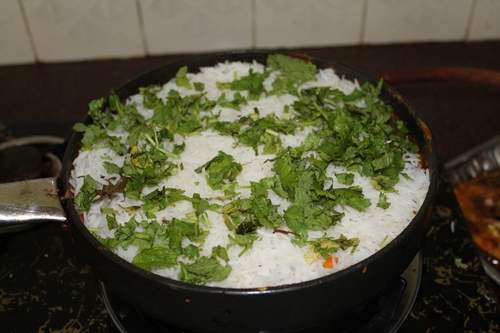 Sprinkle some more herbs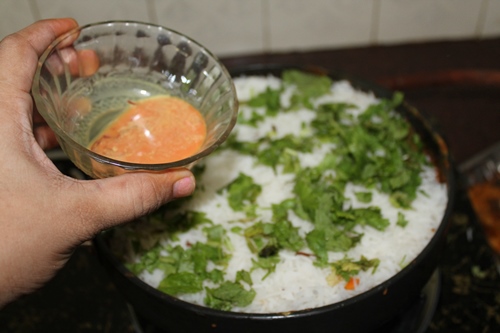 Pour some saffron liquid on top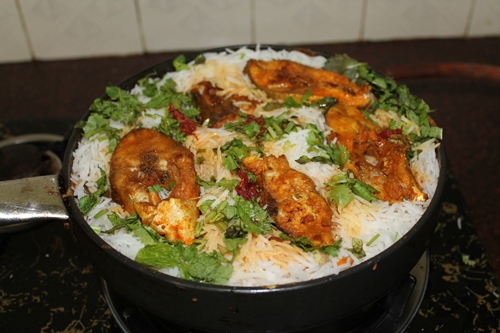 Arrange the fish pieces over this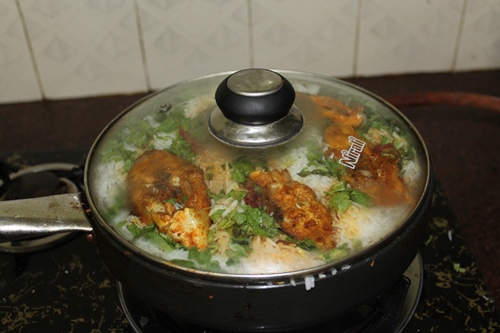 Cover with a lid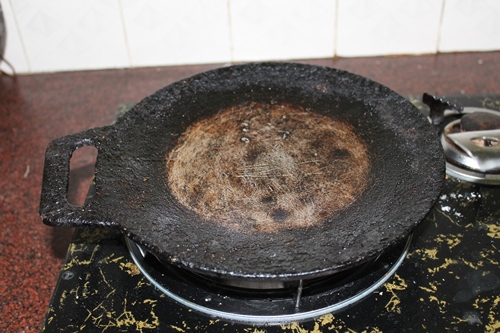 Now for the dum part, heat a heavy tawa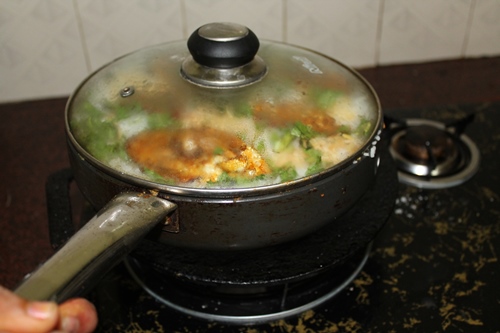 Place the whole thing on top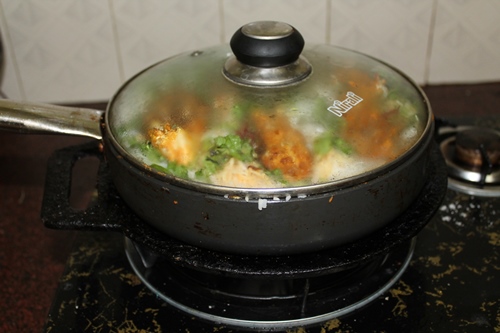 Let it steam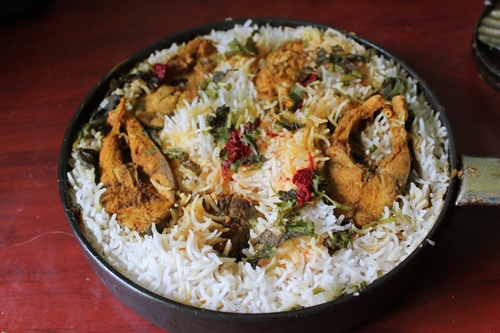 Add beautifully cooked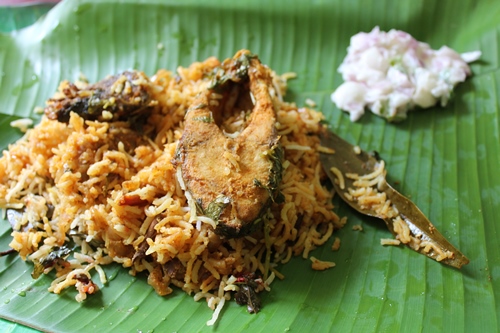 Serve
I am Aarthi, a happy homemaker, mom of two beautiful girls, married to my high school sweet heart. My goal is to teach people that cooking can be way more easier and joyful than they think. Yummy Tummy features recipes all over the world with step wise pictures which surely shows the ease of cooking.