Special Garam Masala for Biryani
Version 2: Chicken Dum Biryani Recipe ( Hyderabadi Style)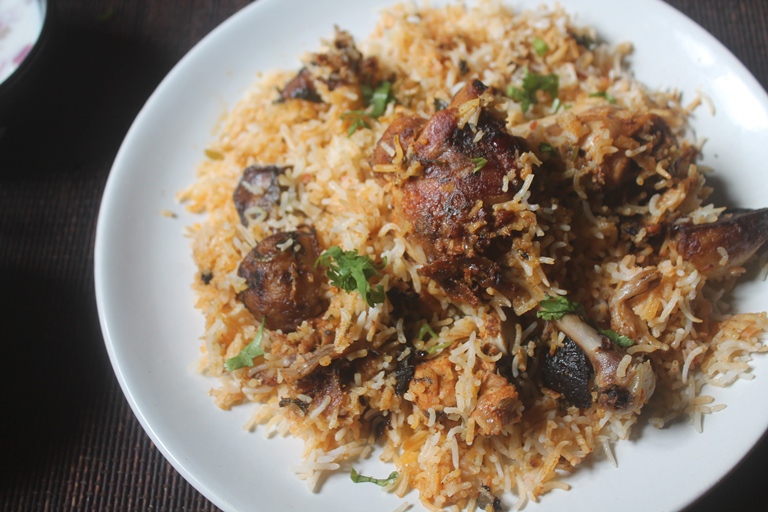 PinPin
Ingredients for Making Chicken Biryani (Hyderabadi Style)
Oil - 1.5 cup
Potatoes - 2 large peeled and cubed
Onion - 3 large sliced thinly
Kewra Water - 1 tsp
Rose Essence - 1 tsp
Coriander Leaves - ¼ cup chopped finely
Mint Leaves - ¼ cup chopped finely
Ghee - 2 tblsp
Saffron a pinch
Milk - 3 tblsp
Chapati Dough as needed
FOR MARINATION:
Chicken - 1 kg
Yogurt - ½ cup
Chilli powder - 2 tblsp
Salt to taste
Ginger Garlic Paste - 4 tblsp
Lemon Juice - 4 tblsp
Coriander Leaves - ½ cup chopped
Mint Leaves - ½ cup chopped
Garam Masala Powder - 1 tblsp
Green Chillies - 2 slit
FOR COOKING RICE:
Basmati Rice - ½ kg
Water lots of it
Pepper - 1 tblsp
Cinnamon stick - 2 stick
Cumin Seeds - 1 tsp
Cardamom powder - 6
Cloves - 6
Bay Leaf - 2
Salt to taste
How to Make Chicken Biryani (Hyderabadi Style)
Pre-preparation
Heat oil in a pan, deep fry potatoes till golden brown, drain and set aside. In the same oil add onions and fry till golden. Set aside ½ of the fried onions for topping.
Marinating Chicken
Now take chicken in a bowl, add all ingredients given for marination. Add ½ of the fried onions and 1 cup of the onion fried oil. Mix well and leave to marinate for 1 hour.
Preparing Rice
Now take basmati rice and wash well. Soak for 30 mins. Now bring lots of water to a boil. Add all whole spices and salt. Once it boils, add rice and cook till it is 75% cooked. Drain and set aside.
Assembling Biryani
Now take a large pan, add the chicken in the base. top with cooked rice, Now top with fried potatoes, onions, coriander leaves, mint leaves, kewra water, rose essence, saffron soaked milk and ghee.
How to Cook Biryani in Dum
Spread chapati dough around the edges of the pan, place a lid over it and seal the pot. Cook on very low heat for 40 to 45 mins. Now remove it from flame and let it sit for 15 mins. Now open the lid and mix the rice gently. Serve hot.
Pictorial:
1)Heat 2 cups of oil and fry cubed potatoes.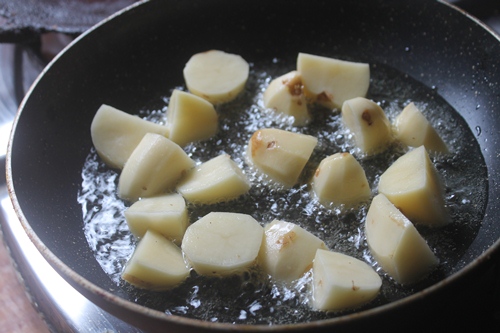 Pin
2)Fry on medium high heat till golden brown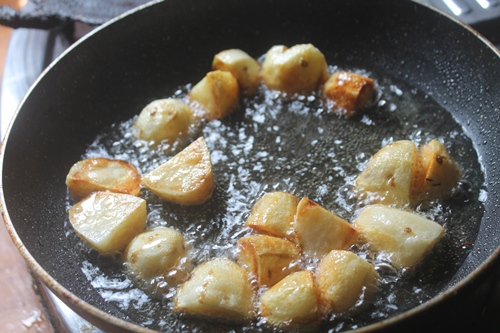 Pin
3)Now it is golden brown, drain and set aside.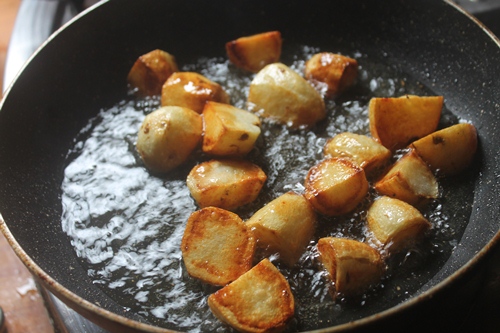 Pin
4)Add in sliced onions and fry till golden.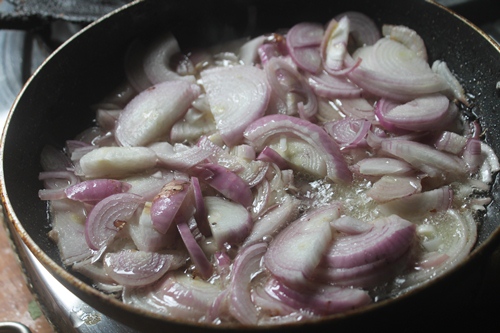 Pin
5)Cook on high heat till it gets golden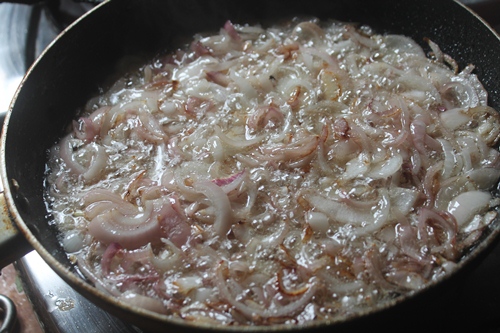 Pin
6)Now it has got nice and crispy. Drain and set aside.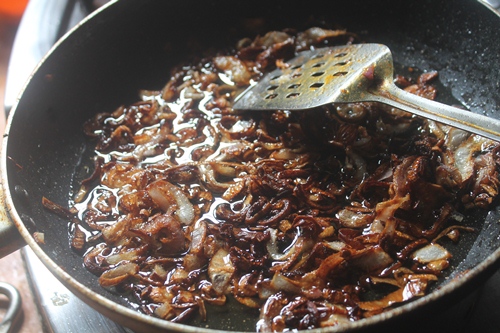 Pin
7)Now lets marinate the chicken.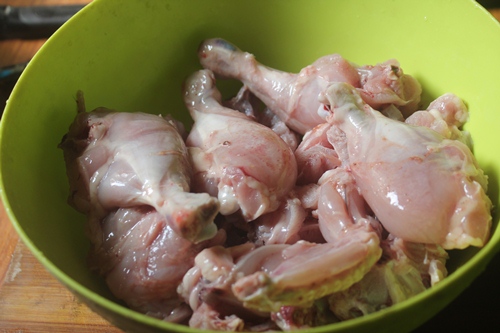 Pin
8)Add yogurt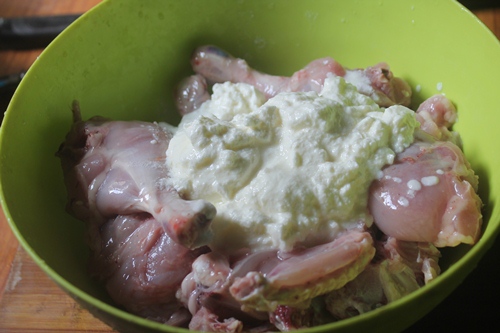 Pin
9)chilli powder and salt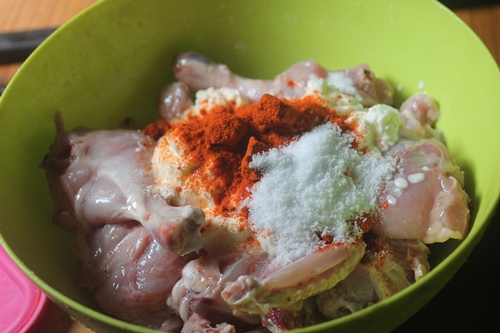 Pin
10)Add in green chillies and ginger garlic paste.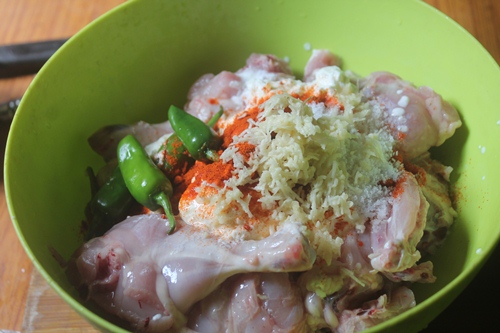 Pin
11)Add in lemon juice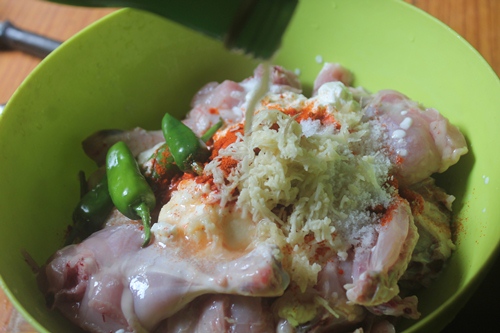 Pin
12)coriander leaves and mint leaves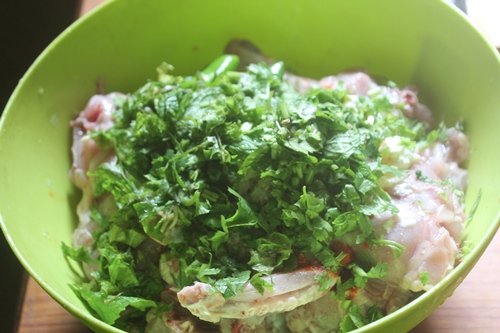 Pin
13) Add in garam masala powder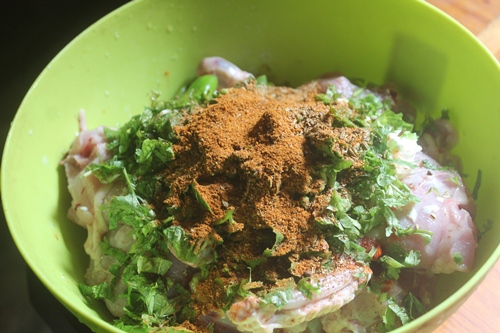 Pin
14)Add in half of the fried onions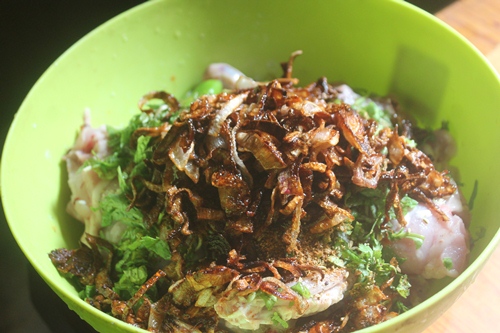 Pin
15)1 cup of fried onion oil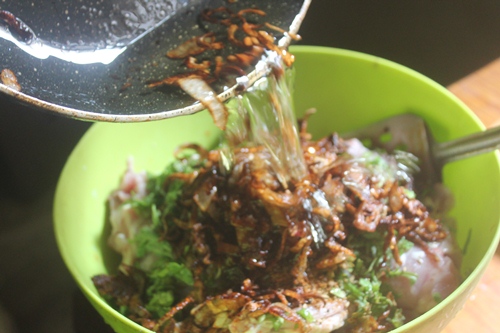 Pin
16)Mix well. Leave to marinate for 1 hour.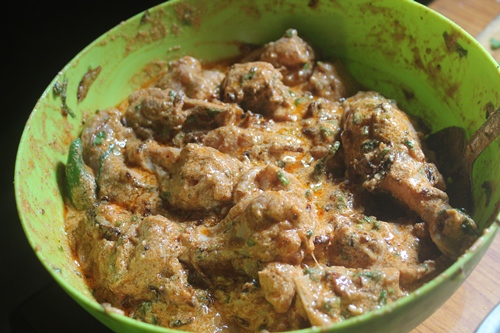 Pin
17)Now cook basmati rice. Soak basmati rice for 30 mins. Bring lots of water to a boil, add salt and whole spices. Add rice and cook till it is 75 percent cooked.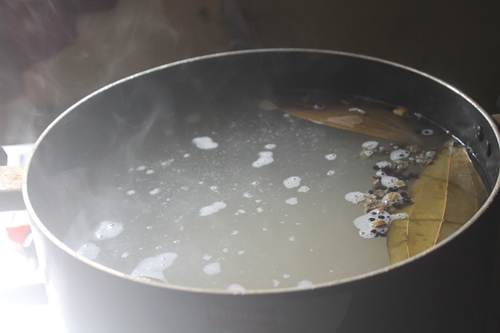 Pin
18)Drain and set aside.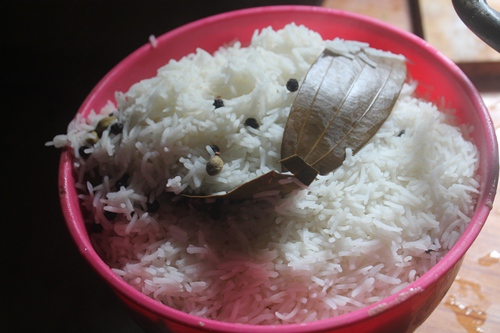 Pin
19)Now take a large pot. Add chicken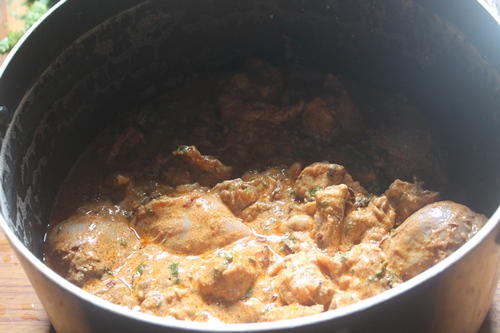 Pin
20)top with cooked rice.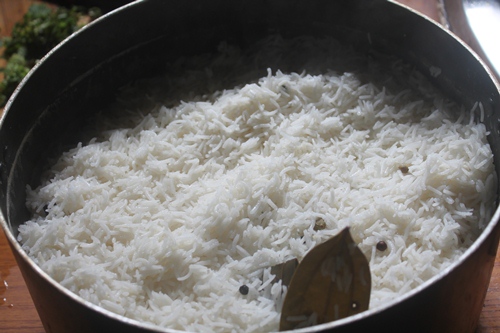 Pin
21)Top with coriander and mint leaves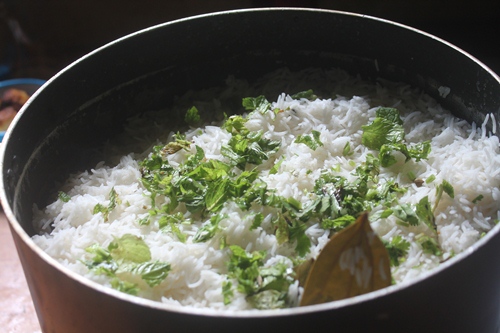 Pin
22)fried potatoes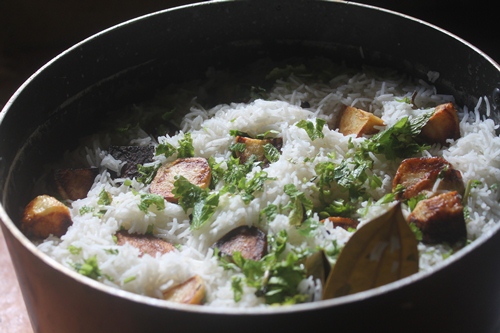 Pin
23)Top with the remaining half of the fried onions.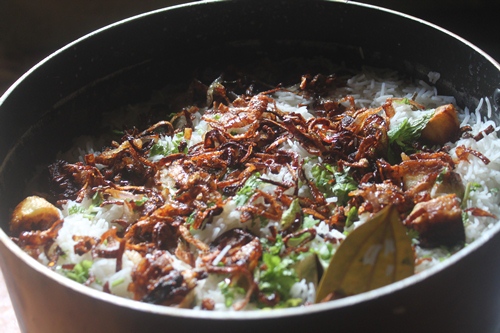 Pin
24)Sprinkle kewra water and rose water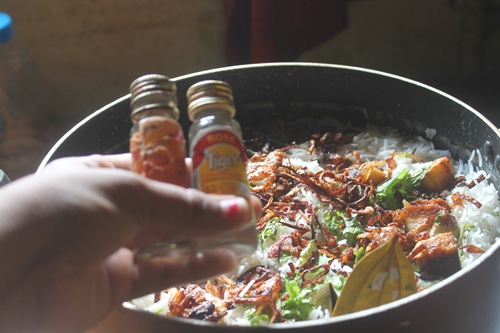 Pin
25)Add in saffron soaked milk.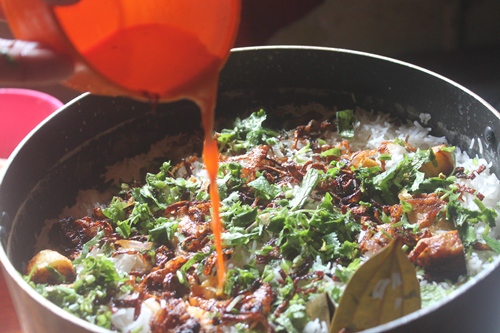 Pin
26)Top with ghee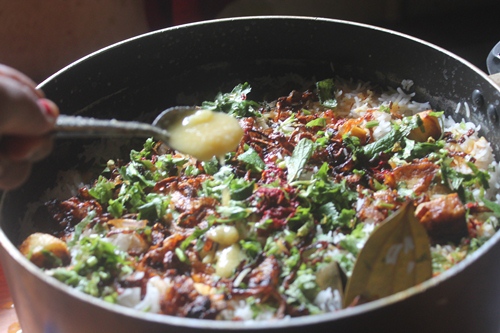 Pin
27) Make some chapati dough.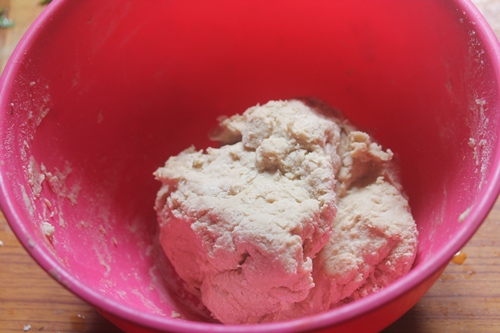 Pin
28)Apply all over the rim of the pan.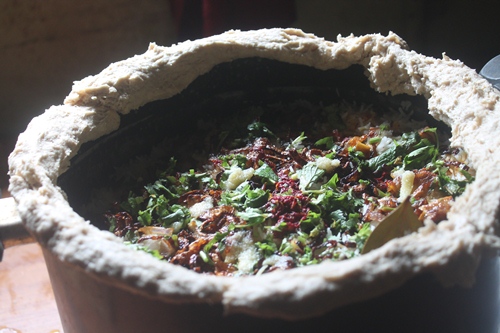 Pin
29)Place a lid on top and seal it well. Put the pan on a very very low heat for 45 mins.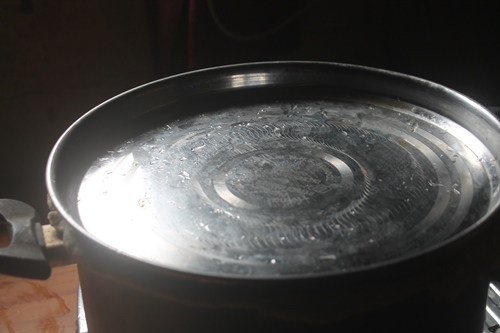 Pin
30)Once 45 mins is over, let it sit for 15 mins undisturbed. Now open the lid.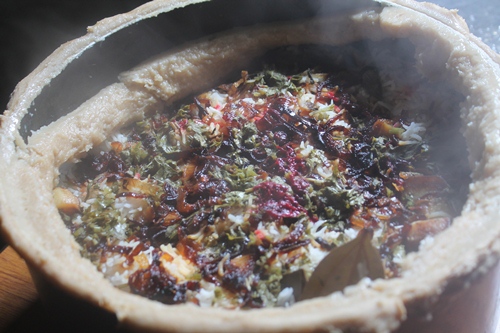 Pin
31)Fluff the rice gently.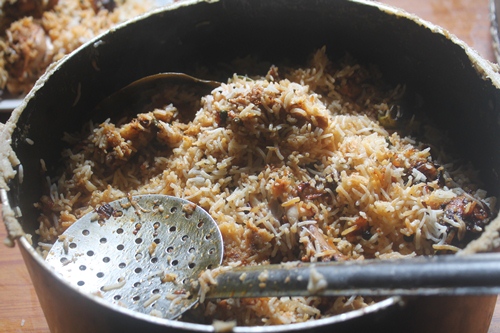 Pin
32)Serve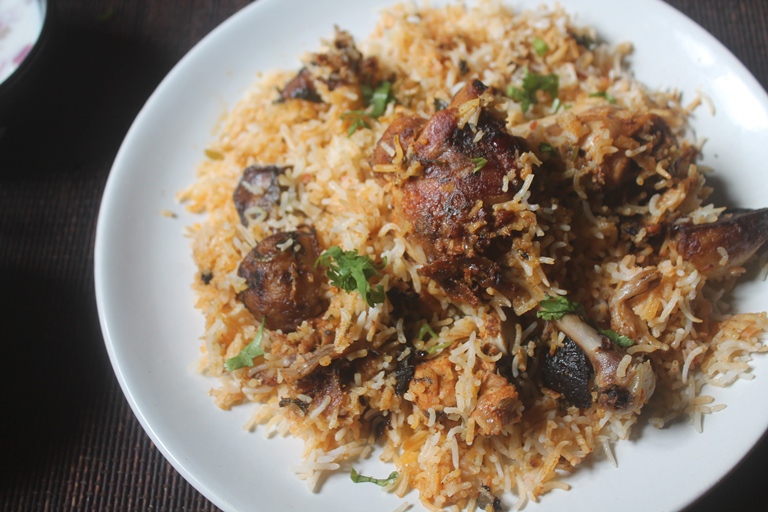 PinPin
Tips & Tricks
Soaking rice and marination chicken is very important, so never skip it.
Use good quality basmati rice for this, i use india gate basmati rice.
Cooking the rice perfectly is important. If you over cook it, the the whole biryani will be mushy. So stand near the rice and keep checking it, after you add rice to boiling water, it will just take 5 to 7 mins for the rice to get cooked.
Marinate the chicken for atleast 3 hours or overnight.
The special garam masala in this add to the aroma of the chicken biryani. So make sure you use that.
About Cooking Rice:
Always use good quality basmati rice. Make sure the rice is aged and aromatic.
Soak the rice for atleast 30 mins to 1 hour.
When cooking rice, use lots of salted water. so the rice has enough space to cook properly.
You add add whole spices in the rice cooking water (how to cook biryani rice)
cook rice as per proper texture(check below for tips)
Texture of Rice to Chicken Masala:
If your marinated chicken is runny (if your curd is watery and the masala leached too much liquid), then cook the rice a lot less time.
Frequently Asked Questions FAQ
1)Why do we give dum to biryani?
It basically refers to let the rice and chicken cook under pressure and let the aroma infuse and trapping it inside the pot. Therefore large handis are sealed with dough or cloth to trap the steam, which then cooks the meat or rice until tender.
2)Chicken dum biryani origin?
Many historians believe that biryani originated from Persia and was brought to India by the Mughals. Biryani was further developed in the Mughal royal kitchen. the Mughal soldiers looked undernourished. In order to provide a balanced diet to the soldiers, she asked the chefs to prepare dish with meat and rice. (wiki)
3)How do you serve biryani?
Biryani is usually served with onion raita, brinjal curry, papad and pineapple jam.
4)How do you find out if biryani is cooked or not?
You can easily know it by the smell of the dish. Usually chicken biryani takes 35 mins to cook. Mutton biryani takes around 45 mins to 1 hour to cook.
Serving Suggestions
Chicken dum biryani is best when served with a spicy and tangy brinjal curry and refreshing raita.
If you have any questions not covered in this post and if you need help, leave me a comment or mail me @[email protected] and I'll help as soon as I can.
Follow me on Instagram, Facebook,Pinterest ,Youtube and Twitter for more Yummy Tummy inspiration.
IF YOU MAKE THIS RECIPE OR ANYTHING FROM YUMMY TUMMY, MAKE SURE TO POST IT AND TAG ME SO I CAN SEE ALL OF YOUR CREATIONS!! #YUMMYTUMMYAARTHI AND @YUMMYTUMMYAARTHI ON INSTAGRAM!
Related Recipes