Chocolate Truffles Recipe with step by step pictures. Truffles made with cream, chocolate which is made into ganache and rolled into balls. Melt in mouth truffles easy to make.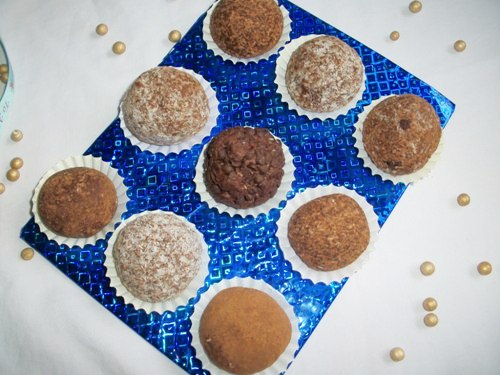 Chocolate Truffles Recipe
I  Heart Chocolate Truffles. Well I Heart Chocolates. Its like I am addicted to chocolate and nothing can  make me instantly happy except a bar or two of chocolate..When I am in a far most tension, a bar of dark chocolate will do the trick instantly and When I am in my extreme happiness a piece of milk chocolate knows what to do. Sometimes dark chocolate chips have been my munch down snack. I know there is nothing more to say about the love I have for chocolate.
About Chocolate Truffles Recipe
This month's magic ingredients are Cinnamon & Chilli. They are the perfect combo and perfect match among the list of ingredient. I squeezed my brain for past whole week and finally decided to make this chocolaty rich truffles which is spiced up with these stuffs. I gave a tiny little kick with the chilli and tons of earthy flavour with those cinnamon. How could these go wrong. And the result was pretty promising.
The idea for this came from a chocolate bar which my brother brought for me from his visit to UK. Actually it is a Chilli Chocolate Bar, a good bar of chocolate which is kicked up with chillies. I totally loved the combo. Hence this truffles are born. I actually made this for the special day which I mentioned earlier in one of my post. My fiancée totally loved this one and finished everything in one go..I hope you too will love it.
Similar Recipes,
Nutella Fudge
White Chocolate Fudge
Chocolate Pistachio FudgeTutti Fruity Fudge Bars
Double Chocolate Fudge
Oreo Fudge
If you have any questions not covered in this post and if you need help, leave me a comment or mail me @[email protected] and I'll help as soon as I can.
Follow me on Instagram, Facebook,Pinterest ,Youtube and Twitter for more Yummy Tummy inspiration.
IF YOU MAKE THIS RECIPE OR ANYTHING FROM YUMMY TUMMY, MAKE SURE TO POST IT AND TAG ME SO I CAN SEE ALL OF YOUR CREATIONS!! #YUMMYTUMMYAARTHI AND @YUMMYTUMMYAARTHI ON INSTAGRAM!
📖 Recipe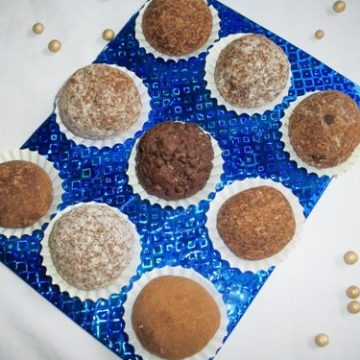 Truffles Recipe | Chocolate Truffles Recipe
Chocolate Truffles Recipe with step by step pictures. Truffles made with cream, chocolate which is made into ganache and rolled into balls. Melt in mouth truffles easy to make.
Ingredients
Dark Chocolate – 225 grams / 8 ounces

Butter - 30 gms / 1 ounce

Heavy Whipping Cream – 120 ml / ½ cup / 4 fluid ounces

Cinnamon Stick / Pattai – 1 inch piece

Dry Red Chillies – 2
For Outer Coating:
Confectioners Sugar / Icing Sugar

Cocoa

Dessicated Coconut

Choco Dessicated Coconut

I mixed some cocoa with dessicated coconut

Chocolate Chips

Chopped Nuts

Melted Chocolate
Instructions
Put chocolate and butter in a heavy bottom pan and melt on low heat untill melted. You could melt it in either double boiler or microwave.

Now take heavy cream in a sauce pan..Add chilli and cinnamon in it and heat it up…Let the heat be low as possible..

When you see bubbles around the edges switch off the flame and remove the chilli and cinnamon from the cream with a slotted spoon.

Pour this cream over the melted chocolate and butter and mix well..

Pour this into a shallow bowl and set in the fridge for 3-4 hours untill the chocolate has set..

Take a spoon and scoop some chocolate out of the bowl and roll it in your hands..You could wear a gloves if you need.

Put it in a foil lined tray and put it back in the fridge for atleast 30 mins to 1 hour to set.

Now take the truffles out of the fridge and coat it with your favorite coating.

Serve immediately Put it back in the fridge untill you serve.
Chocolate Truffles Recipe Step by Step Pictures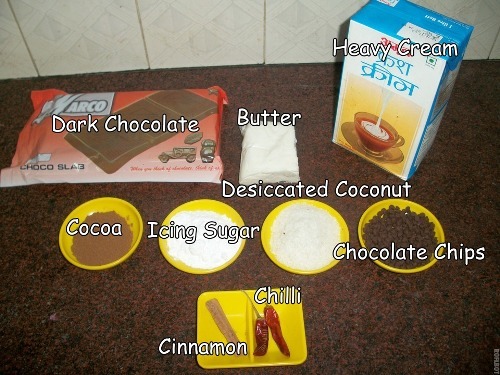 Take all your yummy stuffs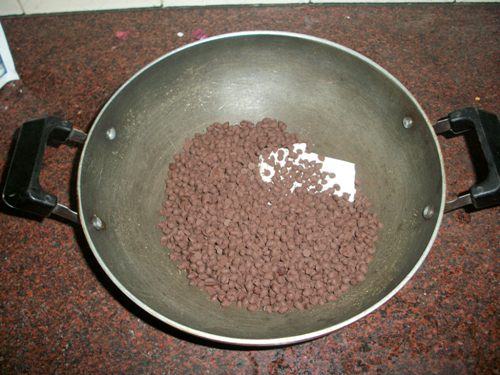 put chocolate and butter into a heavy bottom pan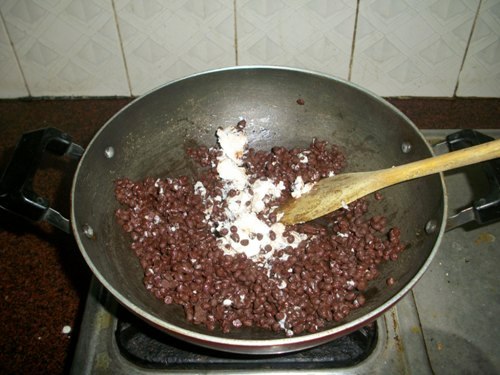 heat it up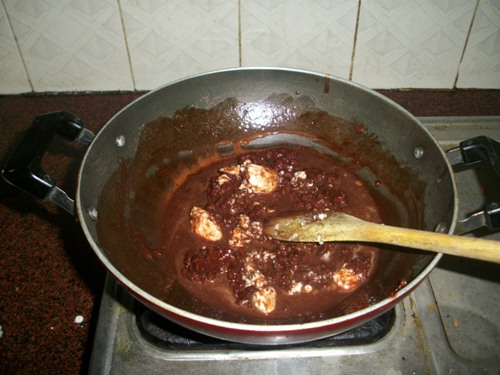 it has started to melt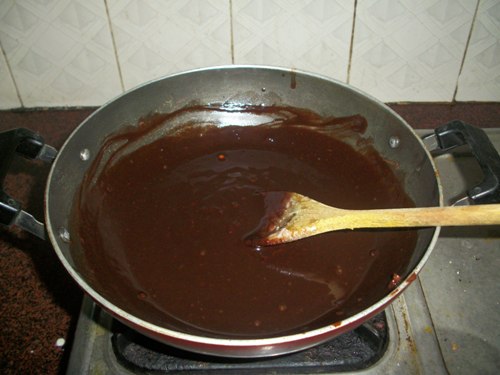 all melted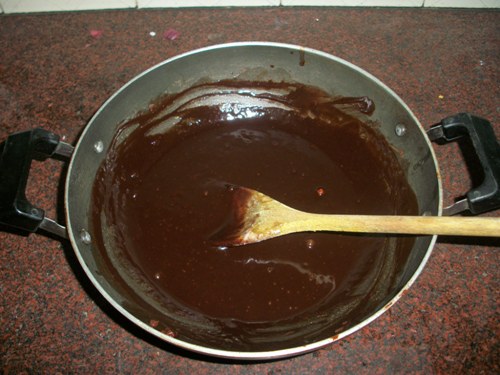 remove it from heat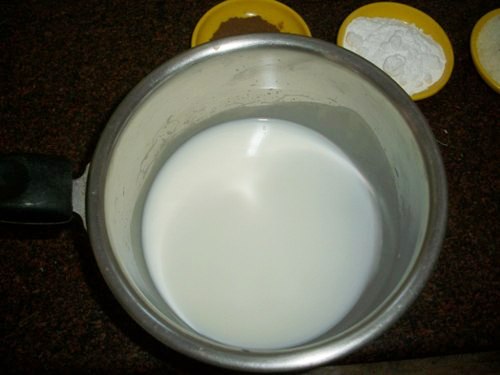 take cream in a sauce pan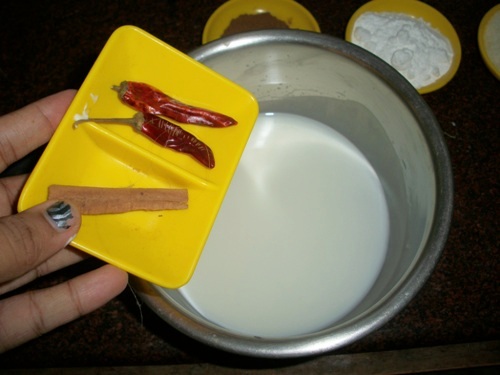 add chilli & cinnamon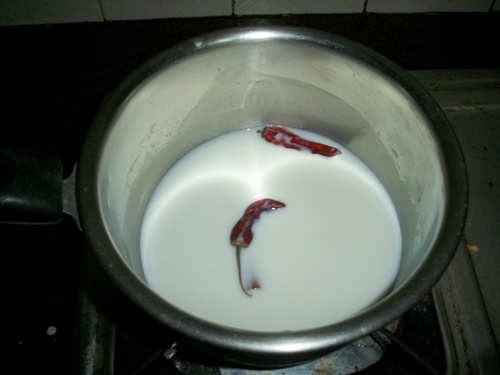 heat it up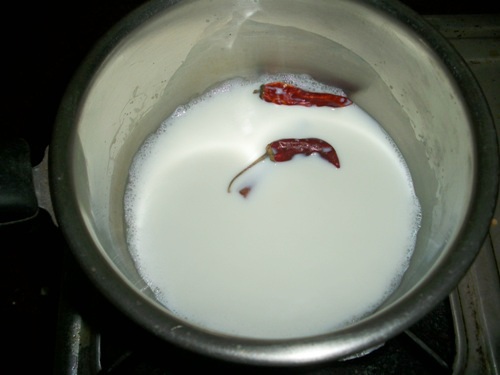 let it come to a boil..But don't let it boil over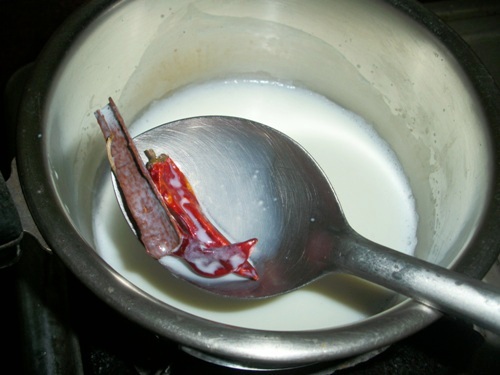 remove the cinnamon and chilli..It has done its work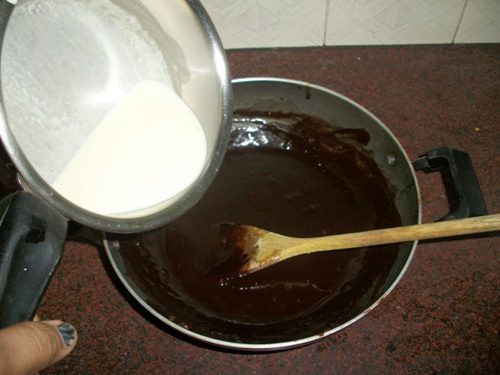 pour this over the chocolate pool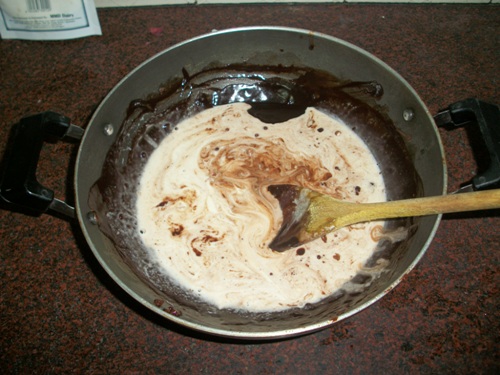 and mix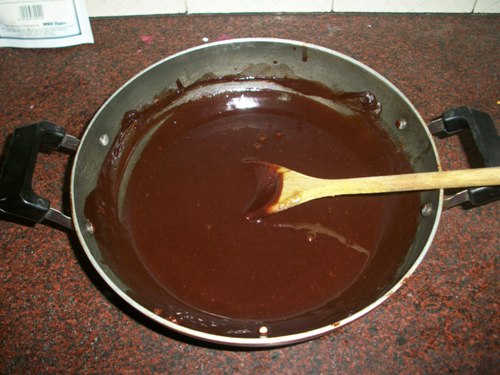 oh my god..I could dive in this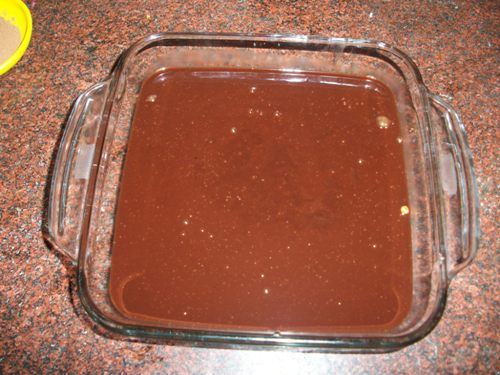 pour this into a shallow bowl and put in fridge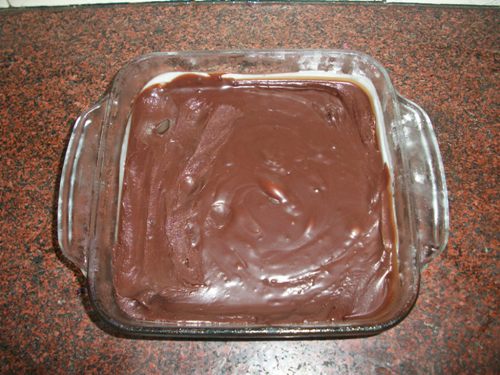 until it is set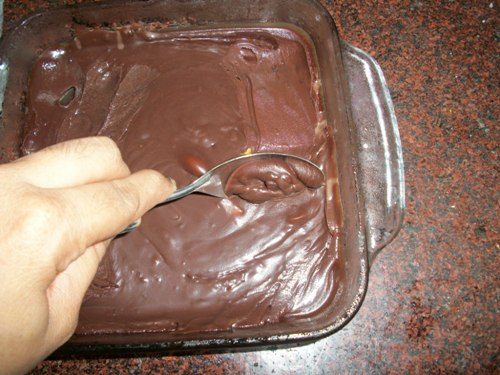 take spoonful of this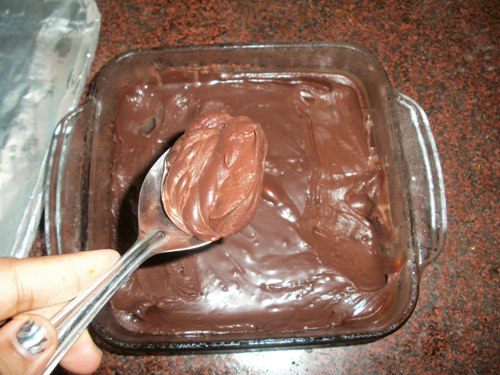 and eat it...Sorry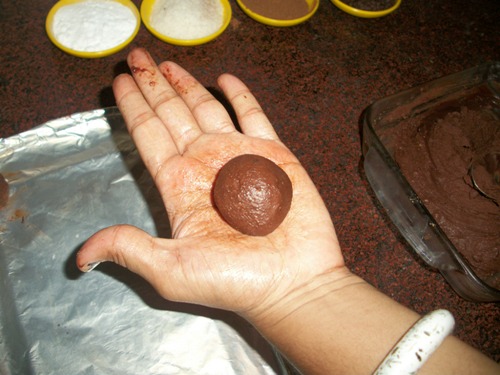 shape like this...One Cute Truffle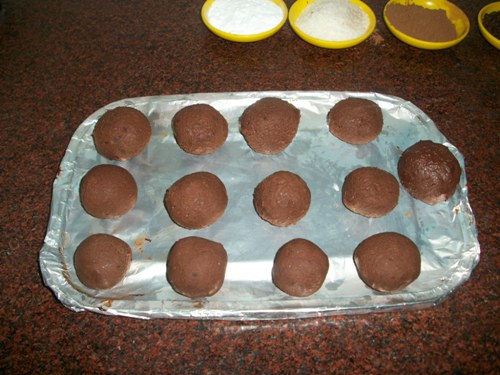 Shape all truffles ...Put this in fridge and allow it to set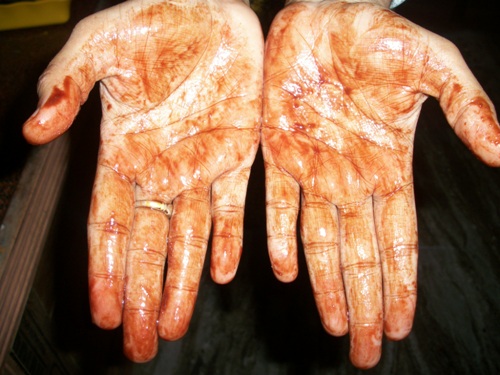 ok..This is how your hands will look like after you have shaped all..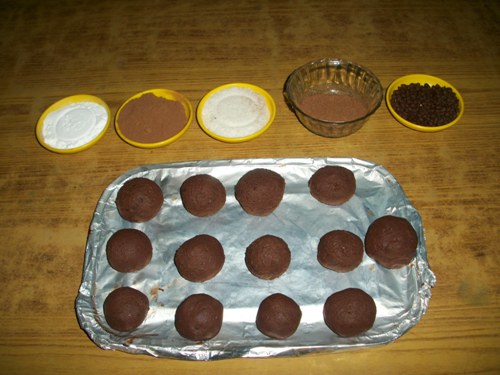 Now its time to roll and coat...take all the stuffs which you would love to coat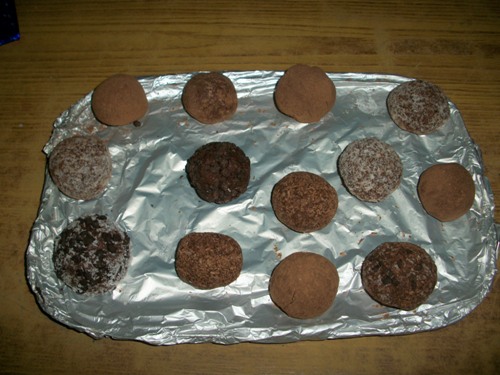 all rolled...I have coated it with cocoa, coconut, chocolate chips, coconut & chocolate chips, chocolate coconut, Icing Sugar..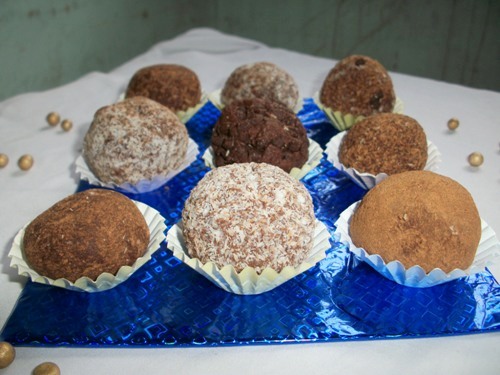 Serve chilled