Ragi Cookies Recipe with step by step pictures. Healthy cookies made with ragi flour (finger millet flour) which is eggless too.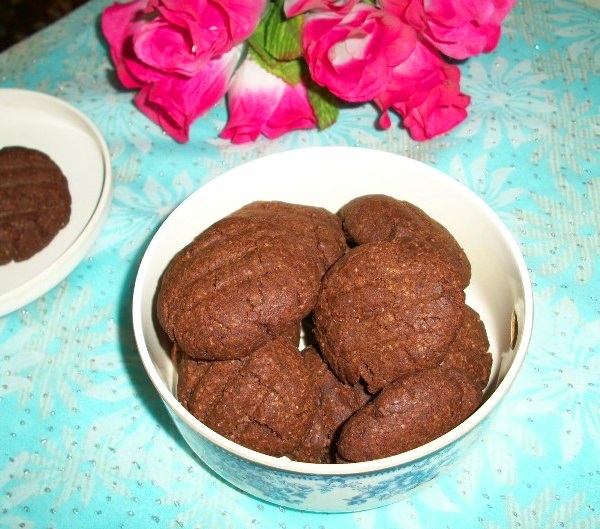 When we kids my grandma used to make ragi porridge several days in a week for breakfast. As a kid I hate ragi, somehow I don't like the colour as well as the texture of that porridge. My aunt used to make ragi dosa for my uncle who is a diabetic patient.  I love that dosa, it is not the instant kind which I posted in this blog, She makes the dosa by grinding urad dal and fermenting it. It stays so soft and the flavour was so good.
About Ragi Cookies Recipe
I love cooking with ragi because I know it is so good for me and contains lots of vitamins in it. Ever since I started using ragi in my cooking, I always make dosa, adai or something like that. But lately I discovered that ragi can be used in baking too, since I came across a cookies which I ate in one of my nearest bakery.
So when I searched online I found this awesome recipe and immediately gave a try and the result was mind blowing. It didn't taste like ragi which you must have had before..It was rich chocolaty and purely yummy. The cool thing in this recipe is, it is EGGLESS. So any one can enjoy it.
Ragi, a millet that resembles mustard seeds in appearance, is incredibly nutrient-dense. It is easily ground into flour, which can then be used to make many Indian dishes like ragi idli, ragi roti, and ragi sheera. Ragi is full of fibre, low in gluten, and high in protein.
Ragi works as a great source of fiber when it comes to people trying for weight loss. It helps in controlling Diabetes in the body while ensuring that the person is healthy and strong. Not only this, Ragi prevents obesity, provides energy, improves digestion and averts chronic diseases.
Ingredients for Eggless Ragi Cookies Recipe
Ragi Flour / Finger Millet Flour:
Ragi, also known as finger millet, is a nutritious cereal crop. However, despite being aware of its nutritional benefits, some people are unable to consume it on a regular basis due to its bitter taste.
Cornflour:
When paired with all-purpose flour, cornstarch helps prevent gluten development, which makes the flour coating crispier, and absorb moisture (from the frying and the chicken), which also means a crispier coating.
Cocoa Powder :
Cocoa powder is primarily used as a flavouring agent in baked goods such as cookies, ice cream, dairy drinks, and cakes. Aside from flavouring, it is also used in the production of coatings for confectioners or frozen desserts. Cocoa powder is also used in the beverage industry, for example, to make chocolate milk.
If you have any questions not covered in this post and if you need help, leave me a comment or mail me @[email protected] and I'll help as soon as I can.
Follow me on Instagram, Facebook,Pinterest ,Youtube and Twitter for more Yummy Tummy inspiration.
IF YOU MAKE THIS RECIPE OR ANYTHING FROM YUMMY TUMMY, MAKE SURE TO POST IT AND TAG ME SO I CAN SEE ALL OF YOUR CREATIONS!! #YUMMYTUMMYAARTHI AND @YUMMYTUMMYAARTHI ON INSTAGRAM!
📖 Recipe Card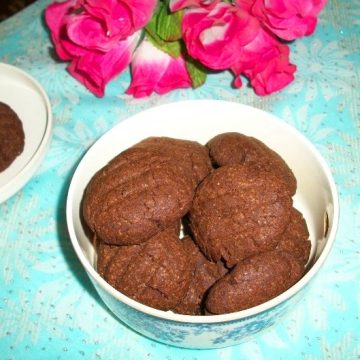 Ragi Cookies Recipe | Eggless Ragi Cookies Recipe
Ragi Cookies Recipe with step by step pictures. Healthy cookies made with ragi flour (finger millet flour) which is eggless too.
Print
Pin
Rate
Ingredients
Ragi Flour / Finger Millet Flour - 1 cup / 120 gms

Cornflour / CornStarch - 1 tblspn

All Purpose Flour / Maida- 1 tblspn

Cocoa powder - 1 tblspn

Sugar - ½ cup / 100 gms

Butter - 113 gms / 4 ounces / ¼ pound

Curd / Yogurt - 1 tsp or adjust it accoridingly

Baking powder - 1 tsp
Instructions
Preheat the oven to 190°C / 380°F.

Take Ragi flour in a pan and dry roast it for couple of minutes till its raw smells goes away. Remove this to a bowl and let it cool down completely.

Add cornflour, maida, baking powder and cocoa to ragi and mix well.

Now take butter in a sauce pan and melt it down. Add sugar and curd to the cooled butter and mix well.

Pour this over the flour mixture and mix well..Form into a soft dough.

Divide the dough into equal balls and flatten it slightly and arrange it in a parchment lined baking tray.

Take a tooth pick and press some impression over the cookies.

Bake this for 10- 12 mins. Remove this on to a cooling rack and allow it to cool completely.

Store in an airtight container.
Join us on Facebook
Follow us on Facebook
Share by Email
Share on Facebook
Ragi Cookies Recipe Step by Step Pictures
take all your ingredients
roast ragi flour
add it to a bowl
add cornflour
maida
and cocoa
and baking powder
mix well
add sugar to melted butter
add some curd
pour that in this
mix well
and form into a dough
divide into equal portions
using a toothpick and make slashes
like this
bake
Done done
cool down
Serve
Frequently Asked Questions
What is a Cookie?
A cookie is a small, flat, sweet snack or dessert that is baked or cooked. It is typically made with flour, sugar, eggs, and some kind of oil, fat, or butter. Other ingredients such as raisins, oats, chocolate chips, nuts, and so on may be included.
Except in the United States, crunchy cookies are known as biscuits in most English-speaking countries. Many Canadians use this term as well. Even in the United Kingdom, chewier biscuits are sometimes referred to as cookies. Some cookies, such as date squares or bars, may also be named after their shape.
How long do cookies without eggs last?
In overall, baked cookies will keep at room temperature for about five days if stored properly. Most cookies can be stored in one of two ways: in an airtight container at room temperature or in the freezer.
Is a cookie a type of biscuit?
Biscuits are small, flat, thin pieces of baked pastry with a low moisture content. The distinction between cookies and biscuits is that a cookie is a sweet, small, chunky biscuit with a low moisture content and a long shelf life.