Panch Phoron Recipe with step by step pictures. Aromatic Panch Phoran is a bengali spice mix made with 5 whole spices blended together.
I came across this spice mix few weeks back and i really want to give this a try. I thought of using this in few of my dishes and was very eager to check how this would turn out. Made myself a bottle of it and used in a couple of recipes, my goodness the results were amazing. They gave a very unique aroma and flavour to those dishes. I never imagined that this humble spice mix will give such an amazing flavour to those recipes.
About Panch Phoron
Panch phoron, Panch Phodan, or Bengali Pancha Phutana is a whole spice blend that originated in the eastern part of the Indian subcontinent and is popular in the cuisines of Eastern India and Northeastern India, particularly in Bhojpur, Mithila, Odisha, Bengal, and Nepal. The name literally translates to five spices.
This spices are all seeds. Panch phoron is typically made up of equal parts fenugreek seed, nigella seed, cumin seed, black mustard seed, and fennel seed. Due to their mildly bitter flavour, some cooks prefer to use a smaller proportion of fenugreek seeds.
What does Panch Phoron Means?
Panch means five in Bengali, and phoron means tempering. As a result, the five aromatic spices are fried in oil until they stammer .
There is nothing much to do that shake these spices together in a airtight container and store them smuggly inside the cupboard. You wait for the couple of recipe post, they are amazing one.
Panch Phoron Spices
Fennel Seeds  ( Very aromatic )
Mustard Seeds (Yellow one / Black One - You can use anyone )
Fenugreek Seeds (Very Bitter )

Kalonji ( Very nutty )

Cumin Seeds ( Very Earthy )
Ingredients for Homemade Panch Phoron Spice Mix 
Fennel seeds :

Fennel seeds are the dried seeds of the fennel herb, and they resemble cumin seeds but are greener. They taste aniseed and have a warm, sweet aroma. They can be used alone or in spice blends like Chinese five-spice powder and Indian panch phoran.
Mustard Seeds :

They are used as a seasoning rather than a base flavour in many Indian dishes, and they really perk up a lentil or rice dish when fried in a little oil with curry leaves . As a result, mustard seeds are excellent for adding flavour without adding fat to your diet.
Fenugreek Seeds :

Fenugreek seeds are one of the staple spices used in Indian cooking, with a sweet, nutty flavor reminiscent of maple syrup and burnt sugar. It can be incredibly bitter when eaten raw, but when cooked and combined with aromatics and spices, it transforms and gives a sweetness and depth of flavor to saucy dishes.
Cumin Seeds :
Cumin has a warm, earthy flavour and aroma that is slightly sweet and bitter. To achieve the best flavour, the whole seeds must be toasted.
Kalonji :
Kalonji is a plant whose seeds have traditionally been used to treat diabetes, pain, and digestive problems, among other diseases and conditions. When combined with a low-calorie diet, it may be effective for weight loss.
📖 Recipe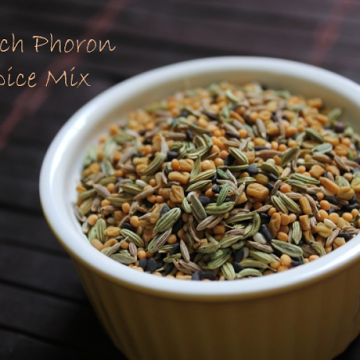 Panch Phoron | Panch Phoran Recipe
Panch Phoron Recipe with step by step pictures. Panch Phoran is a bengali spice mix made with 5 whole spices blended together.
Print
Pin
Rate
Ingredients
Mustard Seeds / Kaduku - 3 tblspn

I used Yellow Mustard

Fennel Seeds / Saunf / Sombu - 3 tblspn

Fenugreek Seeds / Methi Seeds / Vandayam - 3 tblspn

Nigella Seeds / Kalonji / Karum Jeerakam - 3 tblspn

Cumin Seeds / Whole Jeera / Jeerakam - 3 tblspn
Instructions
Mix all them up and store them in an airtight container.
Join us on Facebook
Follow us on Facebook
Share by Email
Share on Facebook
Frequently Asked Questions
What does panch phoron taste like?

It can broadly be categorized as a mild aromatic blend with a slight bitter, taste which comes from fenugreek and mustard seeds. The nutty and earthy undertone is from mustard seeds and fennel seeds. Using panch phoran masala in dishes, adds a melange of flavours in just a spoonful.