Jelly Custard Trifle with Step by Step Pictures. Delicious trifle made with a layer of sponge cake, custard, fruits and jelly.
Ingredients for Jelly Custard Trifle
Sponge Cake :
Trifle sponges are a traditional British ingredient, but they are nothing more than dry sponge cakes. Because the cakes are dry, they can absorb a significant amount of liquid in a trifle, softening and flavouring the sponges. There are some options available to you.
Sweetened Condensed Milk :
Sweetened condensed milk is cooked until it thickens and becomes a creamy caramel-like pudding that can be used in a variety of dessert recipes. Its delicious on its own, with ice cream, in coffee, or spread on apple slices.
Custard Powder :
Custard powder is a concoction of milk, sugar, and egg yolk. Its a tasty base for many savoury recipes as well as a topping on many desserts. Commercial custard powder sold in supermarkets is made with cornflour, riboflavin, regular salt, and various flavours.
📖 Recipe Card
Jelly Custard Trifle Step by Step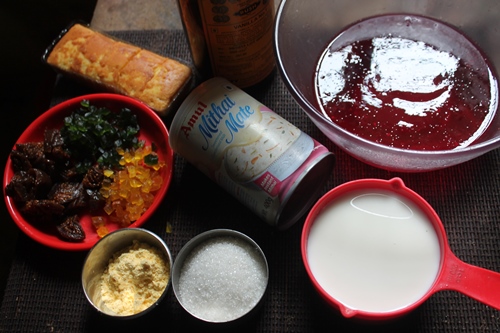 Take all your ingredients