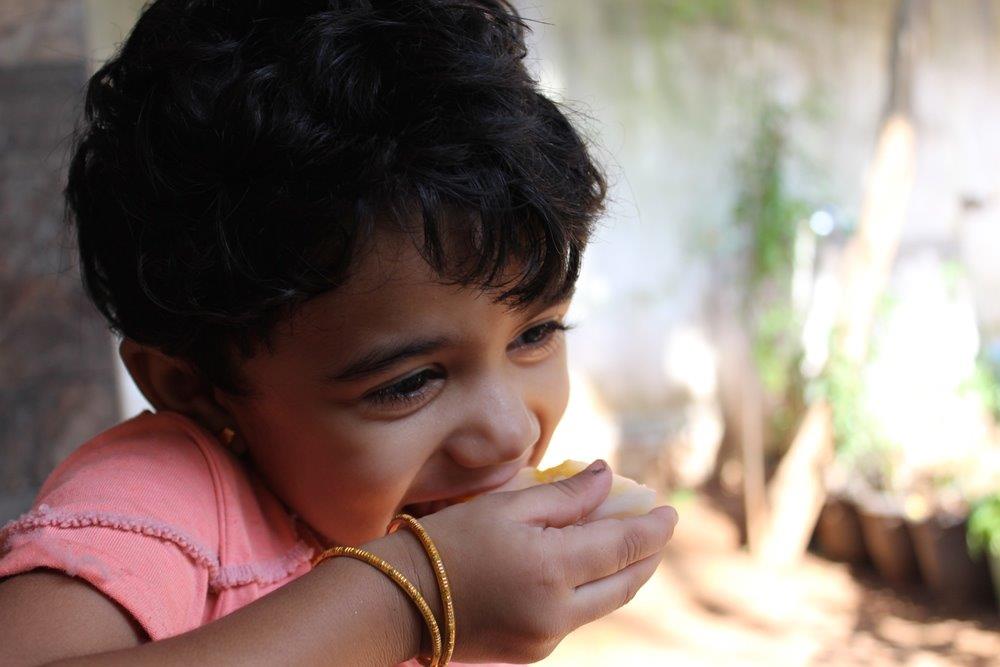 Pin
Mango Tender Coconut Jelly with Step by Step Pictures.
Delicious jelly made using tender coconut flesh and mango pieces dotted all over it. This agar agar jelly is super easy to make and takes just few minutes to set as well.
I have lots of agar agar packets lying in my cupboard. So decided to put them to good use. Actually agar agar or china grass is good for you since it is a natural coolant for your body. So it is good to include in your kids diet occasionally. It is very healthy that gelatin and taste good as well. if your kids love puddings and jellies then they will love this for sure.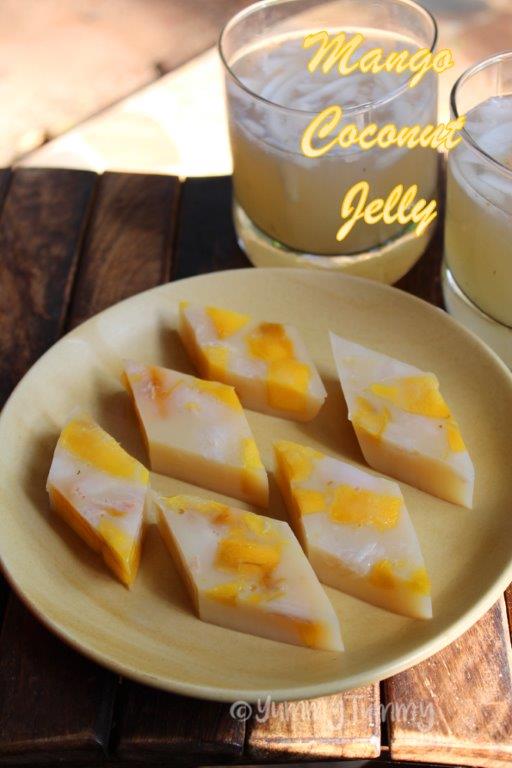 Pin
Hope you will give this a try and let me know how it turns out for you.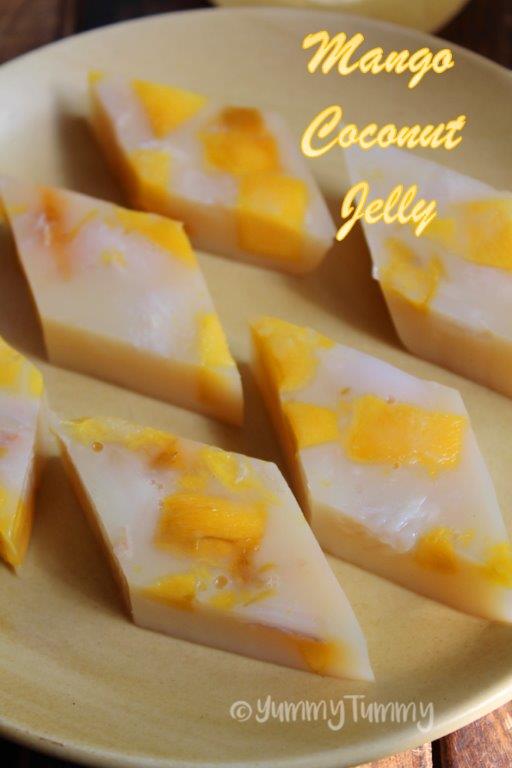 Pin
Mango Coconut Jelly
Mango Coconut Jelly is a agar agar dessert which is made using a condensed milk jelly mixture which has tender coconut pieces and mango chunks all over them.
Ingredients
Agar Agar / China Grass - 5 grams

Water - 1 ½ cup

Sugar - ½ cup

Sweetened Condensed Milk - ¼ cup

Ripe Mangoes - 1 cup chopped

Tender Coconut - 1 cup chopped
Instructions
Soak china grass in water for 15 mins.

Now take that in a sauce pan and add in 1 ½ cup of water and heat it till china grass is melted.

Now add in sugar and condensed milk and mix well.

Take mangoes and tender coconut in a dish.

Pour this over the fruit and coconut mix and leave to set in fridge for 2 hours.

Now unmould. Slice and serve.
Pictorial:
1)Take agar agar / china grass in a bowl. Cover with water and let it soak for 15 mins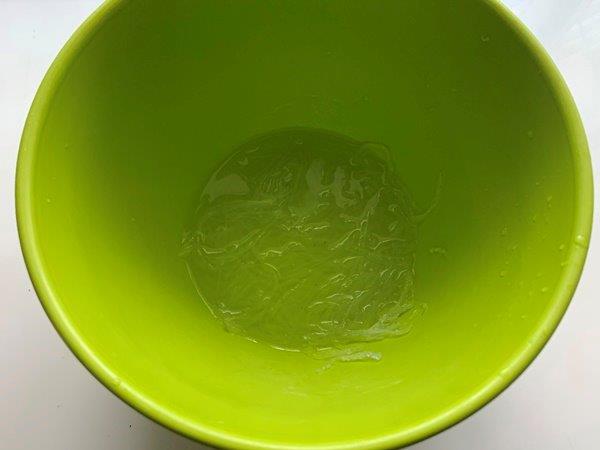 Pin
2)in 15 mins the strips would be little soft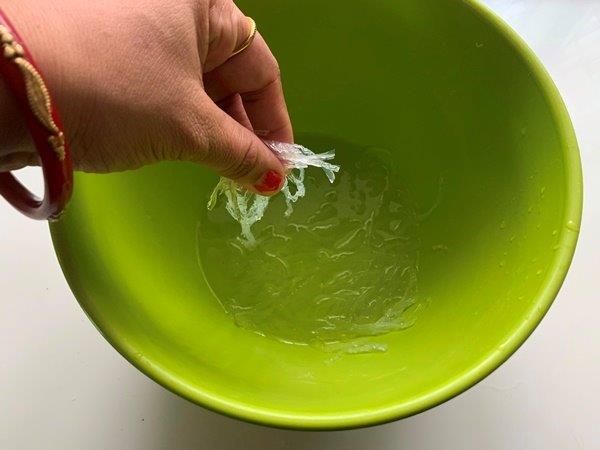 Pin
3)Take the china grass in a sauce pan, add 1 ½ cup water and heat till it melts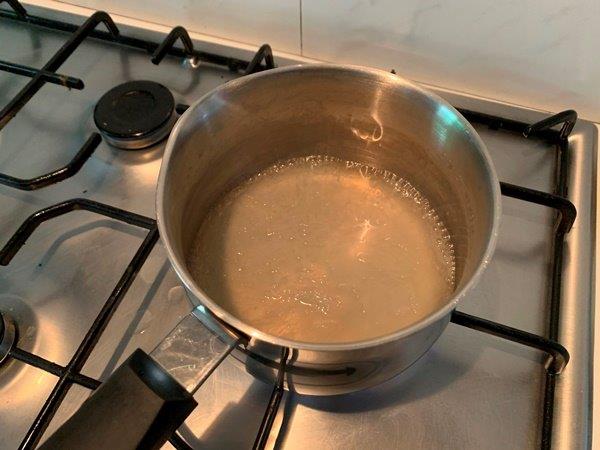 Pin
4)Add sugar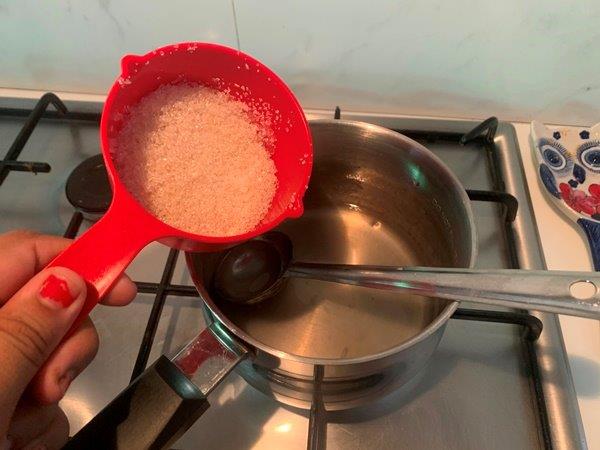 Pin
5)Add in sweetened condensed milk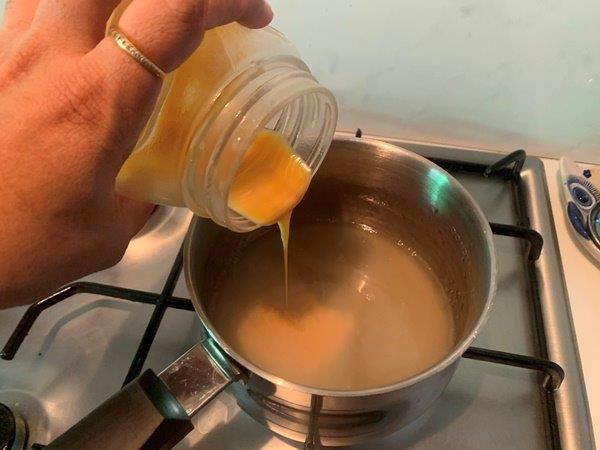 Pin
6)Mix well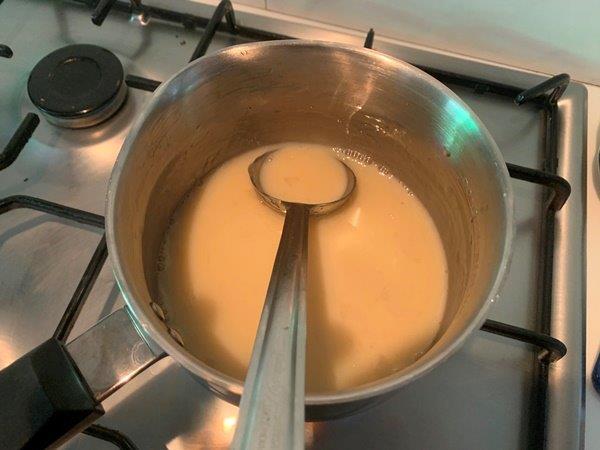 Pin
7)Now the mixture is done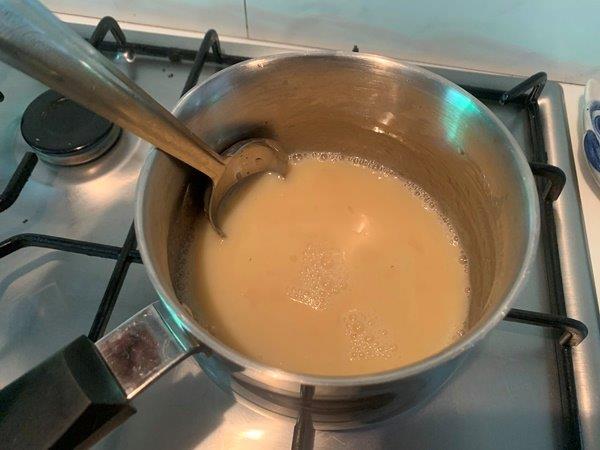 Pin
8)Chop some tender coconut flesh and ripe mangoes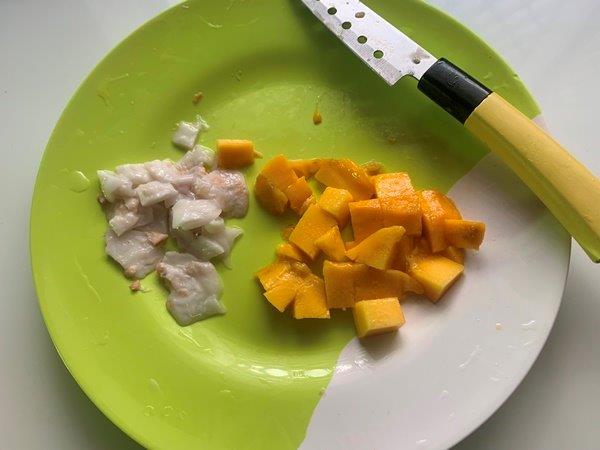 Pin
9)Add it in a dish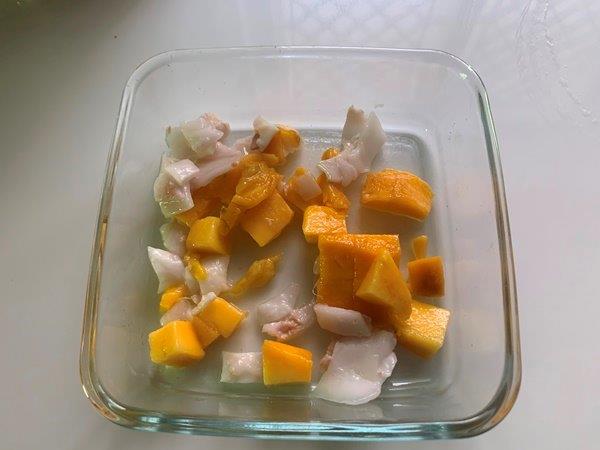 Pin
10)Pour the milk mix in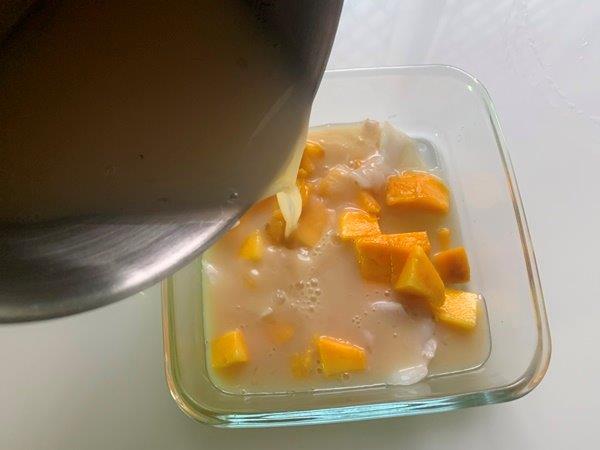 Pin
11)Pour it carefully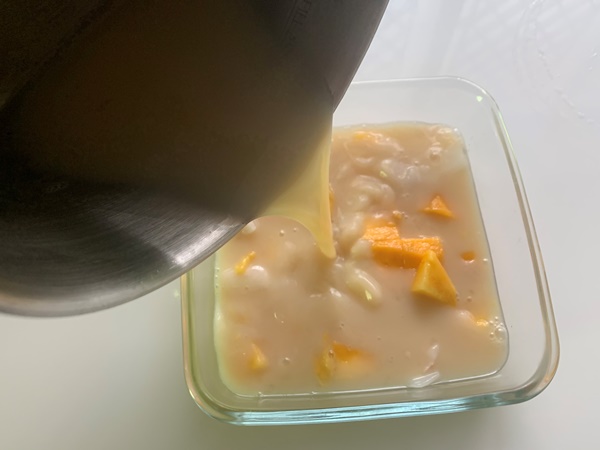 Pin
12)Now pop this in fridge for atleast 1 to 2 hours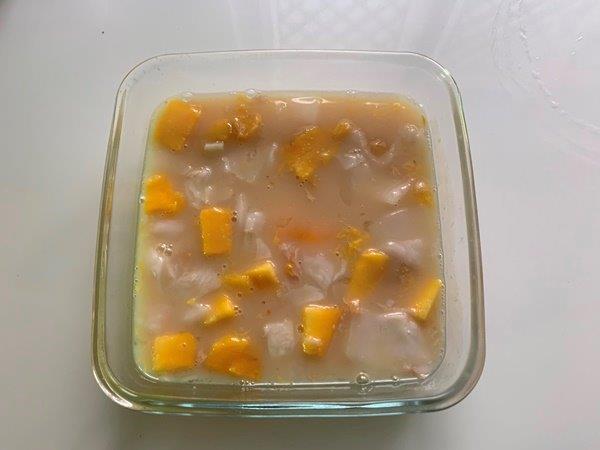 Pin
13)Now it is set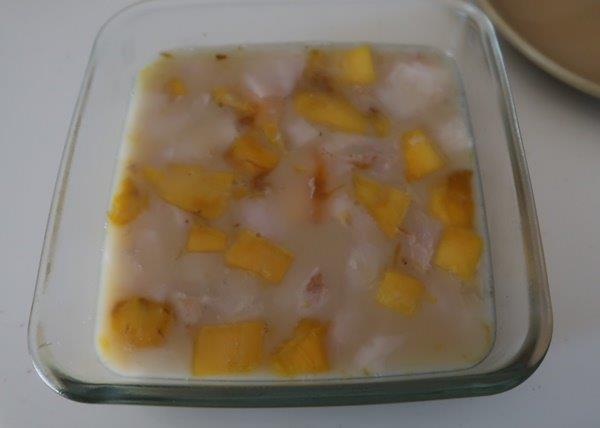 Pin
14)Unmould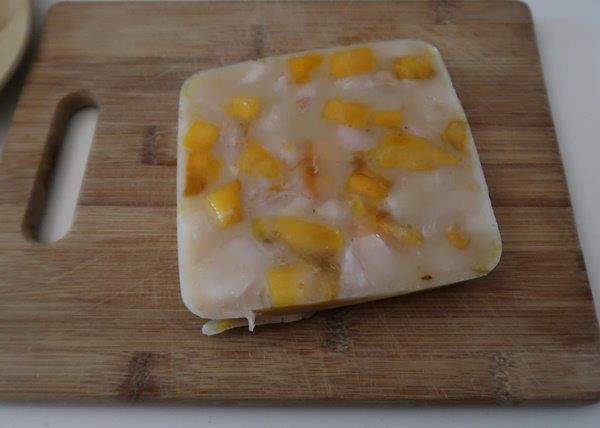 Pin
15)Slice into pieces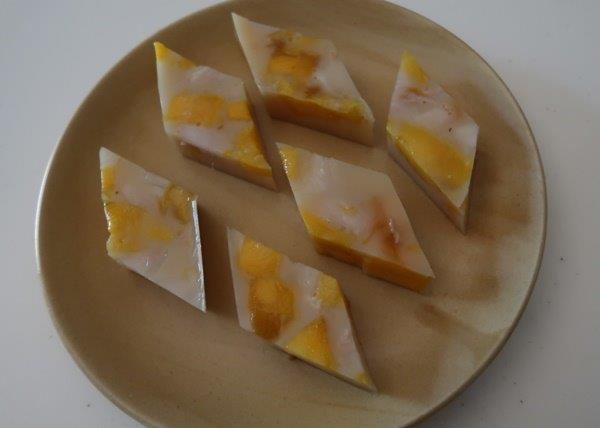 Pin
16)Enjoy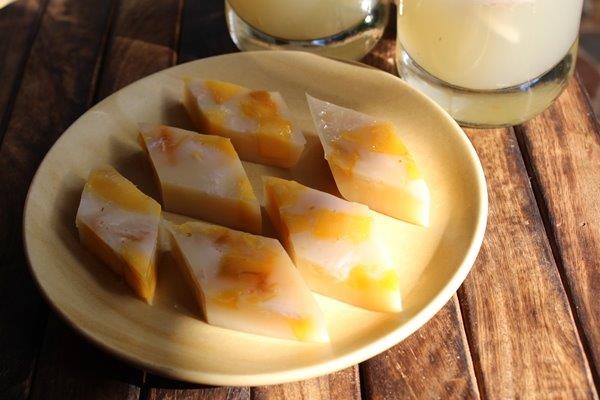 PinSimilar Recipes,
Caramel Pudding
Cherry Pannacotta
Mango Pudding
Sago Pudding
Apple Pudding
Finger Jello
Broken Glass Pudding
Vanilla Pannacotta