Mango Tender Coconut Jelly with Step by Step Pictures. Delicious mango tender coconut jelly made with fresh ingredients and taste amazing.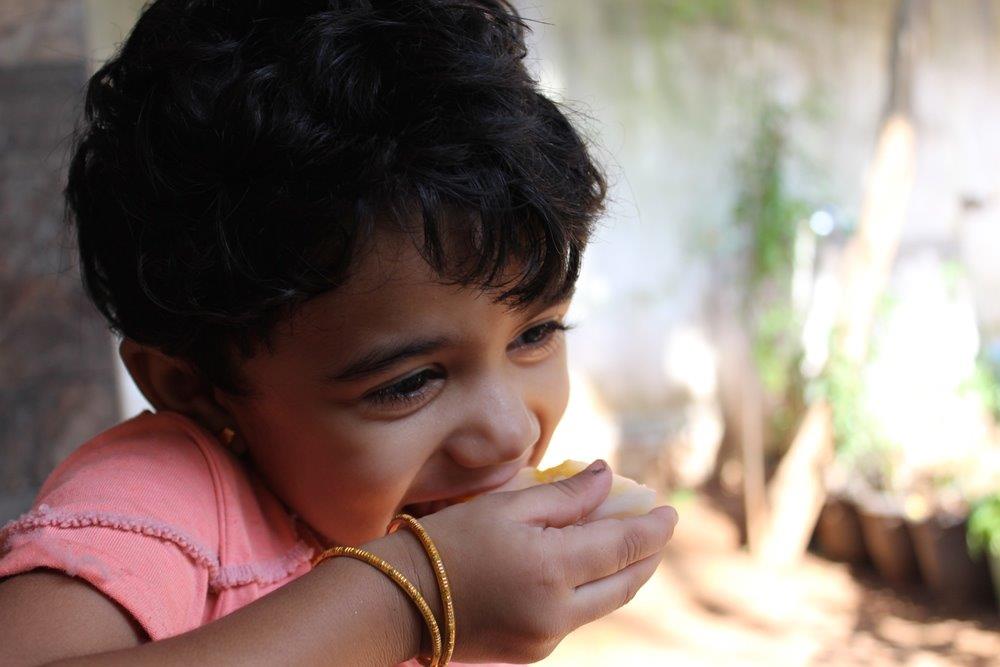 Pin
Delicious jelly made using tender coconut flesh and mango pieces dotted all over it. This agar agar jelly is super easy to make and takes just few minutes to set as well.
About Mango Tender Coconut Jelly Recipe
I have lots of agar agar packets lying in my cupboard. So decided to put them to good use. Actually agar agar or china grass is good for you since it is a natural coolant for your body. So it is good to include in your kids diet occasionally. It is very healthy that gelatin and taste good as well. if your kids love puddings and jellies then they will love this for sure.
Jelly is a clear, usually coloured food served as a dessert. Gelatine, fruit juice, and sugar are used to make it. Sugar is used to preserve the majority of them. Their distinct characteristics are determined by the type of fruit used and how it is prepared, the proportions of various ingredients in the mixture, and the method of cooking.
Because of its high water content, jelly aids digestion and intestinal transit. Gelatin stimulates peristaltic movements in the intestinal muscles, which aids in digestion, absorption of vitamins and minerals, and excretion. Proteins are required for wound healing.
Similar Recipes,
Caramel Pudding
Cherry Pannacotta
Mango Pudding
Sago Pudding
Apple Pudding
Finger Jello
Broken Glass Pudding
Vanilla Pannacotta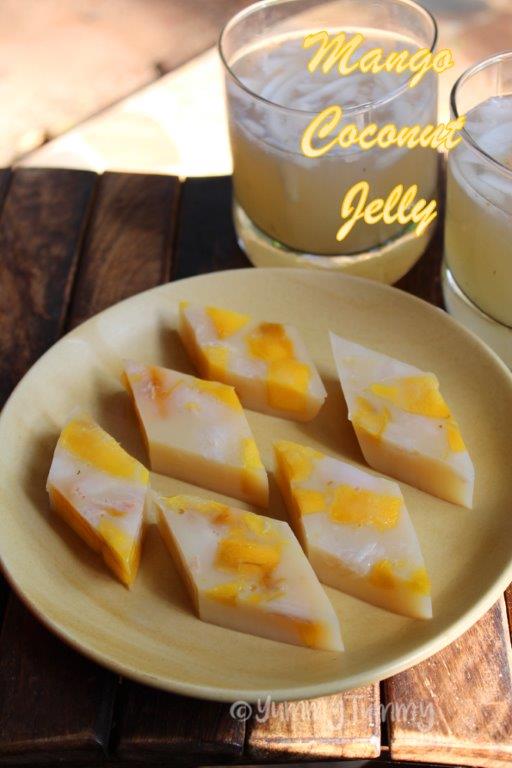 Pin
Ingredients for Mango Coconut Jelly Recipe
Agar Agar / China Grass 
Agar agar can be used as a vegan-friendly thickening agent in any recipe that calls for gelatin, such as sauces, jelly-based desserts, custards, and puddings.
Ripe Sweet Mangoes 
Many people describe ripe mangoes as having a tropical floral flavour, whereas others describe them as being more citrusy and tart. Mangoes that are ripe are juicy, slightly stringy, and sweet, with underlying hints of sourness and pine.
Tender Coconut Flesh 
Tender coconut flesh differs from mature coconuts, which are brown with hairy shells and have firm, opaque white flesh. Young coconut meat, on the other hand, can be eaten on its own, in salads, or in other dishes.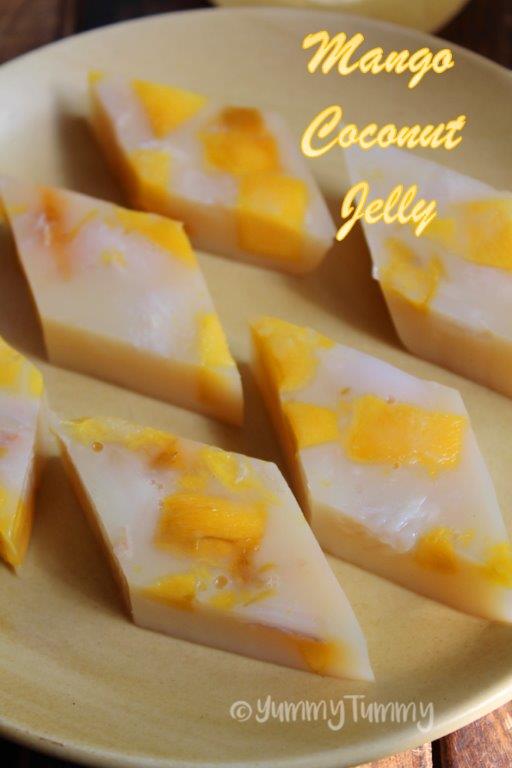 Pin
If you have any questions not covered in this post and if you need help, leave me a comment or mail me @[email protected] and I'll help as soon as I can.
Follow me on Instagram, Facebook,Pinterest ,Youtube and Twitter for more Yummy Tummy inspiration.
IF YOU MAKE THIS RECIPE OR ANYTHING FROM YUMMY TUMMY, MAKE SURE TO POST IT AND TAG ME SO I CAN SEE ALL OF YOUR CREATIONS!! #YUMMYTUMMYAARTHI AND @YUMMYTUMMYAARTHI ON INSTAGRAM!
📖 Recipe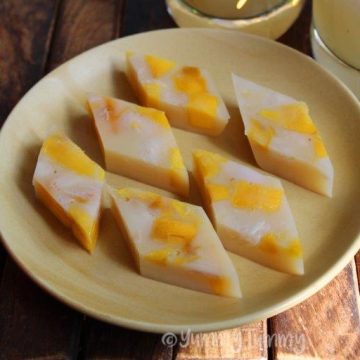 Mango Tender Coconut Jelly Recipe (Mango Coconut Jelly Recipe)
Mango Coconut Jelly recipe is a agar agar dessert which is made using a condensed milk jelly mixture which has tender coconut pieces and mango chunks all over them.
Ingredients
Agar Agar / China Grass - 5 grams

Water - 1 ½ cup

Sugar - ½ cup

Sweetened Condensed Milk - ¼ cup

Ripe Mangoes - 1 cup chopped

Tender Coconut - 1 cup chopped
Instructions
Soak china grass in water for 15 mins.

Now take that in a sauce pan and add in 1 ½ cup of water and heat it till china grass is melted.

Now add in sugar and condensed milk and mix well.

Take mangoes and tender coconut in a dish.

Pour this over the fruit and coconut mix and leave to set in fridge for 2 hours.

Now unmould. Slice and serve.
Mango Coconut Jelly Recipe Step by Step Pictures
1)Take agar agar / china grass in a bowl. Cover with water and let it soak for 15 mins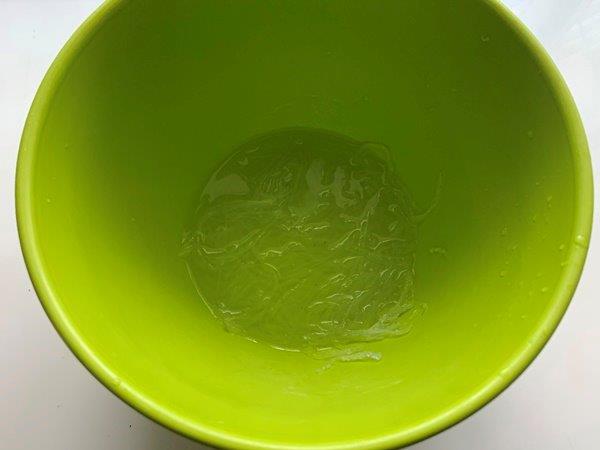 Pin
2)in 15 mins the strips would be little soft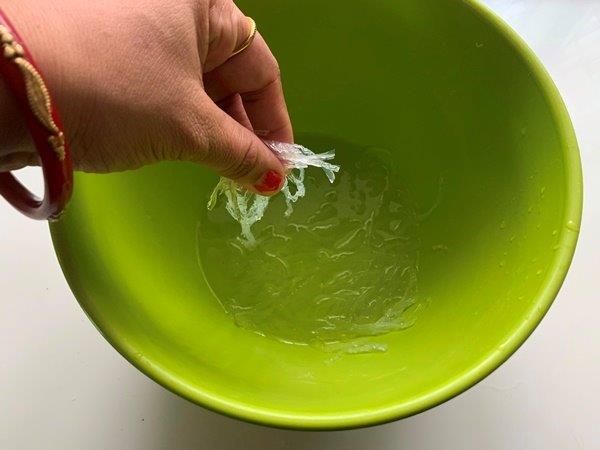 Pin
3)Take the china grass in a sauce pan, add 1 ½ cup water and heat till it melts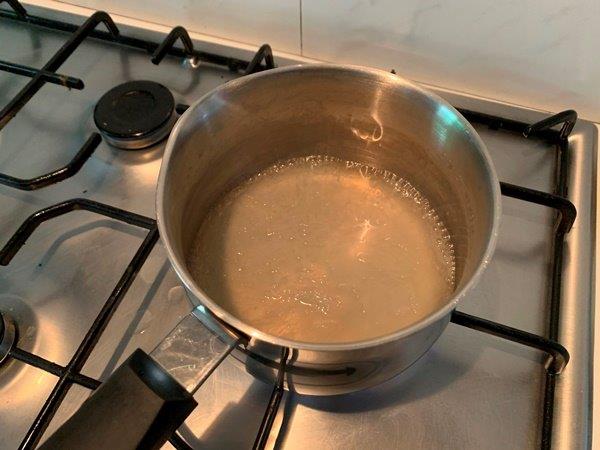 Pin
4)Add sugar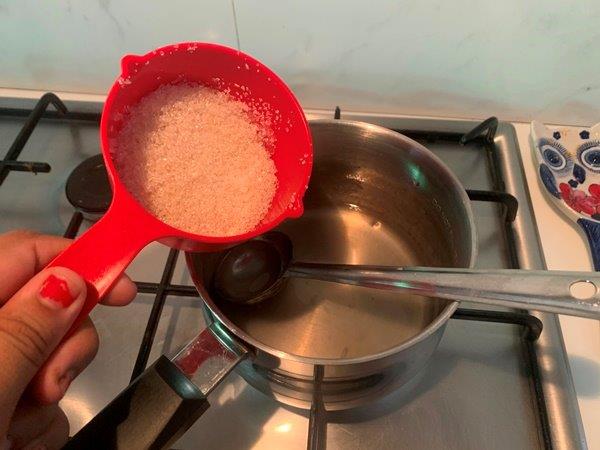 Pin
5)Add in sweetened condensed milk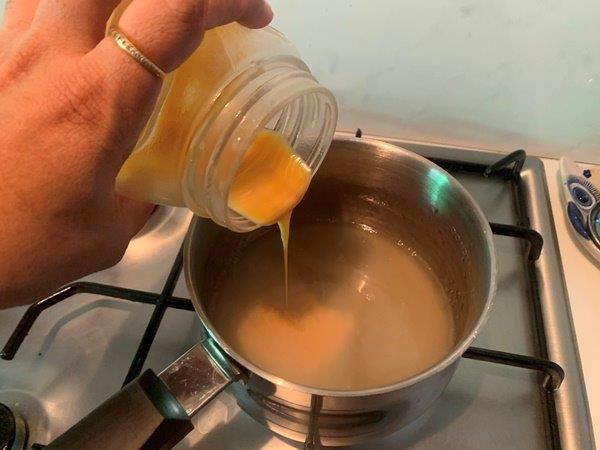 Pin
6)Mix well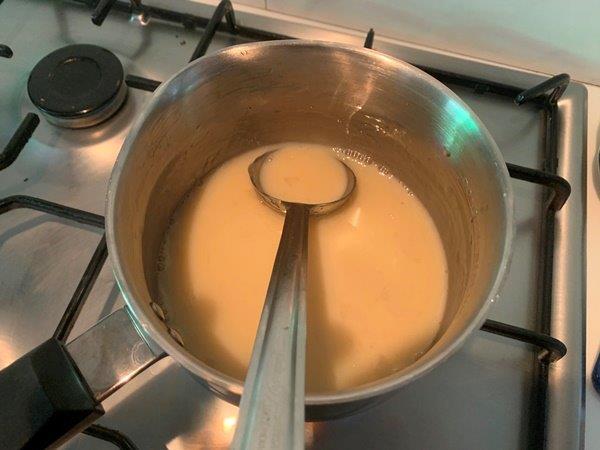 Pin
7)Now the mixture is done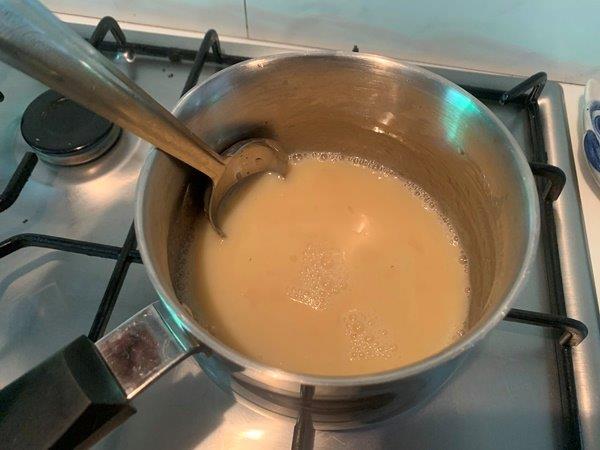 Pin
8)Chop some tender coconut flesh and ripe mangoes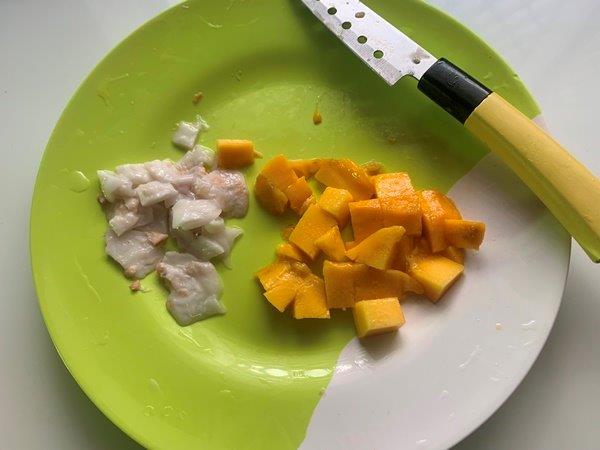 Pin
9)Add it in a dish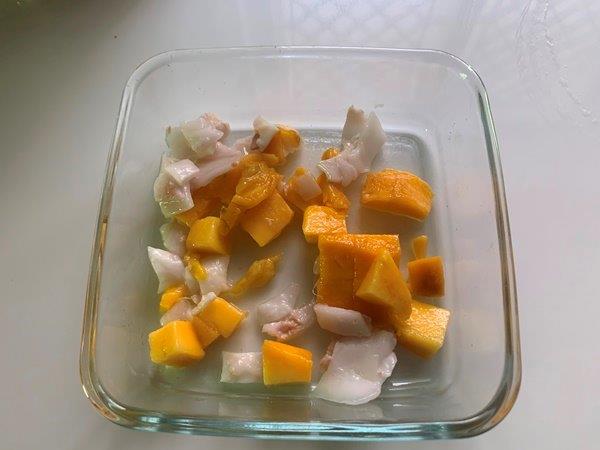 Pin
10)Pour the milk mix in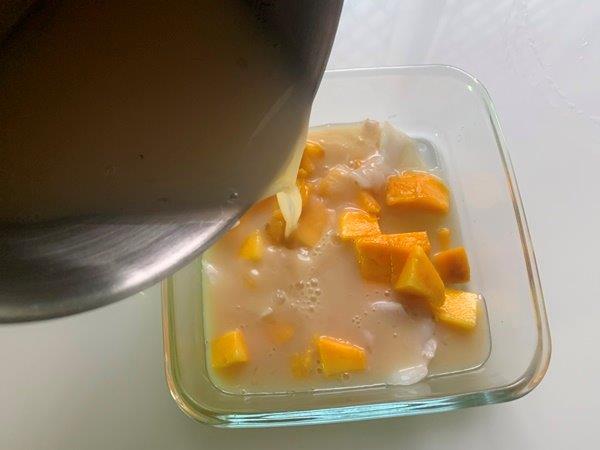 Pin
11)Pour it carefully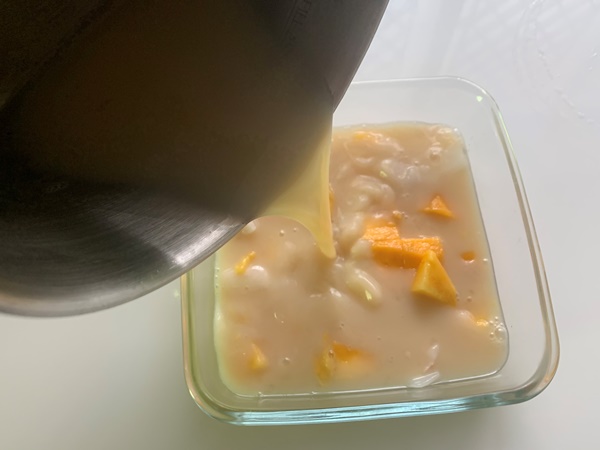 Pin
12)Now pop this in fridge for at least 1 to 2 hours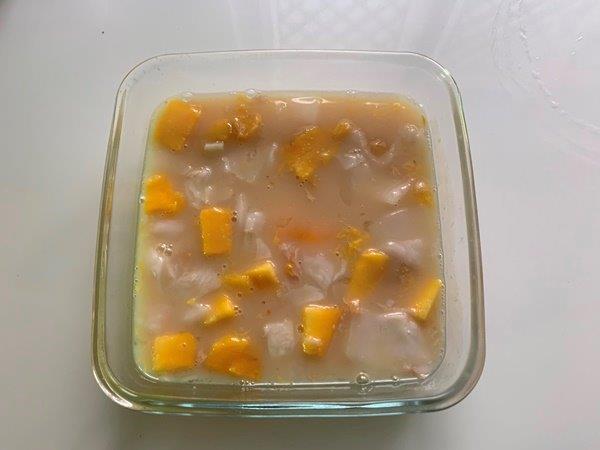 Pin
13)Now it is set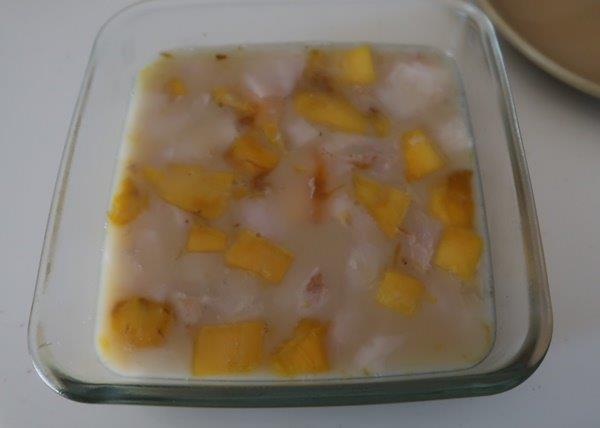 Pin
14)Un mould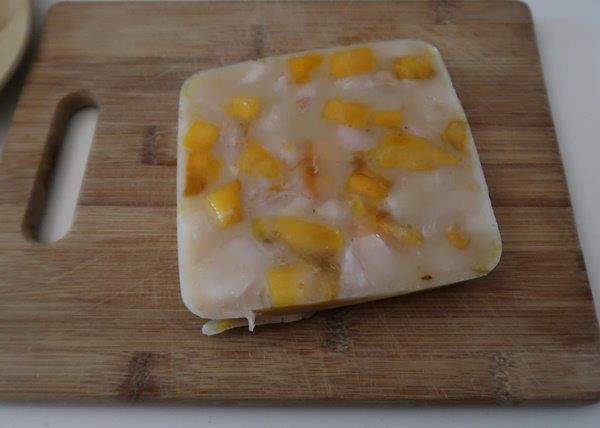 Pin
15)Slice into pieces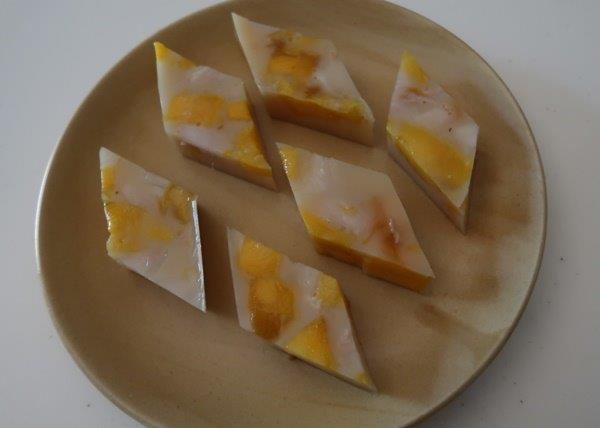 Pin
16)Enjoy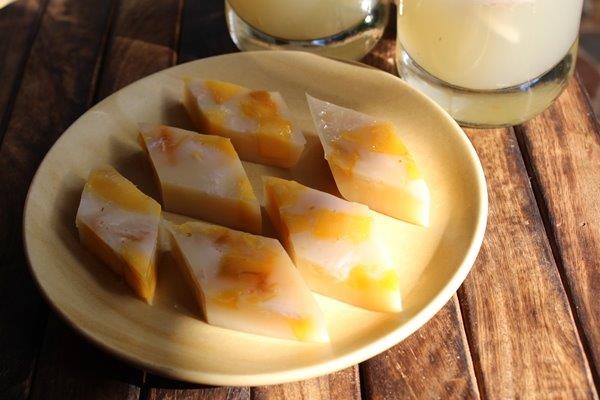 Pin
Frequently Asked Questions
Is jelly just sugar?
Jellies are typically made by combining fruit juice and sugar. When turned out of the container, jelly should be clear or translucent and firm enough to hold its shape. Jams are thick, sweet spreads that hold their shape but are not as firm as jelly.