Moong sprouts uthappam is a healthy pancake made using moong sprouts which is highly nutritious.
Hubby dear loves sprouts, so I have started using it a lot more in our diet. Hubby have it raw. But I don't like to eat it raw, so I make sambar with it or add it to salad. Ah there is a awesome salad which features this sprouts, which I will post soon ok..Couple of weeks back I thought to make something with this sprouts and ended up in this uttapam. Since I didn't add any rice into this, this will be so spongy and soft.
About this Recipe
Sprouted green gram, also known as mung beans or moong, is a rich source of fibre and is fat-free. Due to high fibre content, they are filling and extremely healthy. Some of the sprouted green gram benefits include improving eyesight, enhancing bone and heart
health as well as enhancing the immune system. Mung beans can also be enjoyed sprouted, both raw and cooked. The sprouted beans are best enjoyed in stir-fry meals and curries. Bean sprouts are derived from the mung bean, which is thought to be indigenous to Northeastern India. They are also Asian and Japanese in origin. Bean
sprouts have been cultivated for over 5,000 years. Bean sprouts were first cultivated in the United States in 1830, when they were known as Chickasaw peas.

A dosa is a thin (usually crispy) South Indian flat bread made from a fermented batter primarily composed of lentils and rice. Rice and black gram are the main ingredients, which are ground together in a fine, smooth batter with a dash of salt and fermented.

Ingredients for Moong Sprouts Uthappam :
Moong Sprouts :
Moong Sprouts are not the same as Soybean Sprouts. Mung bean sprouts are the thin, edible shoots that sprouted mung beans produce. They have a crunchy texture and a subtly sweet flavour andcan be eaten raw or slightly cooked. They're most commonly found in Asian cooking.
Onion:
Onions are considered a basic ingredient or the foundation of Indian cooking and are used to make any gravy, curry, or bhuna dish. The flavour and aroma of onion transforms any ordinary dish into a mouthwatering and delectable one.This taste great when had with pickle or chutney.
I hope you will give it and try and tell me how it turned out for you. Happy Weekend Everyone.
If you have any questions not covered in this post and if you need help, leave me a comment or mail me @[email protected] and I'll help as soon as I can.
Follow me on Instagram, Facebook,Pinterest ,Youtube and Twitter for more Yummy Tummy inspiration.
IF YOU MAKE THIS RECIPE OR ANYTHING FROM YUMMY TUMMY, MAKE SURE TO POST IT AND TAG ME SO I CAN SEE ALL OF YOUR CREATIONS!! #YUMMYTUMMYAARTHI AND @YUMMYTUMMYAARTHI ON INSTAGRAM!
📖 Recipe Card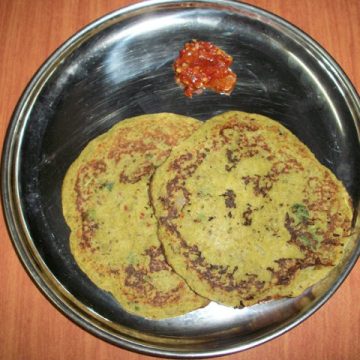 Ingredients
For Grinding:

Moong Sprouts - 3 cups

Onion - 3 tblspn chopped

Dry Red Chilli - 3

Other Stuffs:

Cumin Seeds / Jeerkam - 1 tsp

Onion - 3 tblspn finely chopped

Green Chilli - 2 chopped

Turmeric Powder / Manjal podi - 1 tsp

Coriander leaves / Cilantro - 3 tblspn chopped

Salt to taste
Instructions
Take moong sprouts, onion, dry red chilli in a blender and make into a smooth paste.

Transfer that to a bowl and make into dosa batter consistency.

Now add in the other stuffs and mix well.

Heat a tawa on medium heat.

Pour a ladleful of batter in the tawa and drizzle some oil.

cook it for a min on one side.

Flip over and cook for another min on other side too.

Now serve with chutney.
Join us on Facebook
Follow us on Facebook
Share by Email
Share on Facebook
Moong Sprouts Uthappam Step by Step
Take all your ingredients
You need some fresh moong sprouts
Now take sprouts,onion, dry red chilli in a blender
and make into a smooth paste
transfer that to a bowl
add salt, turmeric and cumin in
add onions, green chilli and coriander too
mix well
pour it over hot tawa
flip over and cook
Serve with pickle or chutney