No Bake Oats Chocolate Bar Recipe with step by step pictures . This is made with oats and Chocolate Chips. This makes a wonderful dessert.
My sister called me yesterday and asked me to make some kind of chocolate bar, when i was thinking what to make, i remembered this recipe which i wanted to make for quite a long time..Luckily i had all the ingredients on hand and made it instantly. 
Similar Recipes,
Almond Chocolate Bars
Oatmeal Chocolate Bars
Peanut Butter Bars
Lemon Bars
Semolina Bars
Chocolate Shortbread
Strawberry Oatmeal Bars
Peanut Butter chocolate chip energy bars
Leftover Cakebars
I also made p' nutella and a no bake cheerio bars as well.Both of them turned out delicious. Will share them soon.
Ingredients for No Bake Oats & Chocolate Bar
Instant Oats - 1.5 cup
Butter - 75 grams + 25 grams
Brown Sugar - ½ cup
Vanilla Essence - 1 tsp
Chocolate Chips - 1.5 cups
Peanut Butter - ¼ cup
Hope you will give this a try and let me know how it turns out for you..
How to make No Bake Oats & Chocolate Bar
Grease a 15 cm square baking pan with oil and set aside.
Take brown sugar, 75 grams of butter in a sauce pan and bring it to a boil. Once it boils take it off the heat and add in 1 tsp of vanilla. mix well.
Now add oats in this and mix well. Spoon this into the pan and flatten it so it is smooth. Put this in fridge and let it chill till you make filling.
Take butter, chocolate chips and peanut butter in a sauce pan and melt on a low heat till it is melted.
Now pour this over the crust and smooth it out.
Chill this in fridge for 1 hour to 2 hours.
Cut into squares and serve.
If you have any questions not covered in this post and if you need help, leave me a comment or mail me @[email protected] and I'll help as soon as I can.
Follow me on Instagram, Facebook,Pinterest ,Youtube and Twitter for more Yummy Tummy inspiration.
IF YOU MAKE THIS RECIPE OR ANYTHING FROM YUMMY TUMMY, MAKE SURE TO POST IT AND TAG ME SO I CAN SEE ALL OF YOUR CREATIONS!! #YUMMYTUMMYAARTHI AND @YUMMYTUMMYAARTHI ON INSTAGRAM!
📖 Recipe Card

No Bake Oats Chocolate Bar step by step pictures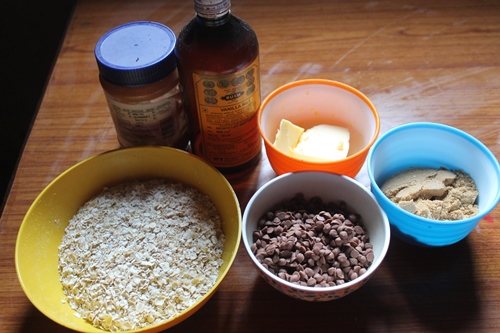 Take all your ingredients