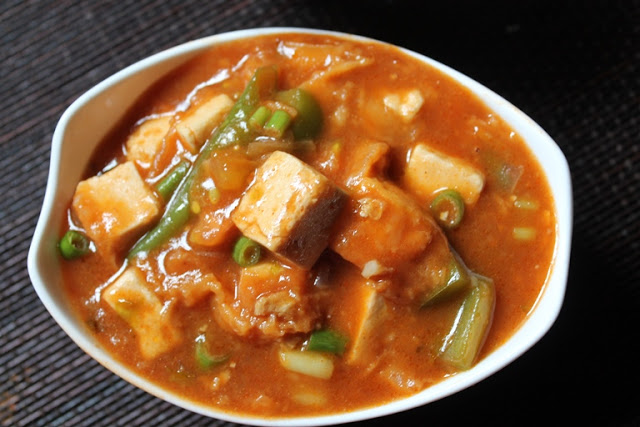 Paneer Manchurian, my favourite. I love it to the core.. It goes well with pretty much anything. Fried Rice, Noodles, Naan, Chapati or even pulao..
Similar Recipes,
Chilli Paneer
Chukka Paneer
Gobi Cashew Masala
Mushroom Manchurian
Chilli Gobi
Gobi Manchurian Gravy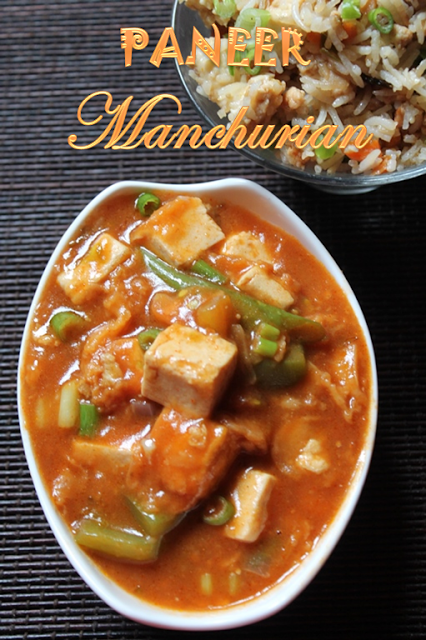 Hope you will give this a try a let me know how it turns out for you..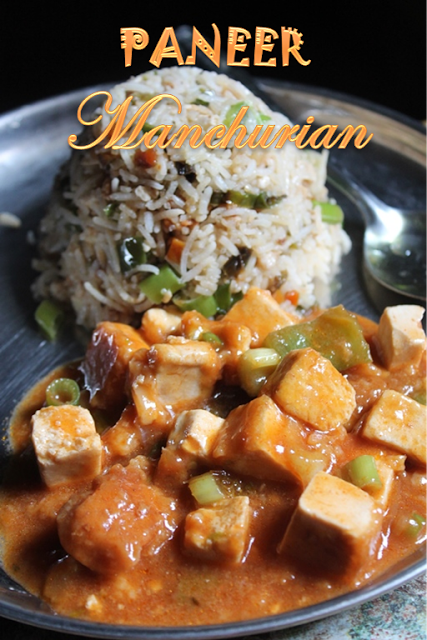 Preparation Time : 15 mins
Cooking Time : 30 mins
Serves : 4


Ingredients:
For Batter:
All Purpose Flour / Maida – 1/2 cup
Cornflour / Cornstarch – 1/4 cup
Salt to taste
Red Chilli Powder – 1 tsp
Soy Sauce – 1 tsp
Ginger Garlic paste – 1 tsp
Water – 1/2 cup or as needed
Oil – 5 to 8 tblspn
For Sauce:
Onion – 1 medium size chopped
Celery – 1 chopped finely
Capsicum – 1/2 chopped
Tomato – 1 chopped
Ginger Garlic Paste – 1 tblspn
Green Chillies – 2 chopped
Salt to taste
Sugar – 1 tsp
Chilli Powder – 2 tsp
Tomato Ketchup – 3 to 4 tblspn
Soy Sauce – 2 tsp
Vinegar – 1 tsp or to taste
Water as needed
Cornflour / Cornstarch – 2 tsp mixed with some water
Spring Onion a handful finely chopped
Method:
Heat oil for deep frying.
Mix all the ingredients for batter to a little thick paste. The batter shouldn't be too thick or too thin. Dip paneer in batter and fry till golden. Drain and set aside.
Now lets make the sauce. Heat oil in a pan, add in onion, celery, capsicum, tomato along with some salt and sugar. Keep cooking till it gets golden brown.
Add in the ginger garlic paste and cook for 2 mins or so.
Add in chilli powder and mix well
Add in water and bring it to a boil.
Add in ketchup, soy sauce, vinegar and mix well
Now add in little of the leftover batter or cornflour which is mixed with water and mix well, so the sauce gets thick.
Once it is thickened add the fried paneer and mix well.
Add in spring onion and mix well.
Serve.
Pictorial: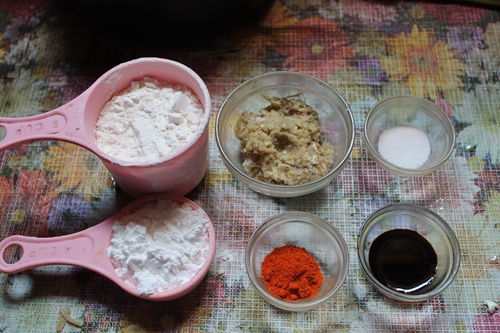 Now take your other ingredients for batter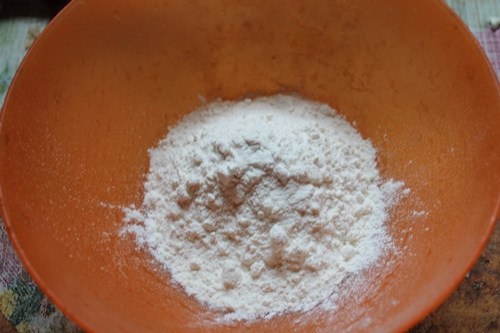 take all purpose flour / maida in a bowl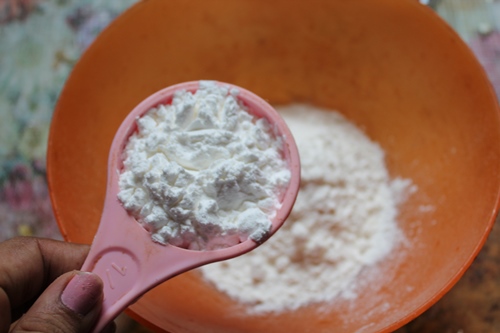 add in cornflour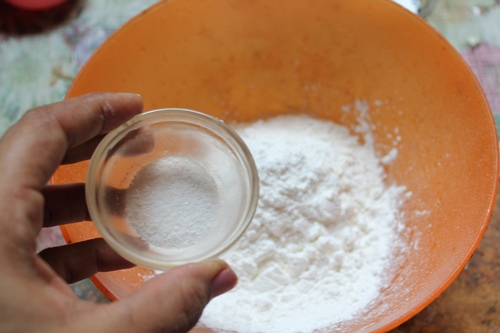 add in some salt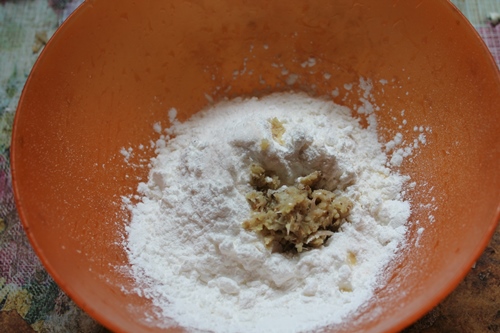 and some ginger garlic paste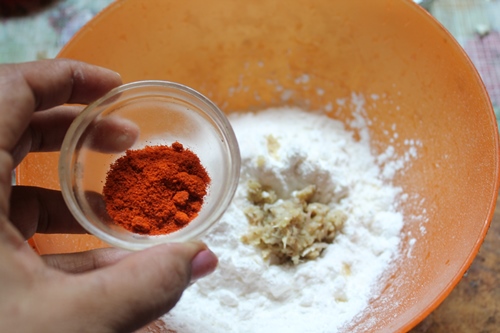 add in some chilli powder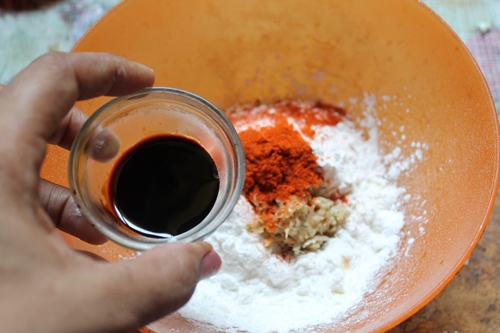 and some soy sauce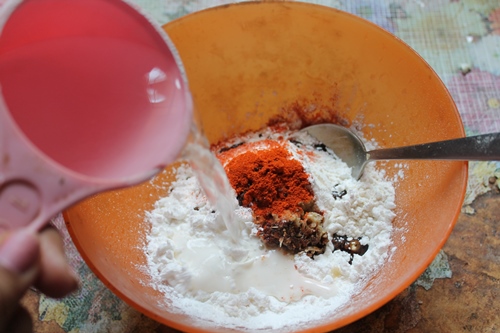 pour enough water to make a smooth paste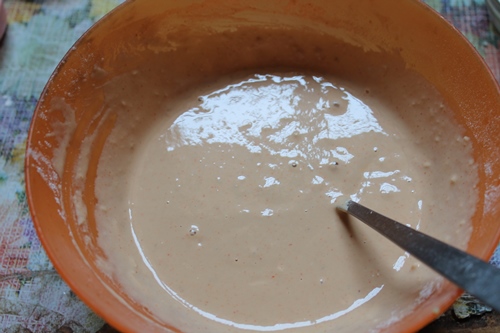 like this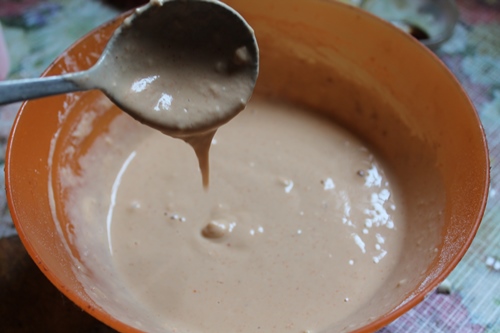 the consistency shouldn't be too thick or too thin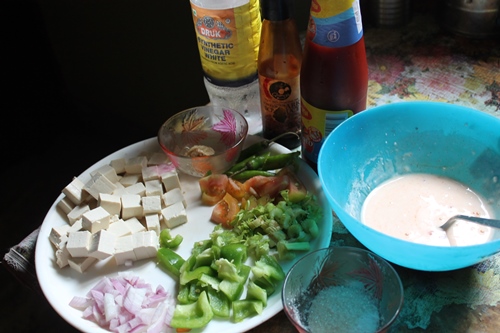 Now take your other ingredients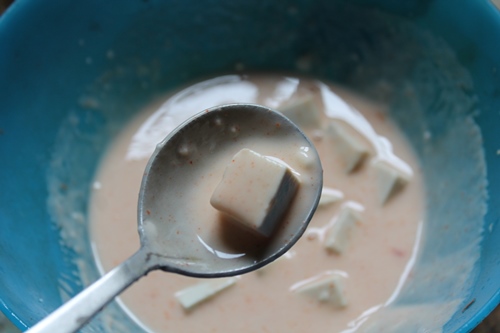 Dip paneer in the batter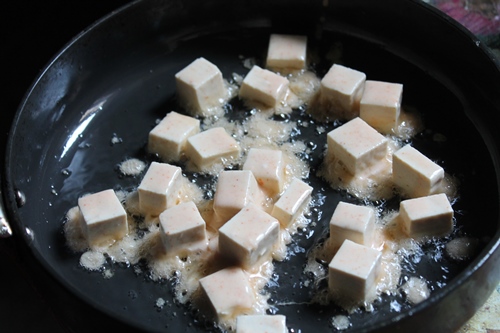 fry them till golden on both sides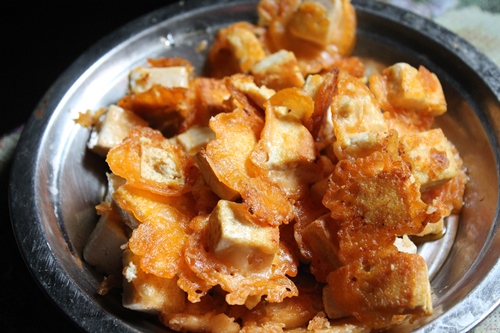 remove them to a plate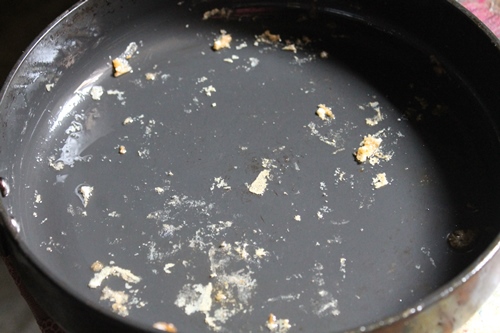 IN the same pan,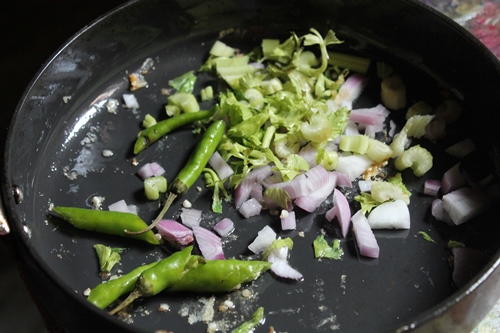 Add in onions, celery and chillies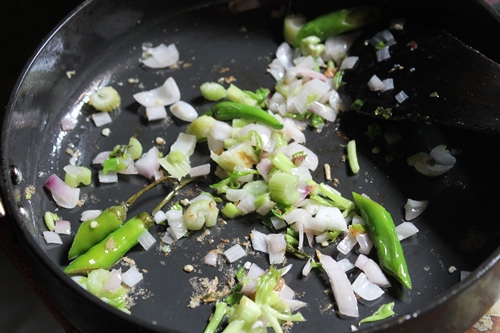 saute for 2 mins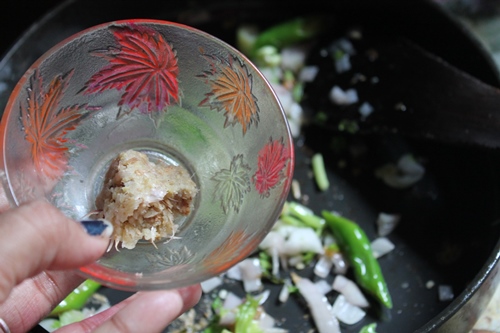 add in ginger garlic paste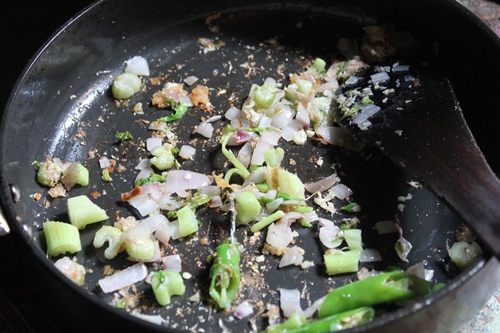 saute for 1 more mins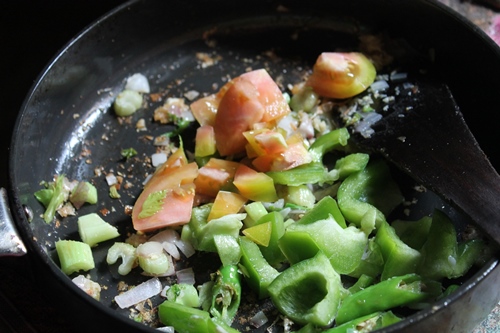 add in capsicum and tomatoes
mix that well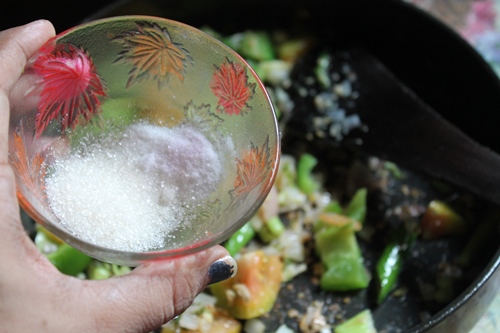 Add in some salt and sugar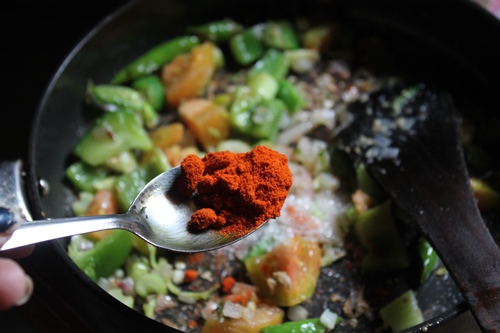 add in a bit of chilli powder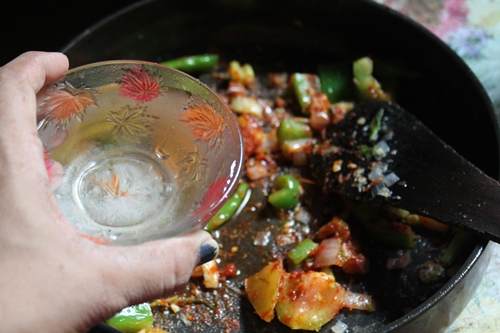 and some water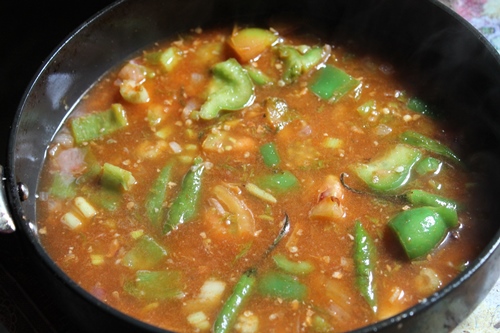 mix well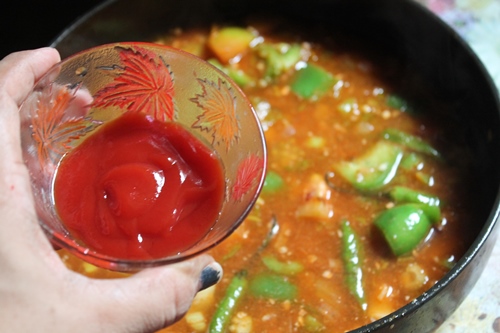 Now add in tomato ketchup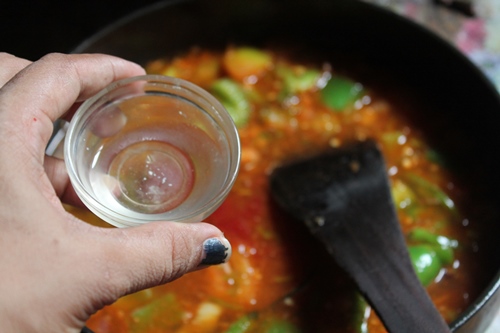 vinegar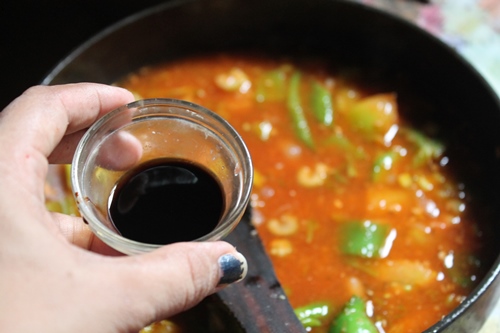 soy sauce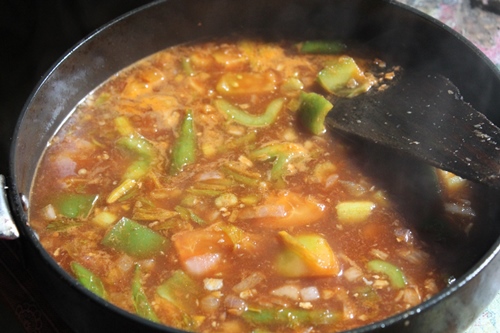 bring it to a boil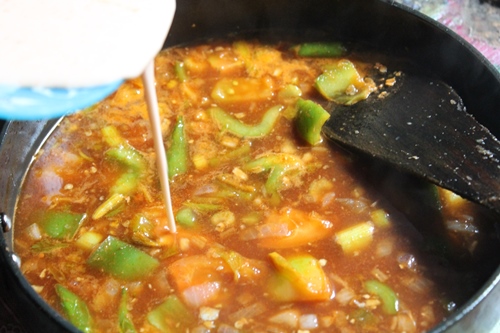 now add in some cornflour which is mixed with some water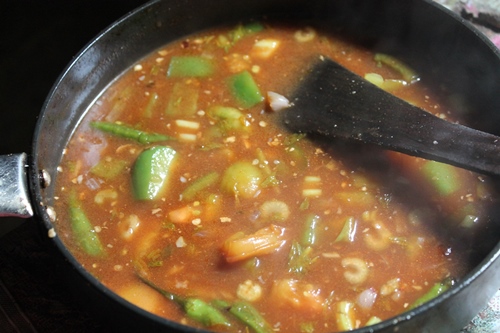 it will thicken up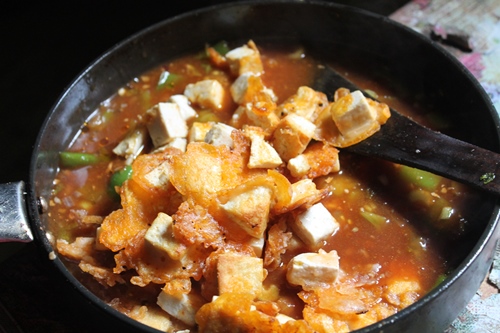 add in the paneer cubes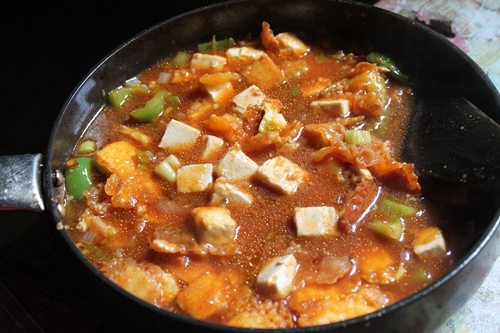 mix well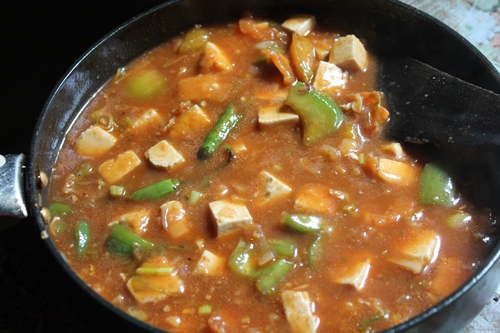 let it bubble up for few mins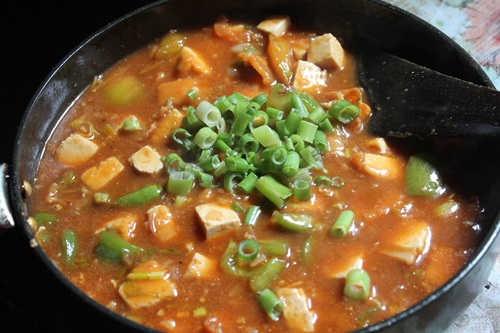 add in spring onions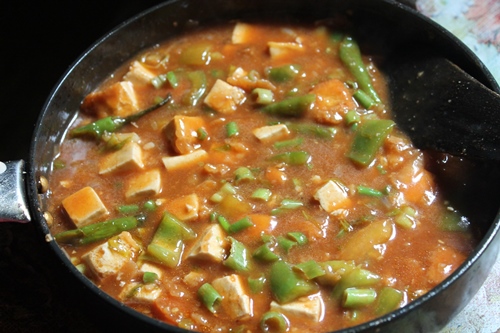 mix well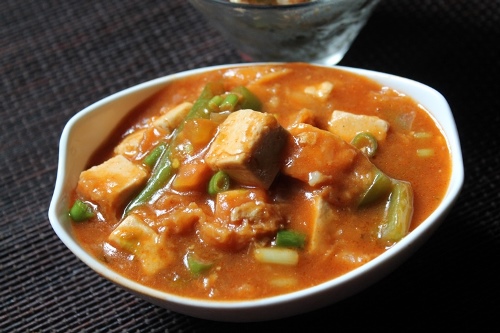 serve