Pita Bread Salad Bowl Recipe with step wise pictures. Healthy pita bread salad bowl filled with veggies, chicken and pita bread tossed in a creamy dressing.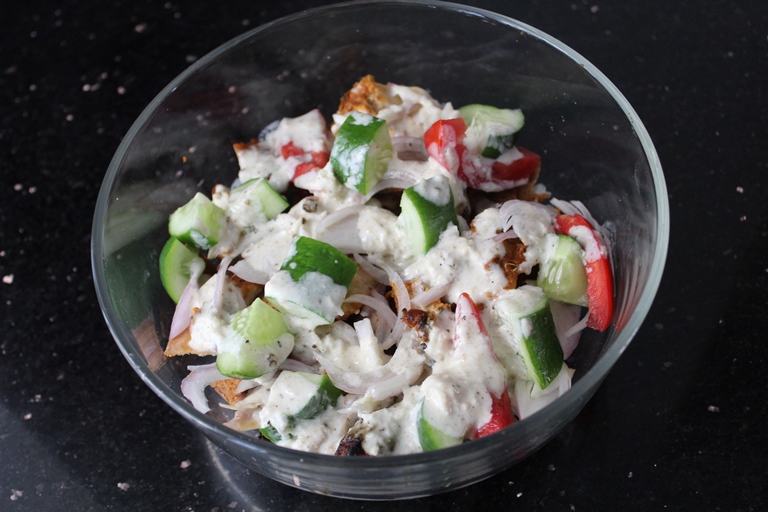 Pin
This pita bread salad bowl is filling and taste amazing. It has all the elements you need. The pita bread is crunchy and the veggies are fresh and the sauce is tangy.
About Pita Bread Salad Recipe
Pita, also known as pitta, is a type of yeast-leavened round flatbread made from wheat flour that is popular in the Mediterranean, Middle East, and neighbouring regions. It contains the popular version with an interior pocket, also known as Arabic bread.
Similar Recipes,
Italian Salad Dressing
Sprouts Fruits Salad
Sprouts Veggie Salad
Some more salad.
Cold Pasta Salad
Mango Salad
Pineapple Salad
Lettuce Salad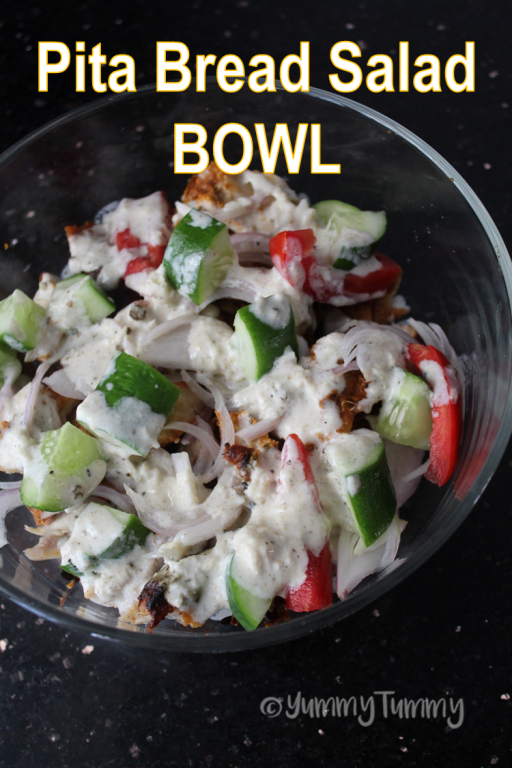 Pin
Hope you will give this a try and let me know how it turns out for you.
Ingredients for Pita Bread Salad Bowl Recipe 
Pita bread 
Pita is a flatbread with a neutral flavour that is similar to other flatbreads. The texture is light, with a semi-dry, dense, chewy bite. Its an excellent foundation for bold flavours.
Onion
Onions are considered a basic ingredient or the foundation of Indian cooking and are used to make any gravy, curry, or bhuna dish. The flavour and aroma of onion transforms any ordinary dish into a mouthwatering and delectable one.
Cooked Chicken 
Once cooked, the texture changes so that the chicken is firm rather than rubbery. It has a greyish interior and a whitish exterior. If the chicken feels bouncy or rubbery while cooking, it may still be undercooked on the inside.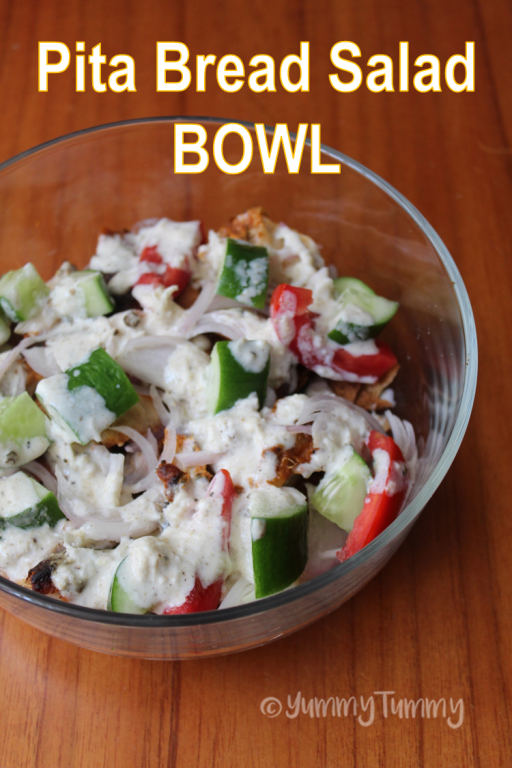 Pin
If you have any questions not covered in this post and if you need help, leave me a comment or mail me @[email protected] and I'll help as soon as I can.
Follow me on Instagram, Facebook,Pinterest ,Youtube and Twitter for more Yummy Tummy inspiration.
IF YOU MAKE THIS RECIPE OR ANYTHING FROM YUMMY TUMMY, MAKE SURE TO POST IT AND TAG ME SO I CAN SEE ALL OF YOUR CREATIONS!! #YUMMYTUMMYAARTHI AND @YUMMYTUMMYAARTHI ON INSTAGRAM!
📖 Recipe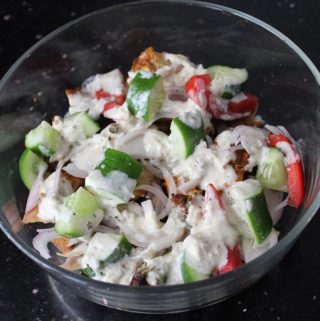 Pita Bread Salad Bowl Recipe
This pita bread salad bowl is filling and taste amazing. It has all the elements you need. The pita bread is crunchy and the veggies are fresh and the sauce is tangy.
Ingredients
Pita bread - 2

Onion - 1 sliced

Cooked Chicken - ½ cup

Tomato - 1 deseeded and chopped

Cucumber - 1 chopped
FOR SAUCE:
Mayonnaise - ¼ cup

Yogurt - ¼ cup

Garlic - 2 tsp grated

Salt to taste

Cumin Powder - 1 tsp

Pepper Powder - ½ tsp
Instructions
Mix all sauce ingredients. Set aside in fridge till needed.

Take pita bread. Cut into triangles. Pop that in a baking sheet and bake in a 150 degree C oven for 12 to 15 mins till it is golden. Set aside to cool.

Now take the pita chips in a bowl, top with onions,cooked chicken, tomatoes and cucumber and pour some sauce on top.

Serve immediately.
Video
Pita Bread Salad Bowl Recipe Step by Step Pictures
1)Take pita bread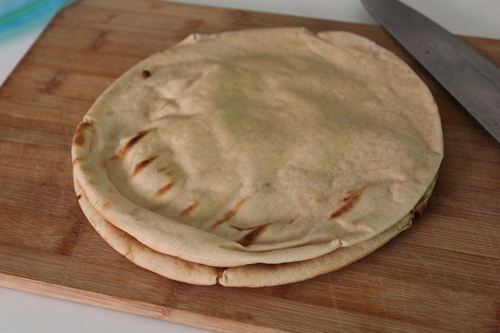 Pin
2)Cut into triangles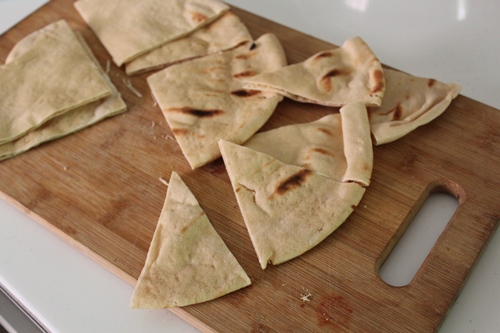 Pin
3)Place it in a baking sheet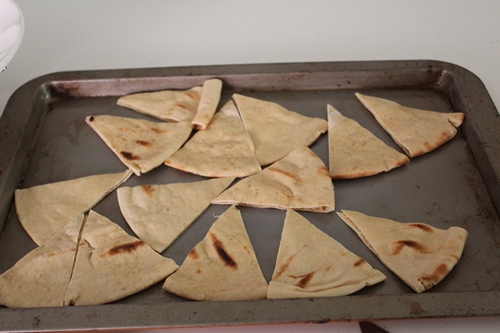 Pin
4)Bake till crispy and golden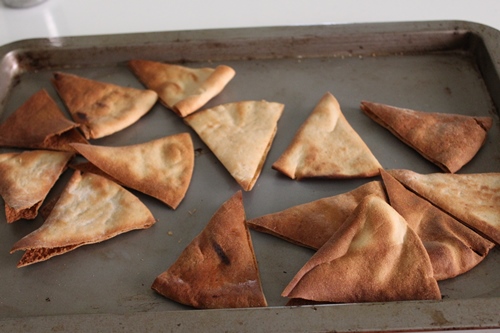 Pin
5)Take mayonnaise in a bowl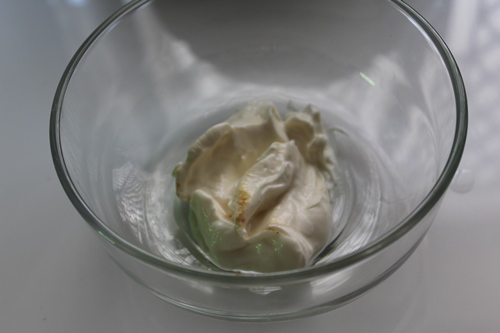 Pin
6)Add in yogurt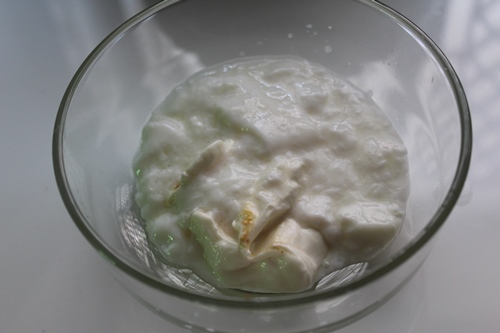 Pin
7)Add in grated garlic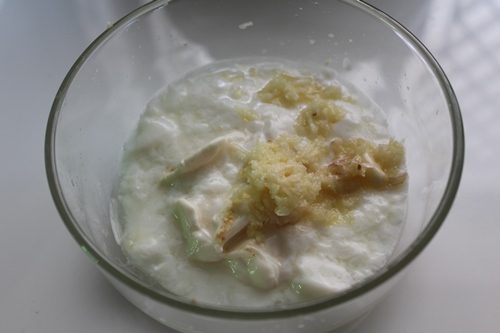 Pin
8)Add salt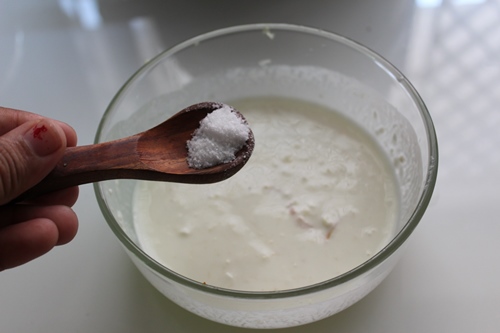 Pin
9)Add in pepper powder and cumin powder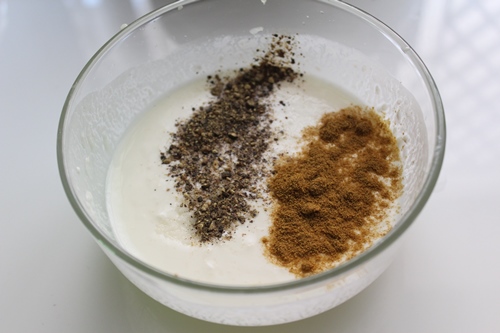 Pin
10)Mix well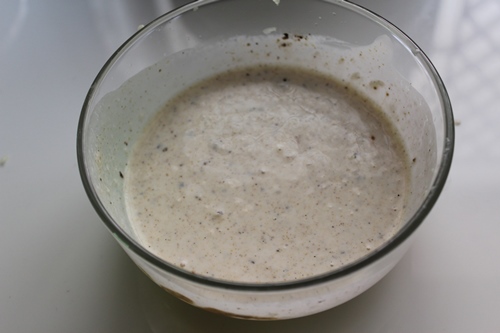 Pin
11)Take pita bread in a bowl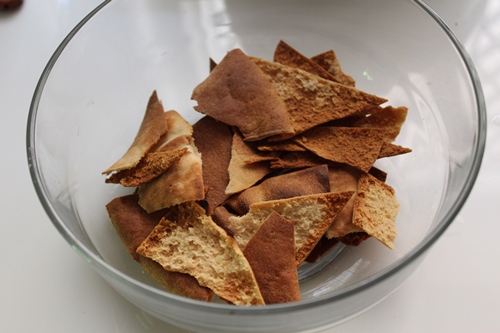 Pin
12)Add in chicken pieces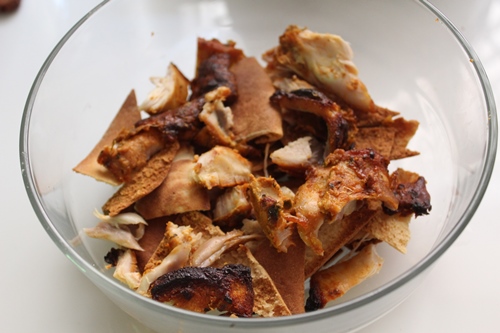 Pin
13)Add in onions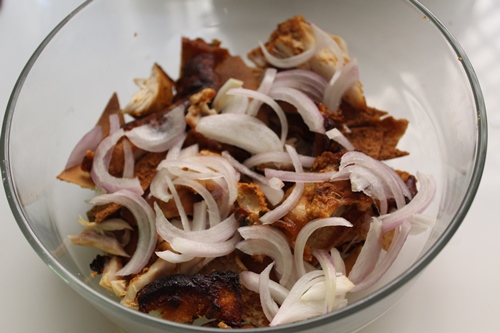 Pin
14)Add in deseeded tomatoes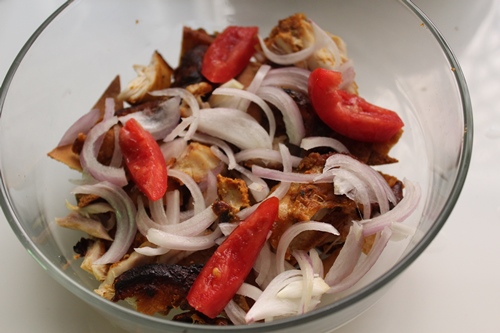 Pin
15)Add cucumbers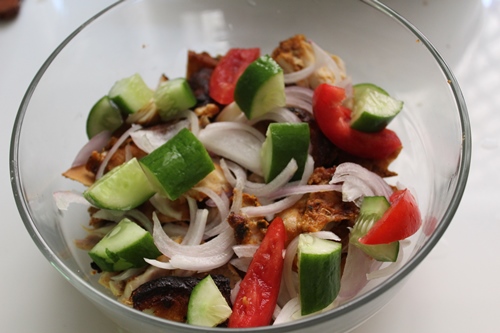 Pin
16)Top with sauce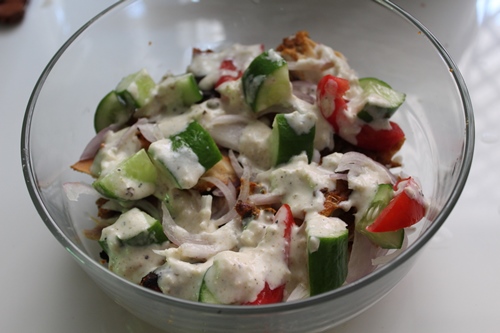 Pin
17)Serve immediately.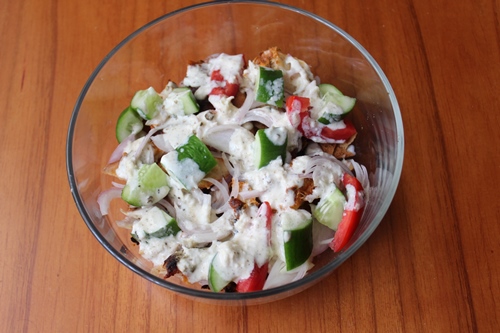 Pin
Frequently Asked Questions
Is pita bread healthier than bread?
Bread has a little more fibre and fewer carbs than pita, making it a slightly more nutritious option. Pitas have less sodium than bread and may be the best option for those on a low-salt diet.
Is eating pita bread healthy?
Pita bread is high in nutrients such as fibre, protein, vitamins, and minerals, which can provide your body with an energy boost throughout the day. Furthermore, because pita bread is low in calories, fat, and sodium, it can help you maintain a healthy weight.